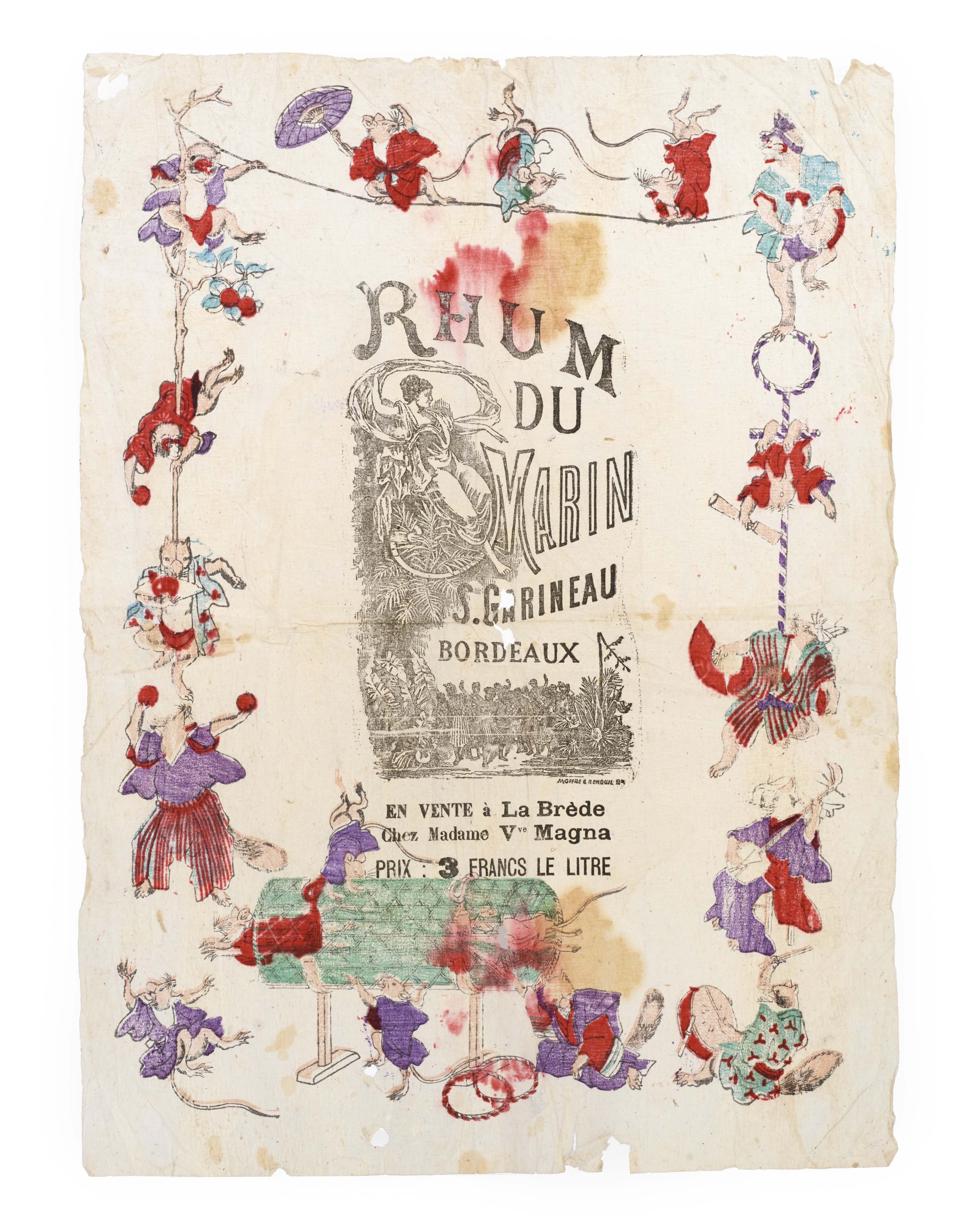 ALCOHOLIC ANTHROPOMORPHIC ACROBATIC ANIMALS
GARINEAU, Sylvain-Jean.
Rhum du Marin. S. Garineau, Bordeaux. En vente à La Brède chez Madame Vve Magna. Prix: 3 Francs le litre.
[Bordeaux,] Moffre & Renouil, [c. 1890].
Folio broadside (345 x 256 mm approx.), colour woodcut on crêpe paper; a few small paper-flaws, light blots, but a very good copy.
£300

Approximately:
US $389
€332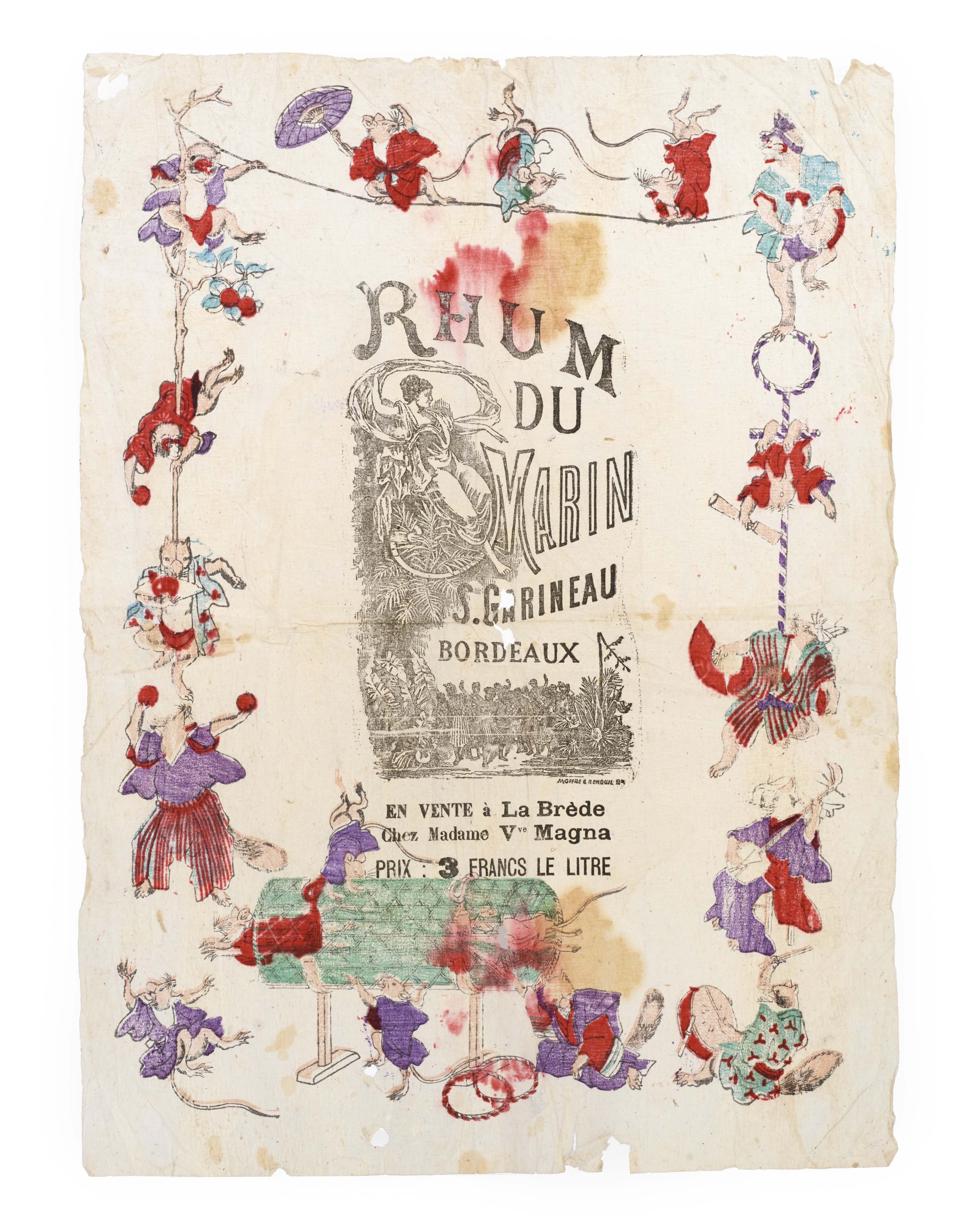 Added to your basket:
Rhum du Marin. S. Garineau, Bordeaux. En vente à La Brède chez Madame Vve Magna. Prix: 3 Francs le litre.
An extremely rare broadside advertisement for rum, splendidly printed in the fin de siècle style, with vibrant colours, depicting anthropomorphic acrobatic animals.

Garineau's central woodcut appears in several publications advertising Rhum du Marin in the final decades of the nineteenth century; the colourful border, showing mice dancing and walking a rope on their hands, rabbits and monkeys descending trees and ropes, and foxes juggling, beating a drum, or slumped on the floor, appears to be a unique addition to those advertisements destined to the various retailers of the Rhum du Marin, each adding their own address beneath the central woodcut.

The brand 'Rhum du Marin', inspired by Port Marine on Martinique, was registered by Garineau in January 1891, with a precise description of the central image ('Le fond est verni et de couleur saumon pâle; le personnage du haut a un vêtement bleu et rouge; les palmiers et autres feuillages sont verts…').

We have been able to trace only one copy, at the Musée des Arts Décoratifs, with the indication 'En vente à Auch, Chez M. J. Bachot, Négociant'. OCLC does not record any copies.
You may also be interested in...
BRUECKMANN, Franz Ernst.
De Cervo Volante et eius Hybernaculo.
First and only edition of the earliest monograph on the stag beetle. The fine plate shows the insect in all its glory, also his winter quarters in the trunk of an oak tree.
BORLASE, William.
The natural History of Cornwall: The Air, Climate, Waters, Rivers, Lakes, Sea, and Tides; Of the Stones, Semimetals, Metals, Tin, and the Manner of Mining; The Constitution of the Stannaries; Iron, Copper, Silver, Lead, and Gold, found in Cornwall; Vegetables, rare Birds, Fishes, Shells, Reptiles, and Quadrupeds; Of the Inhabitants, their Manners, Customs, Plays or Interludes, Exercises, and Festivals, the Cornish Languages, Trade, Tenures, and Arts; illustrated with a new Sheet Map of the County, and twenty-eight Folio Copper-Plates from the original Drawings taken on the Spot.
First edition of Borlase's monumental survey of Cornwall. Though aged over sixty at the time of publication, William Borlase (1696 – 1772), rector of Ludgvan, toured central and eastern Cornwall between 1752 and 1757, gathering material for his Natural History. The result, though less ambitious than intended, provides a detailed account of the county, its flora, fauna, geology, and culture, elegantly illustrated with large copper plates.