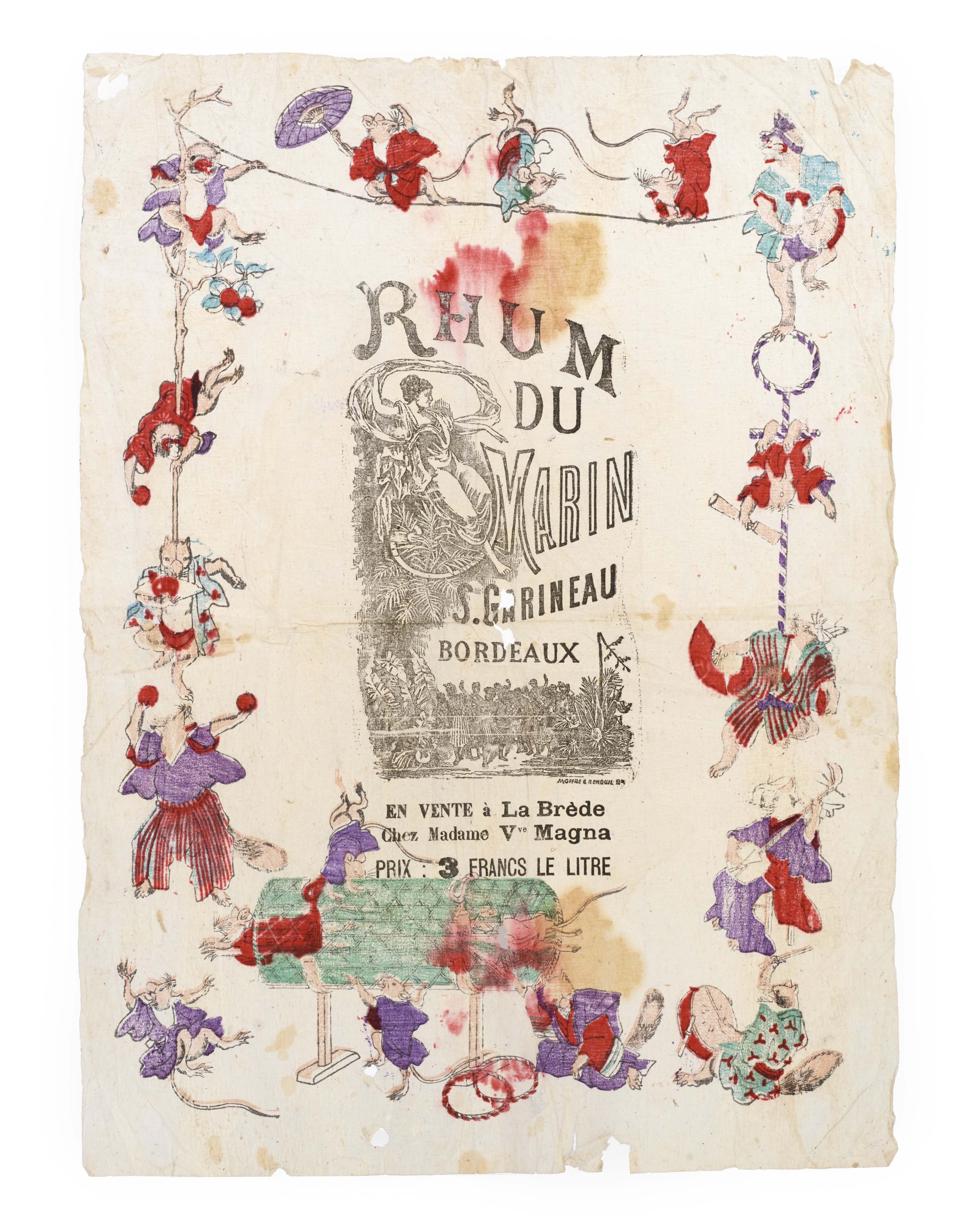 ALCOHOLIC ANTHROPOMORPHIC ACROBATIC ANIMALS
GARINEAU, Sylvain-Jean.
Rhum du Marin. S. Garineau, Bordeaux. En vente à La Brède chez Madame Vve Magna. Prix: 3 Francs le litre.
[Bordeaux,] Moffre & Renouil, [c. 1890].
Folio broadside (345 x 256 mm approx.), colour woodcut on crêpe paper; a few small paper-flaws, light blots, but a very good copy.
£300

Approximately:
US $415
€345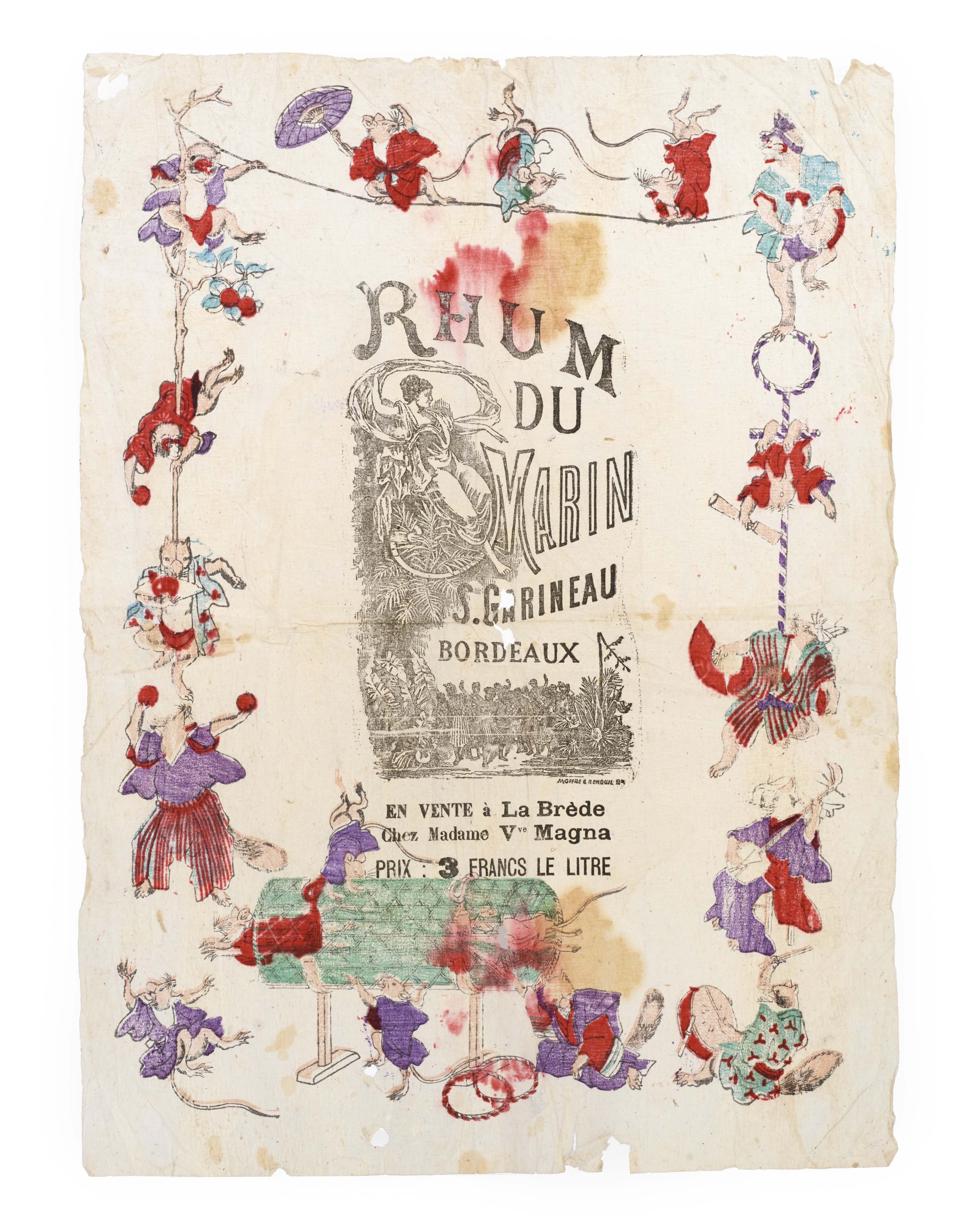 Added to your basket:
Rhum du Marin. S. Garineau, Bordeaux. En vente à La Brède chez Madame Vve Magna. Prix: 3 Francs le litre.
An extremely rare broadside advertisement for rum, splendidly printed in the fin de siècle style, with vibrant colours, depicting anthropomorphic acrobatic animals.

Garineau's central woodcut appears in several publications advertising Rhum du Marin in the final decades of the nineteenth century; the colourful border, showing mice dancing and walking a rope on their hands, rabbits and monkeys descending trees and ropes, and foxes juggling, beating a drum, or slumped on the floor, appears to be a unique addition to those advertisements destined to the various retailers of the Rhum du Marin, each adding their own address beneath the central woodcut.

The brand 'Rhum du Marin', inspired by Port Marine on Martinique, was registered by Garineau in January 1891, with a precise description of the central image ('Le fond est verni et de couleur saumon pâle; le personnage du haut a un vêtement bleu et rouge; les palmiers et autres feuillages sont verts…').

We have been able to trace only one copy, at the Musée des Arts Décoratifs, with the indication 'En vente à Auch, Chez M. J. Bachot, Négociant'. OCLC does not record any copies.
You may also be interested in...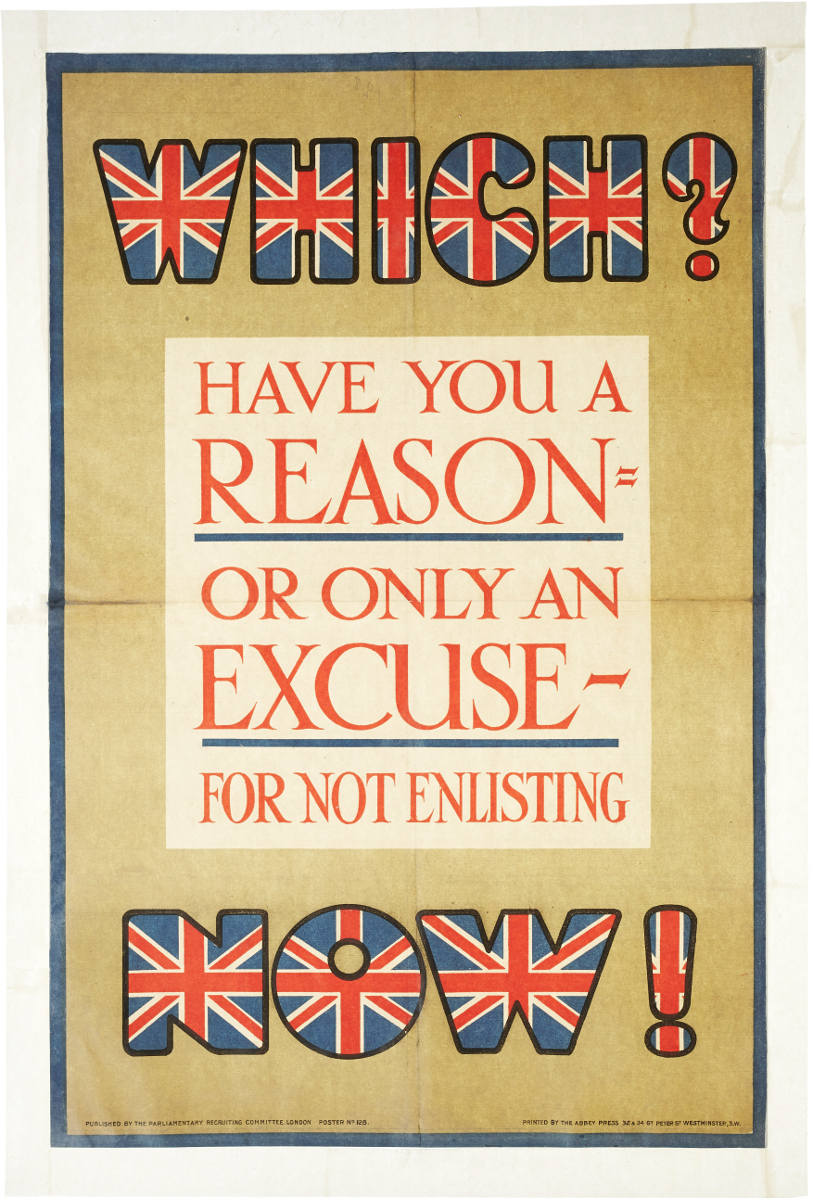 PARLIAMENTARY RECRUITING COMMITTEE.
Which? Have you a reason or only an excuse for not enlisting Now!
A forthright call to the men of London, encouraging them to enlist for military service during World War One.
PURVEYOR OF PARISIAN FASHION GARAND, Mlle.
A l'image S. Nicolas, sous les charniers des Saints Innocens, du côté de la Chapelle de la Vierge, la premiere grande boutique adossée au cimetiere. Mademoiselle Garand, marchande lingere, cousine de Monsieur Delaistre vend en gros & en détail ...
An apparently unrecorded advertisement for the Parisian seamstress and shopkeeper Mademoiselle Garand, who operated nearby the Holy Innocents' Cemetery in the centre of the city. Here she advertises hats, bonnets and nightcaps, shirt cuffs and sleeves, collars and handkerchiefs, made from all manner of fabrics (canvas, linen, muslin, lace etc.), embroidered, striped or plain, for men, women and children, and suited to every budget.