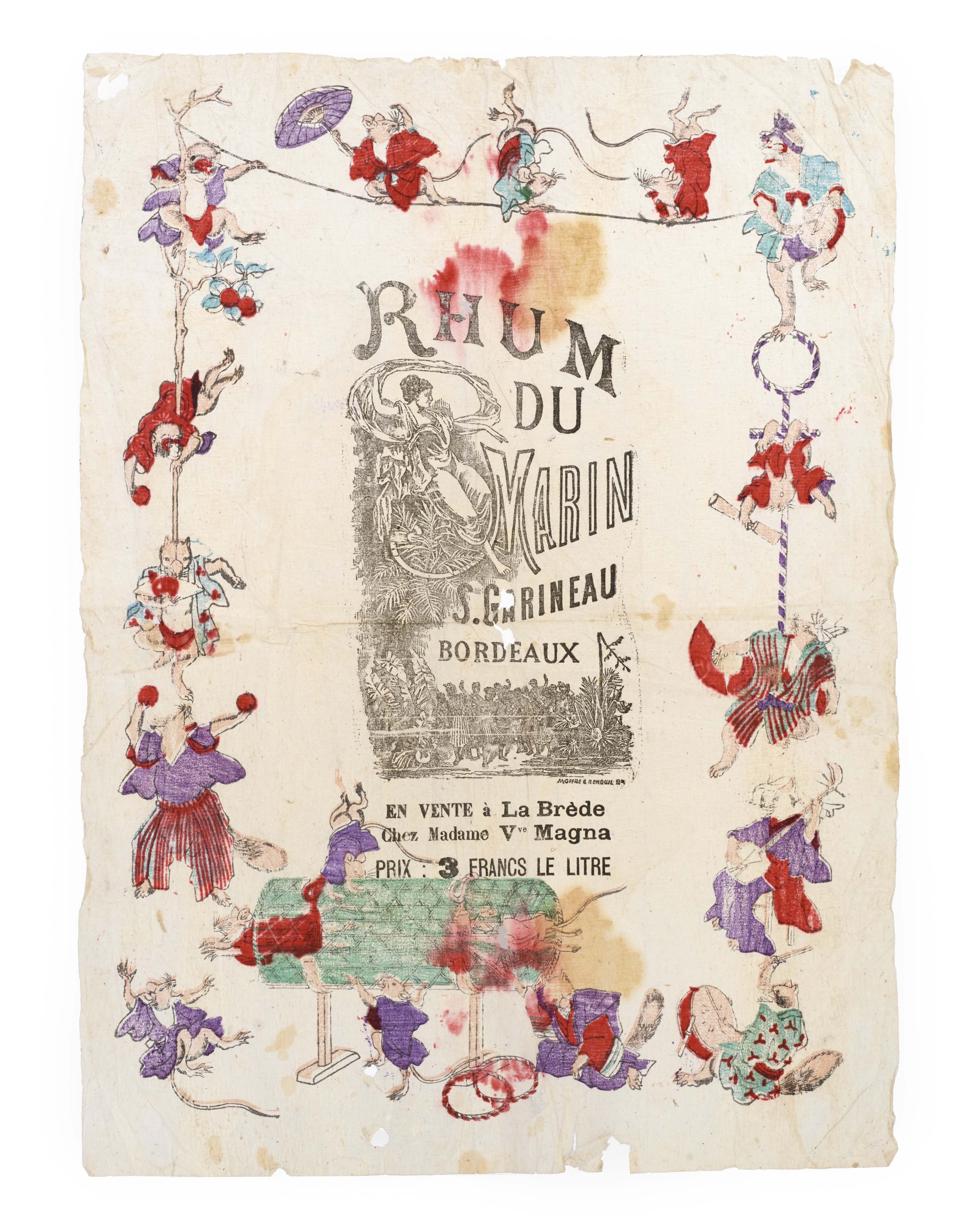 ALCOHOLIC ANTHROPOMORPHIC ACROBATIC ANIMALS
GARINEAU, Sylvain-Jean.
Rhum du Marin. S. Garineau, Bordeaux. En vente à La Brède chez Madame Vve Magna. Prix: 3 Francs le litre.
[Bordeaux,] Moffre & Renouil, [c. 1890].
Folio broadside (345 x 256 mm approx.), colour woodcut on crêpe paper; a few small paper-flaws, light blots, but a very good copy.
£300

Approximately:
US $392
€331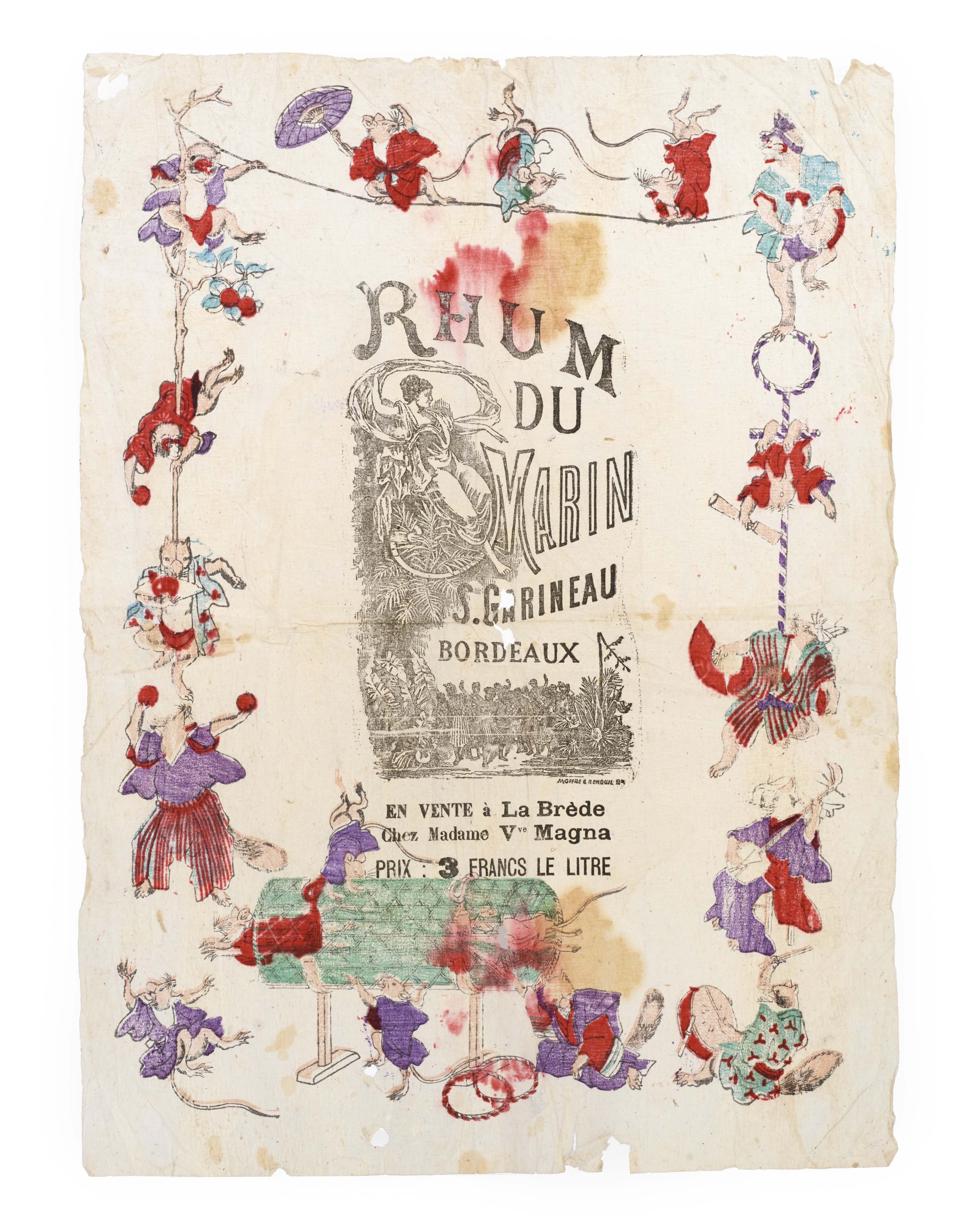 Added to your basket:
Rhum du Marin. S. Garineau, Bordeaux. En vente à La Brède chez Madame Vve Magna. Prix: 3 Francs le litre.
An extremely rare broadside advertisement for rum, splendidly printed in the fin de siècle style, with vibrant colours, depicting anthropomorphic acrobatic animals.

Garineau's central woodcut appears in several publications advertising Rhum du Marin in the final decades of the nineteenth century; the colourful border, showing mice dancing and walking a rope on their hands, rabbits and monkeys descending trees and ropes, and foxes juggling, beating a drum, or slumped on the floor, appears to be a unique addition to those advertisements destined to the various retailers of the Rhum du Marin, each adding their own address beneath the central woodcut.

The brand 'Rhum du Marin', inspired by Port Marine on Martinique, was registered by Garineau in January 1891, with a precise description of the central image ('Le fond est verni et de couleur saumon pâle; le personnage du haut a un vêtement bleu et rouge; les palmiers et autres feuillages sont verts…').

We have been able to trace only one copy, at the Musée des Arts Décoratifs, with the indication 'En vente à Auch, Chez M. J. Bachot, Négociant'. OCLC does not record any copies.
You may also be interested in...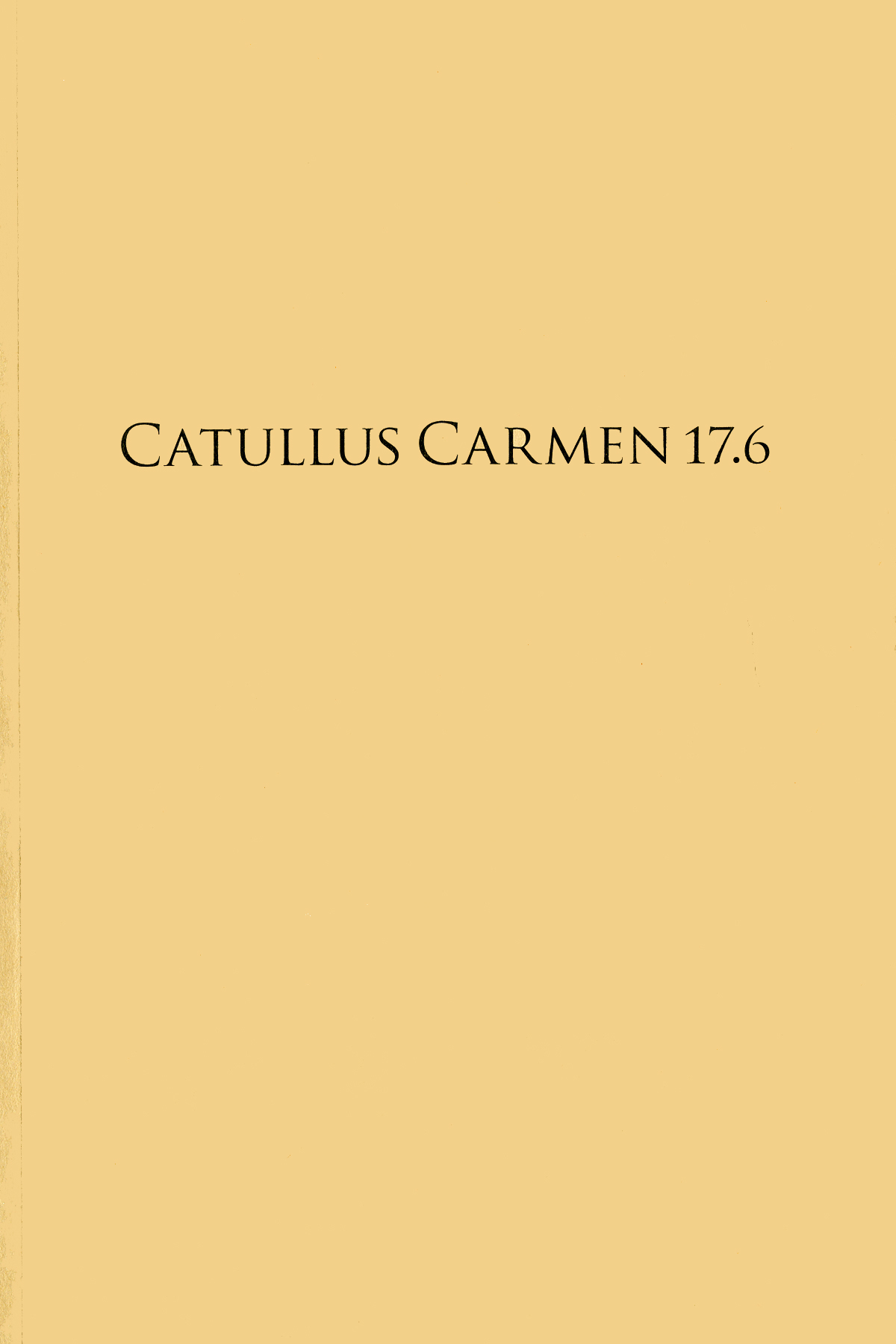 FREEMAN, Arthur.
Catullus Carmen 17.6 and Other Mysteries. A Study in Editorial Conflict, Eccentricity, Forgery, and Restitution. With a checklist of significant printed editions of Catullus in Latin, 1472-2005.
This partly historical, partly philological essay offers a general account of the early preservation, post-medieval recovery, and Renaissance evolution of the text of Catullus, with specific reference to one speculative reading in Carmen 17 ('De Colonia'), and certain humanist twists and forgeries that accompanied its long editorial history.
Accompanying the narrative is a substantial bibliographical appendix that provides a checklist of significant editions of Catullus in Latin from 1475 to the present day, with brief notes of relevance and location.
Arthur Freeman is a rare book dealer and writer living in London. In 2014 Quaritch published his Bibliotheca Fictiva: a Collection of Books and Manuscripts Relating to Literary Forgery 400 BC – AD 2000. Catullus Carmen 17.6 is the second footnote to that book, following Julia Alpinula (2015).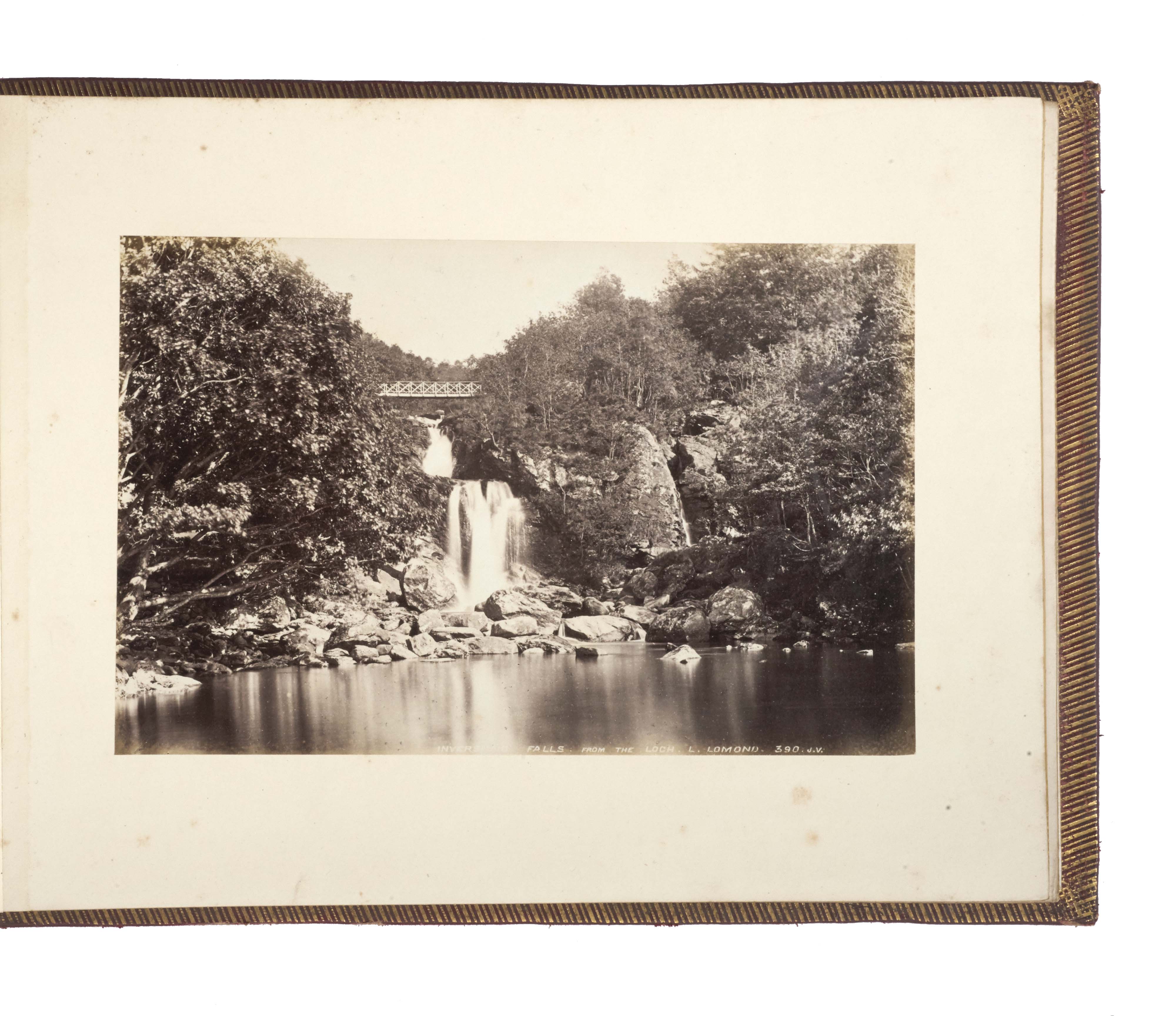 VALENTINE, James (photographer).
Album of Scottish views, mainly of Stirling and surroundings.
A handsome example of a topographical view album by the Scottish photographer James Valentine, focusing on Stirling and the surrounding areas.
The images include 'Stirling Castle from King's Knott' and several other views of Stirling Castle, 'Vale of Monteith from Stirling'; 'Bruce statue looking to Wallace'; 'Windings of the Forth and Abbey Craig, Stirling'; 'King Street, Stirling'; 'Cambuskenneth Abbey and tomb of James III'; 'Field of Bannockburn from Gillies Hill'; 'On the Allan Water'; 'Kier House'; 'Dunblane Cathedral from river'; 'Doune Castle'; 'Callander from west'; 'Silver Strand, Loch Katrine'; 'Ellen's Isle and Ben Venue, Loch Katrine'; 'Luss Pier, Loch Lomond'; 'Camstradden Bay, Loch Lomond'; and 'Inversnaid Falls'.
James Valentine (1815–1879) was an engraver and photographer from Dundee who was one of the original members of the Edinburgh Photographic Society, founded in 1861. By the end of the 1850s he had established himself as a portrait photographer and then, after instruction under Francis Frith in Reigate, Surrey, he began to photograph landscapes as well.
He converted a barouche into a mobile dark-room and travelled around Scotland building a portfolio of topographical views which brought him to Queen Victoria's attention in 1864 and eventually led to him being granted a royal warrant in late 1867. As 'photographer to the Queen' he sold individual albums, such as the present one, for prices ranging from half a guinea to 12 guineas aimed at upper and middle class tourists. James Valentine had two sons who followed him into the business and were constantly experimenting with new techniques; the firm became the longest-running photographic publishers in Britain.