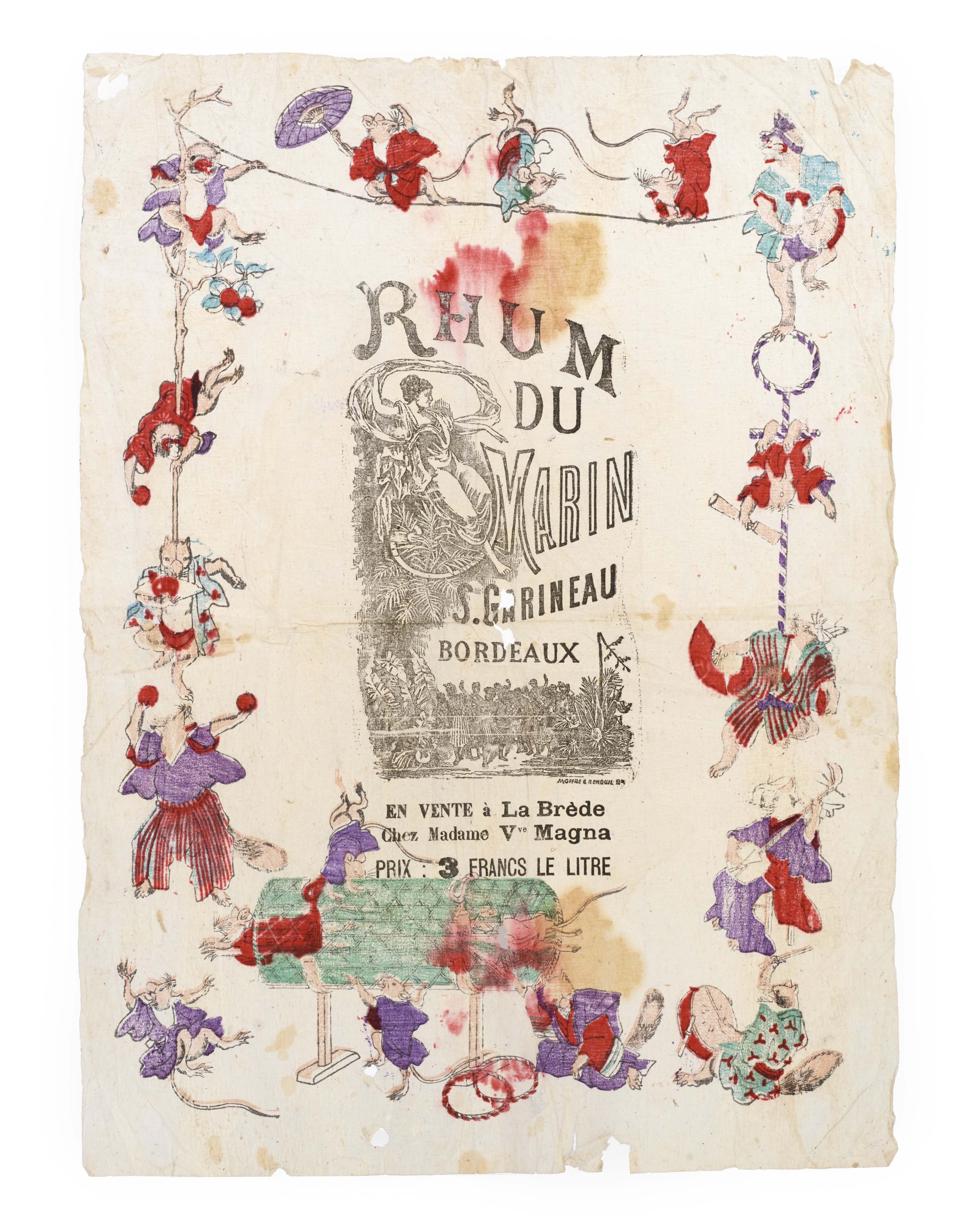 ALCOHOLIC ANTHROPOMORPHIC ACROBATIC ANIMALS
GARINEAU, Sylvain-Jean.
Rhum du Marin. S. Garineau, Bordeaux. En vente à La Brède chez Madame Vve Magna. Prix: 3 Francs le litre.
[Bordeaux,] Moffre & Renouil, [c. 1890].
Folio broadside (345 x 256 mm approx.), colour woodcut on crêpe paper; a few small paper-flaws, light blots, but a very good copy.
£300

Approximately:
US $370
€333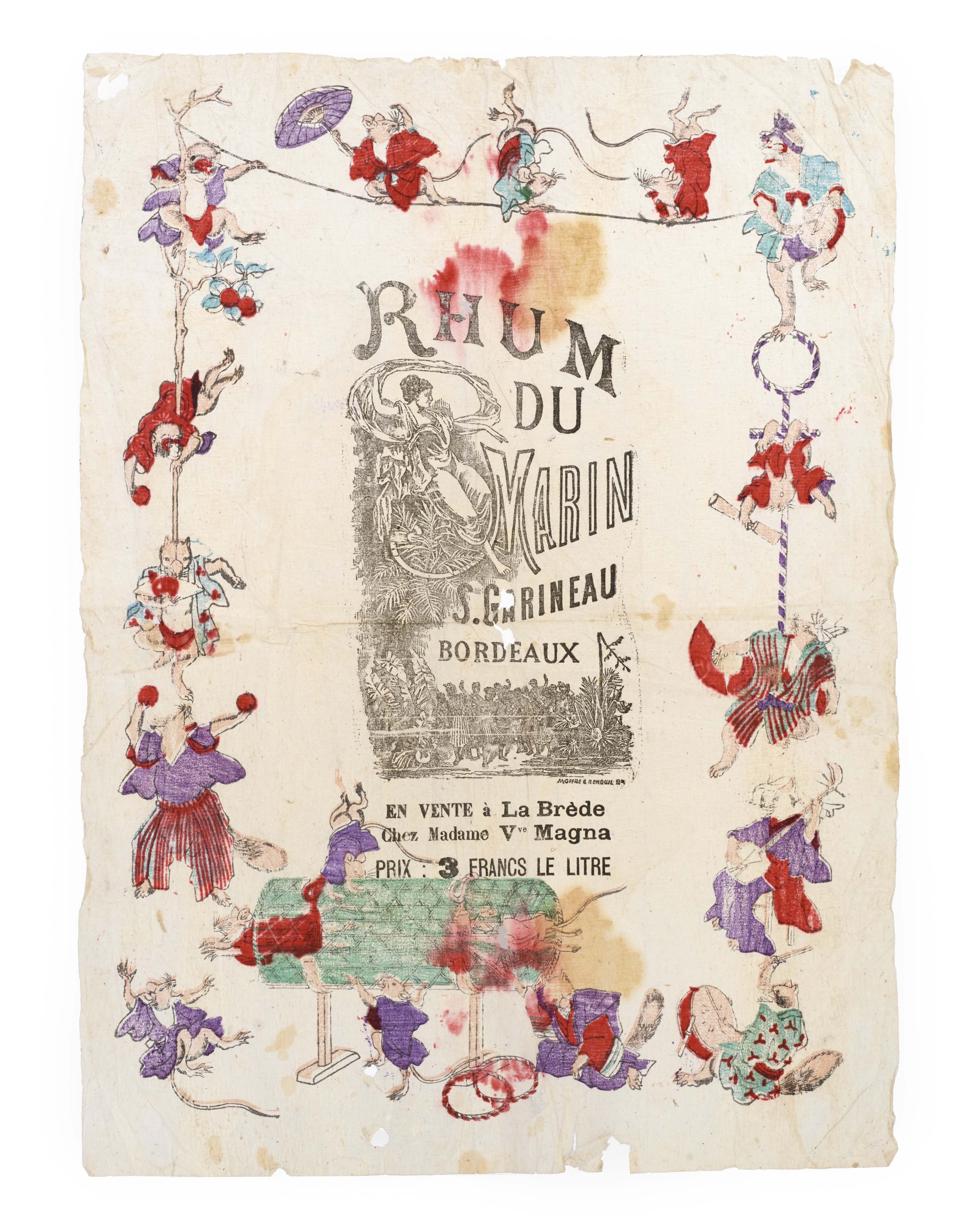 Added to your basket:
Rhum du Marin. S. Garineau, Bordeaux. En vente à La Brède chez Madame Vve Magna. Prix: 3 Francs le litre.
An extremely rare broadside advertisement for rum, splendidly printed in the fin de siècle style, with vibrant colours, depicting anthropomorphic acrobatic animals.

Garineau's central woodcut appears in several publications advertising Rhum du Marin in the final decades of the nineteenth century; the colourful border, showing mice dancing and walking a rope on their hands, rabbits and monkeys descending trees and ropes, and foxes juggling, beating a drum, or slumped on the floor, appears to be a unique addition to those advertisements destined to the various retailers of the Rhum du Marin, each adding their own address beneath the central woodcut.

The brand 'Rhum du Marin', inspired by Port Marine on Martinique, was registered by Garineau in January 1891, with a precise description of the central image ('Le fond est verni et de couleur saumon pâle; le personnage du haut a un vêtement bleu et rouge; les palmiers et autres feuillages sont verts…').

We have been able to trace only one copy, at the Musée des Arts Décoratifs, with the indication 'En vente à Auch, Chez M. J. Bachot, Négociant'. OCLC does not record any copies.
You may also be interested in...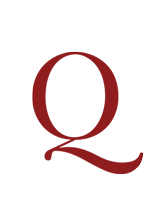 APPARENTLY BOUND FOR THE AUTHOR TROTTER, Alexander.
Observations by Alexander Trotter, Esq., of Dreghorn, in Illustration of his modified Plan of a Communication between the new and old Town of Edinburgh.
First edition of the Observations, issued with the corrected and enlarged second edition of the Plan, here linked to the first work by a new leaf (printed on pink paper stock) which reads: 'What follows is Mr. Trotter's original plan of 1828, now abandoned, as mentioned on first page of the preceding observations'.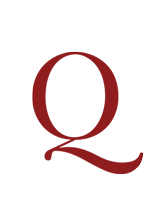 ONLY EDITION OF A GREAT HOAX INGHIRAMI, Curtio.
Ethruscarum antiquitatum fragmenta, quibus urbis Romae, aliarumque gentium primordia, mores, et res gestae indicantur ...
First edition. In 1634, Inghirami (1614-55) made an incredible 'discovery' in the grounds of his family villa at Scornello. He claimed to have uncovered a cache of Etruscan archaeological artefacts: a lamp, a damaged human figurine and a huge number of inscriptions and tablets. The finds are illustrated in this volume, in woodcuts and engravings, along with the strange vessels in which they had been preserved, capsules called 'scariths', made of caked mud and hair. These discoveries attested to the great significance of Volterra, a few miles from Scornello, as one of the principal Etruscan centres, and Inghirami devotes much of his book to 'translating' fragments of a chronicle of 'Vulterran' history by one Prosperus Fesulanus.