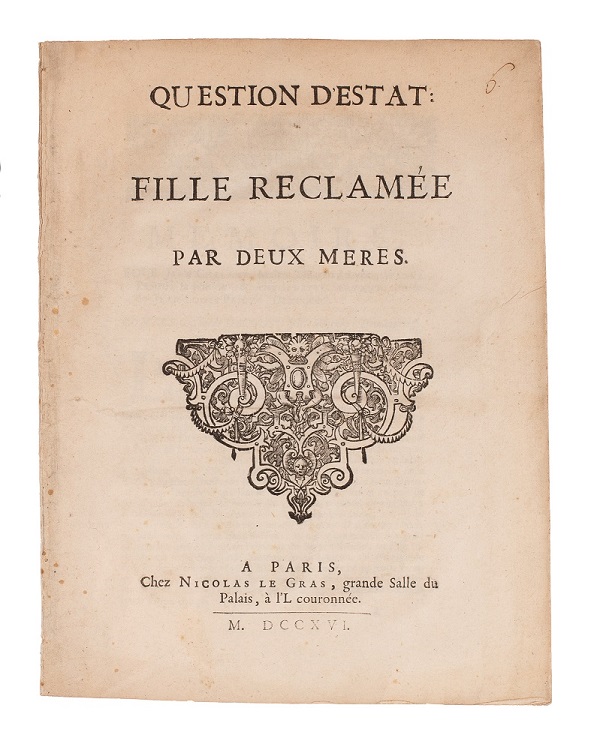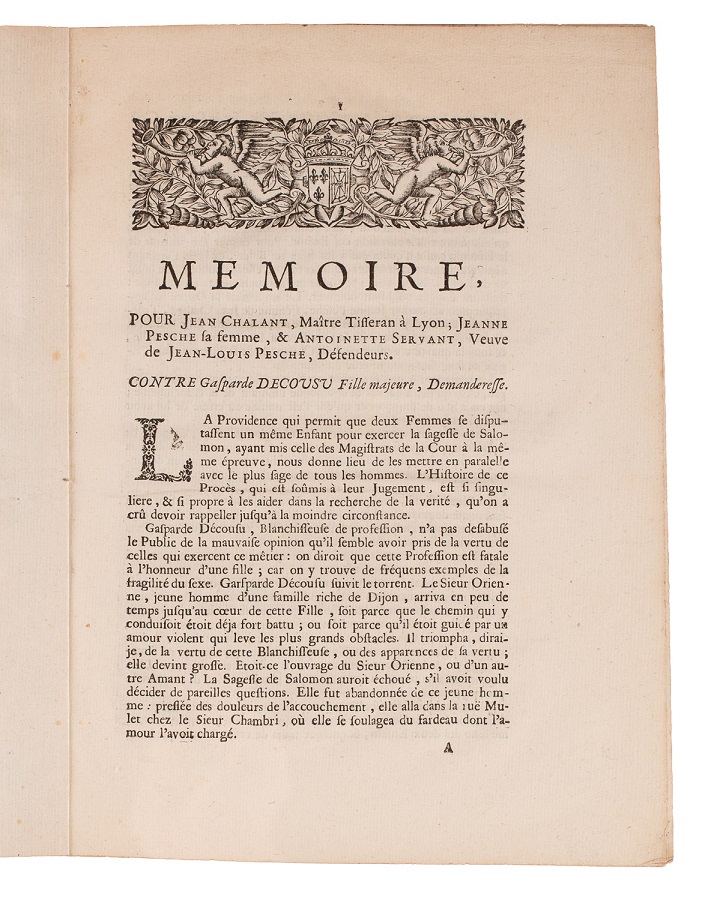 SWITCHED AT BIRTH
GAYOT DE PITAVAL (Conseil).
Question d'estat: fille reclamée par deux meres.
Paris, Nicolas le Gras, 1716.
4to, pp. [2], 26; woodcut vignette on title-page, and woodcut headpiece; occasional light spotting, and small worm trace to foot of gutter of one gathering, but otherwise clean and fresh; unbound.
£350

Approximately:
US $424
€414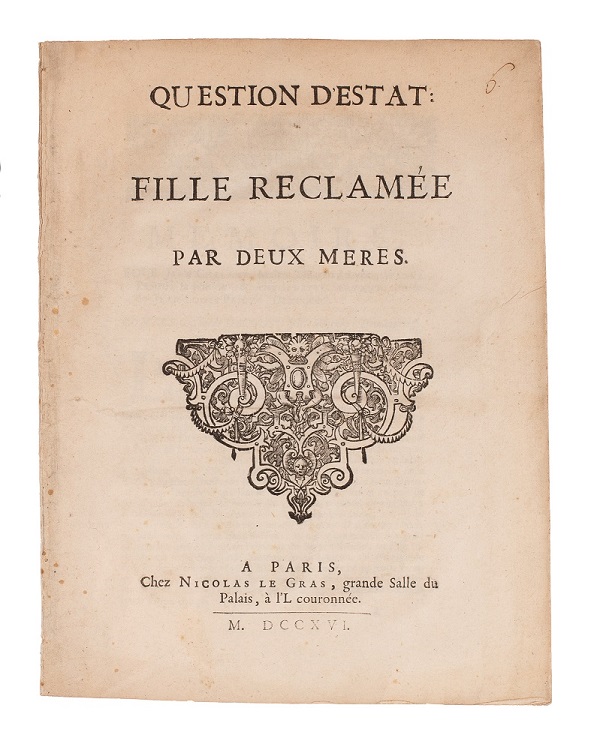 Added to your basket:
Question d'estat: fille reclamée par deux meres.
First edition of this account by the famous advocate François Gayot de Pitaval (1673–1743) of a 1709 case, where a midwife had substituted a new-born girl who was then claimed both by the real mother and the woman to whom the baby had been given. Pitaval's account details the principles by which decisions are made about parenthood in lieu of proper evidence, and seeks to prove who the true parents are, with evidence from the midwife and others. Various objections, both factual and legal, are addressed, and the account closes with a statement of the damages awarded to the parents after the lengthy and public case.

The case was reprinted in the first volume of Pitaval's extensive collection of Causes célèbres in 1734.

OCLC records the Mazarine and the BnF only.
You may also be interested in...
UNRECORDED SALUZZO BODONI IMPRINT [BODONI.] 
D. Francesco Giacinto Rovero Cavaliere di Piea, e della Sagra Religione, ed Ordine Militare de' Santi Morizio, e Lazaro, Colonnello di Cavalleria, e Commandante della Città, e Provincia di Saluzzo per Sua Maestà.  [Incipit:] Ad effetto di proccurare col mantenimento del buon ordine la pubblica tranquillità, restando opportuno di rendere nuovamente pubblici li Provvedimenti, che ad un tal fine sono diretti. 
Very rare survival, apparently unrecorded, of this bill of public order laws printed by Giovandomenico Bodoni at Saluzzo. 
WITH CARTHUSIAN MANUSCRIPT APPENDIX TAULER, Johannes, (attr.).
Exercitia D. Ioannis Thauleri piissima, super vita et passione salvatoris nostri Iesu Christi, in gratiam ac sitientium salutem, ex idiomate Germanico in Latinum nuper versa. His, eiusdem fere argumenti alia prorsus divina accesseru[n]t, auctore D.
Scarce edition (first 1548) of this devotional work on the life and passion of Christ, this copy with a near contemporary manuscript appendix by a Carthusian and with interesting provenance.