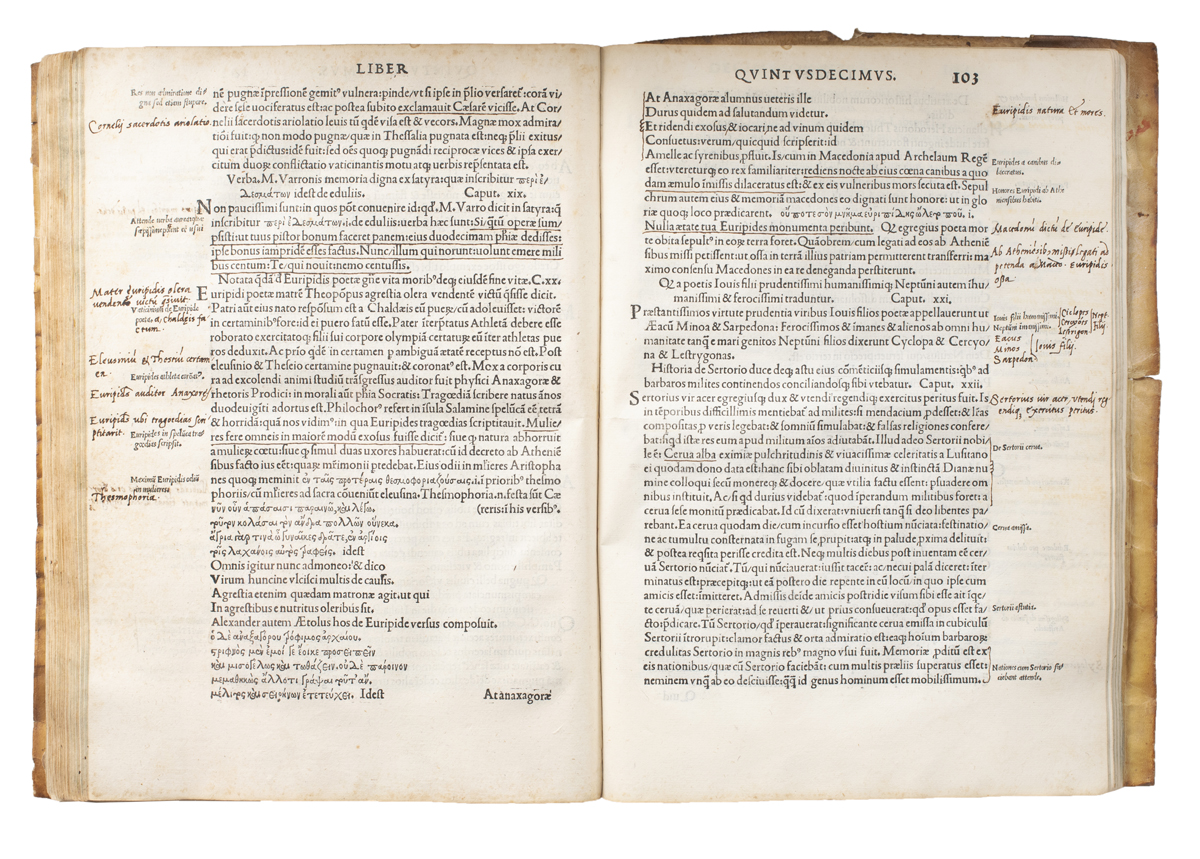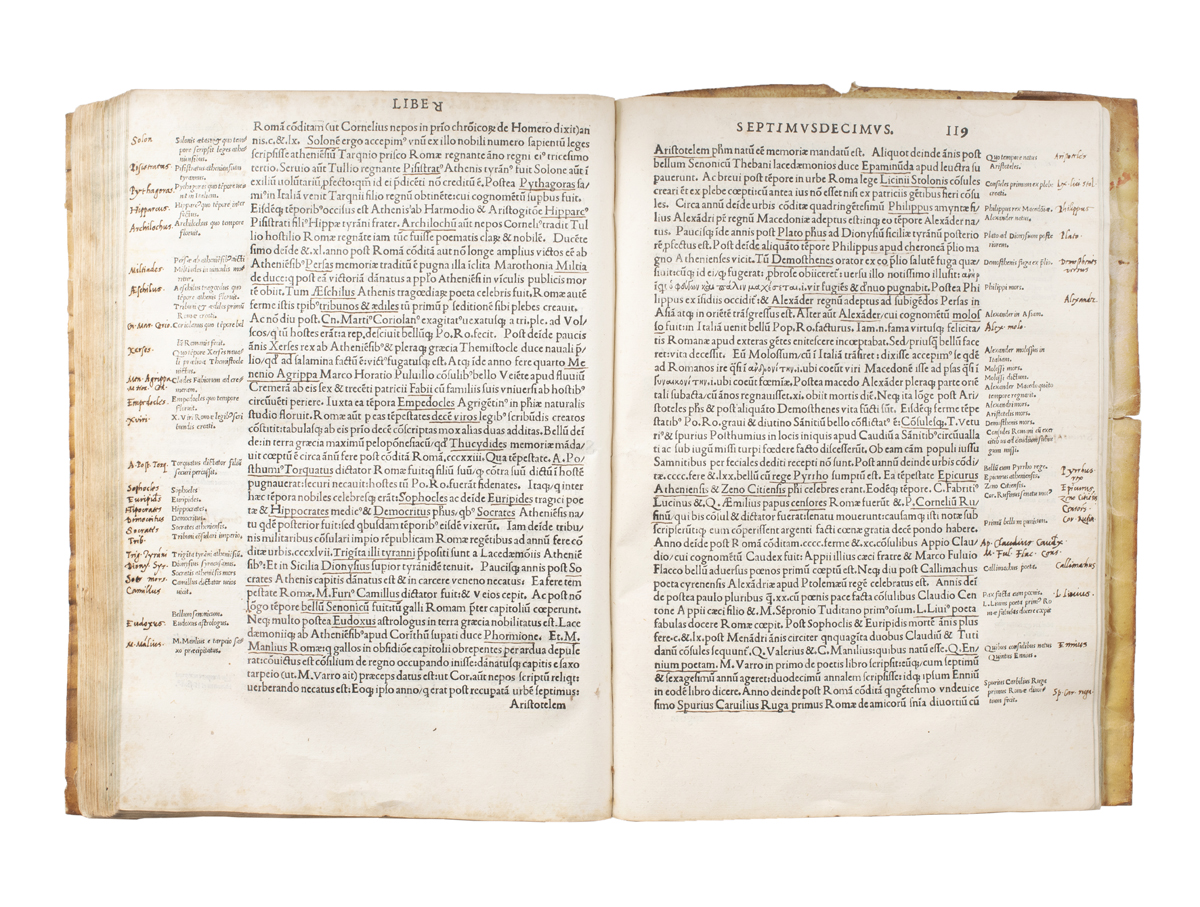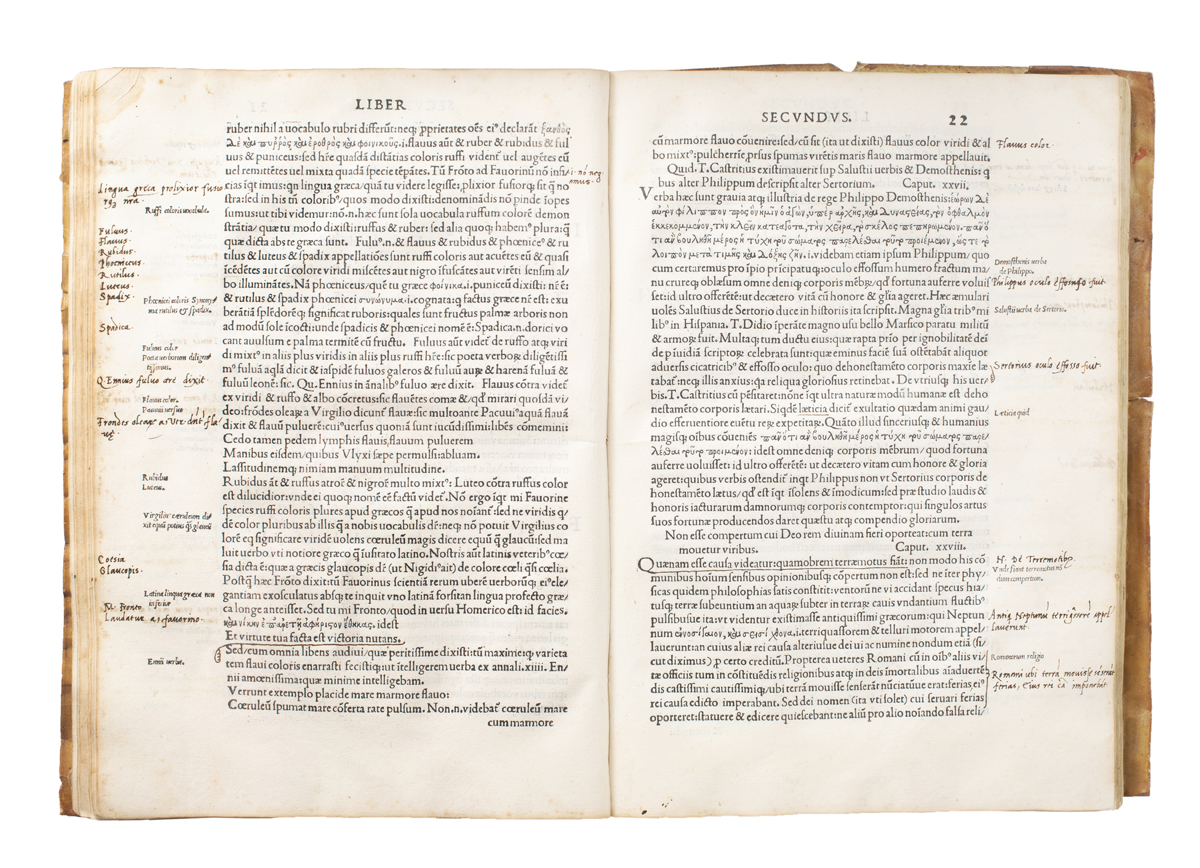 ANNOTATED WITH REFERENCES TO THE LECTURES
OF ONE OF ERASMUS'S CLOSEST FRIENDS
GELLIUS, Aulus. 
Noctium Atticarum commentaria per Bonfinem Asculanum summa nuper diligentia et studio recognita. 
Venice, Giovanni Tacuino, 1517. 
Folio, ff. [xxii], 135, [1]; Roman and Greek types, title-page printed in red and black with elaborate woodcut cartouche border, woodcut initials, the first of which with likely later colouring (yellow and silver, oxidised), woodcut printer's device to colophon; a couple of leaves a little stained, but a very good copy in contemporary limp vellum, ink titling to spine and front and rear cover; vellum stained and cockled, some repairs; contemporary manuscript diagram in ink and silverpoint to recto of front free endpaper, contemporary marginal annotations, underlinings, manicules, and reading marks to over 250pp. of text.
£5500

Approximately:
US $6724
€6238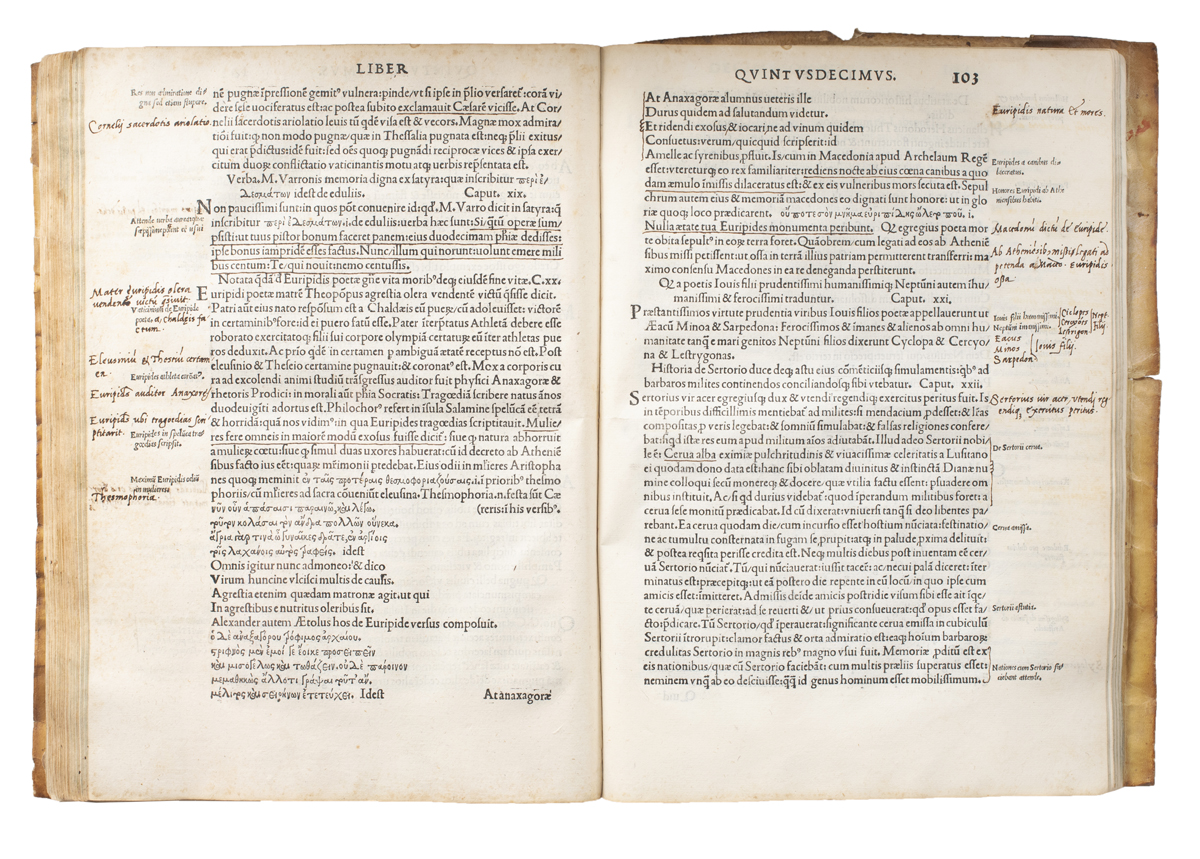 Added to your basket:
Noctium Atticarum commentaria per Bonfinem Asculanum summa nuper diligentia et studio recognita. 
Second edition of Gellius's opus with the commentary of philologist Matteo Bonfini (1441–1517), annotated throughout by a contemporary reader whose corrections and comments include references to the lectures of Paolo Bombasi as cited by Erasmus in the 1508 edition of the Adagia. 

Erasmus singled out Bombasi as 'the best of friends'.  Bombasi (also Paulus Bombasius, or Paolo Bombace, 1476–1527) was born in Bologna of a noble family.  He distinguished himself as a rhetor, philologist, and poet, and became prefect of the Vatican Library, holding regular correspondence with Erasmus.  He was one of the victims of the violence which occurred in the 1527 sack of Rome.  Our annotator is likely to have been part of the Bologna circle of humanists who gathered for readings of Aulus Gellius, occasionally including Erasmus who lived for some months in Bombasi's house in Bologna.  The most explicit note occurs on f. 13v ('Paulus Bombasius Bononiensis hunc versiculum sic emendat … hoc modo: "saepe etiam fuit stultus opportune locutus."  Hoc autem refert Erasmus…').  More evidence of a wide collation exercise is to be found on f. 128v: 'Aliter textus istum emendant eruditiores […] uideri ut omnia exemplaria habent'. 

EDIT16 20606 ; Graesse VII, 45; Olschki, Choix des livres 4605. 
You may also be interested in...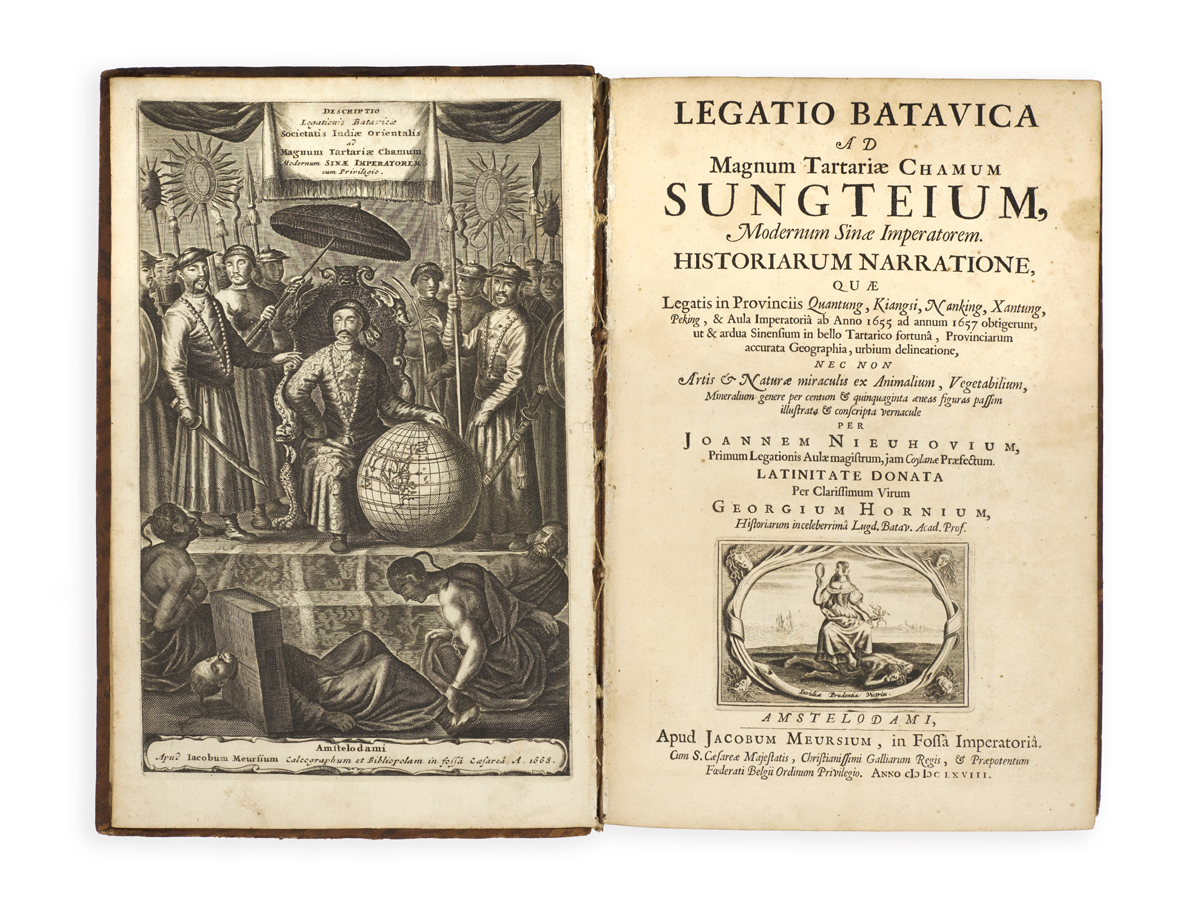 NIEUHOF'S JOURNEY TO A NEW COURT
WITH INFLUENTIAL ILLUSTRATIONS NIEUHOF, Jan, and Georg HORN (translator). 
Legatio Batavica ad magnum Tartariae chamum Sungteium, modernum Sinae imperatorem. Historiarum narratione, quae legatis in provinciis Quantung, Kiangsi, Nanking, Xantung, Peking, et aula imperatoria ab anno 1655 ad annum 1657 obtigerunt, ut et ardua Sinensium in bello Tartarico fortuna, provinciarum accurata geographia, urbium delineatione, nec non artis et naturae miraculis ex animalium, vegetabilium, mineralium genere per centum et quinquaginta aeneas figuras passim illustrata et conscripta vernacule … 
First edition in Latin, beautifully illustrated, of Nieuhof's account of his travels in China between 1655 and 1657, one of the most important early modern non-Jesuit studies. 
HALLAM, Arthur Henry. 
Remains, in Verse and Prose … 
First edition, a presentation copy from the editor, the historian Henry Hallam, to his late son's friend and fellow Cambridge 'Apostle' James Spedding.  The prefatory memoir by Hallam senior includes a long letter from Spedding ('one of his most valued friends') (pp. xx-xxvi),  here signed by Spedding and with several minor manuscript corrections.