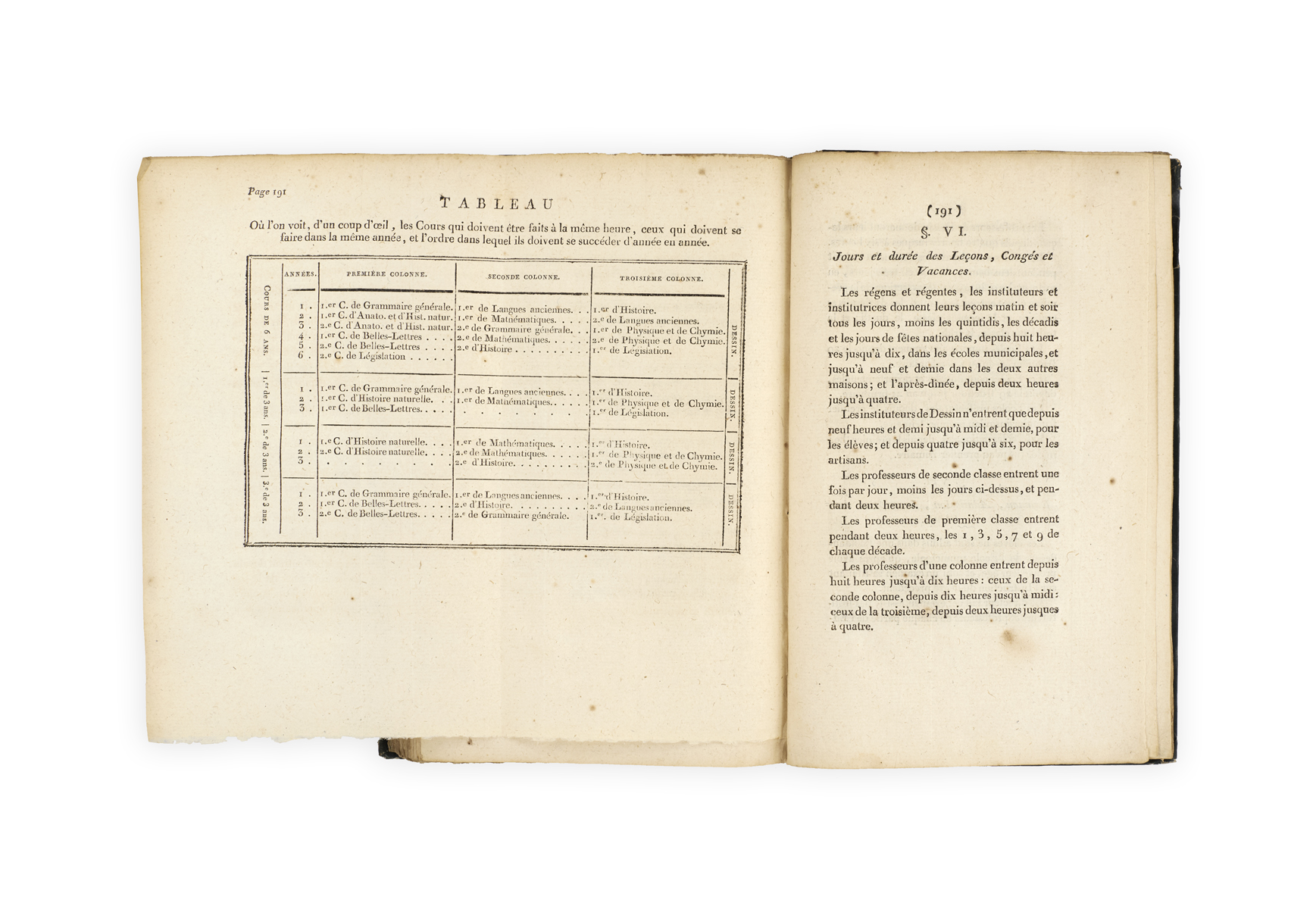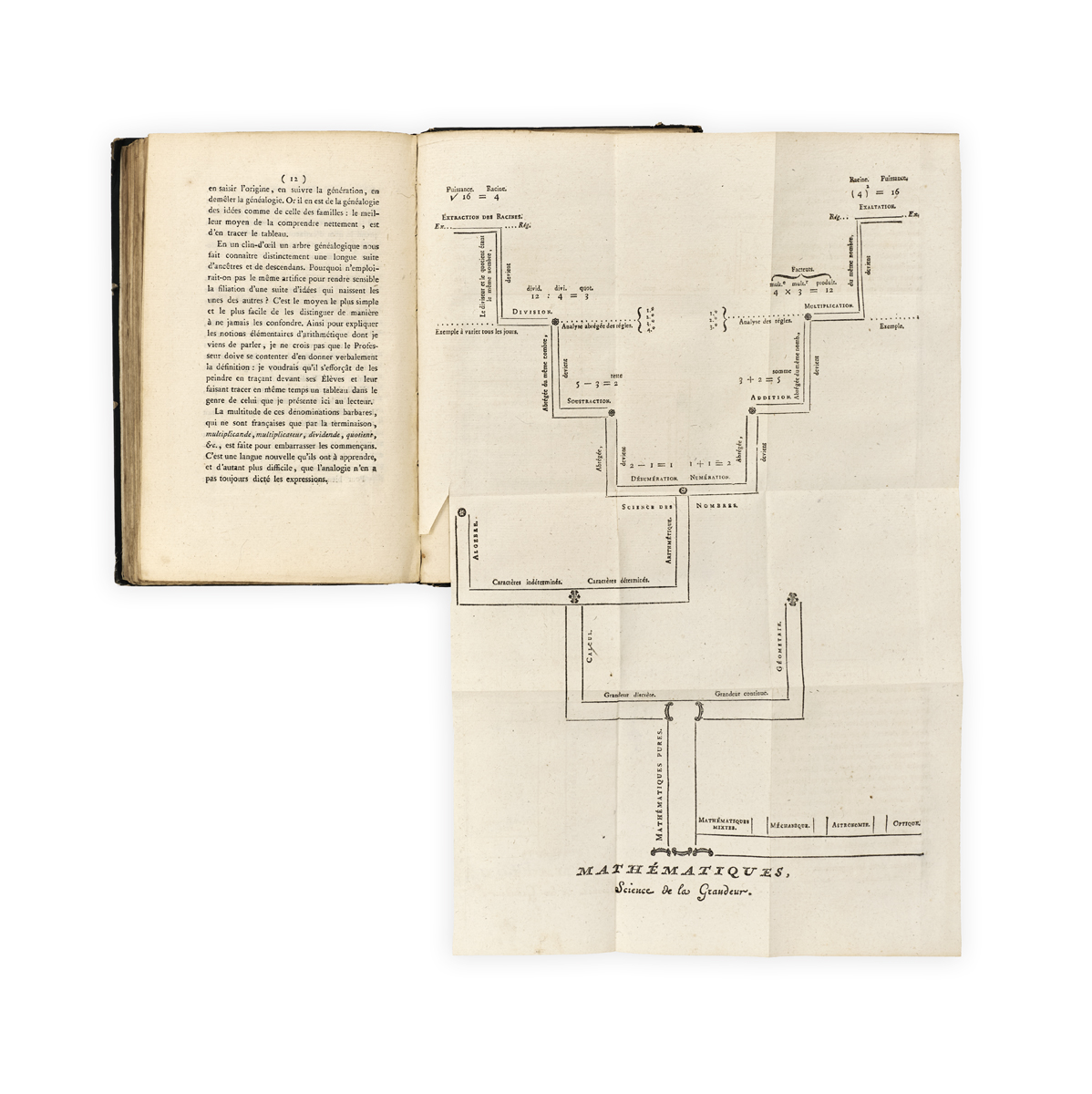 THREE TREATISES ON TEACHING
GOSSELIN, Charles-Robert. 
Plan d'éducation, en réponse aux académies de Marseille et de Châlons, dont l'une a proposé pour sujet de prix, à distribuer dans le courant de cette année… 
Amsterdam, 1785. 
[bound with:]

MAILHOS, Jean-Baptiste.  Vues sur l'organisation de l'instruction publique, avec un projet de loi et un projet de réglement pour les écoles publiques…  Paris, chez Obré, an X [1801-2]. 

[and:]

FERCOC, Charles.  Vues sur l'enseignement des mathématiques…  Aurillac, chez Viallanes, [1800?]. 

Three works in one vol., 8vo, pp. Gosselin: [2], vi, 146, [2], Mailhos: 206, [2], with 3 folding tables, Fercoc: 52, with 3 folding tables; a few spots, slightly toned, a little staining to half-title and foot of pp. 3-7 of second work; overall very good in nineteenth-century dark green boards, spine gilt-ruled in compartments with gilt red morocco lettering-piece ('Plans et vues sur l'éducation'); small chip to lower joint, some wear to endcaps, corners, and edges, and light rubbing to boards; contemporary manuscript list of contents to rear free endpaper, booklabel to upper pastedown ('Bibliothèque de M. Belin, censeur des études au Collège Royal de Charlemagne').
£875

Approximately:
US $1062
€1010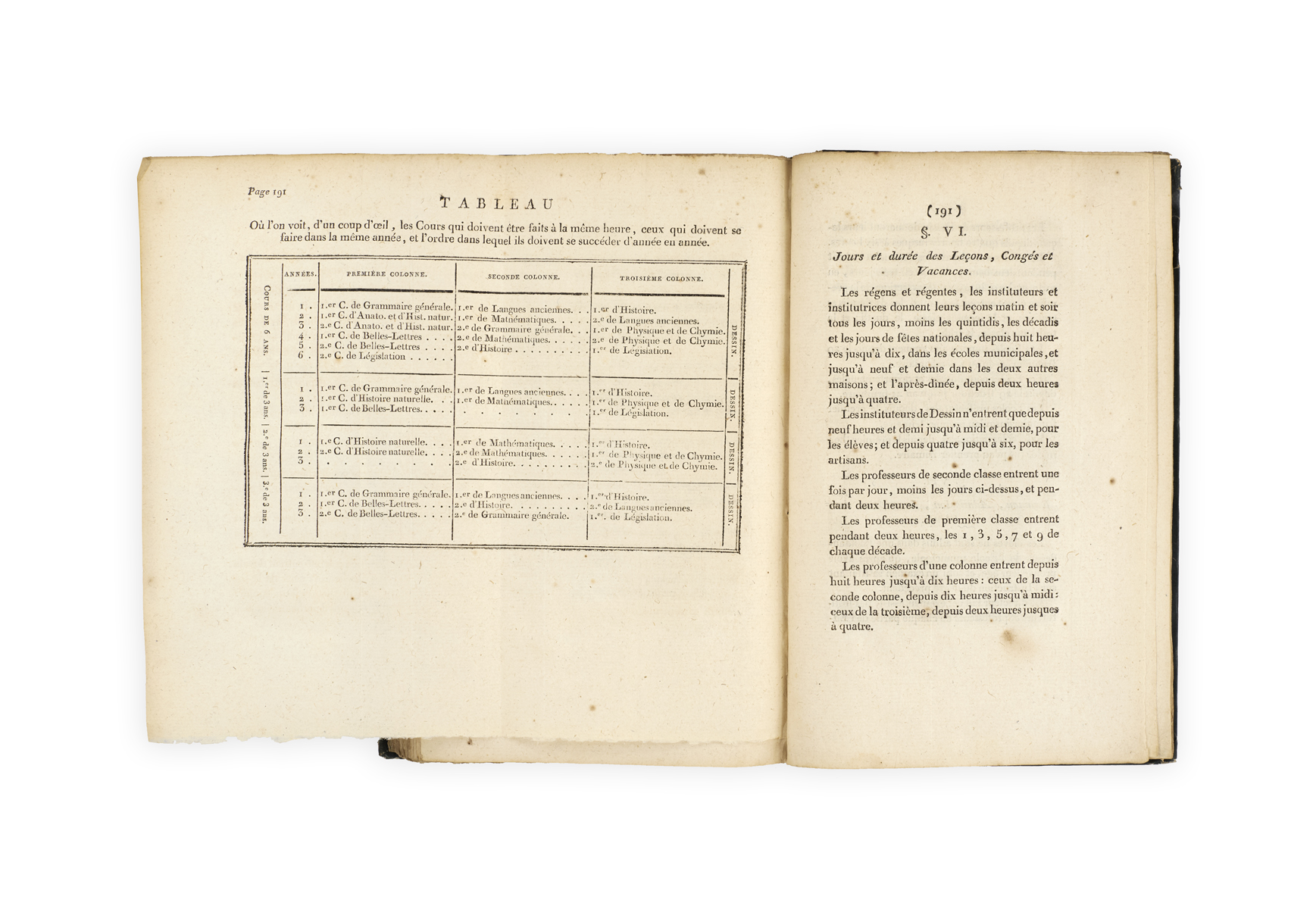 Added to your basket:
Plan d'éducation, en réponse aux académies de Marseille et de Châlons, dont l'une a proposé pour sujet de prix, à distribuer dans le courant de cette année… 
A most interesting sammelband of three rare French works on education from the late eighteenth and early nineteenth centuries.
 
In the first work, Charles-Robert Gosselin (1740–1820) advocates a radical overhaul of the existing system of education in France through the destruction of most existing colleges and the expulsion of 'the crowd of mercenary teachers of which schools are full'. His Plan discusses the advantages of public over private education, recommends more women teachers, and presents his thoughts on suitable locations for schools, the appointment of teachers, and subjects for study. 

It is followed by a work dedicated to Napoleon by Jean-Baptiste Mailhos, a schoolteacher from the Pyrenees, which lays out a detailed plan for public education, covering different types of school, detailed curricula for each year group, costings, and regulations (including the governance of school libraries).  Mailhos advocates better education for girls and provides several tables, including one describing 'the occupations of students up to the age of twenty, when instruction should end'.  Written by a long-suffering teacher from Aurillac, the final work is devoted to the troublesome task of teaching children mathematics.
 
Fercoc proposes using diagrammatic tables to engage students' attention and fix ideas firmly in their minds, illustrating three such tables in his text. 

Gosselin: no copies in the US on OCLC, and only one in the UK (BL).  Mailhos: only one copy traced in the US (Washington University) and one in the UK (BL).  Fercoc: no copies recorded in the US and only one in the UK (BL). 

You may also be interested in...
THE MIRACULOUS 'SWEDISH POWDER' [MIRACLE CURE.] 
Poudre suédoise. 
Seemingly unrecorded pamphlet extolling the virtues of 'Swedish Powder', sold at the Hôtel du Grand-Cerf on the rue Saint-Denis for the treatment and prevention of several ailments, but especially for the 'most unfortunate symptoms of venereal disease'.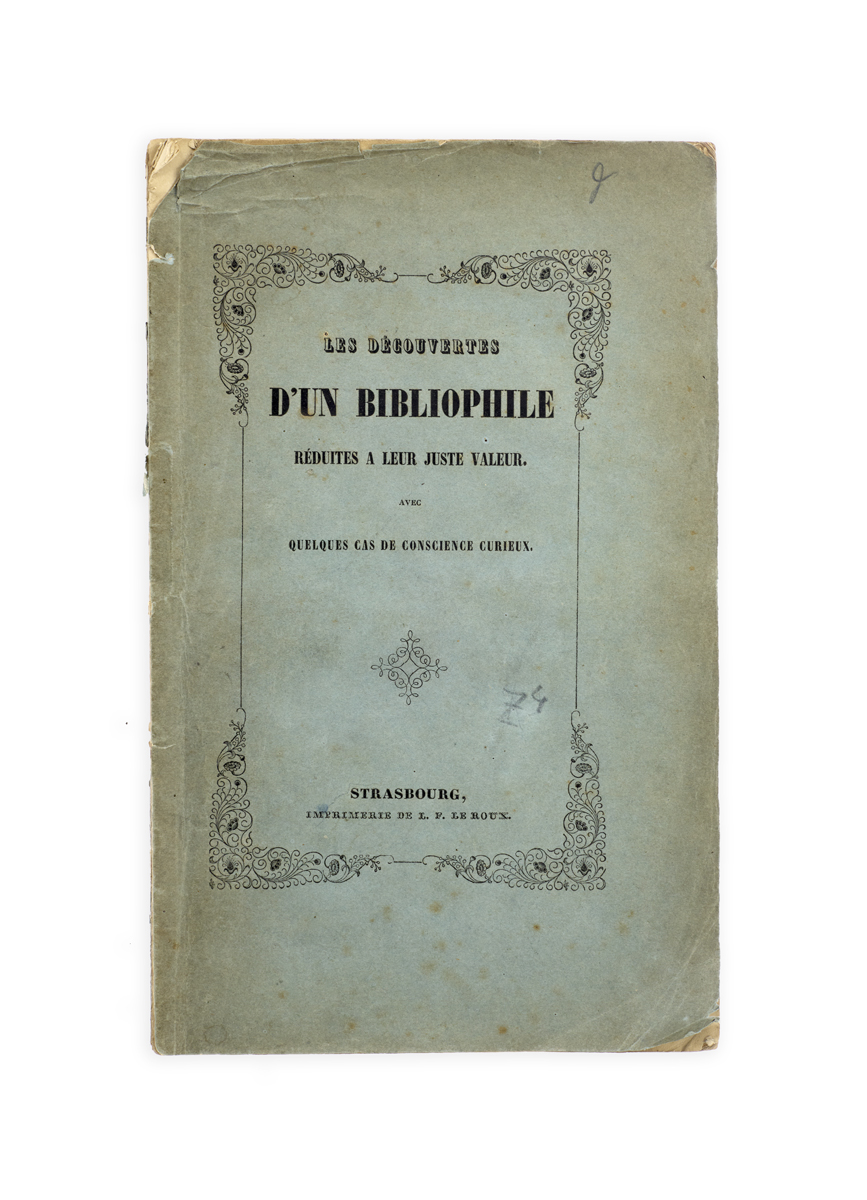 THE BIBLIOPHILE AFFAIR [SOCIETY OF JESUS.] 
Les découvertes d'un bibliophile réduites a leur juste valeur.  Avec quelques cas de conscience curieux. 
First edition of this scathing response to Busch's anti-Jesuit Les découvertes d'un bibliophile, central to the highly polemical 'affaire du Bibliophile' which divided Strasbourg in 1843.