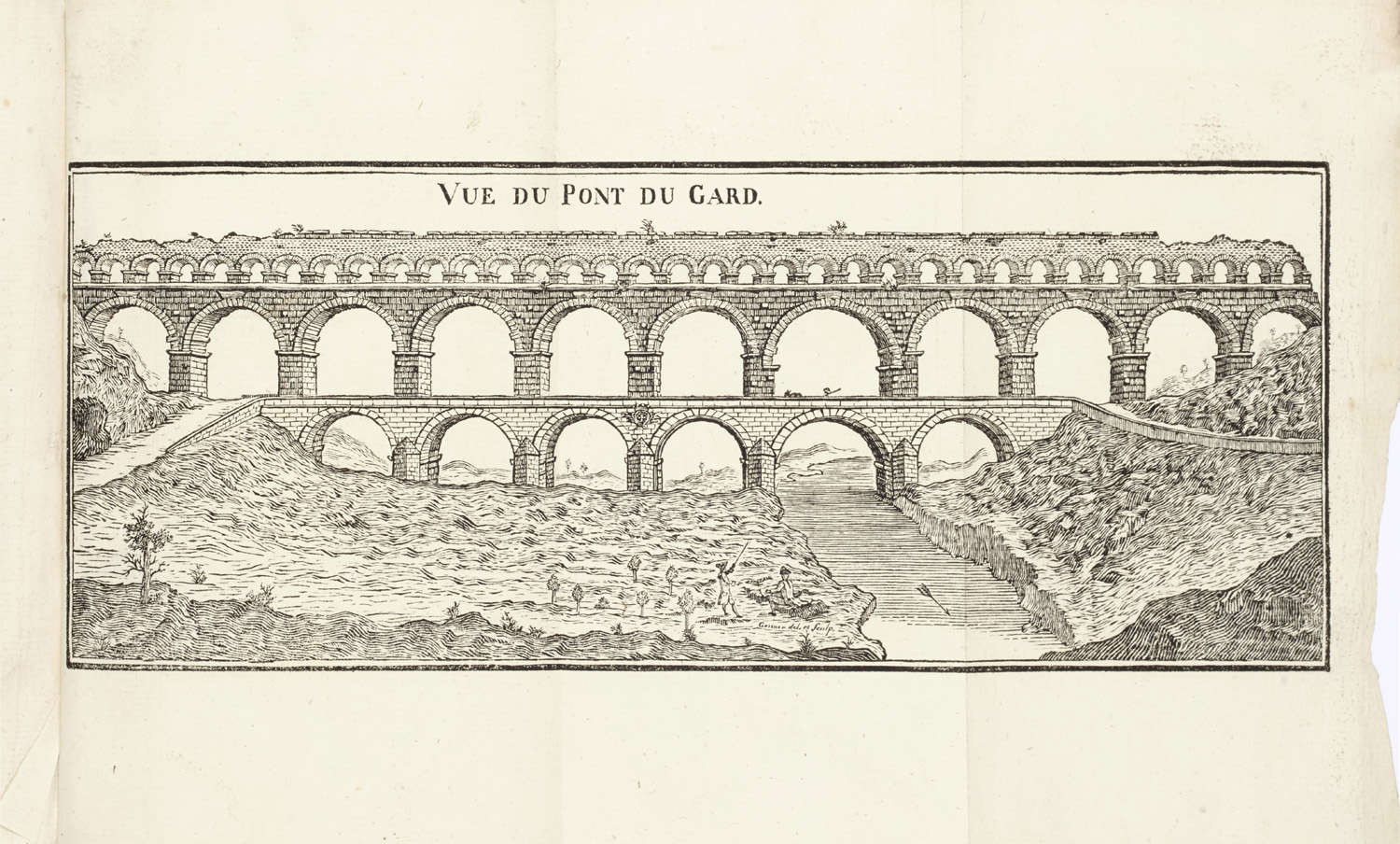 FRENCH EXILES AND A SCOTTISH MEDICAL FEUD
[GRANT, Charles, Vicomte de Vaux.]

Recueil d'Essais, ou précis des opinions, et des mémoires, du Vte de *** …
A Londres: De l'Imprimerie de T. Spilsbury & Fils. 1793.
[bound with:]

DESCRIPTION abrégée des Antiquités de la Ville de Nismes … Seconde Édition. A Nismes, chez C. Belle … 1786. [and:]

'JOHNSON, J.' (pseud.). A Guide for Gentlemen studying Medicine at the University of Edinburgh … London: Printed for G. G. J. and J. Robinson [etc.] … 1792. [and:]

GREGORY, James. Answer to Dr. James Hamilton, Junior … Edinburgh: 1793. [and:]

HAMILTON, James, junior. Reply to Dr. Gregory … Edinburgh: 1793.

5 works in one vol., 8vo, Receuil: pp. xxxvi, 152, with an engraved plate (gathering I foxed); Description: pp. [4], 52, with seven folding plates of woodcuts by Gritner; 'Johnson': pp. vii, [1], 74 (last leaf with old tear repaired; ESTC calls for a half-title but this is unlikely, as it would have to be a singleton); Gregory: pp. xxiv, 152 (inscribed to Sir William Forbes on the title-page); Hamilton: pp. 86; bound together in contemporary calf-backed boards with marbled sides; bookplate of Sir William Forbes of Pitsligo, manuscript contents list.
£1500

Approximately:
US $1845
€1749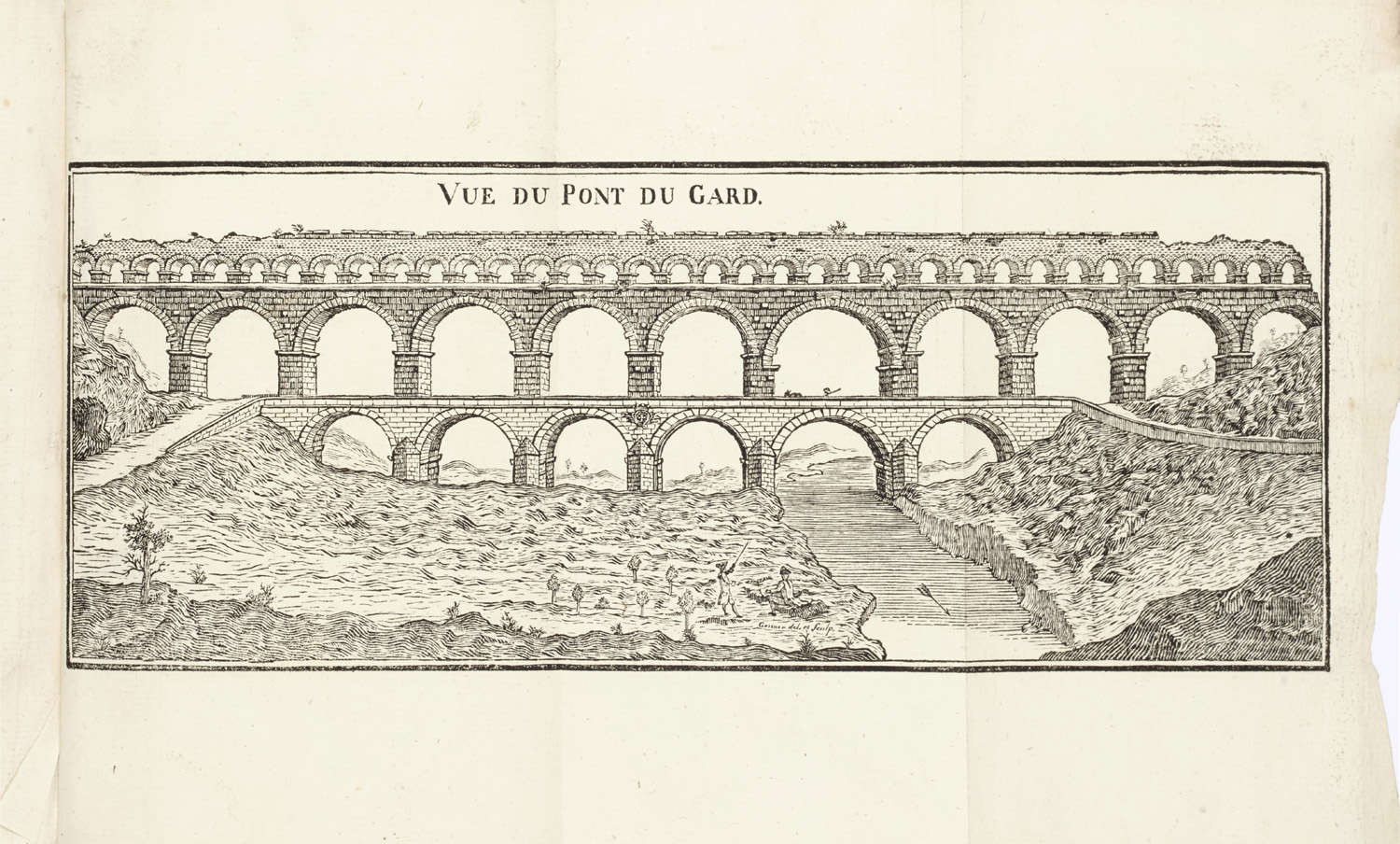 Added to your basket:
Recueil d'Essais, ou précis des opinions, et des mémoires, du Vte de *** …
An interesting tract volume, containing the scarce collected thoughts of Charles Grant, vicomte de Vaux (a subscriber's copy), a fine illustrated guide to Nîmes and the Pont du Gard, and three pamphlets relating to a controversy in the medical faculty in Edinburgh.

Grant (b. 1749) was scion of a French branch of an old Scottish family, and had been born in Mauritius, where his father spent twenty years. In the 1770s he invested heavily in privateers working against the British, and sustained heavy losses; he later petitioned, unsuccessfully, the US Congress for redress in the form of land. In 1790 he fled the French Revolution for England, where he published a number of works, including some proposals for a French loyalist colony in Canada, and a History of Mauritius (1801). The present Receuil d'Essais (and verse) is very miscellaneous, covering the 'origin of things', universal peace, politics, fire, advice for émigrés, his proposed Canadian colony, &c. The subscribers' list at the end comprises mainly Scots, including Sir William Forbes of Pitsligo.

ESTC shows five copies: BL, NLS; Boston Public, NYPL, and Queen's (Ontario). A second part, through with different printers and publishers, followed in 1794 (BL and NYPL only).

The obstetrician James Hamilton, junior, joined his father Alexander Hamilton's practice at the age of twenty-one and eventual succeeded him in the chair of midwifery at Edinburgh University in 1800; a powerful and popular lecturer he nevertheless did not succeed in making midwifery a compulsory part of the curriculum until 1830. In 1792-3 both Hamilton and his father became embroiled in controversy after the publication of a pseudonymous Guide for Gentlemen studying Medicine at the University of Edinburgh, which highly praised the Hamiltons and denigrated their colleagues, notably Dr James Gregory (six copies in ESTC). Gregory alleged that Hamilton senior was actually the author, but when he was cleared by the Senate, Gregory turned his fire on the son. James Hamilton published some short letters in his defence early in 1793, to which Gregory gave a lengthy Answer to Dr. James Hamilton, Junior, laying out his reasons for believing 'J. Johnson' to be Hamilton; the present copy is a presentation copy to Sir William Forbes, as a man of influence in Edinburgh. Hamilton's own point-by-point confutation appeared in his Reply to Dr. Gregory – a reply that angered Gregory so much he sought Hamilton out and thrashed him. Hamilton brought a suit and won damages of £100.
You may also be interested in...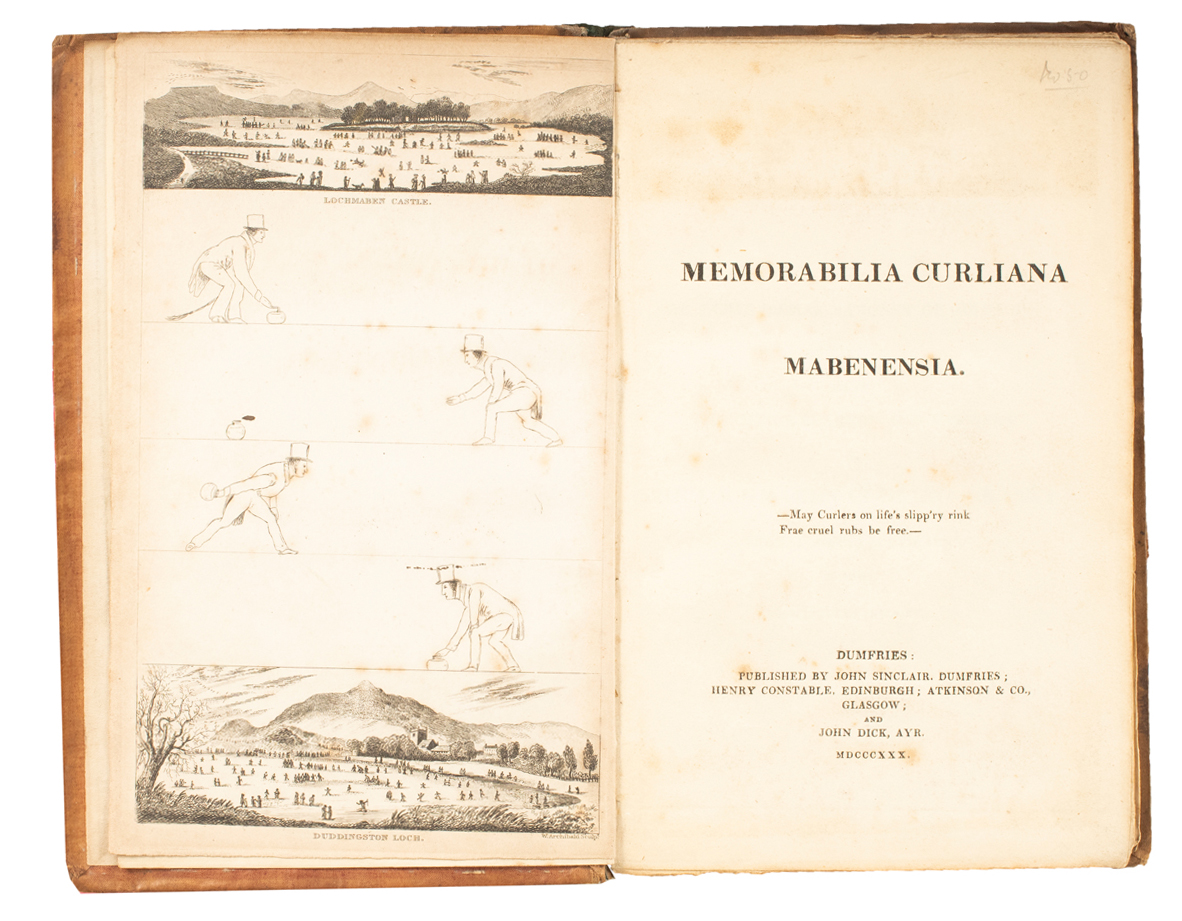 'MAY CURLERS ON LIFE'S SLIPP'RY RINK FRAE CRUEL RUBS BE FREE' [BROUN, Richard, Sir.] 
Memorabilia curliana Mabenensia. 
Uncommon first edition of this charming work on the sport of curling by the eccentric Scottish baronet Sir Richard Broun (1801–1858), with a focus on his native Lochmaben, being one of the earliest books on the sport.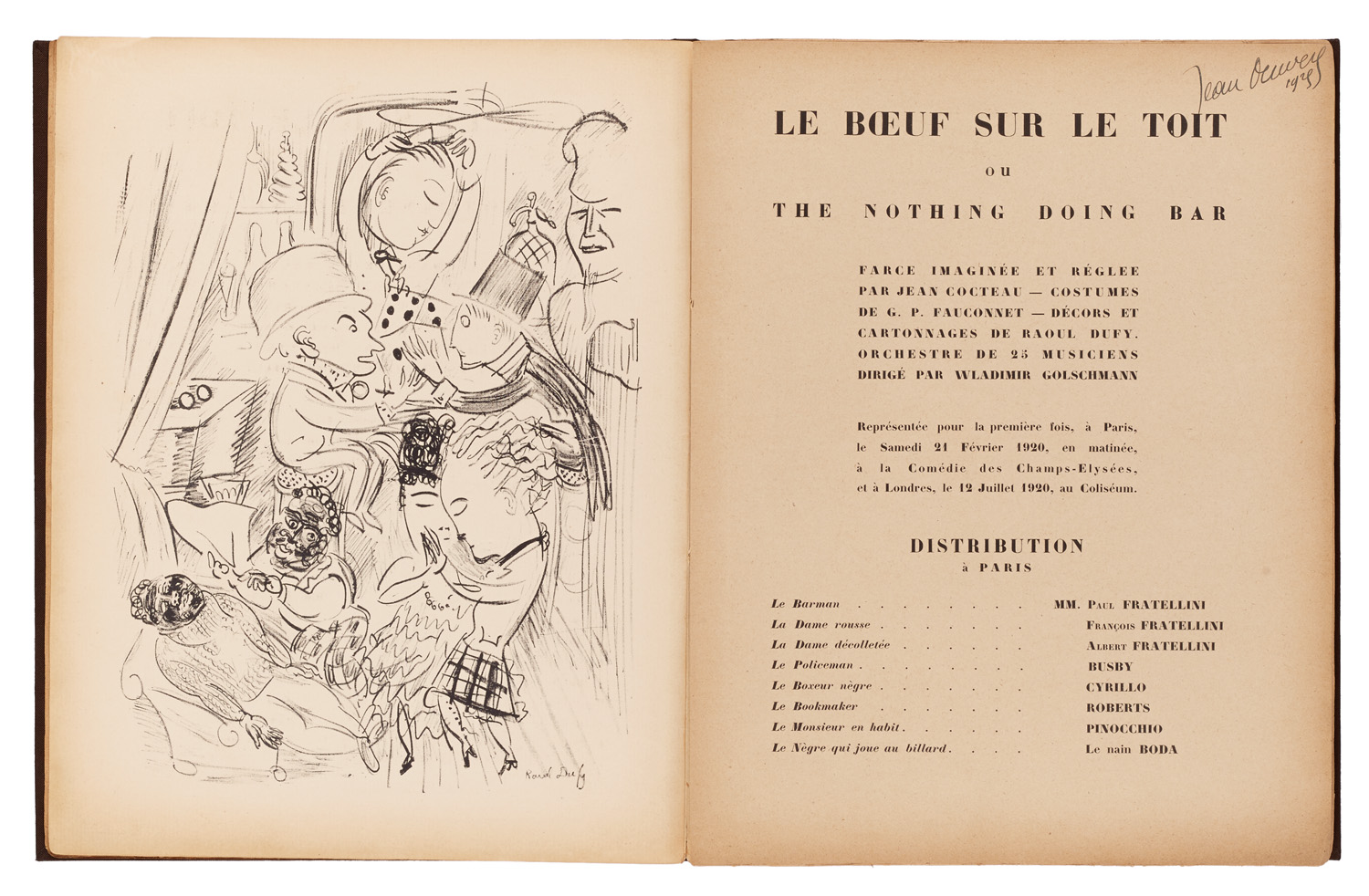 'FAIRE LE BOEUF' MILHAUD, Darius.
Le boeuf sur le toit, ou The nothing doing bar. Farce imaginée et réglée par Jean Cocteau – costumes de G. P. Fauconnet – décors et cartonnages de Raoul Dufy. Orchestre de 25 musiciens dirigé par Wladimir Golschmann. Représentée pour la première fois, à Paris, le samedi 21 Février 1920, en matinée, à la Comédie des Champs-Elysées, et à Londres, le 12 Juillet 1920, au Coliséum.
First edition of Milhaud's Le boeuf sur le toit, Op. 58 (The ox on the roof, or The nothing-doing bar), a surrealist ballet-farce which became extremely popular in 1920s Paris. The scenario is provided by Jean Cocteau, and the work is arranged for two pianos by the composer. This is one of Milhaud's most frequently performed and recorded orchestral works.