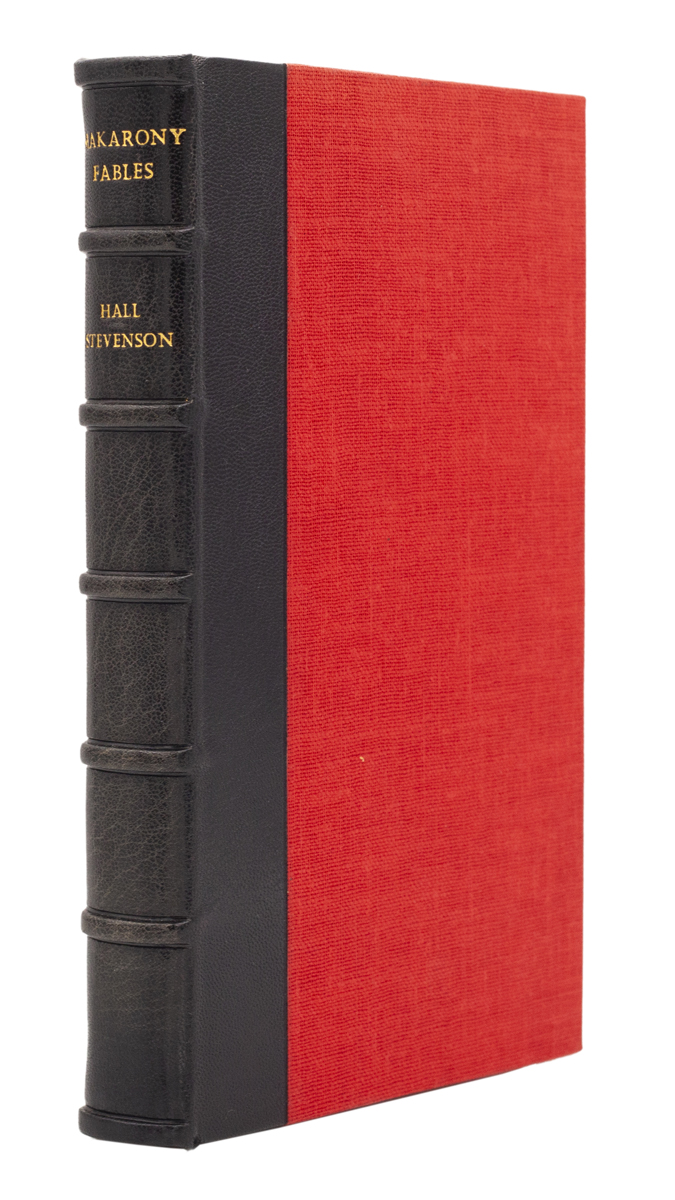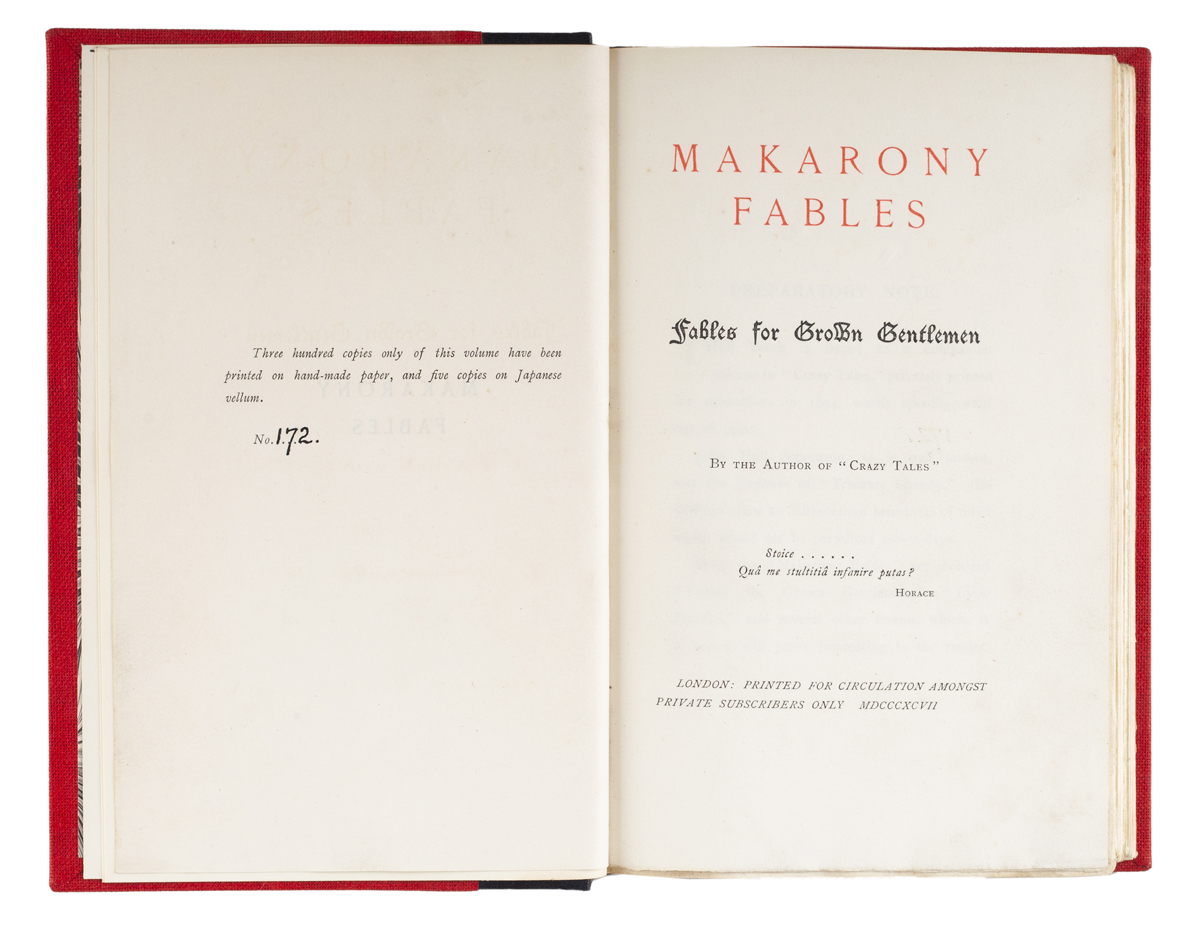 [HALL STEVENSON, John.]
Makarony Fables …
London: 'Printed for Circulation among private Subscribers only', 1897.
8vo, pp. 258; top edge gilt, others uncut; a fine copy bound in 1970 by Sangorski and Sutcilffe in quarter black morocco and scarlet cloth, marbled endpapers.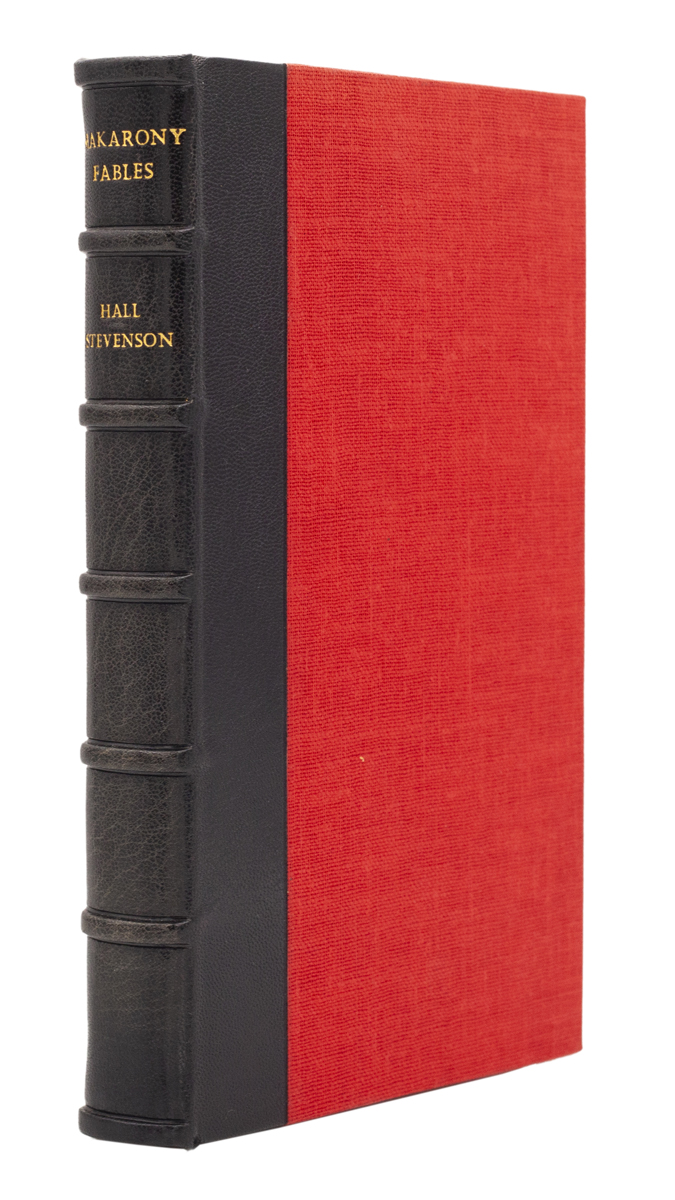 Added to your basket:
Makarony Fables …
Limited edition, numbered 172 of 300 copies, of this collection of satiric fables in verse by the poet and satirist John Hall-Stevenson (1718–1785), reprinted from the original edition of 1768. Hall-Stevenson's reputation relies heavily on his friendship with Laurence Sterne, his contemporary at Jesus College Cambridge, both appearing in Tristram Shandy and A Sentimental Journey as 'Eugenius' and attempting to capitalize on his friend's success by publishing sequels to Sterne's writings.
You may also be interested in...
Elegantly Bound TACITUS, C. Cornelius; Justus LIPSIUS and Hugo GROTIUS (editors).
[Opera] C. Corn. Tacitus ex I. Lipsii editione cum not. et emend. H. Grotii [– Historiarum libri quinque et alia ejusdem quae extant].
First edition with Grotius's notes, elegantly bound in early nineteenth-century English morocco. Elzevir had published an edition of Lipsius's Tacitus in 1634; Dibdin notes 'Of these elegant little editions [of 1634 and 1640], that of 1640 is preferred, on account of its having the notes of Grotius. It is one of the scarcest of the Elzevir classics.'
PRE-PUBLICATION MANUSCRIPT CASTI, Giovanni Battista.
'Il novelliere Italiano versificato ossia le piacevoli e curiose novelle in ottava rima del celebre sigr. abate Giambattista Casti poeta cesareo.'
A handsome manuscript compendium of a selection of the witty Novelle galanti of the Italian poet and satirist Casti, apparently compiled at Vienna two years before the first partial edition was printed at Rome in 1790. An interesting witness to the Novelle's circulation in manuscript prior to publication, which would repay careful textual analysis.