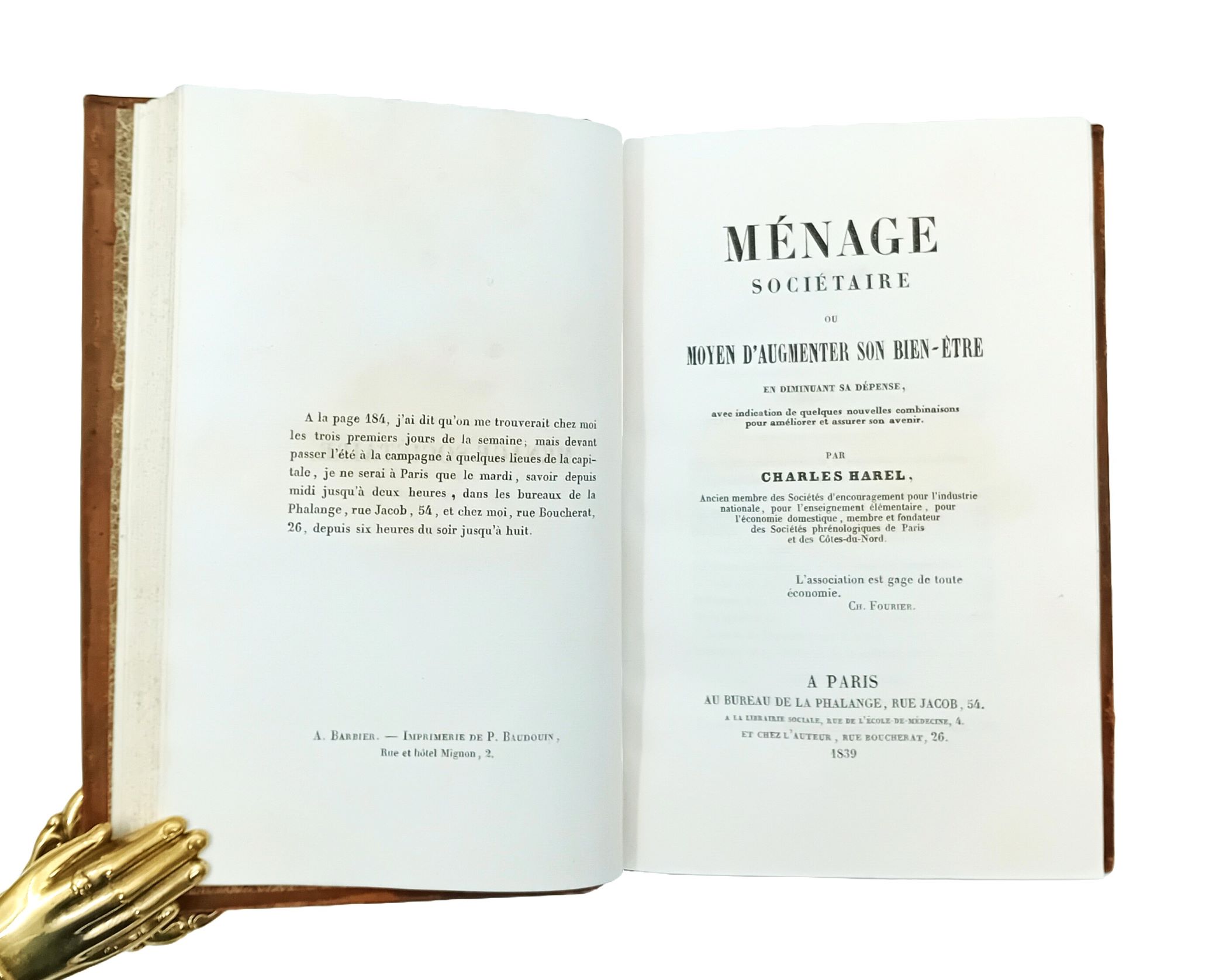 A SAMMELBAND ON PEACEINCLUDING RARE PAMPHLET ON WILLIAM PENN AND WILBERFORCEAND A RARE UTOPIA BY A
HAREL, Charles.
Ménage sociétaire ou Moyen d'augmenter son bien-être en diminuant sa dépense, avec indication de quelques nouvelles combinaisons pour améliorer et assurer son avenir.
Paris, Bureau de la Phalange, à la librairie Sociale, 1839.
9 works in one vol., 8vo, pp. x, ii, 212, with one plate; 91, [5]; 4; 4; 16; 19, [1]; 4; 20; 23, [1]; some browning to items 3 and 5; very good in contemporary polished tree calf, flat spine gilt, morocco lettering-piece, marbled endpapers; a few minor abrasions to sides.
£975

Approximately:
US $1300
€1152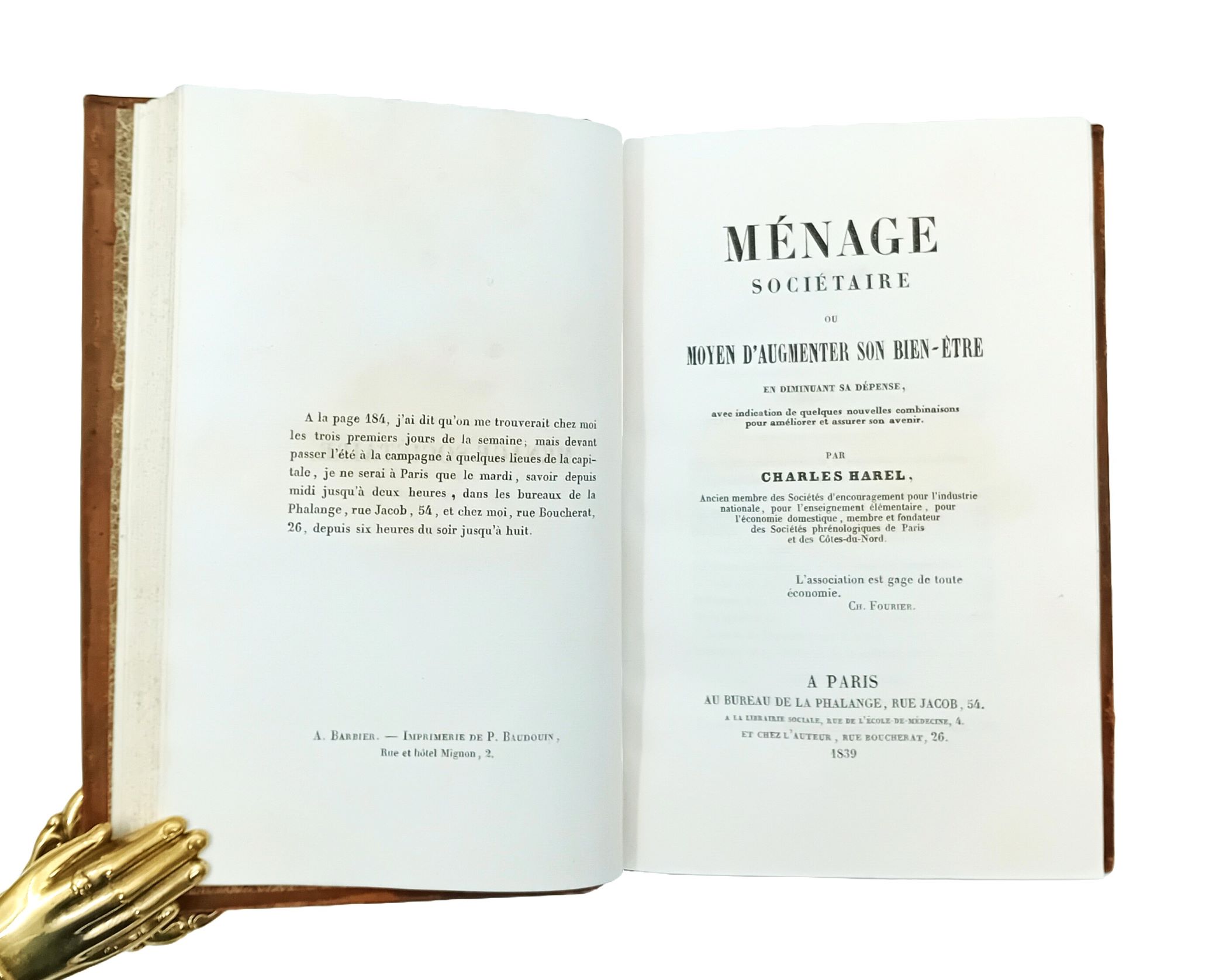 Added to your basket:
Ménage sociétaire ou Moyen d'augmenter son bien-être en diminuant sa dépense, avec indication de quelques nouvelles combinaisons pour améliorer et assurer son avenir.
1. First edition of this work by the entrepreneur and inventor Charles Harel (1771-1852), a friend and disciple of Charles Fourier's. This plan describes Harel's project for the founding of a community of 200 celibates: a utopia of communal life detailing rules ('love', 'the library'etc.) and practical advice (the influence of specific foods, magnetism, exercise). It is accompanied by a facsimile of an autograph letter from Charles Fourier to Harel.

2. First edition of these scientific remarks on space, void, the barometer, electricity and other phenomena of physics by a distinguished agronomist and physicist, the inventor of a micrometer.

3-5. First editions: a presentation of the Sociétés de la Paix founded at the end of the Napoleonic wars, first created in America in 1815, and two rare pacifist pamphlets.

6. Rare tiré-à-part, a pacifist pamphlet containing an extract from Necker's Administration des Finances de la France, with a demonstration of the deadly economic consequences of war.

7. First edition of this imaginary dialogue featuring William Penn. Quakers played a pivotal role in the formation of the Sociétés de la Paix and in the establishment of the pacifist movement in the 19th century.

8. First edition, rare, of a report for the year 1843 of the first pacifist association in France, founded in 1821 as 'Société de la Morale Chrétienne'.

9. First edition of this note on William Wilberforce.
You may also be interested in...
[THISTLEWOOD, Arthur.]
The Trials of Arthur Thistlewood, and others, for high treason, at the Old Bailey Sessions-House, commencing on Saturday, the 15th, and ending on Thursday, the 27th April, 1820. Taken in short hand, according to the method invented by John Byrom … Illustrated by back and front views of the premises in Cato Street … and by several original portraits of the principal conspirators … with an appendix, containing circumstantial details of the execution and decapitation of Thistlewood, Tidd, Ings, Davidson, and Brunt.
First edition, a fairly deluxe account by the usual standards, of the Cato Street Conspiracy trials. In 1820 five conspirators, probably from a much larger group of Spenceans centred on the radical Marylebone Union Reading Society, including one black man, Thomas Davidson, were hanged and beheaded for high treason after plotting to murder cabinet ministers.
'A PROFITABLE BOOKE' FOR GENERATIONS OF LAW STUDENTS PERKINS, John.
A profitable booke of Master Iohn Perkins, Fellow of the Inner Temple. Treating of the lawes of England.
An attractive copy of the 1601 edition of Perkins' Profitable book. Perkins, who died around 1545, had a troubled career – allegedly having his heels 'turned upward' in Westminster Hall for being a dishonest attorney and later being imprisoned and banished from Oxford for accusing two local abbots of treason and vice – but he became a 'household name for generations of law students by reason of his little book on land law, called Perkins' Profitable Book, which first appeared (in law French) in 1528 under the Latin title Perutilis tractatus magistri Johannis Parkins interioris Templi socii' (ODNB). The first English translation appeared in 1555 and ran through seventeen editions and reprintings before 1660, with an edition appearing as late as 1827. 'The English versions are divided into eleven chapters (dealing with grants, deeds, feoffments, exchanges, dower, curtesy, wills, devises, surrenders, reservations, and conditions) and 845 numbered sections. The Profitable Book was intended as a kind of supplement to Littleton's Tenures ... [It] has a thoughtful jurisprudential preface, is clearly written, and was considered authoritative' (ibid.).