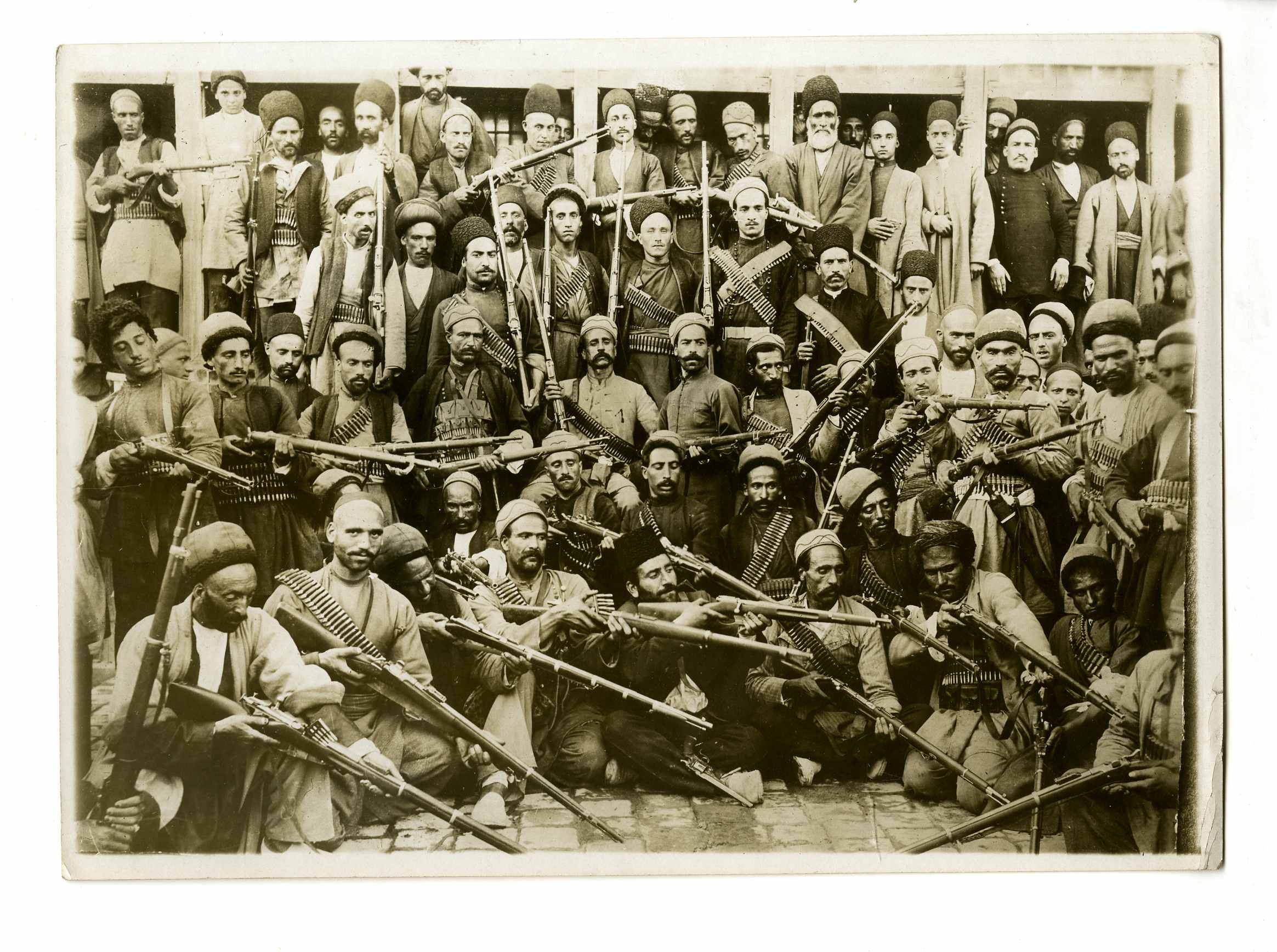 PERSIAN REVOLUTIONARIES: A DISPLAY OF FORCE
HARLINGUE, L. [Albert].
'Baktiaris Persans'.
[Iran, c. 1905-1911].
Gelatin silver (copy) print, 13 x 18 cm, photographer's ink stamp 'Maison Vve. L. Harlingue, reportage photographique, 5, Rue Seveste, 5, Téléphone 445 43' and title in pencil on verso; in very good condition.
£1500 + VAT

Approximately:
US $1839
€1742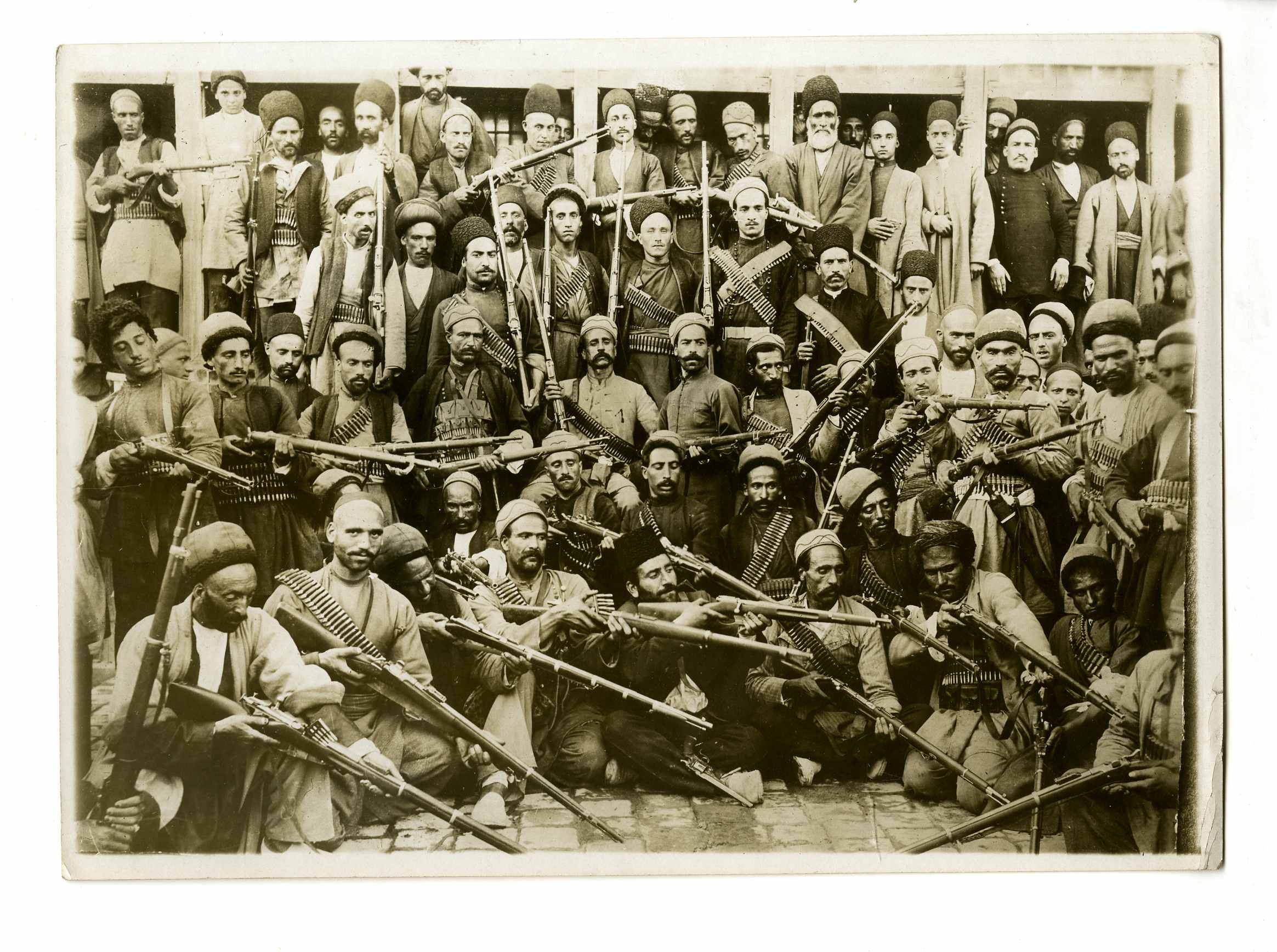 Added to your basket:
'Baktiaris Persans'.
An impressive press image of the Bakhtiari tribe – revolutionaries in the Persian Constitutional Revolution of 1905-1911 – here posing in strength with their weapons. Their leader, Sardar As'ad Bakhtiari (1856-1917), was a key figure in the Iranian revolution; under his command (and with German Empire weapons) these forces captured Tehran in 1909 to reinstate the constitution, heralding the modern era.

The Harlingue agency was established at the Parisian address on the verso of this print in 1905.
You may also be interested in...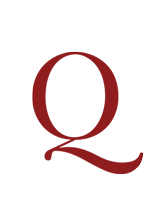 BATTY, Robert.
Campaign of the Left Wing of the Allied Army, in the western Pyrenees and south of France, in the years 1813–14; under Field-Marshal The Marquess of Wellington. Illustrated by a detailed plan of the operations, and numerous plates of mountain and river scenery.
First edition; very scarce. Robert Batty (1789–1848) was the son of the obstetric physician and amateur artist Dr Robert Batty (1762–1849; see Oxford DNB). 'After attending school in Kirkby Lonsdale, Westmorland, and in London, at the age of fifteen he travelled to Italy with his cousin, Henry Bickersteth (later Lord Langdale), where he "had the opportunity of cultivating a taste for art, which belonged to his family". He studied at Caius College, Cambridge (admitted March 1808), obtaining an MB in 1813, but did not practise medicine. Instead, having become an ensign in the 1st (Grenadier) guards on 14 January 1813, Batty served with its 1st battalion towards the end of the Peninsular War, notably at the blockade of Bayonne, before embarking for England from Bordeaux on 23 July 1814 . . . . Among artists of the English school, Samuel Redgrave concluded that "his industry was great, his works carefully and truthfully drawn, his architecture correct in its proportions and outlines, and his merits as a topographical draughtsman deserve recognition" ' (Oxford DNB). Batty subsequently served at Quatre Bras and at Waterloo, and published A sketch of the late campaign in the Netherlands (1815).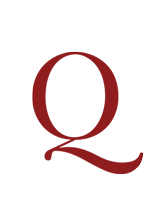 AUTOBIOGRAPHY OF A SOLDIER TURNED BOOKSELLER BROWN, John.
The life and adventures of a soldier; or, Struggles through real life: comprising a faithful history of the late war in Spain. By John Brown, of the –th Light Dragoons, and late of the 67th Foot.
First edition; very rare. A vivid account of the Carlist War as experienced by a rank and file soldier in the British Legion. John Brown's regiment marched into Spain on 5 June 1835 and reached 'St. Ander' on the 10th, whence it sailed to San Sebastian. On 11 August he married the daughter of a flour merchant of San Sebastian, and on 26 September sailed for besieged Bilbao, where his division remained until the middle of October. During the subsequent march to Vitoria, Brown was incapacitated by severely frostbitten feet and spent three weeks convalescing at Miranda de Ebro. After the fierce battle to raise the siege of San Sebastian on 5 May 1836 he was left in charge of three captured officers, two of whom he killed in self-defence when they set upon him, Brown subduing the third after a struggle on a nearby dung-heap. He received a bullet through the thigh during a skirmish on 1 August, and a few weeks later he was court-martialled after becoming heavily intoxicated on wine from the army's stores. At Hernani (15 March 1837) his horse was shot from under him and he had a 'hair-breadth escape' from the enemy. On returning to San Sebastian shortly afterwards Brown was informed of the death of the child he had fathered with his Spanish wife.