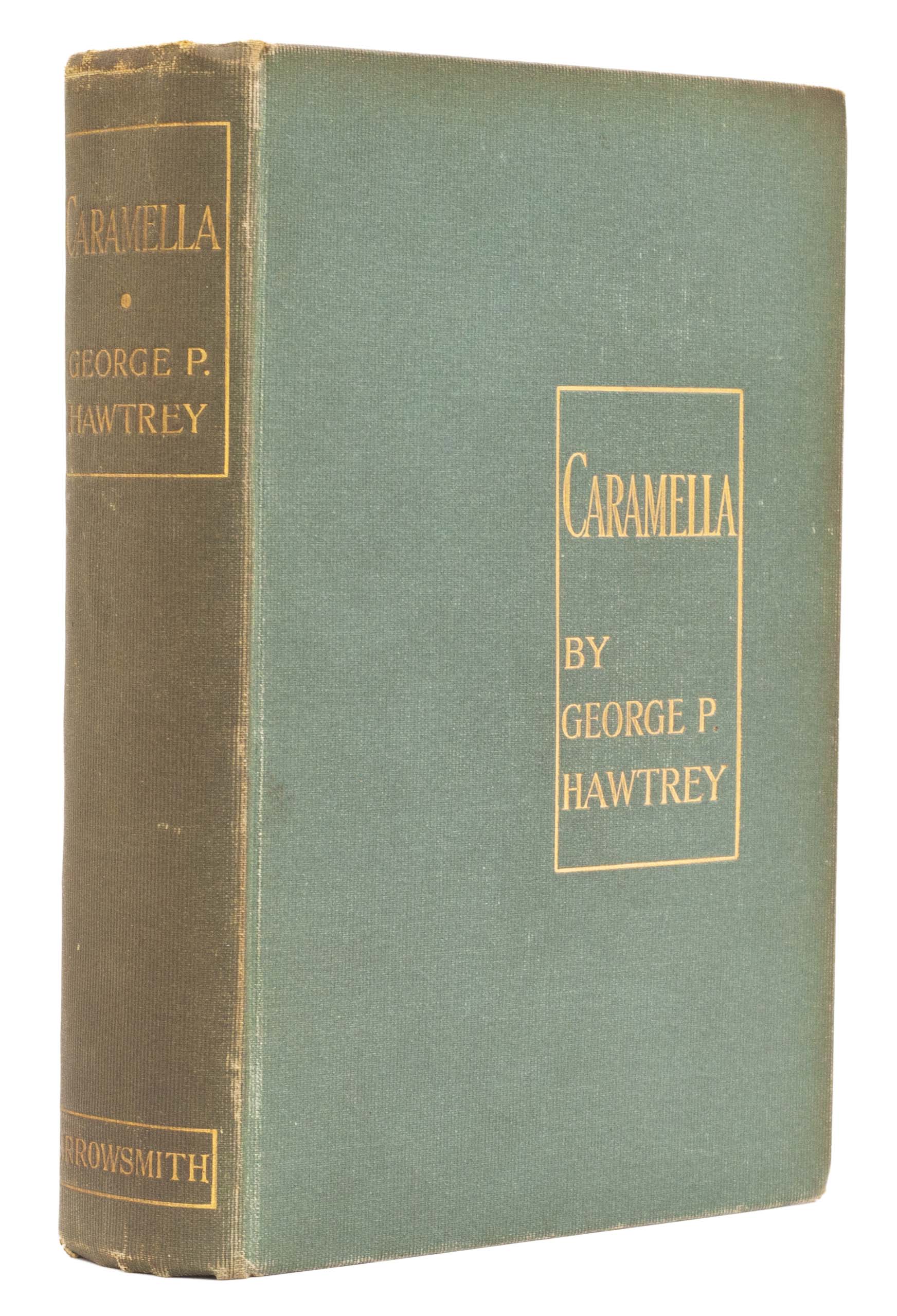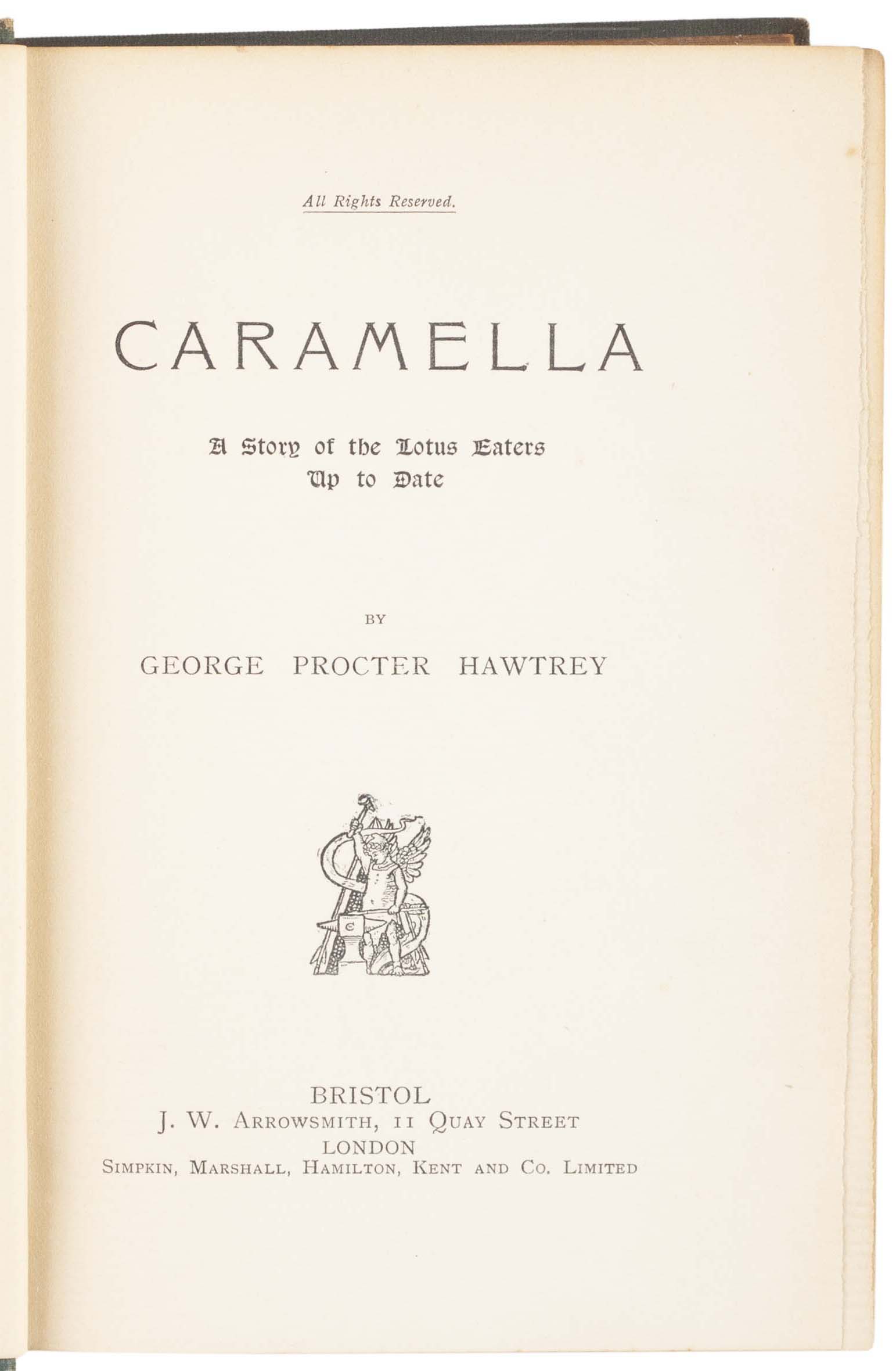 A UTOPIA OF LOTUS-EATING AND PAPER MONEY
HAWTREY, George Procter.
Caramella. A story of the lotus eaters up to date.
Bristol, J. W. Arrowsmith, London, Simpkin, Marshall, Hamilton, Kent and Co., [1899].
8vo, pp. 426, [2 (advertisements)]; occasional light marking but otherwise a very good clean copy; in publishers original green cloth, gilt lettering, corners and head and foot of spine slightly worn but in a good condition.
£240

Approximately:
US $292
€283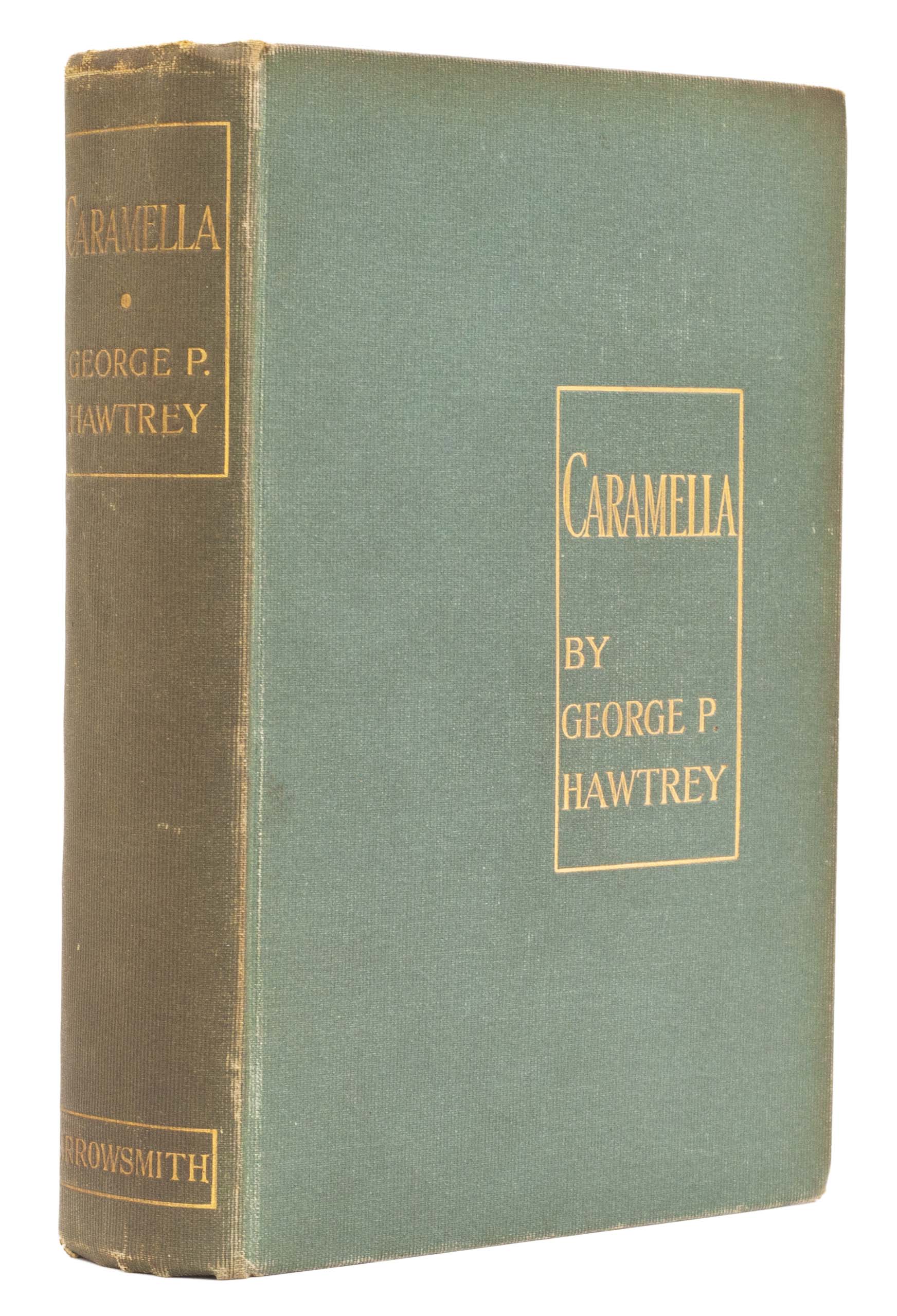 Added to your basket:
Caramella. A story of the lotus eaters up to date.
First edition of this utopian novel exploring the bliss of Caramella. Caramella is a land visited by Odysseus who sent crew members ashore, where they consumed the lotus fruit and became addicted, 'forgetting all thoughts of return' (Odyssey IX). In Hawtrey's novel, this fruit makes Caramella an island of utopian bliss, in which little work is required: 'the fruit-gatherers struck for a three hours' day, and of course claimed an hour for dinner in the middle'. This utopian world is used as a contrast to European society. Caramella thrives under a system of paper money separated from gold reserves – this removes the need for national debt or taxation as money is simply printed as required. Inflation is apparently unknown. Additionally, Hawtrey uses the island to attack militarism. The Caramese disdain soldiers, who are not received in polite society, as 'the very idea of strife was utterly repugnant to the national character'.

The army provides the antagonist and is opposed by Jack Fanshawe, an able but indolent young man who journeys to Caramella after being cast out by his family. Jack is viewed as a workaholic in the blissful ease of Caramella, and rapidly rises to become the President's secretary. He discovers plans for a coup, and foils them, securing the island and annexing it to the British Empire. The writing style is continually funny and colloquial: when Jack queries that 'the Caramese army is divided into two portions,—the real and the imaginary', he is told 'Efficient and non-efficient are the usual terms'.

OCLC finds three copies only in the UK and one in the US; Library Hub (Copac) finds one further copy in Oxford.
You may also be interested in...
ONE OF TWO HUNDRED COPIES POPE, Alexander. 
An Essay on Man, in four Epistles to Henry St. John, Lord Bolingbroke … 
A very fine edition, one of two hundred copies according to Lowndes.  The four plates in the text were engraved for a forthcoming parallel-text English–Portuguese edition published by Charles Whittington – the prints here being proofs before lettering.  Their inclusion along with 'the present perfection of the typographic art' should make 'a specimen of excellence which will be equally acceptable to the collector, the connoisseur, and the admirer of our philosophical poet' (Advertisement). 
[MONTAGU, Mary Wortley (attr.), and PUISSIEUX, Madeline de (translator).]
La femme n'est pas inferieure a l'homme, traduit de l'anglois.
First French translation, uncommon, of Woman not inferior to Man: or, a short and modest Vindication of the natural Right of the fair-Sex to a perfect Equality of Power, Dignity, and Esteem, with the Men, first published in 1739 under the name 'Sophia, a person of quality' and sometimes attributed to Mary Wortley Montagu (1689–1762; see Quaritch, Women (2019) 36). Drawing on De l'égalité des deux sexes of Poulain de la Barre, the work examines the justness of the esteem (or lack thereof) in which men hold women, the relative intellectual capacities of the two sexes, whether men are fitter to govern and hold public office than women, and whether women are capable of teaching the sciences and serving in the military. The author concludes: 'let us show [men], by what little we do without aid of education, the much we might do if they did us justice; that we may force a blush from them, if possible, and compel them to confess their own baseness to us, and that the worst of us deserve much better treatment than the best of us receive'.