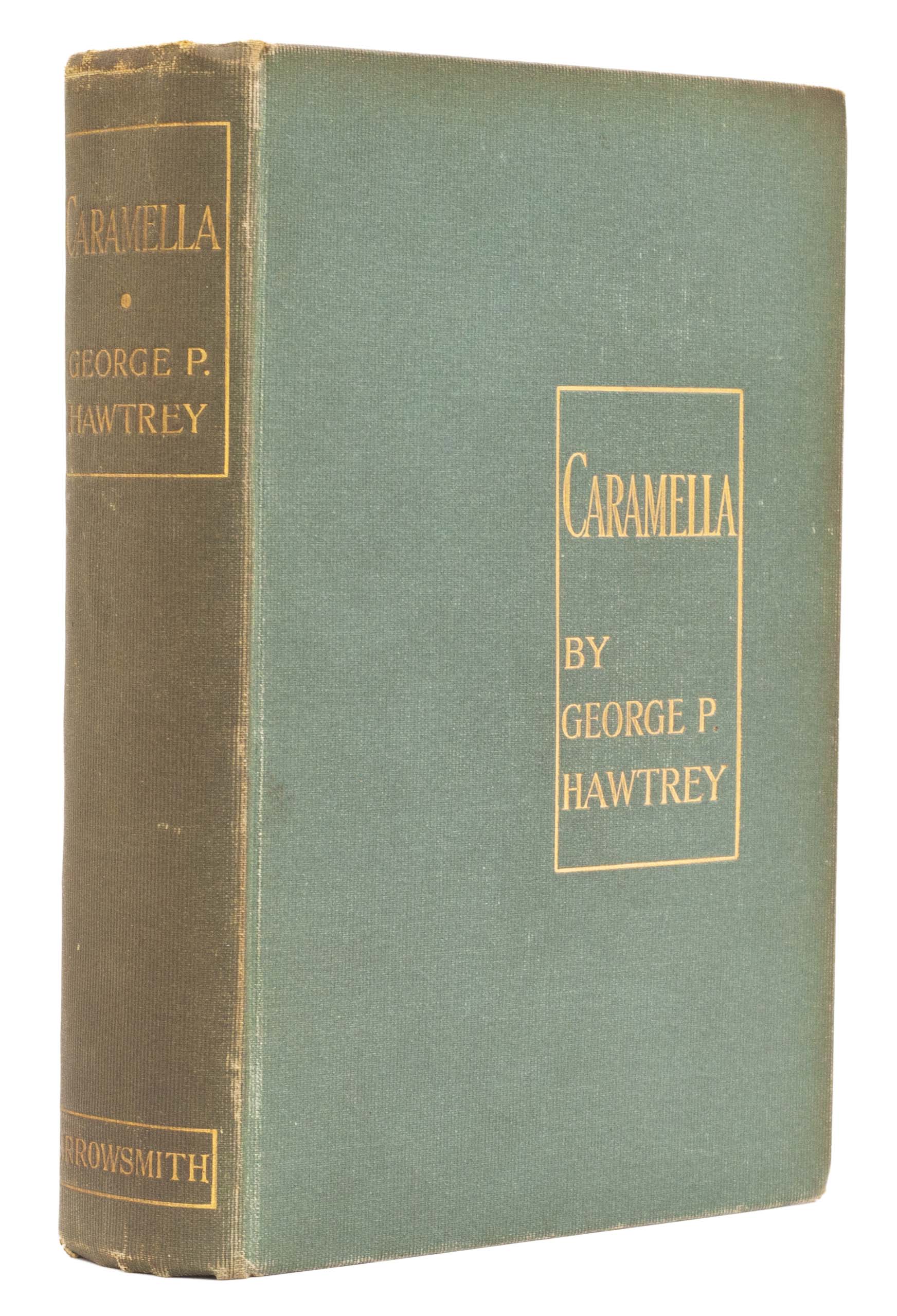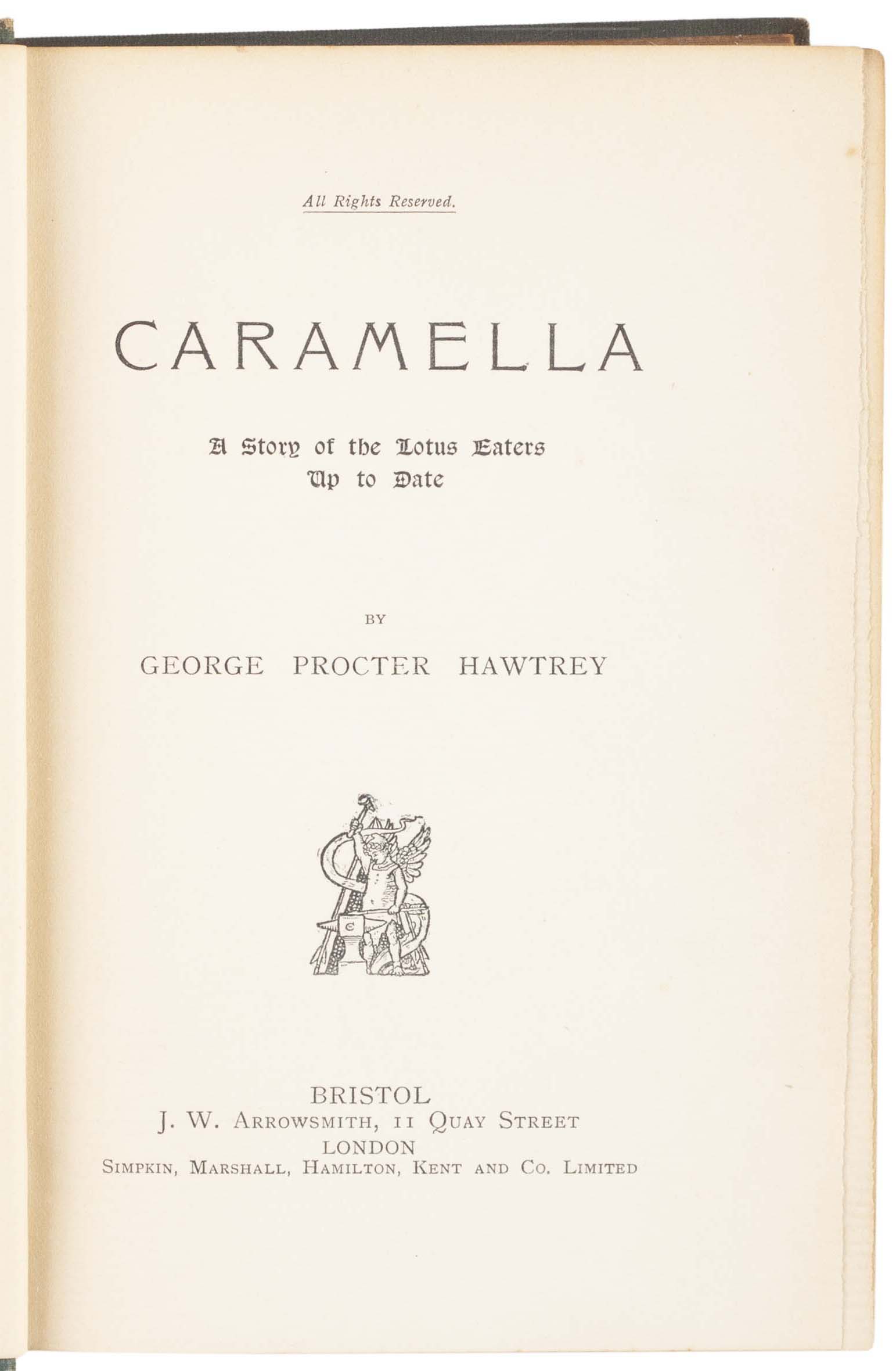 AN UTOPIAN PLACE OF LOTUS EATING AND PAPER MONEY
HAWTREY, George Procter.
Caramella. A story of the lotus eaters up to date.
Bristol, J. W. Arrowsmith, London, Simpkin, Marshall, Hamilton, Kent and Co., [1899].
8vo, pp. 426, [2 (advertisements)]; occasional light marking but otherwise a very good, clean copy; in publishers original green cloth, gilt lettering, corners and head and foot of spine slightly worn.
£240

Approximately:
US $291
€277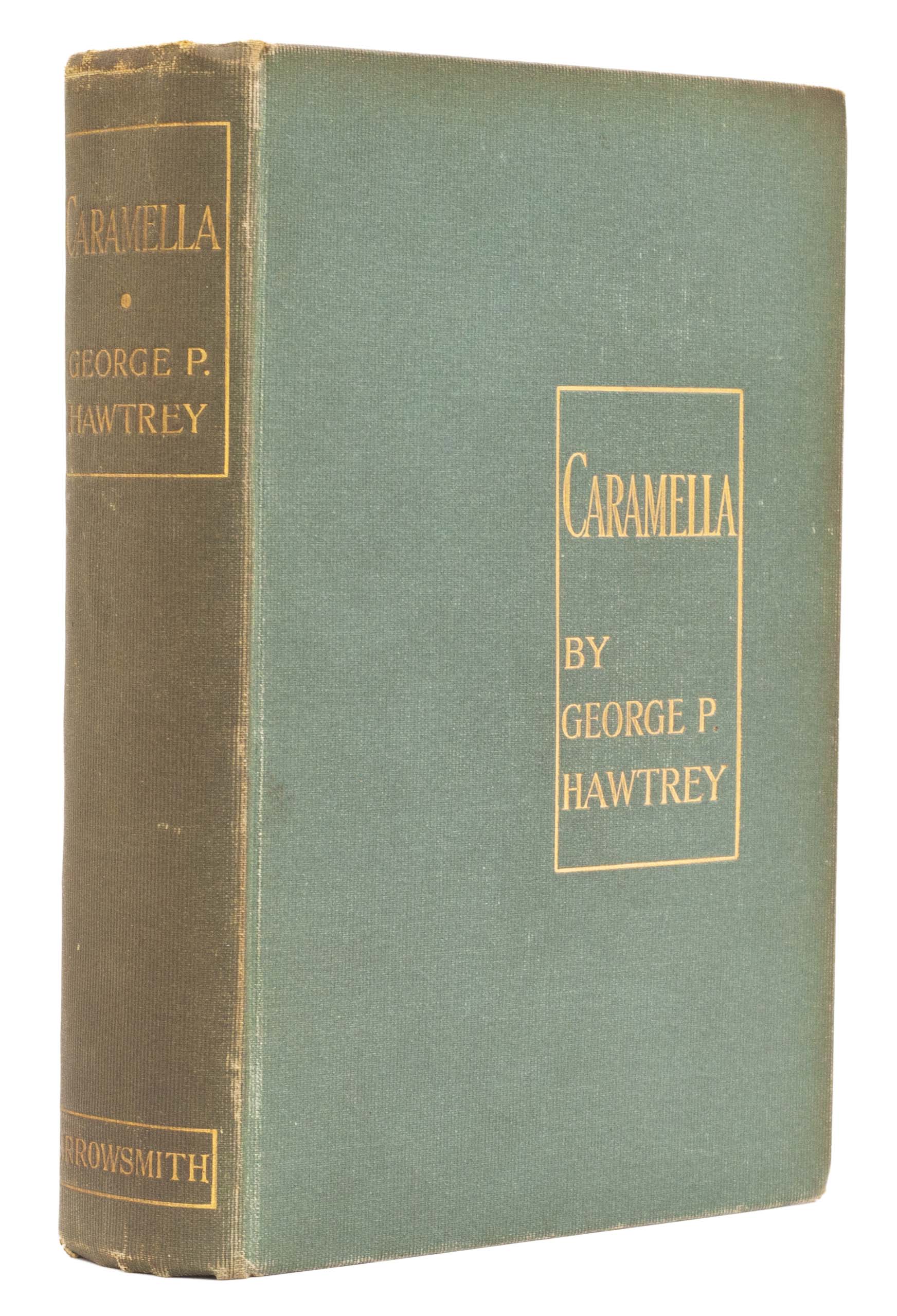 Added to your basket:
Caramella. A story of the lotus eaters up to date.
First edition of this utopian novel exploring the bliss of Caramella. Caramella is a land visited by Odysseus who sent crew members ashore, where they consumed the lotus fruit and became addicted, 'forgetting all thoughts of return' (Odyssey, book nine). In Hawtrey's novel, this fruit makes Caramella an island of utopian bliss, in which little work is required: 'the fruit-gatherers struck for a three hours' day, and of course claimed an hour for dinner in the middle'. This utopian world is used as a contrast to European society. Caramella thrives under a system of paper money separated from gold reserves - this removes the need for national debt or taxation as money is simply printed as required. Inflation is apparently unknown. Additionally, Hawtrey uses the island to attack militarism. The Caramese disdain soldiers, who are not received in polite society, as 'the very idea of strife was utterly repugnant to the national character'.

The army provides the antagonist and is opposed by Jack Fanshawe, an able but indolent young man who journeys to Caramella after being cast out by his family. Jack is viewed as a workaholic in the blissful ease of Caramella, and rapidly rises to become the President's secretary. He discovers plans for a coup, and foils them, securing the island and annexing it to the British Empire. The writing style is continually funny and colloquial: when Jack queries that 'the Caramese army is divided into two portions,—the real and the imaginary', he is told 'Efficient and non-efficient are the usual terms'.

OCLC finds three copies in the UK and one in the US; Library Hub adds one further copy in Oxford.
You may also be interested in...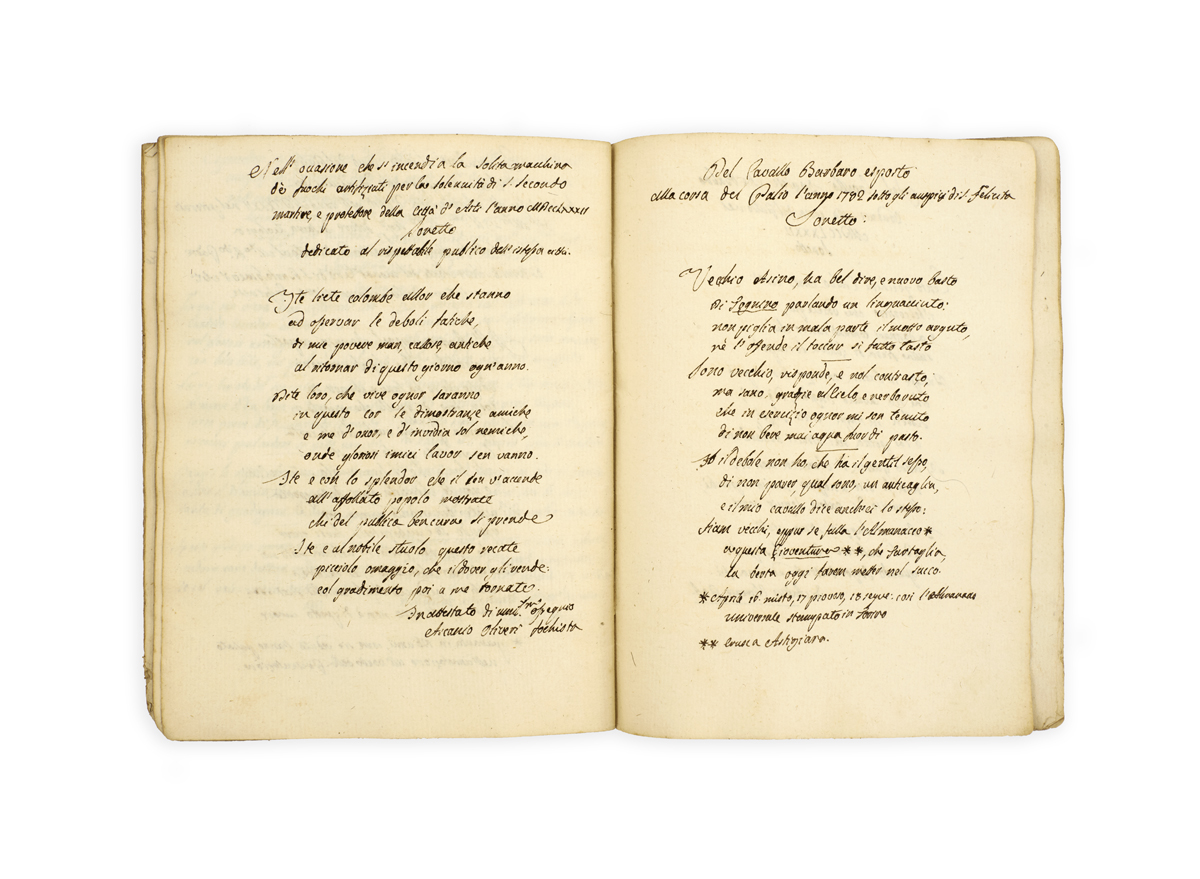 WITH UNPUBLISHED POEMS ON HORSE-RACING [POETRY.] 
'Trattato della [poesia Toscana]'. 
A manuscript treatise on the method of composing poetry in Italian, with numerous examples from renowned authors and eight apparently unpublished poems about horse-racing, with references to Arabian, Sardinian, English, and African horses, as well as to a firework display.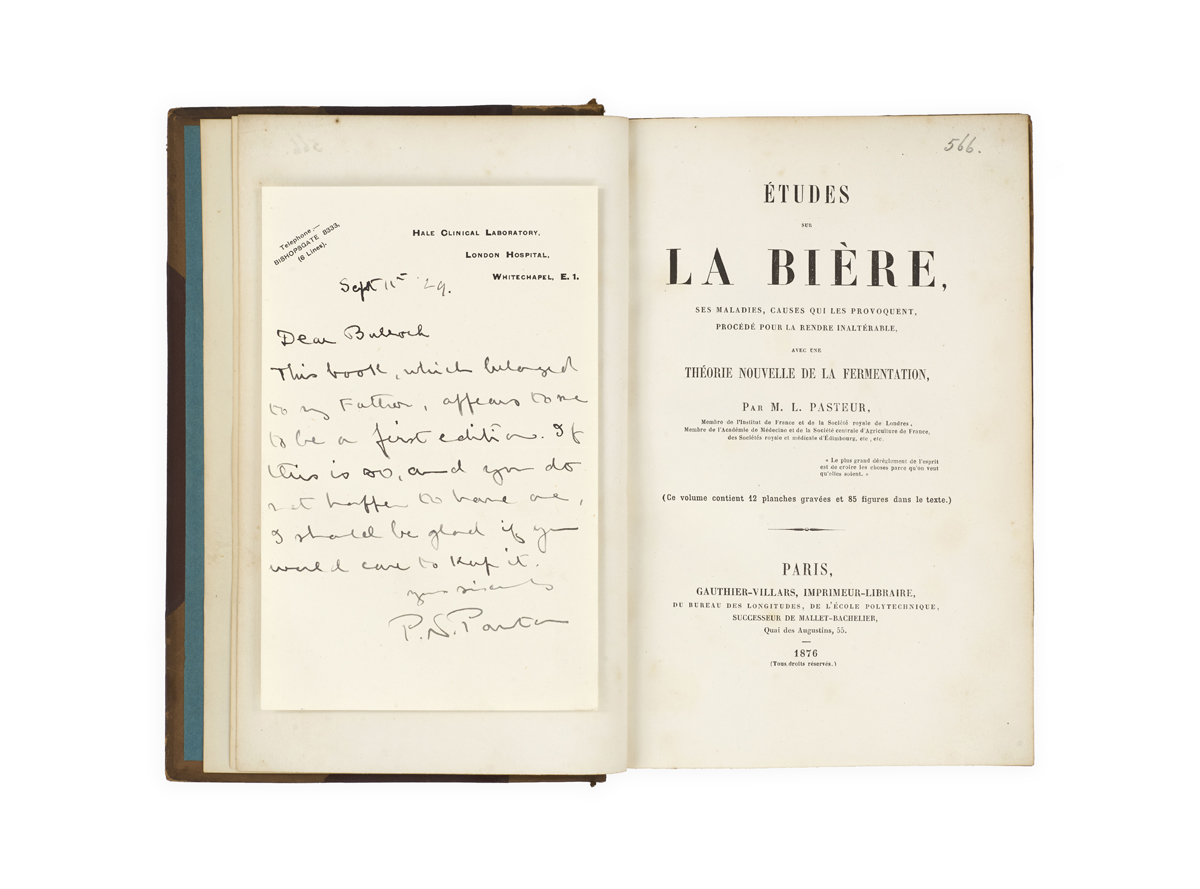 PASTEUR, Louis. 
Études sur la bière, ses maladies, causes qui les provoquent, procédé pour la rendre inaltérable, avec une théorie nouvelle de la fermentation. 
First edition.  In his Études sur la bière, Pasteur 'described a new and perfected method of preparing pure yeast [and] emphasized that yeast occasionally required small quantities of oxygen in order to retain its "youth" and its capacity to germinate in oxygen-free environments.  Having now achieved a new appreciation for the importance of oxygen in brewing, and especially the advantages of aerated wort, he insisted only that air should be carefully limited and freed of foreign germs rather than entirely eliminated' (DSB).