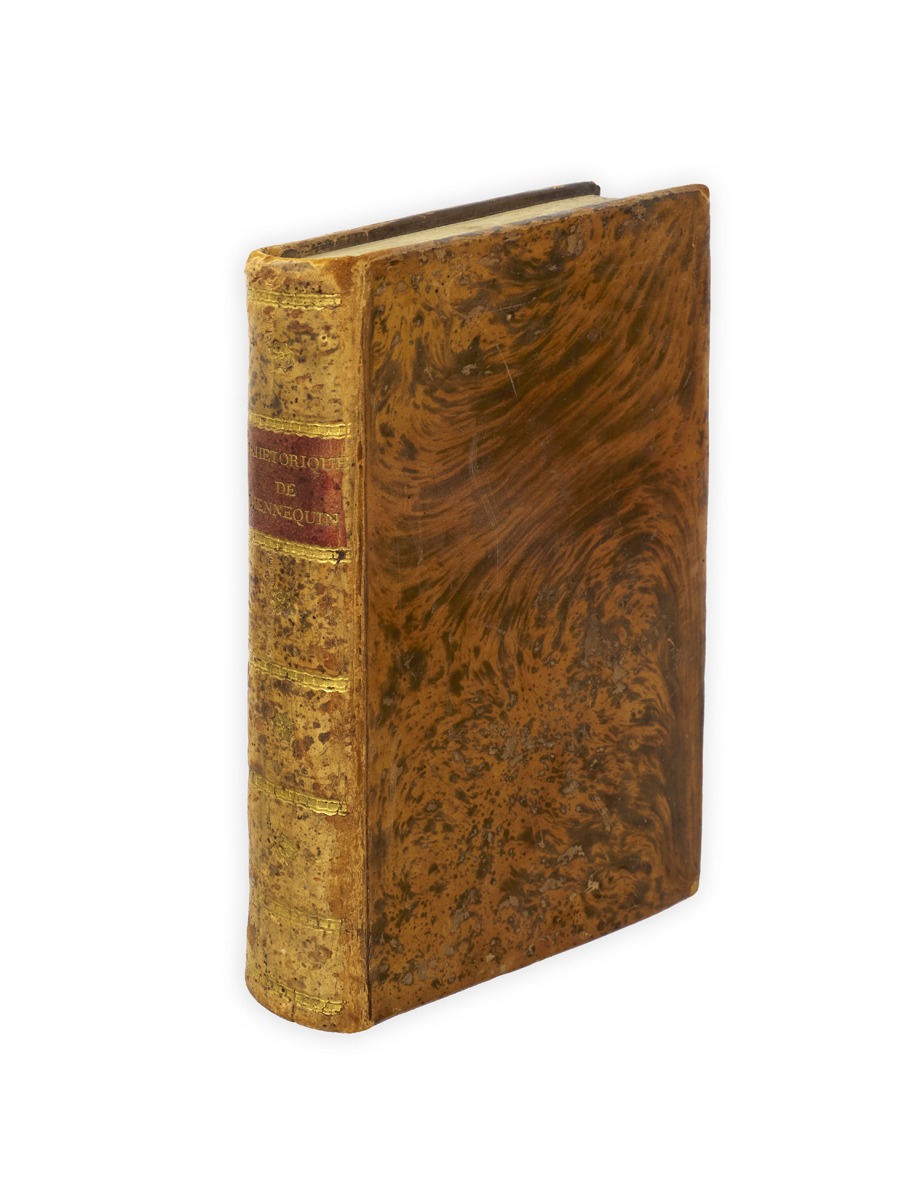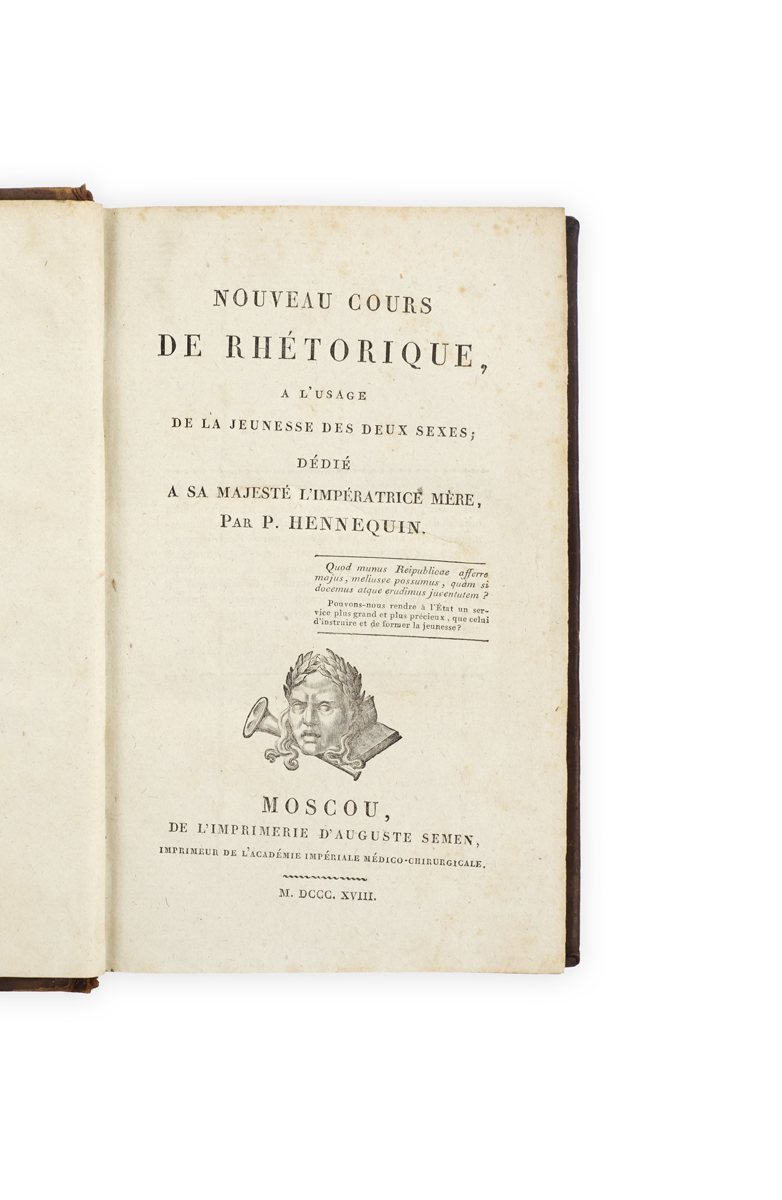 HENNEQUIN, Pierre.
Nouveau cours de rhétorique, à l'usage de la jeunesse des deux sexes; dédié à sa Majesté l'Impératrice mère.
Moscow, Auguste Semen, 1818.
8vo, pp. [vi], xiii, [14]–462, [2] errata; engraved tailpieces; occasional marginal staining and light foxing, generally not affecting text, but otherwise clean and crisp; in contemporary tree calf, flat spine gilt with red label lettered in gilt; marbled endpapers; boards very lightly worn, but still an attractive copy.
£1250

Approximately:
US $1706
€1403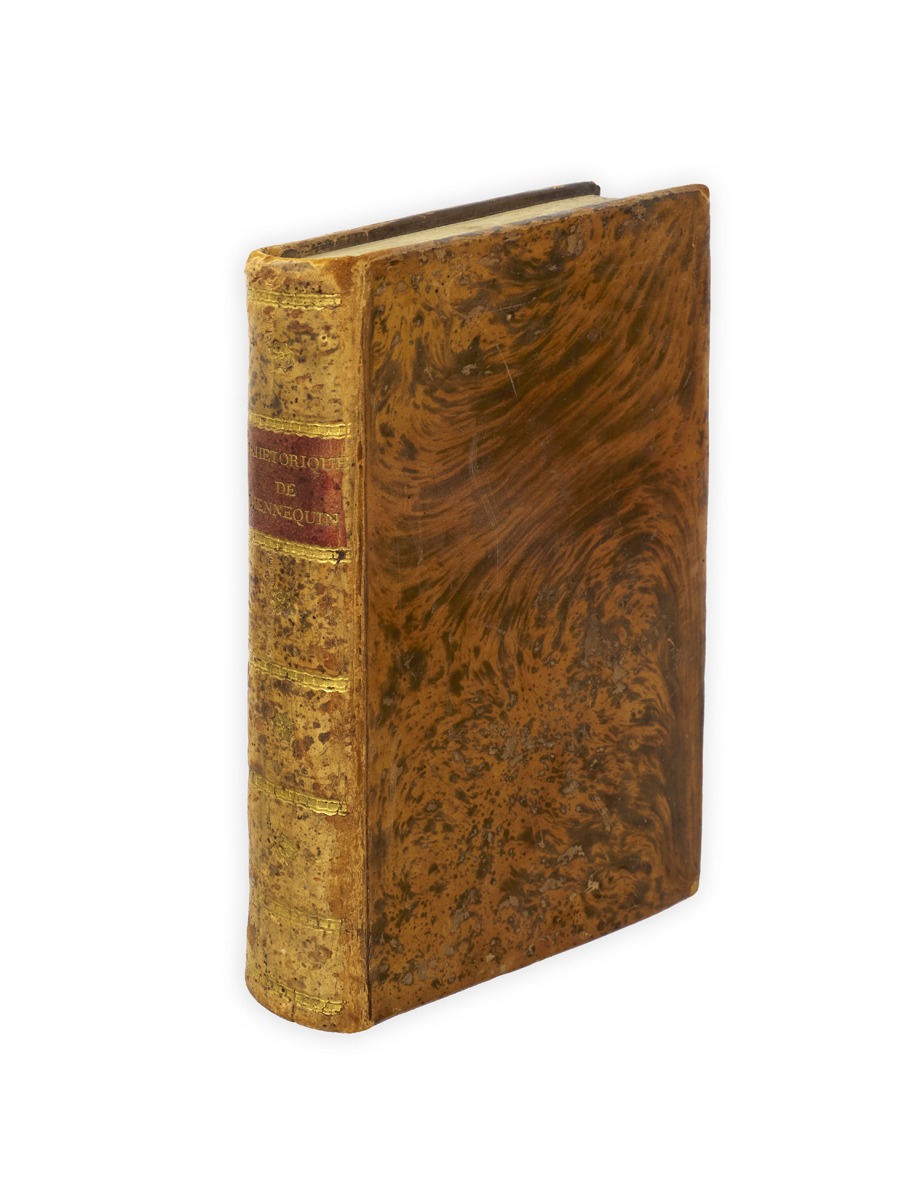 Added to your basket:
Nouveau cours de rhétorique, à l'usage de la jeunesse des deux sexes; dédié à sa Majesté l'Impératrice mère.
Only edition, very uncommon, of this guide to rhetoric by the Moscow-based French grammarian Pierre Hennequin (1772–1849), explicitly designed for both sexes and dedicated to the Dowager Empress Maria Feodorovna (1759–1828).

Hennequin is very explicit that his guide is written for both sexes: 'Je demanderois aux hommes pourquoi ils veulent s'arroger le droit exclusive d'avoir de la raison et de la cultiver, d'avoir de l'esprit et de l'orner, d'avoir un cœur et de la former, d'aquérir des connoissances et de les communiquer'. His aim, he continues, is to fight the prejudice that has historically condemned the 'more interesting half of human society' to ignorance and obscurity, and to encourage women to take the place in society that their talents require. The work, then, gives advice on invention, oratorical passion, rhetorical structures and techniques, the importance of good taste and style, figures of speech and the use of flourishes including repetition and parenthesis, pronunciation, and gesture.

Hennequin worked as a French teacher in Moscow throughout the 1810s, principally to young aristocratic women, before becoming professor of French at the University of Moscow in 1827. Among his other works was a Cours de literature ancienne et modern, also published by Semen in four volumes (Moscow, 1821-2).

OCLC lists only 2 copies outside Europe (Library of Congress, University of Oklahoma); not in Library Hub.
You may also be interested in...
ORDINAL.
'Prieres et ceremonies de l'ordination 1766'.
An attractive manuscript ordinal detailing the ceremonies to be followed and the prayers to be employed in ordinations, covering the tonsure, admission to the minor orders of porter, lector, exorcist, and acolyte, and admission to the major orders of subdeacon, deacon, and priest.
Reference to Henri-Joseph-Claude de Bourdeilles (1720-1802), Bishop of Soissons from 1764 to 1790, indicates that our manuscript was employed in the diocese of Soissons, in the north of France.
On the tonsure the text states: 'On prepare des ciseaux pour couper les cheveux et un bassin pour les mettre'. Lectors are instructed by the bishop: 'Appliquez vous donc à prononcer la parole de Dieu, c'est à dire les lectures saintes, d'une maniere distincte et intelligible, et sans aucune alteration ou falsification , afin que les fidéles en soient instruits et édifiés.' And exorcists are told: 'vous recevez donc le pouvoir d'imposer les mains sur les possedés et par l'imposition de vos mains, par la grace du St Esprit, et par les paroles des exorcismes les esprits impurs sont forcés de sortir des corps qu'ils possedoient.'
PORNY, Mr [i.e. Antoine Pyron du Martre].
Grammatical Exercises, English and French … to which is added an Introduction to French Poetry … The third edition, corrected.
Unrecorded, the revised third edition of Porny's popular Grammatical Exercises, which had thirteen London editions by 1815, as well as several in Dublin – Charlotte Brontë is one of the many later students who made use of him.