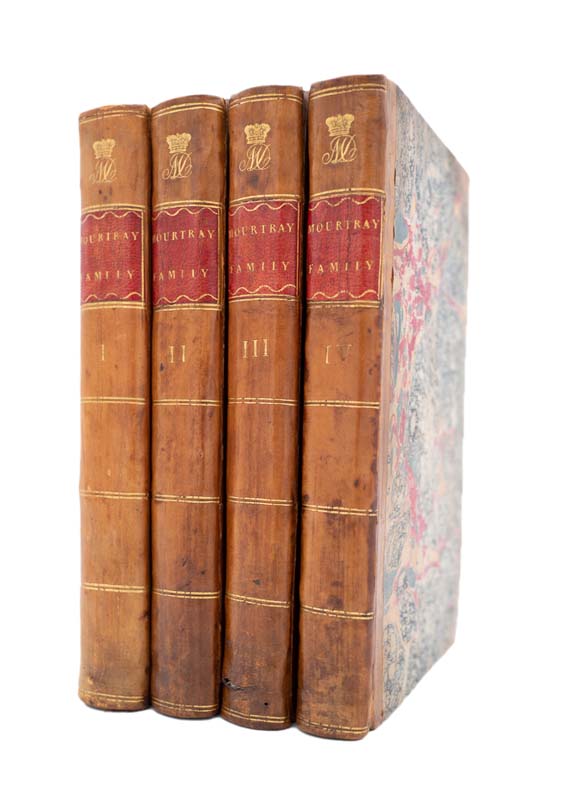 BY BECKFORD'S HALF-SISTER
[HERVEY, Elizabeth].
The Mourtray Family. A Novel …
London: Printed by Millar Ritchie … for R. Faulder … 1800.
4 vols., 12mo, pp. [2], 299, 1]; [2], 281, [1]; [2], 276; [2], 276; one or two gatherings beginning to spring, else a fine copy in contemporary half calf over marbled boards, spines with red morocco labels; Downshire monogram.
£2500

Approximately:
US $3050
€2881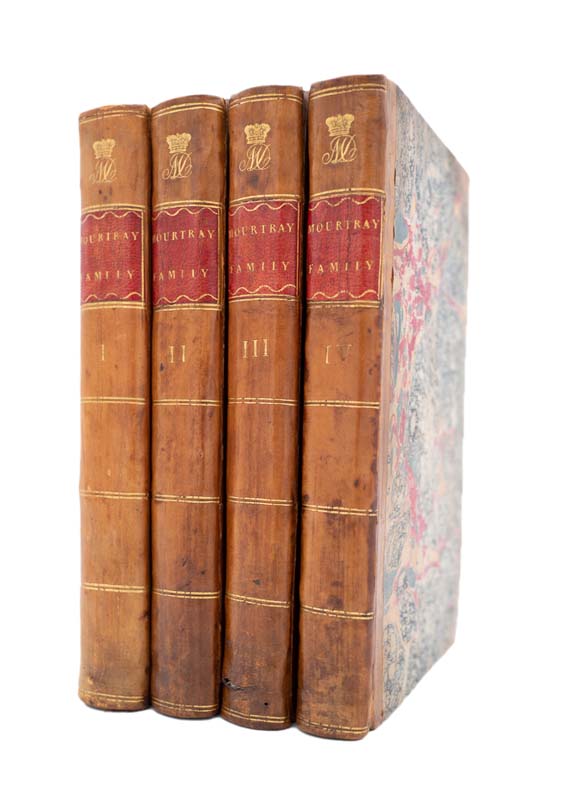 Added to your basket:
The Mourtray Family. A Novel …
First edition of the penultimate novel by Elizabeth Hervey (c. 1748–1820), elder half-sister of the writer William Beckford – her father, Francis Marsh, had died and her mother Maria (née Hamilton) remarried another Jamaica plantation owner, William Beckford senior, who also died in 1770. Maria Beckford was therefore a powerful influence on both children and as a young woman Elizabeth was considered quite the intellectual equal of her younger brother. She married Colonel Hervey in 1774 and moved abroad, but on his death in 1778 she returned and published several novels – Melissa and Marcia (1788), Louisa (1790), The History of Ned Evans (1796) and The Church of Saint Siffrid (1797). The Mourtray Family was her last in this run, and nothing more followed until the final publication of Amabel (1814), where she finally dropped the mask of anonymity.

The novel is a more solemn piece than its predecessors, ending with a round-up of how the good end happily and the bad unhappily, and concluding that the fate of the various family members 'evinces that, on the proper regulation of our passions, our fate chiefly depends'.

Provenance: from the library of Mary Hill (née Sandys, 1764–1836), Marchioness of Downshire and later Baroness Sandys, a wealthy heiress, society hostess, and literary patron who married the young but ill-fortuned politician Arthur Hill in 1786. Raised by her uncle, one of Samuel Johnson's 'Streatham worthies', she became a friend of both the Prince of Wales and Mrs Fitzherbert, and once entertained the Prince for four days at the family seat of Ombersley. She built up a fine collection of contemporary fiction, mostly by women, to add to the family library.

Garside 1800:42, noting further editions in 1810 and 1814, and a French translation in 1802.
You may also be interested in...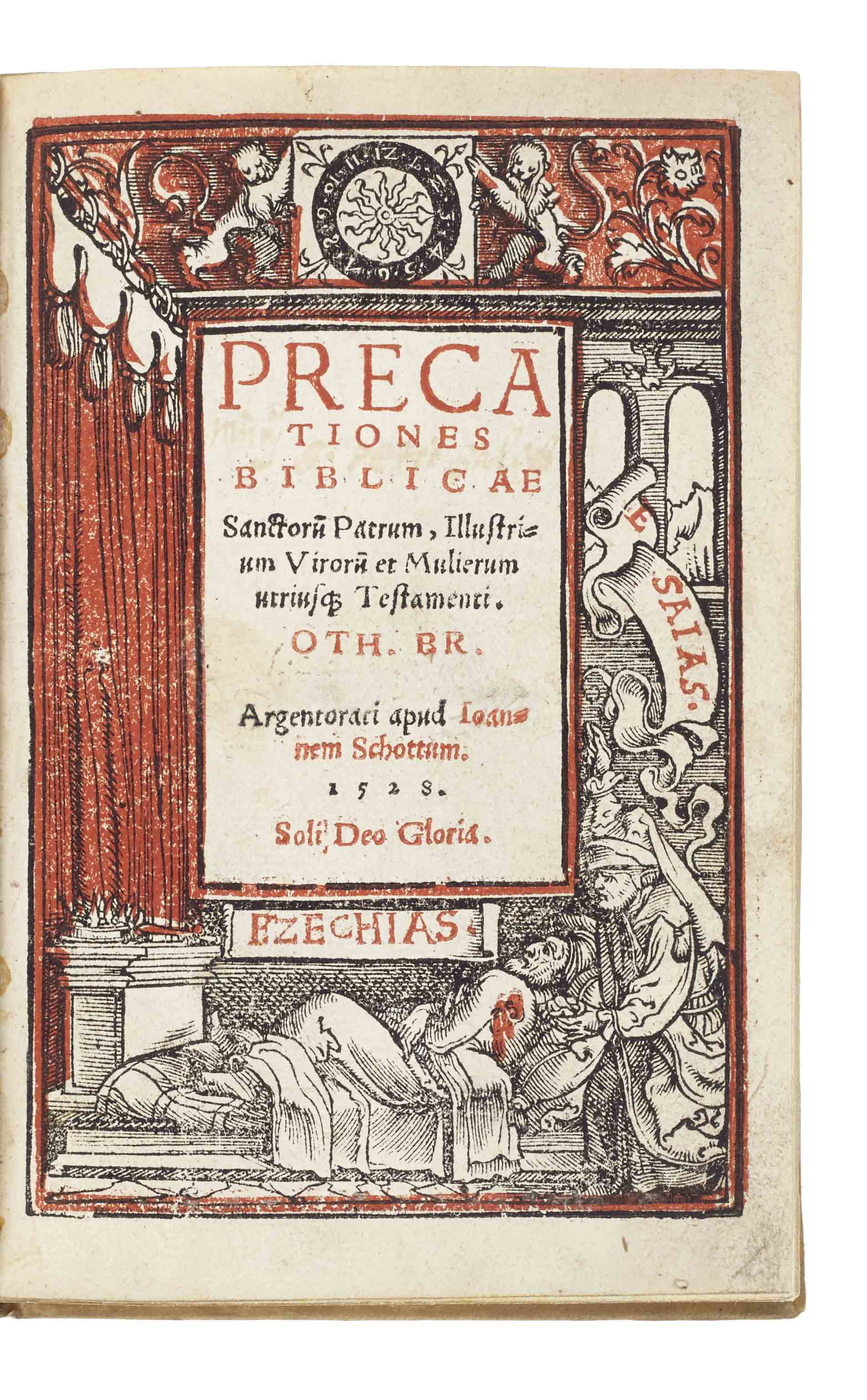 EARLY PROTESTANT PRAYER-BOOK BRUNFELS, Otto. 
Precationes Biblicae sanctoru[m] patrum, illustrium viroru[m] et mulierum utriusq[ue] Testamenti. 
First edition, rare.  The earliest Protestant prayer-books, of which this is perhaps the most notable example, often comprised prayers taken directly from (or adapted from) the Bible.  Brunfels's Precationes Biblicae appeared in the same year in German translation (Biblisch Bettbüchlein der Altvätter und herrlichen Weibern, beyd Alts und Newes Testaments) and was translated into several other languages including English (Prayers of the Byble, published by Robert Redman in 1535).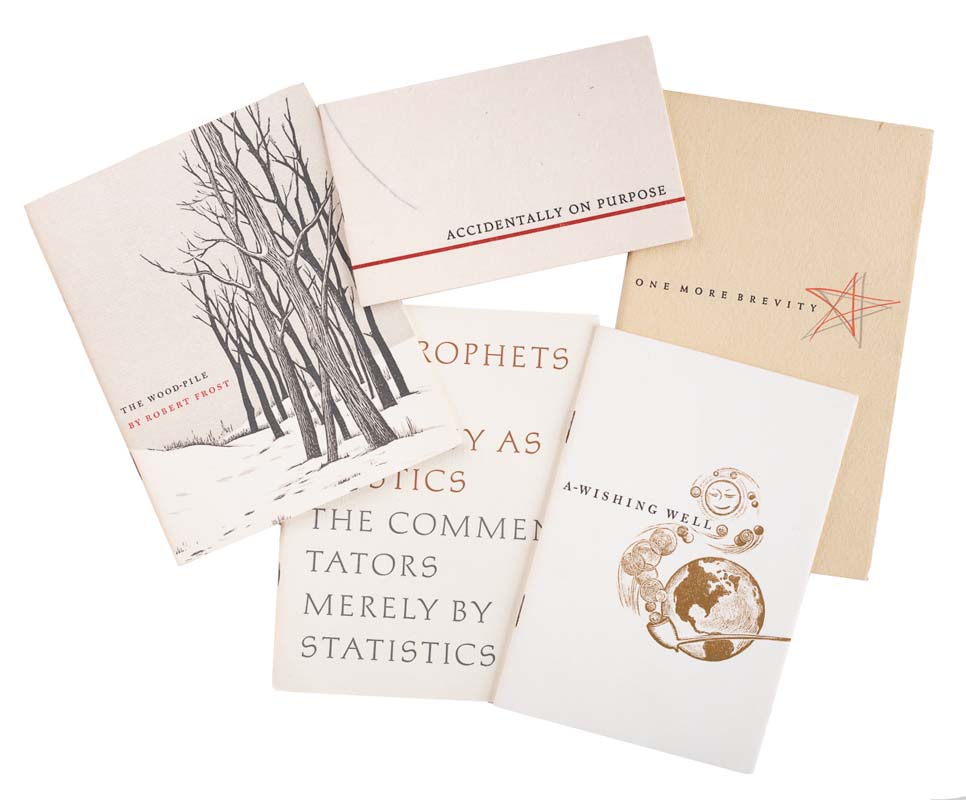 CHRISTMAS CARDS FROM FROST TO D.G. BRIDSON FROST, Robert.
A collection of five Christmas Poems 1953, 1959, 1960, 1961 and 1963, all in the issues printed for distribution by Frost himself:
One more Brevity. New York, Spiral Press, 1953. Pp [12]; illustrations by Philip Grushkin; small stain to one page, else very good, stapled in the original wrappers, booklabel of D. G. Bridson, inscribed 'To Geoffrey Bridson from Robert Frost after the pleasantest sort of encounter Dec 13 1956', namely the recording they made together – see Prospero and Ariel pp. 214-5). Crane B25 (one of 587 printed for distribution by Frost).