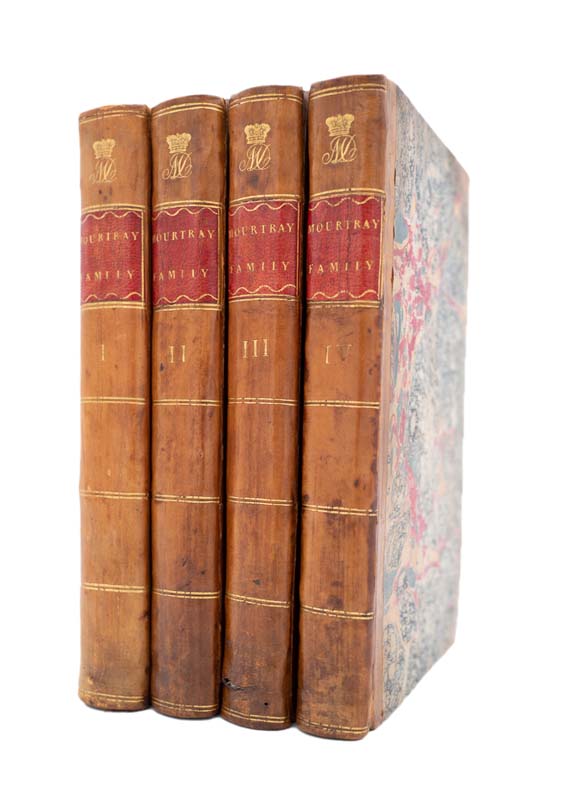 BY BECKFORD'S HALF-SISTER
[HERVEY, Elizabeth].
The Mourtray Family. A Novel …
London: Printed by Millar Ritchie … for R. Faulder … 1800.
4 vols., 12mo, pp. [2], 299, 1]; [2], 281, [1]; [2], 276; [2], 276; one or two gatherings beginning to spring, else a fine copy in contemporary half calf over marbled boards, spines with red morocco labels; Downshire monogram.
£2500

Approximately:
US $2787
€2843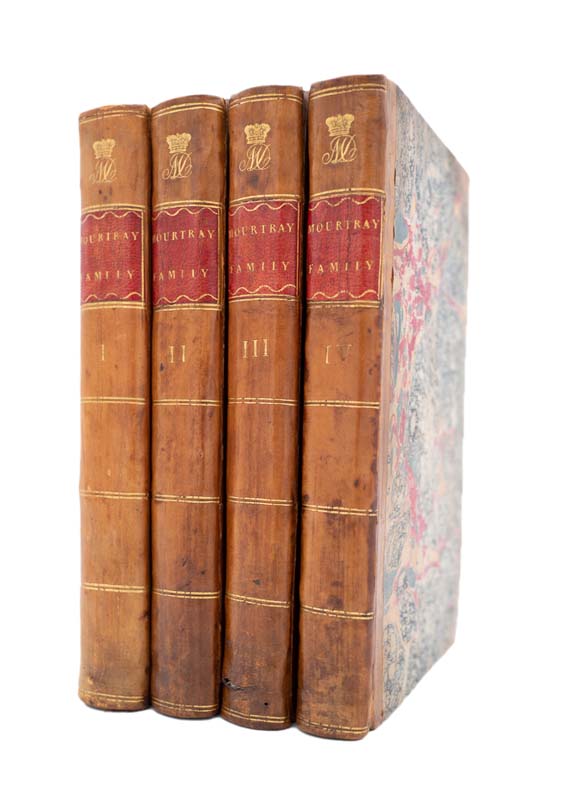 Added to your basket:
The Mourtray Family. A Novel …
First edition of the penultimate novel by Elizabeth Hervey (c. 1748–1820), elder half-sister of the writer William Beckford – her father, Francis Marsh, had died and her mother Maria (née Hamilton) remarried another Jamaica plantation owner, William Beckford senior, who also died in 1770. Maria Beckford was therefore a powerful influence on both children and as a young woman Elizabeth was considered quite the intellectual equal of her younger brother. She married Colonel Hervey in 1774 and moved abroad, but on his death in 1778 she returned and published several novels – Melissa and Marcia (1788), Louisa (1790), The History of Ned Evans (1796) and The Church of Saint Siffrid (1797). The Mourtray Family was her last in this run, and nothing more followed until the final publication of Amabel (1814), where she finally dropped the mask of anonymity.

The novel is a more solemn piece than its predecessors, ending with a round-up of how the good end happily and the bad unhappily, and concluding that the fate of the various family members 'evinces that, on the proper regulation of our passions, our fate chiefly depends'.

Provenance: from the library of Mary Hill (née Sandys, 1764–1836), Marchioness of Downshire and later Baroness Sandys, a wealthy heiress, society hostess, and literary patron who married the young but ill-fortuned politician Arthur Hill in 1786. Raised by her uncle, one of Samuel Johnson's 'Streatham worthies', she became a friend of both the Prince of Wales and Mrs Fitzherbert, and once entertained the Prince for four days at the family seat of Ombersley. She built up a fine collection of contemporary fiction, mostly by women, to add to the family library.

Garside 1800:42, noting further editions in 1810 and 1814, and a French translation in 1802.
You may also be interested in...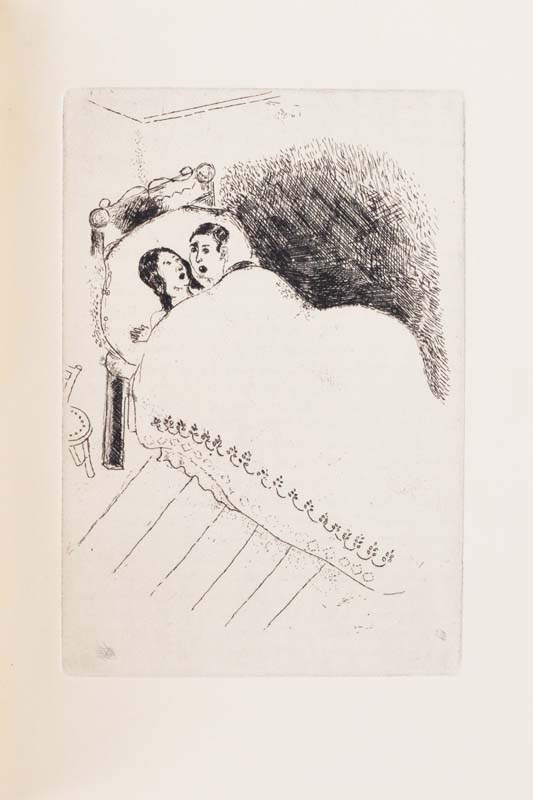 CHAGALL'S POIGNANT STORY OF MANY YOUNG WOMEN'S MISERY CHAGALL, Marc, and Marcel ARLAND.
Maternité. Récit orné de cinq gravures hors texte de Marc Chagall.
An exceptionally fine hors commerce copy of the first book published with a series of original images by Chagall. His early, fine etchings interpreting 'La Honte', 'La Naissance', 'La Rixe', 'Couple au lit' and 'La Visite par la fenêtre' transform the artifact: they constitute 'more a complement to the text than illustrations' (Sorlier). The edition run was 960 copies, of which 765 were printed on Lafuma de Voiron paper.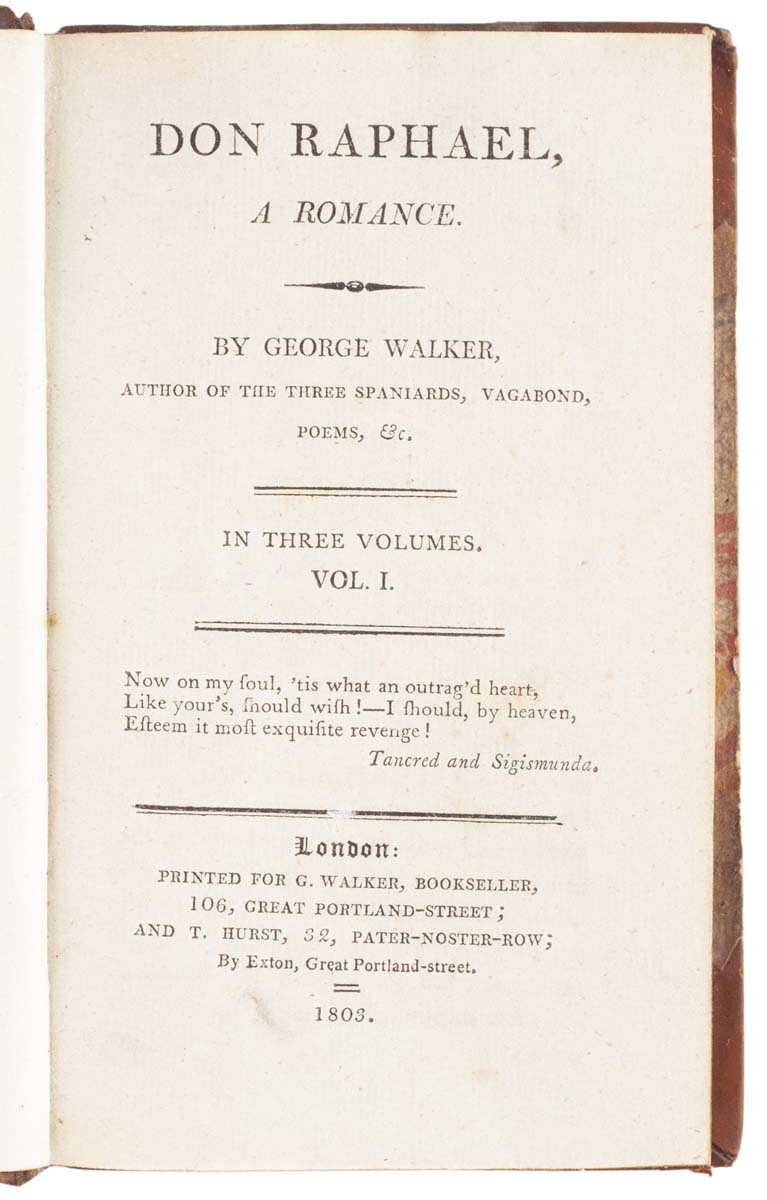 A 'GOTHIC'S GOTHIC' WALKER, George.
Don Raphael, a Romance …
First edition. 'In order to satisfy the omnipresent needs of the Gothic industry, Walker apparently felt obliged to turn out a Gothic's Gothic made up of fragments of Walpole, Beckford, Lewis, Radcliffe, and the cheap and tawdry Gothic chapbooks flooding the bookstalls. The dubious product was Don Raphael, Walker's most confounding Gothic endeavour and a Gothic romance so complicated and top-heavy with plot twistings that the reader who enters it must necessarily lose his way many times ... Before the fiasco of Don Raphael, Walker had displayed true talent in novels of doctrine which explored social problems and criticised Godwinian radicalism. The prostitution of his own literary talents in Don Raphael apparently convinced him to abandon novel writing' (The Gothic Quest, p. 82). Summers was more forgiving, calling it 'equally good' to The Three Spaniards (1800) – 'Walker must certainly be accounted as an author of uncommon merit' (ibid.).