HOOKER, Richard.
Of the Lawes of Ecclesiastical Politie, eight Bookes [Bound with:] Certayne Divine Tractates … London, Printed by W. Stansby. 1622 [–1631].
… London: Printed by Will. Stansby, and are to be sold by Mat. Lownes … 1617.
Folio., pp. [60], 453, [3, blank]; [2], 453-583, [17], with an engraved title-page (old repair to closed tear, lower corner restored) and the terminal blank to the first part Vv6; separate letter-press title-page to Book V, dated 1616; divisional title-pages to 'Certayne divine tractates' dated 1631; slightly dusty at the extremities, but a very good, crisp copy in contemporary calf, later spine label; ownership inscription of Ol[iver] Rouse of St John's College, Cambridge, dated 1737.
£650

Approximately:
US $788
€750
Added to your basket:
Of the Lawes of Ecclesiastical Politie, eight Bookes [Bound with:] Certayne Divine Tractates … London, Printed by W. Stansby. 1622 [–1631].
Fourth edition, first issue, of the Preface and Books 1-4 (first published in 1593), third edition of Book 5 (first published in 1597), bound here with the third edition of 'Certayne Divine Tractates' (1631), issued with a 1622 general title-page (rather than the usual 1632).

The first issue of the fourth edition (with a title-page dated 1617), was issued without the Tractates; for the second issue, with the title-page dated 1618, William Stansby procured the sheets of the Tractates printed for Henry Featherstone to issue with the Lawes. He did not obtain title to the Tractates until 1622, publishing them with a prefatory letter in praise of Hooker, which presents the work as a 'posthume Orphan', and hopes that 'those Three [Books 6-8] promised to perfect his Politie … be not buried in the grave with their renowned Father.' The complicated structure laid the ground for what Hill calls 'the bewildering array of mixed copies that succeed the 1618 edition'. Here, we have the sheets of Lawes as printed in 1617, complete with the terminal blank, followed by the Tractates as printed in 1631 – the title-page is a singleton, evidently used before new general title-pages were printed in 1632.

ESTC records three other examples thus, at Birmingham University, Hereford Cathedral, and Queen's Ontario.

Provenance: with the ownership inscription of Oliver Rouse (1708-1781). Rouse was admitted to St John's College, Cambridge in 1725, was awarded his B.A. in 1728/9, and was a Fellow of the College from 1730 to 1740. He later served as vicar of Morwentstow, Cornwall, and rector of Pyeworthy in Devon.

Hill 13.1 and 15.1; STC 13716, 13717 (title-page only) and 13718.
You may also be interested in...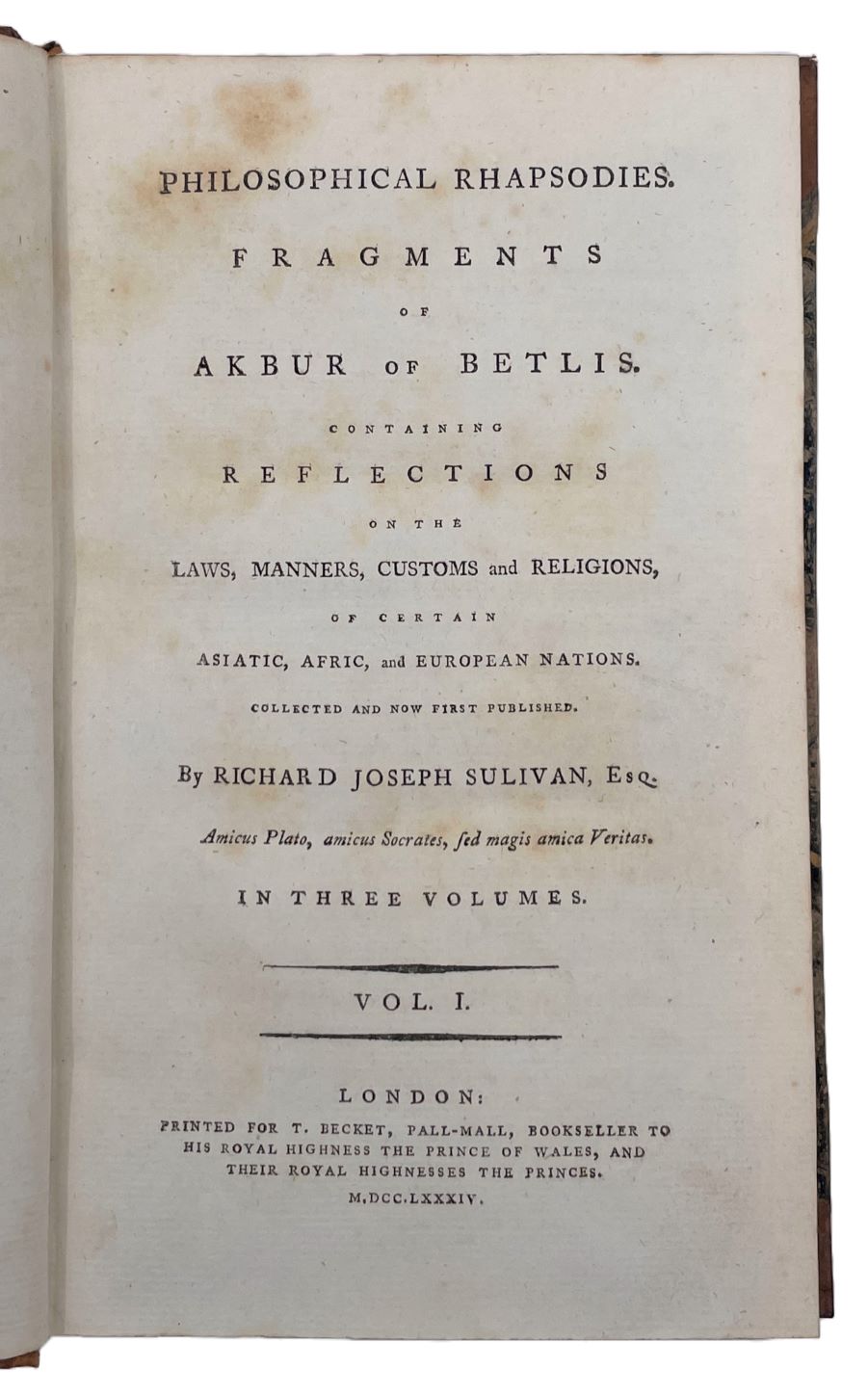 INDIAN TRAVEL SULIVAN, Richard Joseph.
Philosophical Rhapsodies. Fragments of Akbur of Betlis. Containing Reflections on the Laws, Manners, Customs and Religions, of certain Asiatic, Afric, and European Nations. Collected and now first published … In three Volumes …
First edition of this eccentric travel-inspired treatise drawing upon the author's experience in India and his travels in Europe. The prefatory 'advertisement' establishes the fiction that 'the following fragments were written by a native of Assyria [Akbur], who … was removed to the continent of Europe, and thence to England … he then travelled; and in various countries threw together the reflections which appear in the following sheets'. Compartmentalised into 'fragments' rather than chapters, the work is generically indistinct, and offers a compilation of fiction, philosophy, history and travel to reflections on foreign lands, notably China, Japan, Tartary, Hindostan, Greece and the Middle East. Sulivan cites widely in order to illustrate his points, emphasising Akbur's familiarity with Milton, Pope, Thomson, and Dryden, as well as law, the classical canon and contemporary scholarship.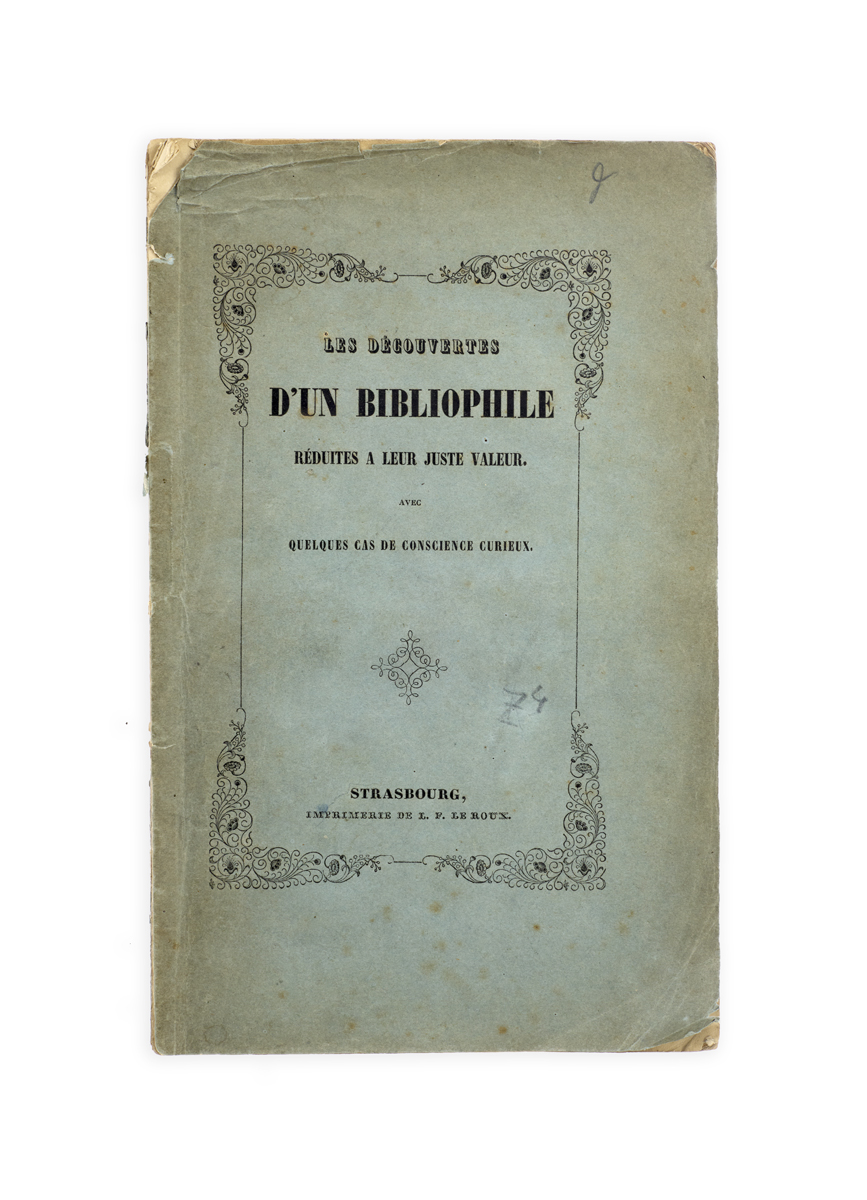 THE BIBLIOPHILE AFFAIR [SOCIETY OF JESUS.] 
Les découvertes d'un bibliophile réduites a leur juste valeur.  Avec quelques cas de conscience curieux. 
First edition of this scathing response to Busch's anti-Jesuit Les découvertes d'un bibliophile, central to the highly polemical 'affaire du Bibliophile' which divided Strasbourg in 1843.