HOOKER, Richard.
Of the Lawes of Ecclesiastical Politie, eight Bookes [Bound with:] Certayne Divine Tractates … London, Printed by W. Stansby. 1622 [–1631].
… London: Printed by Will. Stansby, and are to be sold by Mat. Lownes … 1617.
Folio., pp. [60], 453, [3, blank]; [2], 453-583, [17], with an engraved title-page (old repair to closed tear, lower corner restored) and the terminal blank to the first part Vv6; separate letter-press title-page to Book V, dated 1616; divisional title-pages to 'Certayne divine tractates' dated 1631; slightly dusty at the extremities, but a very good, crisp copy in contemporary calf, later spine label; ownership inscription of Ol[iver] Rouse of St John's College, Cambridge, dated 1797.
£650

Approximately:
US $0
€0
Added to your basket:
Of the Lawes of Ecclesiastical Politie, eight Bookes [Bound with:] Certayne Divine Tractates … London, Printed by W. Stansby. 1622 [–1631].
Fourth edition, first issue, of the Preface and Books 1-4 (first published in 1593), third edition of Book 5 (first published in 1597), bound here with the third edition of 'Certayne Divine Tractates' (1631), issued with a 1622 general title-page (rather than the usual 1632).

The first issue of the fourth edition (with a title-page dated 1617), was issued without the Tractates; for the second issue, with the title-page dated 1618, William Stansby procured the sheets of the Tractates printed for Henry Featherstone to issue with the Lawes. He did not obtain title to the Tractates until 1622, publishing them with a prefatory letter in praise of Hooker, which presents the work as a 'posthume Orphan', and hopes that 'those Three [Books 6-8] promised to perfect his Politie … be not buried in the grave with their renowned Father.' The complicated structure laid the ground for what Hill calls 'the bewildering array of mixed copies that succeed the 1618 edition'. Here, we have the sheets of Lawes as printed in 1617, complete with the terminal blank, followed by the Tractates as printed in 1631 – the title-page is a singleton, evidently used before new general title-pages were printed in 1632.

ESTC records three other examples thus, at Birmingham University, Hereford Cathedral, and Queen's Ontario.

Hill 13.1 and 15.1; STC 13716, 13717 (title-page only) and 13718.
You may also be interested in...
LEWIS, Wyndham.
Paleface, the Philosophy of the melting Pot.
First edition, a considerably expanded version of an essay which first appeared in The Enemy no. 2, examining 'race-consciousness' in contemporary literature and the 'melting pot' philosophy of America. 'I am heart and soul upon the side of the Melting Pot, not upon that of the Barbed Wire' he maintains, but there are chilling arguments against miscegenation and decrying 'white guilt'. Particular targets of Lewis's satire were Sherwood Anderson's Dark Laughter> and D. H. Lawrence's Mornings in Mexico.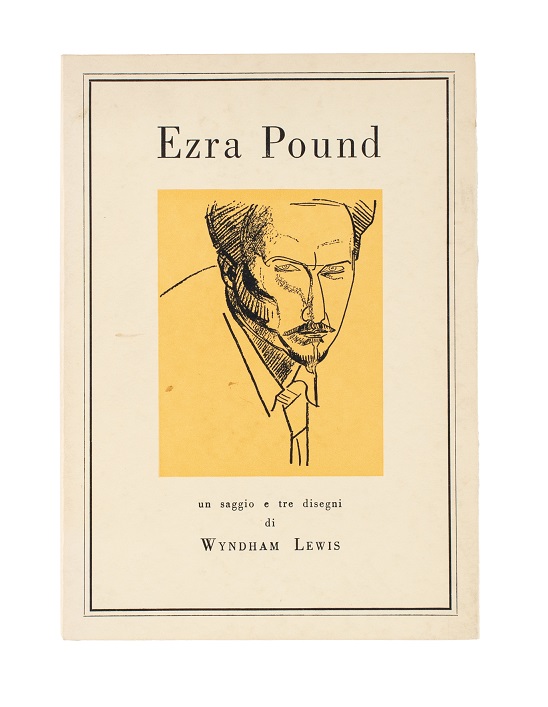 POUND RETURNS TO ITALY LEWIS, Wyndham.
Ezra Pound, un saggio e tre disegni.
First edition, an hors serie copy (from numbered edition of 1000), a translation by Pound's daughter, Mary de Rachewiltz, of an essay that first appeared in Pound's 65th birthday festschrift in 1950; this translation was published in part 'to celebrate Ezra Pound's return to Italy'.