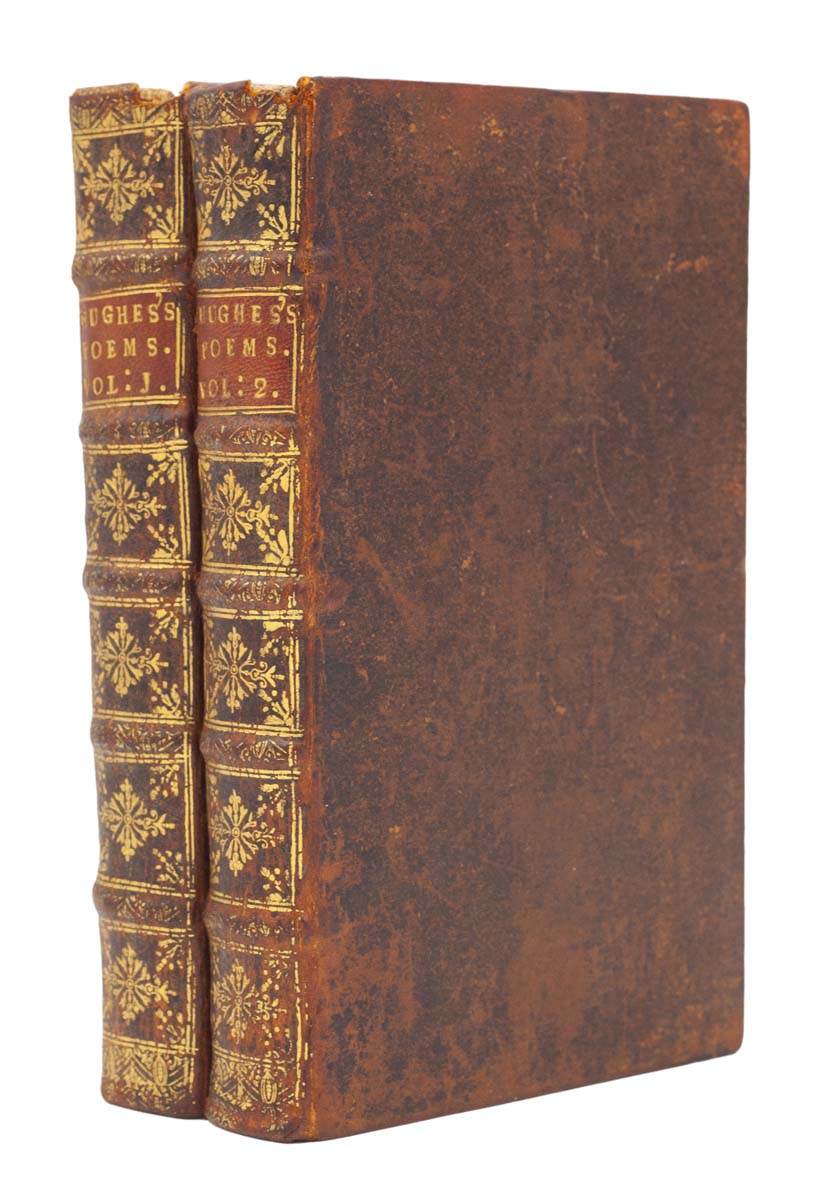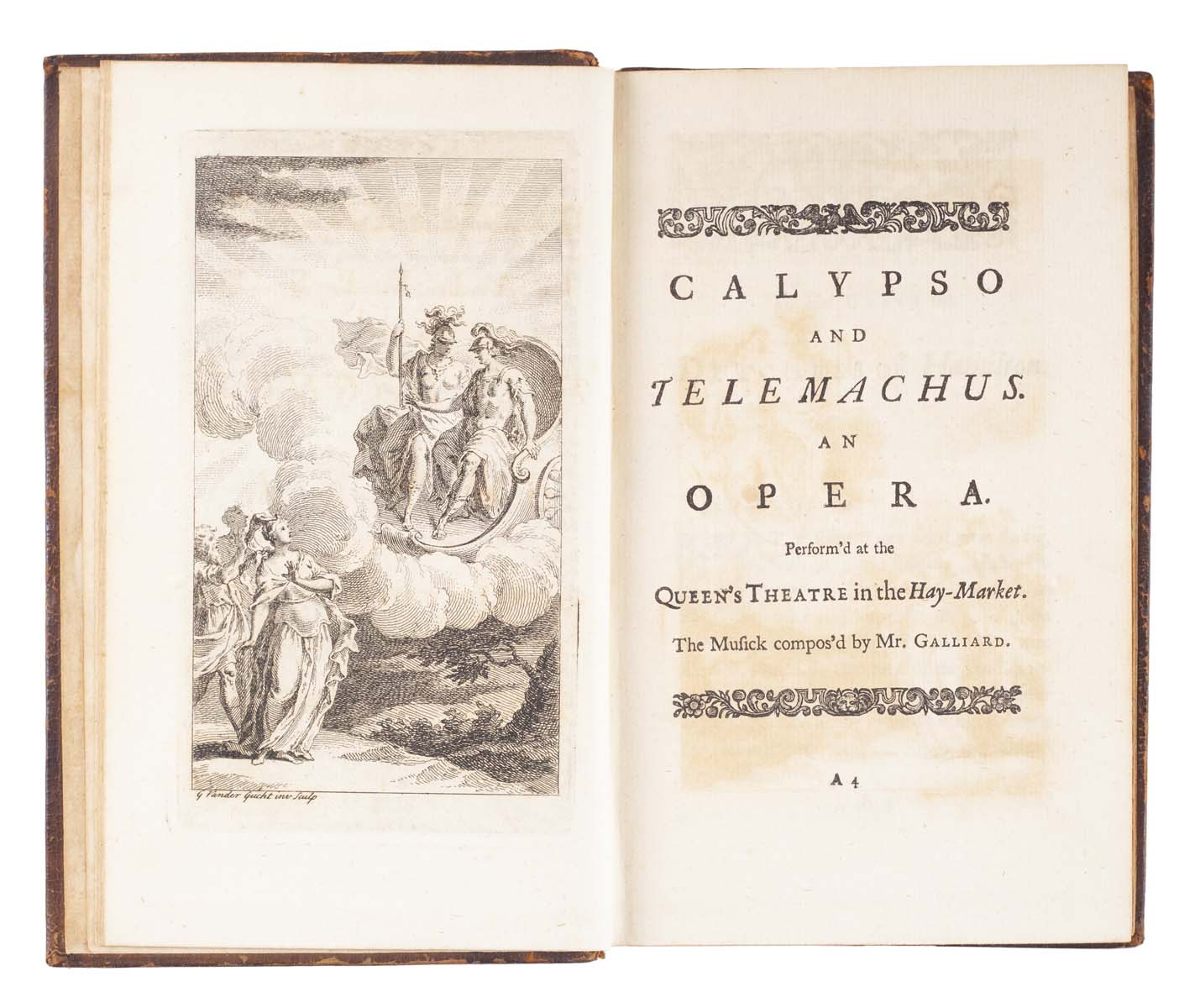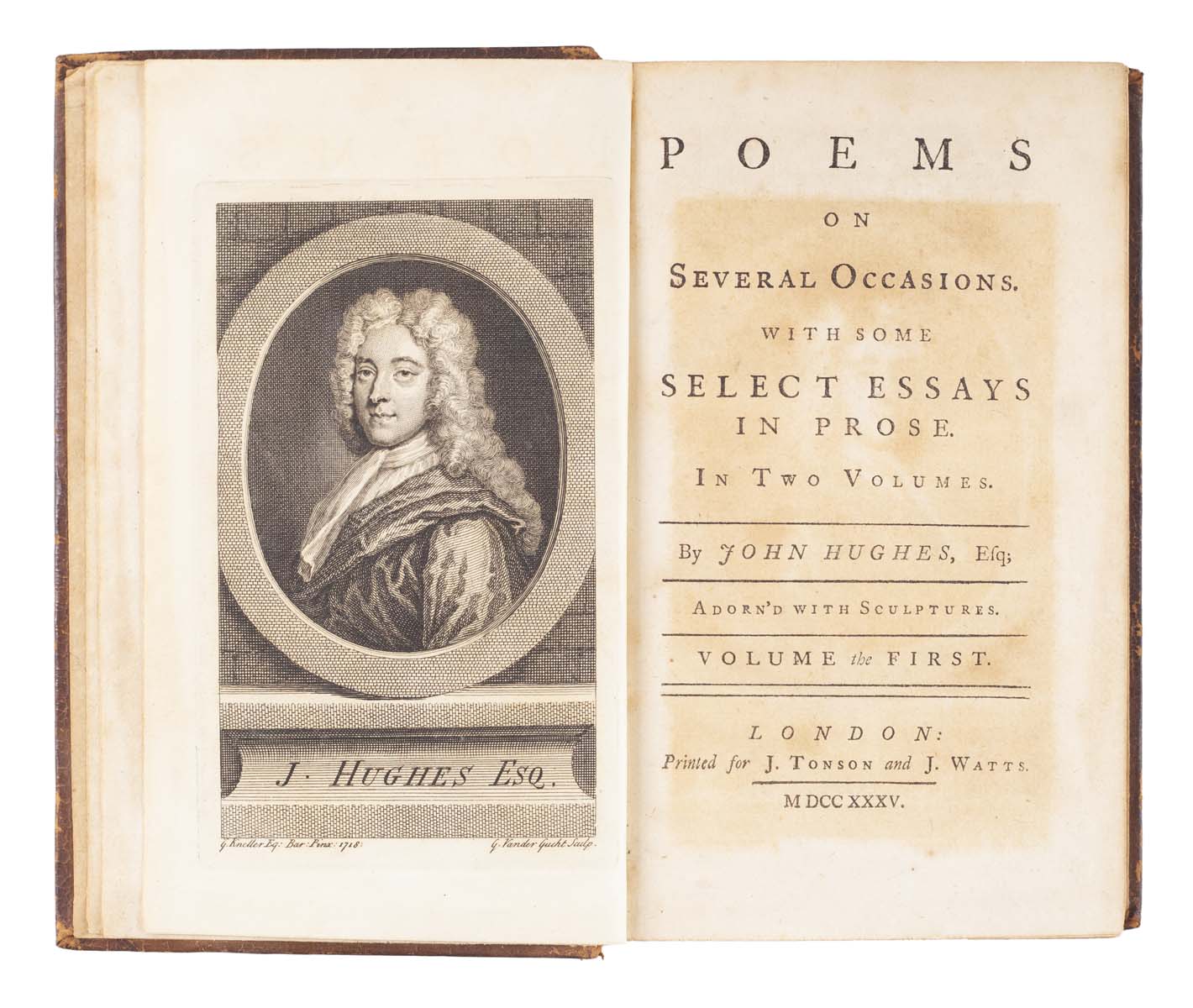 ON ROYAL PAPER
POPE AND SWIFT UNWITTING 'SUBSCRIBERS'
HUGHES, John.
Poems on several Occasions. With some select Essays in Prose. In two Volumes …
London: Printed for J. Tonson and J. Watts. 1735.
2 vols, 12mo, pp. I: [20], lxxv, [1], 275, [1], II: 364, with an engraved frontispiece portrait and 2 plates in vol. I, and 3 further plates in vol. II (included in the pagination); a royal paper copy (watermark Strasbourg bend) with list of subscribers to the royal paper edition; apart from slight browning a fine set in contemporary speckled calf, spines gilt, morocco labels, headbands slightly chipped; early armorial bookplate of John Ward, possibly 'Mr Ward Junior', a subscriber, later bookplates of Graham Pollard and Bradley Martin, and book-label of J.O. Edwards.
£850

Approximately:
US $1044
€980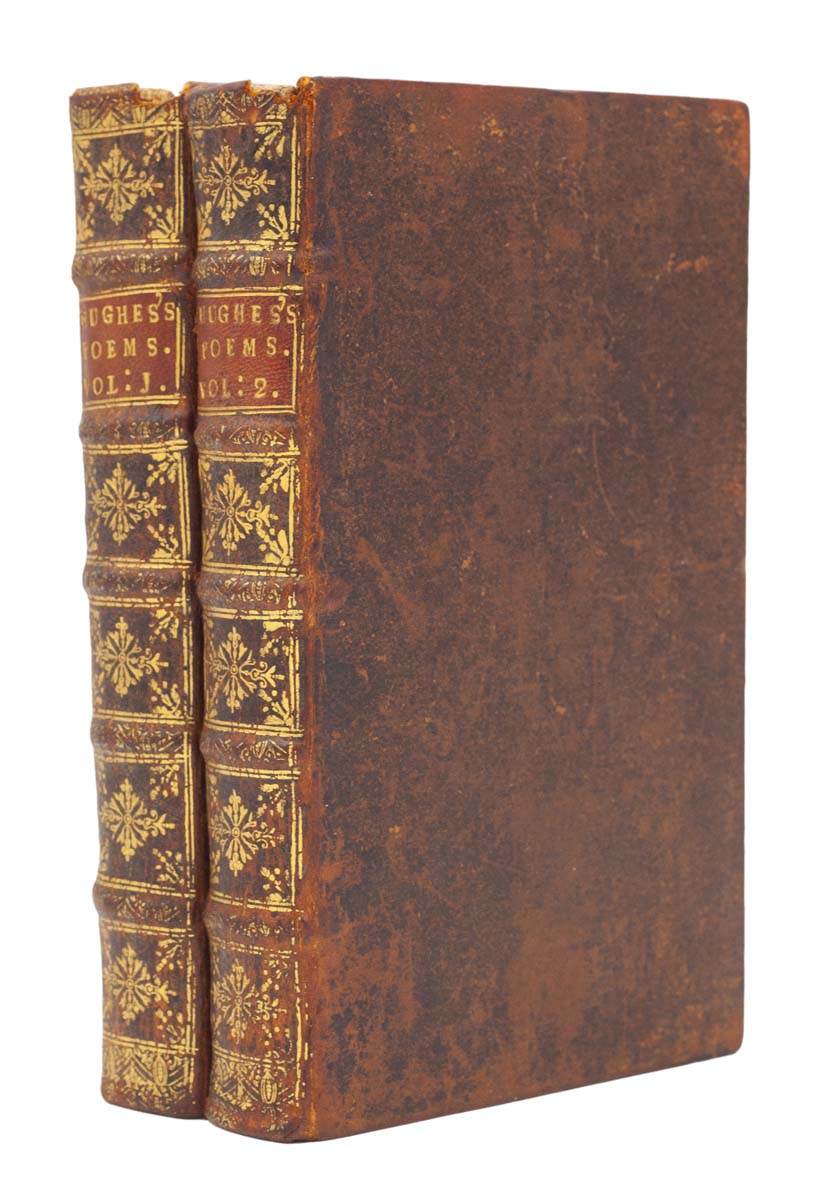 Added to your basket:
Poems on several Occasions. With some select Essays in Prose. In two Volumes …
First edition of the principal collection of the author's works, published posthumously and edited, with a long biographical preface, by his brother-in-law, William Duncombe. John Hughes (1677–1720) was educated at a dissenting academy where Isaac Watts was his contemporary. From an early age he devoted himself to poetry and letters, and was gradually drawn into the Addison–Steele circle where, as Samuel Johnson puts it, he was 'received as a wit among the wits'; he contributed at least three numbers to the Tatler, seventeen to the Spectator, and one to the Guardian. Hughes also had a passion for music, and was a talented violinist. He championed the use of English verse for operas and cantatas, and many of his lyrics were set to music by such contemporary composers as Dr Pepusch. In the year of his death, he wrote a tragedy called The Siege of Damascus, which proved highly successful and remained in the repertory for the rest of the century.

Most of the poems here are cantatas, songs, and other lyrics, but the collection opens with three occasional poems, previously published, celebrating King William III and the House of Nassau; there are also imitations of Horace, a translation from Molière, 'Advice to Mr. Pope, on his intended Translation of Homer's Iliad,' and 'To Mr. Addison, on his Tragedy of Cato' (a play Hughes did much to encourage). The literary essays include 'On the Affectation of Mirth and Raillery,' 'On Fear in Women,' 'On Love,' 'On Descriptions in Poetry,' and 'On Human Life.'

The list of subscribers includes the names of both Pope and Swift, and, unexpectedly, Voltaire. Swift was taken aback to receive a copy, as he explained in a letter to the Earl of Orrery: 'I have been turning over Squire Hughes's poems, and his puppy publisher one Duncombe's preface and life of the author … celebrating a fellow I never once heard of in my life …. Duncombe put in a short note in loose paper to make me a present of the two volumes and desired my pardon for putting forward my name among the subscribers. I was in a rage when I looked and found my name.' Johnson, in Lives of the Poets, reports that Swift wrote to Pope in a similar vein: 'A month ago was sent over, by a friend of mine, the works of John Hughes, Esquire. They are in prose and verse. I never heard of the man in my life, yet I find your name as a subscriber. He is too grave a poet for me; and I think among the mediocrists [mediocribus], in prose as well as in verse.' Pope replied: 'what he wanted in genius, he made up as an honest man; but he was of the class you think him.' The anecdote serves as a reminder that famous names in lists of subscribers need to be viewed with some scepticism. Despite the opinions of Pope and Swift, and Johnson as well, this is an interesting collection.

The portrait and plates are engraved by Gerard Vandergucht, the portrait after Vandergucht's tutor Godfrey Kneller and two of the plates after designs by Joseph Highmore. Copies on ordinary paper do not have the full complement of plates.

Foxon, p. 364.
You may also be interested in...
BYRON, George Gordon, Lord Byron.
Hebrew Melodies … London: Printed for John Murray … 1815.
First edition of a group of poems mainly written at the request of Douglas Kinnaird, Byron's banker and friend, to accompany a selection of ancient Jewish sacred music set by Isaac Nathan, although the most famous of all, 'She walks in Beauty', had been composed impromptu a few months earlier when Byron first met his cousin Anne Beatrix Wilmot. The folio printing with the music, A Selection of Hebrew Melodies, in two parts, also 1815, is very rare.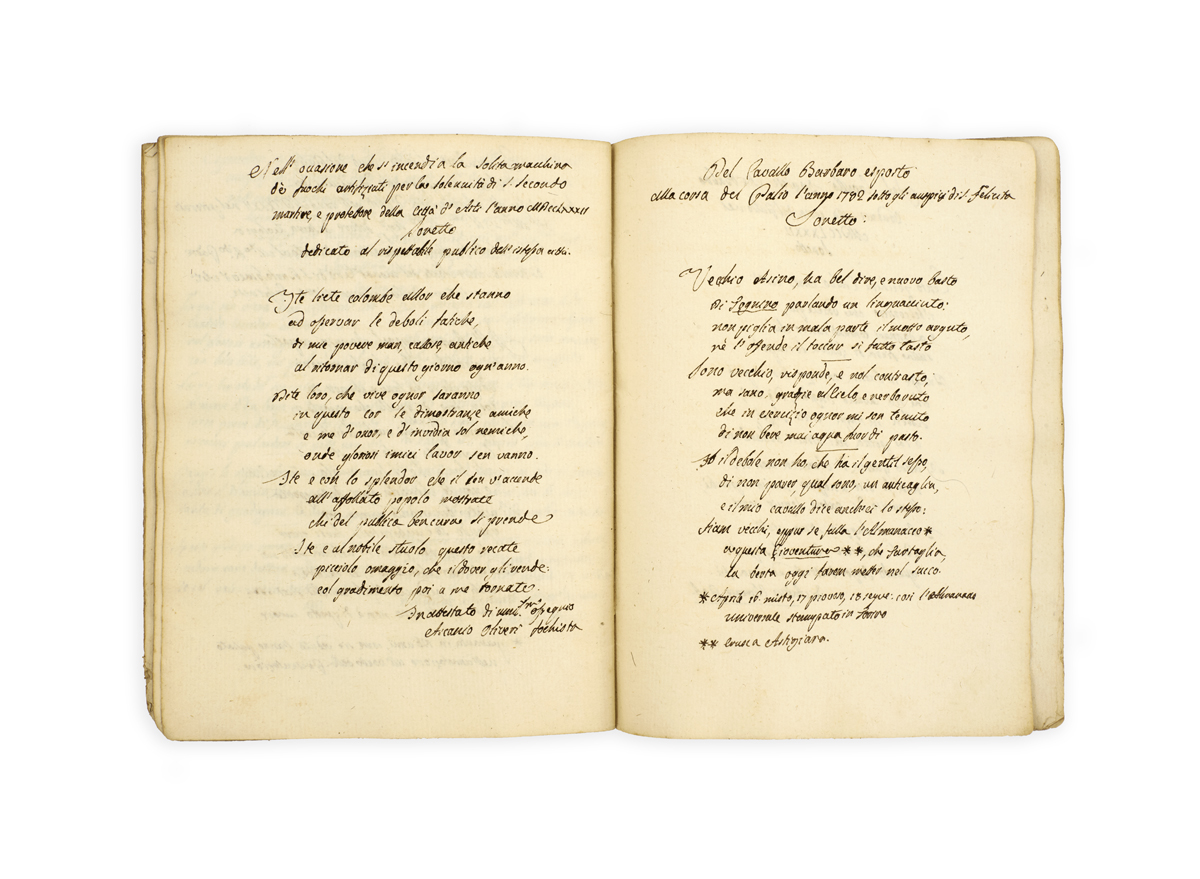 WITH UNPUBLISHED POEMS ON HORSE-RACING [POETRY.] 
'Trattato della [poesia Toscana]'. 
A manuscript treatise on the method of composing poetry in Italian, with numerous examples from renowned authors and eight apparently unpublished poems about horse-racing, with references to Arabian, Sardinian, English, and African horses, as well as to a firework display.