'BANK NOTES MUST BE MADE A LEGAL TENDER'
HUSKISSON, William (1770-1830), politician.
Autograph letter signed ('W Huskisson') to an unnamed 'Dear Sir'.
18 Hertford Street [London], 21 December, 1810.
8vo bifolium, pp. 3 + 1 blank; creases where folded, remains of black seal to last page, good.
£150

Approximately:
US $183
€170
Added to your basket:
Autograph letter signed ('W Huskisson') to an unnamed 'Dear Sir'.
Huskisson was a leading exponent of strict adherence to the Gold standard and an opponent of the perceived over-issue of bank notes in the early nineteenth century. This letter was written only a few months after Huskisson had published his important pamphlet, The question concerning the depreciation of our currency stated and examined, which appeared in October 1810 and soon went through seven editions.

The present letter is a reply to a correspondent holding 'ingenious arguments in favor of our present currency'. Huskisson states that 'whilst I am unable to concur in them, I could wish that all who write on the same side of the question would discuss it with the same temper and fairness as yourself. By so doing, they would, I think best promote the purposes of fair discussion and … the interests of the cause which they undertake to defend'. One point on which he does agree with his correspondent, however, is 'that Bank notes must be made a legal tender, if our currency is to remain what it now is'.
You may also be interested in...
'WHO SHALL DECIDE, WHEN DOCTORS DISAGREE' POPE, [Alexander]. 
Of the Use of Riches, an Epistle to the Right Honorable Allen Lord Bathurst. 
First edition, first issue, with p. 13 uncorrected and the erratum on p. 20.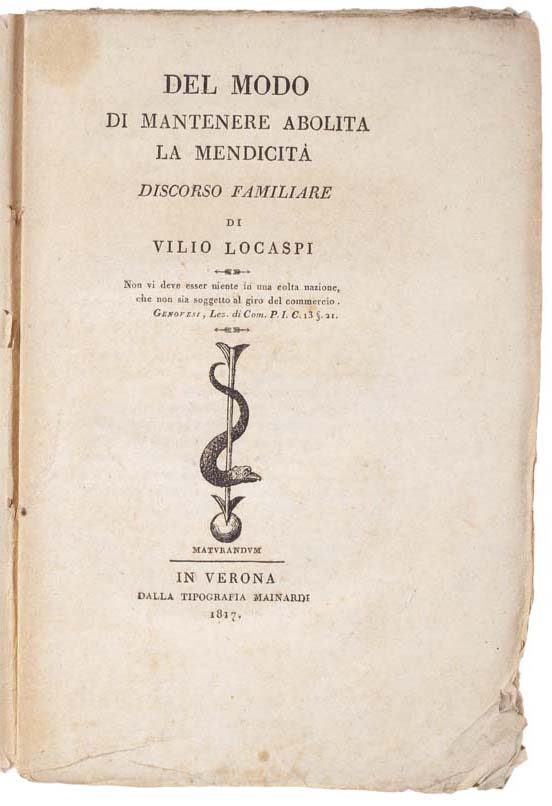 THE ABOLITION OF POVERTY [PASCOLI, Livio.] 'Vilio LOCASPI'.
Del modo di mantenere abolita la mendicità, discorso familiare.
Only edition, very rare, of this proposal for the abolition of begging, and of poverty more broadly, by the poet and essayist Livio Pascoli.