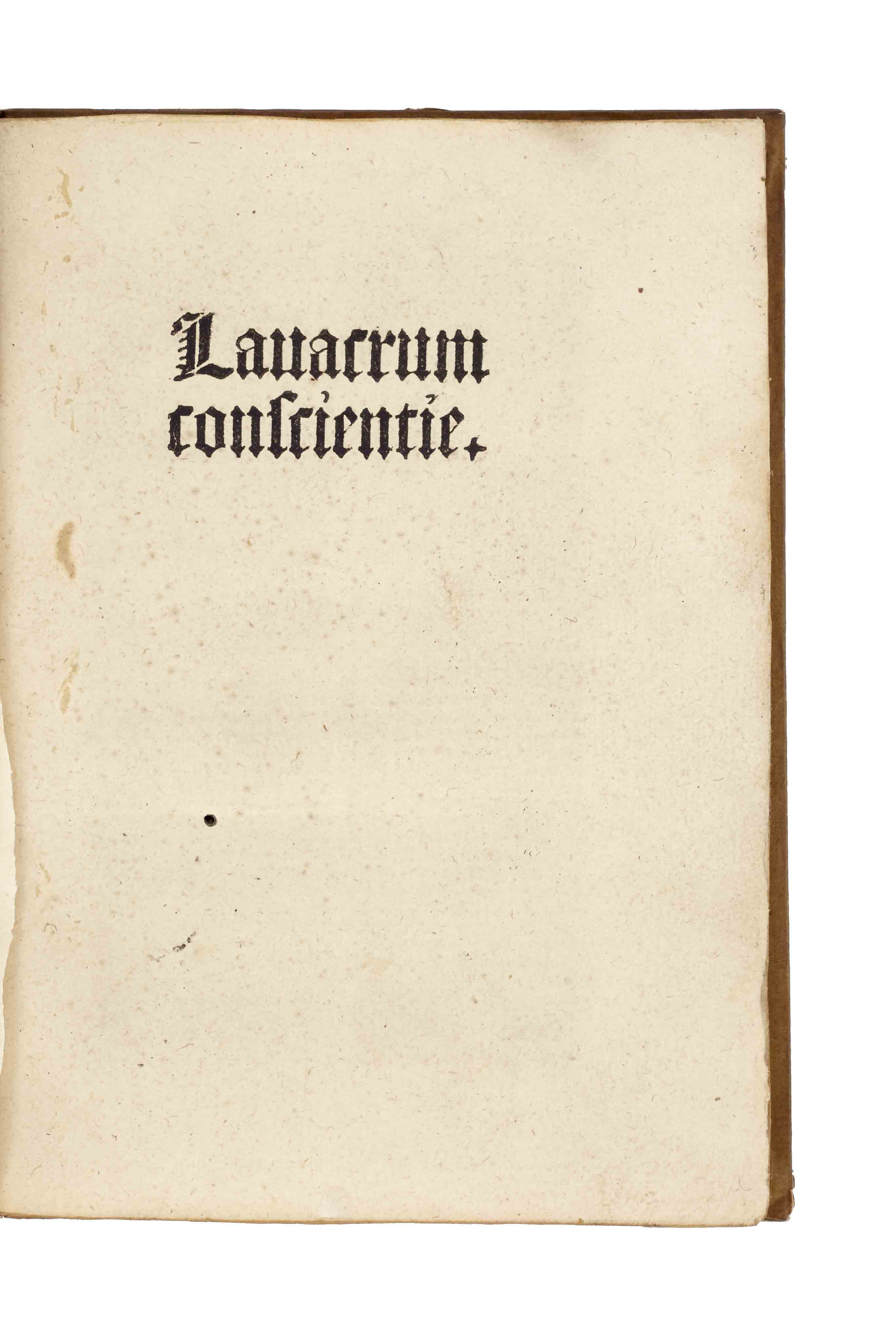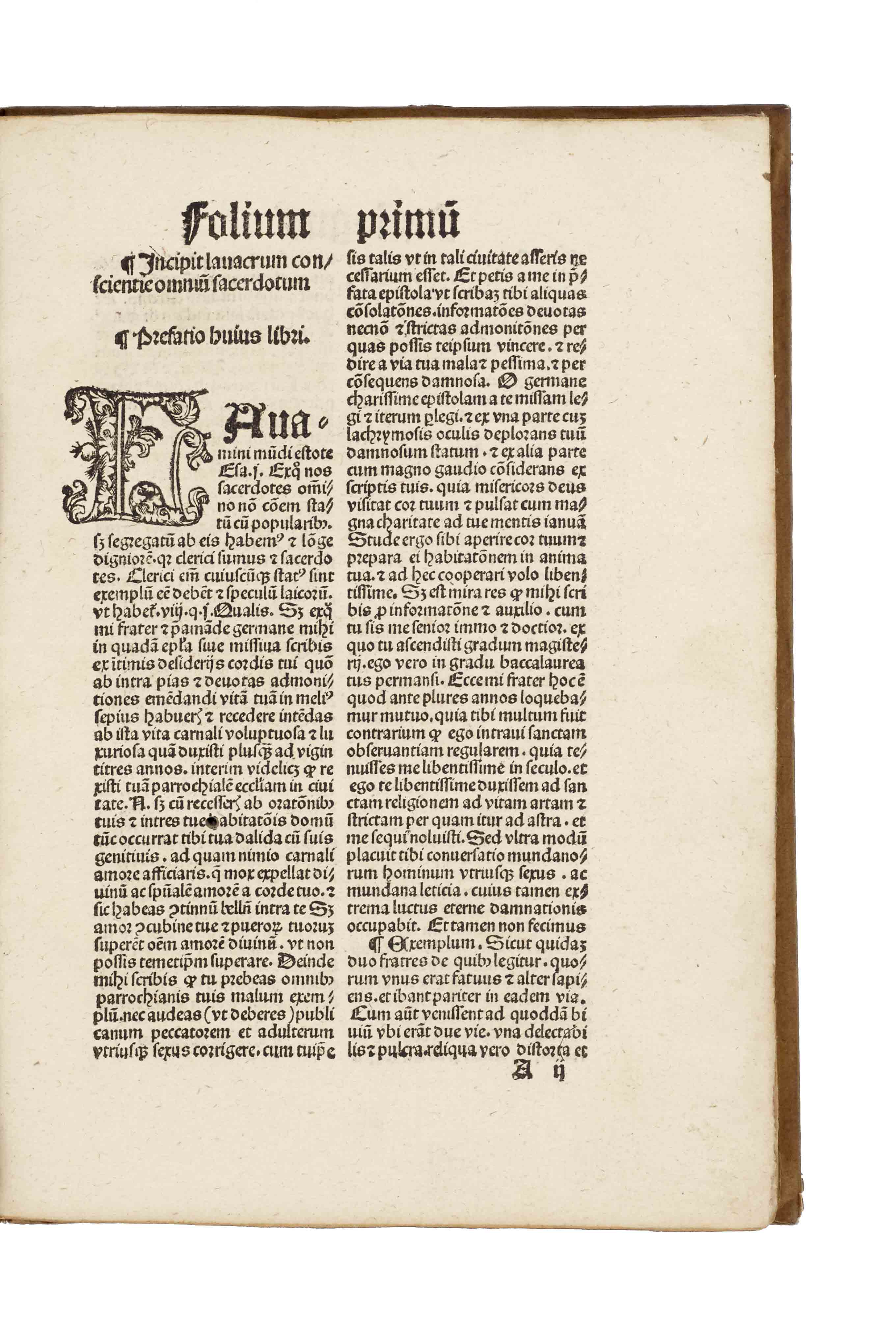 [JACOBUS DE GRUYTRODE, ascribed author.]
Lavacrum conscientie [omnium sacerdotum].
[Colophon:] Cologne, Heinrich Quentell, 1504.
4to, ff. [i], 57, [1], gothic letter in two columns, with a woodcut initial at beginning of text; occasional minor marginal dampstaining, wormhole in text sometimes resulting in loss of a letter (sense recoverable), but a very good copy in early nineteenth-century boards, red morocco lettering-piece on spine; slightly rubbed, upper joint cracked but firm; from the library of Robert Crewe-Milnes, 1st Marquess of Crewe (1858–1945), with bookplate.
£750

Approximately:
US $972
€831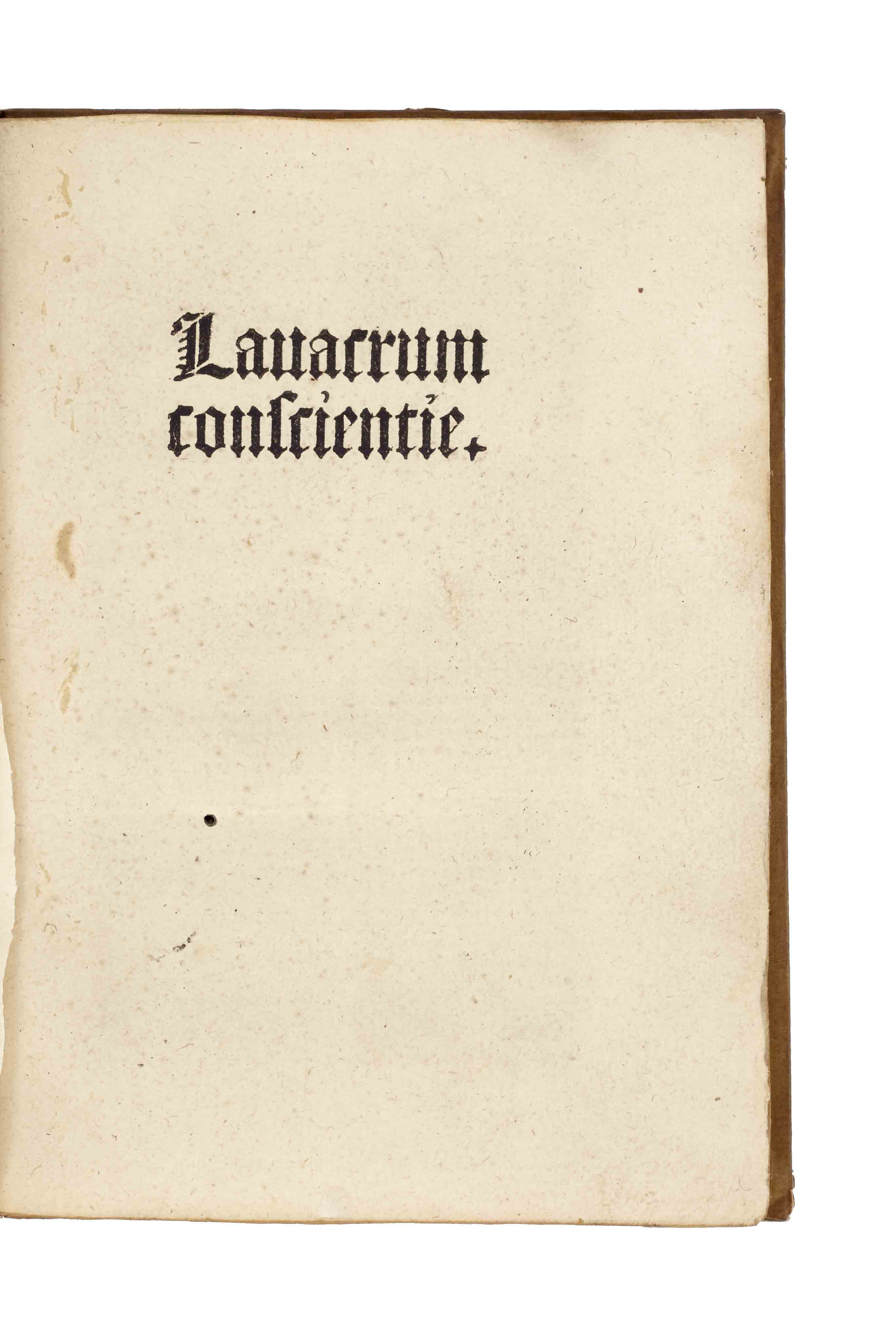 Added to your basket:
Lavacrum conscientie [omnium sacerdotum].
Rare edition of this popular late medieval treatise widely ascribed to the Carthusian monk Jacobus de Gruytrode (c. 1400–1475). Essentially a handbook for priests, with a significant devotional element, it was first published between 1487 and 1489. According to Theodor Petreius, Bibliotheca Cartusiana (Cologne, 1609), the actual author is Johannes Meskirchius (Messkirch, d. 1511), a monk at the charterhouse of Güterstein near Stuttgart (for Messkirch see R. Deigendesch, 'Bücher und ihre Schenker – Die Bücherlisten der Kartause Güterstein in Württemberg', in S. Lorenz, ed., Bücher, Bibliotheken und Schriftkultur der Kartäuser. Festgabe zum 65. Geburtstag von Edward Potkowski, Stuttgart 2002, pp. 93–115).

VD16 J 105. OCLC records only two copies outside Germany (National Library of Sweden and St. Bonaventure University). Not found in COPAC.
You may also be interested in...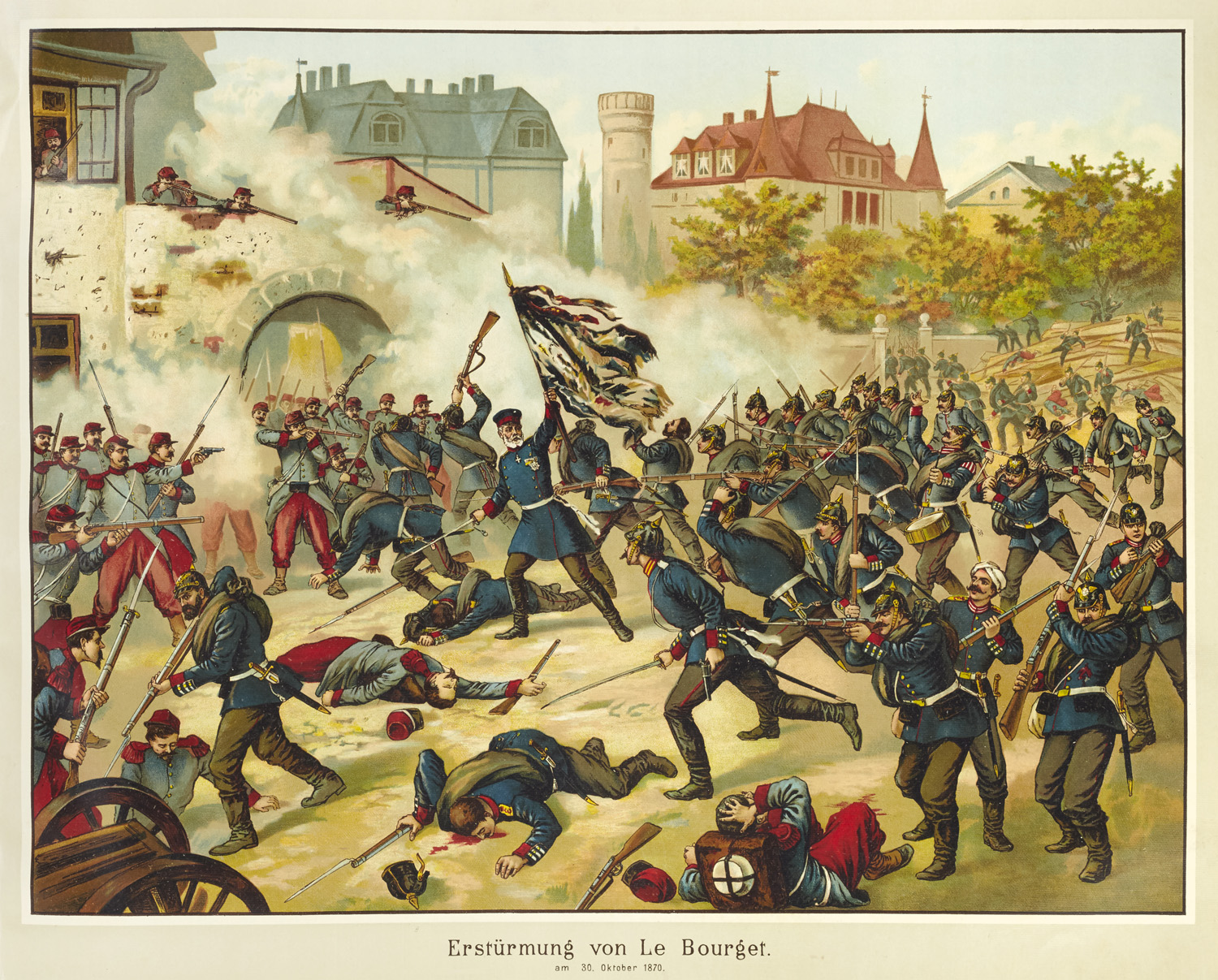 'WIR DEUTSCHEN FÜRCHTEN GOTT UND SONST NICHTS AUF DER WELT!'STRIKING CHROMOLITHOGRAPHIC PLATES DITTRICH, Max, and Max HENZE, artist.
Der Deutsch-Französische Krieg 1870 und 1871. Gedenk-Blätter in Wort und Bild an die Ehrentage der deutschen Nation.
Fortieth edition and 25th anniversary 'Jubel-Ausgabe'. This lavishly-illustrated account of the Franco-Prussian War was published to commemorate the twenty-fifth anniversary of this conflict that was, in retrospect, a harbinger of the political and military turmoil of the following century: 'the kingdom of Prussia and her German allies totally destroyed the military power of Imperial France. For nearly eighty years the defeated nation had given the law in military matters to Europe, whereas the victor, ten years earlier, had been the least of the continent's major military powers. Within a month Prussia established a military pre-eminence and a political hegemony which made the unification of Germany under her leadership a matter of course, and which only an alliance embracing nearly every major power in the world was to wrest from her half a century later' (M. Howard, The Franco-Prussian War (London: 1961), p. 1).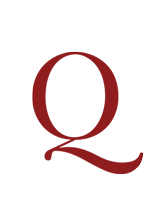 [KRAG, Niels, editor.]
NICOLAUS, of Damascus. Ex Nicolai Damasceni universali historia seu de moribus gentium libris excepta Iohannis Stobaei collectanea, quae Nicolaus Cragius latina fecit, et seorsum edidit.
First edition thus. Comprises observations on the customs of different peoples (Iberians, Celts, Phrygians, Assyrians, Spartans and so on) from the Augustan historian Nicolaus of Damascus' Universal history, only fragments of which have come down to us (in this case via Stobaeus). The text is printed here in the original Greek together with a Latin translation by the Danish historian and philologist Niels Krag (or Cragius, c. 1550–1602).