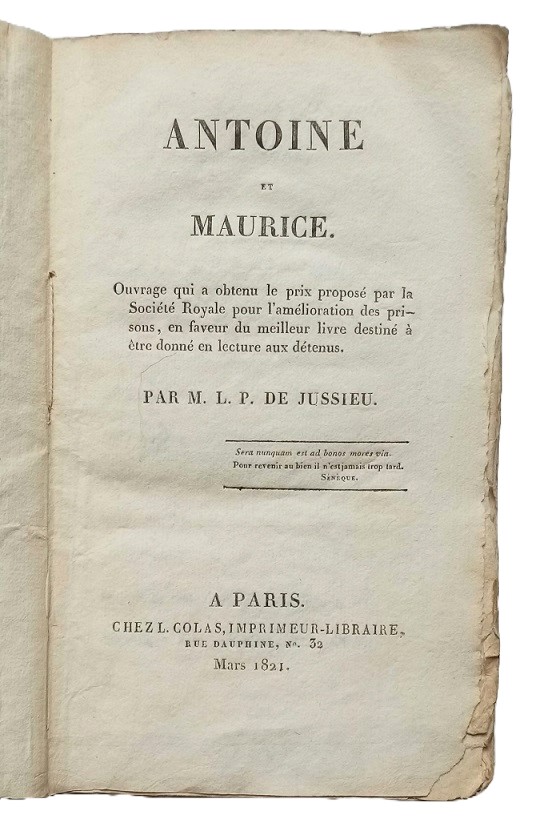 JUSSIEU, Laurent Pierre de.
Antoine et Maurice. Ouvrage qui a obtenu le prix proposé par la Société Royale pour l'amélioration des prisons, en faveur du meilleur livre destiné à être donné en lecture aux détenus.
Paris, L. Colas, 1821.
8vo, pp. [viii], 223, [1] blank; staining and some fraying to upper corner throughout, not affecting text, and occasional spotting, but otherwise crisp; uncut in contemporary blue wrappers, hand-written paper label on spine; wrappers reinforced with old paper, with some loss to upper cover, binding slightly loose; with a presentation inscription from the author to F. Regnault.
£400

Approximately:
US $546
€466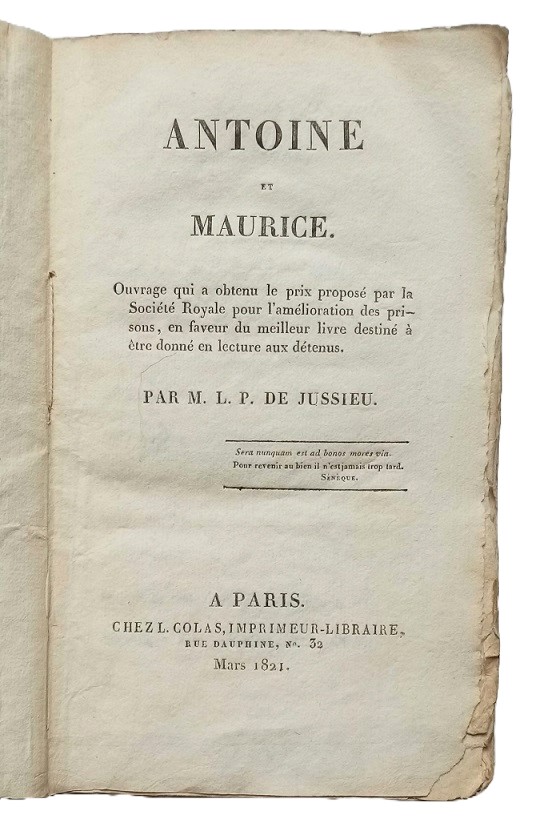 Added to your basket:
Antoine et Maurice. Ouvrage qui a obtenu le prix proposé par la Société Royale pour l'amélioration des prisons, en faveur du meilleur livre destiné à être donné en lecture aux détenus.
First edition, rare, of this unsurprisingly moralising novel by the writer, geologist, and natural historian Laurent Pierre de Jussieu (1792-1866), written in response to a competition held by the Royal Society of the Improvement of Prisons to find the best book to circulate amongst inmates.
An 1837 note in the Edinburgh Medical and Surgical Journal explains: "Among other means of effecting this object [the reform and moral improvement of prisoners], one of the most effectual was conceived to be the preparation and distribution among the prisoners, of books, the perusal of which might impart an abhorrence of vice, and create a taste for virtue; and books of this description were soon composed by able writers, and the attempt is represented to have been attended with the happiest effects. At the head of the writings now mentioned, M. Parent Duchatelet informs us public opinion had long placed two productions of M. Jussieu, one entitled Simon of Nantua, the other Antony and Maurice". And indeed the novel, detailing the contrasting fortune of Antoine and the thief who led him into a life of crime, Maurice, was popular, seeing several editions not only in French but also in German. It remains unclear, of course, quite how enthusiastically it was received by its intended audience.
OCLC records no copies of any edition outside Continental Europe.
You may also be interested in...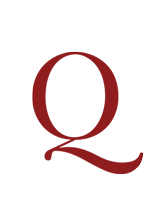 MARIVAUX, Pierre Carlet de Chamblain de.
Le Paysan parvenu: or, the fortunate Peasant. Being Memoirs of the Life of Mr. ––––. Translated from the French … London: Printed for John Brindley … Charles Corbett … and Richard Wellington … 1735.
First edition in English, originally published in French in the Hague in 1734-5. This is the second of the two important novels by Marivaux, which broke new ground in the art of writing fiction. 'Where La Vie de Marianne belongs to the moralizing and sentimental romance tradition, Le Paysan is a cynical comic novel of the way of the world, though both stories are full of subtle psychological observations. The tale is told in later life by the unashamed and good-humoured hero Jacob, who has risen from his peasant origins to a wealthy and respectable position as a tax-farmer thanks to his resourceful wit and his physical attractions. He profits amorally from the affections of a series of (usually older) women, some of them with reputations for piety; these adventures are recounted in a spirited style, with a sharp eye for the hypocrisy of the respectable' (New Oxford Companion to Literature in French).
DARROW, Clarence.
Plea of Clarence Darrow in his own Defense to the Jury that exonerated him of the Charge of Bribery at Los Angeles, August 1912.
First edition of Darrow's defence, arguably his most brilliant speech. A prominent member of the American Civil Liberties Union and a lawyer for the labour movement, Clarence Darrow (1857-1938) was implicated in attempts to bribe jurors while defending the McNamara brothers on behalf of the American Federation of Labor. Though it seems he was most likely involved in the conspiracy, Darrow was acquitted of one count and, defending himself in the second trial, moved the jury with the present plea, resulting in a hung jury and no subsequent retrial.