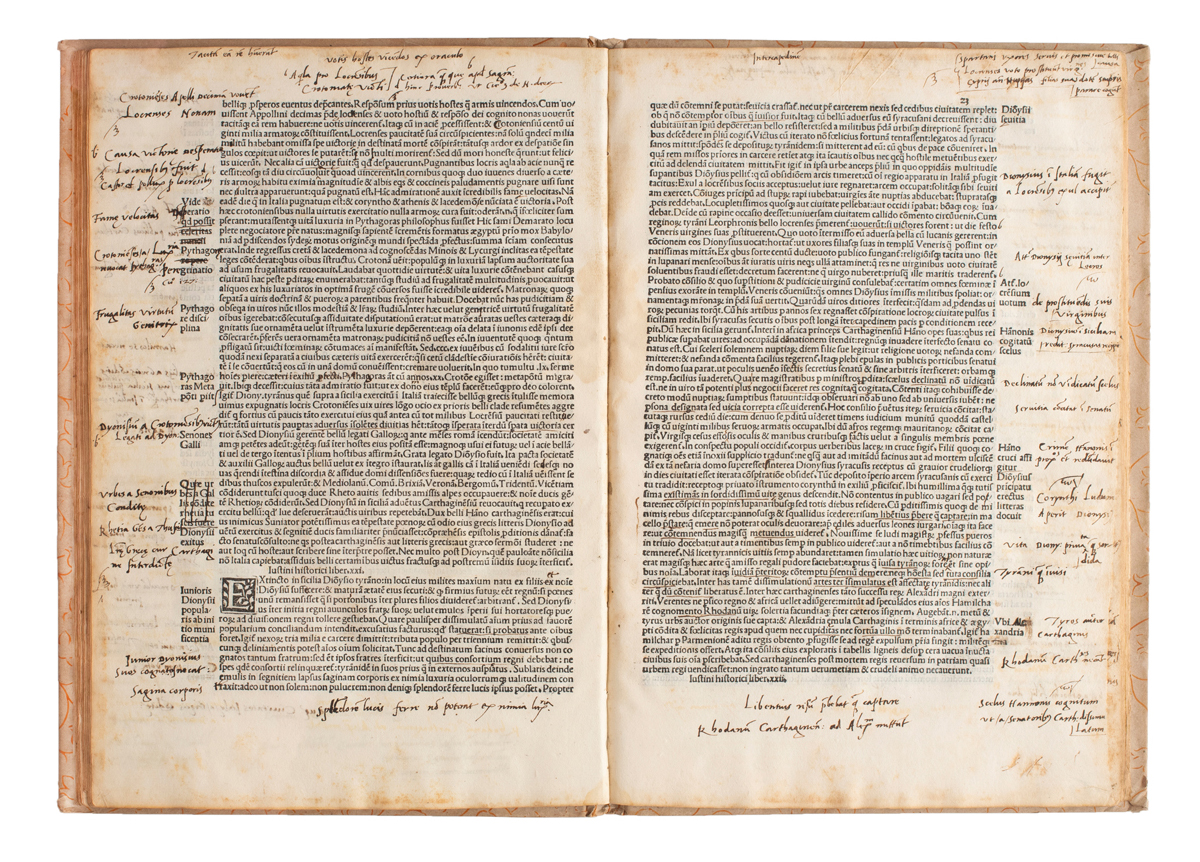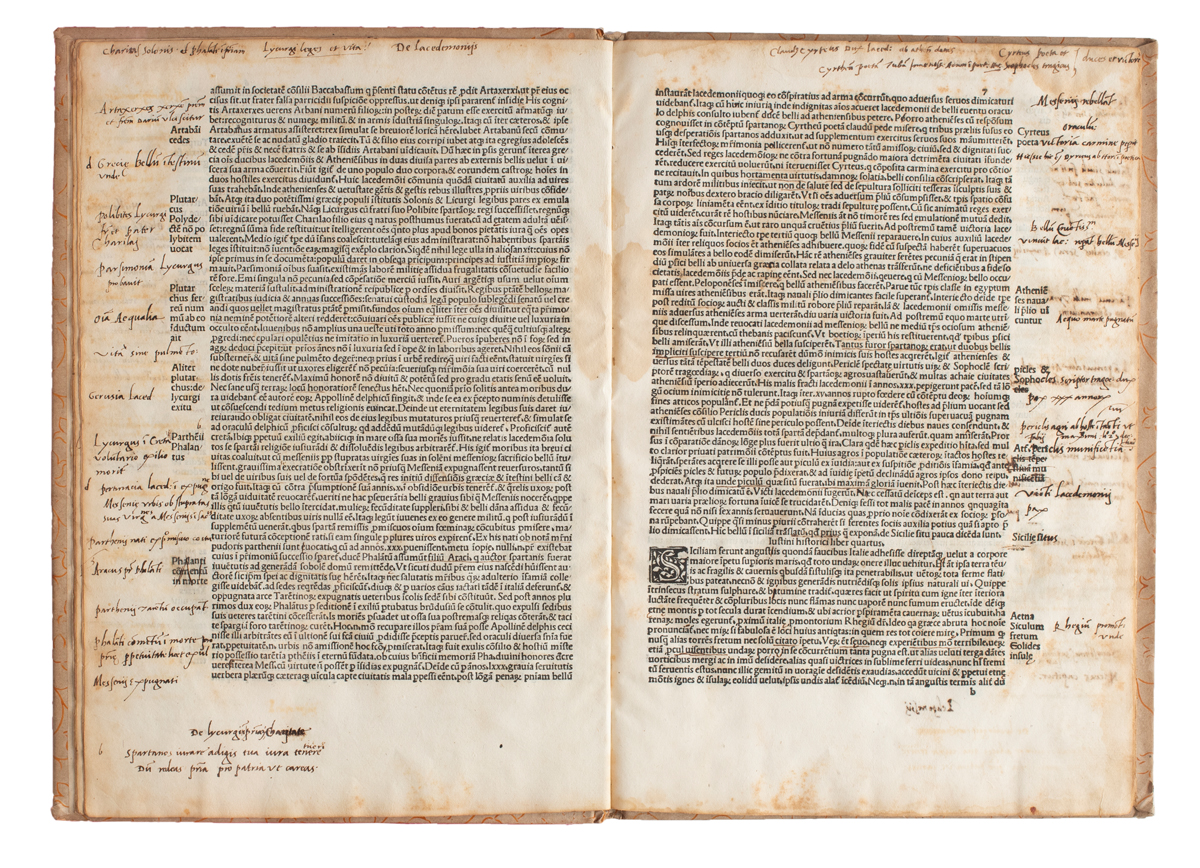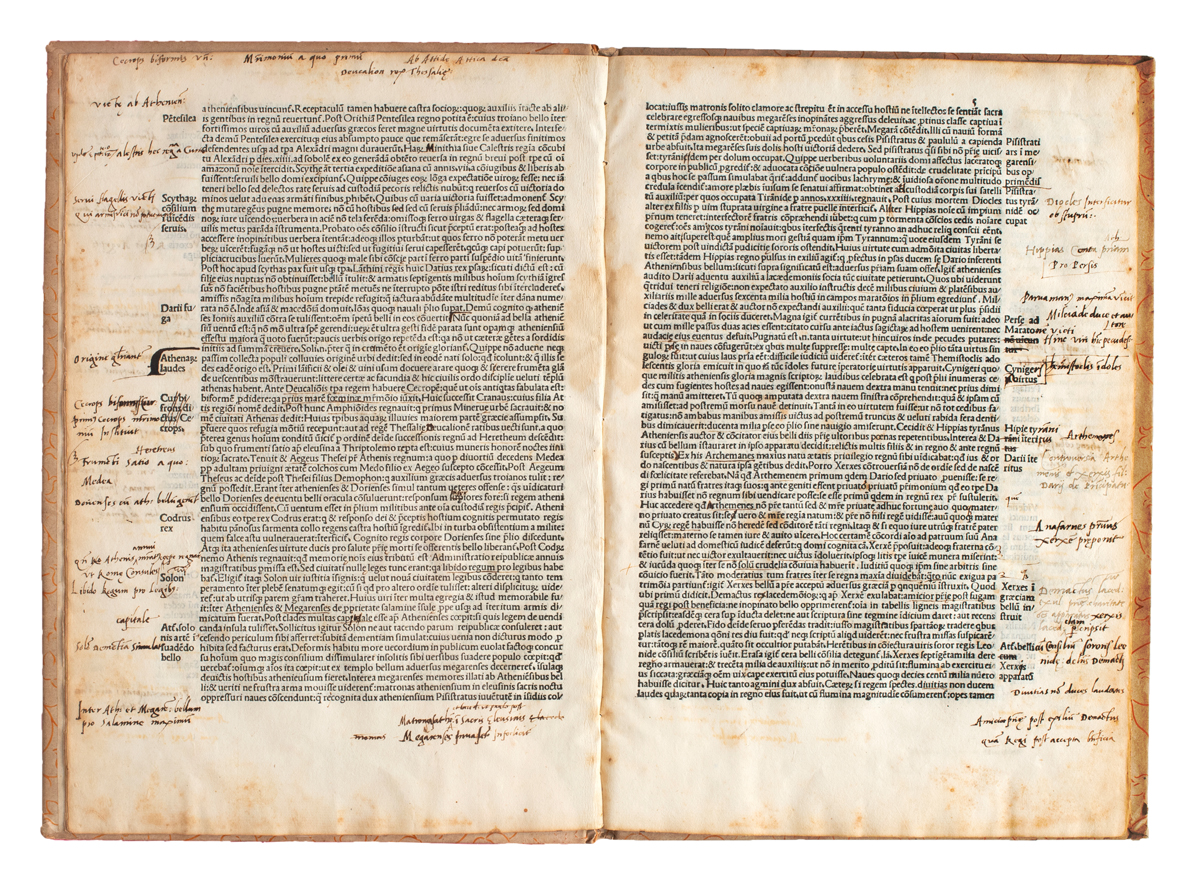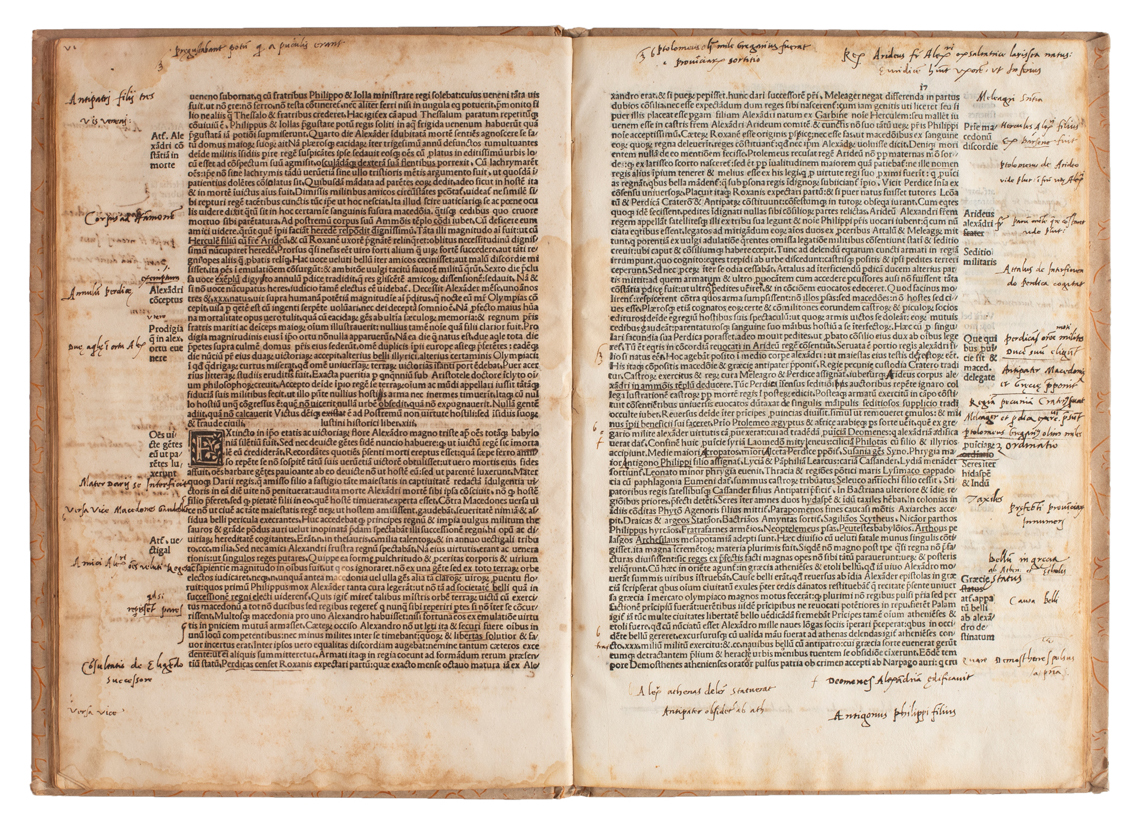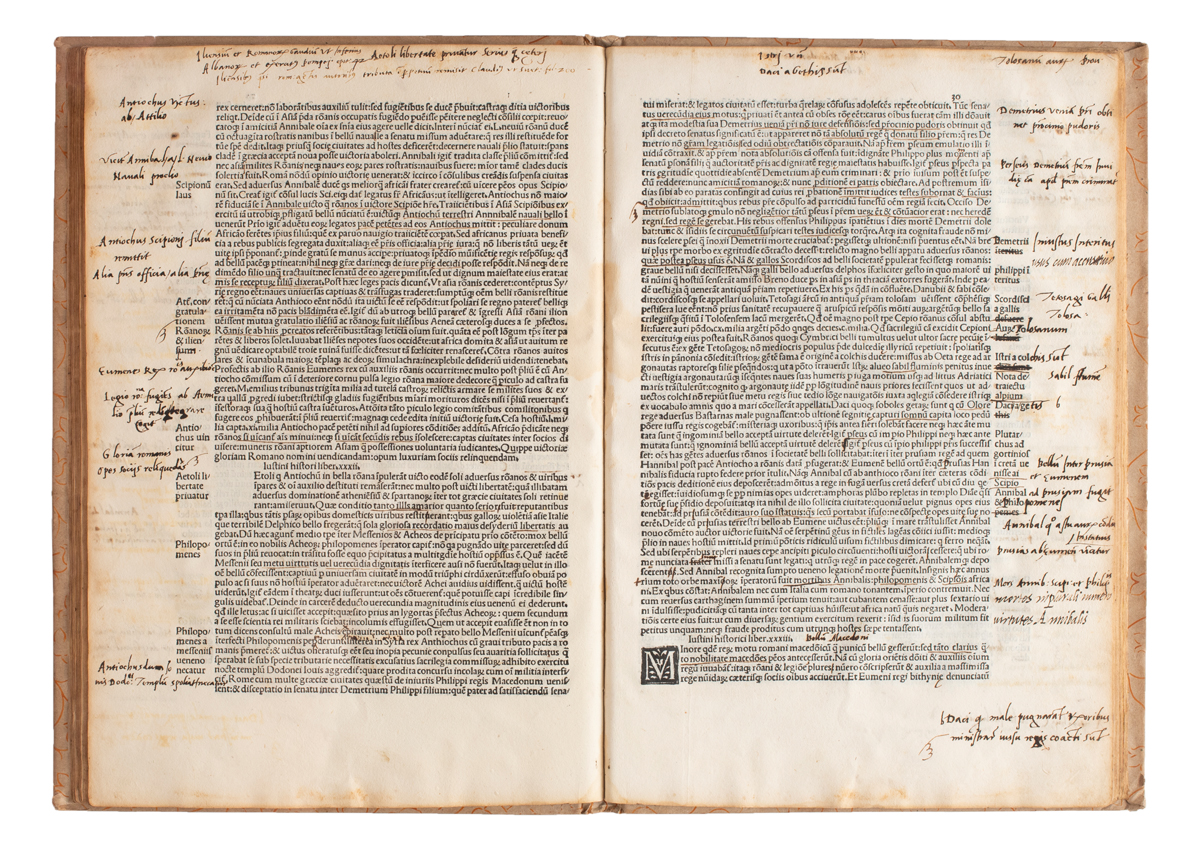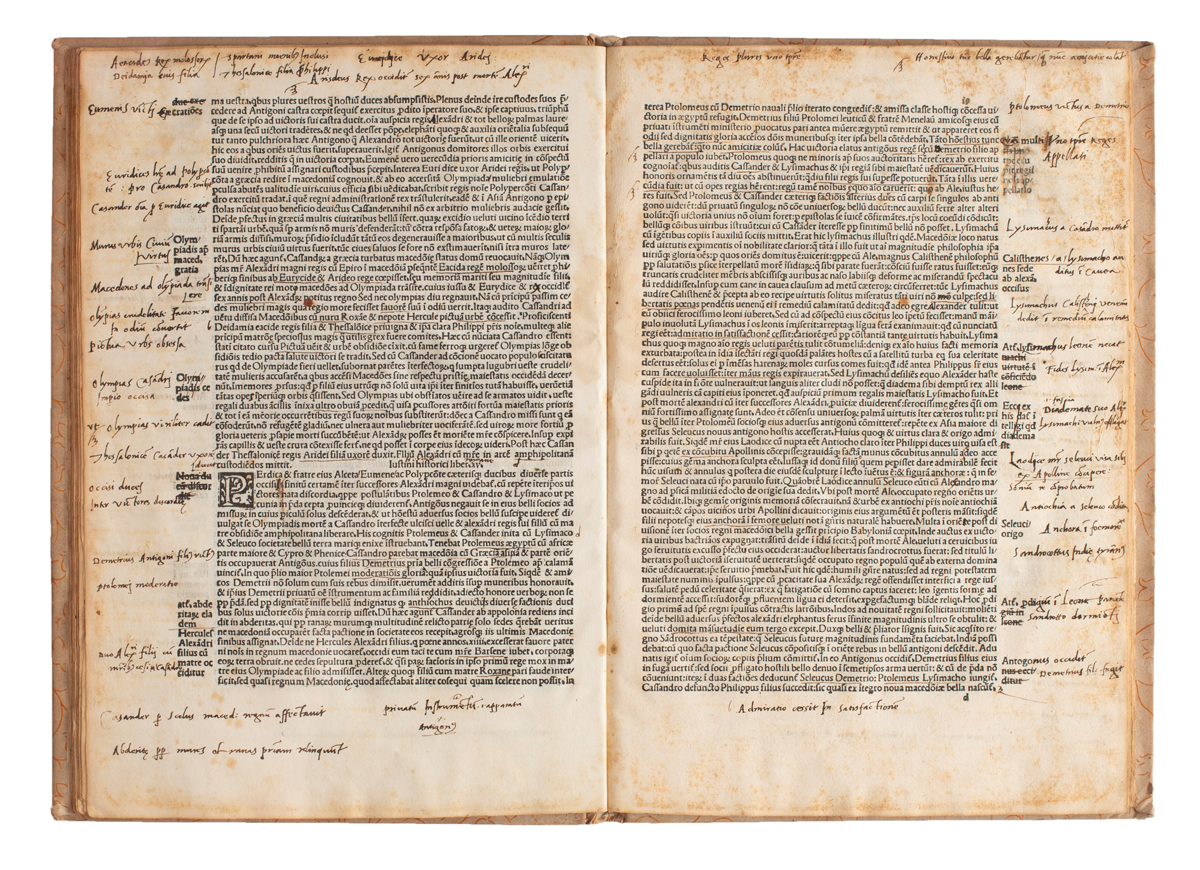 MARGINALIA AMELIORATED
JUSTINUS, Marcus Junianius, and Lucius FLORUS. 

[Epitome historiarum:] Justini historici clarissimi in Trogi Pompei historias exordium. Lucii Flori gestorum romanorum epithoma. 
[Venice, Bartolomeo Zani, 3 February 1503]. 
Folio, ff. 54; woodcut initials, woodcut printer's device to colophon; scattered foxing and marginal dampstaining, wax stain to last leaf touching the register; bound in early-twentieth-century decorated boards; with marginal annotations, underlining, and manicules to virtually every page, in Latin in an Italian sixteenth-century hand, with many of the printed marginalia crossed out and corrected, and with later (seventeenth-century) sparse annotations in Latin and Italian.
£3800

Approximately:
US $4612
€4390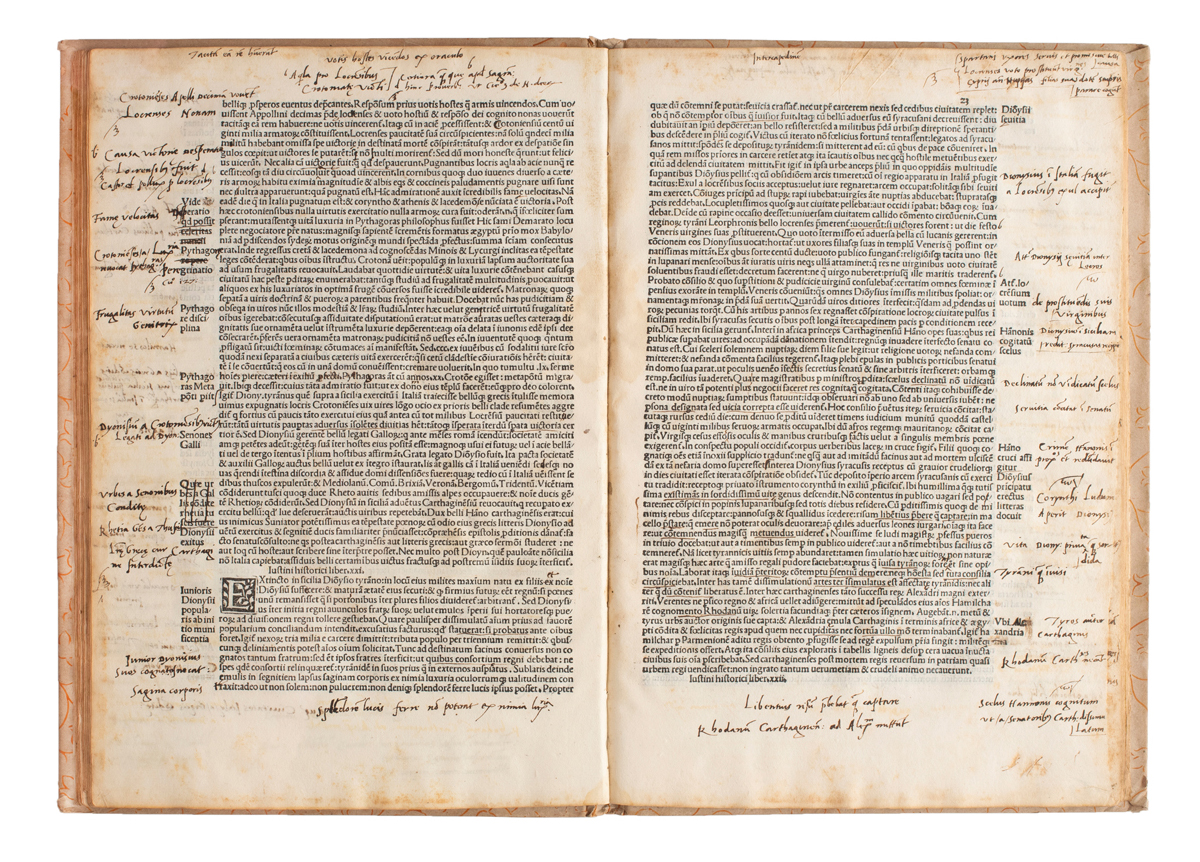 Added to your basket:
[Epitome historiarum:] Justini historici clarissimi in Trogi Pompei historias exordium. Lucii Flori gestorum romanorum epithoma. 
A thoroughly annotated copy of a greatly influential compendium of Trogus's monumental forty-four-book Historia of the world from Babylon to the Augustan era. 

Much information about Philip II of Macedon, father to Alexander the Great, was lost to posterity and only survived in Justinus's and Florus's anthologies and selections.  The Epitome was one of the most widely read texts of the Middle Ages and humanism, printed more than one hundred times in the sixteenth century; this edition closely follows the 1497 edition, edited by Marco Antonio Sabellico.  The main body of marginalia in this copy speaks of a competent contemporary scholar, likely to have been a teacher, who makes notes with textual corrections, thoughts on grammar, and moral lessons to be drawn from history.  A slightly later, less productive annotator leaves notes both in Latin and (more rarely) in Italian. 

EDIT16 51842; Schweiger II, 485; not in Adams. 
You may also be interested in...
THE FIRST ILLUSTRATED PLUTARCH PLUTARCH [and Jodocus BADIUS Ascensius (editor)].
Vitae … novissime … longe diligentius repositae, majoreque diligentia castigatae, cum copiosiore verioreque indice, necnon cum Aemilii Probi vitis, una cum figuris suis locis apte dispositis.
First substantially illustrated edition of Plutarch's Lives, with signs of early reading. First published in this popular translation in Paris in 1514 by French scholar-printer Jodocus Badius Ascensius (1462–1535) in collaboration with Jean Petit, the text is here accompanied by seventy-eight splendid woodcut illustrations in the manner of Benedetto Bordone (1460–1531), all specifically engraved for this edition and appearing here for the first time.
TO MASTER THE WORST OF FEARS SENECA, Lucius Annaeus (attr.). 
Liber ad Gallione[m] de remediis fortuitorum. 
An extensively annotated copy of a very rare early sixteenth-century edition of this successful tract of moral philosophy.  Whilst its entire manuscript tradition was unanimous in attributing this work to Seneca, and eminent scholars with a profoundly intimate knowledge of Senecan philosophy and style, such as Petrarch and Erasmus, endorsed this attribution, the authorship became disputed in the late Renaissance.  Today it is generally considered a genuine Senecan work, or a collection of his maxims.  Stoicism as a disregard for life's passing goods and as a remedy against fears, particularly the fear of death, is the message condensed in these pithy, memorable sentences and succinct explanations.