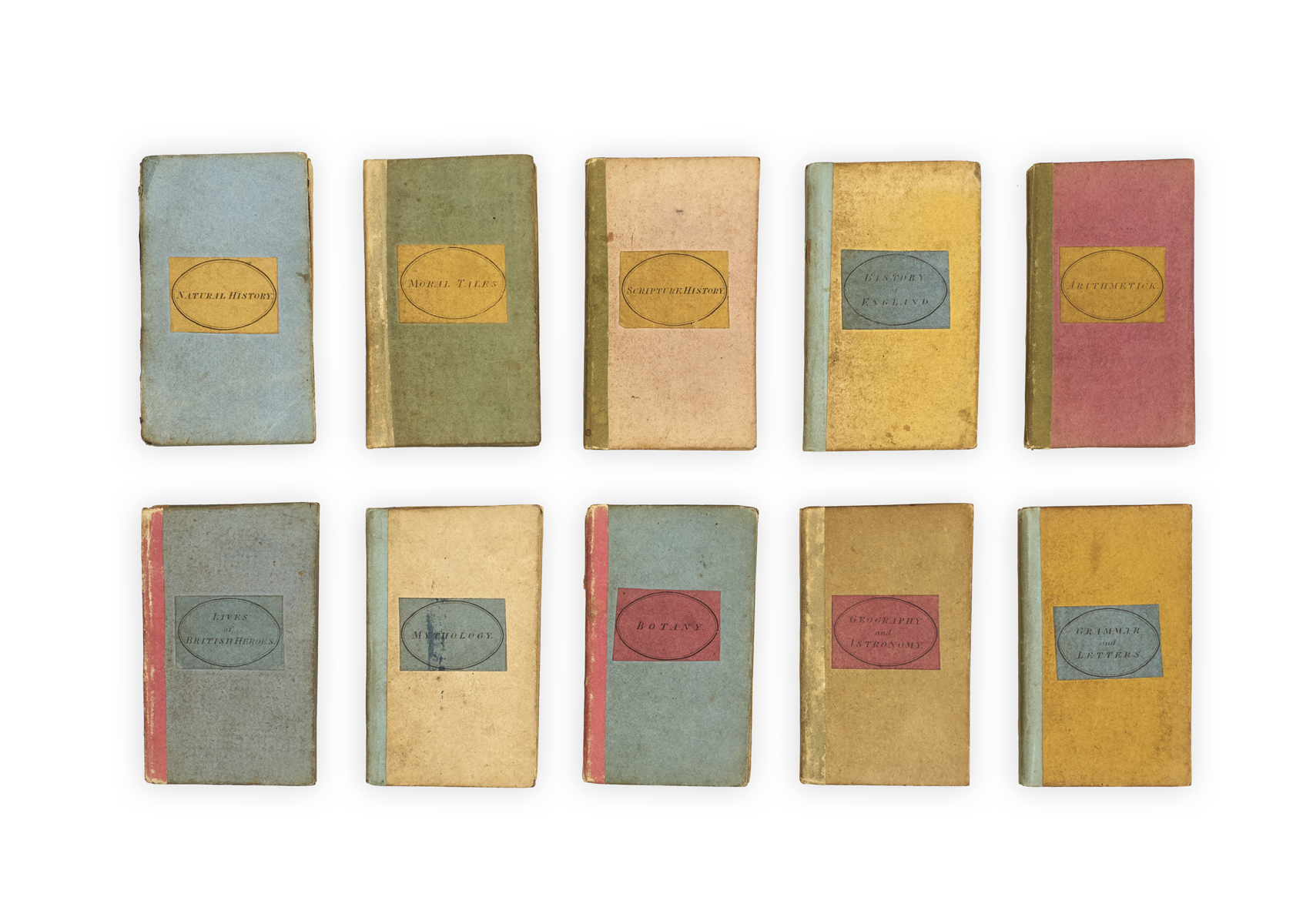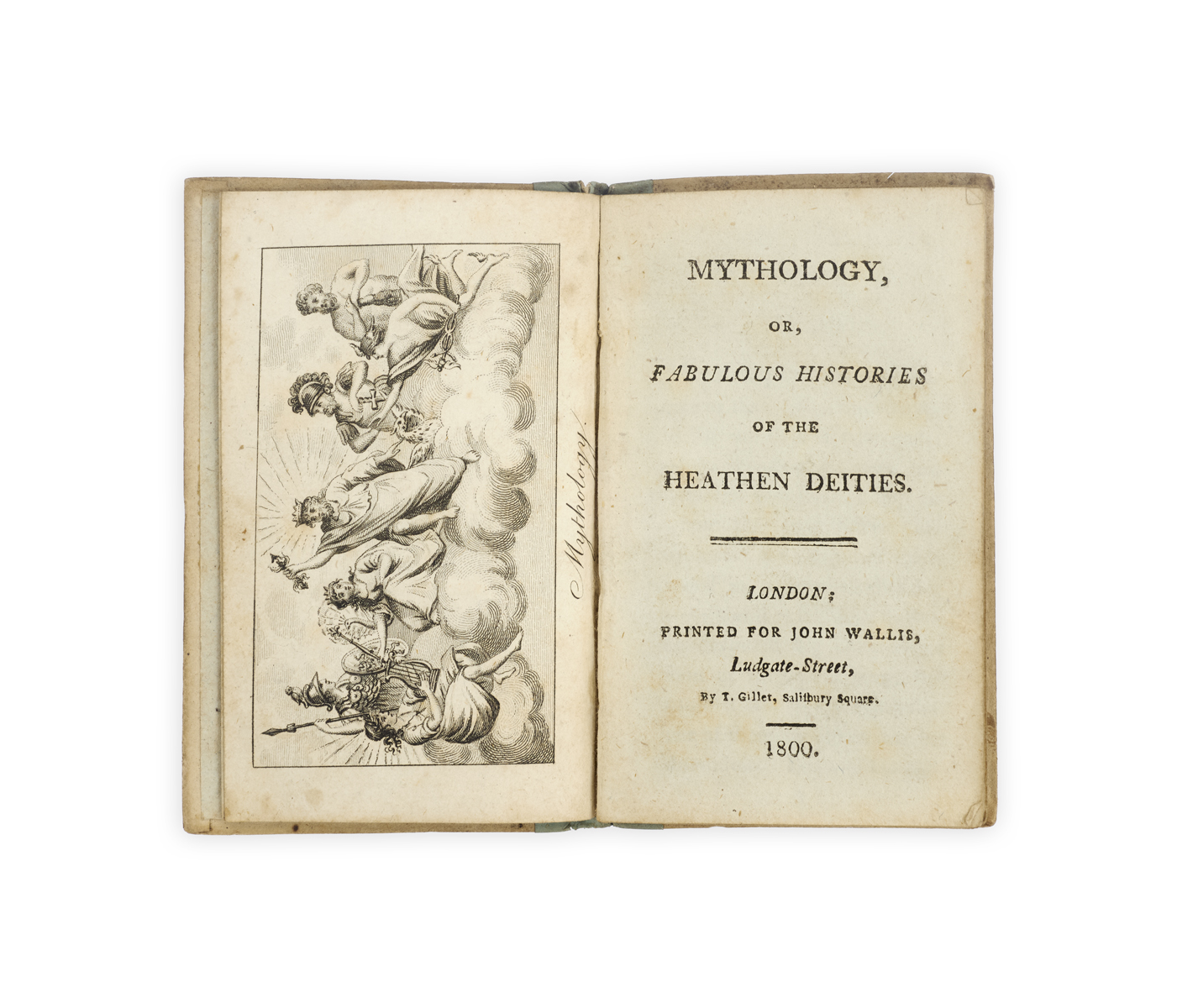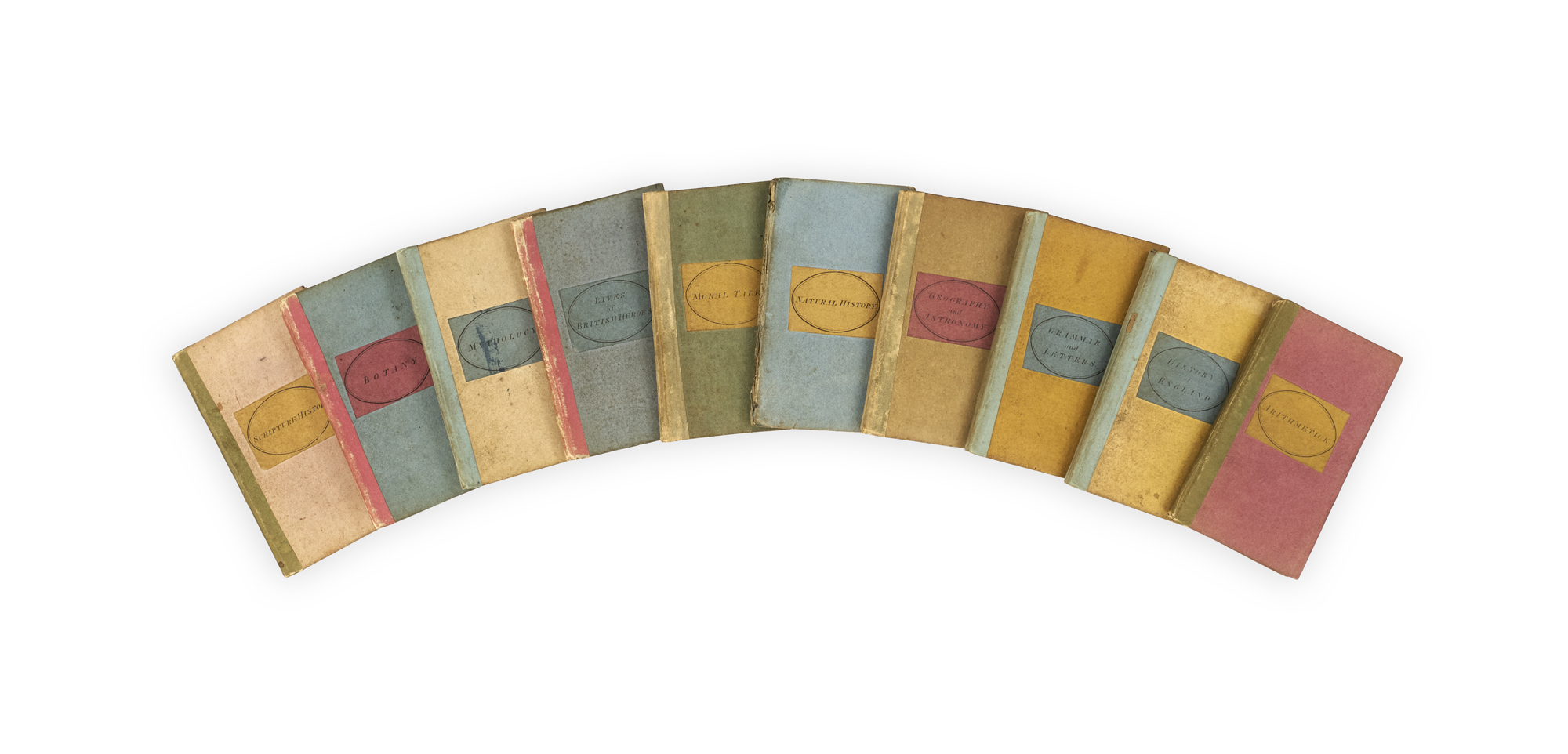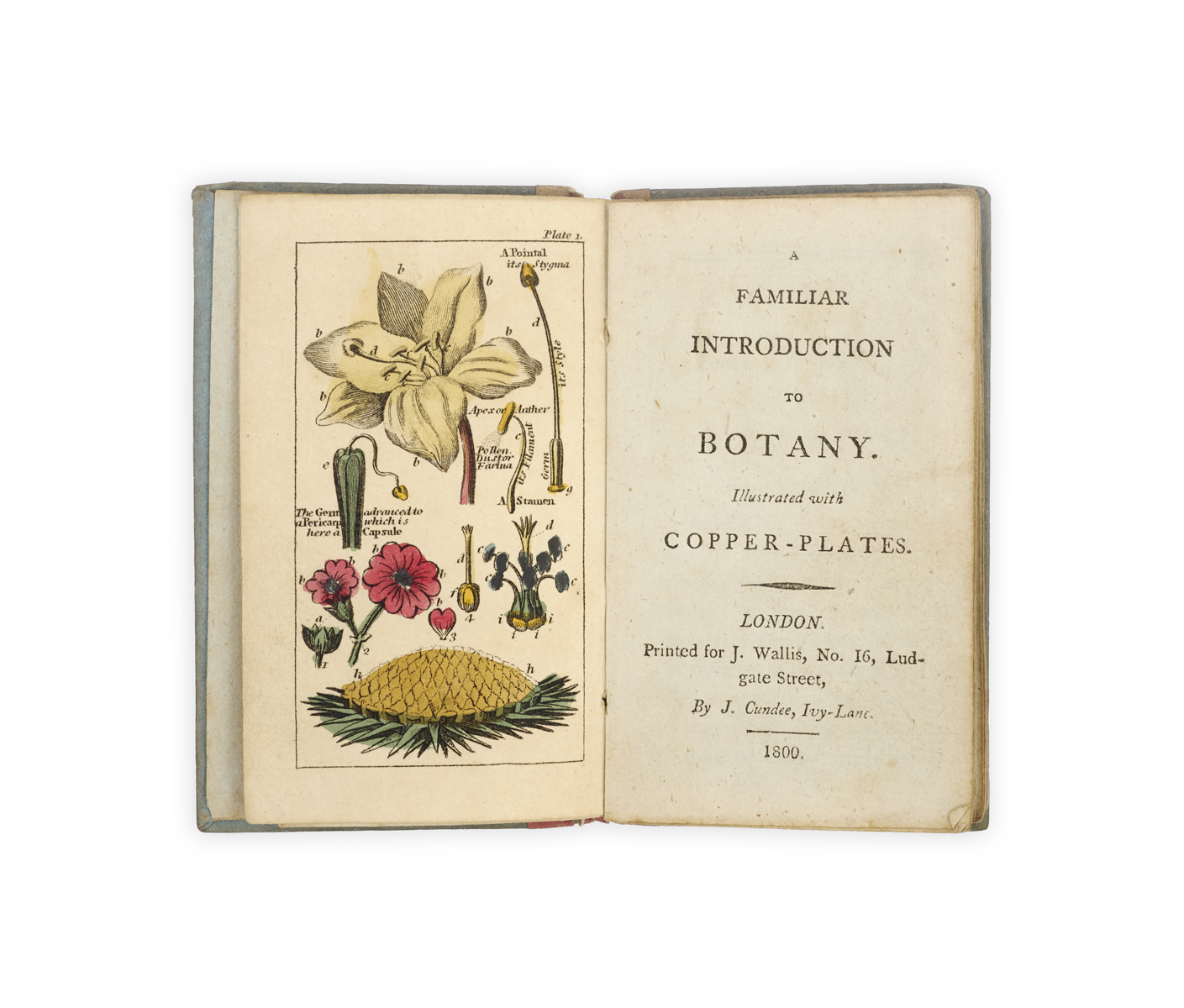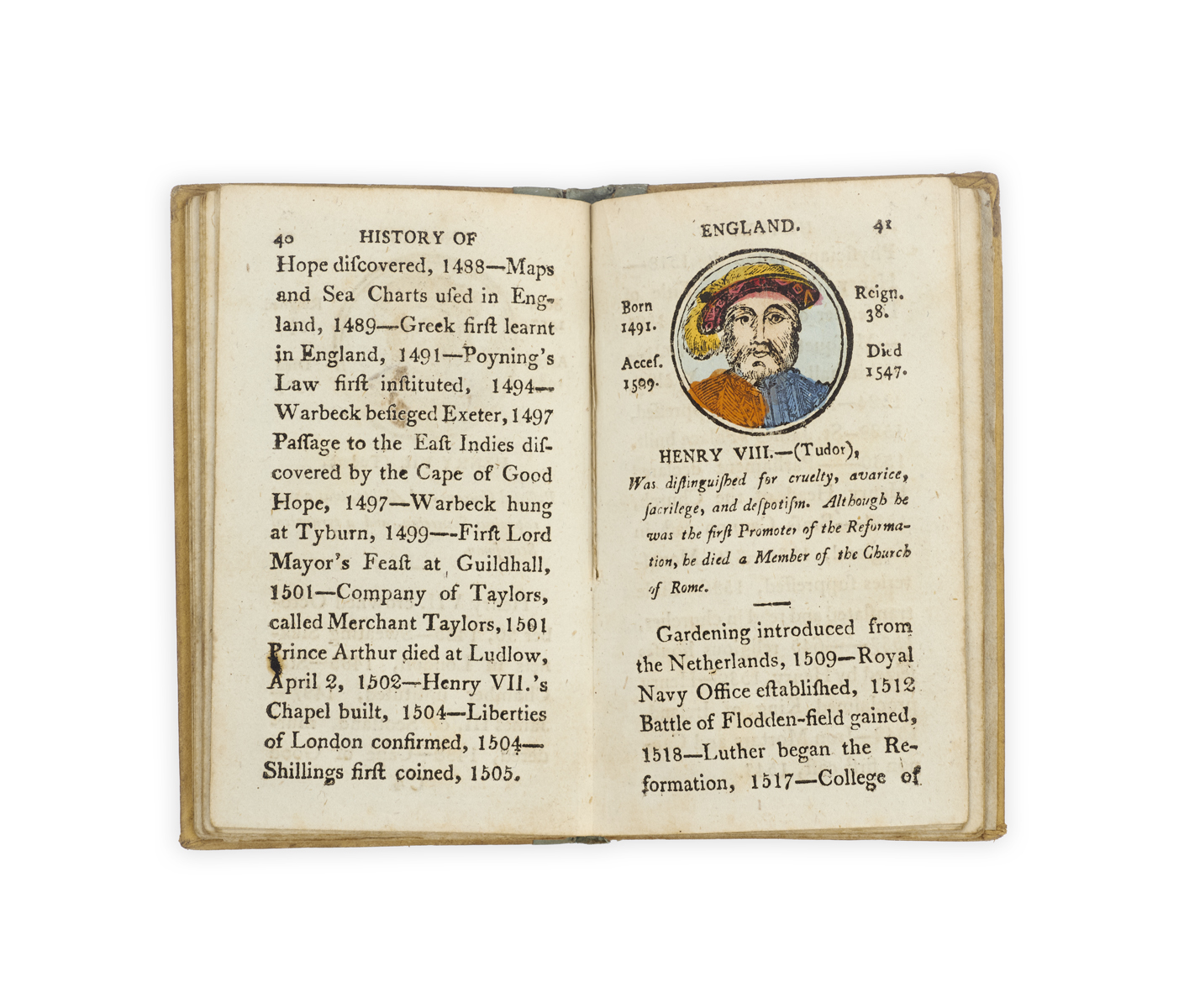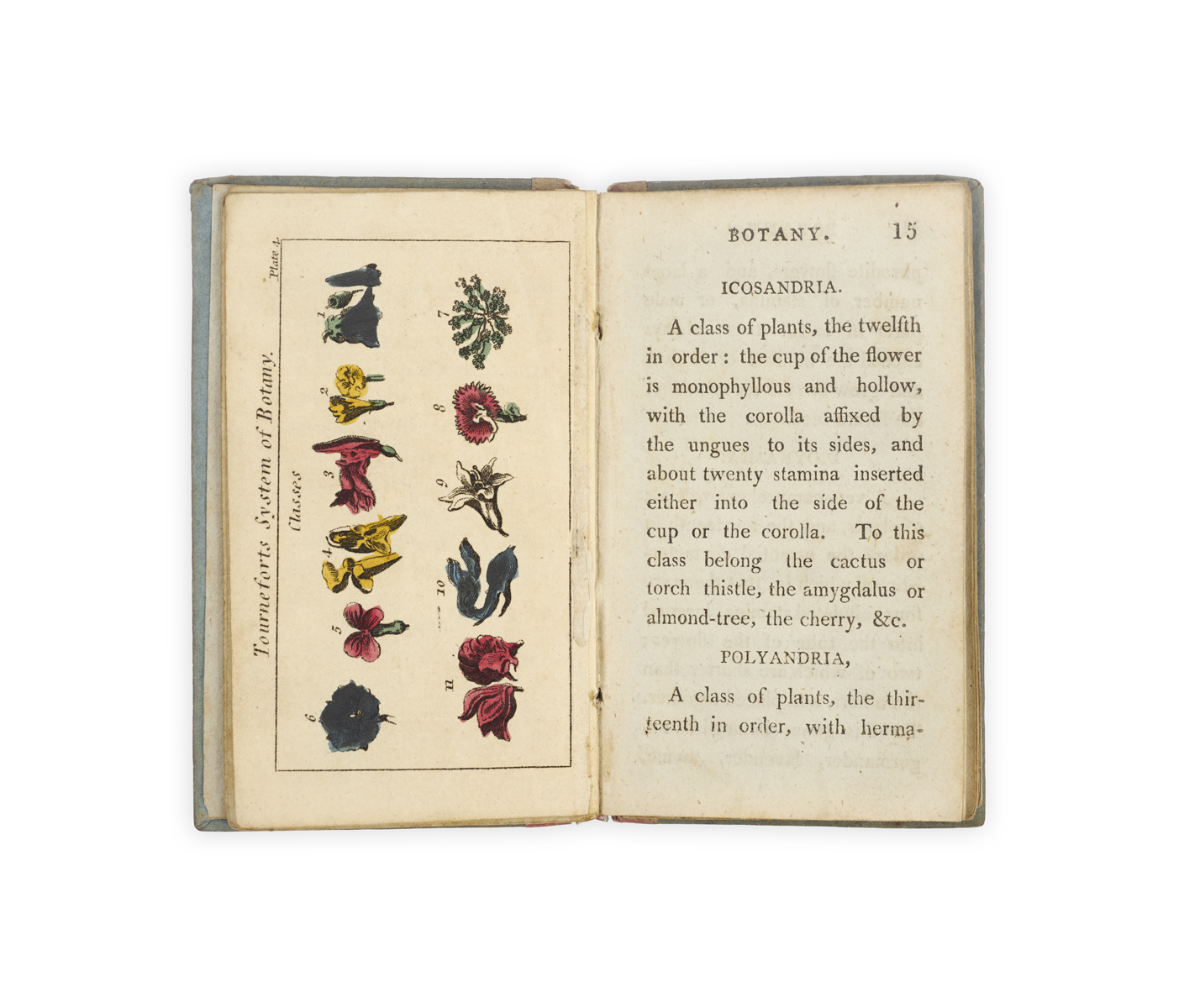 WITH TWO ORIGINAL FRONTISPIECE DRAWINGS
[JUVENILE.]
[Library for Youth, or Book-Case of Knowledge, 10 vols.]
London: Printed for John Wallis … by T. Gillet or J. Cundee … 1800.
10 vols, 16mo, comprising: Geography and Astronomy familiarized (pp. 64, hand-coloured frontispiece of two hemispheres, engraved plate of the solar system); Short and easy Rules for attaining a Knowledge of English Grammar (pp. 64, engraved frontispiece); A Compendium of Simple Arithmetic (pp. 64, with half-title and frontispiece); Mythology, or fabulous Histories (pp. 63, [1 (ads)]); The History of England from the Conquest to the Death of George II (pp. 64, engraved frontispiece, 30 hand-coloured woodcut portraits in roundels); Scripture History (pp. 32, 32, engraved frontispiece); A Natural History of Birds and Beasts (pp. 32, frontispiece and 15 other leaves of engraved plates, numbered 8, 8); A Familiar Introduction to Botany (pp. 63, [1, blank], half-title, frontispiece and four other engraved plates, all hand-coloured); British Heroism, or biographical Memoirs (pp. 64, frontpiece); Rewards for attentive Studies (pp. 62, [2], half-title, engraved frontispiece, final leaf of ads); fine copies, in the original coloured boards (variously pink, red, yellow, blue, green, and grey), contrasting printed cover labels in yellow, blue and red, contrasting paper spines in red, green and blue; Natural History supplied from a different source, with no paper spine; contemporary gift inscription to front pastedown of all but the supplied volume: 'Wm Hopkins, the gift of Mrs. Hartley'; original pen and wash drawings for the frontispieces of The History of England and Mythology, pasted onto blue album paper.
£4750

Approximately:
US $5865
€5477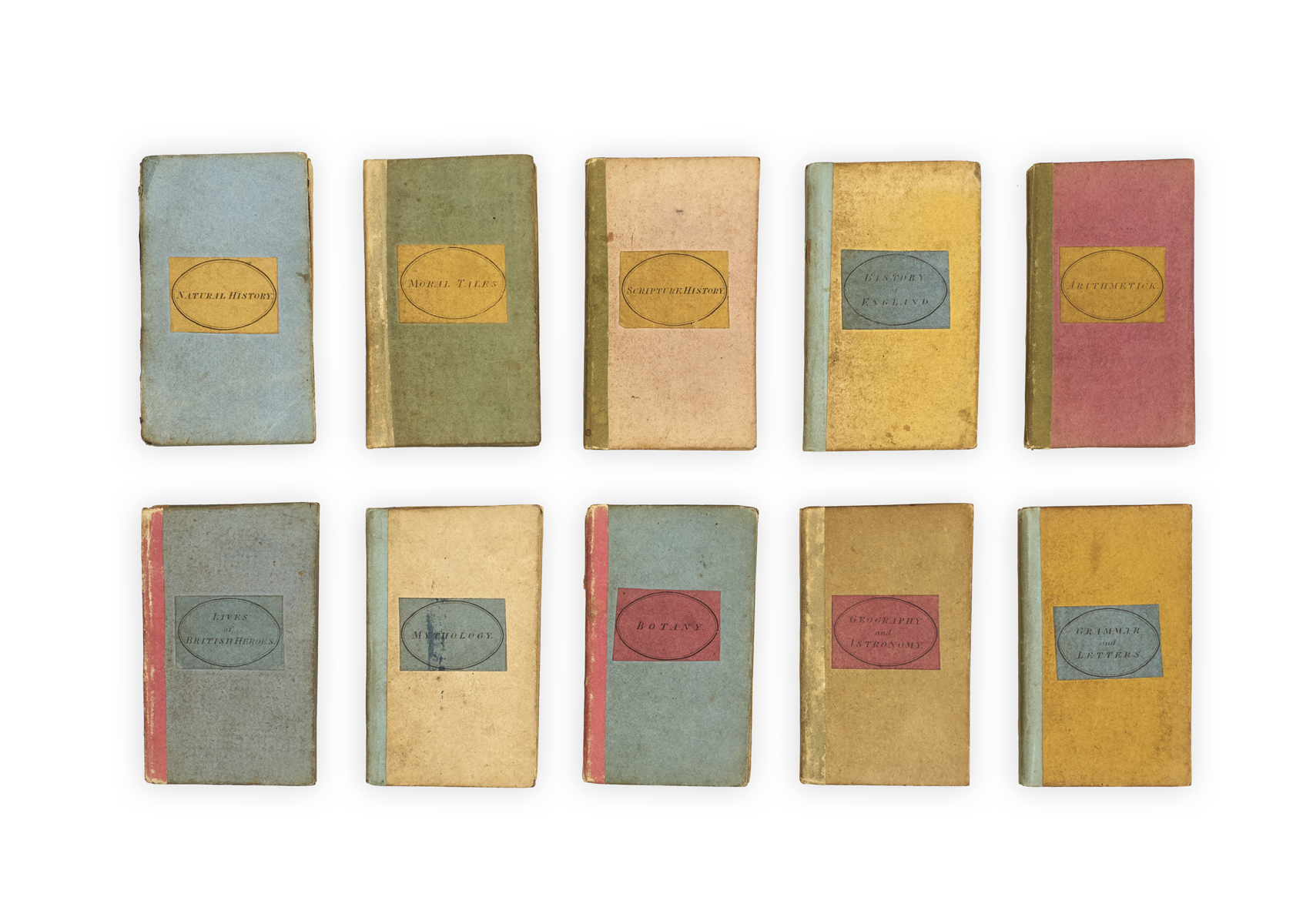 Added to your basket:
[Library for Youth, or Book-Case of Knowledge, 10 vols.]
A fine complete set of Wallis's 'Library for Youth' also known as the 'Book-Case of Knowledge', with all ten volumes in the first editions, dated 1800, and with two original designs (in reverse) for the frontispieces.

1800 was the year of the miniature library. The publisher John Marshall, who was soon to corner the market, issued no fewer than three sets that year, The Juvenile, or Child's Library (16 vols), The Infant's Library (17 vols, for younger children) and The Doll's Library. The first of Marshall's libraries to appear was The Juvenile Library, advertised in The Times on 22 November 1800. Wallis is often spoken of as Marshall's imitator and competitor, but it is not clear to us that Marshall has precedence. The final volume in Wallis's Library for Youth – Rewards for attentive Studies, with the cover label 'Moral Tales' – has a frontispiece dated 16 June 1800, fully five months before Marshall's volumes were published; its advertisement leaves list all ten volumes in the order presented here. Mythology also has an advertisement leaf for the 'Library for Youth', listing nine subjects (but omitting Scripture History and listing Geography and Astronomy separately), in a different order, suggesting the project grew during execution. The use of two different printers (Gillet printed six, Cundee four) suggests a rushed affair – perhaps in order that Wallis could get his sets out before Marshall's? A number of volumes were re-printed in 1801, and mixed sets dated 1800-1 can also be found, sometimes in a book box in imitation of a book-case, labelled 'Book-case of Knowledge'.

Complete sets of Wallis's Library for Youth are very scarce, all the more so with all volumes dated 1800 – we have traced examples at Miami and UCLA only in Library Hub and OCLC, most other locations lacking at least one volume.
You may also be interested in...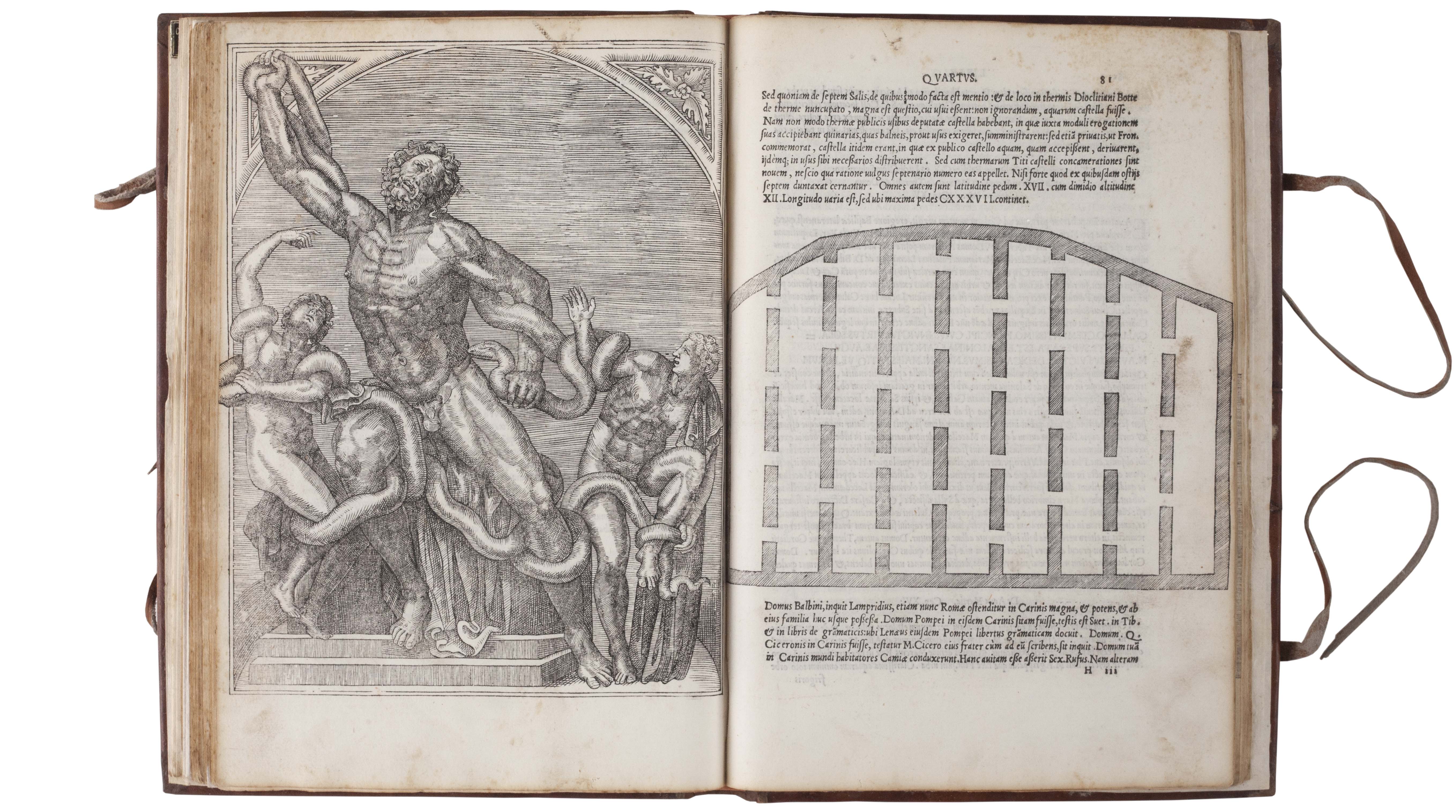 MARLIANI, Bartolomeo. 
Urbis Romae topographia. 
First illustrated edition (third overall), showing the archaeology and antiquities of Rome as known in the sixteenth century.  First published in octavo by Antonio Blado in 1534 and reprinted at Lyons by Sébastien Gryphe later the same year, Marliani's topography of Rome remained the foremost work on the subject over the following two centuries.  This considerably revised edition, the first to be printed in folio, was accompanied for the first time by a series of large woodcuts, providing a comprehensive visual record of ancient structures and sculptures in Rome.  Particularly noteworthy are the double-page map of Rome, signed by the calligrapher Giovanni Battista Palatino, and the full-page woodcut of Laocoön and His Sons, whose excavation Marliani had witnessed in 1506. 
TIME AND TIDE IN THE EIGHTH CENTURY BEDE, the Venerable, Saint. 
Bedae presbyteri Anglosaxonis, monachi benedicti, viri literatissimi opuscula cumplura de temporum ratione diligenter castigata: atq[ue] illustrata veteribus quibusdam annotationibus una cum scholiis in obscuriores aliquot locos, authore Iohanne Nouiomago.  Nunc primum inuenta ac in lucem emissa … 
First illustrated edition (second overall) of Bede's two principal scientific and computistical works De natura rerum and De temporum ratione, with commentary by the Dutch scholar Joannes Noviomagus (1494-1570), a very good copy in an attractive French binding.