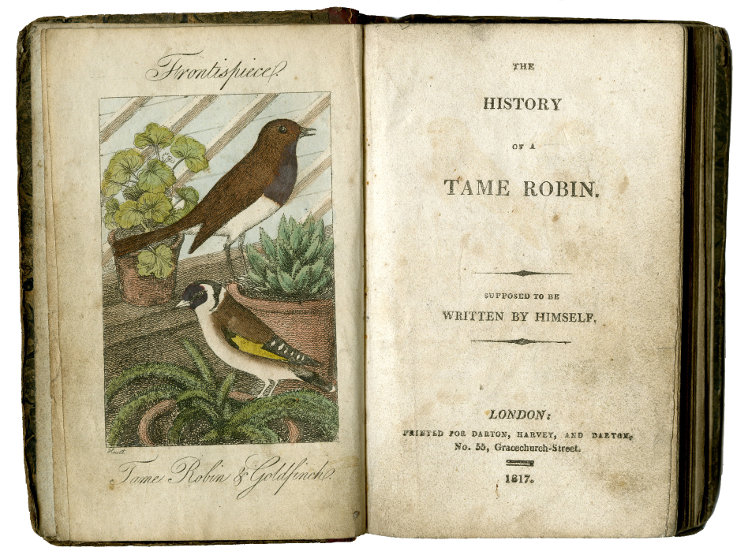 [KEENE, Marian].
The History of a tame Robin. Supposed to be written by Himself.
London: Printed for Darton, Harvey, and Darton … 1817.
12mo., pp. [2], 153, [1], with an engraved frontispiece, neatly coloured by a contemporary hand; slightly dusty, some light foxing, but a good copy in the publisher's original quarter red roan and marbled boards; boards and spine somewhat rubbed.
£325

Approximately:
US $409
€362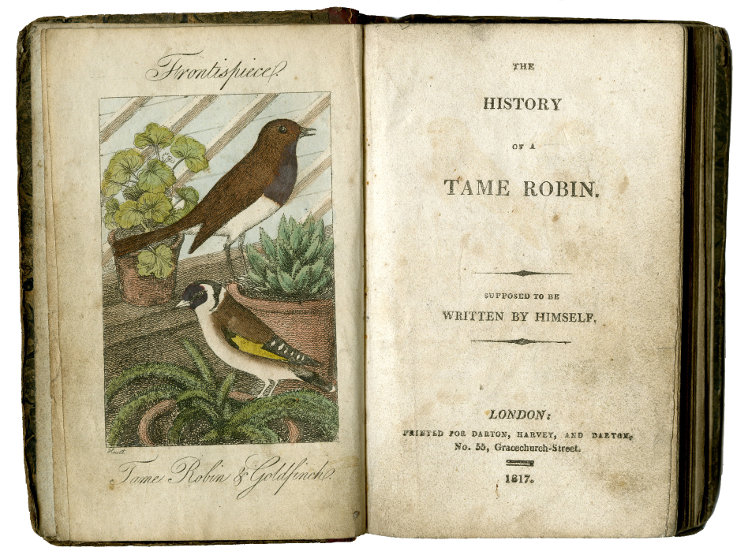 Added to your basket:
The History of a tame Robin. Supposed to be written by Himself.
First and only edition. The tame Robin recalls a life of adventure enriched by human and avian friendships. A childhood spent in a school-room helped him attain 'a sufficient knowledge of literature to relate my adventures'. His life, though happy, is not without its vicissitudes: he loses a close friend, Goldey the goldfinch, to a bird of prey and spends a disconcerting time in the ownership of a spoilt child who starves sparrows to death.

This is the only known work by Marian Keene.

Darton G533.
You may also be interested in...
POEM ON THE 1755 LISBON EARTHQUAKE ALMEIDA, Theodoro de.
Lisboa destruida poema, author o P. Theodoro de Almeida, da Congregaçaõ do Oratorio de Lisboa.
First edition of this poem in six cantos, with extensive notes, on the disastrous 1755 Lisbon earthquake, by the Oratorian priest and philosopher Almeida (1722-1804). One of the deadliest in history, the earthquake almost totally destroyed the Portuguese capital and accentuated political tensions within the kingdom. It was widely discussed by European Enlightenment philosophers, including Voltaire and Rousseau, and led to important debates around theodicy and philosophical optimism.
Almeida was one of the most important figures of the iluminismo in Portugal and spent time in exile in France following the persecution of his congregation by the Marquis of Pombal. He wrote Lisboa destruida soon after the earthquake but it remained in manuscript until 1803, its publication perhaps motivated by the outbreak of the Napoleonic Wars, which threatened to bring fresh disaster to his country. In his prologue, Almeida refers to Voltaire's Poème sur le désastre de Lisbonne as 'obra dictada, naõ pelas Musas Christãs, mas certamente pelas Furias infernaes'. Almeida's poem has been praised by the bibliographer Inocênio for its historical value and is illustrated with beautiful vignettes alluding to the earthquake.
Provenance: this copy belonged to one Captain Saunders of the 14th Light Dragoons who no doubt acquired it on service with the 14th during the Peninsula War between 1808 and 1814.
Only one copy on Library Hub, at the British Library.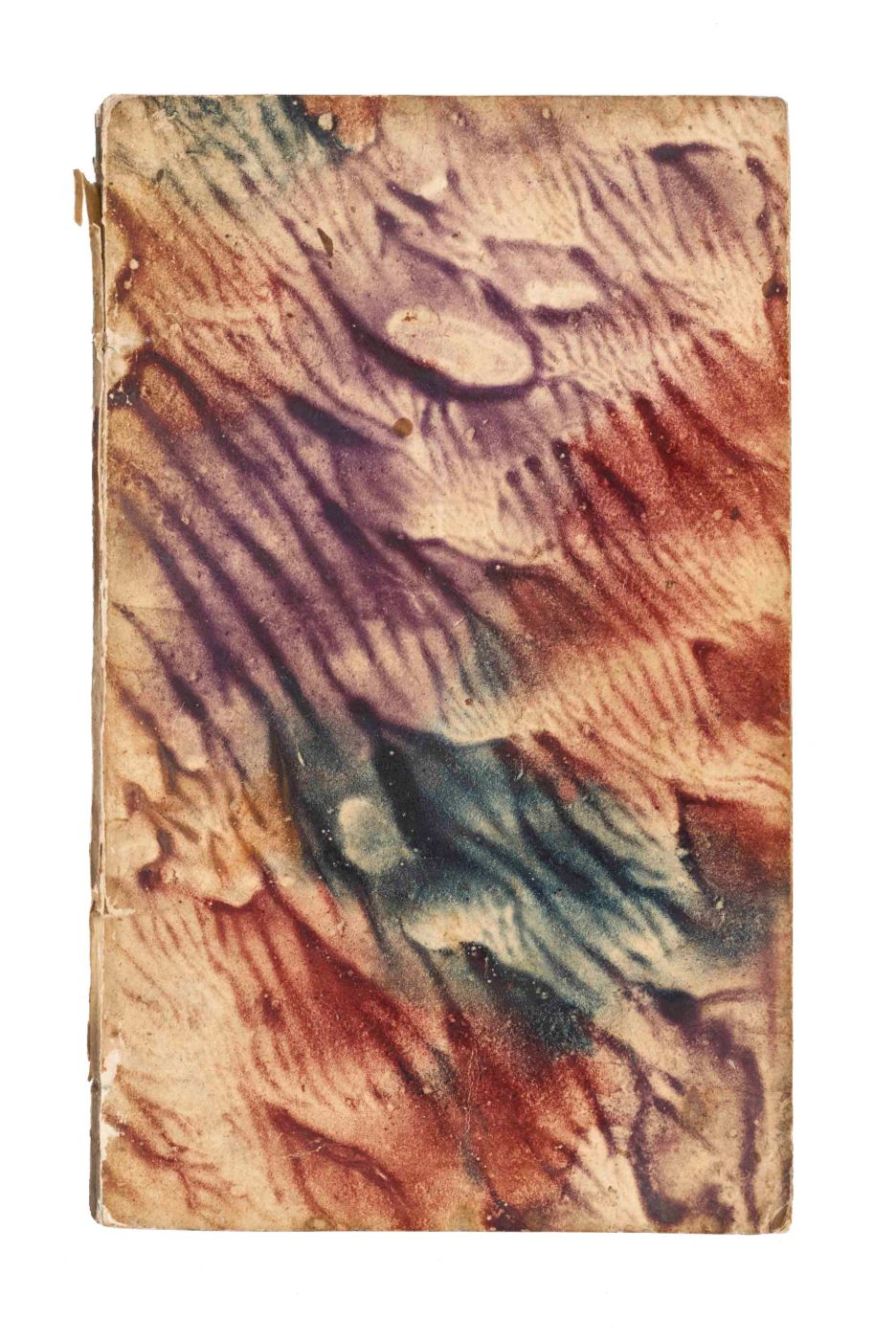 KOCH, Manfred (pr.), Primo SCHLECHTEN and Feliciano SCHARRER (resp.).
Philosophia rationalis sive logica, centum assertiones comprehensa et publica disputationi in celeberrimo & antiquissimo Collegio Can. Reg. S. August. Congregat. Lateranensis ad Beatiss. Virg. Mariam in Rottenbuech. ...
A good copy of this rare dissertation from the Augustinian college at Rottenbuch in Bavaria, attempting to reduce logic (the science of reasoning) to one hundred numbered paragraphs. Describing the function and limits of logic, the authors, both Austin canons at Rottenbuch, explain the use of syllogisms, the relationship of logic to epistemology, the theory of universals, necessity and contingency, and more.
Outside Germany, OCLC records just one copy, at Cambridge.