ESENIN ATTACKED
KLIUEV, Nikolai Alekseevich.
Chetvertyi Rim [The Fourth Rome].
St Petersburg, "Epokha", 1922.
12mo, pp. 23; a very good copy in the original printed wrappers, minor dust-soiling.
£280

Approximately:
US $390
€317
First edition of Klyuev's attack on Esenin. 'Esenin recognized Klyuev as his "teacher", but Klyuev rejected Esenin's later "hooligan" manner, and the strained (and possibly homosexual) relations of the two men ultimately contributed strongly to Esenin's suicide. Klyuev's long poem "The Fourth Rome" is an attack on what Klyuev saw as Esenin's betrayal of the peasant ideal. Later, when Esenin committed suicide, Klyuev wrote his powerful "Lament for Esenin" and recited it at the memorial service' (Terras).

Tarasenkov p. 177.
You may also be interested in...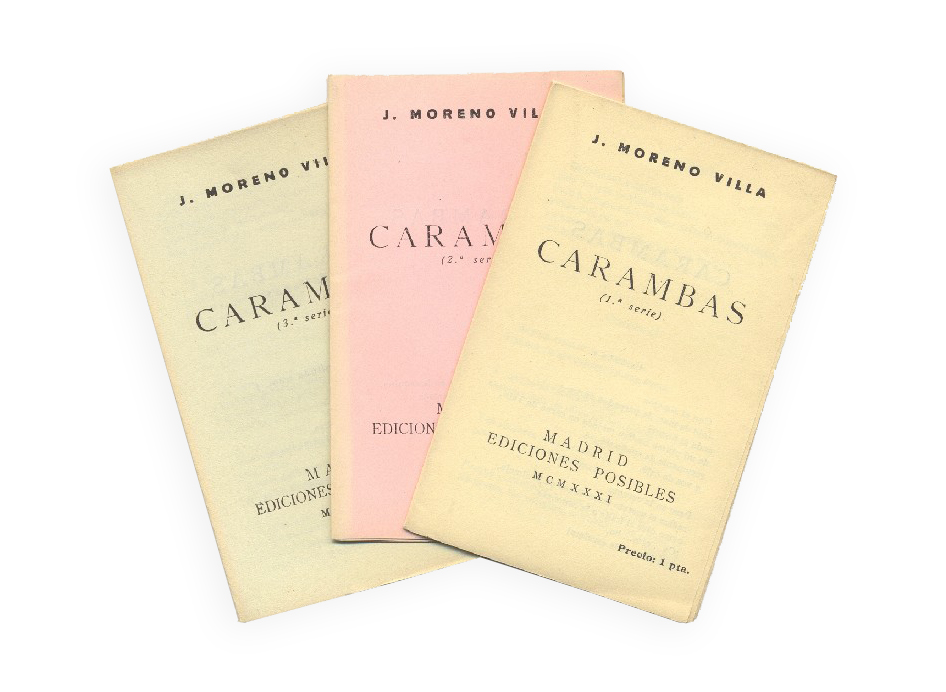 MORENO VILLA, José.
Carambas. (I.a serie [– 3.a serie]).
First edition of the complete series of Moreno Villa's Carambas. The poet and art historian José Moreno Villa was born in Malaga in 1887 (d. 1955). He belonged to the poetic generation intermediate between that of '98 and that of '27; his major influence was Juan Ramón Jiménez. His autobiography Vida en claro (Mexico City, 1944) is especially interesting for his years in the Residencia de Estudiantes, 1917-37, where he came into contact with Lorca and others of the Generación del 27. He emigrated to Mexico in 1937.
FIRST BOOK: A PRESENTATION COPY ROMAINS, Jules, pseud. [i.e. Louis Farigoule].
L'Âme des hommes.
First and only edition of Jules Romains' first book, with a signed presentation inscription on the half-title to the French local historian Ulysse Rouchon: 'à Ulysse Rouchon, ce balbutiement, Jules Romains'.