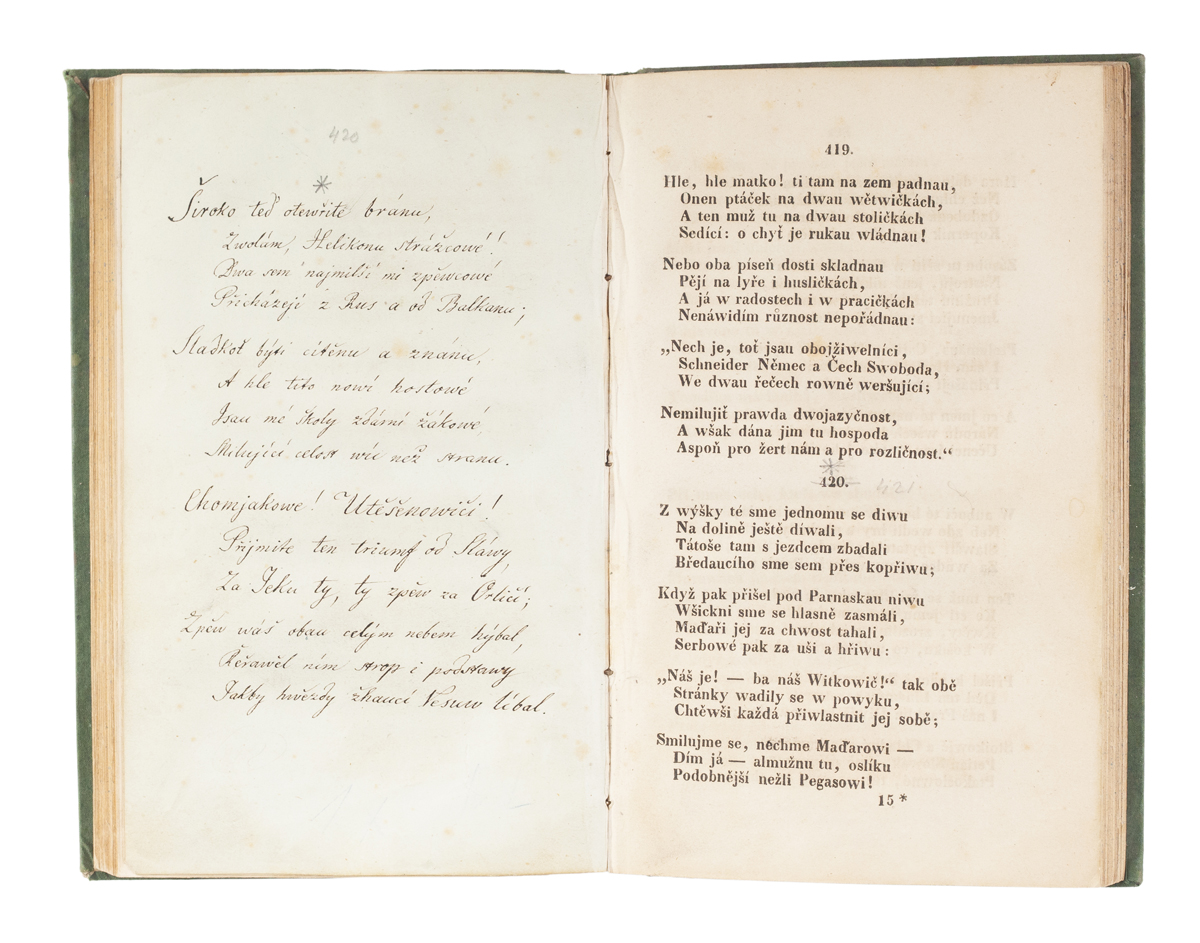 PAN-SLAVIC POETRY – WITH ADDITIONAL AUTOGRAPH SONNET
KOLLÁR, Jan.
Díla básnická … we dwau djljch ['A Collection of Poems … in two parts'].
Buda, no publisher, but 'with the types Gyuriána a Bagó', 1845.
8vo, pp. [332], 58, [2]; some light offsetting; with a presentation inscription 'Slawobratrowi Utĕšenowić-Ostrožinskému / Jan Kollár' and an additional autograph sonnet bound in; contemporary green cloth, light wear only, small chip at head of spine, paper spine label lettered gilt; in a folding cloth box.
£1750

Approximately:
US $2141
€2028
Added to your basket:
Díla básnická … we dwau djljch ['A Collection of Poems … in two parts'].
First collected edition of Jan Kollár's works, inscribed to fellow poet and 'brother Slav' Ognjeslav Utješenowić-Ostrožinski, with an additional autograph sonnet written in his honour.

Kollár (1793–1852) is the first great Slovak poet and one of the leading Czech-language poets of the nineteenth century. He is best known for the epic sonnet cycle 'Slavy dcera' ('Slava's Daughter', first published in 1824, but greatly added to over subsequent editions), which forms the first, and major, part of this edition. The second part contains shorter lyrics. In 'Slavy dcera', 'the poet's beloved Mína [an embodiment of Kollár's ideal of love] becomes daughter of a mythic Slavic patron Goddess, and a pilgrimage is conducted through Slav lands and, in Dante-like style, into a Slav paradise and hell' (Naughton, p. 141). As such, it is an early expression of the ideal of cultural unity among all the Slavic peoples.

Kollár was an active Slavophile campaigner (de Bray calls him the 'crystallizer of the ideal of Slavonic brotherhood') during the Revival period, and it is fitting that this copy is inscribed to Utješenowić-Ostrožinski (1817–1890), a Croatian Serb writer, who had inspired Kollár with his poem 'Jeka od Balkana' ('The Cry of the Balkans') and his views on South Slav unity and co-operation. Kollár even pens an additional sonnet in his and A.S. Khomyakov's (1804–1860, Russian poet and early Slavophile) honour, bound in specially in this copy, and which was published in the final edition of 'Slavy dcera' in 1852.

STC Hungarian, p. 138; see Traveller's Literary Companion to Eastern and Central Europe (ed. James Naughton, 1995).
You may also be interested in...
CAIRO-PRINTED LITHOGRAPHIC CALLIGRAPHY CELALEDDIN, Mahmud (calligrapher). 
[A muraqqa or calligraphic album.]
Unrecorded album of lithographed examples of calligraphy, mixing prayers and pen exercises, reproducing the calligraphy of a Daghestani émigré to Istanbul, Mahmud Celaleddin Efendi (d. 1829), and published in Cairo by Egypt's Ministry of Public Education. 
ADVOCACY OF PRIVATE PROPERTY AND FREE TRADE JUSTI, Johann Heinrich Gottlob von.
Staatswirtschaft oder systematische Abhandlung aller oekonomischen und Cameralwissenschaften, die zur Regierung eines Landes erfordert werden, in zwei Theilen ausgefertiget.
First edition of this fundamental work in the understanding of market economies. Justi was a German political and economic thinker, usually described as an exponent of Cameralism; his background was the power struggle of the Seven Years War, and his drive was a need to create a modern, commercial configuration for a contemporary monarchy.