[KRASNOYARSK.]
[Title in Russian:] Krasnoiarsk.
[Vienna, 1968.]
Small 8vo, pp. 10, [2]; with 6 full-page woodcut illustrations (one repeated on front cover); text printed with wooden type; loose in the original illustrated wrappers, spine slightly sunned.
£275

Approximately:
US $337
€319
Added to your basket:
[Title in Russian:] Krasnoiarsk.
Facsimile of a pamphlet printed by Siberian prisoners of war in 1919 in the camp at Krasnoyarsk. Although the title is in Cyrillic, the text is in German.

The original pamphlet, of which we were unable to locate a copy, was printed by three prisoners using handcarved wooden type on a handmade press. It tells the story, with all the bleakness of statistics, of those prisoners of war taken to Krasnoyarsk during the First World War. The first prisoners – 72 officers, 1100 German and Austrian-Hungarian soldiers, and 126 East Prussian civilians – arrived at the camp in October 1914. By the end of the year, their numbers had risen to 7193; two years later and there were over 15,000 in the camp. Thousands died of typhoid and other diseases. The remaining prisoners were finally freed in 1920. One of the soldiers held there was the Austrian writer Heimito von Doderer, who arrived at the camp in 1916; the novel Das Geheimnis des Reichs (1930) is based on his Siberian experiences.

No copy of the original or this facsimile listed in OCLC or RLIN. KVK finds a copy at the Austrian National Library only.
You may also be interested in...
WITH EARLY ENGLISH PROVENANCE GROTIUS, Hugo. 
De veritate religionis Christianae, editio nova, additis annotationibus in quibus testimonia. 
A pocket-edition of Grotius's argument for the Christian religion; a very good copy with reading marks by the English pamphleteer Isaac Sharpe.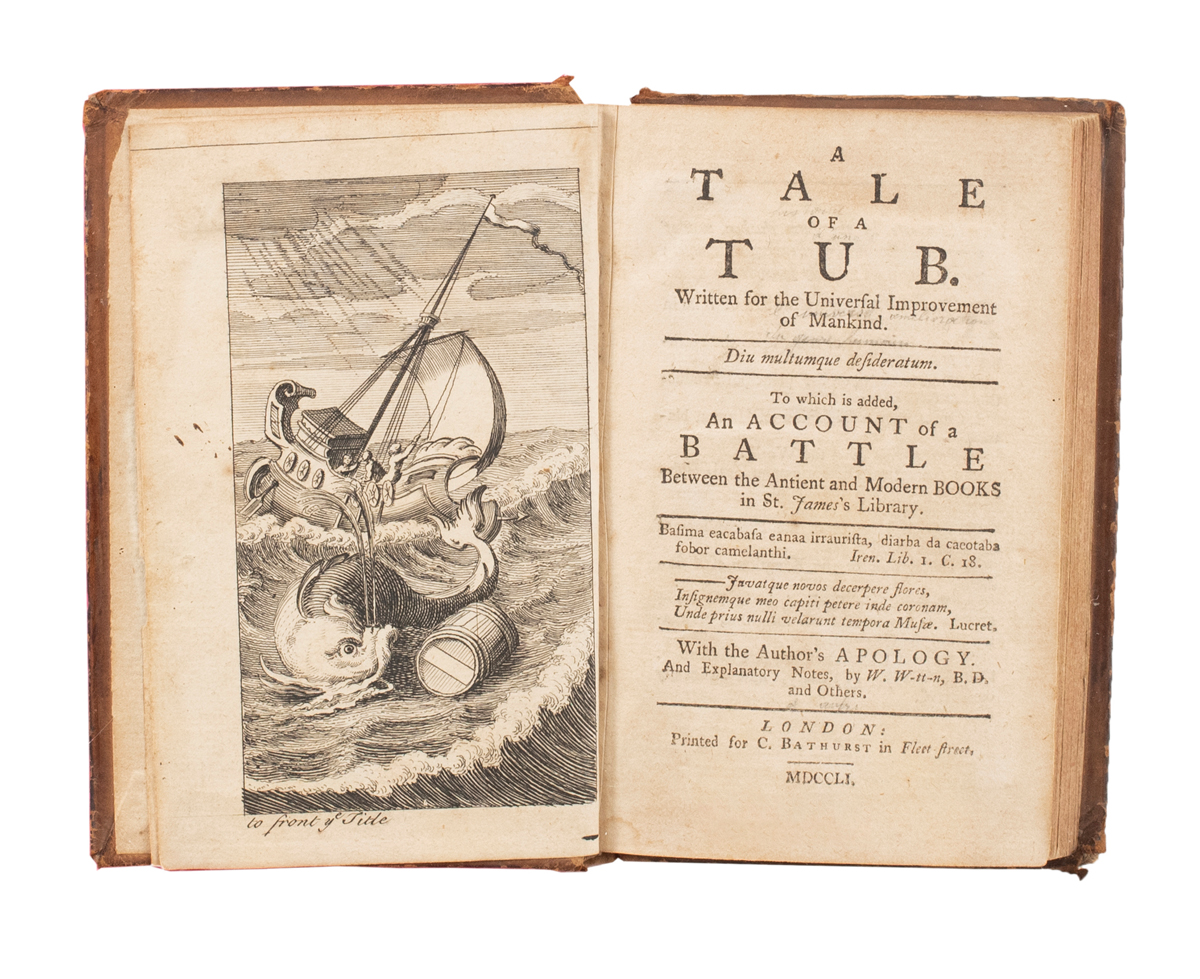 BIBLIOMACHIA SWIFT, Jonathan. 
A Tale of a Tub … to which is added, an Account of a Battle between the antient and modern Books in St. James's Library … with the Author's Apology, and explanatory Notes … 
A scarce later edition of Swift's classic satires on corruption in religion and learning, as exemplified in the conduct of Peter (Roman Catholicism), Martin (Luther), and Jack (Calvin) in the Tale of the Tub, and the spirited fight over the highest peak of Parnassus in the Battel of the Books.  Both pieces were written at Moor Park about 1696-7, when Swift was acting as secretary to Sir William Temple, whose uncritical praise of the spurious Epistles of Phalaris had stirred up the controversy over ancient and modern learning.