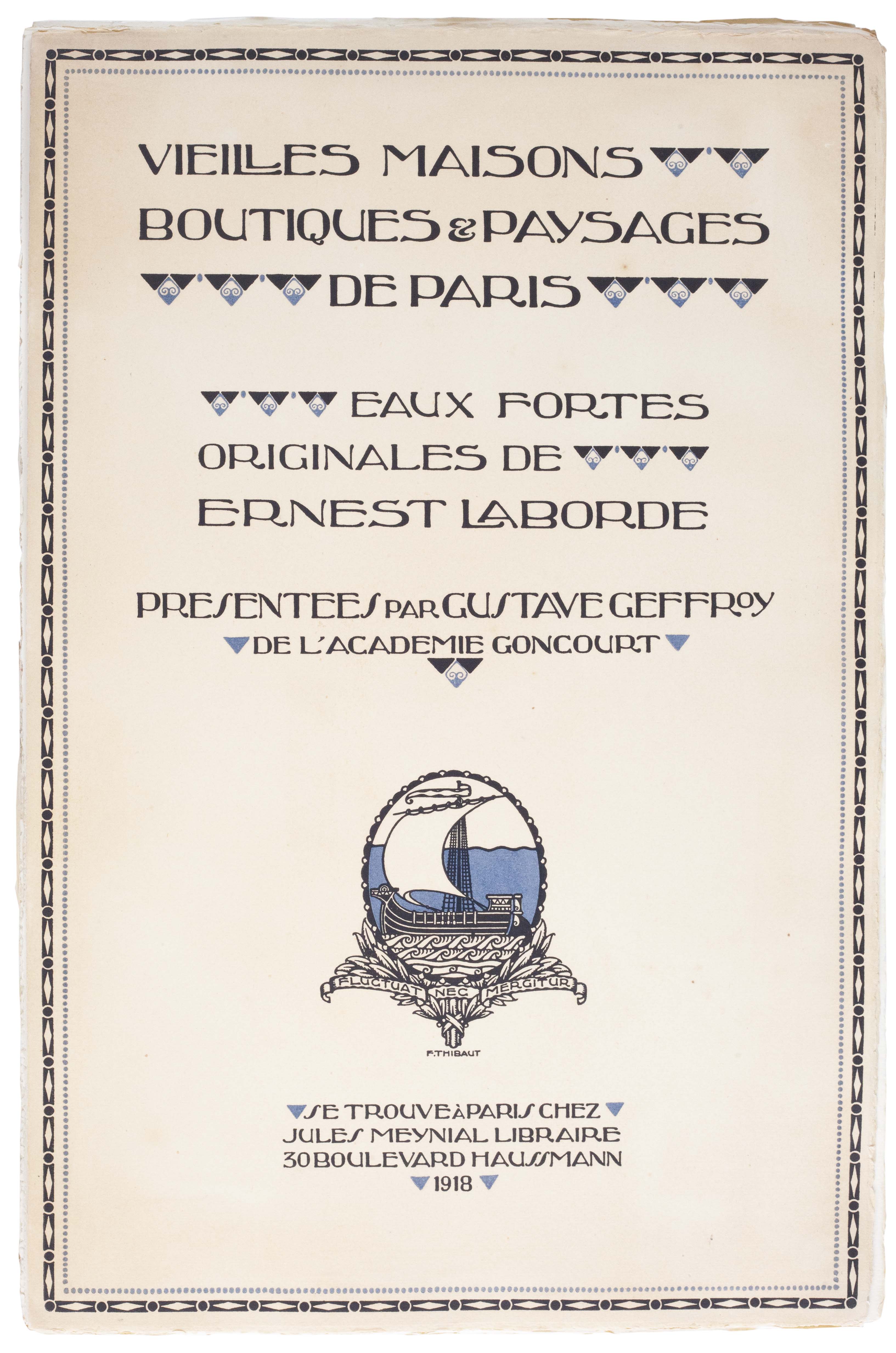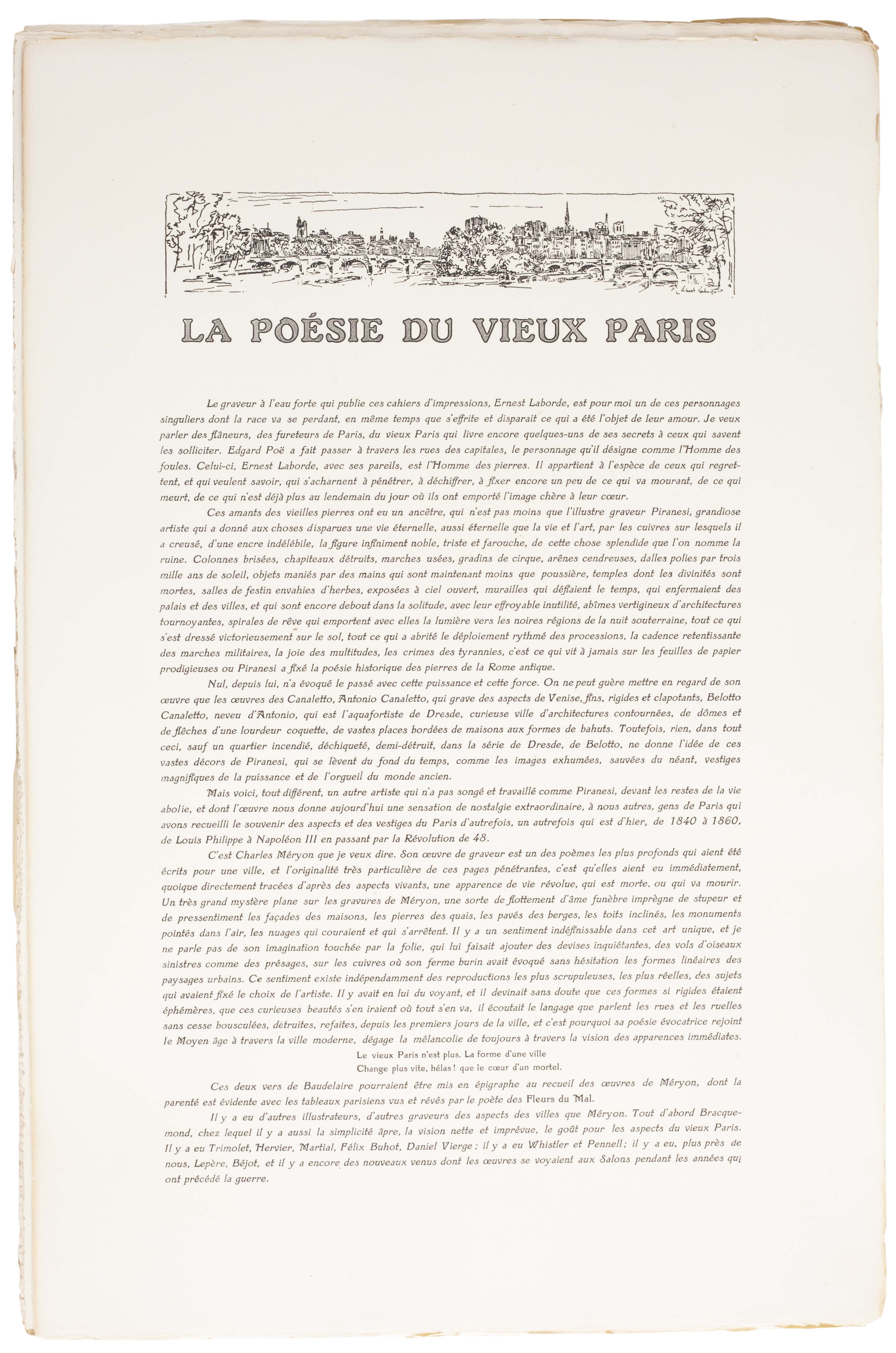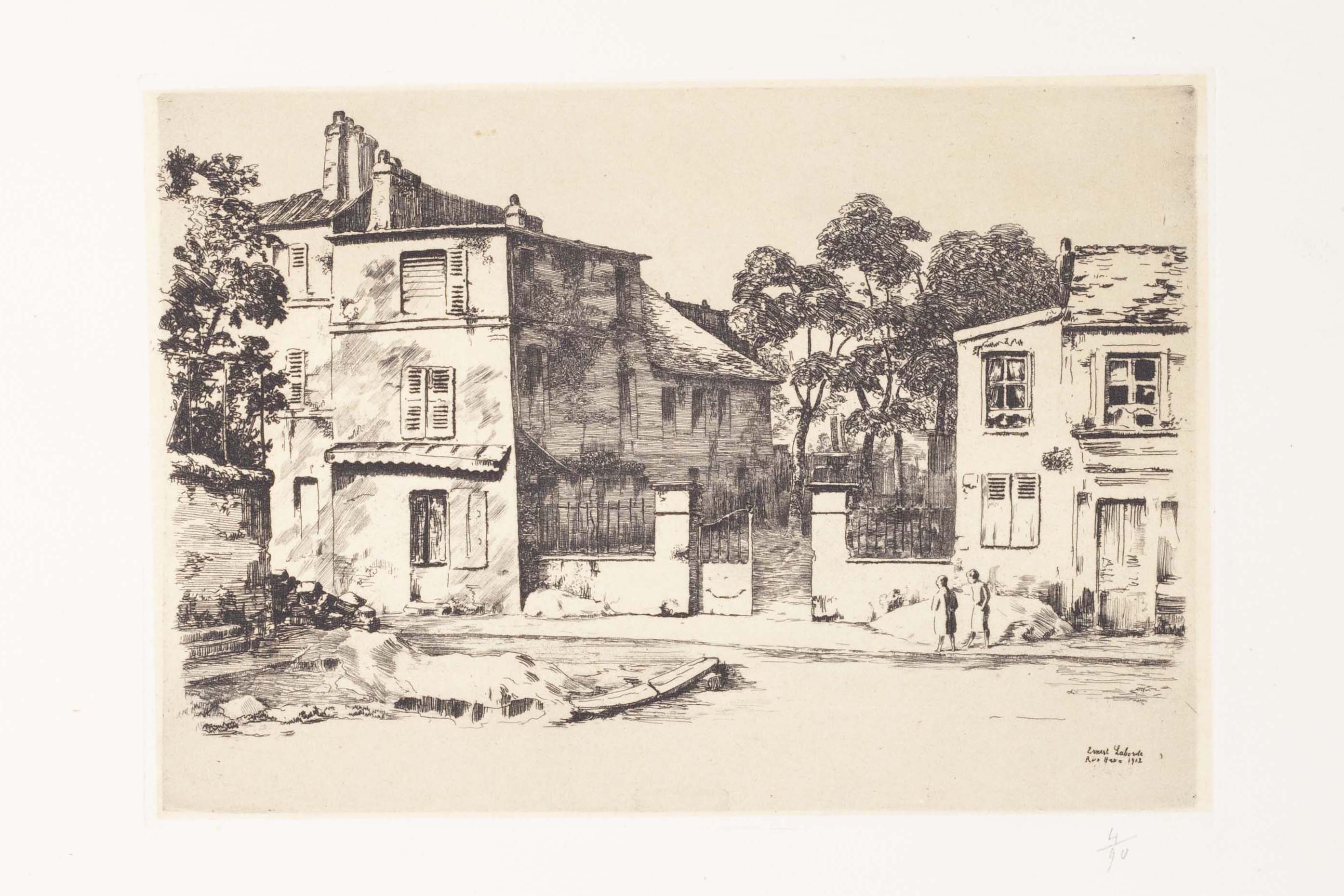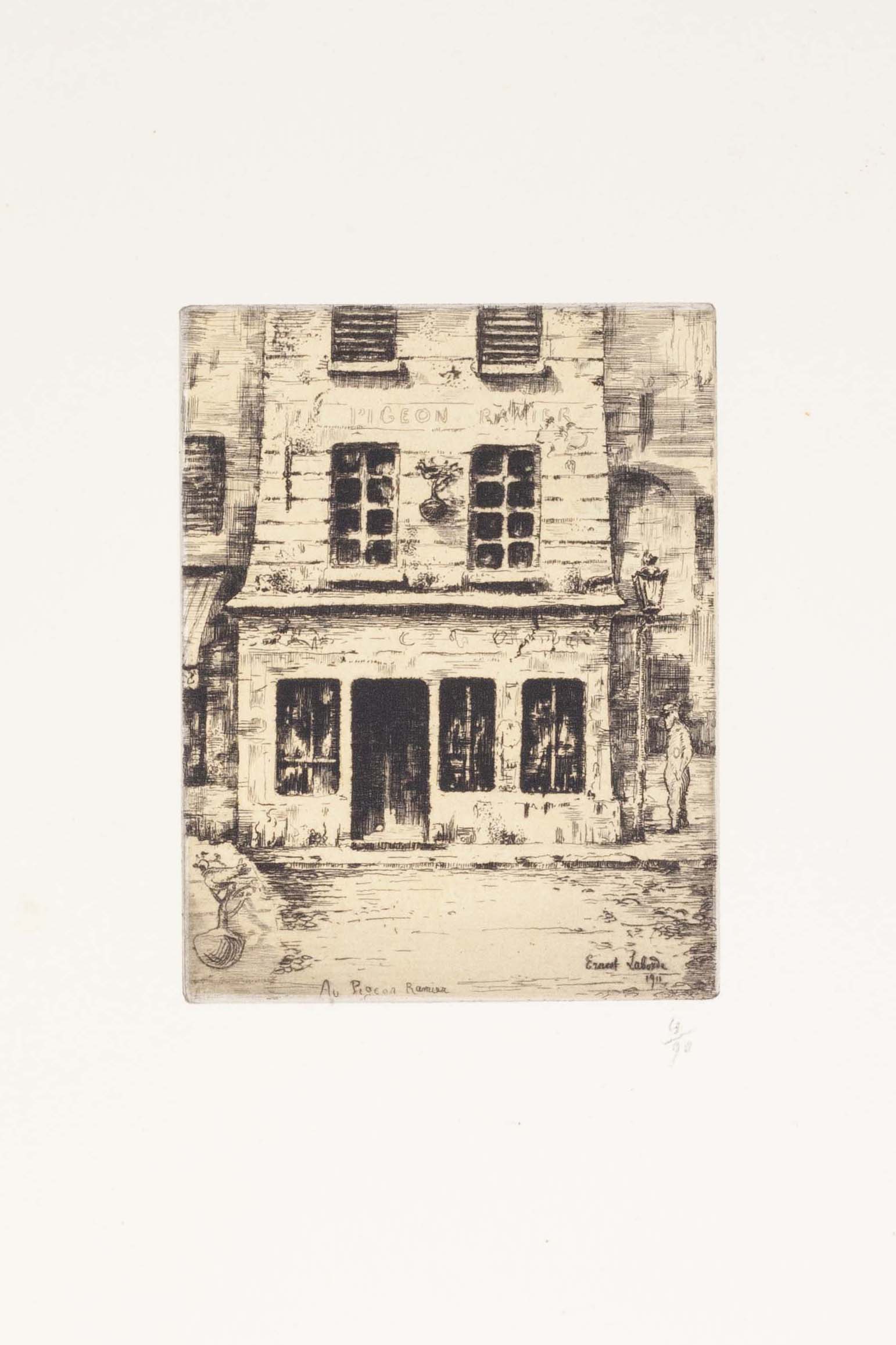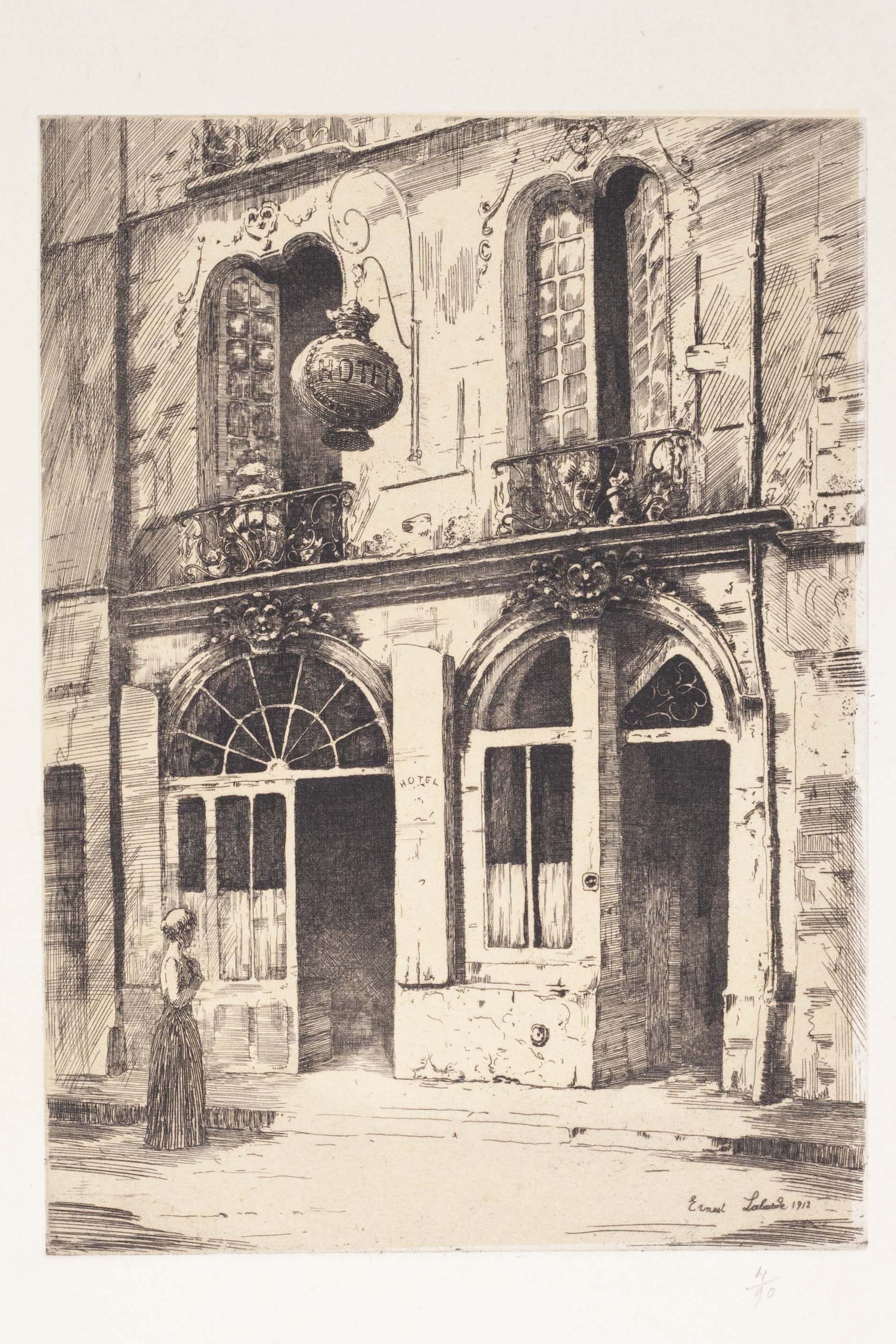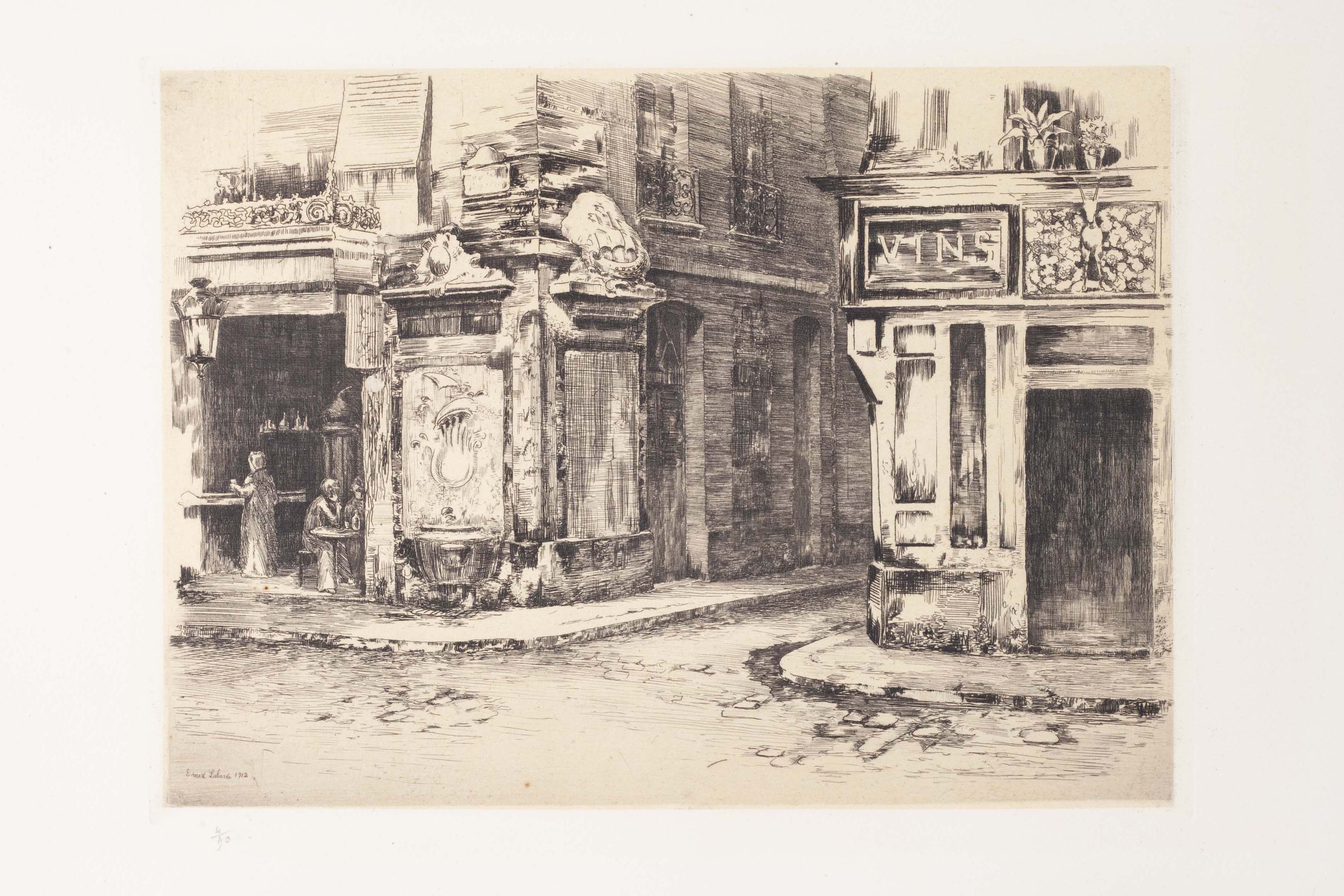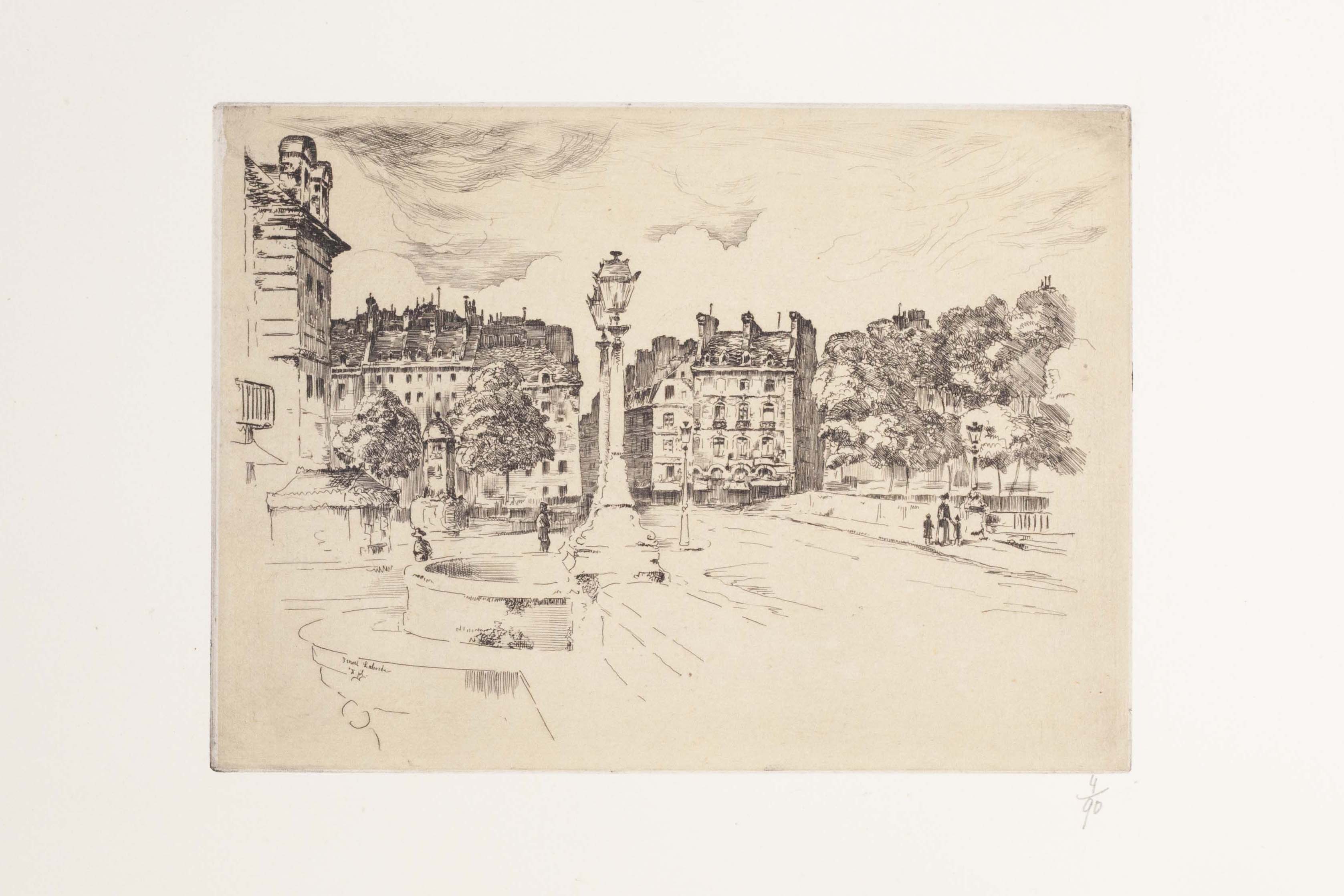 LABORDE, Ernest.
Vieilles maisons boutiques & paysages de Paris. Eaux fortes originales de Ernest Laborde. Presentées par Gustave Geffroy de l'Academie Goncourt.
Paris, Jules Meynial, 1918 [1919].
Large folio, pp. [8], plus 42 leaves of etchings on a pale yellow ground (various sizes up to 188 x 260mm, though generally smaller), including two index plates; one plate-leaf slightly browned, else a fine copy, uncut, loose leaves as issued, in a modern portfolio; each plate numbered in pencil 4/90.
£1950

Approximately:
US $2750
€2271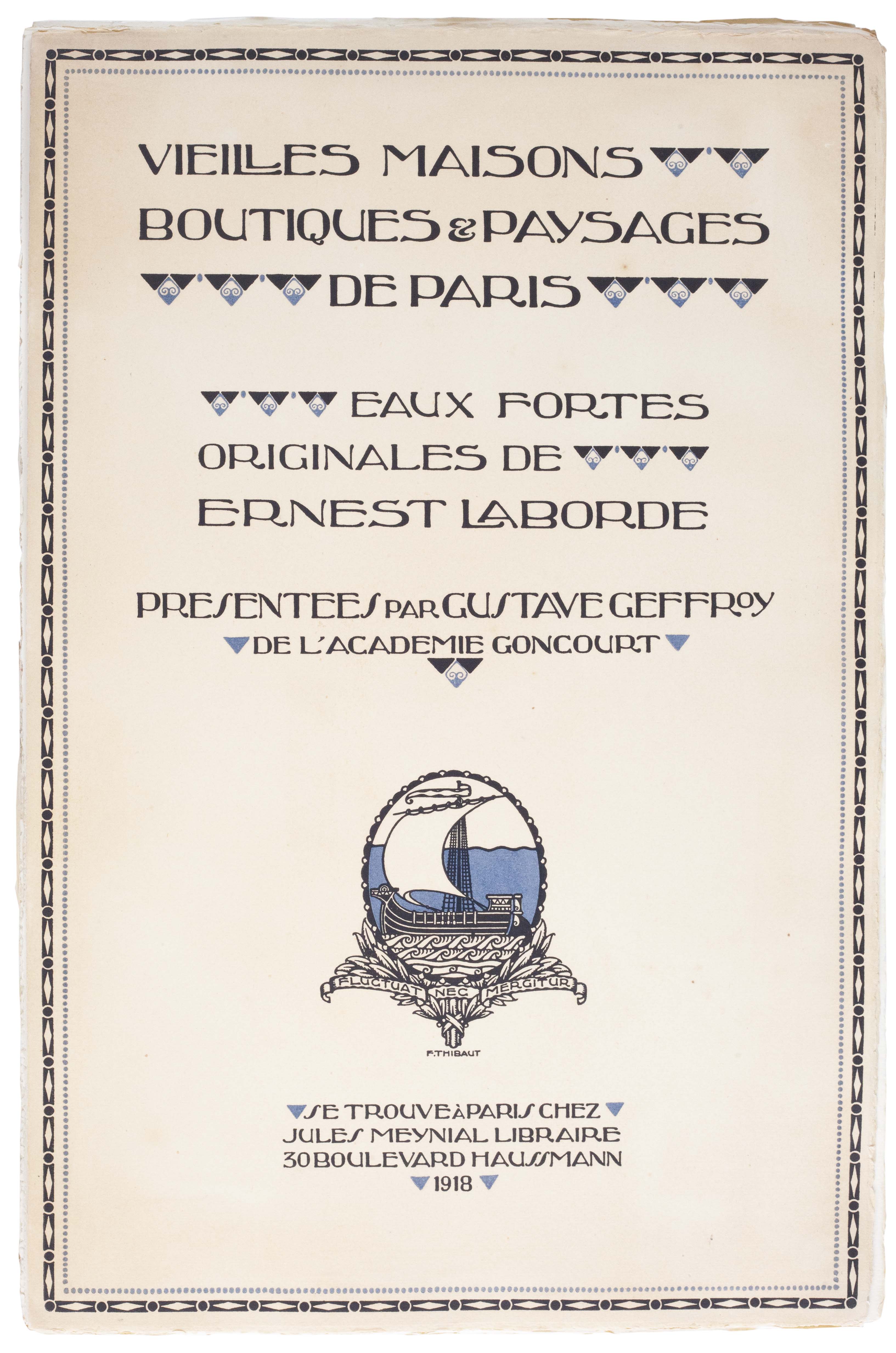 Added to your basket:
Vieilles maisons boutiques & paysages de Paris. Eaux fortes originales de Ernest Laborde. Presentées par Gustave Geffroy de l'Academie Goncourt.
First edition, very rare: two series of twenty etchings each on the most picturesque houses and shops in Paris, produced between 1911 and 1918 by Ernest Laborde (1870–1935).

Not in OCLC, COPAC, KvK or CCF. We have traced a copy at the Bibliothèque historique de la ville de Paris only, plus a few holdings of individual etchings.
You may also be interested in...
SHIPWRECKS, DOG-BIRDS, AND CANNIBALS BINGFIELD, William, pseud.
The Travels and Adventures of William Bingfield, Esq; containing, as surprizing a Fluctuation of Circumstances, both by Sea and Land, as ever befel one Man ... with an accurate Account of the Shape, Nature, and Properties of that most furious, and amazing Animal, the Dog-Bird. Printed from his own Manuscript ... Vol. I [-II].
First edition of one of the most entertaining imaginary voyages of the eighteenth century.
MARKHAM, Gervase.
Markhams Maister-Peece, containing all Knowledge belonging to the Smith, Farrier, or Horse-Leech, touching the Curing of all Diseases in Horses, drawne with great Paine, and most approved Experience, from the publick Practise of all the forraigne Horse-Marshals in Christendome, and from the private Practise of all the best Farriers of this Kingdome, being divided into two Books, the first containing all Cures physical, the second all belonging to Chyrurgery, with an Addition of 160 principall Chapters, and 370 most excellent Medicines, never written of nor mentioned in any Author whatsoever, together with the true Nature, Use, and Quality of every simple spoken of through the whole Worke, now the sixt time newly imprinted, corrected, and augmented, with above thirty new Chapters, and above forty new Medicines that are most certaine and approved, and heretofore never published, which you shall finde noted thus, all which never was before made knowne, but concealed in the Authors Breast for his owne Credit.
Sixth edition of the first work on farriery by an Englishman since Blundeville's translation of Grisone. Published after his Discourse of Horsemanshippe (1593) and Cavelarice (1607), Gervase Markham (1568?-1637) likely wrote Maister-Peece (1610) to satisfy a popular demand for a work on cures for horses, though much of the material is unscrupulously drawn from Blundeville. Markham's prolific output of equestrian books, many covering similar subjects, led some to suggest he was writing purely for profit, Smith to dismiss him as a charlatan, and the Stationers' Company to force from him an agreement 'hereafter never to write any more book or books to be printed of the deseases or Cures of any Cattle, as Horse, Oxe, Cowe, Sheepe, Swine, Goates etc.'.