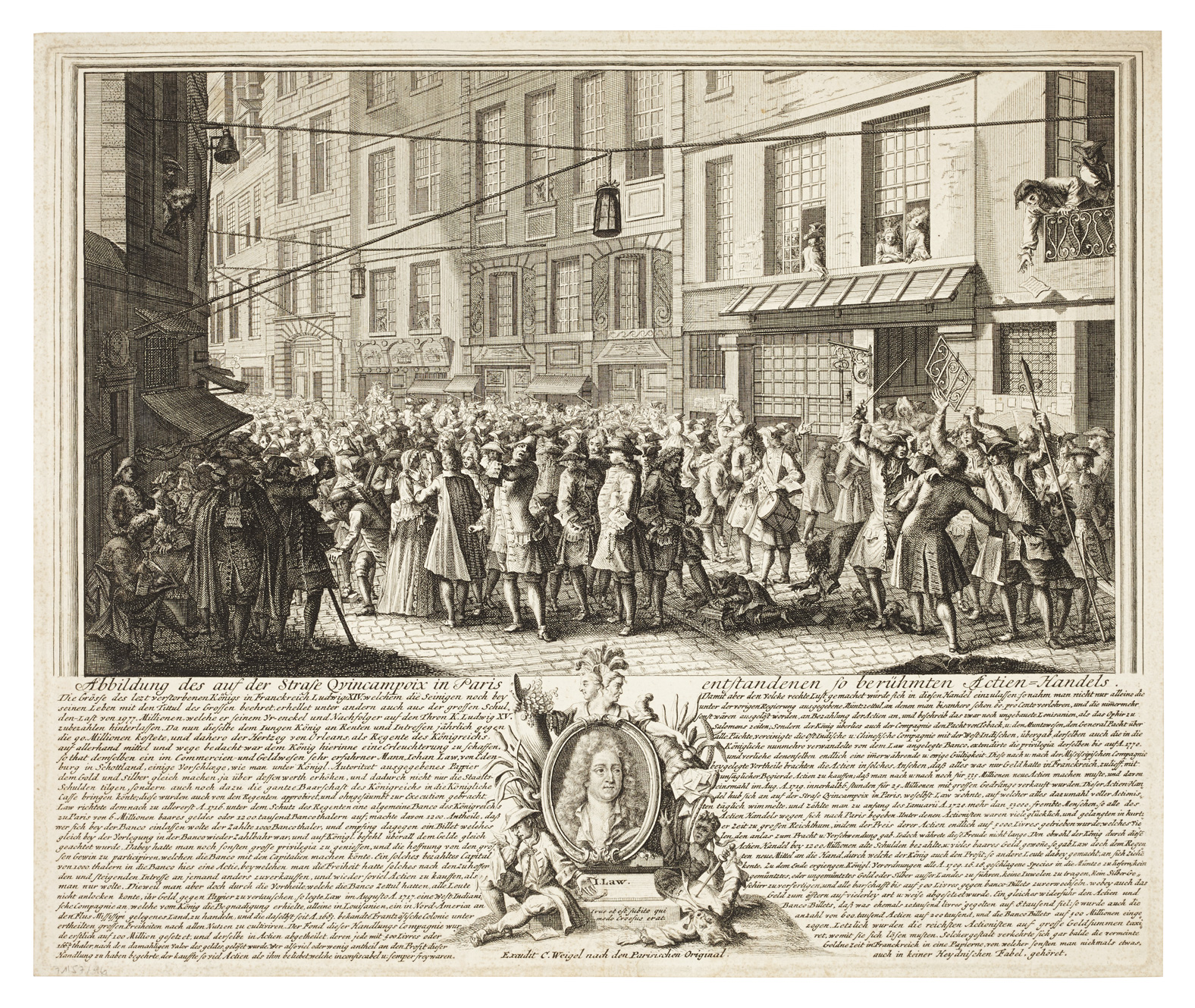 [LAW, John.]
Abbildung des auf der Strasse Quincampoix in Paris entstandenen so berühmten Actien-Handel. Excudit C. Weigel nach den Parisischen Original...
[1720.]
Line engraving, 40 x 33½ cm; a fine dark impression.
£1250

Approximately:
US $1642
€1480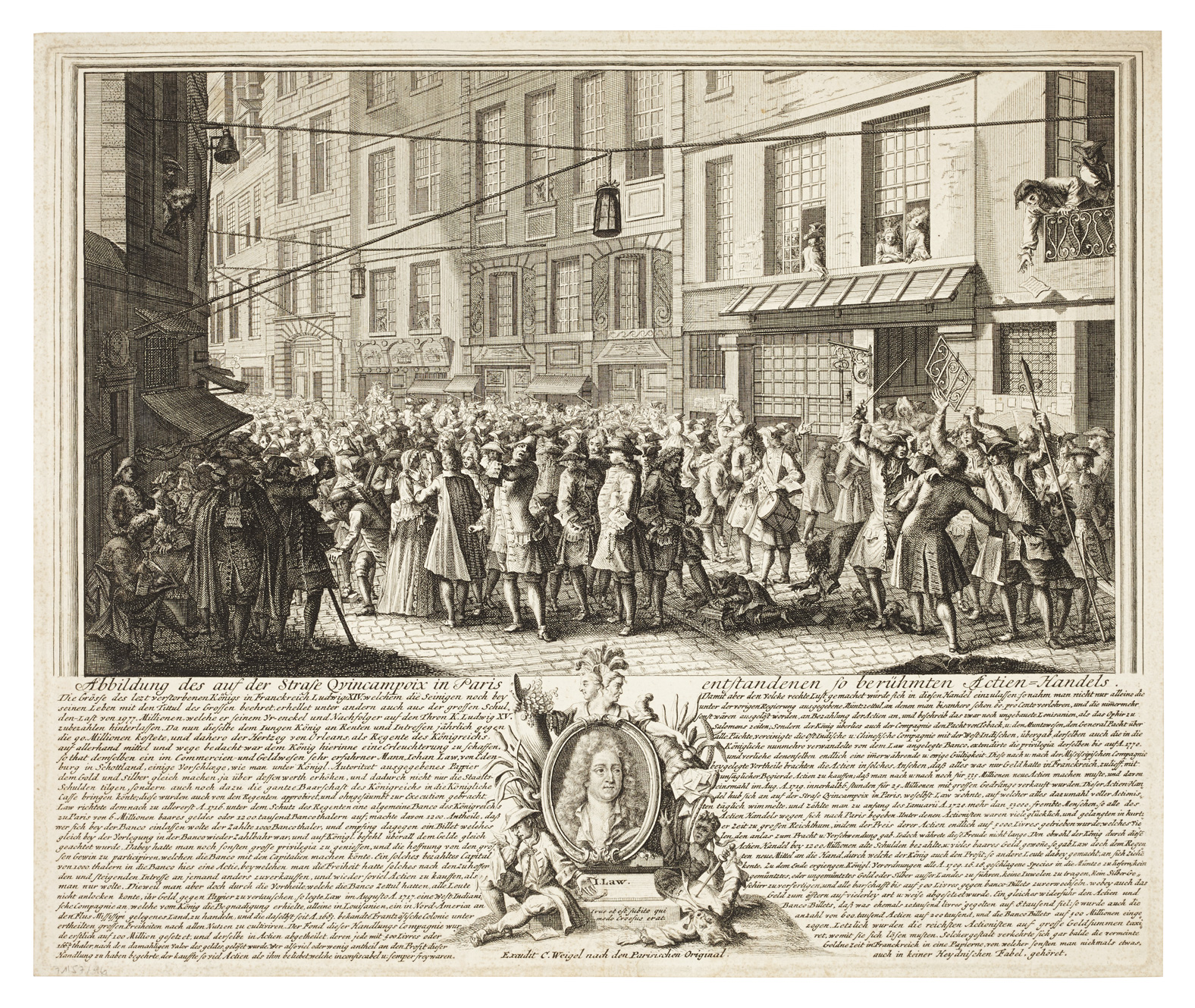 Added to your basket:
Abbildung des auf der Strasse Quincampoix in Paris entstandenen so berühmten Actien-Handel. Excudit C. Weigel nach den Parisischen Original...
This engraving is a German version of 'Rue Quinquempoix en l'Année 1720'(BM Catalogue 1655). It gives a view, in angular perspective, of the Rue Quinquempoix, Paris, with crowds of persons assembled there during the share mania of the Mississippi, South Sea, and other schemes which bubbled in the financial atmosphere created by John Law of Lauriston.

The title is engraved with a long German inscription divided into two parts by a medallion bust portrait in nearly full view, below inscribed I Law. To one side of the pedestal of this portrait a man appears to be chained, weeping bitterly; on the other side another man lies extended on the ground, in the act of stabbing himself with a dagger; a young woman sits near him in great distress. Above the medallion is a Janus head, the facial expressions of which are respectively happy and sad; a hand on the side of the former holds a cornucopia which is filled with jewels; another hand, on the side of the latter face, empties a cornucopia which contains bank notes marked '800,000', and '100, 000', &c.

The French version of this print is no. 31 in vol I. of 'Het Groote Tafereel der Dwaasheid', a collection of Dutch satires on the schemes of Law and his contemporaries, also published in 1720.

BM Catalogue 1656.
You may also be interested in...
WOOD, John George.
The Principles and Practise of Sketching Landscape Scenery from Nature, systematically arranged and illustrated by numerous examples, from simple and easy subjects, to the more complicated and difficult combinations of objects. In four parts.
First edition of J. G. Wood's last and most ambitious drawing book. Wood was a landscape painter speciallising in watercolour and exhibited at the Royal Academy between 1793 and 1811. Here his drawing lessons deal with sketching cottage scenery, trees and woods, village streets, and general views incorporating grandiose landscape settings and glimpses of houses and villages. Some plates have faint perspective lines drawn on to enable the student to understand the correct perspective.
SHIPWRECKS, DOG-BIRDS, AND CANNIBALS BINGFIELD, William, pseud.
The Travels and Adventures of William Bingfield, Esq; containing, as surprizing a Fluctuation of Circumstances, both by Sea and Land, as ever befel one Man ... with an accurate Account of the Shape, Nature, and Properties of that most furious, and amazing Animal, the Dog-Bird. Printed from his own Manuscript ... Vol. I [-II].
First edition of one of the most entertaining imaginary voyages of the eighteenth century.