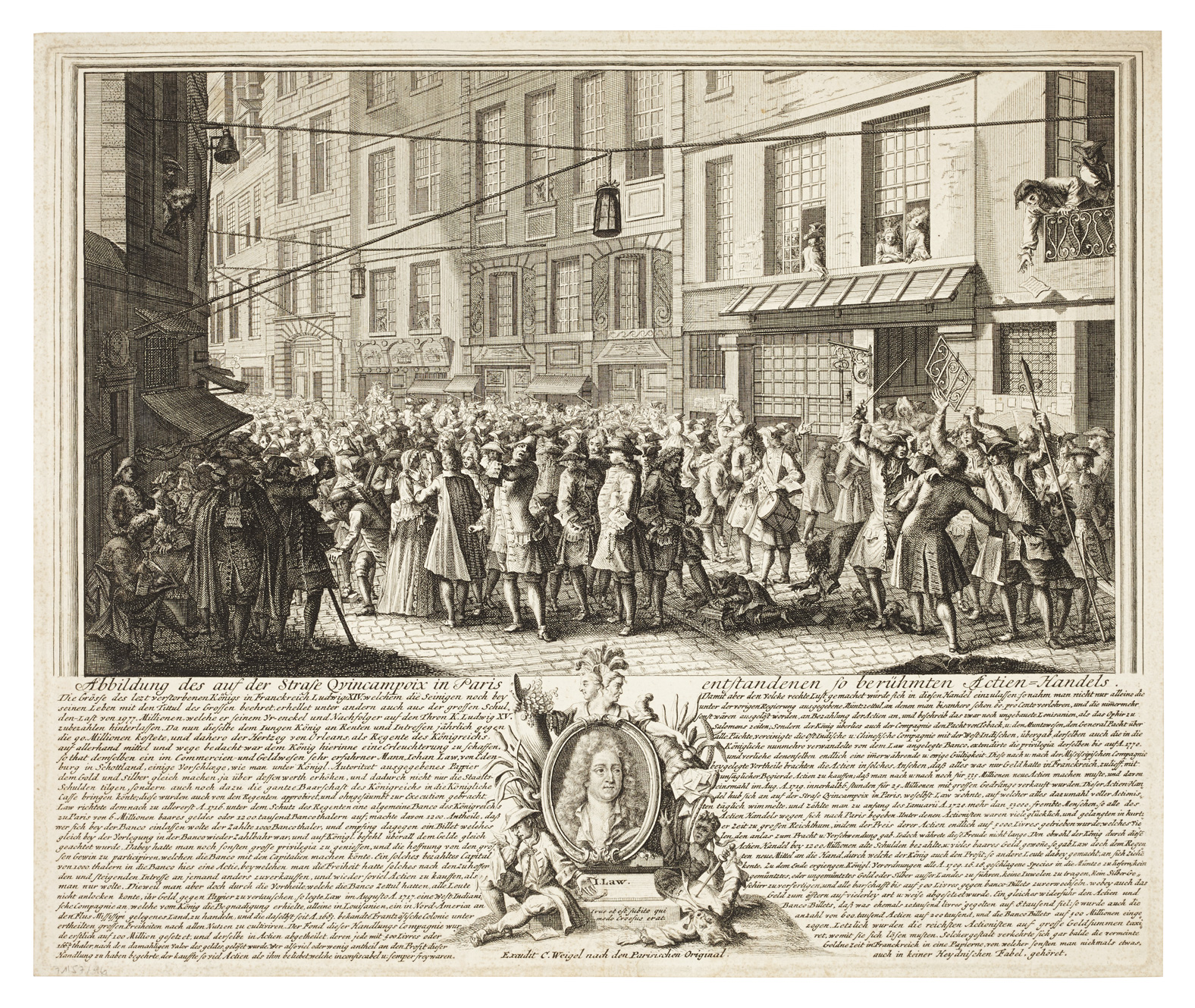 [LAW, John.]
Abbildung des auf der Strasse Quincampoix in Paris entstandenen so berühmten Actien-Handel. Excudit C. Weigel nach den Parisischen Original...
[1720.]
Line engraving, 40 x 33½ cm; a fine dark impression.
£1250

Approximately:
US $1592
€1444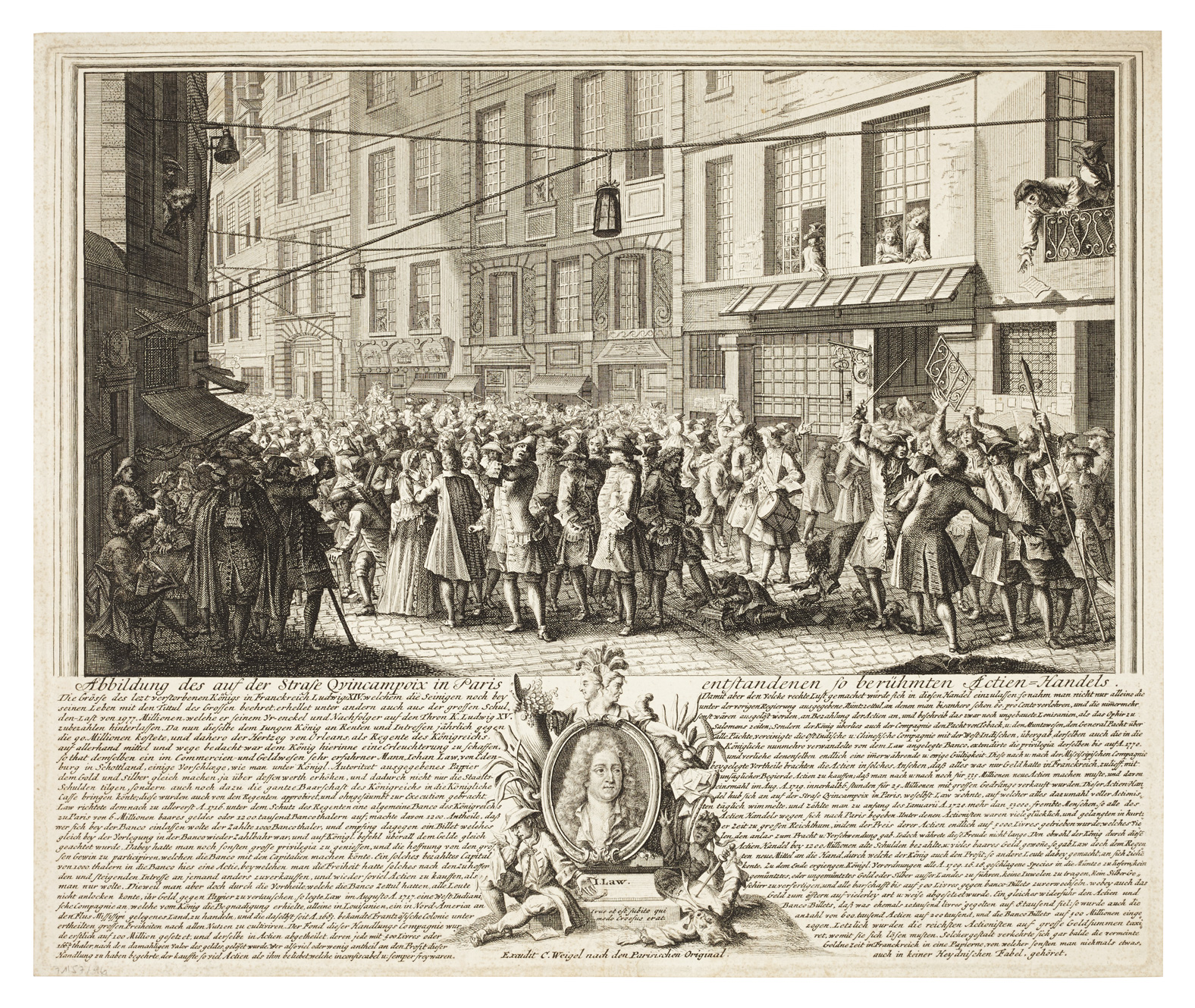 Added to your basket:
Abbildung des auf der Strasse Quincampoix in Paris entstandenen so berühmten Actien-Handel. Excudit C. Weigel nach den Parisischen Original...
This engraving is a German version of 'Rue Quinquempoix en l'Année 1720'(BM Catalogue 1655). It gives a view, in angular perspective, of the Rue Quinquempoix, Paris, with crowds of persons assembled there during the share mania of the Mississippi, South Sea, and other schemes which bubbled in the financial atmosphere created by John Law of Lauriston.

The title is engraved with a long German inscription divided into two parts by a medallion bust portrait in nearly full view, below inscribed I Law. To one side of the pedestal of this portrait a man appears to be chained, weeping bitterly; on the other side another man lies extended on the ground, in the act of stabbing himself with a dagger; a young woman sits near him in great distress. Above the medallion is a Janus head, the facial expressions of which are respectively happy and sad; a hand on the side of the former holds a cornucopia which is filled with jewels; another hand, on the side of the latter face, empties a cornucopia which contains bank notes marked '800,000', and '100, 000', &c.

The French version of this print is no. 31 in vol I. of 'Het Groote Tafereel der Dwaasheid', a collection of Dutch satires on the schemes of Law and his contemporaries, also published in 1720.

BM Catalogue 1656.
You may also be interested in...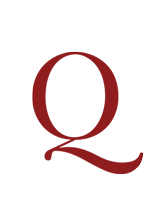 PSEUDO-HEGESIPPUS.
De rebus a Iudaeoru[m] principibus in obsidione fortiter gestis, deq[ue] excidio Hierosolymorum, aliarumq[ue] ciuitatum adice[n]tium, libri V diuo Ambrosio Mediolanensi episcopo interprete. Eiusdem Anacephaleosis fini operis adiecta est.
An early edition of this popular Latin account of the Jewish War of 66-73 AD, with a dedication by Philipp Melanchthon. The text borrows heavily from the Jewish War and Jewish Antiquities of the first-century Jewish historian Josephus, and is attributed in extant manuscripts either to Hegesippus – a possible corruption of Iosippus – or to Ambrose of Milan. Its composition is usually dated to the late fourth century: book 2 contains an allusion to the conquest of Britain by Theodosius c. 370 AD. The text is followed by the Pseudo-Ambrosian work Anacephaleosis, a Carolingian treatise on the destruction of Jerusalem, and the volume ends with tables of concordance between Hegesippus and Josephus's works.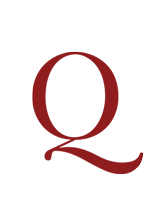 PARRY, ROSS, AND THE NORTHWEST PASSAGE ACCOUNT OF THE MOST REMARKABLE VOYAGES (An)
from the Discovery of America by Columbus to the present Time.
First and only edition of a compendium of exploration and discovery for children, taking in Columbus, Drake, Parry, Look, Franklin etc. True to its promise to record adventures up 'to the present time', the most recent voyage recorded here is Captain Ross's attempt to discover the North-West passage. With 'what degree of success … is not yet known' – Ross did not return to England until 1833. An Account was also issued as the first volume of Darton's Juvenile Cyclopaedia (Darton H832).