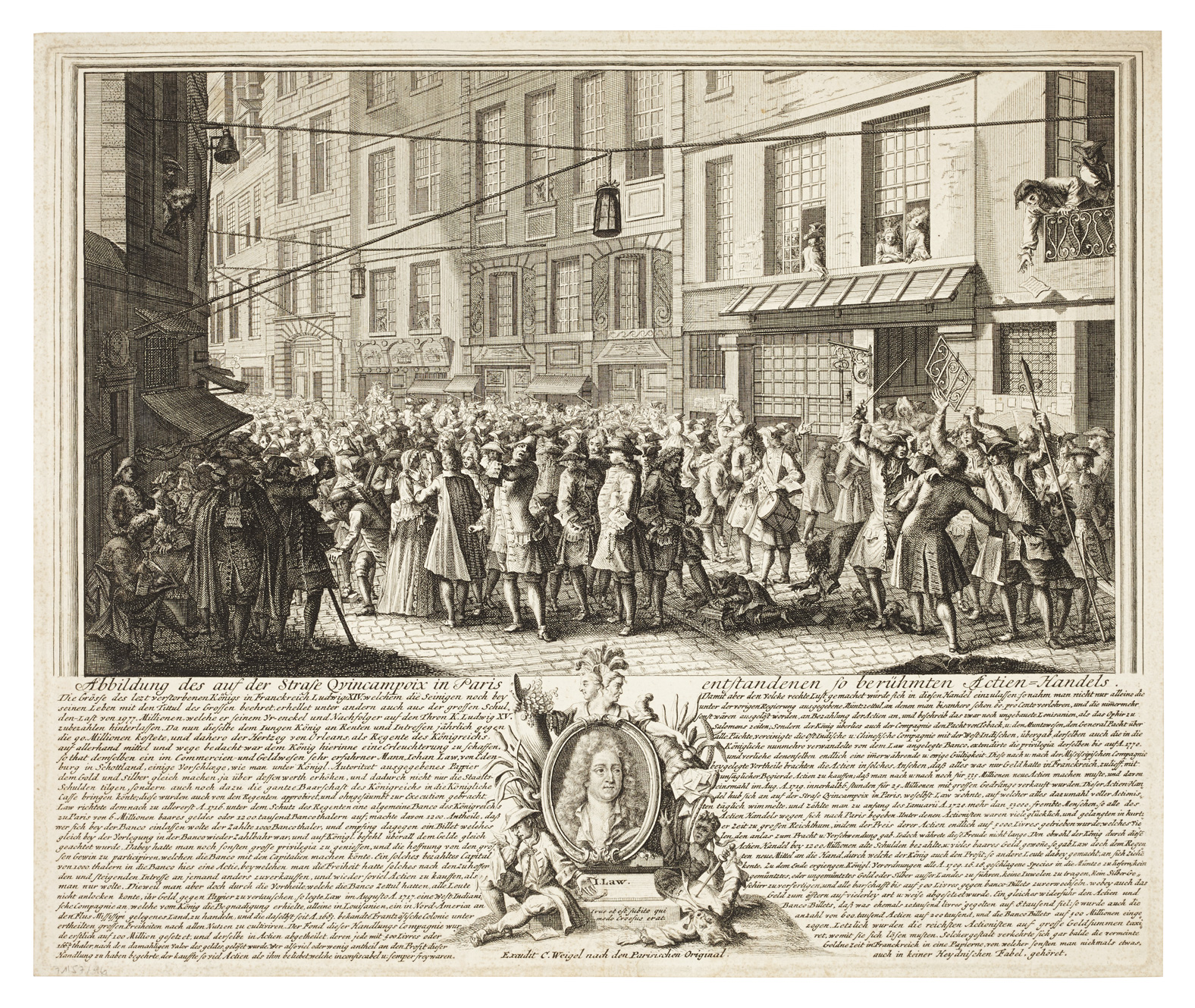 [LAW, John.]
Abbildung des auf der Strasse Quincampoix in Paris entstandenen so berühmten Actien-Handel. Excudit C. Weigel nach den Parisischen Original...
[1720.]
Line engraving, 40 x 33½ cm; a fine dark impression.
£1250

Approximately:
US $1729
€1448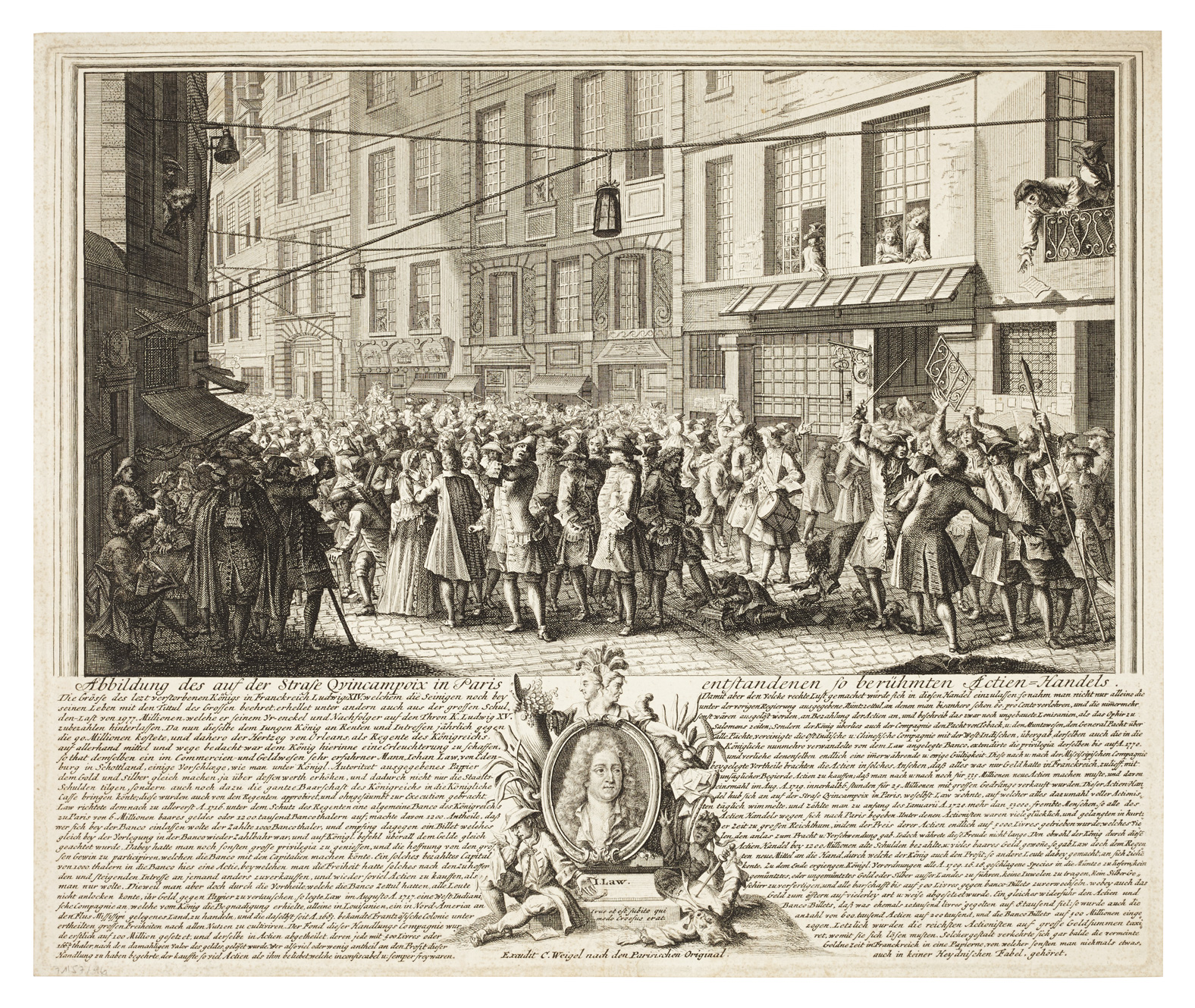 Added to your basket:
Abbildung des auf der Strasse Quincampoix in Paris entstandenen so berühmten Actien-Handel. Excudit C. Weigel nach den Parisischen Original...
This engraving is a German version of 'Rue Quinquempoix en l'Année 1720'(BM Catalogue 1655). It gives a view, in angular perspective, of the Rue Quinquempoix, Paris, with crowds of persons assembled there during the share mania of the Mississippi, South Sea, and other schemes which bubbled in the financial atmosphere created by John Law of Lauriston.

The title is engraved with a long German inscription divided into two parts by a medallion bust portrait in nearly full view, below inscribed I Law. To one side of the pedestal of this portrait a man appears to be chained, weeping bitterly; on the other side another man lies extended on the ground, in the act of stabbing himself with a dagger; a young woman sits near him in great distress. Above the medallion is a Janus head, the facial expressions of which are respectively happy and sad; a hand on the side of the former holds a cornucopia which is filled with jewels; another hand, on the side of the latter face, empties a cornucopia which contains bank notes marked '800,000', and '100, 000', &c.

The French version of this print is no. 31 in vol I. of 'Het Groote Tafereel der Dwaasheid', a collection of Dutch satires on the schemes of Law and his contemporaries, also published in 1720.

BM Catalogue 1656.
You may also be interested in...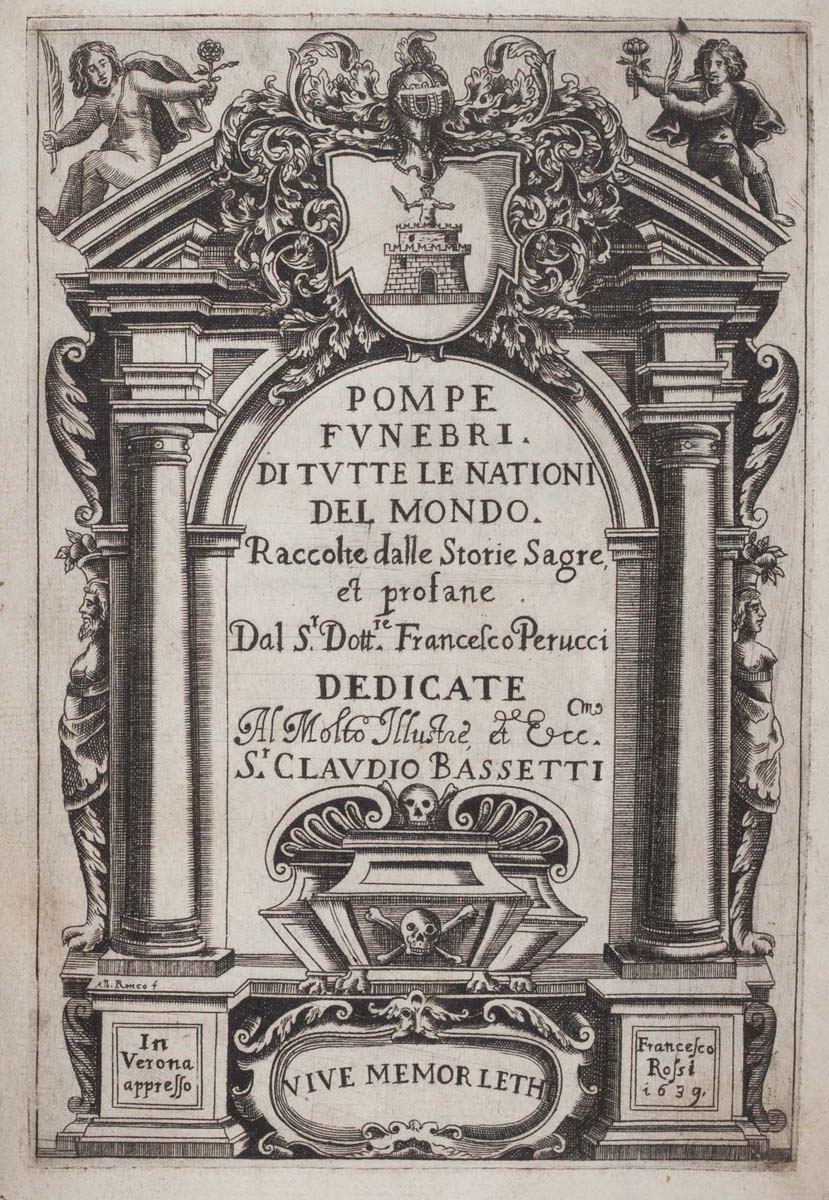 FROM THE LOST LOGIE LIBRARY OF WALTER BOWMAN PERUCCI, Francesco.
Pompe funebri di tutte le nationi del mondo, raccolte dale storie sagre et profane.
First edition of Perucci's extensively illustrated account of funeral practices, inscribed by a Scottish antiquary and documented book collector. A fellow of the Society of Antiquaries and later the Royal Society, Walter Bowman (1699–1782) travelled extensively over the course of five decades in Italy, where this book was most likely acquired, studying at the University of Padua for two years and accompanying Samuel Rolle, Simon Harcourt, and Francis Seymour-Conway as tutor on grand tours; his remarkably detailed notes on his travels and keen collecting survive, principally in the National Library of Scotland and the Biblioteca nazionale in Florence.
PURVEYOR OF PARISIAN FASHION GARAND, Mlle.
A l'image S. Nicolas, sous les charniers des Saints Innocens, du côté de la Chapelle de la Vierge, la premiere grande boutique adossée au cimetiere. Mademoiselle Garand, marchande lingere, cousine de Monsieur Delaistre vend en gros & en détail ...
An apparently unrecorded advertisement for the Parisian seamstress and shopkeeper Mademoiselle Garand, who operated nearby the Holy Innocents' Cemetery in the centre of the city. Here she advertises hats, bonnets and nightcaps, shirt cuffs and sleeves, collars and handkerchiefs, made from all manner of fabrics (canvas, linen, muslin, lace etc.), embroidered, striped or plain, for men, women and children, and suited to every budget.