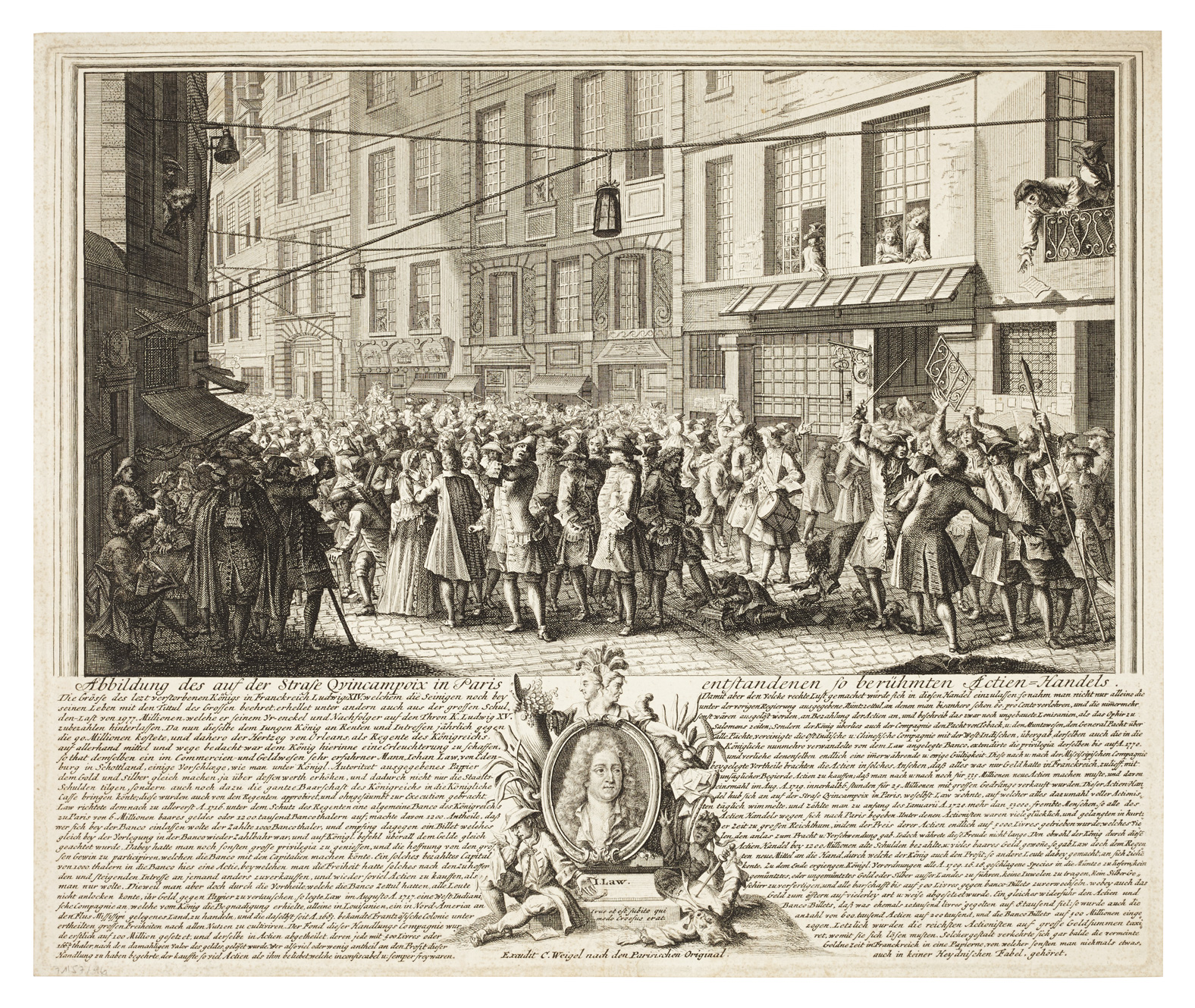 [LAW, John.]
Abbildung des auf der Strasse Quincampoix in Paris entstandenen so berühmten Actien-Handel. Excudit C. Weigel nach den Parisischen Original...
[1720.]
Line engraving, 40 x 33½ cm; a fine dark impression.
£1250

Approximately:
US $1630
€1386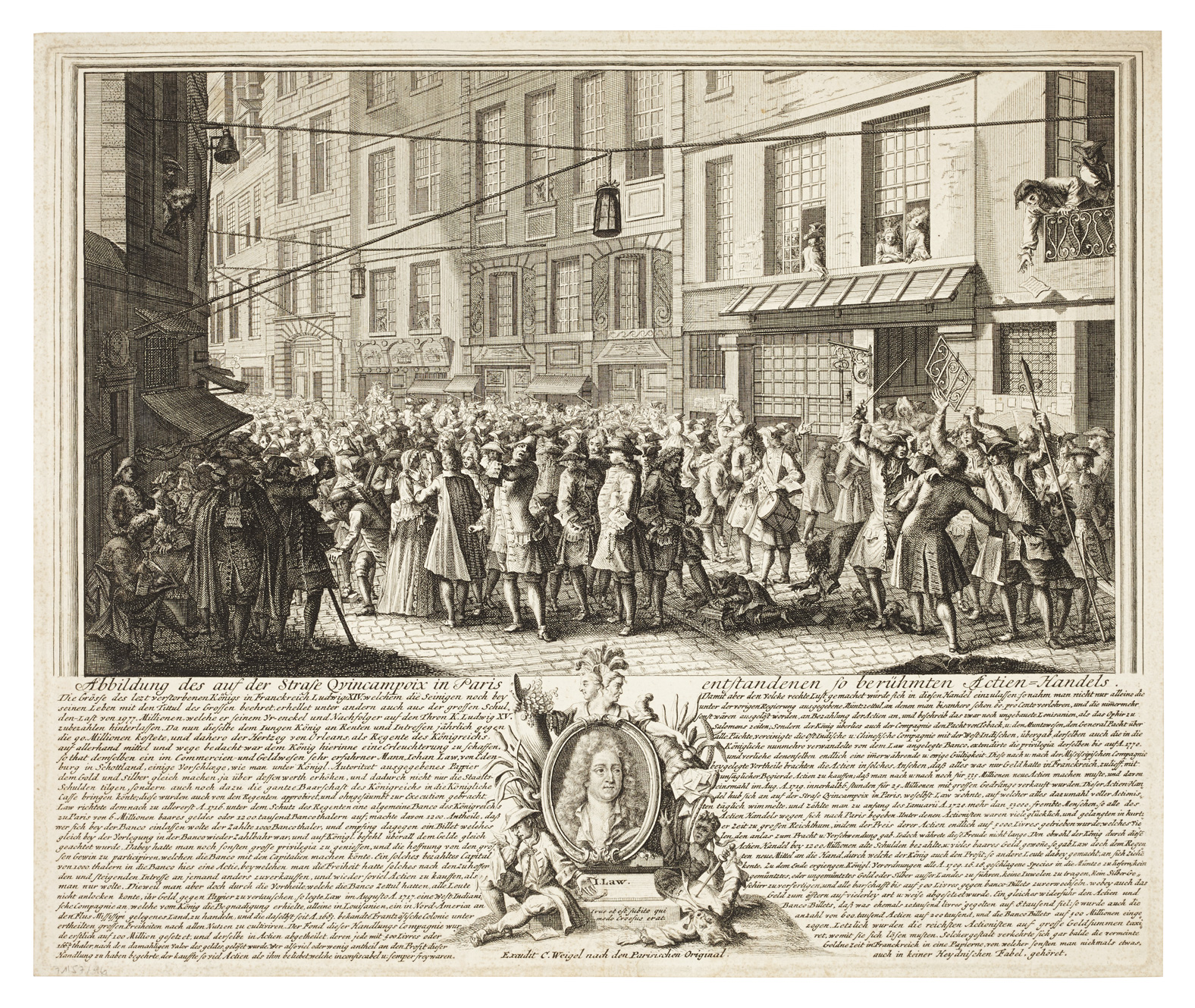 Added to your basket:
Abbildung des auf der Strasse Quincampoix in Paris entstandenen so berühmten Actien-Handel. Excudit C. Weigel nach den Parisischen Original...
This engraving is a German version of 'Rue Quinquempoix en l'Année 1720'(BM Catalogue 1655). It gives a view, in angular perspective, of the Rue Quinquempoix, Paris, with crowds of persons assembled there during the share mania of the Mississippi, South Sea, and other schemes which bubbled in the financial atmosphere created by John Law of Lauriston.

The title is engraved with a long German inscription divided into two parts by a medallion bust portrait in nearly full view, below inscribed I Law. To one side of the pedestal of this portrait a man appears to be chained, weeping bitterly; on the other side another man lies extended on the ground, in the act of stabbing himself with a dagger; a young woman sits near him in great distress. Above the medallion is a Janus head, the facial expressions of which are respectively happy and sad; a hand on the side of the former holds a cornucopia which is filled with jewels; another hand, on the side of the latter face, empties a cornucopia which contains bank notes marked '800,000', and '100, 000', &c.

The French version of this print is no. 31 in vol I. of 'Het Groote Tafereel der Dwaasheid', a collection of Dutch satires on the schemes of Law and his contemporaries, also published in 1720.

BM Catalogue 1656.
You may also be interested in...
VETERINARY EDUCATION IN BRITAIN CLARK, James.
A Treatise on the Prevention of Diseases incidental to Horses, from bad Management in Regard to Stables, Food, Water, Air, and Exercise, to which are subjoined Observations on some of the surgical and medical Branches of Farriery … second Edition, corrected and enlarged.
Two important texts on farriery (second and third editions respectively), with a preface instrumental to the foundation of the Royal Veterinary College in 1791. Farrier to the King for Scotland, James Clark's arguments for a veterinary school after the model of the continental colleges were read and promoted by Granville Penn (1761-1844), the future chairman of the London Committee which would establish the Royal Veterinary College. Dedicated to one of the College's early patrons, the Duke of Buccleugh, the title describes the author as 'Honorary and Corresponding Member of the Society of Agriculture &c. at Odiam [Odiham] in Hampshire', the agricultural society from which the movement for a British veterinary college was beginning. Upon the death of the College's first Professor in 1793, Clark was encouraged to accept the position but declined, believing he would soon be appointed to lead a new veterinary school in Edinburgh, though this would not be founded for another thirty years.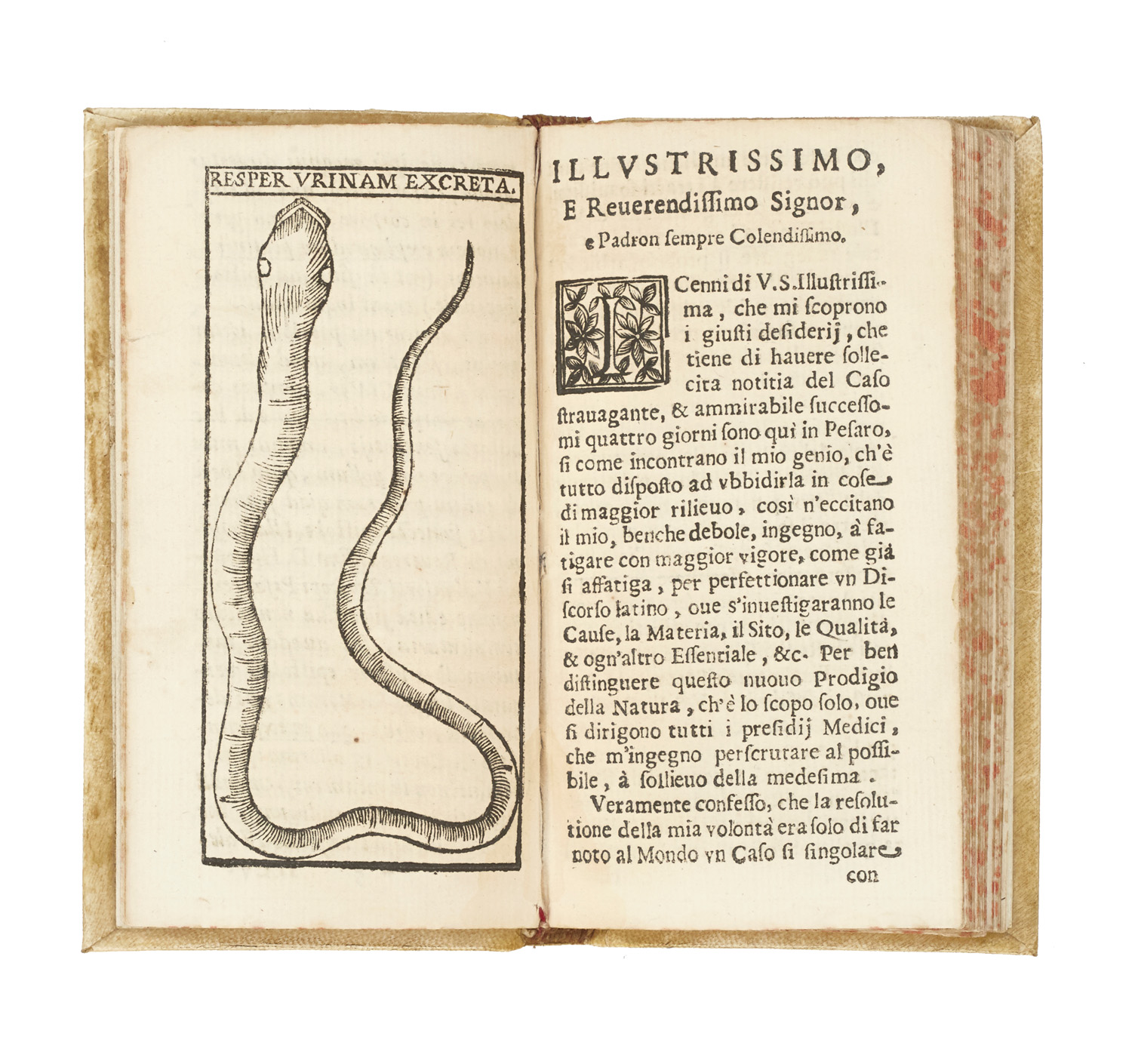 A WONDER WORM MARINIS, Dominico de.
Dissertatio philosophico-medica de re monstrosa à Capuccino Pisauri per urinam excreta. Plura de sanguinis grumis, polypis, serpentibus, ac praecipuè de vermibus in corpore humano procreatis non iniucunda complectens ...
First edition of this scarce dissertation on worms focussing on the extraordinary case of a capuchin preacher from Pesaro who in 1677 passed a 'monster' worm in his urine, which upon subsequent examination was declared to be a serpent. The Dissertatio begins with a prefatory letter in Italian by Alessandro Cocci discussing the case of the capuchin friar Stefano da Cammerino who for 13 months had suffered from kidney pains and bloody and lumpy urine. Following treatment by Cocci and Cesare Cesareo, Cammerino passed, with excruciating pain, a long thin worm through his urinary meatus, initially trying to pull it out, only to break it in two, and then passing the remainder, to his subsequent great relief. The worm caused much local interest and Cocci describes how it was initially put on display to satisfy the curious, before being examined under a microscope. The conclusion of this examination was that the 'prodigio della natura' passed by Cammerino was in fact a serpent.