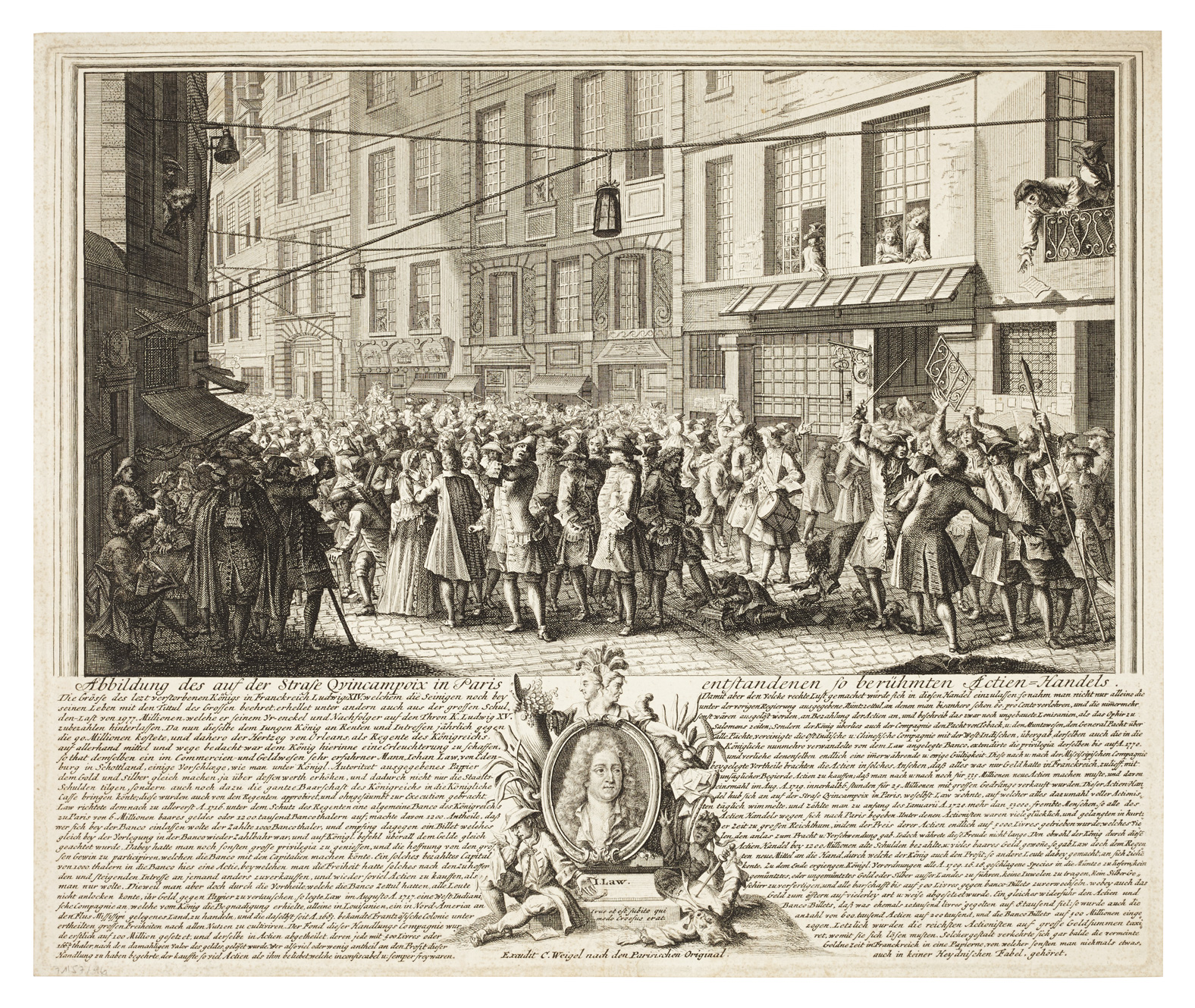 [LAW, John.]
Abbildung des auf der Strasse Quincampoix in Paris entstandenen so berühmten Actien-Handel. Excudit C. Weigel nach den Parisischen Original...
[1720.]
Line engraving, 40 x 33½ cm; a fine dark impression.
£1250

Approximately:
US $1543
€1441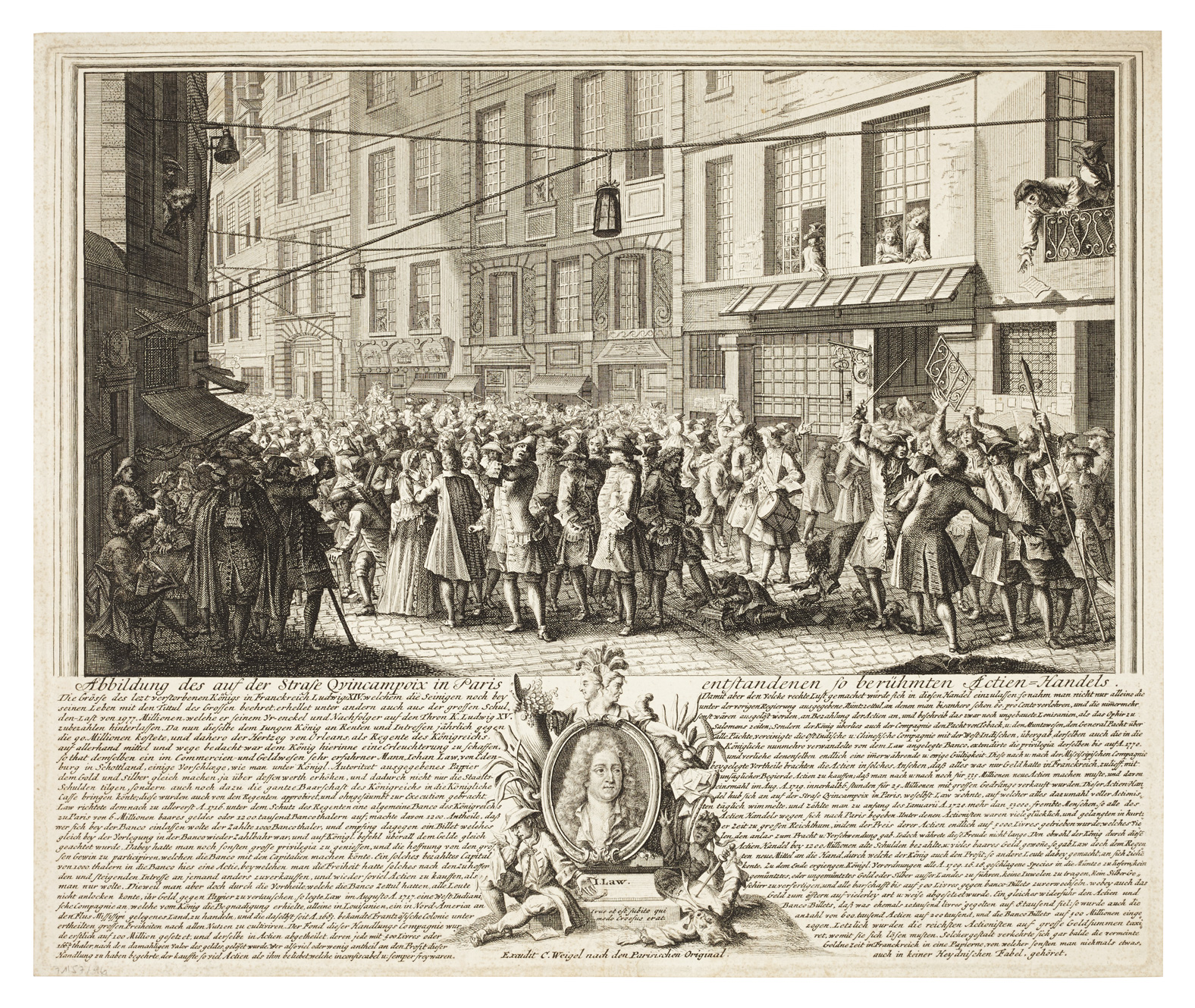 Added to your basket:
Abbildung des auf der Strasse Quincampoix in Paris entstandenen so berühmten Actien-Handel. Excudit C. Weigel nach den Parisischen Original...
This engraving is a German version of 'Rue Quinquempoix en l'Année 1720'(BM Catalogue 1655). It gives a view, in angular perspective, of the Rue Quinquempoix, Paris, with crowds of persons assembled there during the share mania of the Mississippi, South Sea, and other schemes which bubbled in the financial atmosphere created by John Law of Lauriston.

The title is engraved with a long German inscription divided into two parts by a medallion bust portrait in nearly full view, below inscribed I Law. To one side of the pedestal of this portrait a man appears to be chained, weeping bitterly; on the other side another man lies extended on the ground, in the act of stabbing himself with a dagger; a young woman sits near him in great distress. Above the medallion is a Janus head, the facial expressions of which are respectively happy and sad; a hand on the side of the former holds a cornucopia which is filled with jewels; another hand, on the side of the latter face, empties a cornucopia which contains bank notes marked '800,000', and '100, 000', &c.

The French version of this print is no. 31 in vol I. of 'Het Groote Tafereel der Dwaasheid', a collection of Dutch satires on the schemes of Law and his contemporaries, also published in 1720.

BM Catalogue 1656.
You may also be interested in...
AGAINST INEQUALITY ROUSSEAU, Jean-Jacques.
Discours sur l'origine et les fondemens de l'inegalité parmi les hommes.
First edition. 'Rousseau's object was to persuade people that the happier state is that in which inequality does not subsist, that there had once been such a state, and that this was the first state of nature' (Morley). Nature imposes its own inequality, namely the inequality of physical strength and weakness, while man imposes, or at least authorises political and moral inequality. Physical inequality was made apparent by the accidental coming-together of isolated individuals to subsist in joint labour and to advance a series of technological Revolutions. The very establishment of civil society, of which this coming-together was the result, was flawed because it was established on chance; this is the insecure foundation on which moral and political inequality are constructed. If Rousseau's Discours sur les sciences et les arts was aesthetic and moral, this second Discourse was 'explicitly social and economic … Rousseau's work attacked the social institutions and entrenched inequalities of a feudal society in transition which combined remnants of feudal personal dependence [the age of 'Master and Slave'] with a set of new bourgeois commercial values and individual self-serving relationships later characterised [by Tocqueville in Democracy in America] as 'the get ahead spirit'' (New Palgrave). Rousseau's conclusion is indeed economic in spirit: of all the trappings of inequality – property, laws and government included – wealth is by far the most destructive.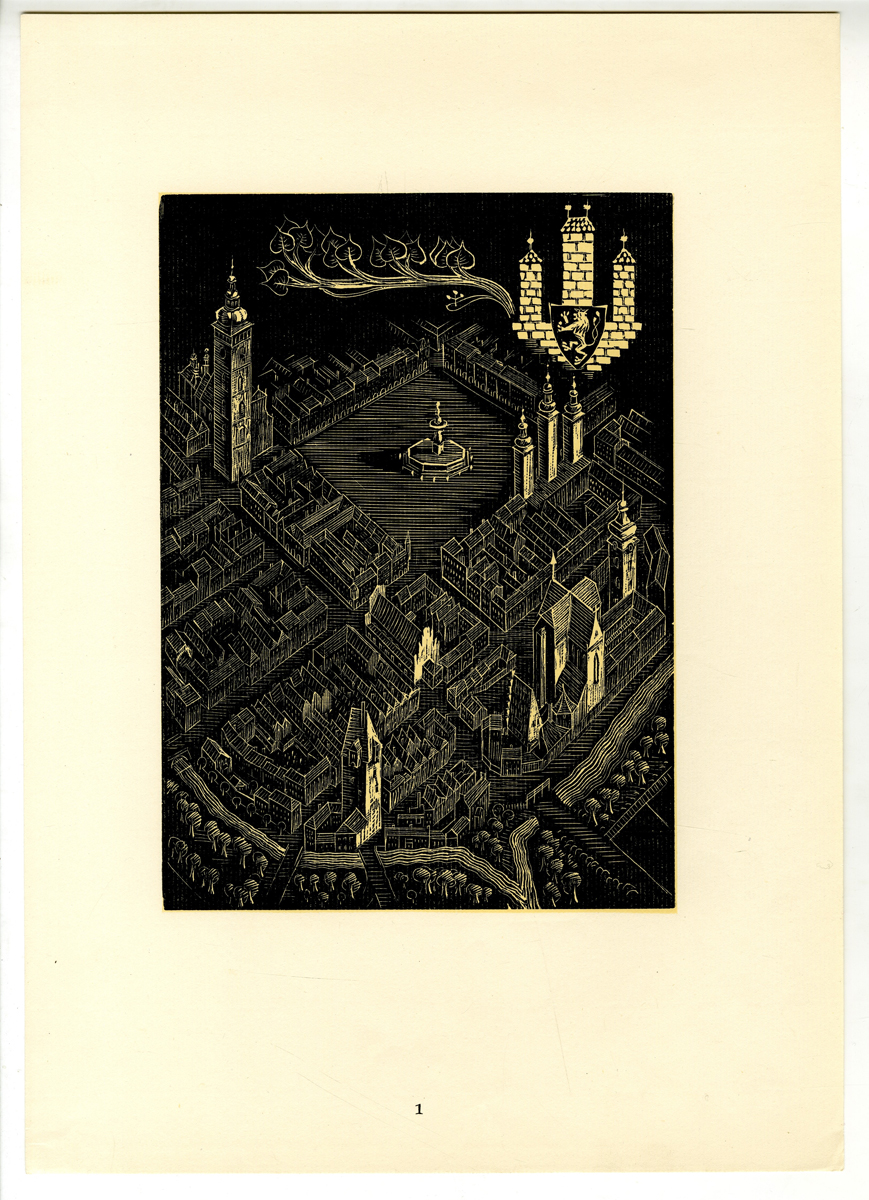 ŠTĚCH, Karel. 
České budějovice v dřevorytech Karla Štěcha [České Budějovice in woodcuts by Karel Štěch]. 
First edition of this finely printed work on handmade paper, incorporating woodcut illustrations by renowned artist Karel Štěch and printed by Jihočeské tiskárny (South Bohemian Printers) in the city of České Budějovice.  The woodcuts depict the traditional industrial and pastoral themes of the region, as well as classic architectural views of the city, including Social Realist motifs.