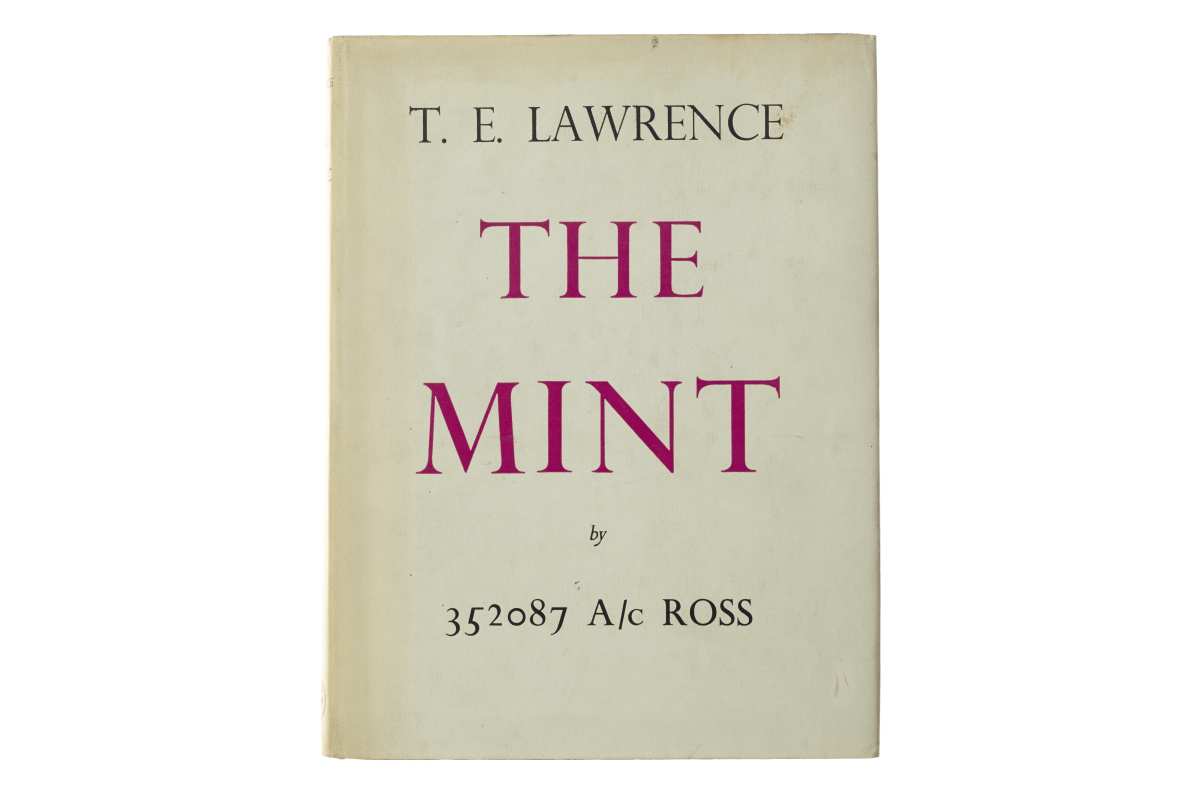 LAWRENCE, Thomas Edward.
The Mint. A Day-Book of the R.A.F. Depot between August and December 1922 with Later Notes, by 352087 A/c Ross. Edited by A.W. Lawrence.
London: The Alden Press for Jonathan Cape, 1955.
4to in 8s (246 x 185mm), pp. [2 (half-title)], 206; title printed in red and black; early ownership signature on front free endpaper; original RAF-blue buckram boards by A.W. Bain & Co. Ltd., spine lettered and decorated in gilt, upper board blocked in blind with RAF eagle device, top edges blue, dustwrapper, unclipped and retaining prices on both flaps; spine slightly faded, corners very lightly bumped, dustwrapper slightly marked and with slight creasing and chipping, otherwise a very good, clean copy.
£120

Approximately:
US $156
€138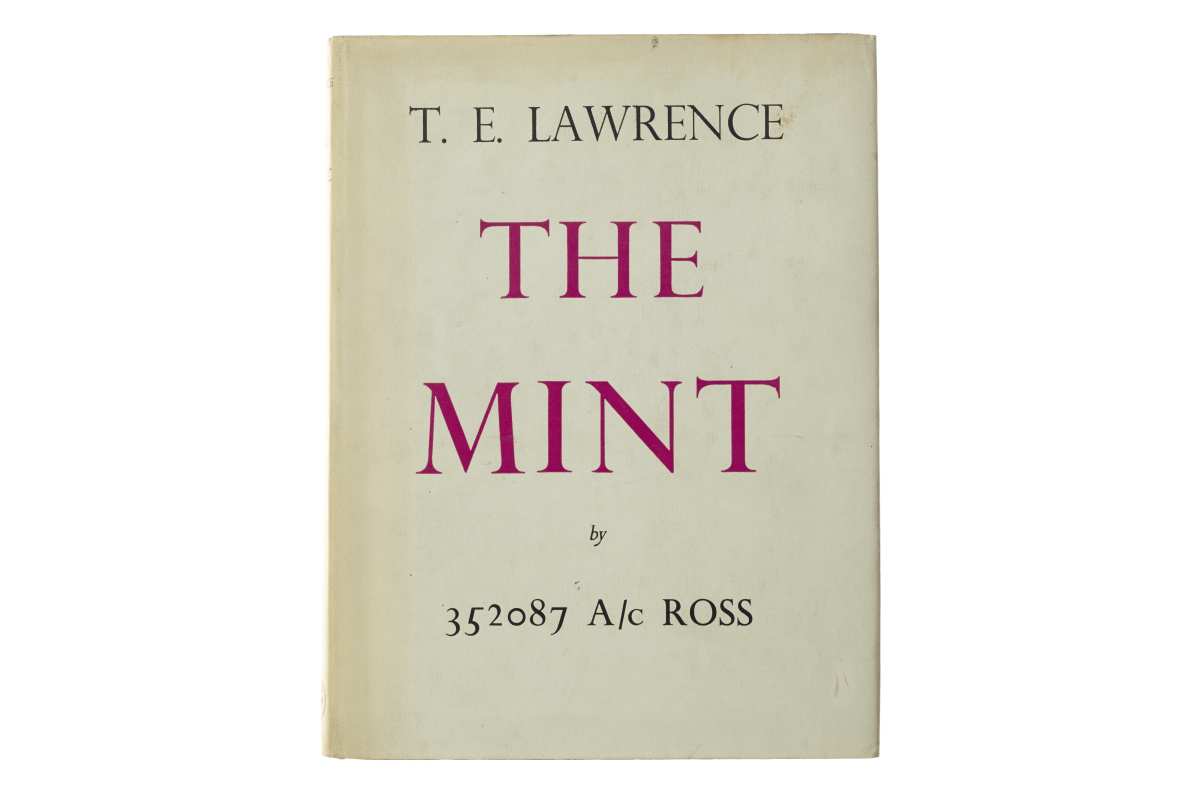 Added to your basket:
The Mint. A Day-Book of the R.A.F. Depot between August and December 1922 with Later Notes, by 352087 A/c Ross. Edited by A.W. Lawrence.
First British edition, the trade issue. 'One of Lawrence's avowed purposes in joining the RAF, though not the only one, was to write of the ranks from the inside. He began immediately making notes when he enlisted in 1922. With his dismissal in January 1923, because of unfavourable publicity, the project was set aside, not to be taken up again until he was posted to India in 1927 [...] While in India he edited the text of his earlier notes and began revisions. In March 1928 he sent a clean copy of the revised text to Edward Garnett. Garnett had copies typed which were circulated to a small circle, among them Air Marshal Trenchard [...] Trenchard's concerned response led Lawrence to guarantee that it would not be published at least until 1950. Later revisions were made by Lawrence in the last months of his life with a possible view to publication in a private edition on a handpress' (O'Brien, pp. 119-120). Although an American edition was printed in 1936 to forestall a possible piracy, the present edition was printed from a later, revised version of the text and the type was set up by Cape in 1948. However, publication was delayed until 1955, when an officer described unfavourably by Lawrence died. The British edition appeared in two issues: the limited issue and the present trade issue 'which had all objectionable words lifted out of the text, leaving blank spaces' (loc. cit.).

O'Brien A173.
You may also be interested in...
BELLIN, Jacques Nicolas.
Essai géographique sur les Isles Britanniques.
First edition. A description of the British Isles by the first chief hydrographic engineer of the Dépôt des cartes, plans et journaux du Ministère de la Marine. Alongside the geographical depiction of Great Britain, Bellin includes a guide to navigating its coasts and a treatise on the making of charts, with references to other cartographers and their work. The author, who held his post at the Dépôt for over fifty years, was a contributor to the Encyclopédie, admired as a philosophe, and a member of the Royal Society. His most celebrated works were the Neptune françois (1753) and the Hydrographie française (2 vols, 1756–1765).
RUSSIAN HISTORY LEVESQUE, Pierre Charles.
Histoire de Russie, tirée des chroniques originales, de pieces authentiques, & des meilleurs historiens de la nation ... Tome premier [-cinquieme].
First edition, a handsome copy, in an attractive binding. Trained as an engraver, Levesque (1736-1812) obtained a teaching position in St Petersburg through the recommendation of Denis Diderot. His seven-year stay in Russia resulted in his highly successful Histoire de Russie, a classic work on the region which exercised a considerable influence on western perceptions of Russia and on Russian historiography. Following a list of subscribers and a bibliography of works consulted, Levesque gives a chronological history of Russia from the ninth century to his own times, supplemented with chapters on Slavic language and religion, Russian customs, literature, geography, government, commerce, expansion into Siberia, and navigations and discoveries. The Histoire des différents peuples provides much of interest on the Kamchatka, Kuril Islanders, Koryaks, Chukchi, Samoyedic and Tungusic peoples, Ostyaks, Votyaks, Mordvins, Cheremis, Chuvash people, Lapps, Finns, Estonians, and Tatars, including discussion of their clothing, food, transport, religion and customs, education, government, industry, and health.