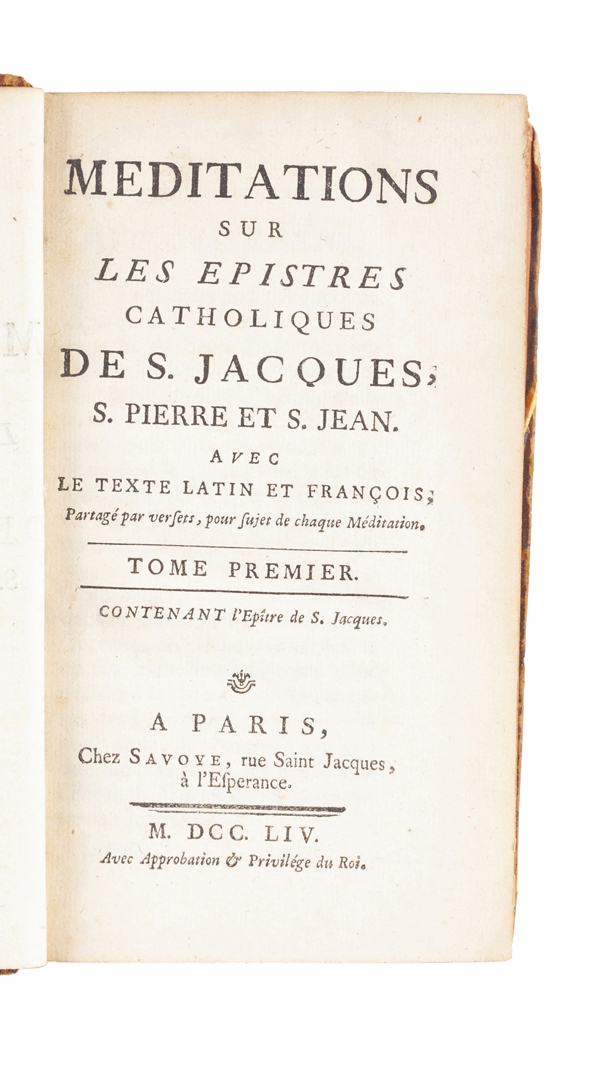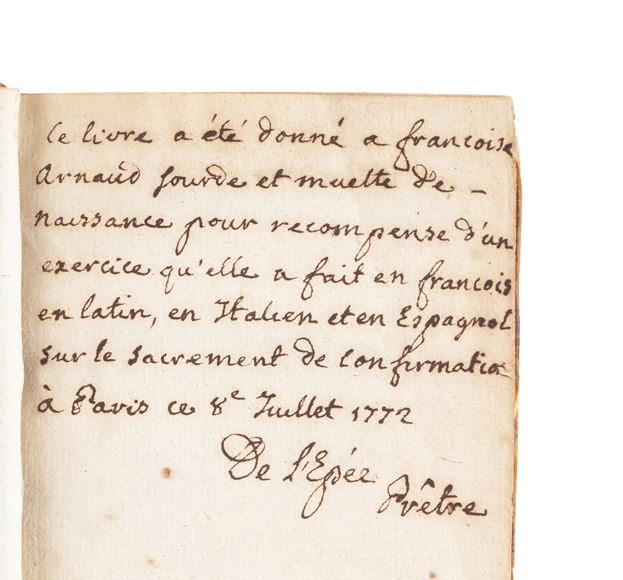 LE GROS, Nicolas.
MEDITATIONS SUR LES EPISTRES Catholiques de S. Jacques, S. Pierre, et St. Jean. Tome Premier [-VI].
A Paris, Chez Savoye, 1754.
Six volumes, 12mo, pp. pp. xvi, 501 [1]; viii, 476 [2]; [4] 383 [1]; viii, 460; [8] 399 [9] (including 4 pp. publisher's ads.); [4] 420; some browning in places, but otherwise clean and fresh; in contemporary calf, spines gilt in compartments with gilt-lettered morocco labels; some wear, but still an attractive copy, with presentation inscription to front free endpaper of volume I: "Ce livre a été donné a Francoise Arnaud sourde et muette de naissance pour recompense d'un exercice qu'elle a faiten francois, en latin, en Italian et en Espagnol sur le sacrement de confirmation. à Paris ce 8e Juillet 1772. De L'Epée Prêtre'.
£1500

Approximately:
US $1861
€1734
Added to your basket:
MEDITATIONS SUR LES EPISTRES Catholiques de S. Jacques, S. Pierre, et St. Jean. Tome Premier [-VI].
First edition of this extensive work of meditations by the Jansenist Nicolas Le Gros (1675–1751), who had been a canon of Rheims Cathedral but became an exile in Holland and a member of the schismatic Church of Utrecht. A set of meditations just on the epistles of St. Peter had been published in 1736. The set was given as a school prize, 8 July 1772, by the pioneer in deaf children's education, the priest Charles-Michel de l'Epée (1712–1789), to one Françoise Arnaud, "deaf and dumb from birth, in recompense for an exercise that she did in French, in Latin, in Italian and in Spanish on the Sacrament of Confirmation". It is very interesting that the work given to the girl should be a Jansenist one; L'Epée, a cleric who became known as the 'Father of the Deaf' - and whose school, the first free school for deaf children, still functions, called today the Institut national des jeunes sourds de Paris – was barred from a preaching licence by the Archbishop of Paris for refusing to subscribe to the anti-Jansenist Constitution 'Unigenitus'. The item offers a strong suggestion that the director gave Jansenist religious instruction at the school. The dedication is also of interest for showing the teaching of several languages that was offered at the institution.

L'Epée's experience in deaf teaching is believed to have started in 1753, when he took over the religious instruction of two deaf girls. His predecessor in the task had used pictures to teach the girls, but L'Epée thought any method that did not involve words was insufficient. From different sources he developed a universal sign language, and in 1760 opened a school for the deaf, initially with six pupils. His experiences led to two published statements of his methods, L'instruction des sourds et muets par la voie des signes méthodiques (1776) and La véritable manière d'instruire les sourds et muets (1784), as well as many public demonstrations. By the time of L'Epée's death, the school had more than 70 pupils, and his reputation among the Revolutionaries was such that he was recognised by the Assemblée nationale as a 'Benefactor of Humanity'. His school was taken over by the state in 1791, and called then Institution National des Sourds-Muets.

(For a useful old biography of L'Epée, see F. Berthier, L'Abbé de l'Epée, sa vie son apostolat, ses travaux, sa lutte et ses succès, Paris 1852). Not in Conlon; OCLC records copies outside mainland Europe at Yale, Newberry, Notre Dame, Lindenwood, and Historic Deerfield Library.
You may also be interested in...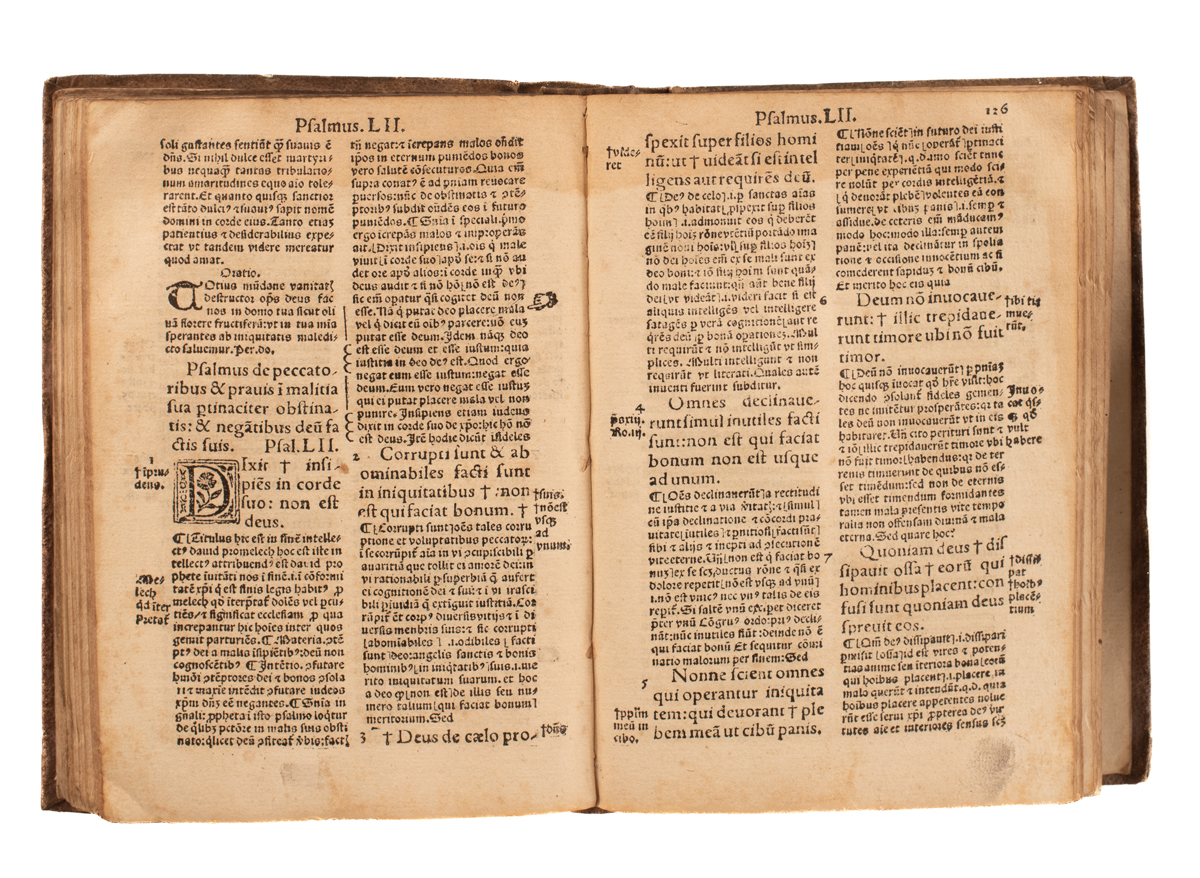 A MODEL TO IGNATIUS LUDOPHUS of Saxony. 
In Psal. David, diligentiss. Simul, & doctissima Enarratio ....Ad cuius ornamentum & collocupletatione[m] indices, cum Psalmoru[m], tum reru[m] haud segniter restitutos adauctosq[ue] assuimus.  Sed nec Co[n]fesionales ac poenitentiales Psalmos authore Petrarcha .... Porro aute[m] ne quid desyderare possis, inserta est margini iuxta Hiero. recepta[m] versione[m] Diui August. ab Hebr[a]eo in Latinu[m] sermone[m] perquam docta traductio. 
Uncommon and significant edition of one of the most important fourteenth-century commentaries on the Psalms, hailed as excellent for its method and clarity and first put through the press in 1491.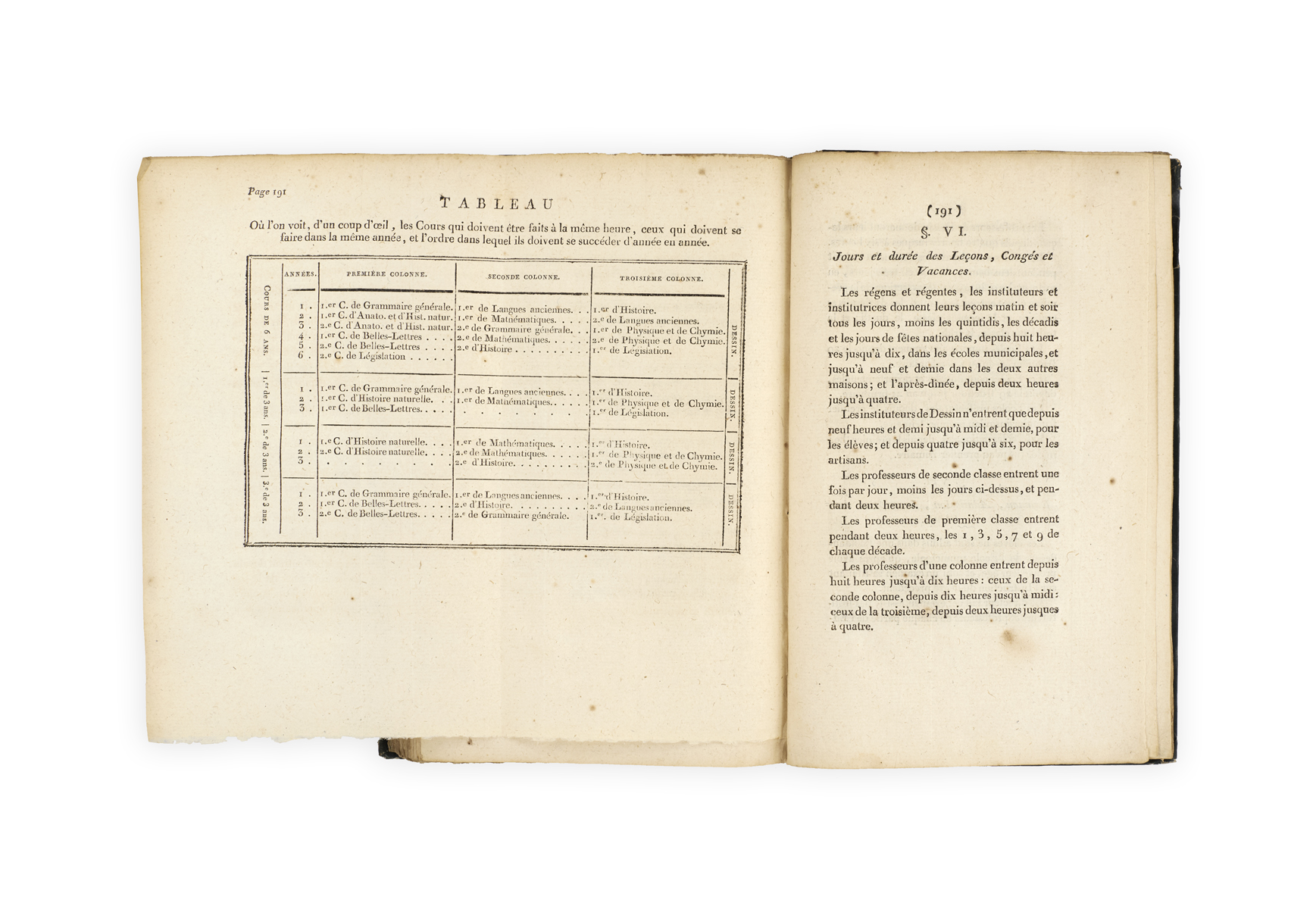 THREE TREATISES ON TEACHING GOSSELIN, Charles-Robert. 
Plan d'éducation, en réponse aux académies de Marseille et de Châlons, dont l'une a proposé pour sujet de prix, à distribuer dans le courant de cette année… 
A most interesting sammelband of three rare French works on education from the late eighteenth and early nineteenth centuries.