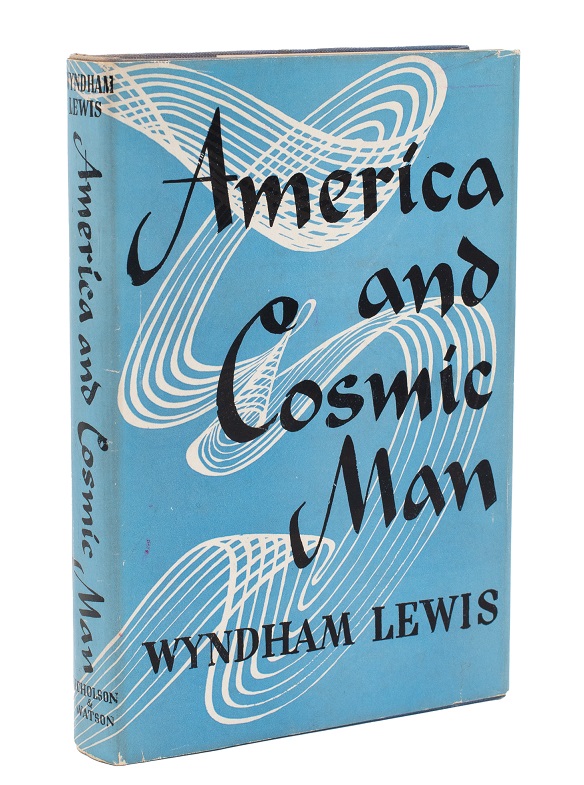 ON AMERICAN DEMOCRACY
LEWIS, Wyndham.
America and Cosmic Man.
London and Brussels, Nicholas and Watson Ltd., [1948].
8vo, pp. 231, [1]; publisher's blue cloth, dust-jacket printed in blue and black; a fine copy in a very good jacket; booklabel of Lewis's friend the BBC journalist D. G. Bridson, with his pencil marks in the margins and notes on the rear endpapers.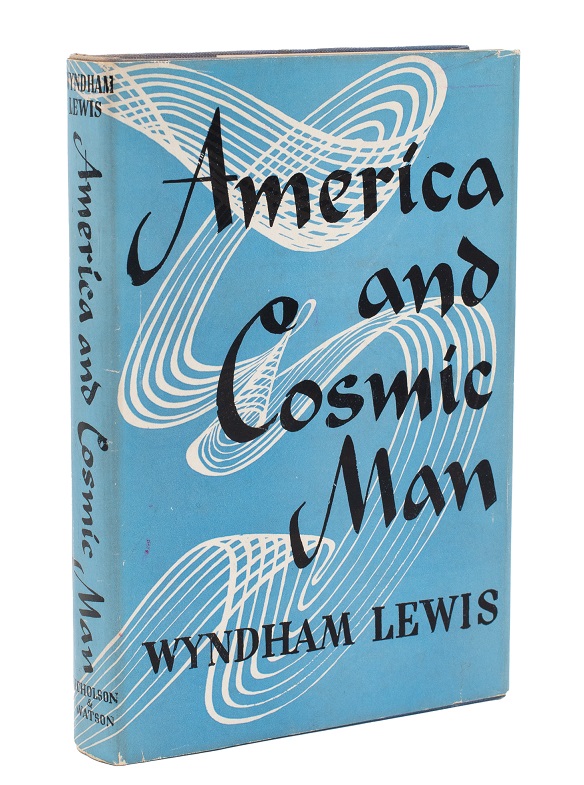 Added to your basket:
America and Cosmic Man.
First edition, second state binding as always (the first, in green cloth, was rejected by Lewis as 'hideous' and was used on only 3 trial copies). In hand by 1943, not finished until 1946 and then rejected by American publishers until it finally found a British home in 1948, America and Cosmic Man is 'a work of considerable interest', 'concerned with the nature of American democracy, and the formative influences which have made it what it is', namely the 'beautiful polarity' of Hamiltonian centralizing authoritarianism and Jeffersonian decentralizing libertarianism (Bridson, Filibuster). Lewis's earlier distrust of FDR and the New Deal was here put fully in reverse, though he still, as ever, has plenty of time for criticism – lack of culture, over-commercialism, discrimination, etc.

See Bridson, 'Western Man Goes Cosmic', The Filibuster pp. 230-252. Pound & Grover A35a; Morrow & Lafourcade A34a.
You may also be interested in...
DESTROYING 'THE NOXIOUS PART OF THE CREATION' SMITH, Robert. 
The Universal Directory for taking alive and destroying Rats, and all other Kinds of four-footed and winged Vermin, in a Method hitherto unattempted: calculated for the Use of the Gentleman, the Farmer, and the Warrener … 
First edition of a guide to catching and killing all manner of crawling and flying vermin, illustrated with plates, by the professional exterminator and rat-catcher Robert Smith. 
MILTON, John. 
Literæ Pseudo-Senàtûs Anglicani, Cromwellii, reliquorumque Perduellium nominee ac jussu conscriptæ a Joanne Miltono. 
First edition, device of fruit on the title-page (distinguishing it from the second edition, probably Brussels, which has a grotesque face and corrects some misprints).