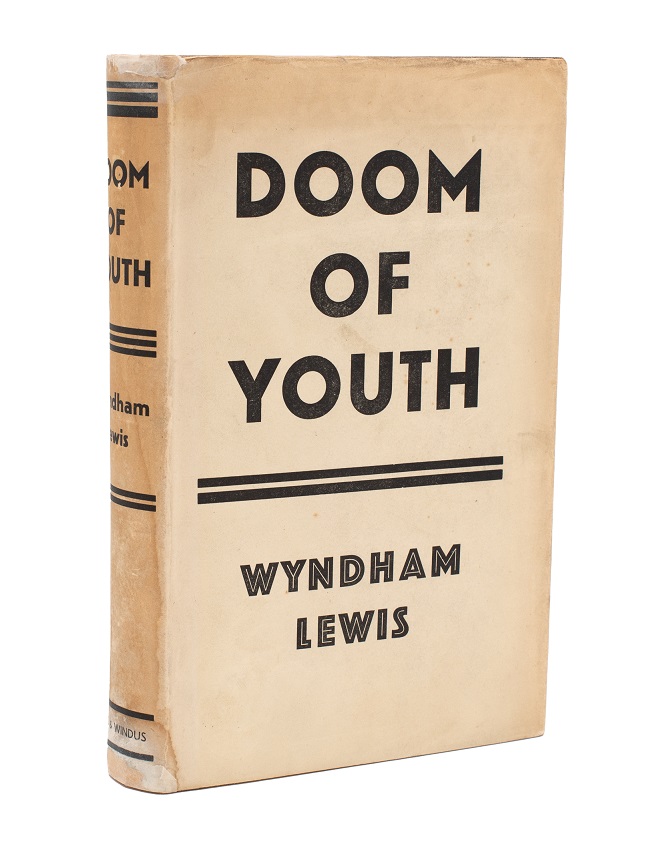 WITHDRAWN FOR LIBEL AND PULPED
LEWIS, Wyndham. 
Doom of Youth …
London, Chatto & Windus, 1932. 
8vo, pp. [2], xxix, [1], 266, [2], publisher's tan cloth, white dustjacket printed in black; a very good copy in a good jacket (spine browned, reinforced with Japanese paper at head and foot); bookplate of the BBC broadcaster and friend of Lewis in the 1950s D. G. Bridson, with his pencil markings in the margin throughout (used in writing The Filibuster); 4-page Chatto and Windus catalogue of Lewis's works laid in loose.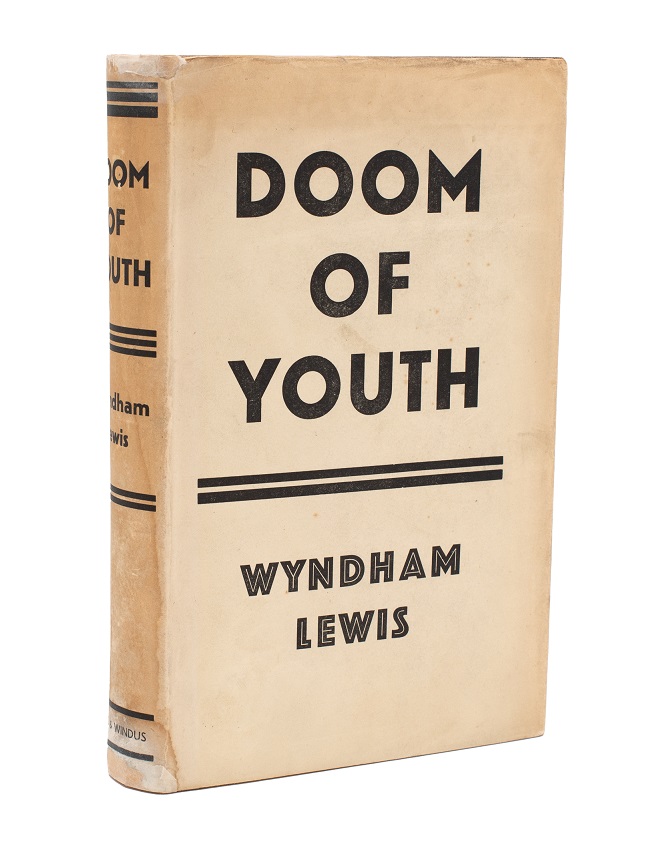 Added to your basket:
Doom of Youth …
First English edition, one of Lewis's scarcest works (only 549 copies avoided destruction).  Doom of Youth began life as a series of seven articles on youth politics in Time and Tide in June–July 1931, rounded off with a pair by G.K. Chesterton; it was expanded and first published in book form in New York. 

Of the 1518 copies printed only 411 had sold by the time Chatto and Windus faced two separate suits for libel, from Godfrey Winn and Alec Waugh (author of The Loom of Youth; his brother Evelyn, also satirised, took his charges on the chin).  Lewis's publishers were already annoyed with him for his failure to provide them with the sequels to The Childermass, and avoided legal proceedings by withdrawing the book, returning 138 copies to Lewis and pulping 968.  It was the last book he published with Chatto.  1932 was to prove an annus horribilis for Lewis, this the first of three books to be withdrawn from the market. 

See Bridson, The Filibuster, 'Thou Hast Robbed Me of My Youth', pp. 120–139.  Pound & Grover A15b; Morrow & Lafourcade A15b. 
You may also be interested in...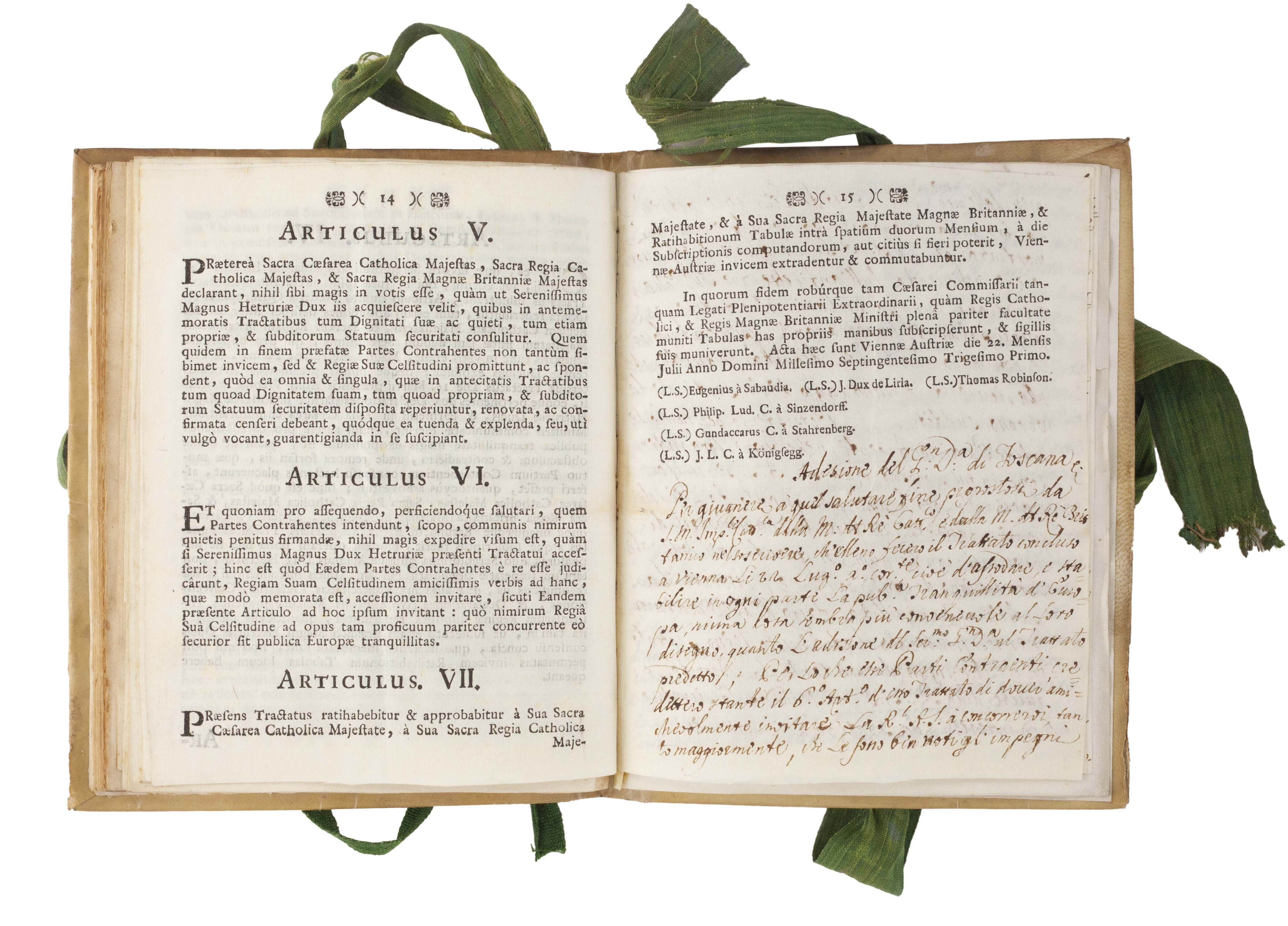 PEACE AT ANY PRICE [TREATIES.]
Volume of tracts on European treaties of peace and alliance.
A collection of scarce texts relating to the Peace of Vienna (1725) and subsequent treaties of Hanover (1725), Paris (1727), Seville (1729), and Vienna (1731), with contemporary manuscript additions in Italian and French clearly composed by someone in diplomatic service. The collection eloquently attests to the shifting alliances and jostling for position among the major European powers in the 1720s.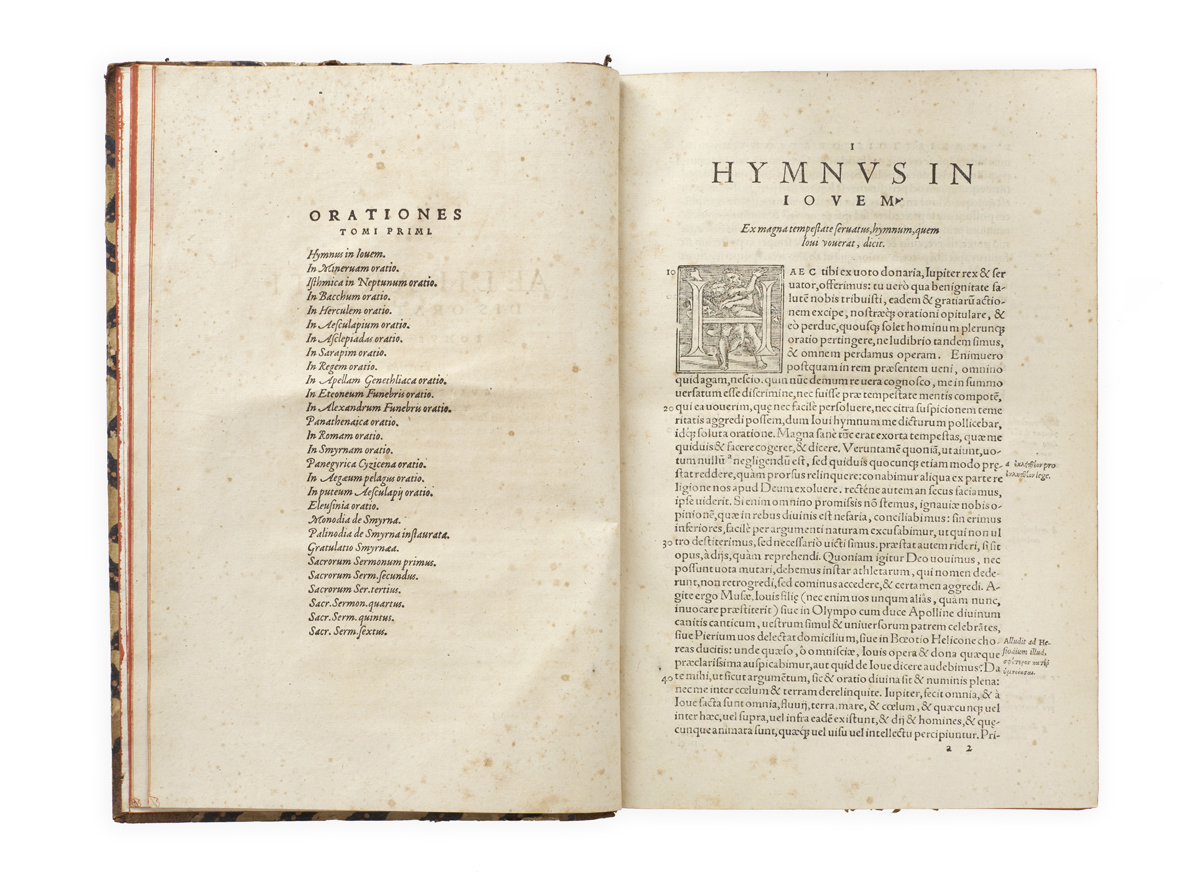 GIOSEFFO ZARLINO'S COPY ARISTIDES, Aelius. 
Orationum tomi tres, nunc primum latine versi a Gulielmo Cantero Ultraiectino.  Huc accessit orationum tomus quartus […] item De ratione emendandi scriptores Graecos, eiusdem Syntagma. 
First edition in Latin, a remarkable copy once owned by one of the preeminent music theorists and composers of Renaissance Italy, Gioseffo Zarlino.  The translation was prepared from the Greek by the German scholar Wilhelm Canter (1542–1575), author of an acclaimed Syntagma, a systematic study of the most frequent errors to be found in Greek texts, here published as an appendix.  Aelius Aristides's Orations, particularly the Panathenaic, a historical celebration of classical Athens, enjoyed much appreciation in the Renaissance, having first been published in Greek in 1517.