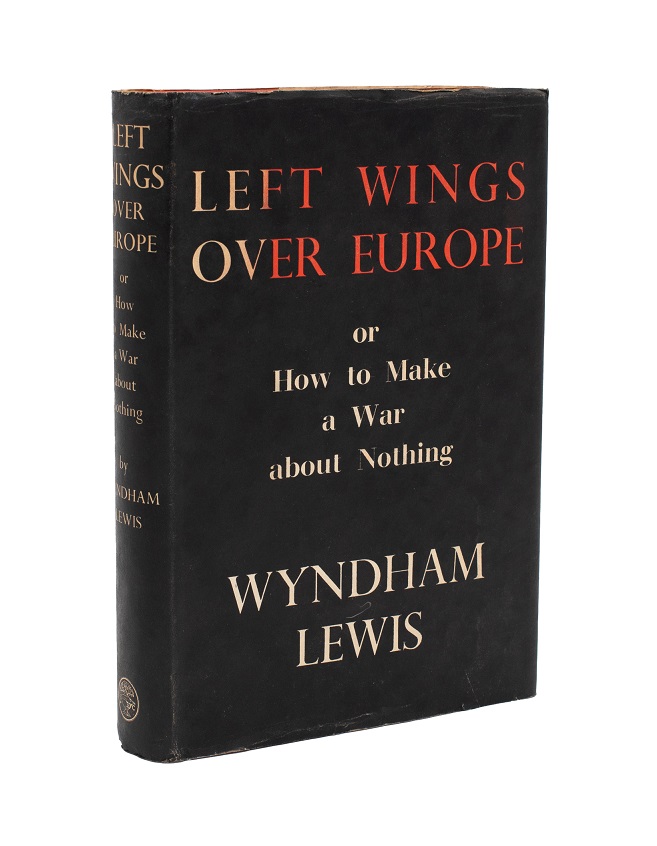 LEWIS, Wyndham.
Left Wings Over Europe: or, how to make a War about Nothing.
London, Jonathan Cape, [1936].
8vo, pp. 333, [1]; publisher's red cloth, black, red and white dust-jacket; a very good copy in a good jacket (the red lettering partly faded); bookplate of the BBC broadcaster and later friend of Lewis D. G. Bridson; scattered pencil corrections to typographical errors.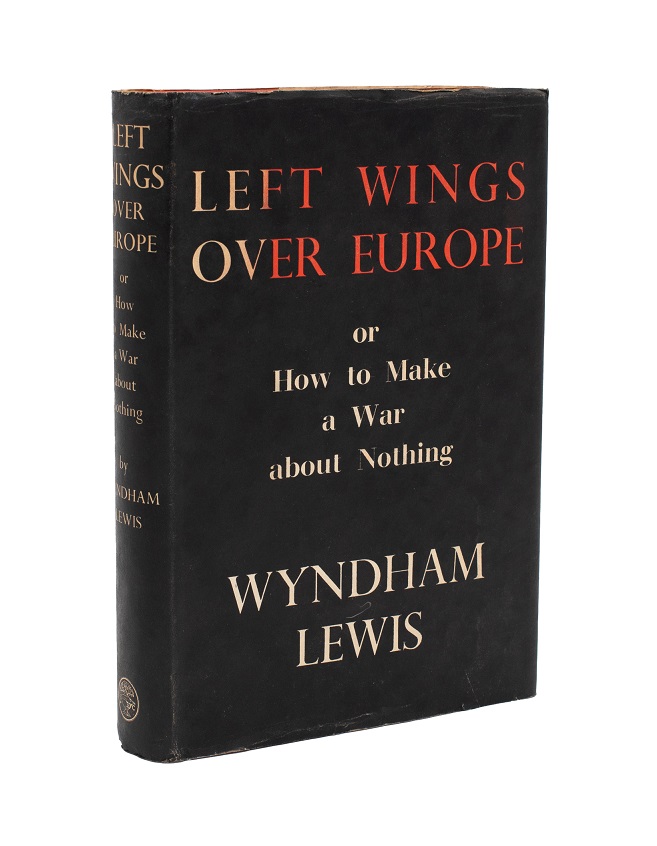 Added to your basket:
Left Wings Over Europe: or, how to make a War about Nothing.
First edition, first printing, a reiteration of the delusions about Hitler that Lewis had first presented in Hitler (1931), alongside a rejection of the Internationalism he had argued so firmly for in The Art of Being Ruled and would later espouse once more. Lewis afterwards dismissed the work as 'quite unimportant … a violent reaction against Left-wing incitement to war' (Rude Assignment).

Pound & Grover A23a; Morrow & Lafourcade A23.
You may also be interested in...
HOW TO SURVIVE PRISON AS A CONSCIENTIOUS OBJECTOR CANTINE, Holley, and Dachine RAINER (editors), and Lowell NAEVE (illustrator). 
Prison Etiquette: The Convict's Compendium of useful Information [(cover:) by the Inmates] … with a Preface by Christopher Isherwood. 
First edition of this anthology of conscientious objectors incarcerated during the Second World War, 'entirely hand-set, hand-bound, and printed on a footpedal press by the editors' (jacket flap) in an edition of two thousand copies.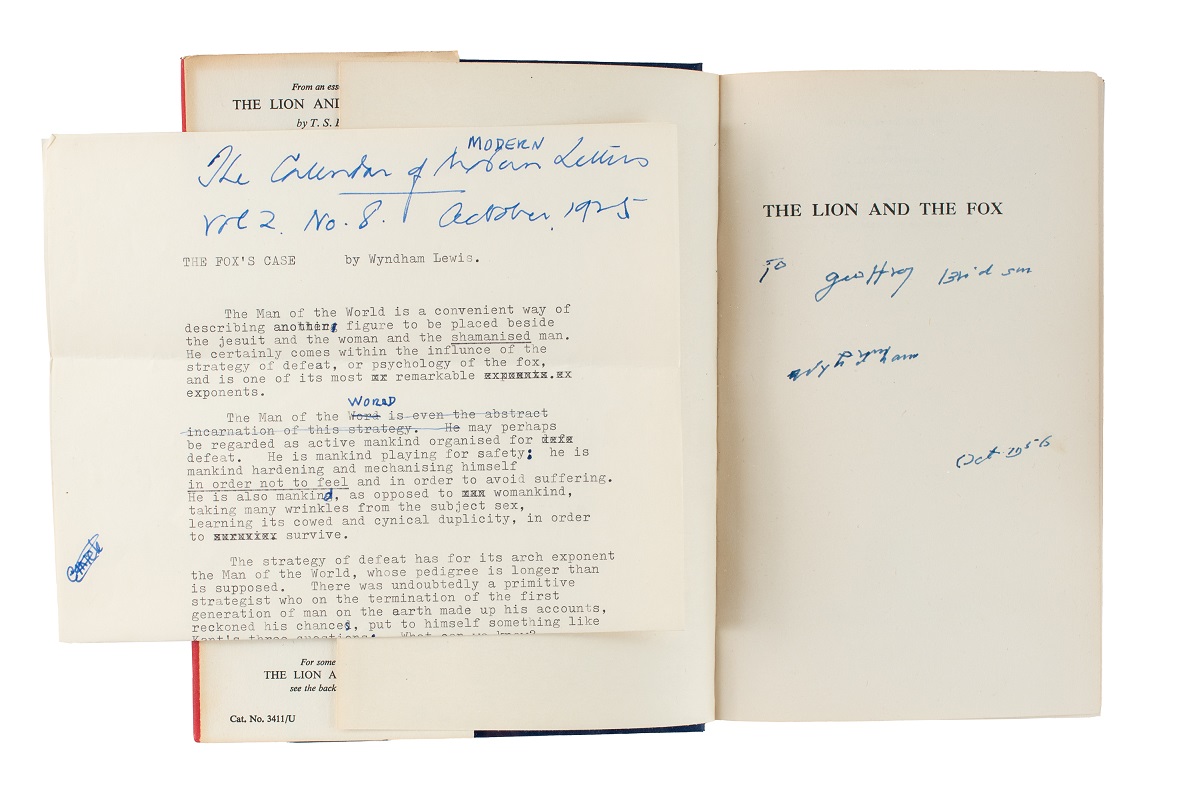 INSCRIBED LEWIS, Wyndham.
The Lion and the Fox. The Role of the Hero in the Plays of Shakespeare …
Reprint of the second edition of Lewis's 'first political book', a collection of essays engaging with Shakespeare and Machiavelli first published in 1927 and then reissued by Methuen in 1951; inscribed in a very shaky hand 'To Geoffrey Bridson from Wyndham / Oct 1956'.
'The Lion and the Fox is shot through with original thinking on every subject that it takes up … The tone of the book is distinctly liberal, and its attitude towards the concept of despotic rule is one of suspicion and antipathy' (Bridson, The Filibuster).
Laid in loose is a 1-leaf typescript of two sections from pp. 83-4 and 89-90 of 'The Foxes' Case' by Lewis, published in The Calendar of Modern Letters 2:8 (October 1925), with a few corrections in pen and the note 'original copy checked with DGB' at the foot. The article included several passages subsequently incorporated into The Lion and the Fox.
See Bridson, 'That Notorious Machiavel', The Filibuster, pp. 1-18. Pound & Grover A6c note; Morrow & Lafourcade A7c note.