lewis vs. the world - review copy
LEWIS, Wyndham.
Men without Art …
London, Cassell & Company Limited, [1934].
8vo, pp. 303, [1]; first few leaves foxed, else a very good copy; publisher's green cloth, spine sunned, wanting the dustjacket; bookplate of the journalist and broadcaster D. G. Bridson, later a friend of Lewis.
Added to your basket:
Men without Art …
First edition; Lewis takes on and demolishes Hemingway, Faulkner, and Woolf. Bridson reviewed the book in The Criterion in January 1935, pp. 335-337.

Pound & Grover A21a; Morrow & Lafourcade A22.
You may also be interested in...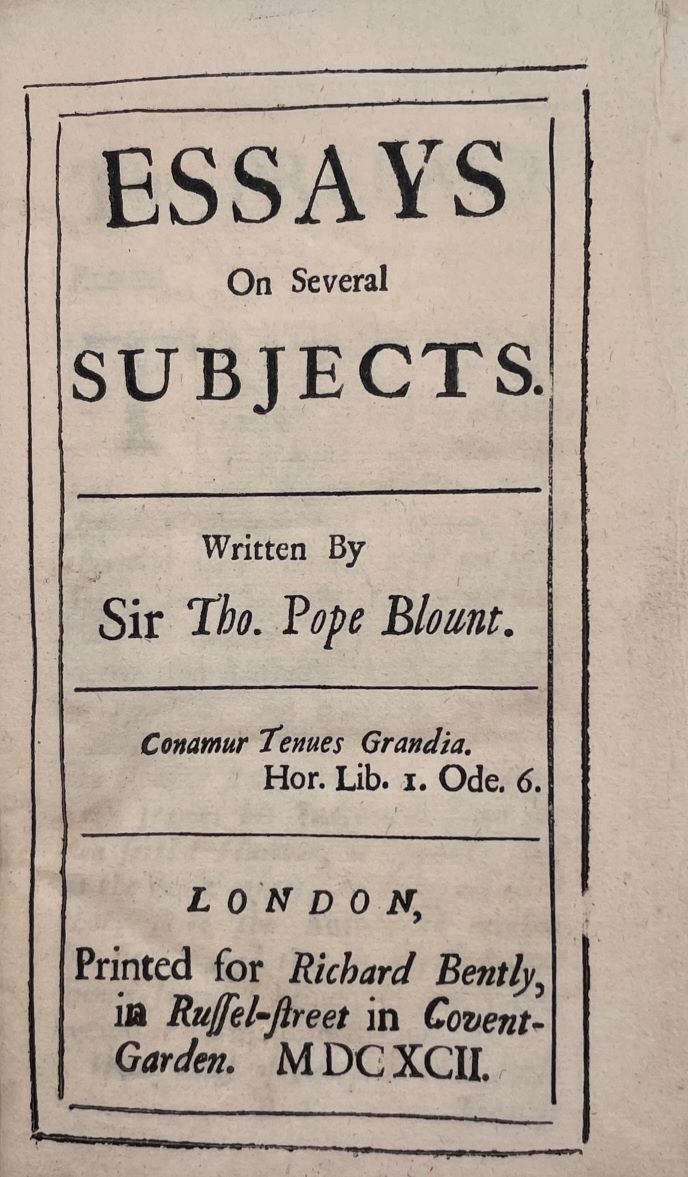 SCEPTICAL ESSAYS BLOUNT, Sir Thomas Pope.
Essays on several Subjects …
Second edition of seven essays of 'considerable merit [that] display the easy scepticism and solid good sense and learning of the author to good advantage' (Pforzheimer). They deal with self-interest; the mischief of learning; education; respect for antiquity; the virtues of modern men; passion; and the uncertainty of human knowledge, all 'writ … in my idle hours, for my own entertainment' (Preface). A 'freedom from conventionality, and [an] air of comfortable cynicism … pervades them, a cynicism recognising the enormous prevalence of stupidity and falseness of all kinds, but also possessing a cheerful conviction of the possibilities of amendment' (DNB).
[PATCH, Richard, defendant.]
The Trial of Richard Patch, for the wilful Murder of Mr. Isaac Blight, on the 23d of Sept. 1805, at Rotherhithe, in the County of Surr[e]y ... taken in Shorthand by Blanchard and Ramsey ...
First edition of this report of a famous trial (there was a rival version from the shorthand of Joseph and W. B. Gurney). Richard Patch (1770?-1806) was an unsuccessful farmer near Exeter who mortgaged his farms in 1803 and departed to London, where he entered the service of Isaac Blight, a ship-breaker in Rotherhithe. When Blight's financial circumstances became embarrassed he conveyed his property to Patch to protect himself from his creditors and they entered into a partnership agreement. Patch was to pay £1250 for his share of the partnership, £250 from the sale of his farms and a further £1000 by 23 September 1805, a sum that he knew he had no means to obtain.