SPECIAL EDITION, INSCRIBEDTHE IDEAL ASSOCIATION COPY
LEWIS, Wyndham.
The Childermass … Section 1.
London, Chatto & Windus, 1928.
8vo, pp. [8], 322; a fine copy in the publisher's yellow cloth, top edge gilt, no dustjacket; bookplate of Lewis's friend, the BBC broadcaster D. G. Bridson, with scattered marginal notes in pencil for his adaptation for radio, especially at the end; laid in loose are two cuttings of promotional articles by Bridson about the forthcoming broadcasts of The Human Age in 1955, an index of the book in Bridson's hand, and a leaf of the broadcast typescript.
Added to your basket:
The Childermass … Section 1.
First edition, no. 74 of 225 copies of the special edition, signed by Lewis, additionally inscribed, in c. 1951, 'To Geoffrey Bridson (through whom I am enabled to finish this book) – deepest thanks and friendliest greetings / Wyndham Lewis'.

'In 1921 Lewis had embarked on another ambitious project, a Rabelaisian fictional anatomy of postwar Britain.' The first portion 'finally and circuitously achieved publication at the end of the decade: The Childermass (1928), a work of theological science fiction set in an encampment of the dead on the banks of the River Styx' (Trotter).

When D. G. Bridson first read The Childermass in 1932, he had concluded that 'the setting of the drama is only to be seen convincingly in the imagination. It was that fact, when I reread The Childermass in 1950, that had assured me it would make magnificent radio'. The radio production of 1951 was the genesis of his friendship with Lewis, and their collaboration in turn enabled Lewis to finish the remaining two parts of what became The Human Age, which were funded by the BBC and written specifically with broadcast in mind.

The special edition and the ordinary edition (2500 copies, of which 1000 were eventually destroyed) were published simultaneously, on 21 June 1928. Lewis had in fact contracted with Chatto and Windus to finish the trilogy in 1928. They sued him for breach of contract in 1932, ending his association with the firm.

Pound & Grover A9b; Morrow & Lafourcade A10a.
You may also be interested in...
AGAINST INEQUALITY ROUSSEAU, Jean-Jacques.
Discours sur l'origine et les fondemens de l'inegalité parmi les hommes.
First edition. 'Rousseau's object was to persuade people that the happier state is that in which inequality does not subsist, that there had once been such a state, and that this was the first state of nature' (Morley). Nature imposes its own inequality, namely the inequality of physical strength and weakness, while man imposes, or at least authorises political and moral inequality. Physical inequality was made apparent by the accidental coming-together of isolated individuals to subsist in joint labour and to advance a series of technological Revolutions. The very establishment of civil society, of which this coming-together was the result, was flawed because it was established on chance; this is the insecure foundation on which moral and political inequality are constructed. If Rousseau's Discours sur les sciences et les arts was aesthetic and moral, this second Discourse was 'explicitly social and economic … Rousseau's work attacked the social institutions and entrenched inequalities of a feudal society in transition which combined remnants of feudal personal dependence [the age of 'Master and Slave'] with a set of new bourgeois commercial values and individual self-serving relationships later characterised [by Tocqueville in Democracy in America] as 'the get ahead spirit'' (New Palgrave). Rousseau's conclusion is indeed economic in spirit: of all the trappings of inequality – property, laws and government included – wealth is by far the most destructive.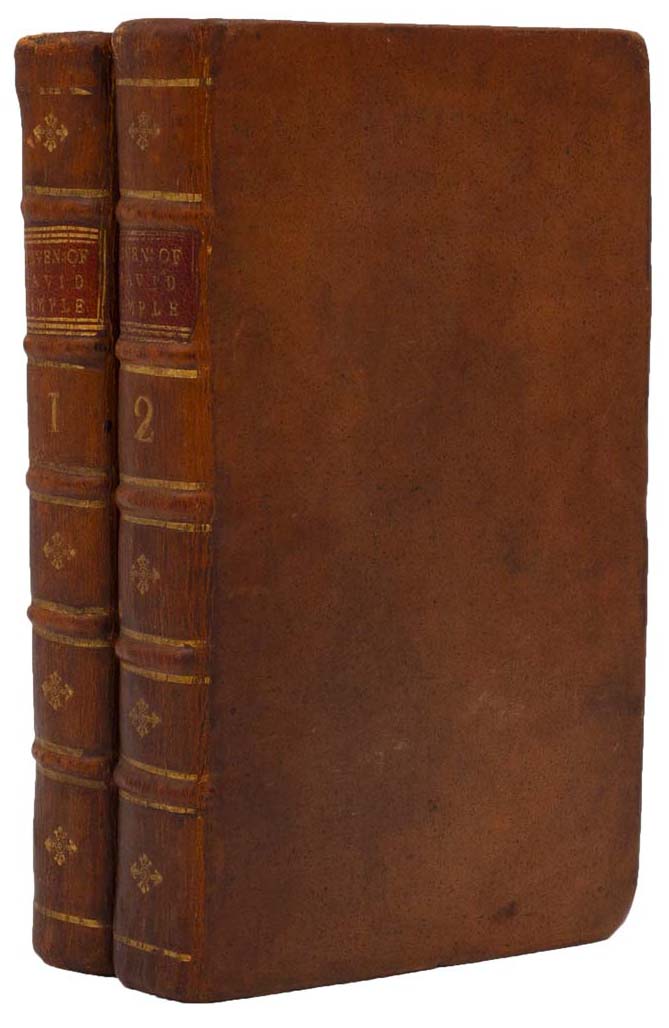 QUIXOTIC LONDON [FIELDING, Sarah.]
The Adventures of David Simple: containing an Account of his Travels through the Cities of London and Westminster, in search of a real Friend. By a Lady. In two Volumes …
First edition, very fine. The first and most popular novel of Sarah, the sister of Henry Fielding, who was to provide a preface and a few revisions to the second edition. A Quixotic satire, it follows the fortunes of its hero, disillusioned by the discovery that his younger brother has attempted to cheat him by means of a forged will. As he sets out 'in search of a true friend' his first experiences do not go well, convincing him that mercenary motives govern the world. Then he meets Cynthia, excluded from her father's will and ill-treated by an employer, and Valentine and Camilla, a distressed brother and sister whose stepmother has alienated their father's affection. The four young people wander about observing London and Westminster, discussing what they see, and listening to stories, until, inevitably, David and Camilla and Valentine and Cynthia are betrothed. The novel offers a wonderful picture of the London scene.