LIEBER, Francis.
Autograph letter in French, signed 'François Lieber', to Joseph Bonaparte, comte de Survilliers, Napoleon's elder brother and formerly King of Naples and Spain.
Columbia, South Carolina, 9 May 1836.
3 pages, 4to, on a single bifolium, with an integral address panel; creased where folded for mailing, tear from wax seal, touching one word; else in very good condition.
£425

Approximately:
US $566
€501
Added to your basket:
Autograph letter in French, signed 'François Lieber', to Joseph Bonaparte, comte de Survilliers, Napoleon's elder brother and formerly King of Naples and Spain.
The German-American political scientist Francis Lieber (1800–1872) was a prolific theorist of political ethics and jurisprudence. He emigrated to Boston in 1827, where he impressed John Quincy Adams, and became Tocqueville's principal informant for Democracy in America (1835–40). In 1835 he was appointed professor at the College of South Carolina, from where he writes here to Joseph Bonaparte, newly returned from England to his estate at Bordentown, New Jersey: 'Dès que les gazettes announcaient Votre arrivée heureuse et desirée aux Etats Unis …'.

Lieber had hoped to make a trip to the North during his vacation from the College, and had intended to visit Bordentown, 'ou j'ai eu l'honneur de passer une journée des plus interessantes et instructives de ma vie à coté de Vous', but finds it will now be impossible. Regretfully, he asks if Bonaparte has had a reply to a letter of 1830 to the French jurist Pierre François de Réal, in which Lieber had asked for comments on his article on the duc d'Enghien for the Encyclopedia Americana (of which he was also editor). Réal (d. 1834) had been prefect of police under Napoleon, and the execution of the duc d'Enghien in 1805 had been in part responsible for his fall from favour.

Lieber published his first major work, Manual of Political Ethics, in 1838–9, and a series of legal and political works of major national influence followed. His Code for the Government of Armies in the Field (1863), also known as the 'Lieber Code', prepared for the War Department during the Civil War and governing the behaviour of troops in occupied territories, subsequently served as a basis for international conventions on the conduct of warfare.
You may also be interested in...
JESUIT LOGIC AND PHYSICS [LALANDE, Fr.]
[Philosophy course.]
Fair manuscript copy of a course of philosophy for the use of clerical students offering a systematic treatment of Aristotelian Logic and Physics. The initial inscription states that this course was given by a Jesuit, Fr. Lalande, to Jacques Becheau of Périgord in 1681. The course is articulated in the disputationes dealing in depth with logics and metaphysics at first, then physics and astrology in the second part. A fair example of Jesuit Aristotelianism with significant departures from Aquinas's interpretation, this manuscripts offers an insight into the Jesuit order's agility in adapting the received 'calculations' of syllogism and deduction to early-modern challenges coming from the emergence of experimental science in the age of Galileo.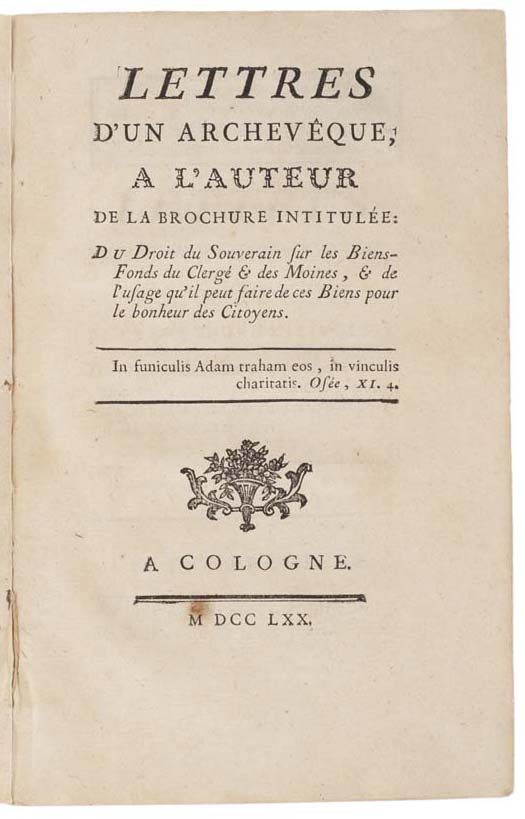 [RICHARD, Charles-Louis.]
Lettres d'un archevêque, a l'auteur de la brochure intitulée: Du droit du souverain sur les biens-fonds du clergé & des Moines, & de l'usage qu'il peut faire de ces biens pour le bonheur des citoyens.
First edition, uncommon, of this response to an anticlerical essay by the Chevalier de Cerfvol by the Dominican theologian and anti-philosophe Charles-Louis Richard (1711–1794). De Cherfvol had argued against the wealth of the clergy, and in particular of the religious orders, and proposed a means in which this could be better put to use for the wider population. Richard, who also wrote against Voltaire and met his end thanks to a Jacobin bullet, goes through de Cherfvol's essay, questioning his claims that the clergy had contributed little to the cultural and intellectual life of France, emphasising the ways in which the Church had provided a moral grounding for the country, and explaining the proper role of religion in society, and the appropriateness of financial (and other) donations to the Church, both from individuals and the state, and of the maintenance of the status of both secular and religious clergy.