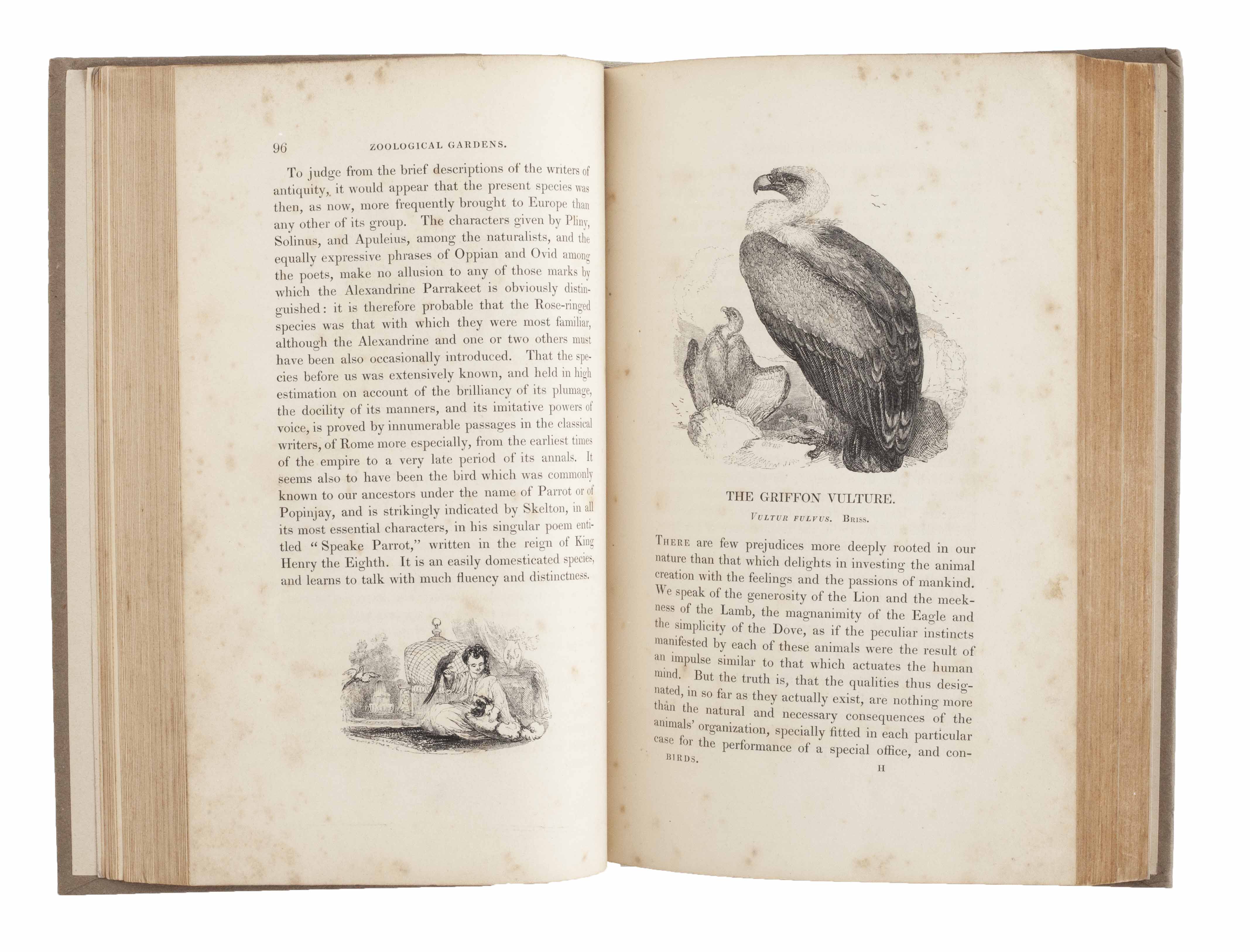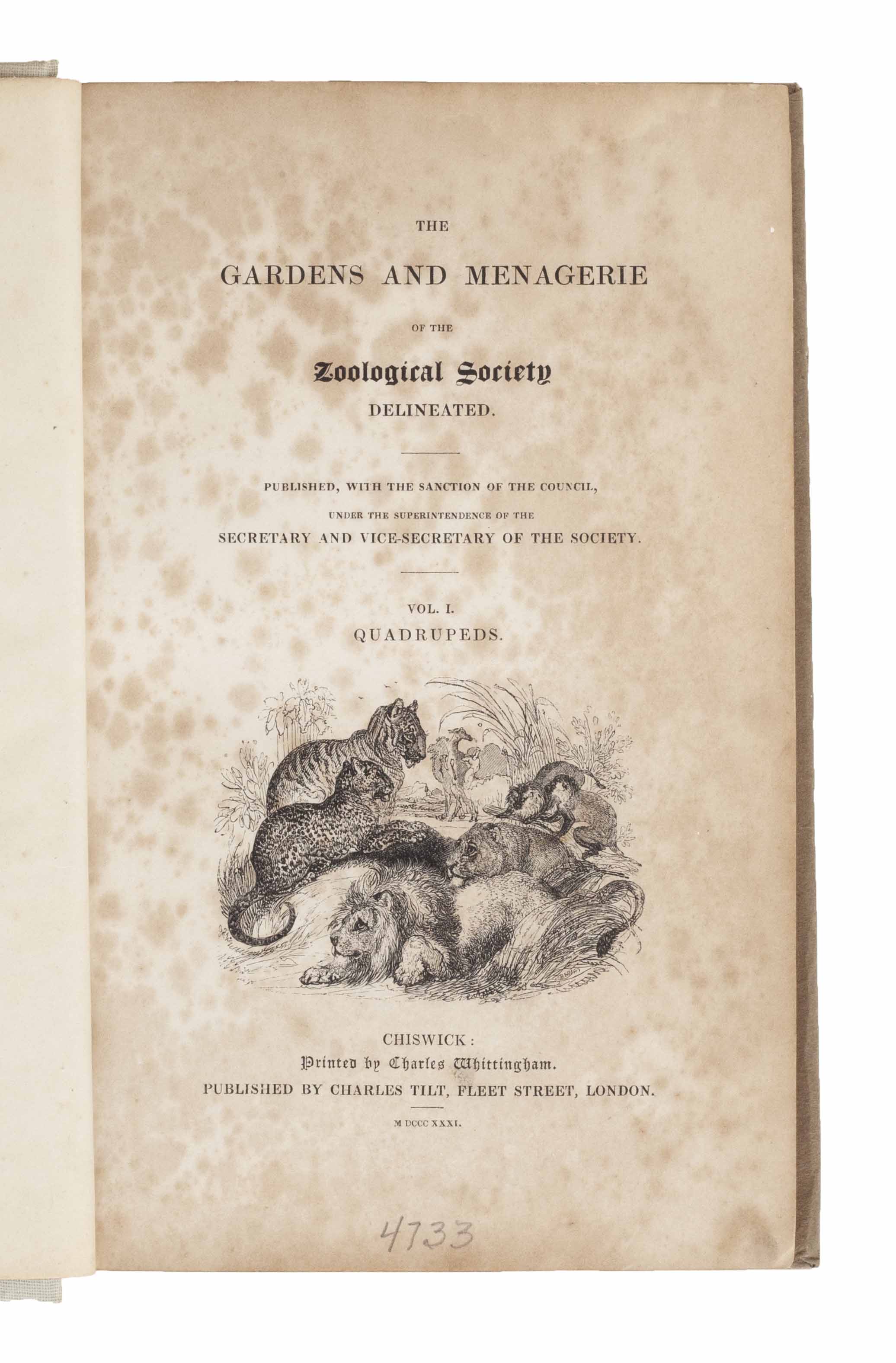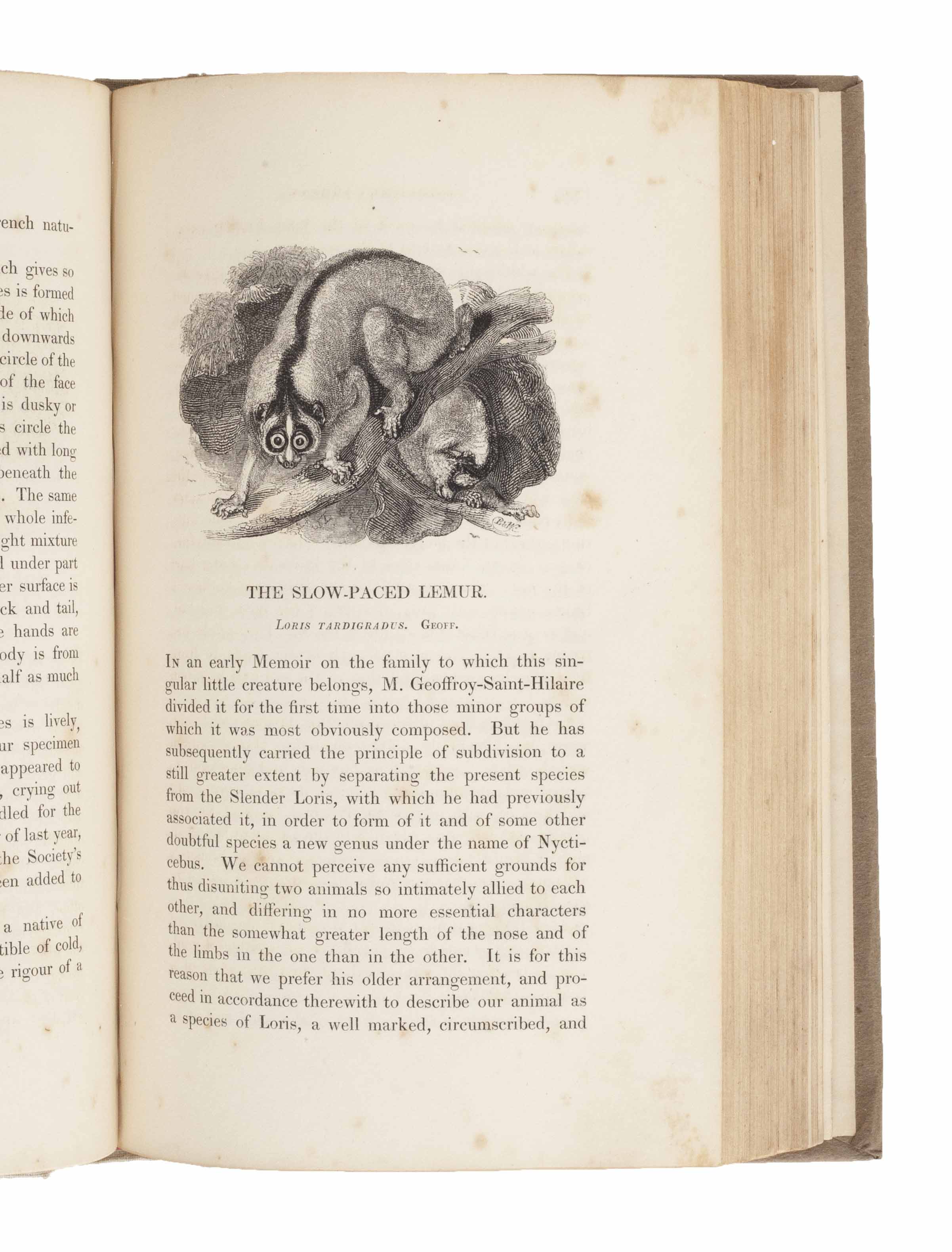 [LONDON ZOO.] HARVEY, William (illustrator).

The Gardens and Menagerie of the Zoological Society delineated … Vol. I: Quadrupeds [– Vol. II: Birds].
Chiswick, Charles Wittingham, for London, Charles Tilt, 1831.
2 vols, 8vo, pp. I: xii, 308, II: viii, 328; titles with woodcut vignettes, numerous woodcut illustrations throughout; a little spotted, otherwise a good set; moden cloth-backed boards with drab paper sides, printed paper labels to spines; corners lightly bumped; ink ownership inscription of William V. Donaldson to front free endpapers, with his bequest plate to the Philadelphia Zoological Garden, subsequent ownership and deaccession stamps of the Zoological Society of Philadelphia to endpapers.
£175

Approximately:
US $226
€193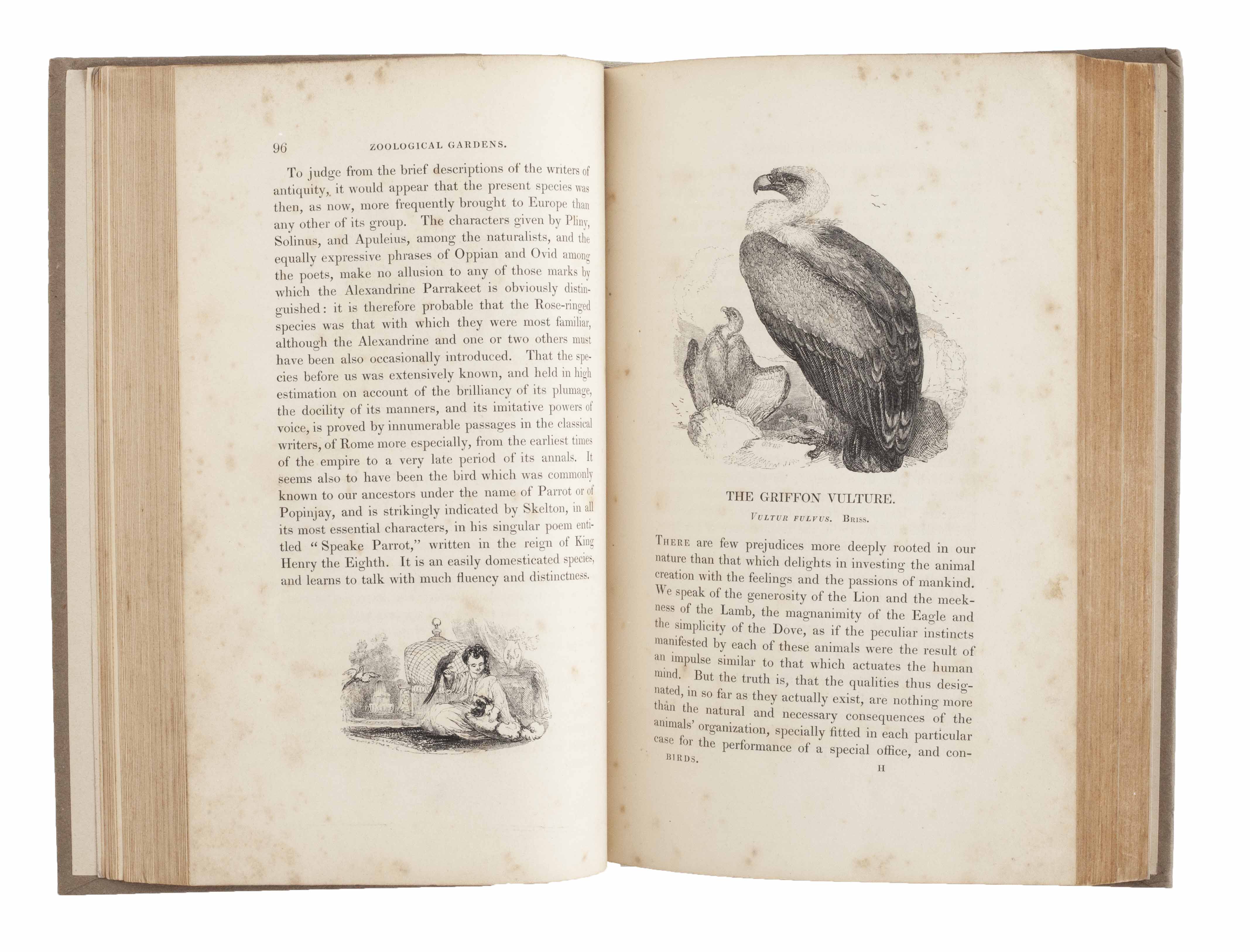 Added to your basket:
The Gardens and Menagerie of the Zoological Society delineated … Vol. I: Quadrupeds [– Vol. II: Birds].
First edition, second issue, of the first record of the menagerie of the Zoological Society. Founded in 1826 with botanical gardens and a zoological collection at Regent's Park, the Zoological Society of London was soon established as the foremost natural history collection in Europe, receiving the Royal Menagerie from William IV in 1831.

The descriptions were contributed by (among others) Vigors, Wallich, Broderip, and Yarrell, and edited by Edward Turner Bennett (1797 – 1836), vice-secretary of the Society under Nicholas Aylward Vigors and his successor as secretary. Though credited to William Harvey (1796 – 1866), the illustrations contain drawings by several other artists, including the young Edward Lear. The descriptions and images together offered the first view of the Society's gardens, which would not be opened to the public until 1847.

Printed at Chiswick by Charles Wittingham, the first volume was initially sold by Tegg and Hailes and dated 1830 and the second by Sharpe with the date 1831; the two volumes were first issued together, as here, by Charles Tilt in 1831.
You may also be interested in...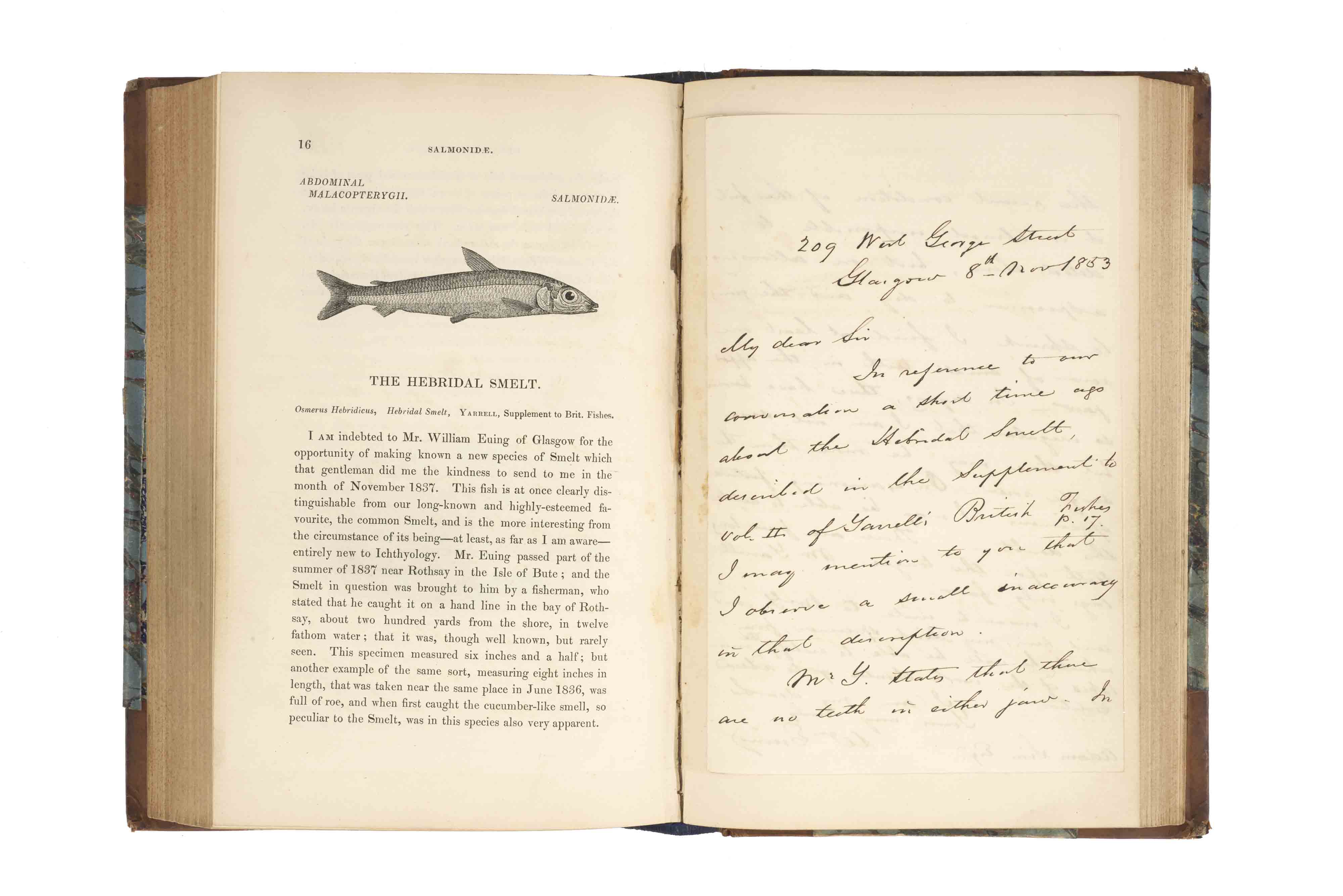 HEBRIDAL SMELT YARRELL, William.
A History of British Fishes … illustrated by nearly 400 Woodcuts.
First collected editions, with an autograph letter on the Hebridal smelt from the species' discoverer. Published serially from 1835 to 1836, Yarrell's History of British Fishes was reprinted within a year, and followed soon after by Thomas Bell's British Reptiles in 1839 and his own British Birds in 1843 published by van Voorst and together forming a comprehensive survey of British wildlife. Though noted for his careful observations, Yarrell is here corrected on several points in an autograph letter to the antiquarian Adam Sim (1805–1868) from William Euing (1788–1874), who had discovered the Hebridal smelt (first included in the Supplement) in November 1837.
Despite this contribution to Scottish ichthyology, Euing, a Fellow of the Royal Society of Edinburgh and President of the Glasgow Archaeological Society, is best remembered for his fine library, of which some twelve thousand volumes now belong to Glasgow University.
[TOPSELL, Edward, and PLINY the Elder.] BYRNE, M. St Clare (editor).
The Elizabethan Zoo: A Book of Beasts, both fabulous and authentic.
Limited edition, numbered 304 of 525 copies. 'This is not a "child's book of bad beasts": it is composed of selections from the most serious and substantial books of zoology that were available for educated Englishmen in Shakespeare's day. Designed originally to edify, to lead men to "passe away the Sabbaoths in heavenly meditations upon earthly creatures," these books contain much to amuse and entertain the modern reader. They represent the real beginning of modern zoology, yet there is in them a sufficient residuum of mediaeval credulity, anecdote and legendary lore to delight the twentieth century with their quaintness and comicality.' (Introduction).