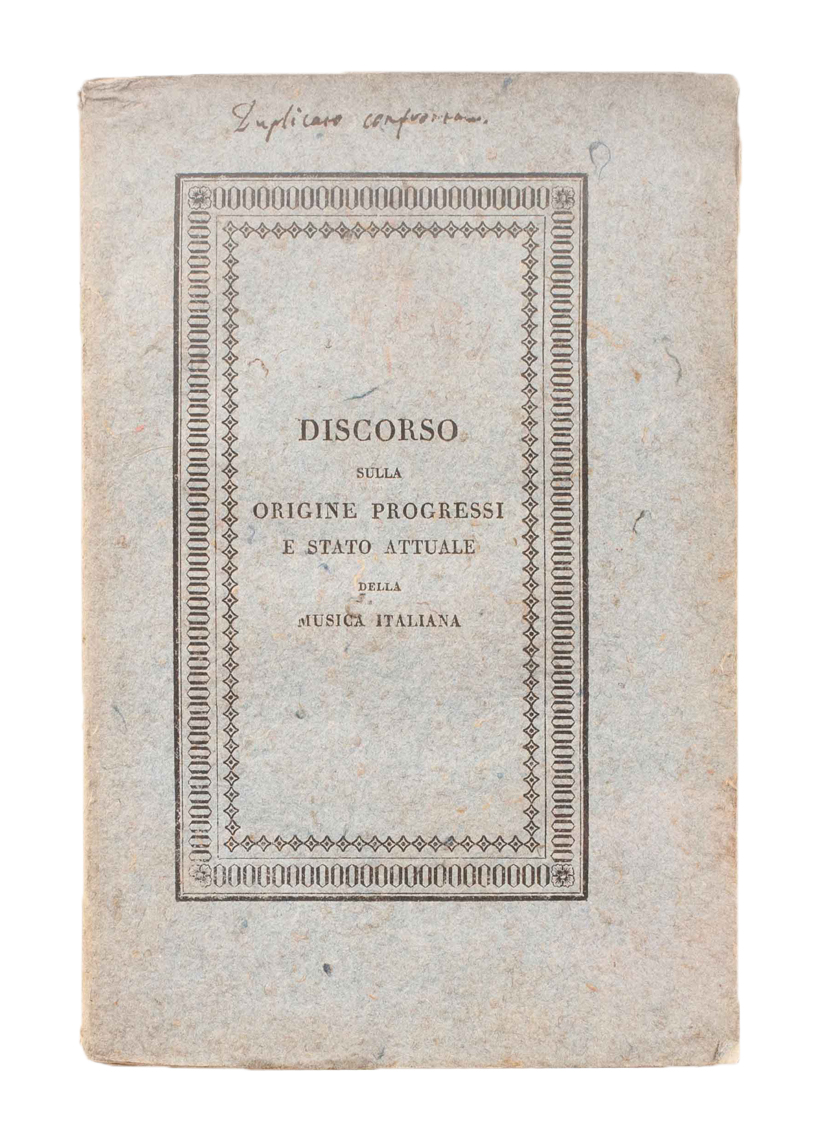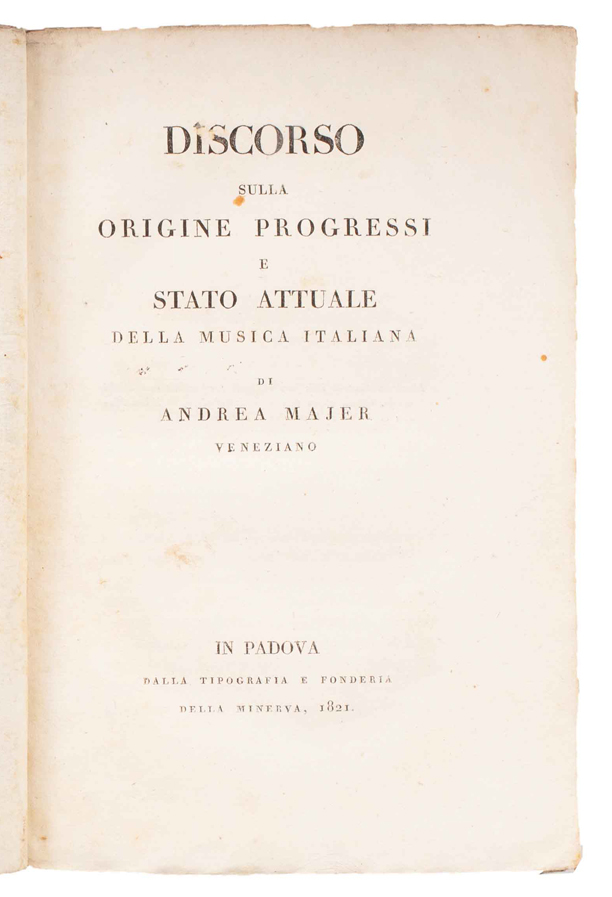 ROSSINI AS A RADICAL
MAJER, Andrea. 
Discorso sulla origine, progressi, e stato attuale della musica italiana … 
Padua, 'dalla Tipografia e Fonderia della Minerva', 1821. 
8vo, pp. 173, [3], with loosely inserted errata slip (56 x 76 mm); occasional light foxing, but a very good copy; uncut and unopened in publisher's blue printed wrappers; spine a little darkened with small chips at head and tail, some minor creasing and dust-staining; 'duplicato confronto' in ink to upper wrapper.
£185

Approximately:
US $229
€213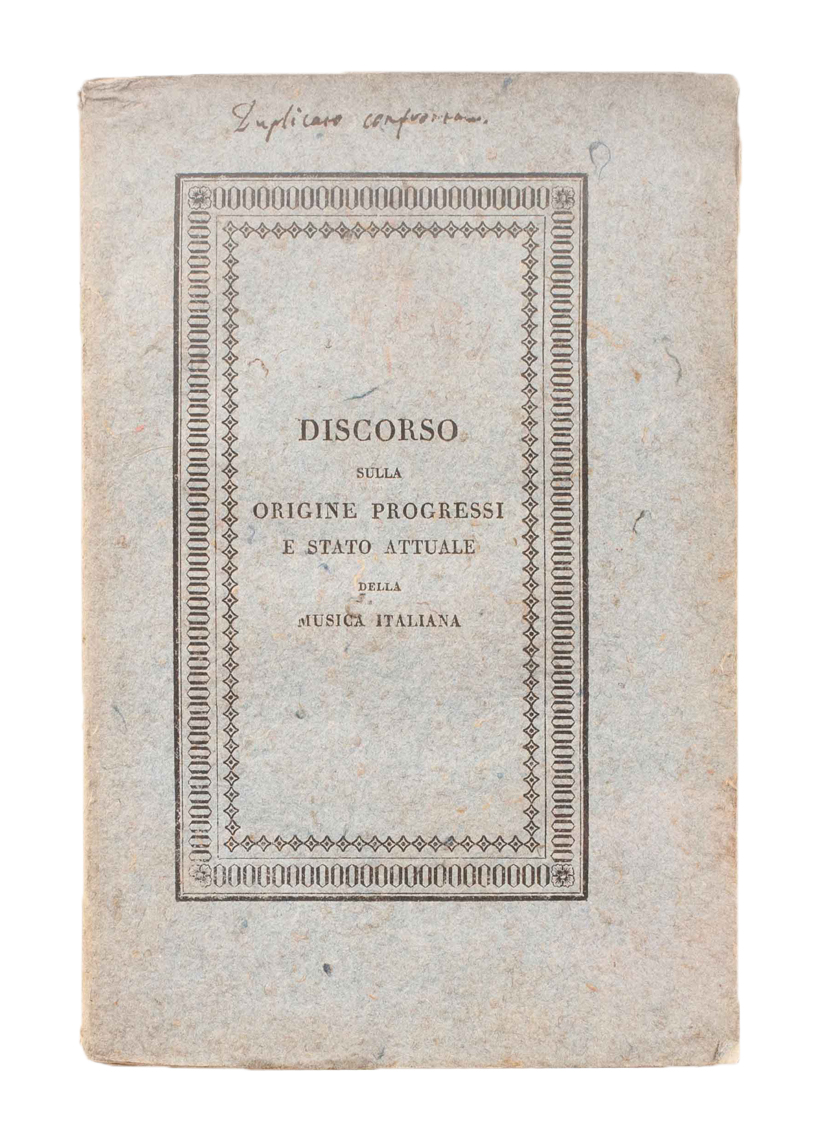 Added to your basket:
Discorso sulla origine, progressi, e stato attuale della musica italiana … 
First edition of Majer's treatise on music, 'a conservative defence of tradition as part of a backlash against the popularity of Rossini's reforms' (Baragwanath, p. 29). 

Andrea Majer (1765–1838) was an art and music critic, originally from Venice, who wrote several works in the early nineteenth century directed against new developments in both fields.  In 1818, Majer had already begun a lengthy dispute against the Italian writer Giuseppe Carpani (1751–1825) in which he celebrated the superiority of Venetian art – Titian and Tintoretto in particular – over the more recent neo-classical models of Winckelmann.  In this treatise he turns his attention from the decline of painting to the decline of music, which had supposedly reached its zenith in the eighteenth century and was in danger of being corrupted by contemporary extravagances.  Majer finds this decline best embodied by Rossini's operatic reforms, which had earned the composer a hero's welcome on his arrival in Vienna: although he does not mention Rossini by name, he denounces in a footnote as the 'Marini of modern Music' (p. 163 trans.). 

In response to this treatise Majer was once again attacked by Carpani, who openly celebrated Rossini's music in his Le Rossiniane of 1824.  The Discorso was translated into French in 1827. 

See Baragwanath, Italian Traditions & Puccini: Compositional Theory & Practice in Nineteenth-Century Opera (2011); Gallo, Gioachino Rossini: A Research and Information Guide (2010), p. 194; and Marchi, 'Carpani, Giuseppe' in Dizionario Biografico degli Italiani XX. 
You may also be interested in...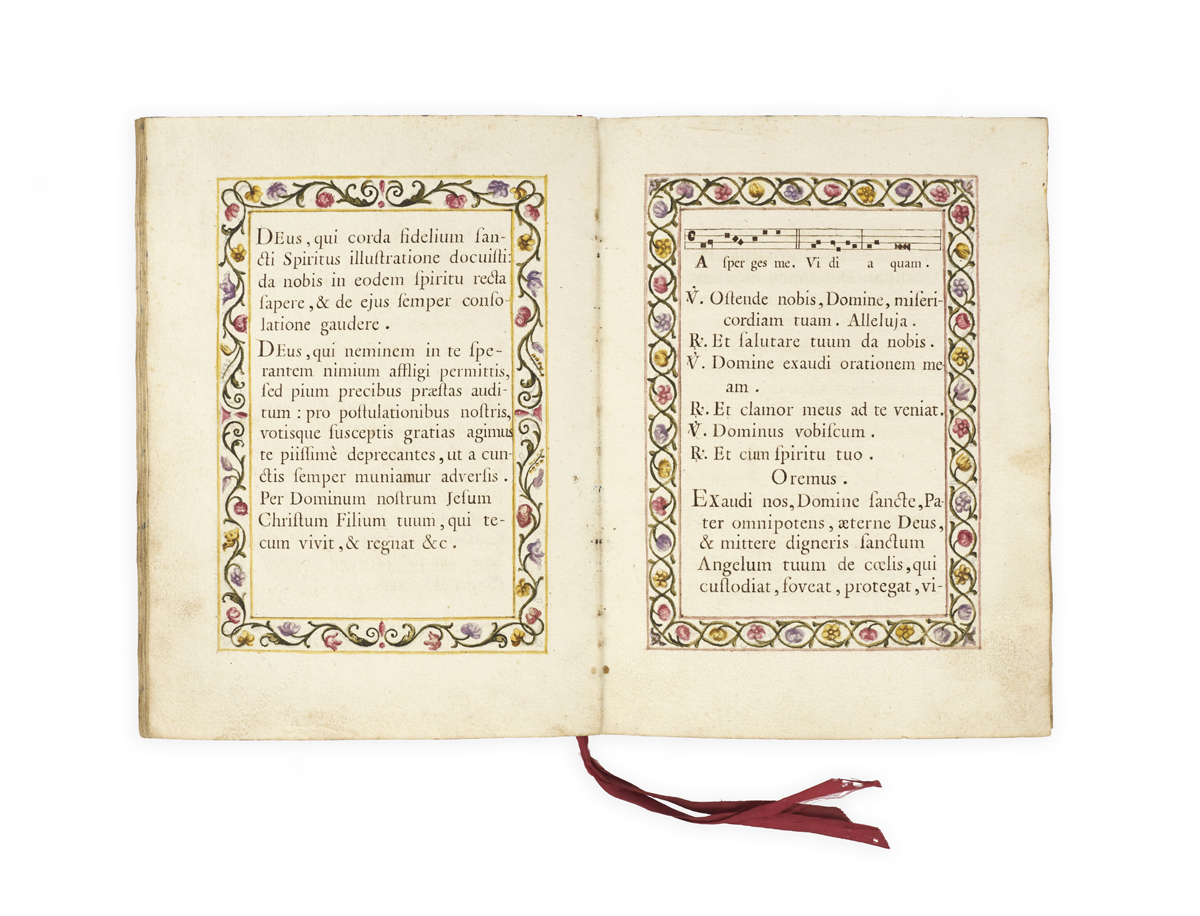 PRACTICAL PRAYER [PRAYERS.] 
'Orationes diversae pro temporum opportunitate dicendae'. 
A delightful manuscript prayerbook for use in communal worship, most likely for a rural community, with prayers for help in times of plagues and of animal diseases, prayers seeking protection from storms and alleviation of droughts, for times of earthquakes, for the sick, and against pagans.  The varied borders range from geometric designs (many constructed with a compass) to charming arrangements of mixed flowers. 
WITH ADDITIONAL DEVOTIONAL PLATES MAGNON, Jean. 
Les heures du Chrestien, divisées en trois journées; qui sont la journée de la penitence, la journée de la grace, et la journée de la gloire.  Où sont compris les offices, avec plusieurs prieres, avis, reflexions, et meditations, tirées des Stes Escritures, et des Peres de l'Eglise.  Le tout fidelement traduit en vers, et en prose …  Avec un calendrier … 
First edition of this handsomely illustrated collection of prayers and devotions in verse and prose by the French playwright and poet Jean Magnon (1620–1662).  The number of plates in individual copies varies, this copy containing at least two more than those described on OCLC.