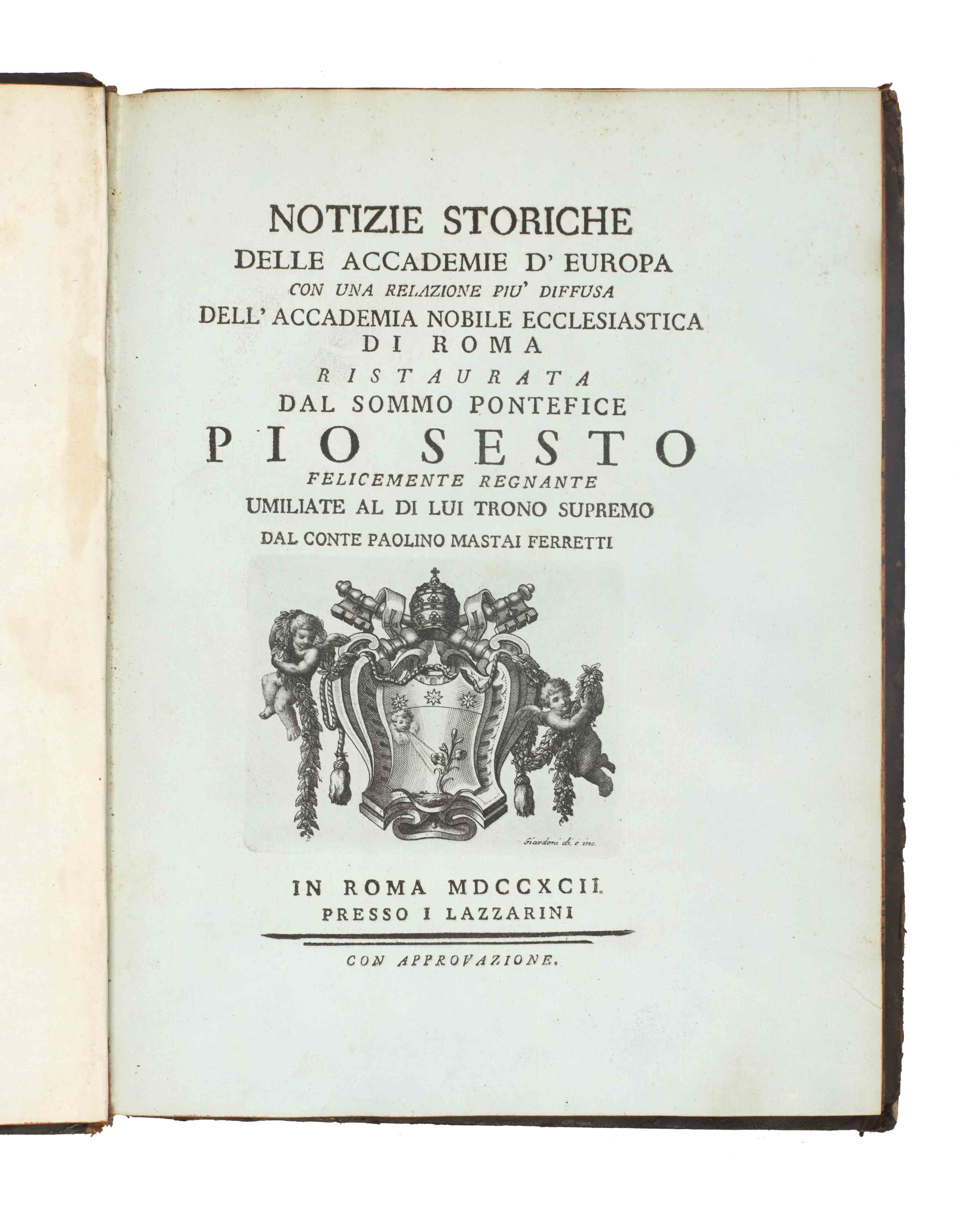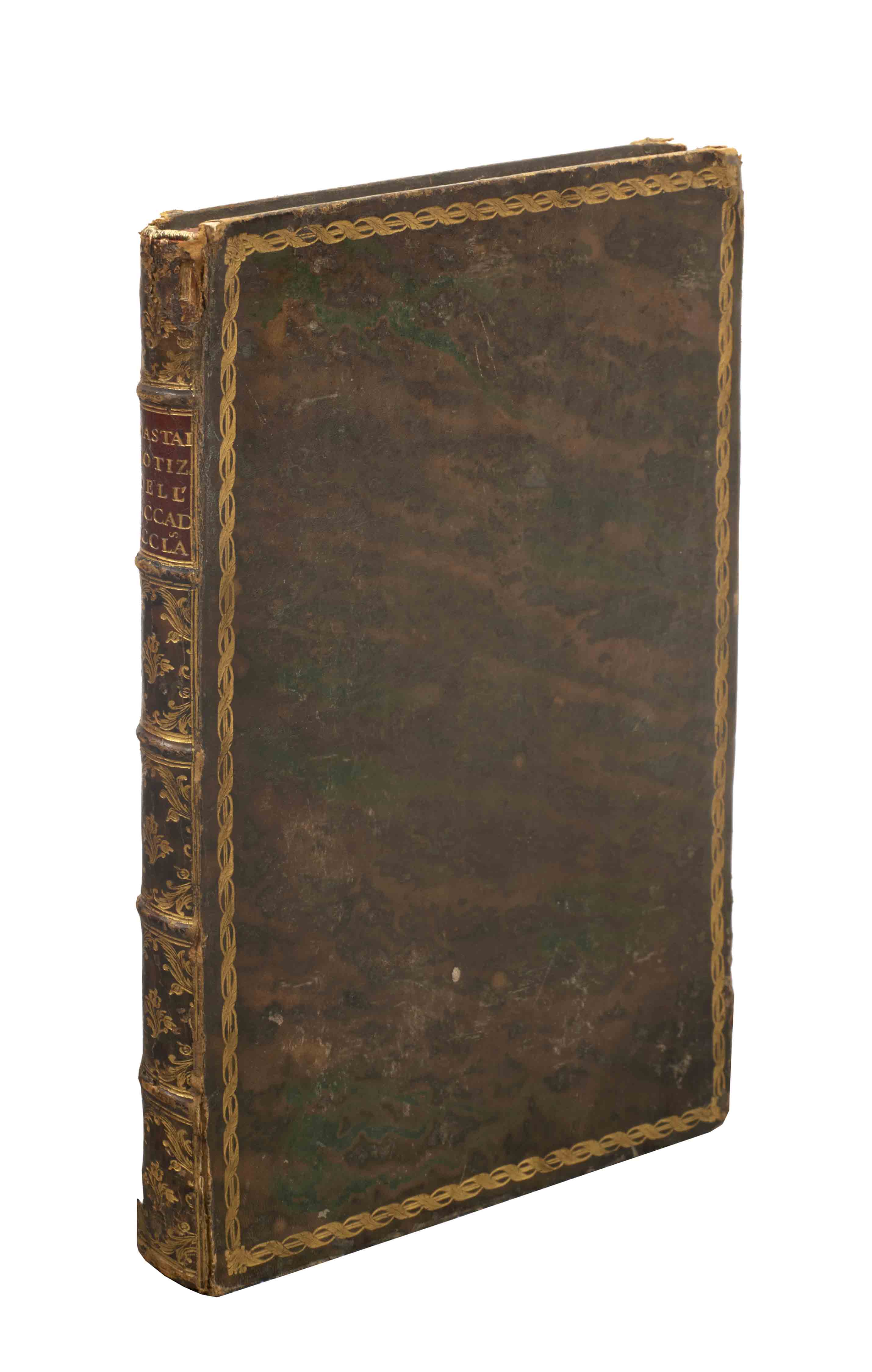 MASTAI FERRETTI, Conte Paolino.
Notizie storiche delle accademie d'Europa, con una relazione piu' diffusa dell'accademia nobile ecclesiastica di Roma ristaurata dal sommo pontefice Pio Sesto.
Rome, I Lazzarini, 1792.
4to, pp. [xii], 147, [1] blank, [6] errata; printed on blue paper, with copper engraved (by Giovanni Ottaviani) papal arms on title-page, and head- and tail-pieces to dedication; some light browning in places, principally to head and seldom affecting text, but overall a clean, wide-margined copy; in contemporary calf, boards bordered in gilt, spine gilt with morocco lettering-piece; some light wear to corners and head of spine.
£1150

Approximately:
US $1585
€1357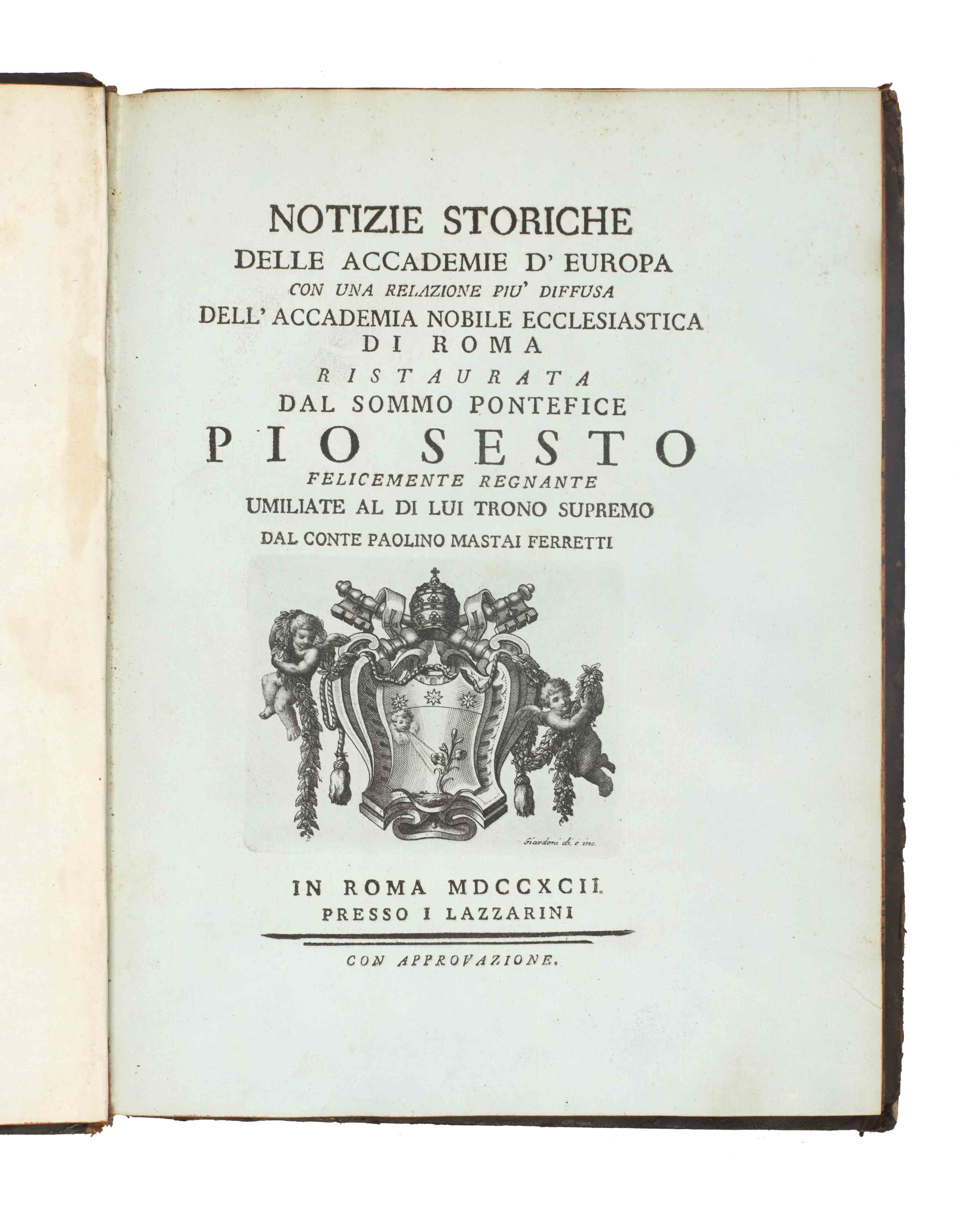 Added to your basket:
Notizie storiche delle accademie d'Europa, con una relazione piu' diffusa dell'accademia nobile ecclesiastica di Roma ristaurata dal sommo pontefice Pio Sesto.
Only edition, and a lovely copy, of this finely printed history of the academies of Europe, produced in honour of Pope Pius VI's reestablishment of, and support for the Accademia nobile ecclesiastica (now the Pontifical Ecclesiastic Academy), which had been founded in 1701, was suppressed in 1764, and reopened shortly after Pius' election in 1775.

In order to put the restoration of the Roman academy into context, Mastai Ferretti (1756–1820), who was a canon of St Peter's and the uncle of the future Pius IX, offers a brief history of all the principal academies (both universities and colleges and literary and scientific academies) of Europe, arranged by country. He describes the origins of the University of Paris and of the Académie française, the medical faculty at Montpellier, the Royal Society and Gresham College, the University of Oxford (but not Cambridge), the ancient Scottish universities, and universities in Prussia, Poland, Spain, and Russia, before turning his attention to Italy. Here, he describes the various academies of Rome, from the middle ages through to early modern foundations such as the Lincei, their roles and members, and the ways in which they integrated into Roman society. He goes on to sketch the origins of the University of Bologna, the Accademia degl'Informi in Ravenna, the Errante in Brescia, and the Ricovrati in Padua, showing the variety in purpose, from literary studies to mathematical research, that they exhibited.

The final sixty-odd pages are devoted to the Accademia nobile ecclesiastica; Ferretti describes the role of the academy in both priestly education and the study of the arts, the organisation of the academy, the lives of those who had had significant impact on it, and finally its restoration and the investment made in it by Pius VI.

Outside Italy, OCLC records copies at Harvard, Yale, BL, BnF, and the Staatsbibliothek zu Berlin.
You may also be interested in...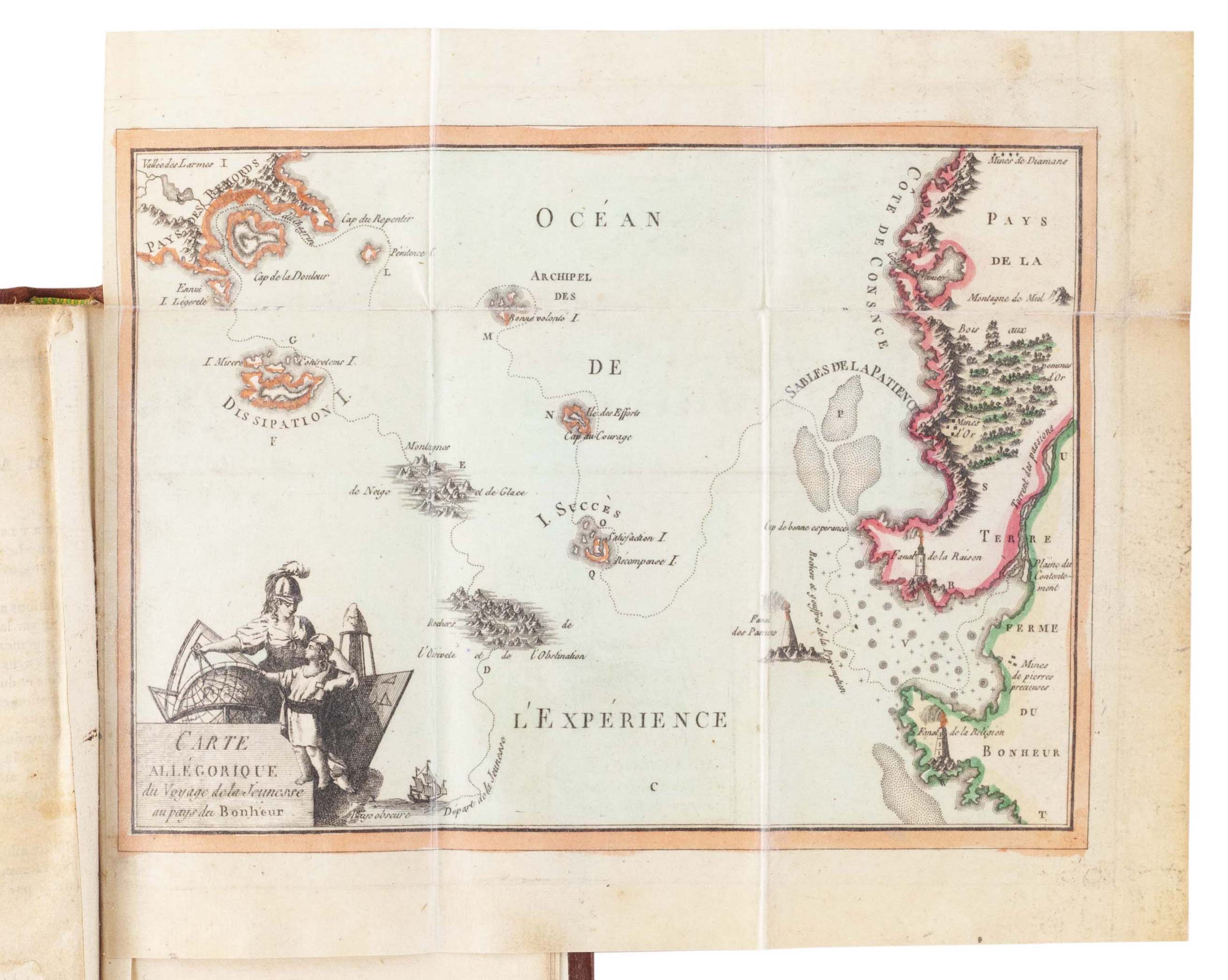 [GILLET, Robert].
The Hundred Thoughts of a young Lady, published in English and French by A.J. Lemierre. To which are added moral Apologues and Miscellanies [etc.] … /// Cent pensées d'une jeune Anglaise …
Second Paris edition, scarce, of this conduct book for young women, a paginary reprint of the Paris edition of 1798. 'This little book has been composed by mistress Gillet, a young and celebrated Institutrice in London', though this is possibly an imposture as the first edition is stated as 'by R. Gillet, lecturer on philosophy and F.F.R.S.'. It was first published in 1796 as The Pleaseures of Reason with the French text following the English, with two further editions (actually re-issues with cancel title-pages) in 1797 and 1798.
OFF TO COLLEGE ERLENBACH, Jean Jacques.
Compliment de Congé en rimes francaises, a monsieur Ziegert, sur son depart pour Halle à l'université (le 24 d'Avril 1754).
Charming and apparently unrecorded poem written on the occasion of the departure for the University of Halle of an unidentified Mr Ziegert by his disgruntled friend Johan Jakob Erlenbach (who, according to a footnote, did not expect his poem to be printed).