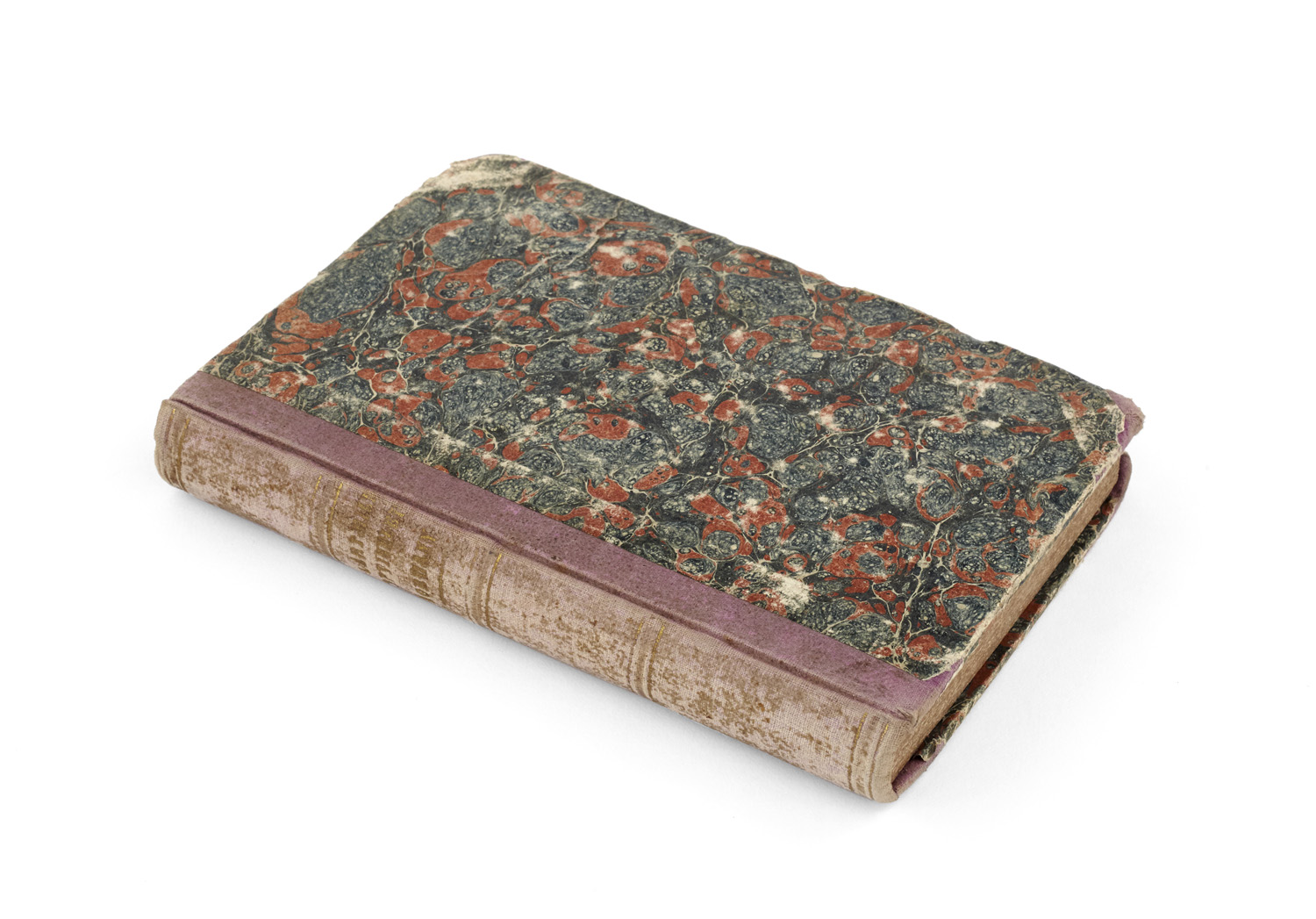 MILL, John Stuart, and Jánosi FERENCZ (translator).
A képviseleti kormány.
Pest, Emich Gusztáv Tulajdona, 1867.
8vo, pp. [4], 350, [2 (contents, blank)]; very occasional slight spotting; contemporary half purple cloth with marbled sides, spine lettered directly and ruled in gilt, edges speckled, sewn on 3 sunken cords; rubbed and bumped, spine sunned and discoloured, otherwise a very good copy; provenance: Nagy Béla (ownership inscription to title).
£1200

Approximately:
US $1639
€1398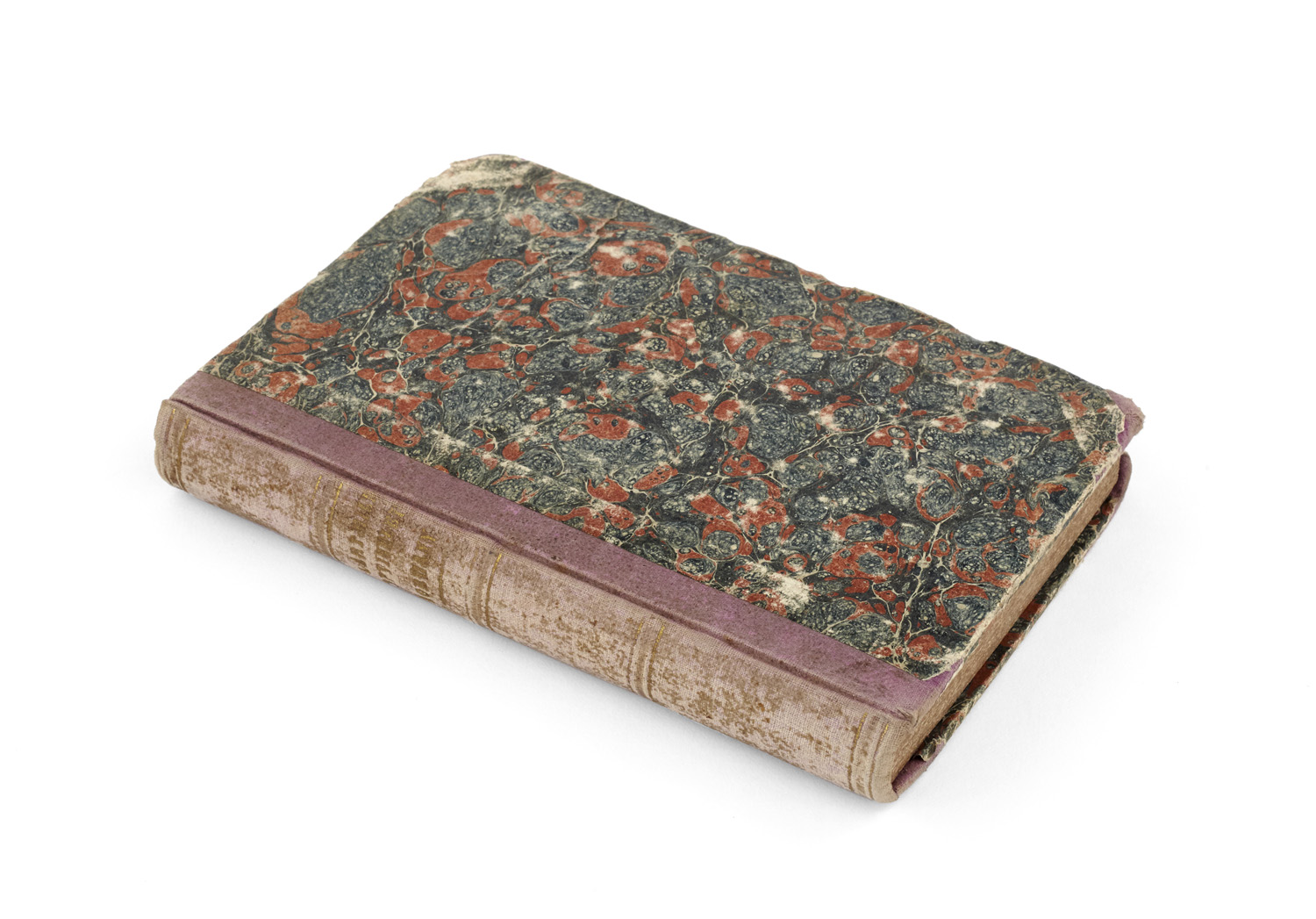 Added to your basket:
A képviseleti kormány.
First Hungarian edition of Considerations on representative Government, Mill's most important political work after On Liberty. In his major work on political institutions Mill 'discusses to what extent forms of government are a matter of choice, the criterion of a "good form of government", and explains his belief that representative government is the best form of government because it demands the most from its citizens and encourages their development. For this reason he commended the plan for proportional representation ... as "among the very greatest improvements yet made in the theory and practice of government"' (Sabine, 667). 'It is a wide-ranging book, and its interest lies as much in the discussion of general principles as in the particular recommendations regarding the ballot, proportional representation, and plural voting, not to mention the treatment of local government, federalism, and nationality' (IESS).

'The influence which Mill's works exercised upon contemporary English thought can scarcely be overestimated. His own writings and those of his successors practically held the field during the third quarter of the 19th century and even later ... Many of Mill's ideas are now the commonplaces of democracy. His arguments for freedom of every kind of thought or speech have never been improved on. He was the first to recognize the tendency of a democratically elected majority to tyrannize over a minority' (PMM 345).

The Hungarian text was translated by Jánosi Ferencz (1819-1879), friend and follower of Károly Szász and subsequently Minister of Justice.

OCLC records only two copies world-wide (Szeged and Hungarian Academy of Sciences) and none could be traced at auction.
You may also be interested in...
MARZAGLIA, Gaetano.
Fascetto di pratiche matematiche spiegato alle persone popolari per uso del comercio umano, e civile, in questa seconda edizione corretto ed accresciuto di altre molte importanti notizie.
A lovely copy of the second edition, considerably augmented from the first of 1754, of this book of applied mathematical problems by the Veronese mathematician Gaetano Marzaglia (1716-1787), heavily influenced by the work of Wolff, who provides the motto to the book, and whose works he edited and expanded. The work contains arithmetical and geometrical problems applied to mercantile, architectural, and industrial settings, dealing with the nature of money, and of weights and measures, the construction of sundials, and the division of royalties within trading companies, among many other questions. One interesting section discusses the measurement of metal coins through water displacement. Marzaglia was professor of mathematics at the Military College in Verona, and a correspondent of many of the leading scientists and mathematicians in Europe, in particular with Scipione Maffei.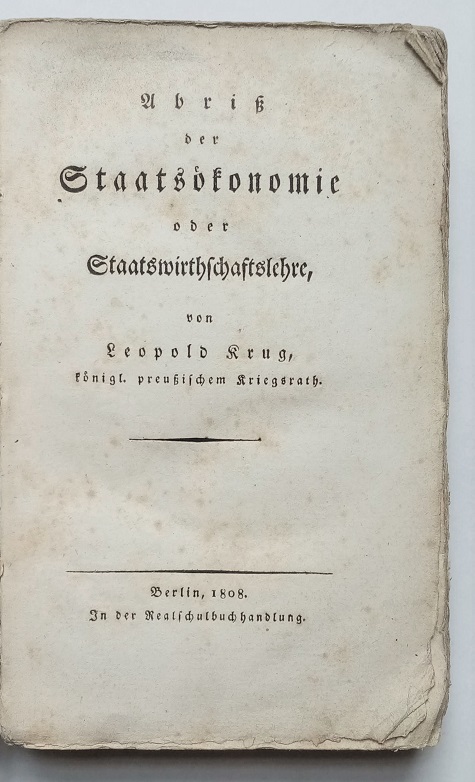 KRUG, Leopold.
Abriss der Staatsökonomie oder Staatswirtschaftslehre.
Rare first edition. Krug was a civil servant whose writings on political economy and statistics had to be carved out of 'the odd spare hour'. From 1805 to 1834 he was heavily involved in the development and expansion of the Prussian Statistical Bureau, during which time he conducted numerous statistical and economic studies. In 1804/1805 he published the economic and statistical annals of the Prussian State along with Ludwig Heinrich von Jakob. In 1826 he was accepted as a corresponding member of the Russian Academy of Sciences in St. Petersburg.