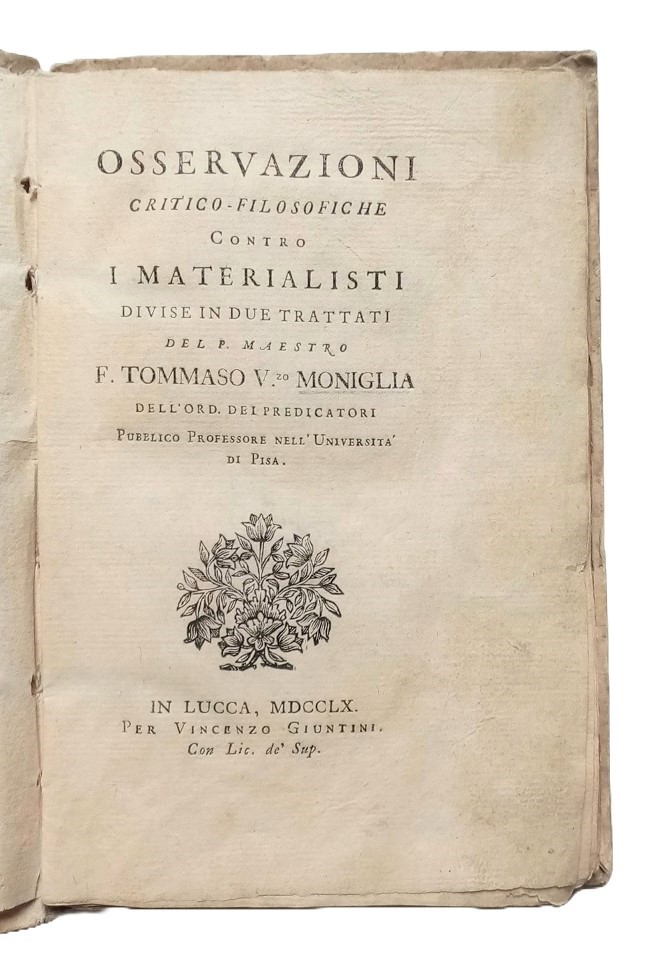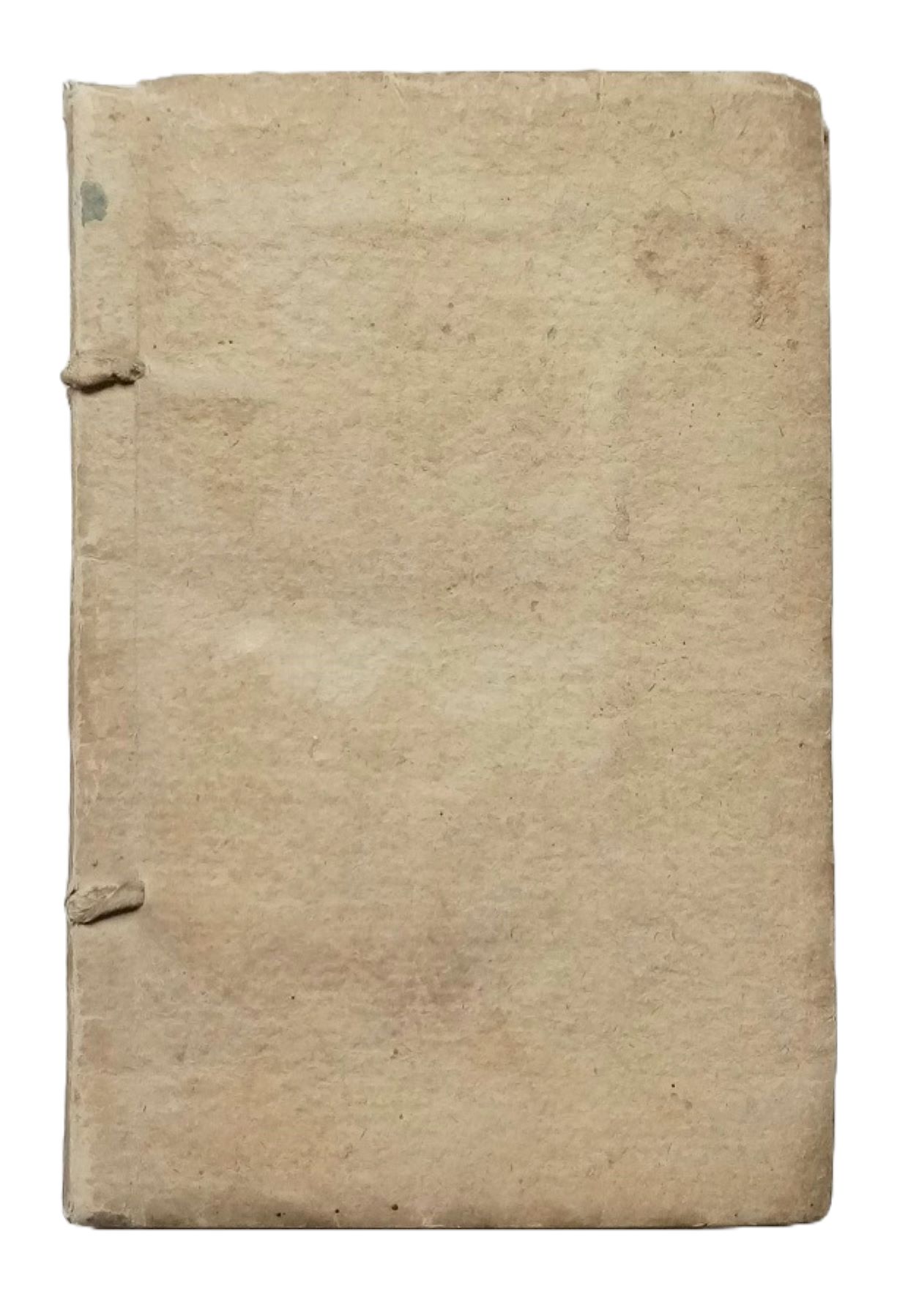 MONIGLIA, Tommaso Vicenzo.
Osservazioni critico-filosofiche contro i materialisti, divise in due tratti.
Lucca, Vincenzo Giuntini, 1760.
8vo, pp. lxxviii, [2], 367, [1]; floral device to the title page; lightly toned throughout, a few quires lightly browned, a little light foxing, one or two small marks, generally a very good copy in the original carta rustica, paper labels to spine, lower joint cracked but firm, light waterstain to the upper portion of both wrappers.
£500

Approximately:
US $688
€590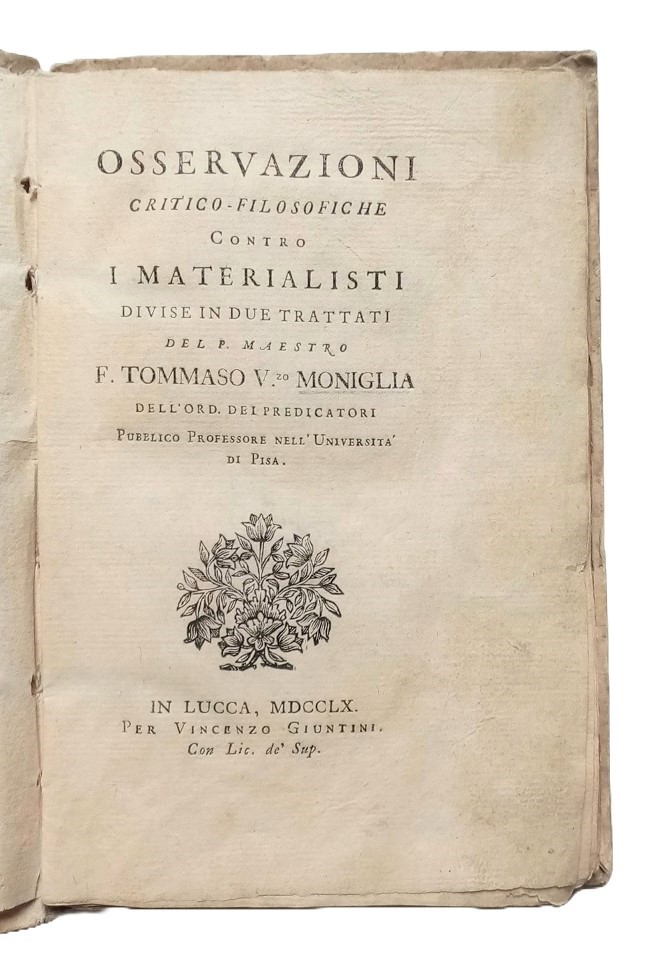 Added to your basket:
Osservazioni critico-filosofiche contro i materialisti, divise in due tratti.
Uncommon anti-materialist work by the Tuscan philosopher Tommaso Moniglia (1686-1767).

Although the ostensible target of Moniglia's work is Lucretius, and Epicureanism more generally, the focus is a broader one, taking in the materialism of Locke 'e simili distruttori', and drawing on the apologetic strategies of Polignac in his Anti-Lucretius, which had first appeared in 1745. Over two treatises, Moniglia discusses the weakness of Lucretius' views on the rational soul and its immortality, and on the nature of, and possibility of free will, before presenting a series of speculations on logic and the importance of metaphysics; here Moniglia discusses Cartesian doubt and the systems of Leibniz and Wolff, before going on to praise the Port-Royal logic of the Jansenists, and conclude with an examination of Helvetius' recently appeared L'Esprit.

Moniglia was professor of philosophy at Pisa; as a student, he spent three years in England, where he encountered the work of Locke, then little known in Italy; his writings include the 1744 Dissertazione contro i fatalisti, in which he sought to temper Lockean empiricism with traditional Catholic teaching.

OCLC records copies at Cambridge and the British Library, with a copy also at Toronto.
You may also be interested in...
[ISELIN, Isaak]. [WANDALL, Peder Topp trans.]
Philosophiske og Patriotiske Drømme af en Menneskeven. Oversatte af Peder Topp Wandall.
First Danish edition of Iselin's earliest work, the very successful Filosofische und patriotische Träume. First published in 1755, a couple of years after his deeply affecting journey to France, having met among others Rousseau, Fontenelle and Buffon. His reformist version of utopia, a response to Rousseau's ideal state of nature, aimed at sketching the traits of the optimum government in concrete terms of public administration, social structure, education and legality, and at tracing the history of human progress from barbarism to higher states of civility, which was to be the basis of the organic notion of state, as opposed to Rousseau's theory of social contract. Iselin's subsequent articles were infused with natural law arguments, with Leibniz' and Wolff's 'enlightened' logical tools, and with a practical view of religion as active and beneficial participation in the community.
A BIBLIOPHILE BUYING BACK HIS OWN BOOKS ERASMUS, Desiderius and Gerard LISTRIUS (commentator).
Moriæ encomium … epistolæ aliquot in fine additæ.
Second Maire edition of Erasmus' Praise of Folly, in a handsome binding by Simier, from the celebrated library of the count De la Bédoyère, and appearing in the catalogues of both dispersals of his library.