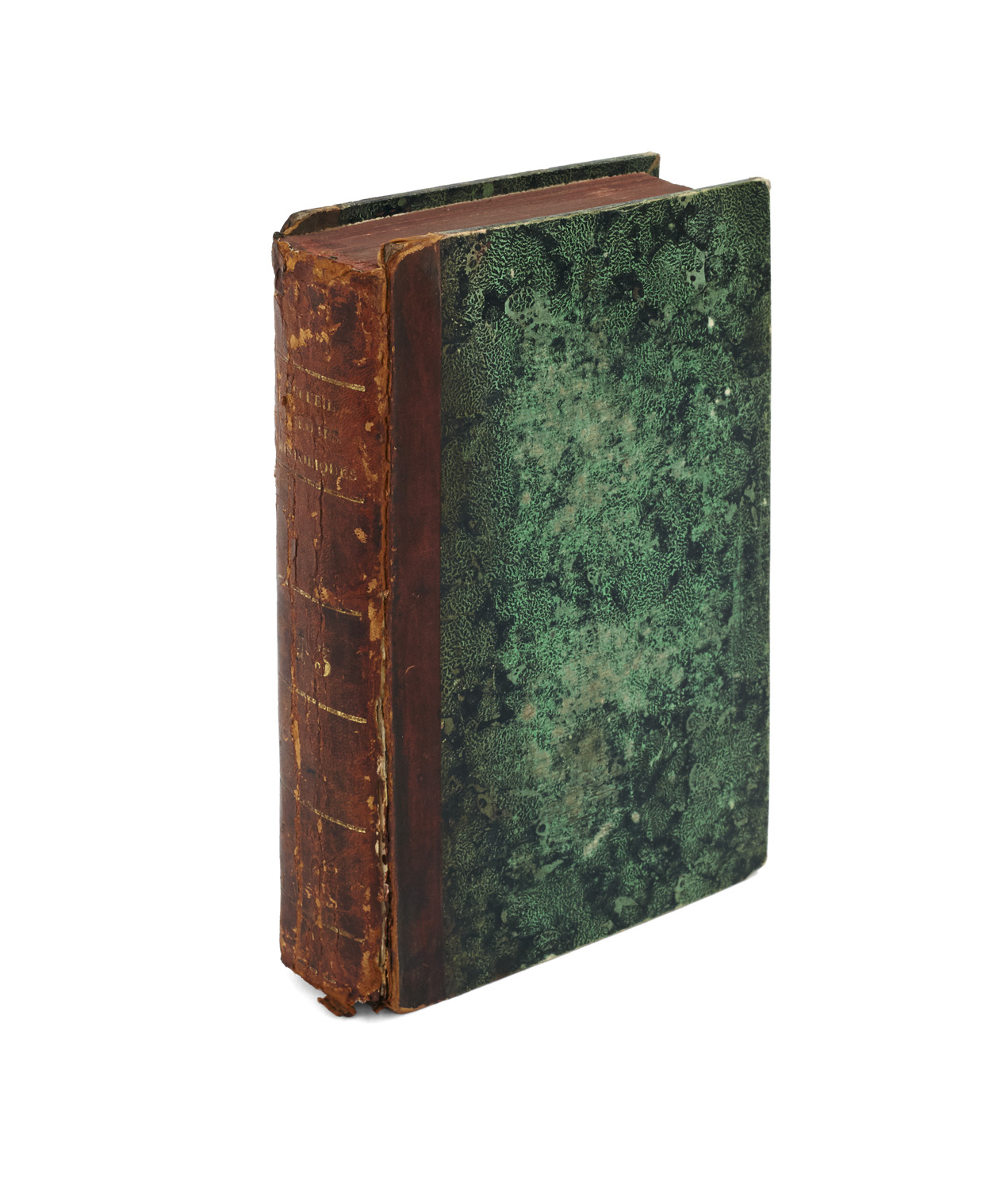 EULOGY AS MANIFESTO
[NECKER, Jacques.]
Eloge de Jean-Baptiste Colbert, Discours qui a remporté le prix de l'Académie Françoise, en 1773.
Paris, J.B. Brunet, 1773. [bound with:]
Eight works in one volume, 4to, pp. [8] title, privilege, contents, 135, [3] blank, 60, [2] blank, [6] with half-title and preface, 54, [2] blank, [4] title and advertisement, 64, [2] blank, 30 with half-title, [4] blank, 3-67 wanting advertisement, [3] blank, [2] title, 2 preface, 28, [2] blank, 23, [3] blank, woodcut headpieces and tailpieces to all except second work, woodcut initials to all except fourth and fifth, printer's devices throughout; laid paper with some light foxing and browning, small paper flaw to title-page of second work with attempted repair, title-page of sixth work partly laid down with some manuscript in-filling, otherwise clean; preserving original green silk bookmark, edges painted red; in contemporary quarter calf over green boards, flat spine filleted and lettered in gilt, some rubbing to corners, joints cracked but holding, spine ends worn off, extremities rubbed; ownership inscription (damaged) to title-page of sixth work, with contents in owner's own hand to final two blanks.
£750

Approximately:
US $926
€864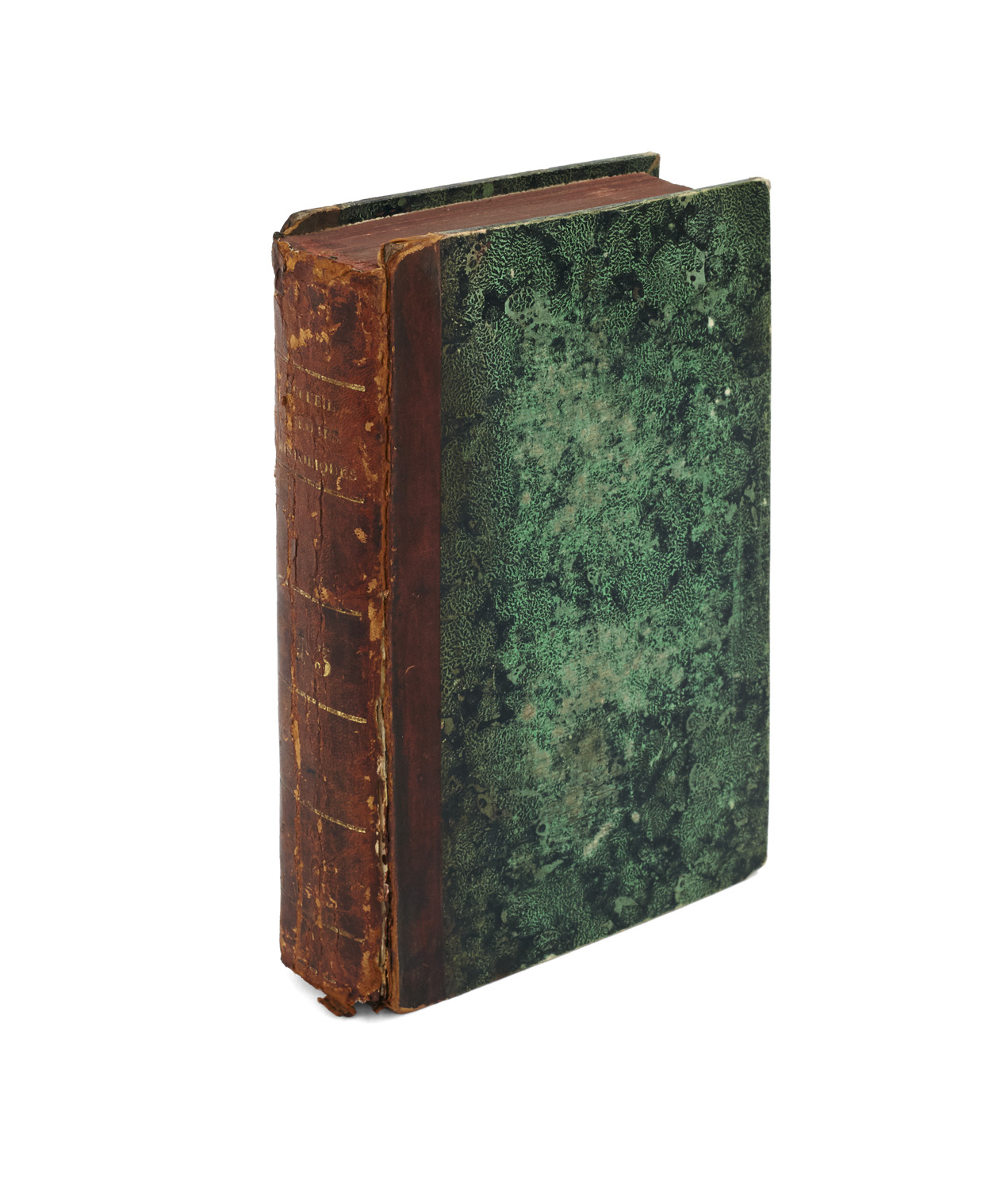 Added to your basket:
Eloge de Jean-Baptiste Colbert, Discours qui a remporté le prix de l'Académie Françoise, en 1773.
First edition of Necker's first work. Necker (1732–1804) was the opponent of Turgot (whose position he was to take over in 1777) in action as well as in theory, agreeing with Forbonnais on the side of State-regulation. The encomiastic function of this work, his first book, is in fact a thin cover for what is effectively Necker's first exposition of his 'interventist' sensibility in economics. Here as in his later works Necker loses no opportunity of emphasising his dissent from 'laissez-faire' and the Tableau économique. His declamatory appeals to the rights of humanity and attacks upon landed property, though probably incited by political ambitions, bring him into close harmony with State-socialists, who, like himself, favoured substantial government intervention; and the Physiocrats had always to reckon with him as a determined adversary.

Necker's eulogy is here bound in a miscellany of eulogies for several French statesmen, diplomats and military leaders, of which four are written in honour of Colbert.

I: Goldsmiths' 10954; Kress 6958; Higgs 5713; INED 3360; not in Einaudi or Mattioli.
You may also be interested in...
'THE BOOKSELLERS GROW RICH
WITHOUT UNDERSTANDING THE BOOKS THEY SELL' [MARANA, Giovanni Paolo (attr.).]
Letters on the French Nation, by a Sicilian Gentleman resident in Paris, to his Friend in his own Country.  Containing an useful and impartial Critique on that City, and the French Nation.  Translated from the Original. 
First edition of this translation, very rare, of a work first printed in French in Paris in 1700 (see below) and, in a different translation, in English in 1704 as An agreeable Criticism of the City of Paris. 
[COVENTRY, Francis].
La Vie et les aventures du petit Pompée. Histoire critique traduite de l'anglois par M. Toussaint …
First edition? in French of Coventry's most famous work, The History of Pompey the Little, or, The Life and Adventures of a Lap-Dog (1751), a lively satire of fashionable London life, told through the eyes of a favoured pet.