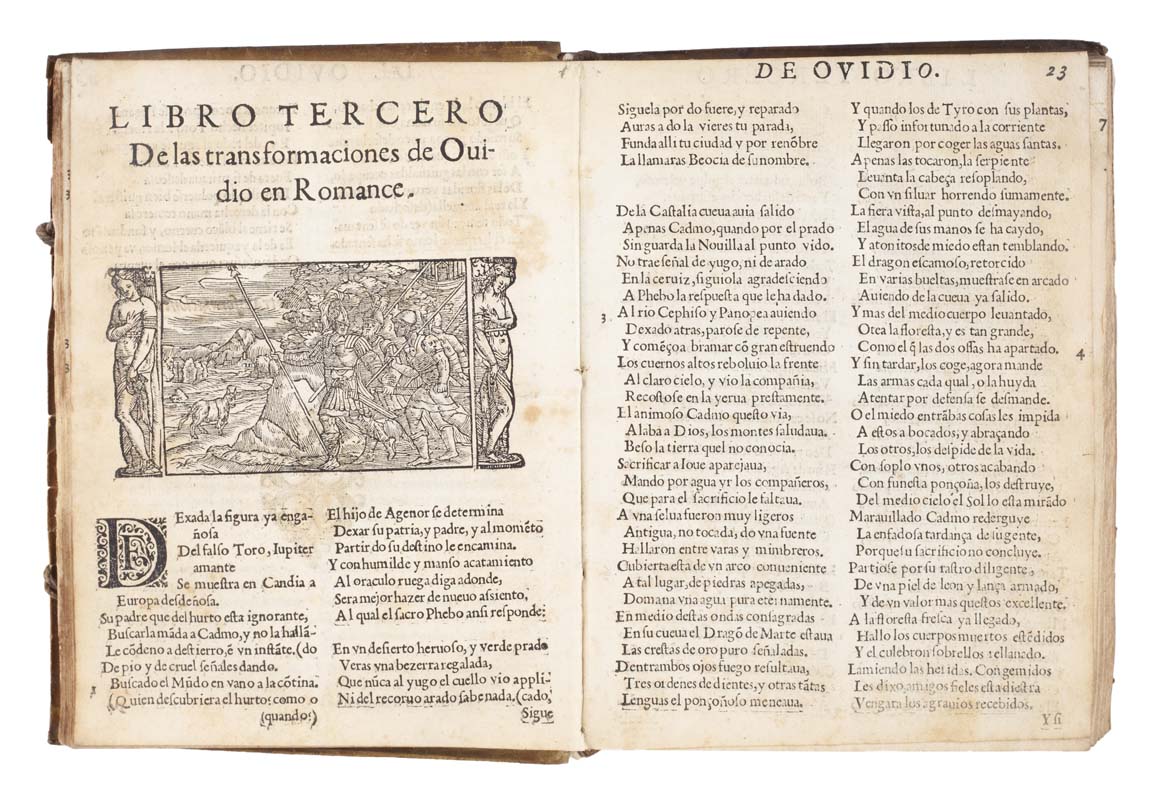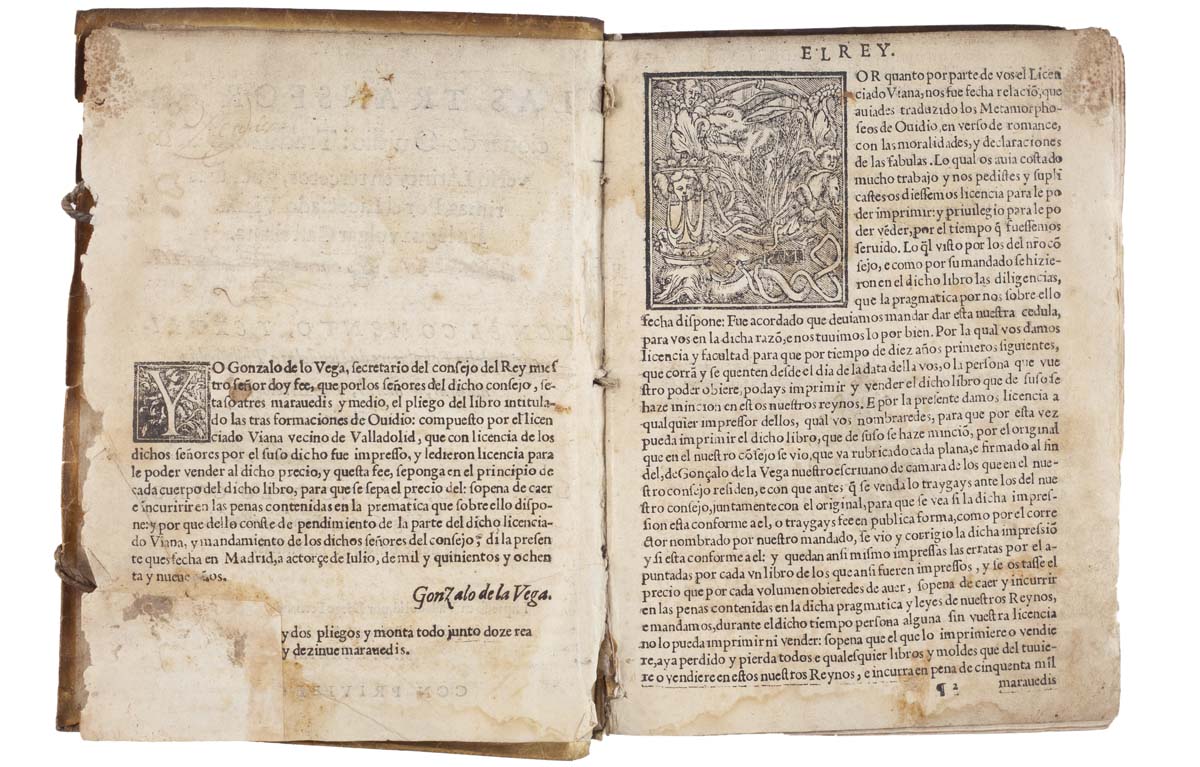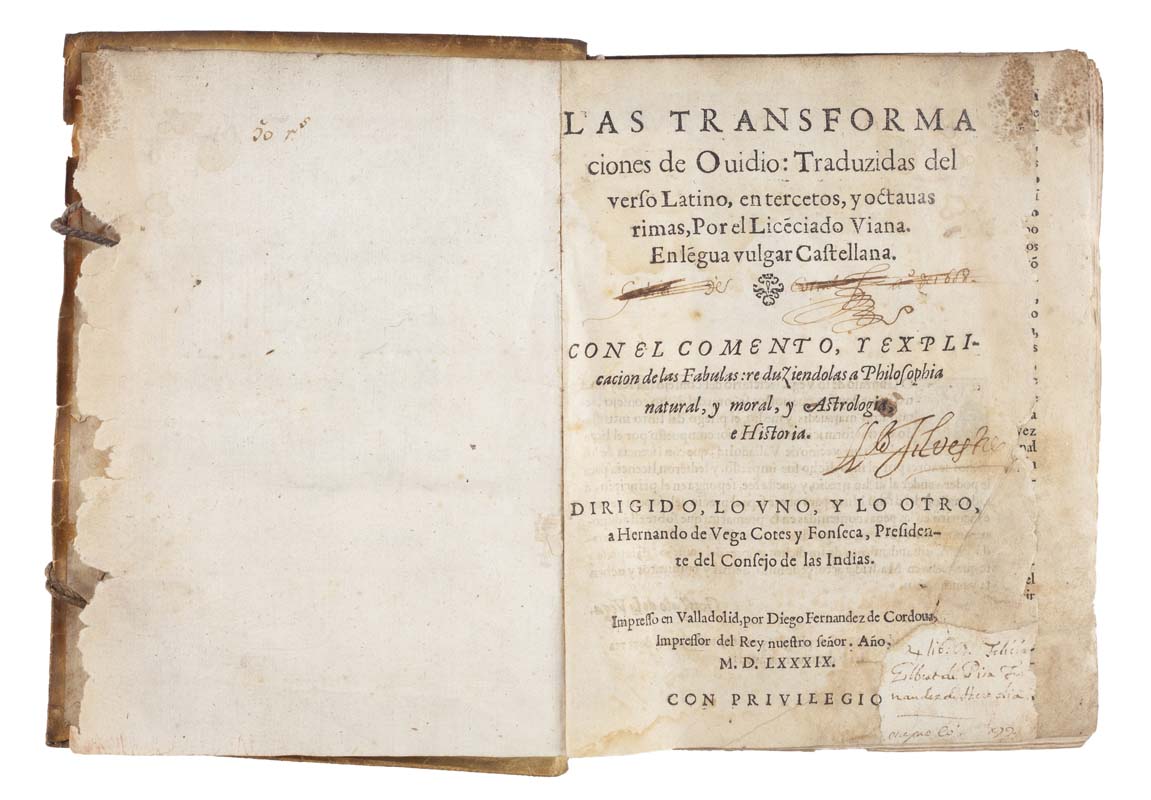 OVID IN THE AGE OF CERVANTES
OVIDIUS Naso, Publius, and Pedro Sánchez de VIANA (transl. and ed.).

Las transformaciones. [issued with:] Anotaciones sobre los quinze libros de las Transformaciones.
Valladolid, Diego Fernández de Córdoba, 1589.
4to, ff. [16], [2 (blank)], 179, [1]; 264, '295-314' (i.e. 265-284), [4 (index)]; woodcut illustrations, one to each book, surrounded by cartouches, one 14-line woodcut initial and many 4-line woodcut initials, woodcut device on second title-page, running titles; title-page stained and chipped with some tears and lower outer corner torn off and repaired at an early stage, text-block trimmed close with a few headlines shaved, large ink stain on 2Q4v-5r, quire 2V misbound, upper corner of 2H1 torn with slight loss, large old repair on verso of dedication of second work, wormhole in gutter in the second part; contemporary limp vellum preserving two string loops and one button, spine lettered in ink; edges soiled and a little worn; provenance: Gabriel del Corral (1588–1652, writer and priest), inscription on title-page dated 16[-]8 and a few marginalia in ink in the commentary; inscription (probably in Heber's hand) on inside front cover 'Bibl. Mayans, March 1829, Wheatley 579': Gregorio Mayáns y Siscar (1699–1781, lawyer and historian of sixteenth-century Spanish humanism), bought at a Wheatley and Adlard auction, then in the possession of Richard Heber, Bibliotheca Heberiana stamp, sold at Sotheby's, 1 May 1834, lot 5194 to Riego; armorial bookplate of Philip H. Calderon (1833–1898, artist).
£8000

Approximately:
US $9767
€8963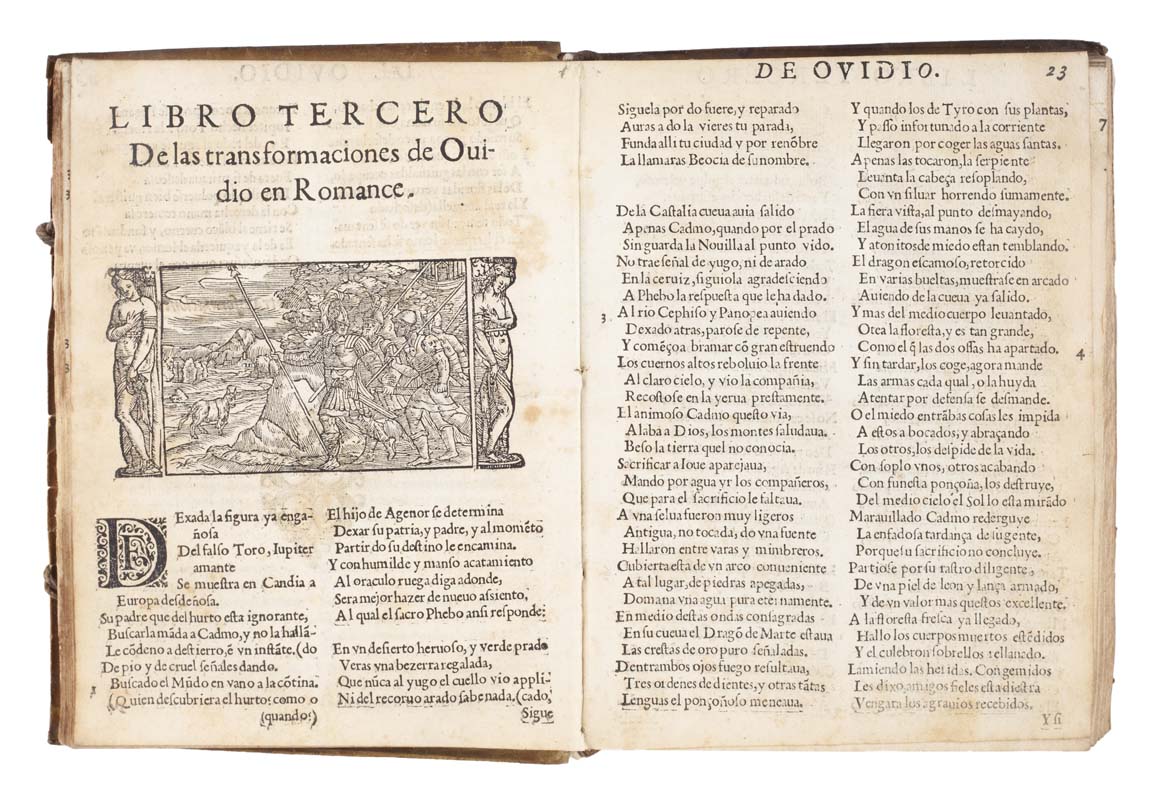 Added to your basket:
Las transformaciones. [issued with:] Anotaciones sobre los quinze libros de las Transformaciones.
First edition, a copy of notable provenance, of perhaps the most successful early Spanish translation of Ovid's Metamorphoses, by Pedro Sánchez de Viana (1545–1616), published along with his substantial commentary. In the age of Cervantes (another master of literary transformations), Ovid exerted wide and lasting influence on Spanish literature, uniquely able, among the Latin poets, to echo and clothe in myth and beauty the ambitions and anxieties of a generation of poets caught in a world of deep change. The re-elaboration of themes such as madness, desire, doubt, and self-knowledge in Cervantes and his contemporaries rely on Ovid's imagery and language, and de Viana's translation proved an important cultural transposition. Set out in hendecasyllables in alternate rhyme, the text itself is vivid and memorable. It is the commentary, however, which especially commands attention: sources for interpretation range from classical writers to Medieval scholastics, to more recent philologists including Hebrew and Spanish thinkers; but this already considerable feat is crowned by de Viana's attention for literary emulation over mere exegesis, and by his wholly humanistic rejection of moralizing interpretations (which had been ubiquitous up until his generation) in favour of providing readers with tools to develop own views.

Palau 207496 and 207497; USTC 340434; see J. C. Parrack, 'Mythography and the Artifice of Annotation: Sánchez de Viana's Metamorphoses (and Ovid)' in Ovid in the Age of Cervantes (2010, ed. De Armas), pp. 20-36).
You may also be interested in...
A CALL TO ARMS AGAINST THE OTTOMAN TURKS CAMPANO, Giovanni Antonio.
Oratio ... in [con]ventu Ratispo. ad exhortandas principes Germano[rum] contra Turcos et de laudibus eorum ... M.cccc.lxxi.
First edition of this speech by Campano intended to incite the belligerency of the Germans against the Turks, in the wake of Turkish raids into Friuli, in northeast Italy, which had begun in 1469. Famous for his Latin epigrams, verses, orations, and biographical and historical works, Campano (1429–1477) won the favour of Pope Pius II in 1459, soon becoming a member of the pope's literary circle. In 1465 he joined the household of Cardinal Francesco Todeschini Piccolomini (later Pius III), and it was in his service that he participated at the Diet of Regensburg in 1471. Convened by the Holy Roman Emperor Frederick III, the Diet was intended to address both Germany's internal problems and the Turkish question. Composed for the occasion, Campano's Oratio planned to stir the Germans into action against the Turks, but a considerable delay in opening the Diet and its focus on Germanic issues meant that while the speech was widely diffused, it was never delivered. Campano was bitterly disappointed, expressing his aversion to the Germans in his letters to Italy.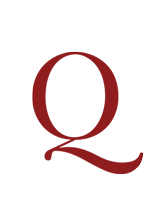 'ABOUT TO STEP FIRMLY INTO THE PAGES OF HISTORY' GARCÍA LORCA, Federico (1898-1936).
Autograph postcard, signed 'Federico', addressed to his parents.
An autograph postcard from Lorca to his parents, sent from Valladolid on the eve of his celebrated poetry reading there in April 1926 at the instigation of Jorge Guillén – an important landmark in the advance of Lorca's growing celebrity throughout Spain.