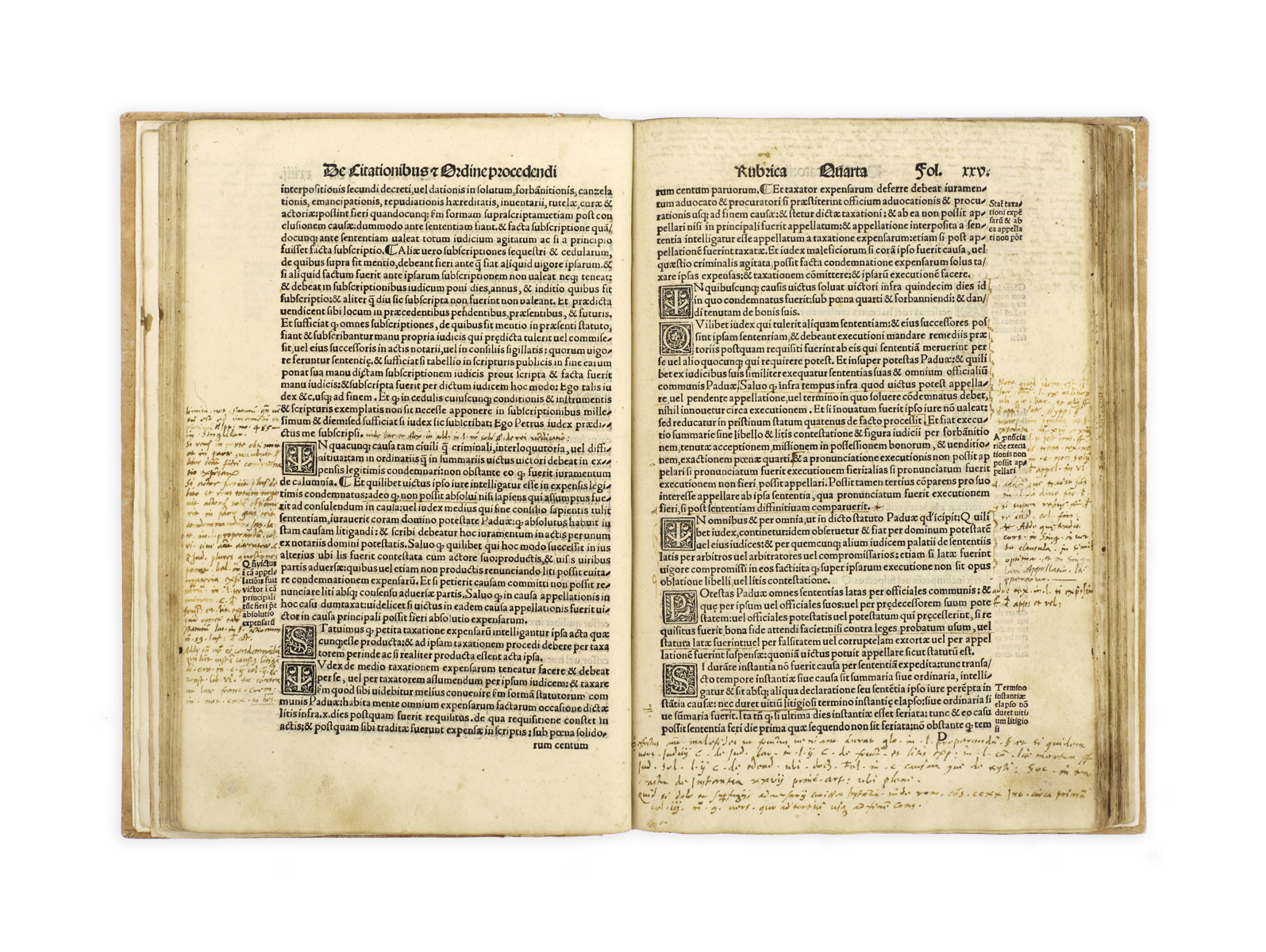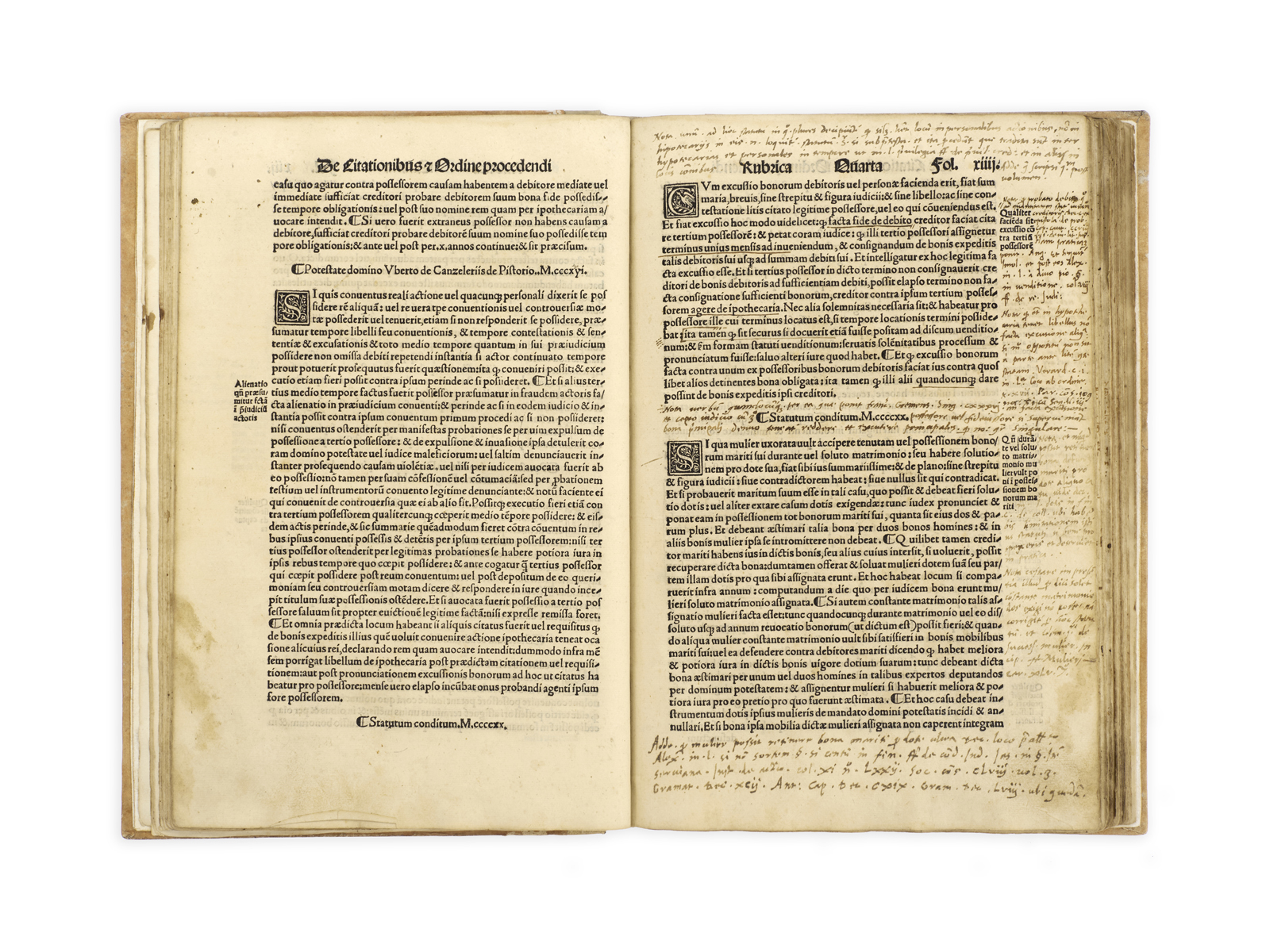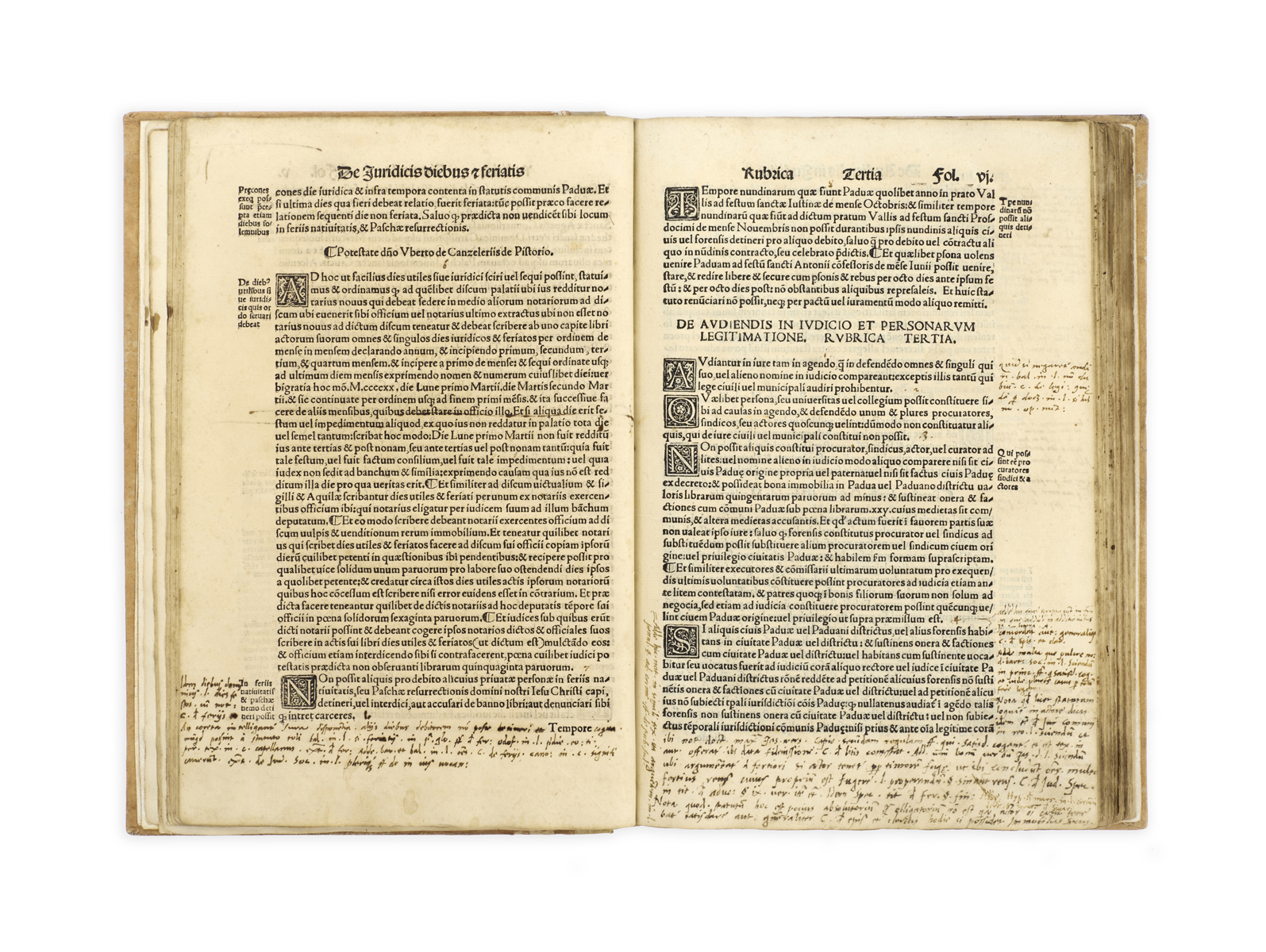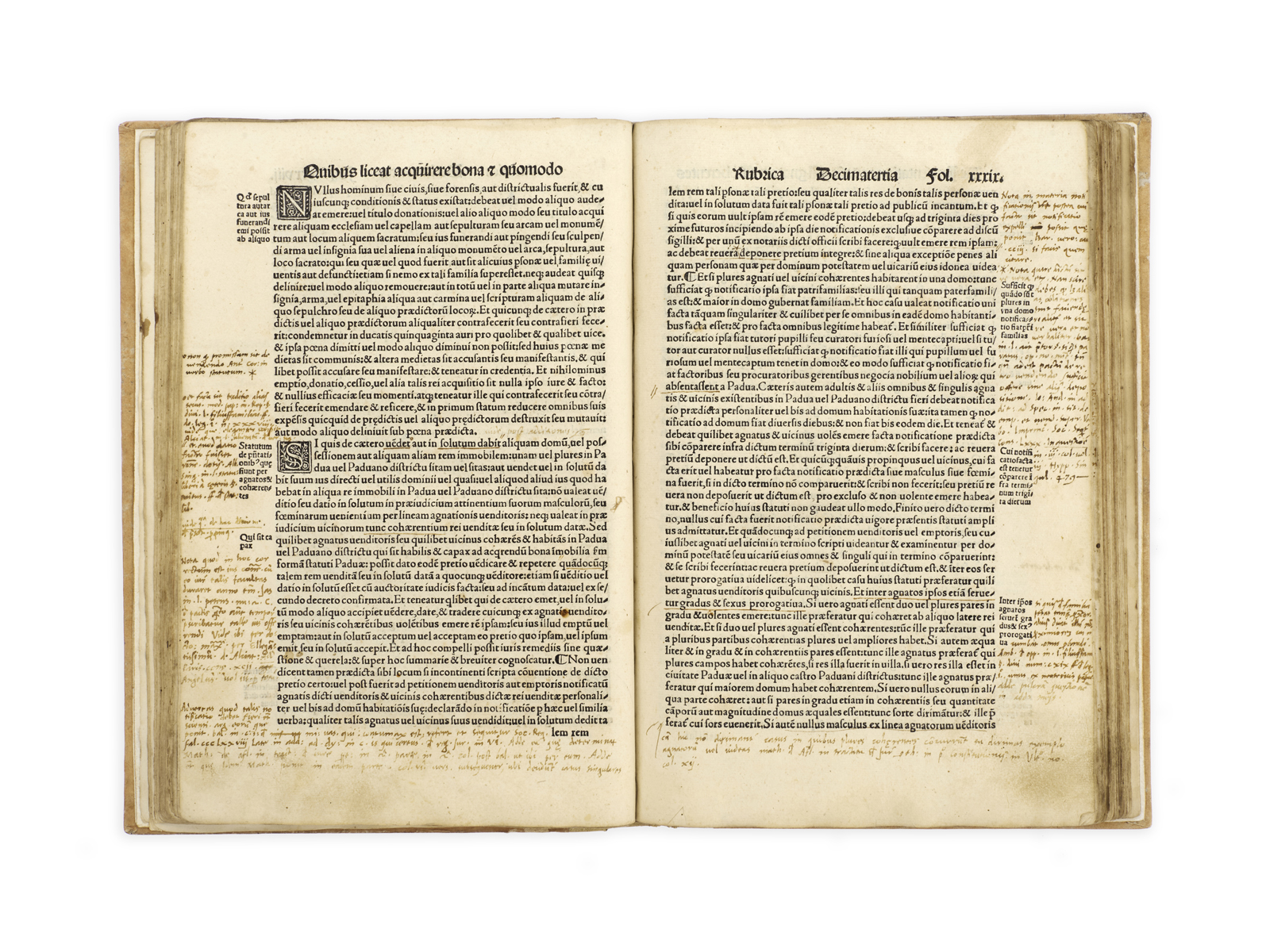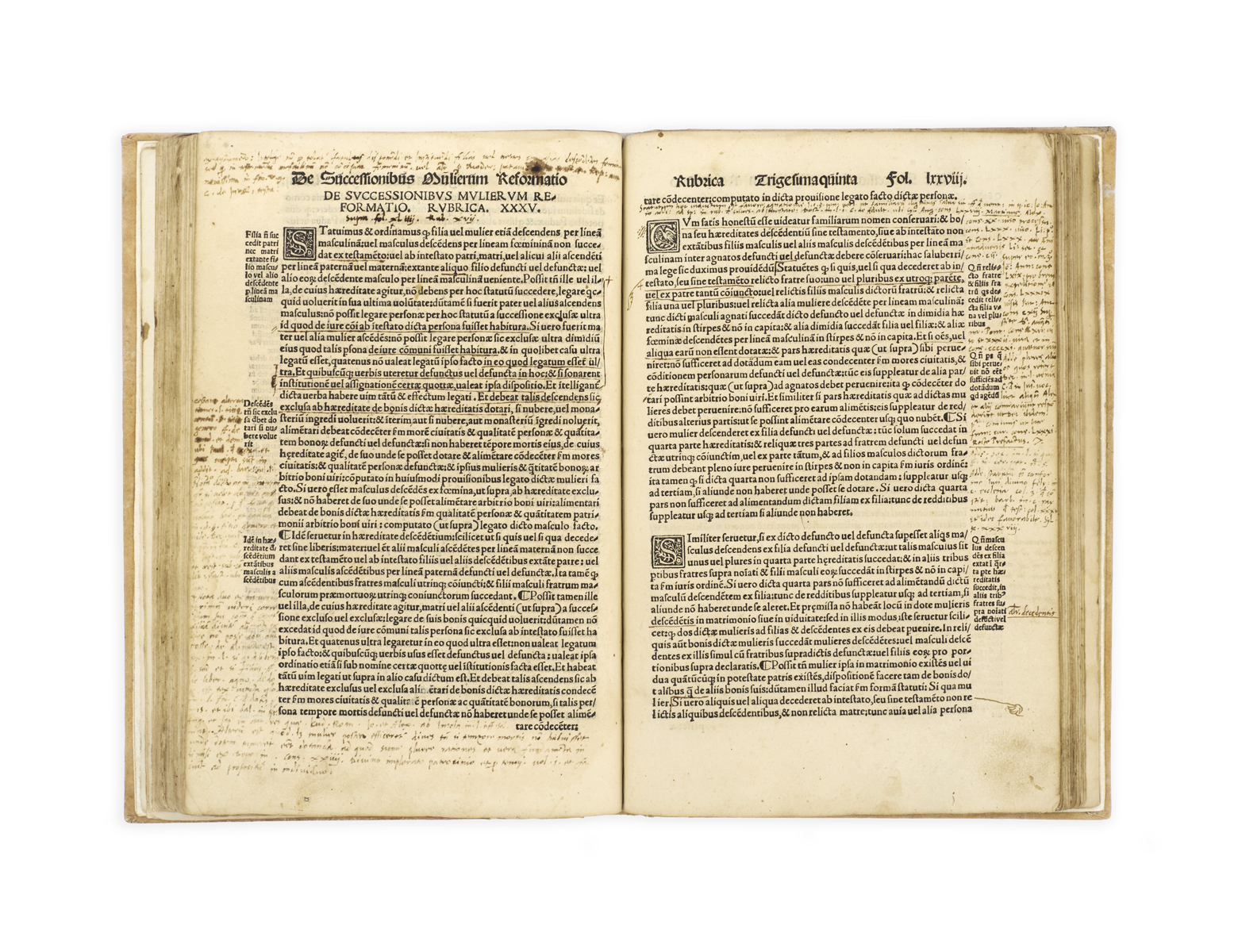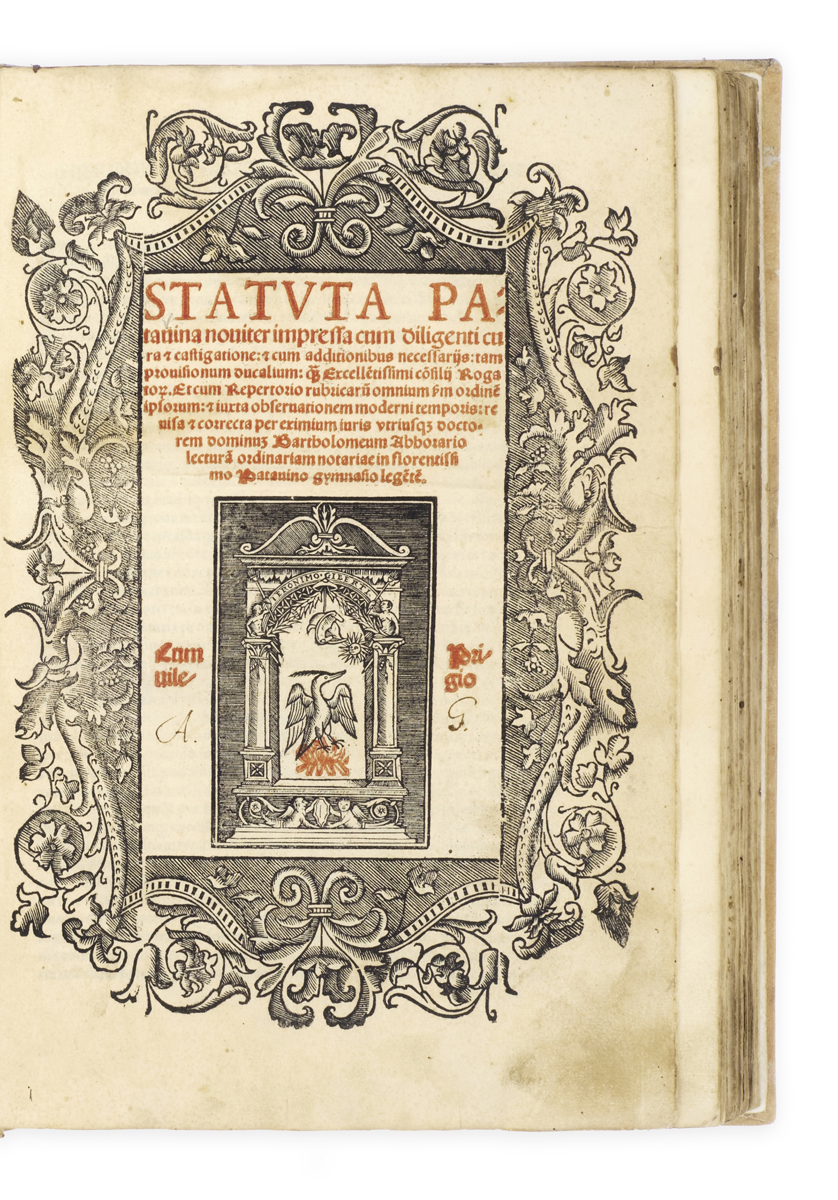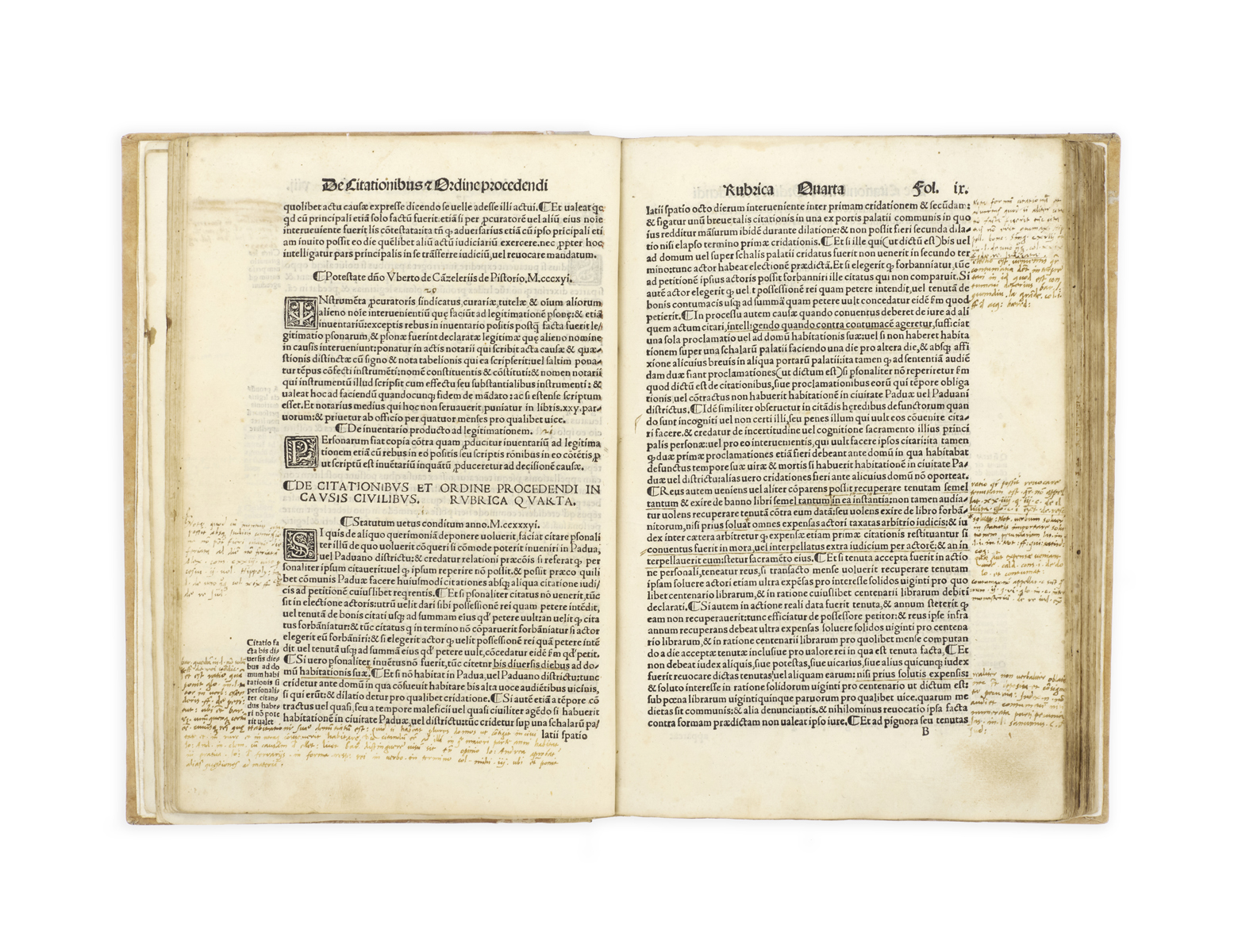 PADUAN PROTOCOLS
[PADUA.] 
Statuta Patavina noviter impressa cum diligenti cura et castigatione et cum additionibus necessariis tam provisionum ducalium q[ua]m excelle[n]tissimi co[n]silii rogator[um] … revisa et correcta per … Bartholomeum Abborario … 
Venice, Girolamo Giberti, 25 January 1528. 
Folio, ff. [24], CXLII; title in red and black within woodcut frame with woodcut printer's device, f. Ir in red and black within woodcut border, woodcut initials; closed tears to ff. LXXXI and CXLI (without loss, old repairs), some light marks and browning; good in recent quarter vellum and pale orange boards, title inked to spine; a little wear to edges, light marks to covers; initials 'A. G.' to title, extensive marginal annotations in a sixteenth-century hand to c. 91 pp.
£2500

Approximately:
US $3034
€2888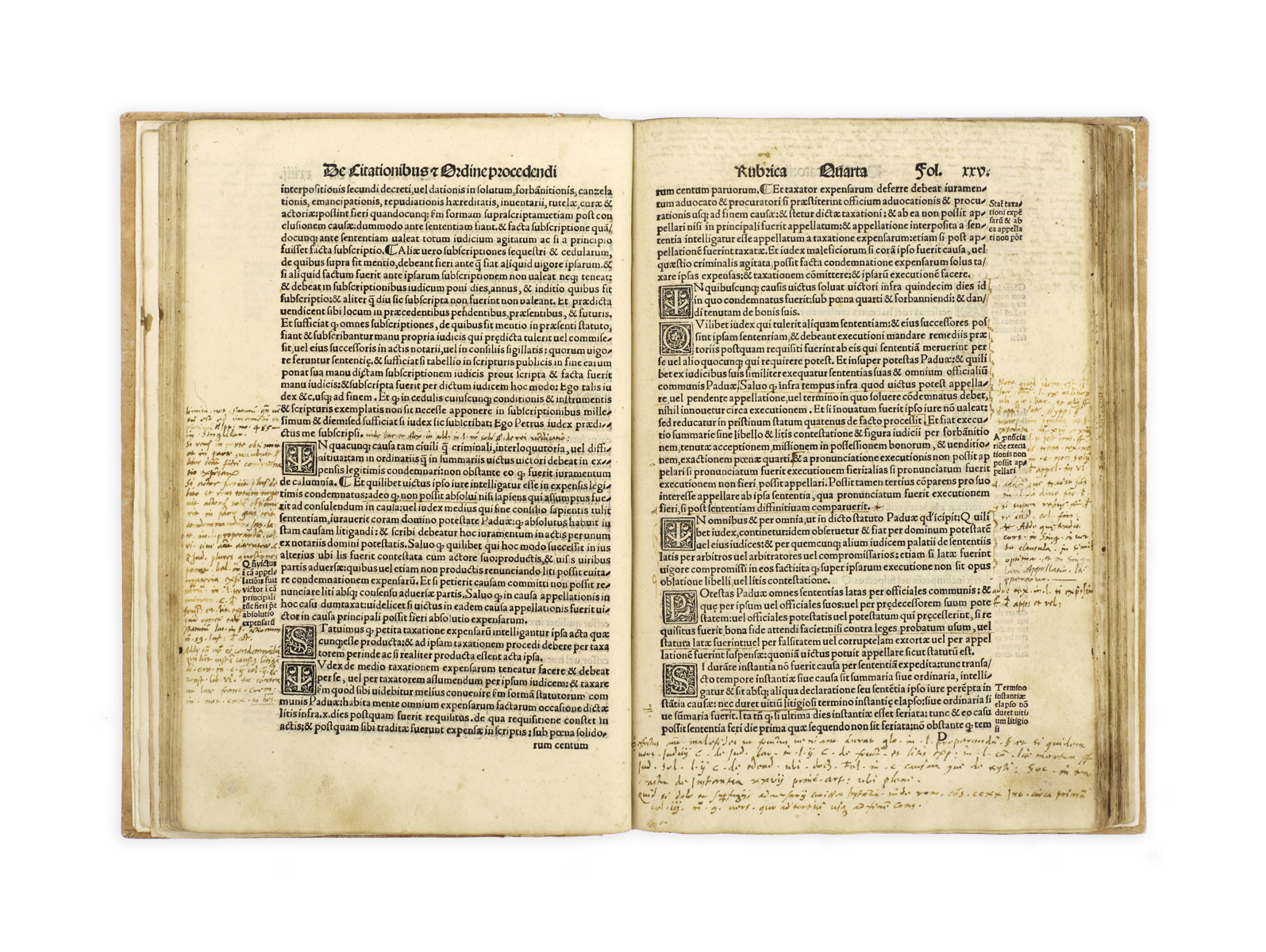 Added to your basket:
Statuta Patavina noviter impressa cum diligenti cura et castigatione et cum additionibus necessariis tam provisionum ducalium q[ua]m excelle[n]tissimi co[n]silii rogator[um] … revisa et correcta per … Bartholomeum Abborario … 
An attractive volume of statutes relating to the city of Padua in northern Italy, edited by the legal scholar Bartolomeo Abborario, with detailed annotations by a practicing local lawyer. 

The marginalia in this copy, by an anonymous sixteenth-century annotator, clarify and amplify certain passages (beginning 'adde', 'nota', or 'concordat', for example), and refer to various legal authorities alongside actual practice ('realiter').  Our postillator shows a particular interest in laws relating to women's property rights and rights of succession, to marriage and dowries, to the order of proceeding in civil cases, and to disputes between relatives, also adding a note on sodomy. 

The coverage of the Statuta Patavina is wide-ranging, encompassing, for example, judges and their duties (including cases of alleged incompetence), the hours when courts may sit and holidays, forged documents, merchants and trade, the poor, livestock, exile and imprisonment, fugitives, blasphemy and defamation, bodily harm, murder, assassins and traitors, adultery, incest, thefts, fires, forbidden weapons, the night-time (e.g. no playing of trumpets or drums), and prostitutes and pimps. 

EDIT16 37710.  Library Hub records only two copies in the UK (BL, Bodleian). 
You may also be interested in...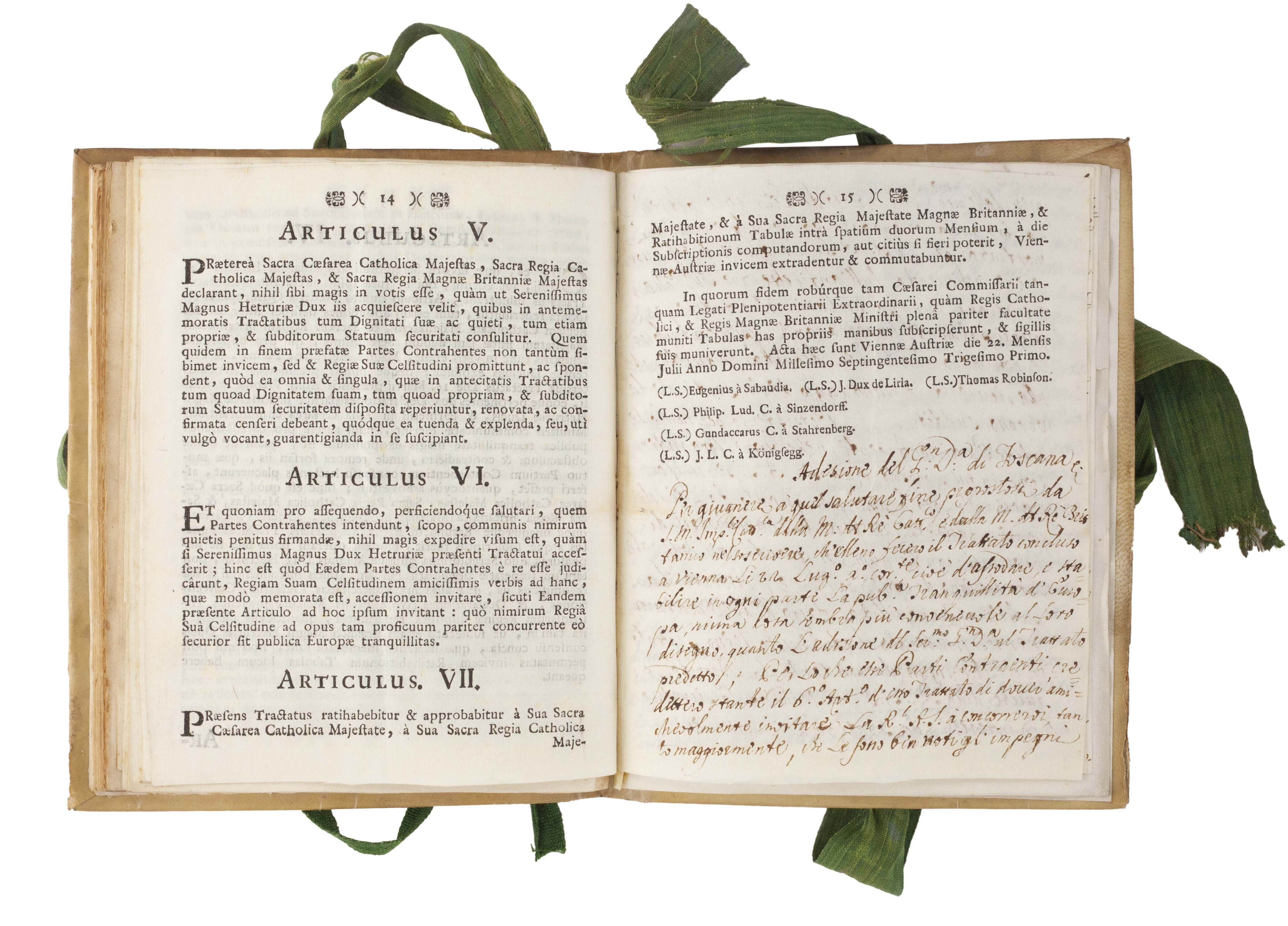 PEACE AT ANY PRICE [TREATIES.]
Volume of tracts on European treaties of peace and alliance.
A collection of scarce texts relating to the Peace of Vienna (1725) and subsequent treaties of Hanover (1725), Paris (1727), Seville (1729), and Vienna (1731), with contemporary manuscript additions in Italian and French clearly composed by someone in diplomatic service. The collection eloquently attests to the shifting alliances and jostling for position among the major European powers in the 1720s.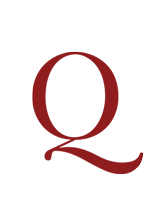 PRESENTATION COPY – ANNOTATED BECQUE, Henry.
Les Corbeaux, pièce en quatre actes.
First and second editions of Becque's innovative realist drama, inscribed by the author on the first half-title to 'mon cher [Jules-Charles] Truffier', with authorial marks and annotations on thirty-three pages in the second edition showing changes made for performance.