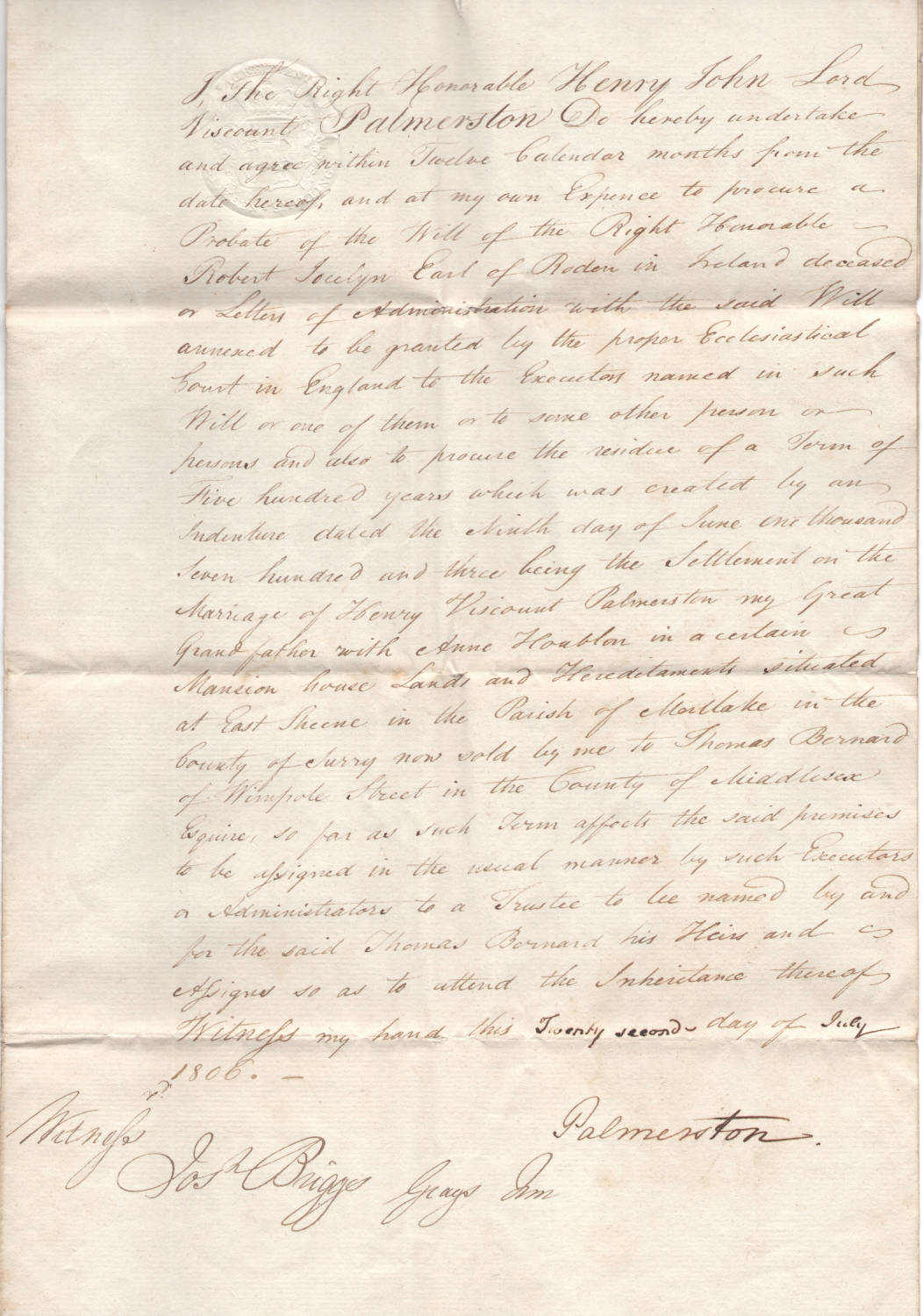 PALMERSTON, Henry John Temple, third Viscount.
Signed undertaking to procure an Assignment of Term from the Executors of the Will of the Earl of Roden.
22 July 1806.
One-page folio, on a bifolium, with integral docket; folded 3 times, with some browning to edges and creases; in very good condition.
£675 + VAT

Approximately:
US $915
€806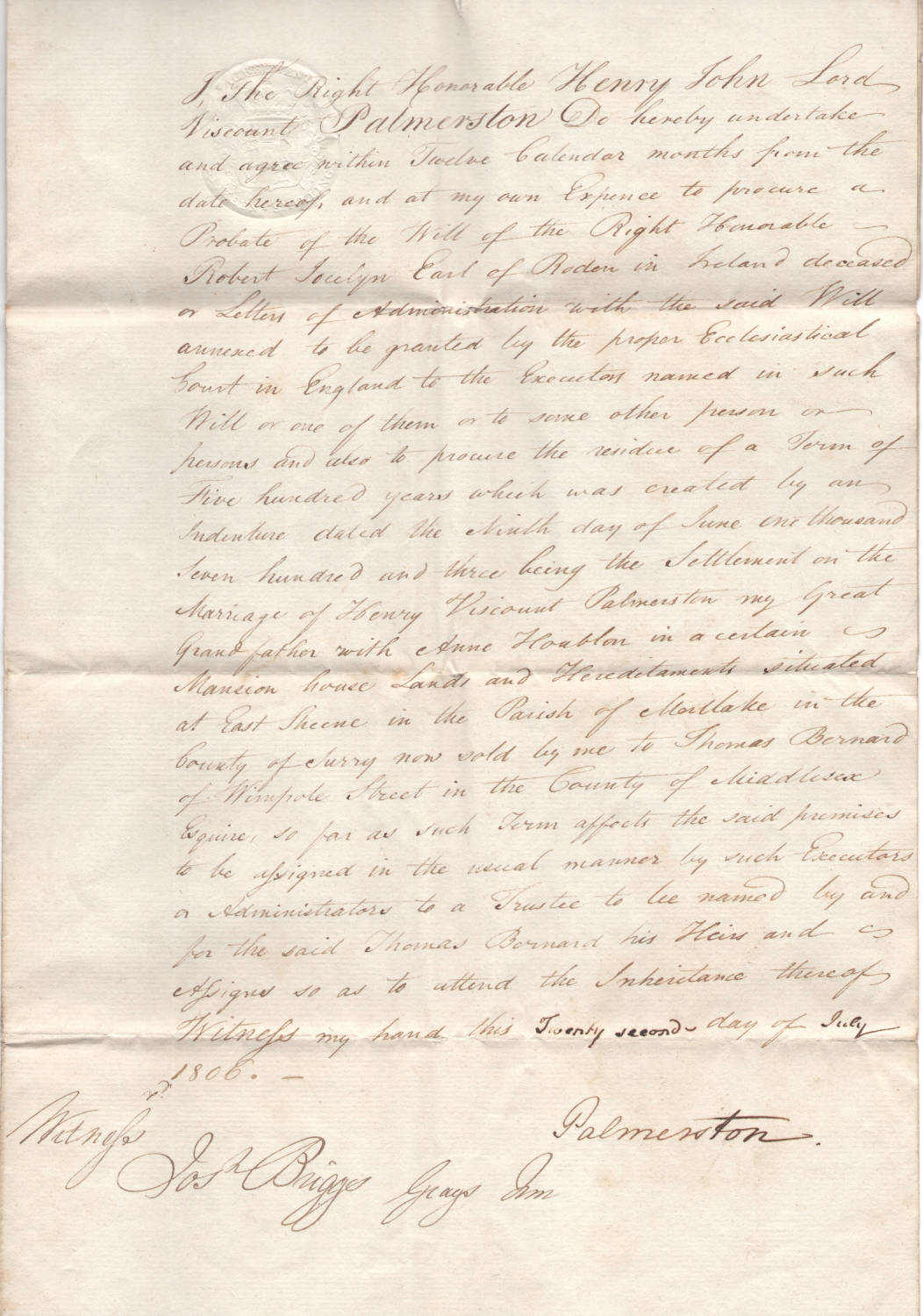 Added to your basket:
Signed undertaking to procure an Assignment of Term from the Executors of the Will of the Earl of Roden.
Document signed by the young Palmerston, arising from the sale of his property at East Sheen, near Mortlake, to Thomas Bernard of Wimpole Street in 1805.

The property, known as Temple Grove, had been in Palmerston's family since his great-great-grandfather Sir John Temple purchased it in the latter part of the seventeenth century. This document states that, as part of the marriage settlement of Sir John Temple's son, Henry, first Viscount Palmerston, to Anne Houblon in 1703, a Term of 500 years was created on the property. At some stage this had presumably been assigned in Trust to an ancestor of the Earl of Roden. In 1728 Sir John Temple's granddaughter Harriet Bentinck married James Hamilton, first Earl of Clanbrassil and their daughter Anne went on to marry Robert Jocelyn, first Earl of Roden so this is the likely link between the two families.

The first Earl of Roden died in Ireland in 1797 and was survived by his wife (who died in 1803) and succeeded by his son Robert, the second Earl. On the sale of Palmerston's property in 1805 it was necessary for the residue of the Term to be formally assigned to a Trustee chosen by the purchaser and this presumably also required the Earl of Roden's Will to be probated in an English Ecclesiastical court. In this document Palmerston, who had just come of age, undertakes to secure the Probate of the Will of the first Earl of Roden and the Assignment of Term within twelve months.

Palmerston subsequently spent much of his time, when not in London, at the family estate of Broadlands in Hampshire, which had been extensively redesigned by Capability Brown and Henry Holland, under the instruction of Palmerston's father, the second Viscount.
You may also be interested in...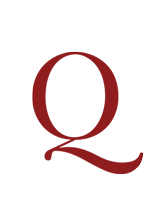 RENOUARD'S EXTRA-ILLUSTRATED COPY [SANDRAS, Gatien de Courtilz de.]
Remarques sur le gouvernement du royaume durant les regnes de Henry IV, surnommé le Grand, de Louys XIII, surnommé le Juste, et de Louys XIV, surnommé Dieu-Donné, le Grand, & l'Invincible.
First edition of Courtilz de Sandras's account of seventeenth-century French politics, bound by Simier and extra-illustrated by Renouard. A silk-merchant whose nascent political career collapsed with the Thermidore coup d'état in 1794, Antoine-Augustine Renouard (1765–1853) established himself in the 1790s not only as a collector, but also as a bibliographer of Aldine and Estienne editions and a bookseller with a reputation for fine books, handsomely bound and illustrated. The present volume is a fitting example of his tastes, with a suite of engraved portraits and an elegant binding by Simier, binder to the empress Marie-Louise and to King Louis-Philippe.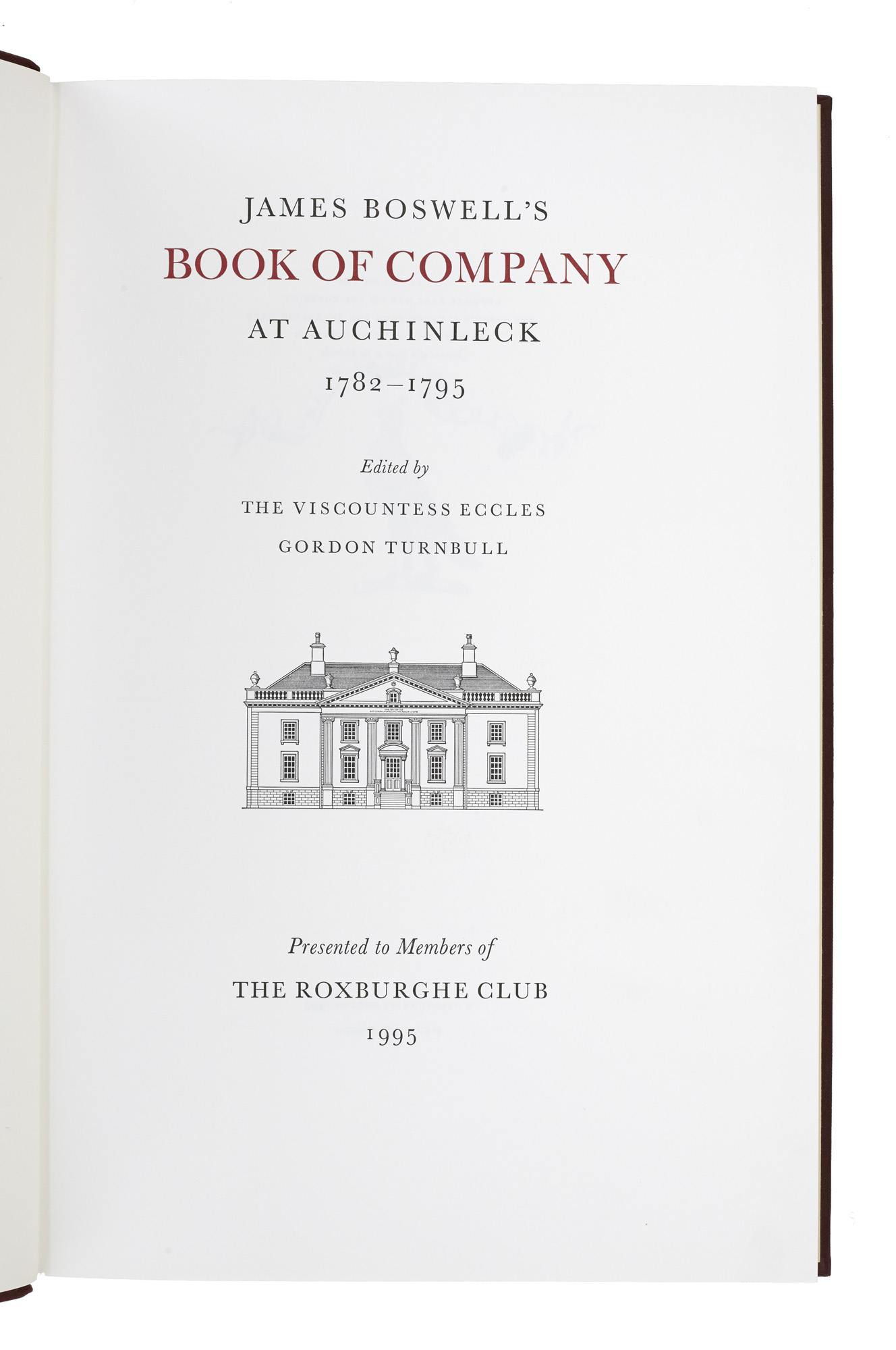 ECCLES, Mary, Viscountess, and Gordon TURNBULL, eds..
James Boswell's Book of Company at Auchinleck.
The Book of Company is much more than a visitor's book, since James Boswell comments on the men and women he met and entertained, and the occasions of his doing so, are all his own. It is therefore an important addition to his many-sided self-portrait. Beginning in 1782, two years before Samuel Johnson died, and ending five months before Boswell's own death in May 1795, it reflects Boswell's anguished uncertainties, as well as the everyday details of where he was, with whom he dined, whom he saw in the evening and – punctually recorded – how many bottles of wine and spirits were dispatched. The book is here reproduced in full facsimile, interleaved with a transcript on facing pages. At the foot of each page is a commentary, largely drawn from Boswell's correspondence and journals, which converts it into a comprehensive day by day diary of his thoughts and actions throughout the period.