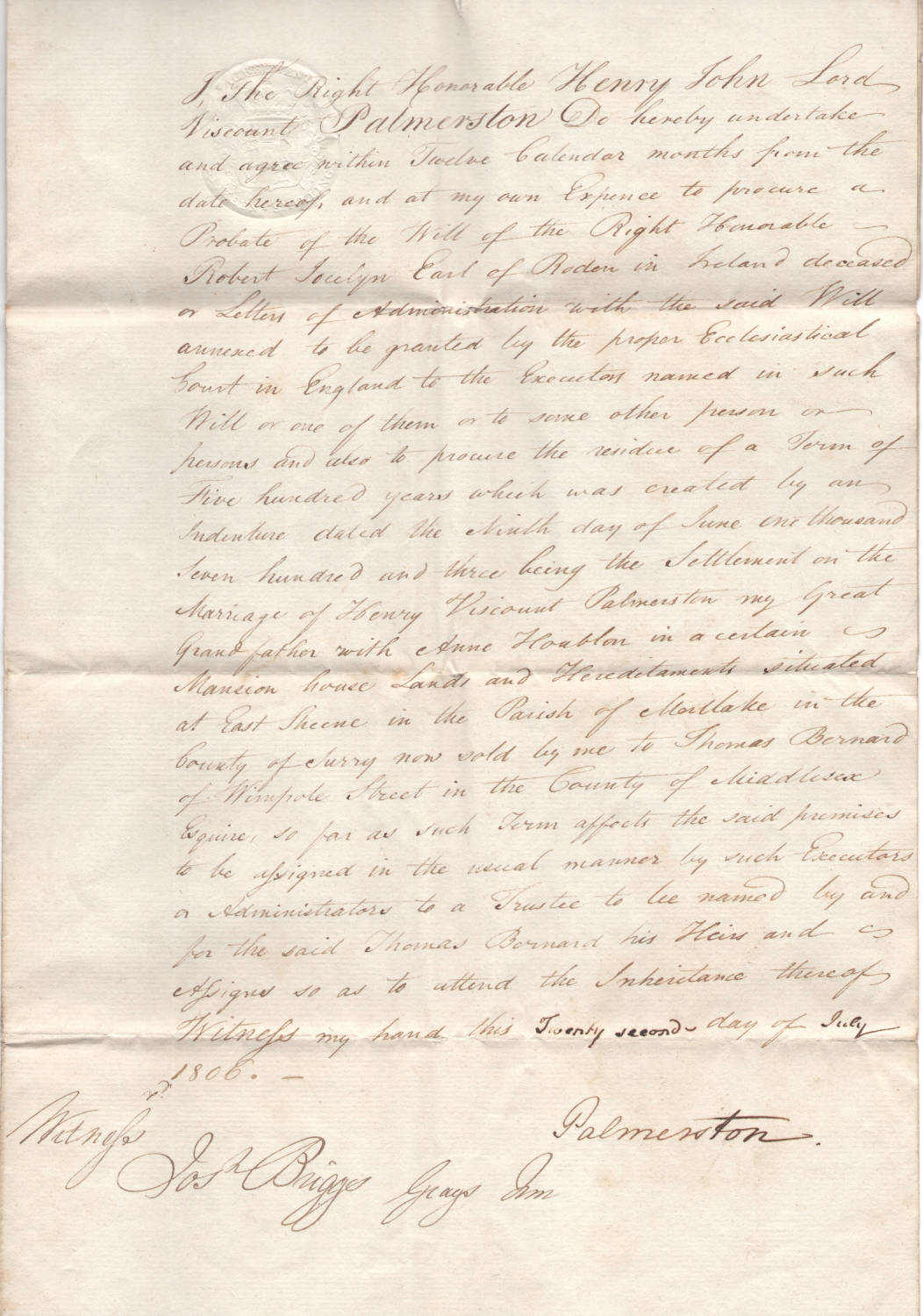 PALMERSTON, Henry John Temple, third Viscount.
Signed undertaking to procure an Assignment of Term from the Executors of the Will of the Earl of Roden.
22 July 1806.
One-page folio, on a bifolium, with integral docket; folded 3 times, with some browning to edges and creases; in very good condition.
£675 + VAT

Approximately:
US $819
€779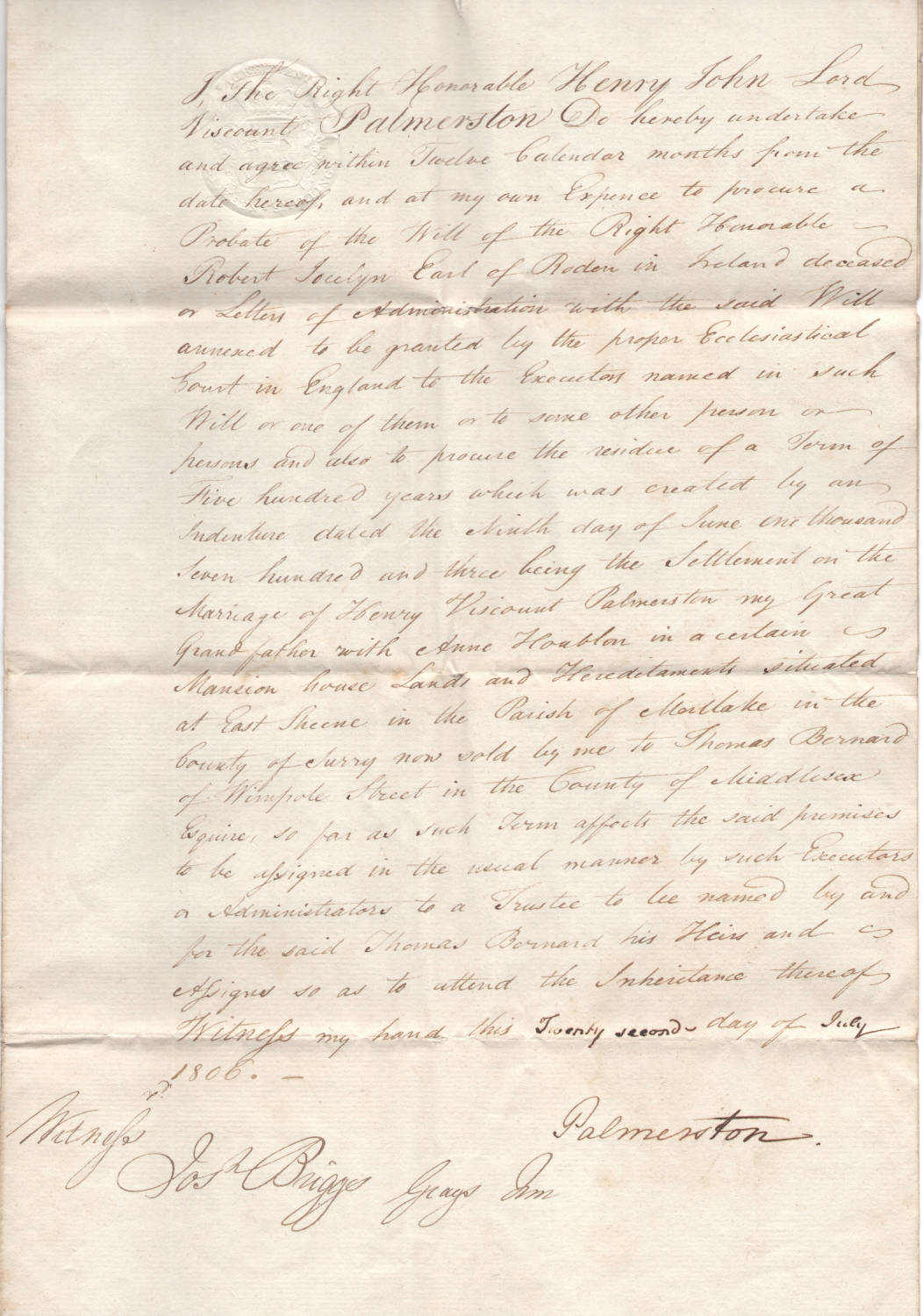 Added to your basket:
Signed undertaking to procure an Assignment of Term from the Executors of the Will of the Earl of Roden.
Document signed by the young Palmerston, arising from the sale of his property at East Sheen, near Mortlake, to Thomas Bernard of Wimpole Street in 1805.

The property, known as Temple Grove, had been in Palmerston's family since his great-great-grandfather Sir John Temple purchased it in the latter part of the seventeenth century. This document states that, as part of the marriage settlement of Sir John Temple's son, Henry, first Viscount Palmerston, to Anne Houblon in 1703, a Term of 500 years was created on the property. At some stage this had presumably been assigned in Trust to an ancestor of the Earl of Roden. In 1728 Sir John Temple's granddaughter Harriet Bentinck married James Hamilton, first Earl of Clanbrassil and their daughter Anne went on to marry Robert Jocelyn, first Earl of Roden so this is the likely link between the two families.

The first Earl of Roden died in Ireland in 1797 and was survived by his wife (who died in 1803) and succeeded by his son Robert, the second Earl. On the sale of Palmerston's property in 1805 it was necessary for the residue of the Term to be formally assigned to a Trustee chosen by the purchaser and this presumably also required the Earl of Roden's Will to be probated in an English Ecclesiastical court. In this document Palmerston, who had just come of age, undertakes to secure the Probate of the Will of the first Earl of Roden and the Assignment of Term within twelve months.

Palmerston subsequently spent much of his time, when not in London, at the family estate of Broadlands in Hampshire, which had been extensively redesigned by Capability Brown and Henry Holland, under the instruction of Palmerston's father, the second Viscount.
You may also be interested in...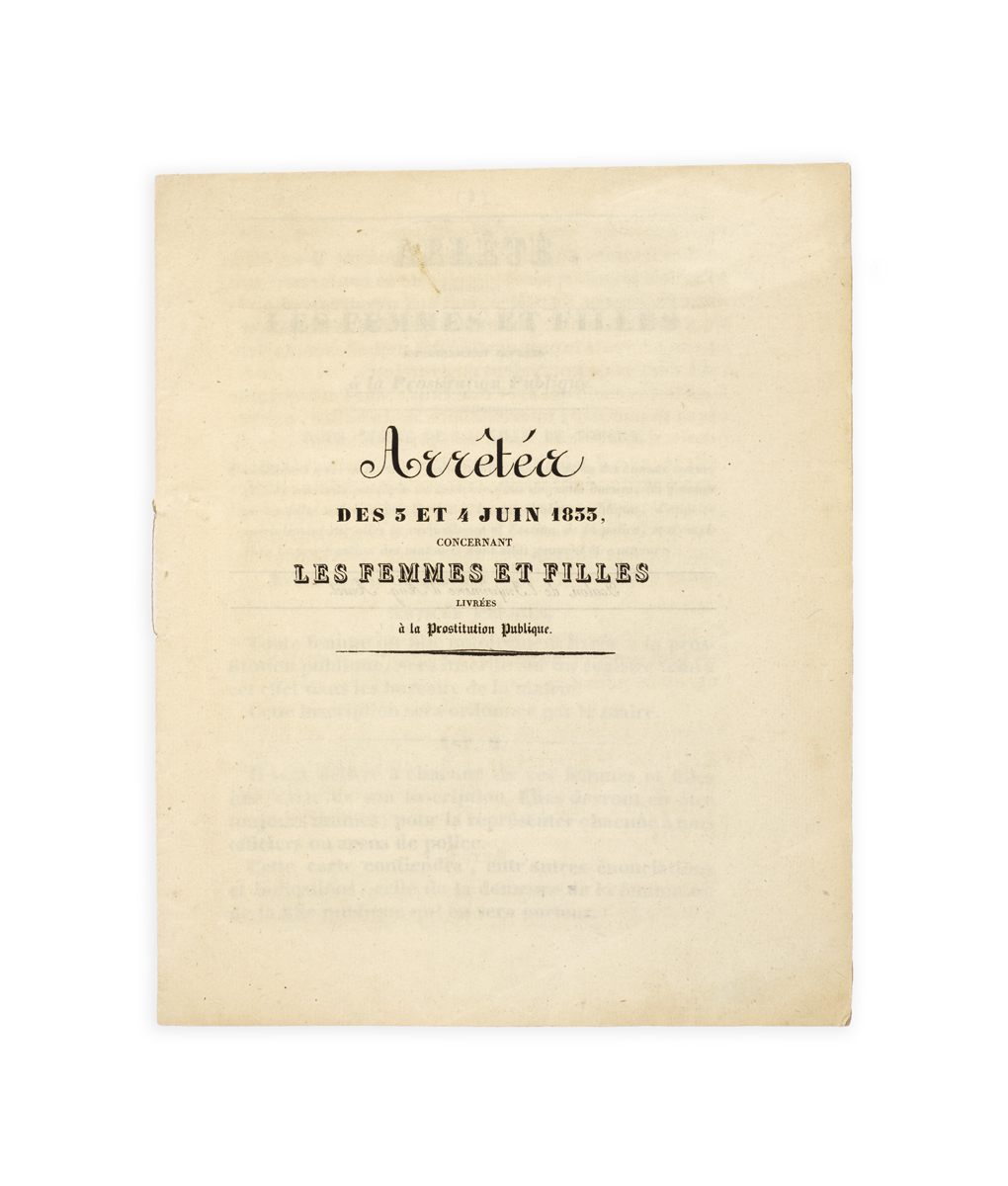 TACKLING THE TOULON SEX-TRADE [SEX-WORK.] 
Arrêtés des 3 et 4 Juin 1833, concernant les femmes et filles livrées à la prostitution publique. 
An apparently unrecorded set of decrees intended to regulate sex-work in the French port of Toulon on the Mediterranean coast, 'for the maintenance of good morals and public health'.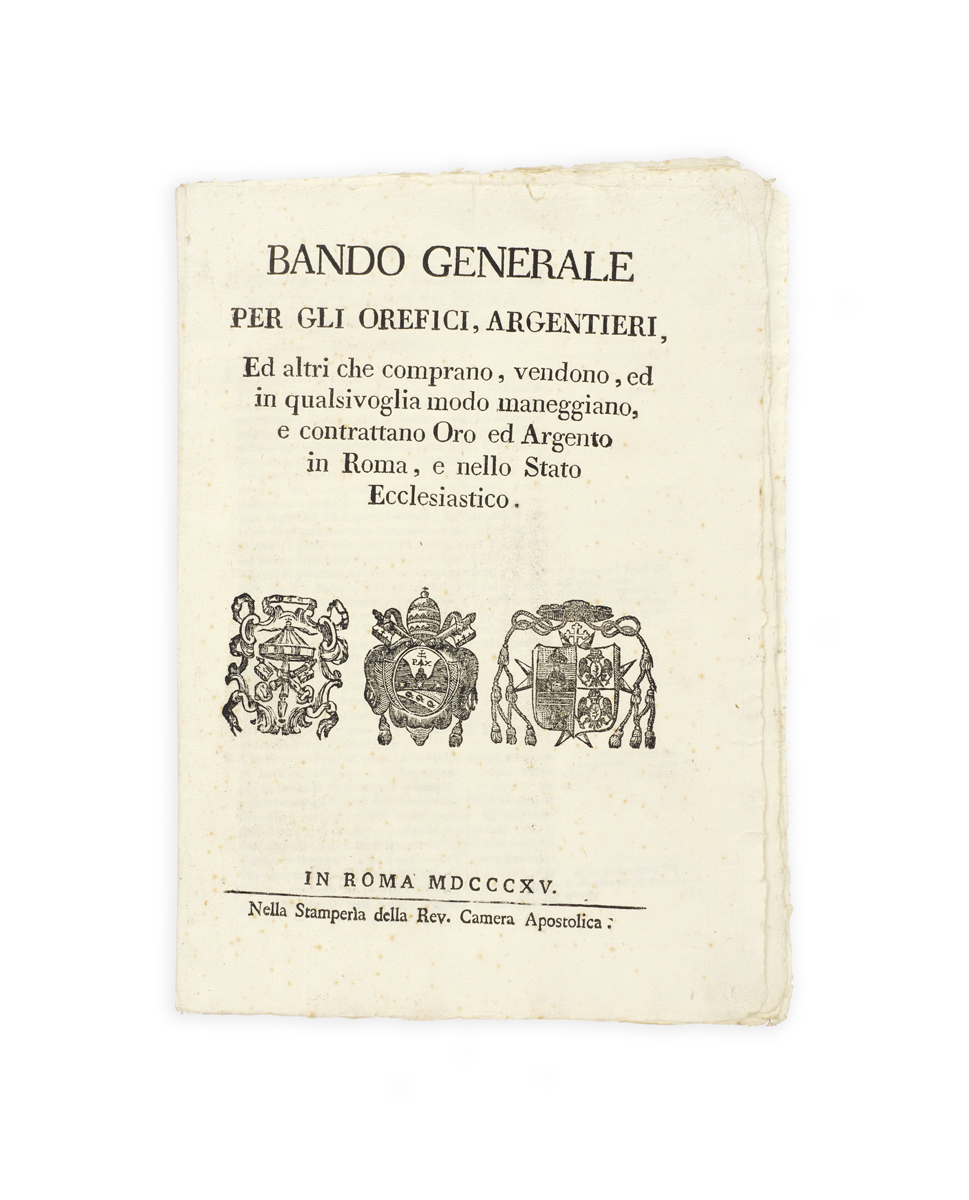 CLEANING UP THE GOLD AND SILVER TRADE [GOLD and SILVER.] 
Bando generale per gli orefici, argentieri, ed altri che comprano, vendono, ed in qualsivoglia modo maneggiano, e contrattano oro e argento in Roma, e nello Stato Ecclesiastico. 
Rare edict governing goldsmiths, silversmiths, and traders in gold and silver operating in Rome and the Papal States, issued by Cardinal Bartolomeo Pacca (1756–1844) in January 1815 as Camerlengo to Pope Pius VII.