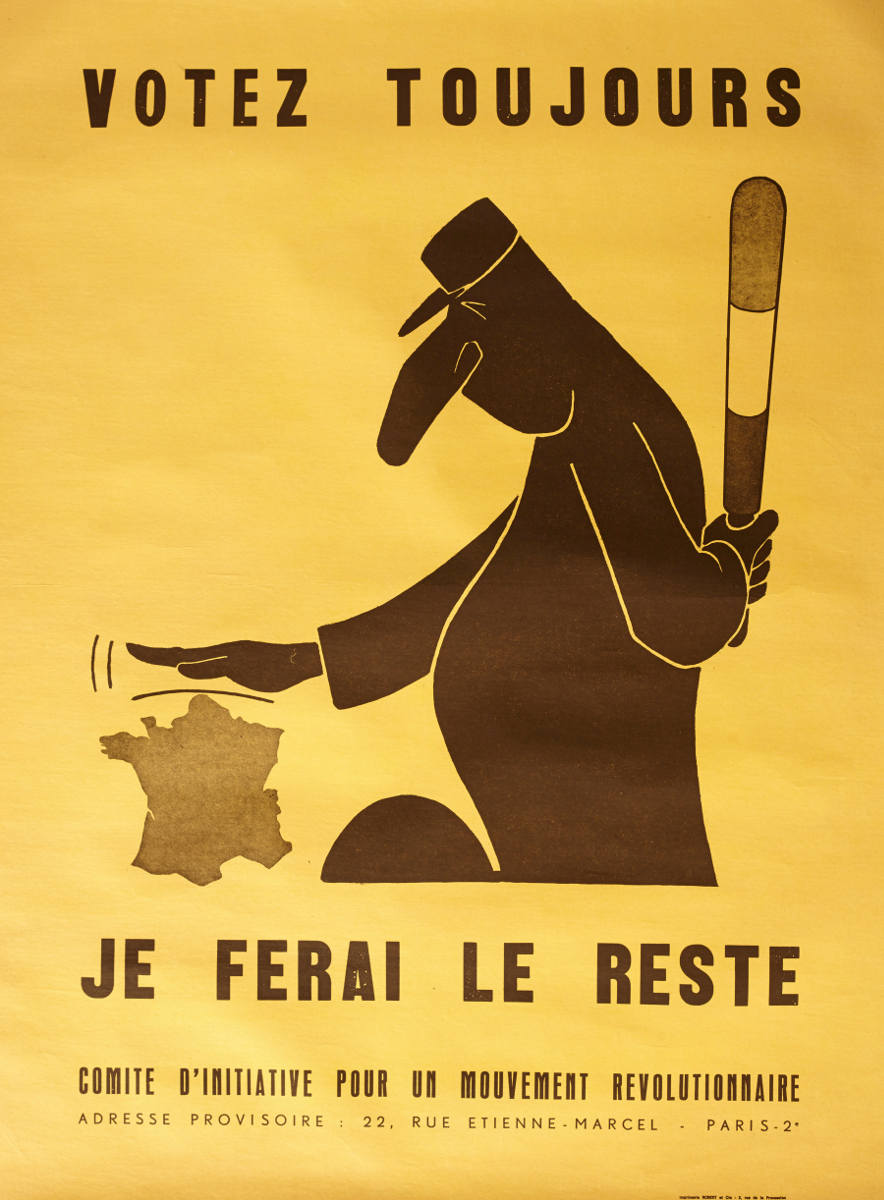 [PARIS UPRISING].
Votez toujours. Je ferai le reste [Always vote. I'll do the rest].
Paris, Comite d'initiative pour un movement revolutionnaire, Imprimerie Robert et Cie, 1968.
75cm x 55cm, backed on linen, fine (A).
£550

Approximately:
US $721
€615
First edition. A striking image of General De Gaulle patting France on the head for obediently voting, a baton cunningly concealed behind him. 1968 was a year when passions were flying high in France. The communist and socialist parties had formed an alliance in February with a view to replacing the De Gaulle administration. The ensuing student occupation protests coupled with wildcat general strikes of over 20% of the French population seriously destablized De Gaulle's government, and for some time it seemed likely that it would fall. Having fled briefly to Germany, however, De Gaulle called elections for June 1968, and emerged with an increased majority.

The present poster, the production of the allied anti-Gaullist faction, urges caution to the prospective voter, with the reminder that with De Gaulle things are not always as they appear.
You may also be interested in...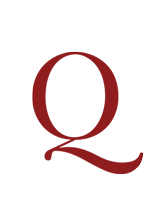 HOW MUCH MORE THE SKILLED WORKER SHOULD BE PAID THAN HIS UNSKILLED COUNTERPART DUBOIS-AYMÉ [Jean Marie Joseph Aimé DUBOIS, known as].
Examen de quelques questions d'économie politique, et notamment de l'ouvrage de M. Ferrier intitulé Du Gouvernement considéré dans ses rapports avec le commerce.
First edition. Dubois-Aymé uses mathematical methodology to examine two of the cases he considers. In the first instance he 'compares the power due to the riches of two countries. This power he maintains is in proportion to the goods available to each country over and above its indispensable requirements for consumption and reproduction' (Theocharis, p. 80). Later he discusses 'the relation between the salary of the unskilled worker and that of the skilled worker, who needs to undergo a period of apprenticeship at a certain expense. The condition is that the salary of the skilled worker should be such as to give him over his shorter working life total earnings equal to his earnings as a general labourer plus his costs of apprenticeship' (Theocharis, p. 80).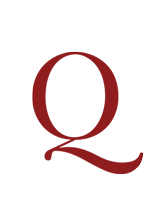 [PARIS CARNIVAL].
Carnaval 1929.
Fancy dress French style, a showcase of products available wholesale for the 1929 Carnival, from a costume merchant. Typically available by the dozen and the gross, though the most luxury items are available individually, made variously in cardboard, wax or linen, and beginning with simple dominos, the catalogue also includes full costumes for popular figures, including clowns, cowboys and toreadors. A section of masks for children includes a selection of animal heads as well as human faces; adult full-face masks are subdivided into multiple sections, including caricatures, grotesques, and masks with hairpieces and accessories. Half-face masks, as well as a sizeable selection of false noses and hairpieces, novelty hats, accessories (including lanterns and toy monkeys) are also available. Colin-maillard (blind man's buff) heads, which render the wearer wholly blind for entertainment purposes, have their own page. The catalogue concludes with a selection of Christmas decorations, while the inside back cover advertises further productions, including garlands, banners, flags and lanterns. A rare survival from the heyday of interwar merriment, when people were enthusiastic in their pursuit of everything lively and colourful to vanquish the recent memories of war. Predating the era of political correctness, the faces featured are from across the ethnographical spectrum, featuring stereotypical depictions of many races.