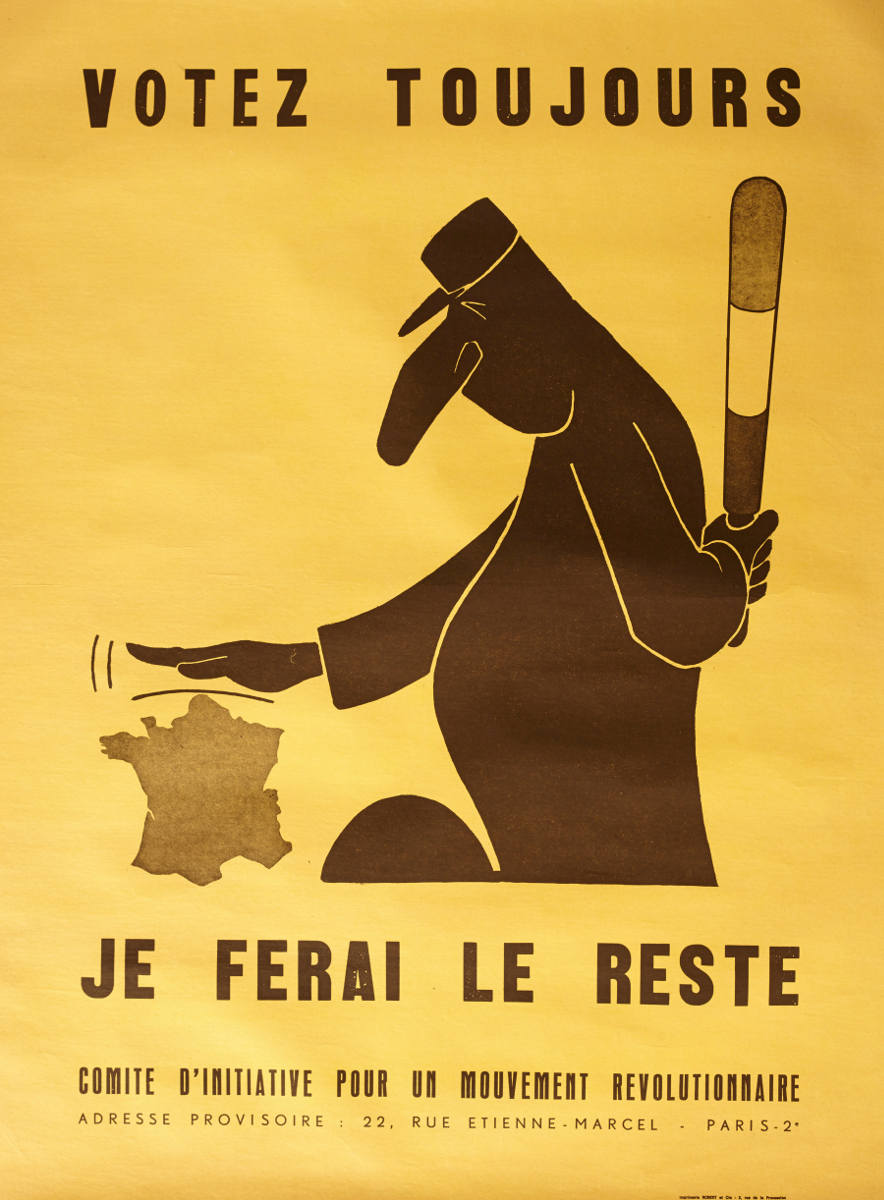 [PARIS UPRISING.]
Votez toujours. Je ferai le reste [Always vote. I'll do the rest].
Paris, Comite d'initiative pour un movement revolutionnaire, Imprimerie Robert et Cie, 1968.
75cm x 55cm, backed on linen, fine (A).
£550

Approximately:
US $690
€647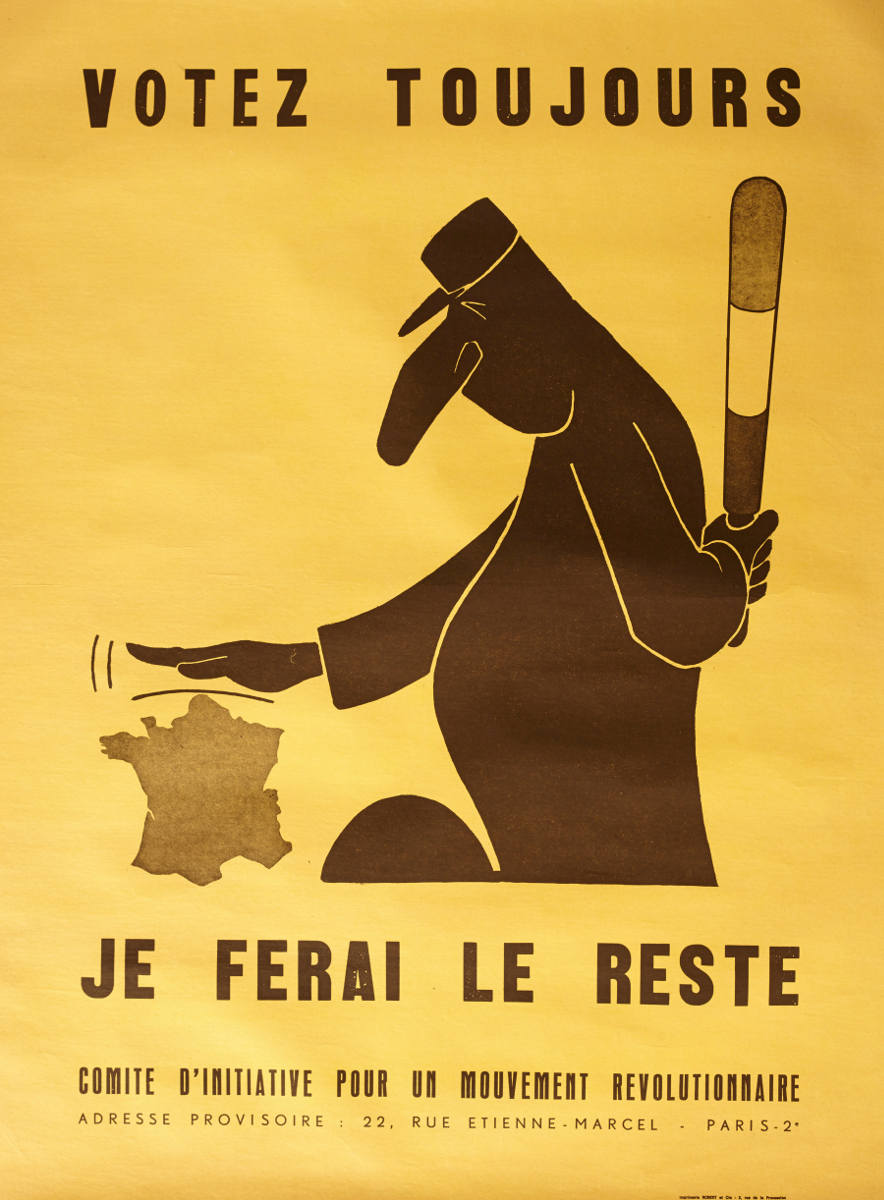 Added to your basket:
Votez toujours. Je ferai le reste [Always vote. I'll do the rest].
First edition. A striking image of General De Gaulle patting France on the head for obediently voting, a baton cunningly concealed behind him. 1968 was a year when passions were flying high in France. The communist and socialist parties had formed an alliance in February with a view to replacing the De Gaulle administration. The ensuing student occupation protests coupled with wildcat general strikes of over 20% of the French population seriously destablized De Gaulle's government, and for some time it seemed likely that it would fall. Having fled briefly to Germany, however, De Gaulle called elections for June 1968, and emerged with an increased majority.

The present poster, the production of the allied anti-Gaullist faction, urges caution to the prospective voter, with the reminder that with De Gaulle things are not always as they appear.
You may also be interested in...
THE ADVENTURES OF A DOLL WETZELL, Madame.
Les Matinées de la poupée, ou récréations d'une petite fille.
First and only edition, very rare, of a charming illustrated account of a girl's doll. Brillantine, a doll, is given to Célénie for company while her elder sister Alméa is in Africa; the book recounts in detail their relationship over the course of a week, from Brillantine's arrival with the family d'Ervilliers (on Saturday 18 May 1844), the provision of her wardrobe and furnishing of her apartment (a cabinet overlooking the garden), her education by Célénie, and their adventures meeting other girls and dolls and going on a horse-ride.
Elegantly Bound TACITUS, C. Cornelius; Justus LIPSIUS and Hugo GROTIUS (editors).
[Opera] C. Corn. Tacitus ex I. Lipsii editione cum not. et emend. H. Grotii [– Historiarum libri quinque et alia ejusdem quae extant].
First edition with Grotius's notes, elegantly bound in early nineteenth-century English morocco. Elzevir had published an edition of Lipsius's Tacitus in 1634; Dibdin notes 'Of these elegant little editions [of 1634 and 1640], that of 1640 is preferred, on account of its having the notes of Grotius. It is one of the scarcest of the Elzevir classics.'