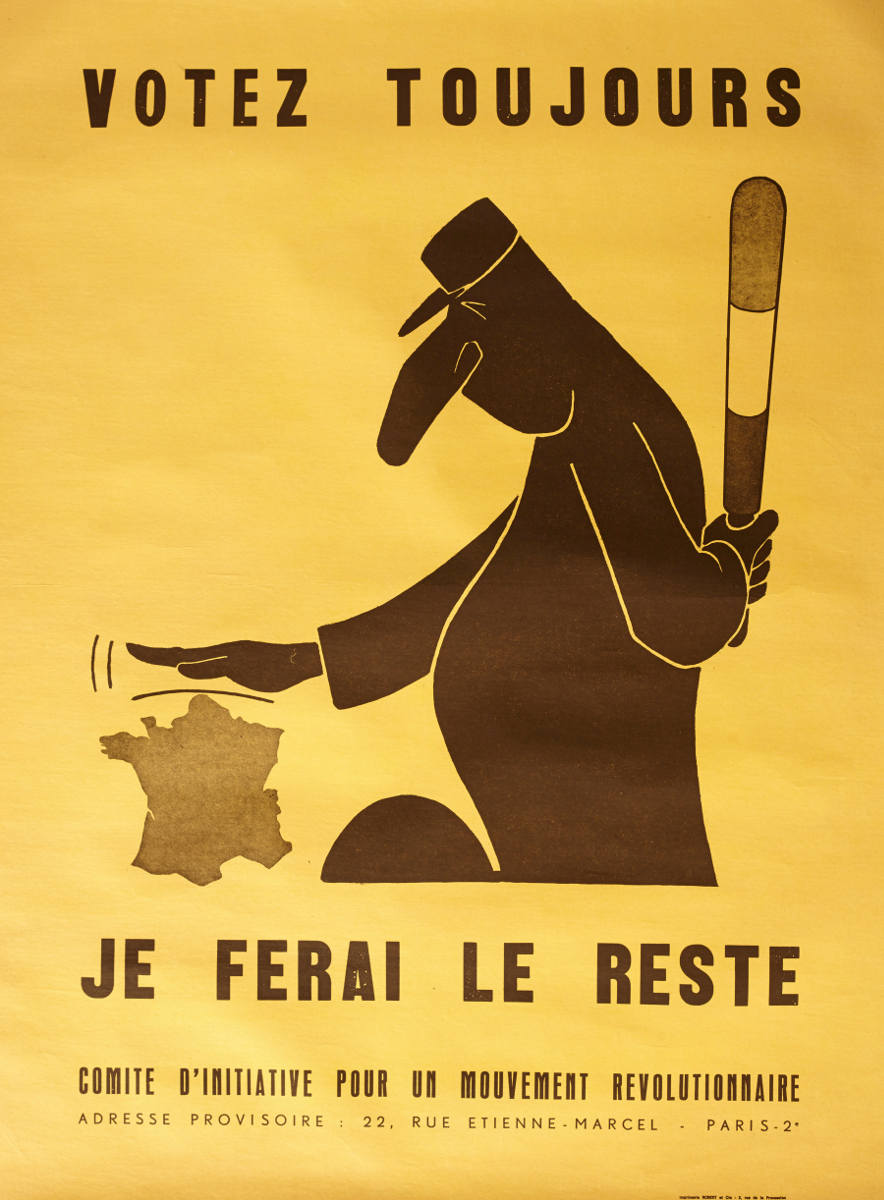 [PARIS UPRISING.]
Votez toujours. Je ferai le reste [Always vote. I'll do the rest].
Paris, Comite d'initiative pour un movement revolutionnaire, Imprimerie Robert et Cie, 1968.
75cm x 55cm, backed on linen, fine (A).
£550

Approximately:
US $764
€635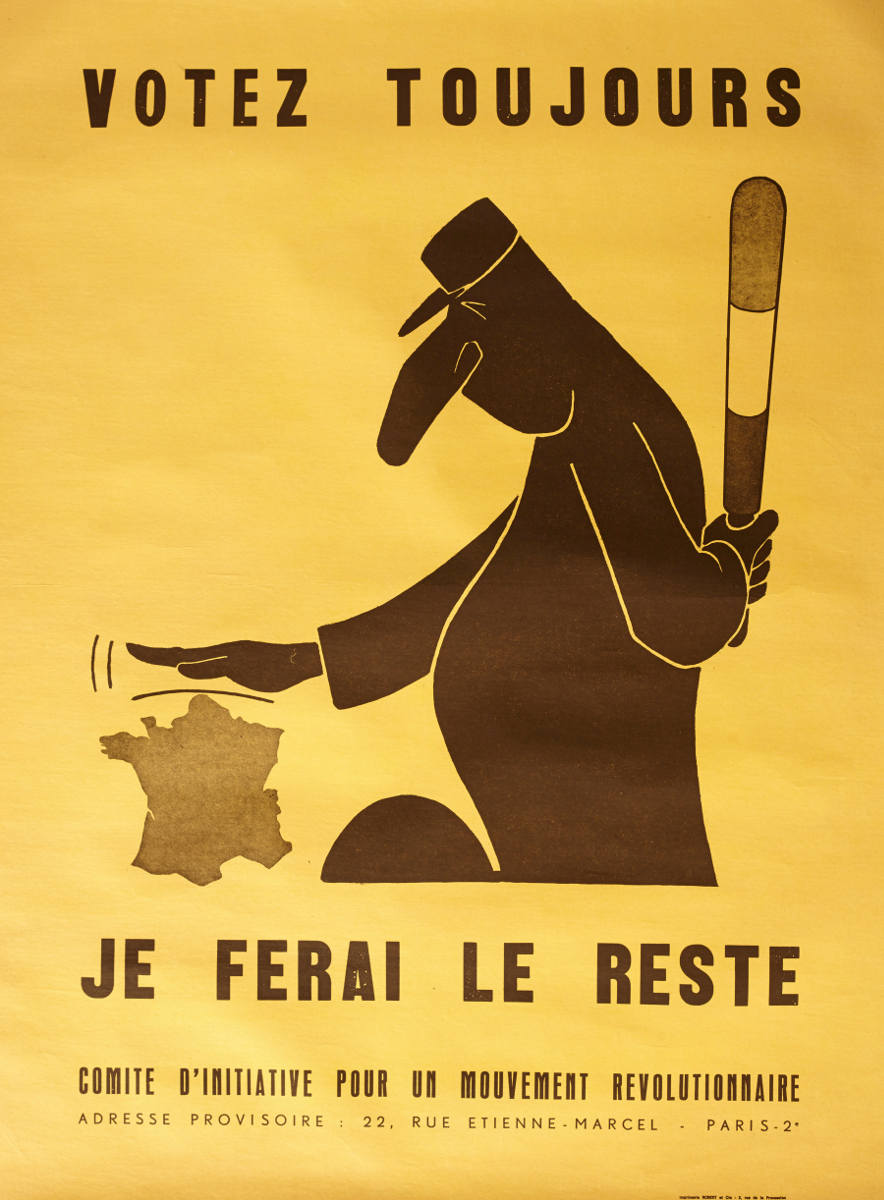 Added to your basket:
Votez toujours. Je ferai le reste [Always vote. I'll do the rest].
First edition. A striking image of General De Gaulle patting France on the head for obediently voting, a baton cunningly concealed behind him. 1968 was a year when passions were flying high in France. The communist and socialist parties had formed an alliance in February with a view to replacing the De Gaulle administration. The ensuing student occupation protests coupled with wildcat general strikes of over 20% of the French population seriously destablized De Gaulle's government, and for some time it seemed likely that it would fall. Having fled briefly to Germany, however, De Gaulle called elections for June 1968, and emerged with an increased majority.

The present poster, the production of the allied anti-Gaullist faction, urges caution to the prospective voter, with the reminder that with De Gaulle things are not always as they appear.
You may also be interested in...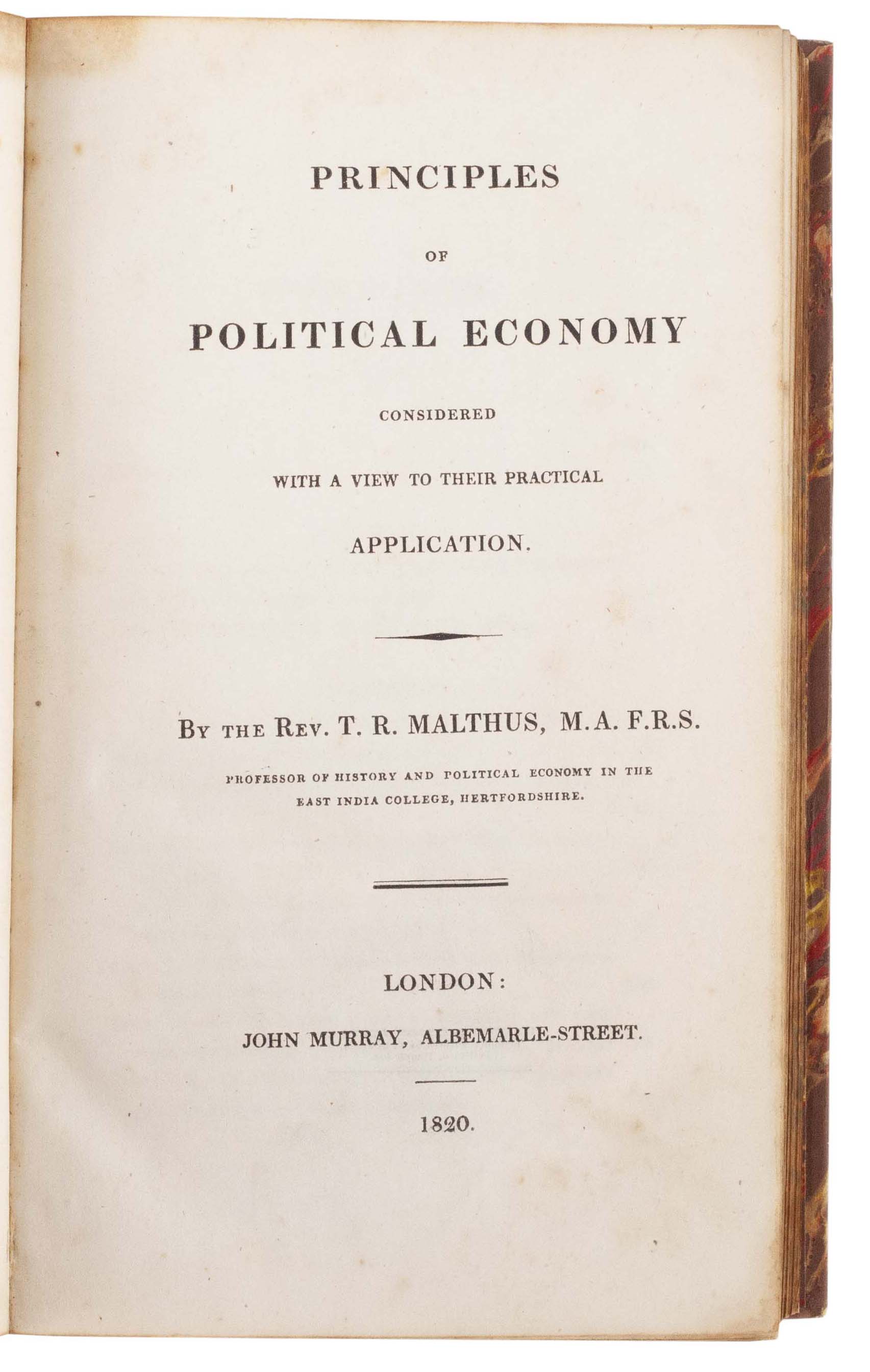 MALTHUS VS RICARDO MALTHUS, Thomas Robert.
Principles of political economy considered with a view to their practical application.
First edition. The Principles were developed through controversy with Ricardo, especially with regard to the theory of value, but the origins of the essay are in the Essay, which constituted Malthus's earliest writings on prices, income and savings. The difference that emerges between Malthus and Ricardo with regard to Say's Law, from which this book is an early departure, has not been fully understood because of Ricardo's unwillingness to follow through on concessions he was forced to make. Malthus argued that increased incomes did not lead to increased consumerism, but that consumers faced with unfamiliarly high salaries would save. Some of this misunderstanding of Malthus derives from Keynes's positive assessment of Malthus, which has led to the latter being viewed as an early Keynesian because of his theories on prices and wage rates (New Palgrave). Keynes declared: 'If only Malthus, instead of Ricardo, had been the parent stem from which nineteenth-century economics preceded, what a much wiser place the world would be today!'.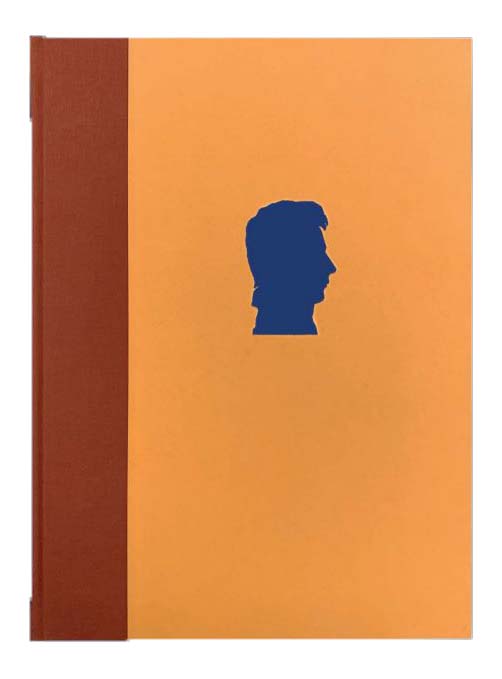 HEBER, Reginald, and Nicolas BARKER (editor).
A Letter from India.
'I do not expect that with fair prospects of eminence at home, you should go to the Ganges for a mitre,' wrote Sir Charles Watkin Williams Wynn, President of the Board of Commissioners for Indian Affairs, in 1819 to Reginald Heber at Hodnet in Shropshire, but in vain. Despite a growing reputation as a scholar, a poet and writer of still popular hymns, an artist and authority on Russia, friend of Byron and Scott, given wit and irresistible charm and goodness, Heber could not resist the evangelical call. In 1823, newly consecrated Bishop of Calcutta, he set off, with wife and family, leaving behind a host of friends.