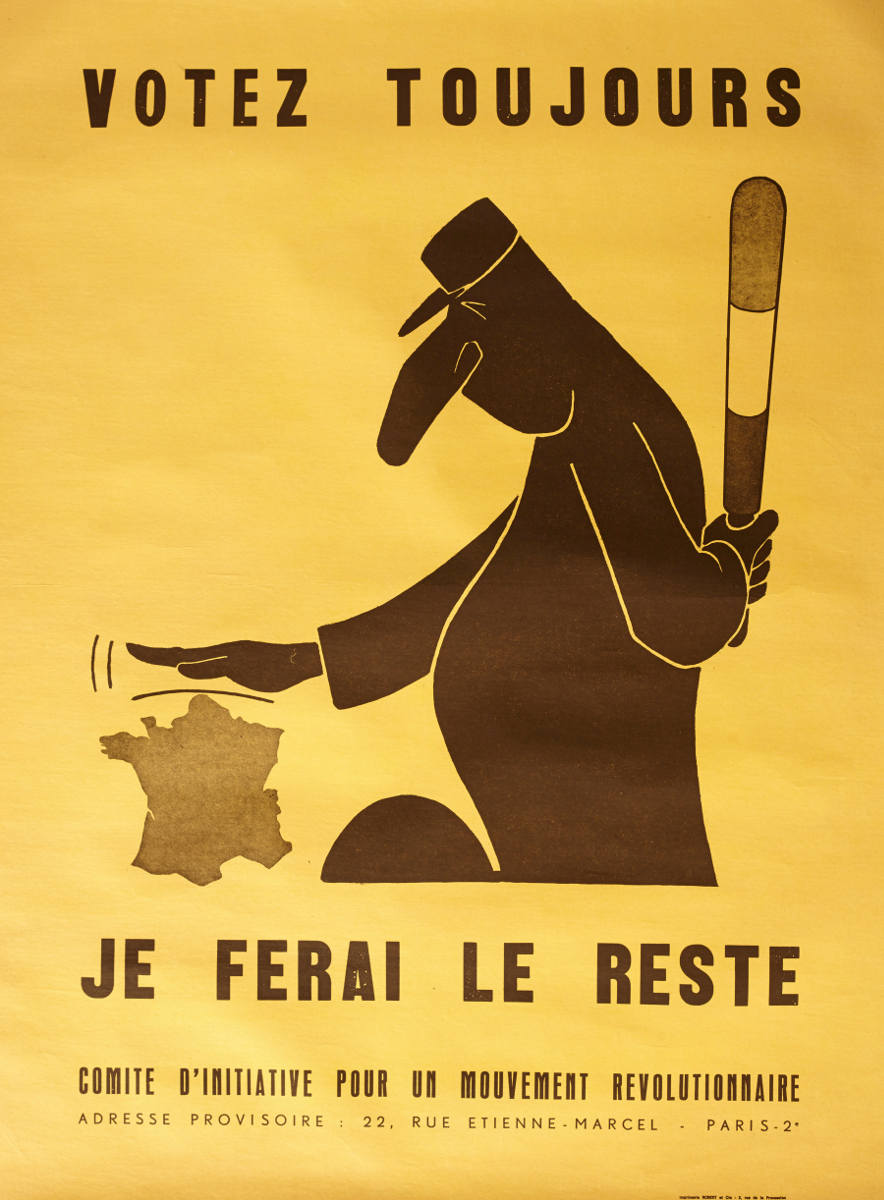 [PARIS UPRISING.]
Votez toujours. Je ferai le reste [Always vote. I'll do the rest].
Paris, Comite d'initiative pour un movement revolutionnaire, Imprimerie Robert et Cie, 1968.
75cm x 55cm, backed on linen, fine (A).
£550

Approximately:
US $613
€625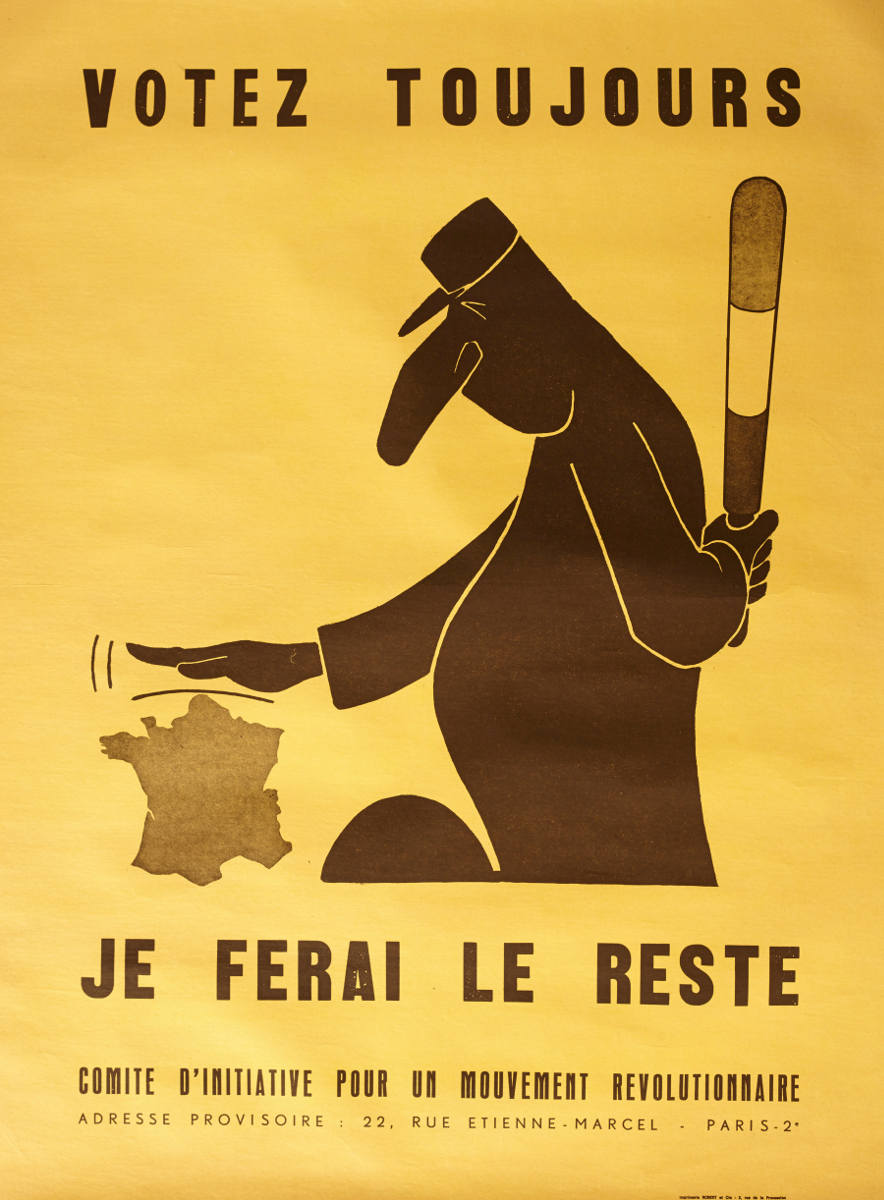 Added to your basket:
Votez toujours. Je ferai le reste [Always vote. I'll do the rest].
First edition. A striking image of General De Gaulle patting France on the head for obediently voting, a baton cunningly concealed behind him. 1968 was a year when passions were flying high in France. The communist and socialist parties had formed an alliance in February with a view to replacing the De Gaulle administration. The ensuing student occupation protests coupled with wildcat general strikes of over 20% of the French population seriously destablized De Gaulle's government, and for some time it seemed likely that it would fall. Having fled briefly to Germany, however, De Gaulle called elections for June 1968, and emerged with an increased majority.

The present poster, the production of the allied anti-Gaullist faction, urges caution to the prospective voter, with the reminder that with De Gaulle things are not always as they appear.
You may also be interested in...
ADVANCE COPY FOR REVIEW LEWIS, Wyndham.
Count your Dead they are Alive or a New War in the Making.
First edition. 'Perhaps his worst political squib … Count Your Dead takes up the argument for an Anglo-German rapprochement where Left Wings over Europe had left off, using the issue of "non-intervention" in the Spanish War as an additional ground for attacking British policy in Europe' (Bridson). It employs a persona, 'Ned', literary executor to one 'Launcelot Nidwit', whose leftist standpoint is laid out in 24 'Thoughts'.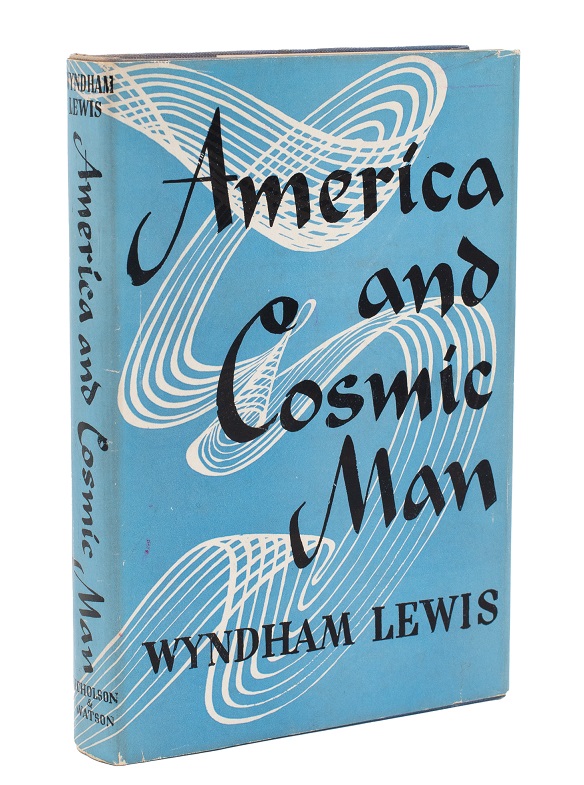 ON AMERICAN DEMOCRACY LEWIS, Wyndham.
America and Cosmic Man.
First edition, second state binding as always (the first, in green cloth, was rejected by Lewis as 'hideous' and was used on only 3 trial copies). In hand by 1943, not finished until 1946 and then rejected by American publishers until it finally found a British home in 1948, America and Cosmic Man is 'a work of considerable interest', 'concerned with the nature of American democracy, and the formative influences which have made it what it is', namely the 'beautiful polarity' of Hamiltonian centralizing authoritarianism and Jeffersonian decentralizing libertarianism (Bridson, Filibuster). Lewis's earlier distrust of FDR and the New Deal was here put fully in reverse, though he still, as ever, has plenty of time for criticism – lack of culture, over-commercialism, discrimination, etc.