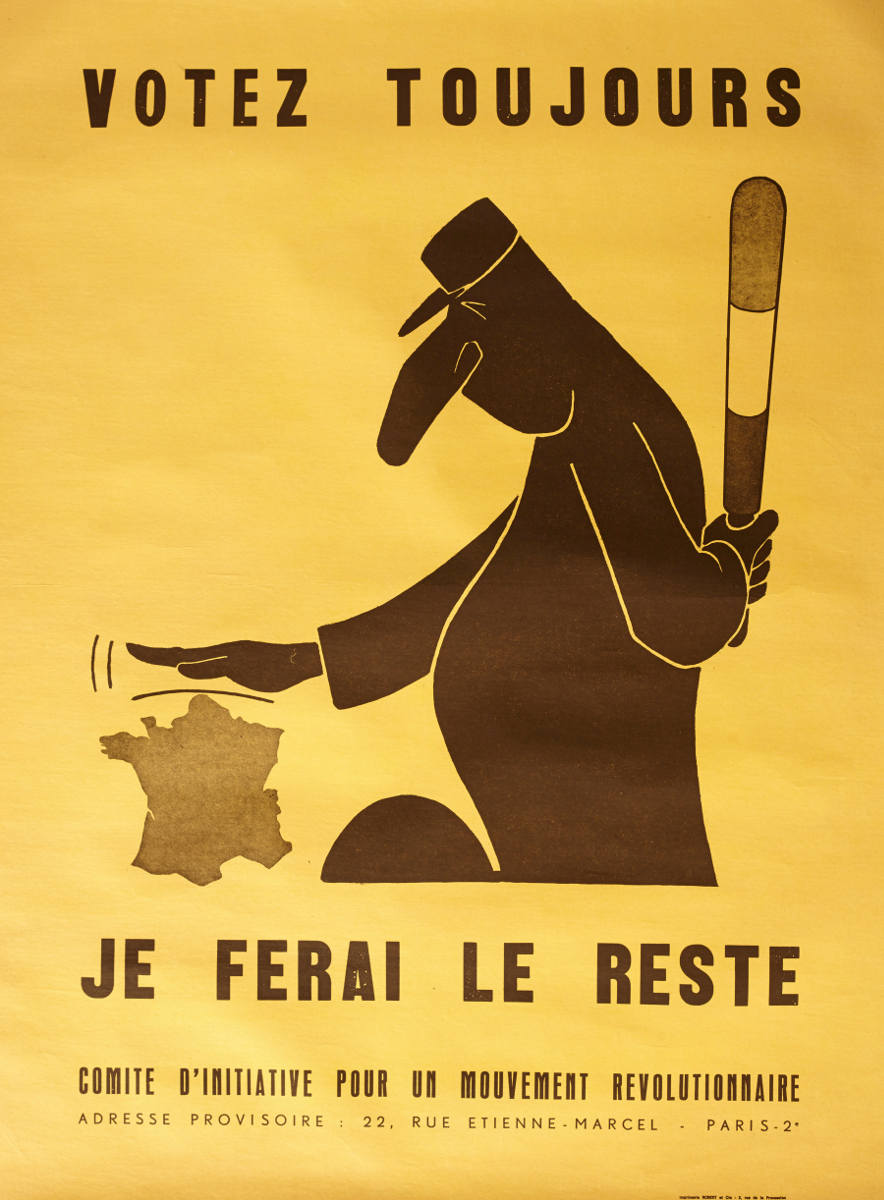 [PARIS UPRISING.]
Votez toujours. Je ferai le reste [Always vote. I'll do the rest].
Paris, Comite d'initiative pour un movement revolutionnaire, Imprimerie Robert et Cie, 1968.
75cm x 55cm, backed on linen, fine (A).
£550

Approximately:
US $767
€645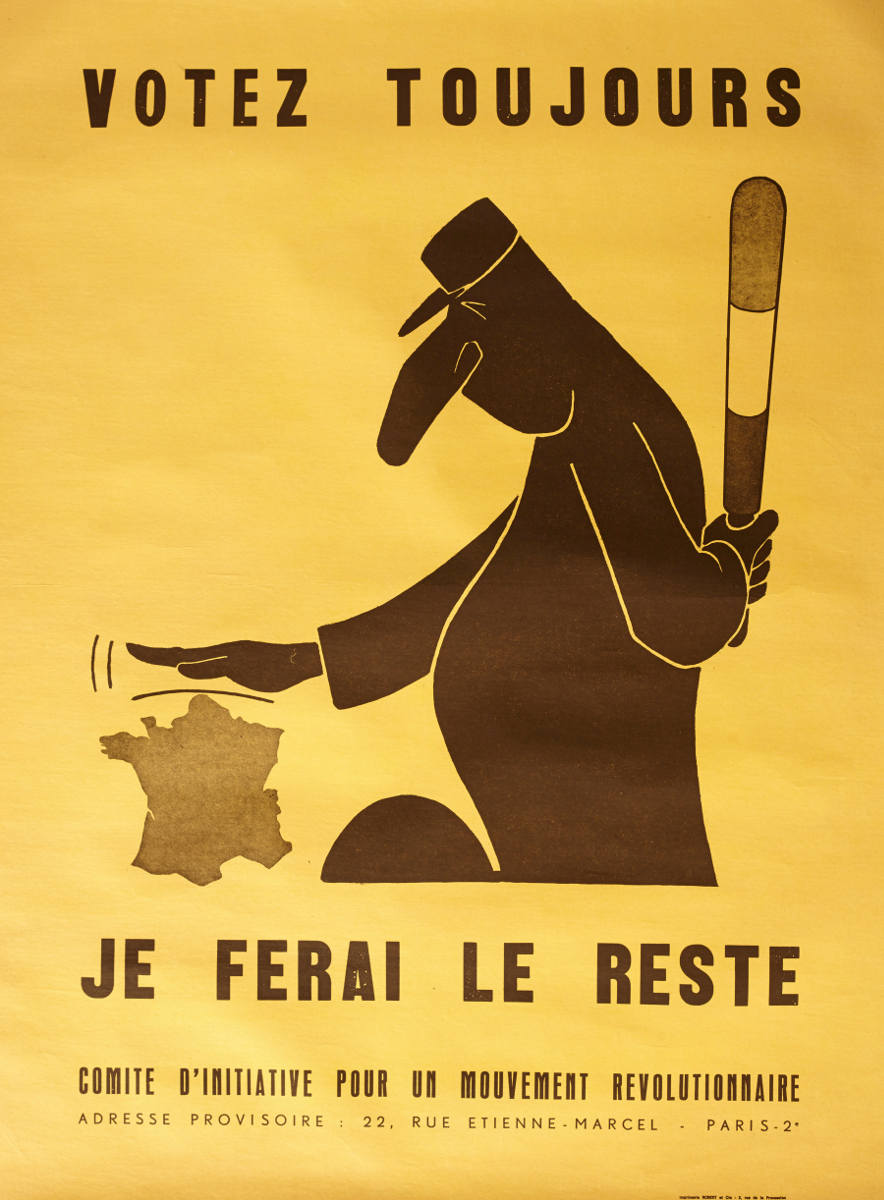 Added to your basket:
Votez toujours. Je ferai le reste [Always vote. I'll do the rest].
First edition. A striking image of General De Gaulle patting France on the head for obediently voting, a baton cunningly concealed behind him. 1968 was a year when passions were flying high in France. The communist and socialist parties had formed an alliance in February with a view to replacing the De Gaulle administration. The ensuing student occupation protests coupled with wildcat general strikes of over 20% of the French population seriously destablized De Gaulle's government, and for some time it seemed likely that it would fall. Having fled briefly to Germany, however, De Gaulle called elections for June 1968, and emerged with an increased majority.

The present poster, the production of the allied anti-Gaullist faction, urges caution to the prospective voter, with the reminder that with De Gaulle things are not always as they appear.
You may also be interested in...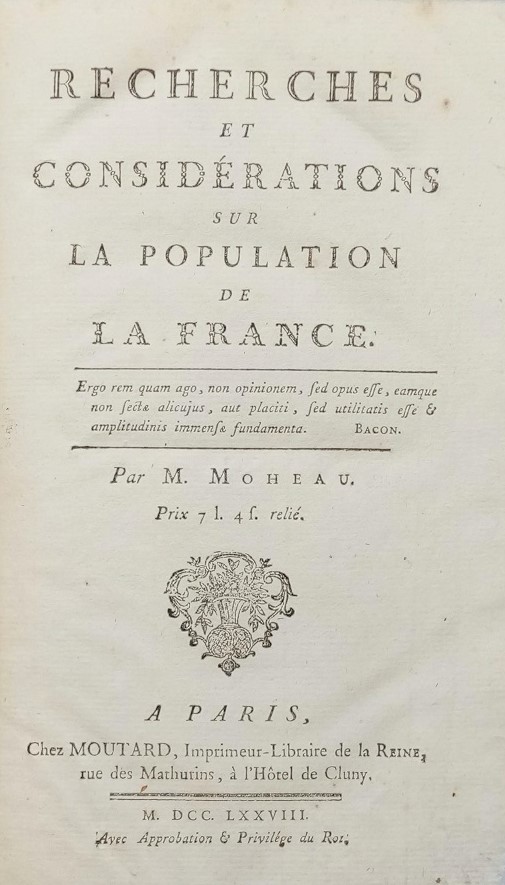 MOHEAU.
Recherches et considérations sur la population de la France …
First edition. This work is held in high regard by both McCulloch and Peuchet, though when first published it received little acknowledgement, being attributed to Baron Auget de Montyon, who assisted in the work and to whom Moheau was secretary. The first part contains statistical tables; the second is devoted to the analysis of various factors likely to influence population levels. Peuchet called this title 'un livre classique et bien écrit' (Statistique Elémentaire, p. 226.). McCulloch states that 'a work on the population of France or Great Britain, modelled after that of Moheau, and embodying the latest information on the subject, would be a very valuable acquisition' (p. 264).
THE RIGHTS OF MAN SPEDALIERI, Nicola.
De' diritti dell'uomo libri VI …
First edition of Spedalieri's treatise on the rights of man, an attempt to reconcile the principles of the Enlightenment underpinning the French Revolution with Christianity. For Spedalieri the rights of man lie in nature and in man's natural desire to be happy. Rousseau's contractual picture of society is also echoed in Spedalieri's work. The legitimacy of the State is founded on the sovereignty of the people, who have the right to rebel against the prince, a mere delegate, when in breach of his pact. 'Notwithstanding the hearty reception given to this work by Pius VI who said, "For a long while rulers have been asking quid est papa. Your book will teach them quid est populus", a storm of criticism and refutation burst on the head of its author. Governments took notice of it and ... forbade its circulation' (Catholic Encyclopedia).