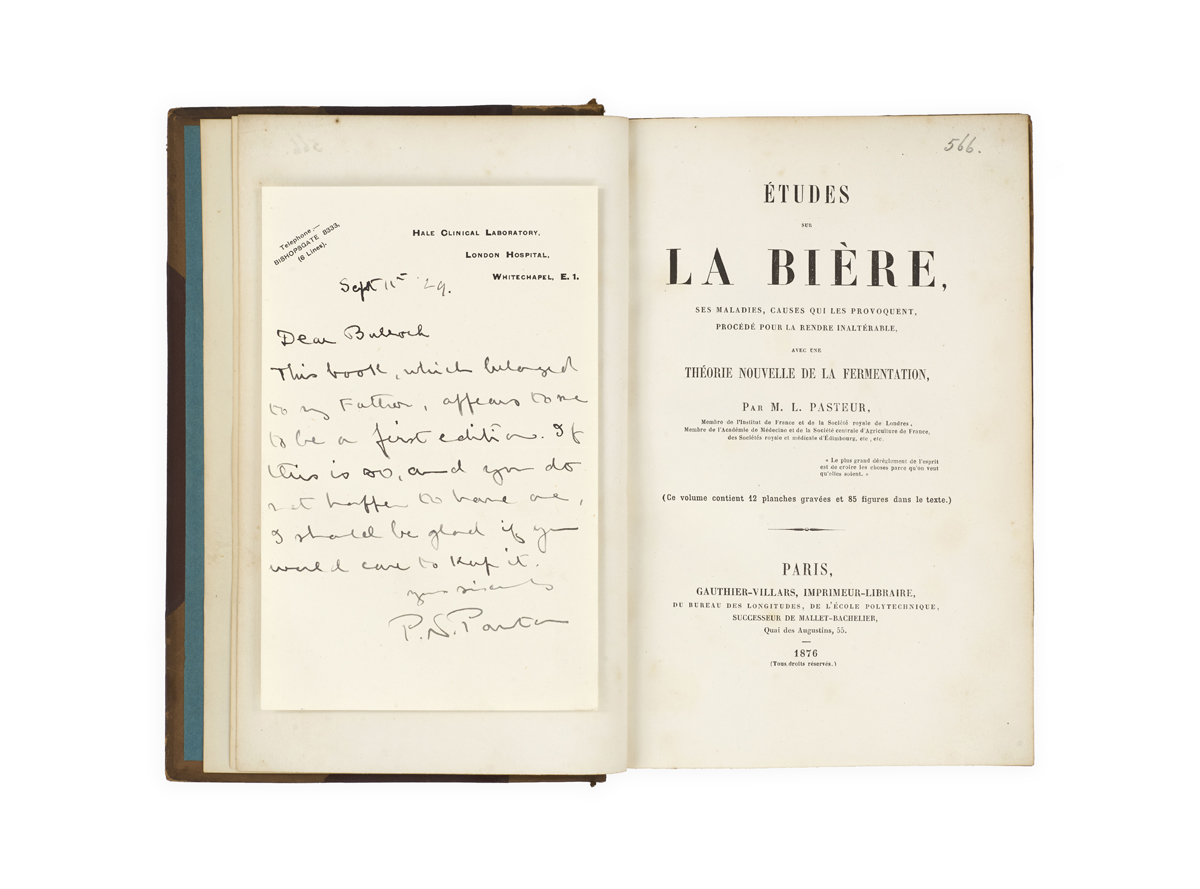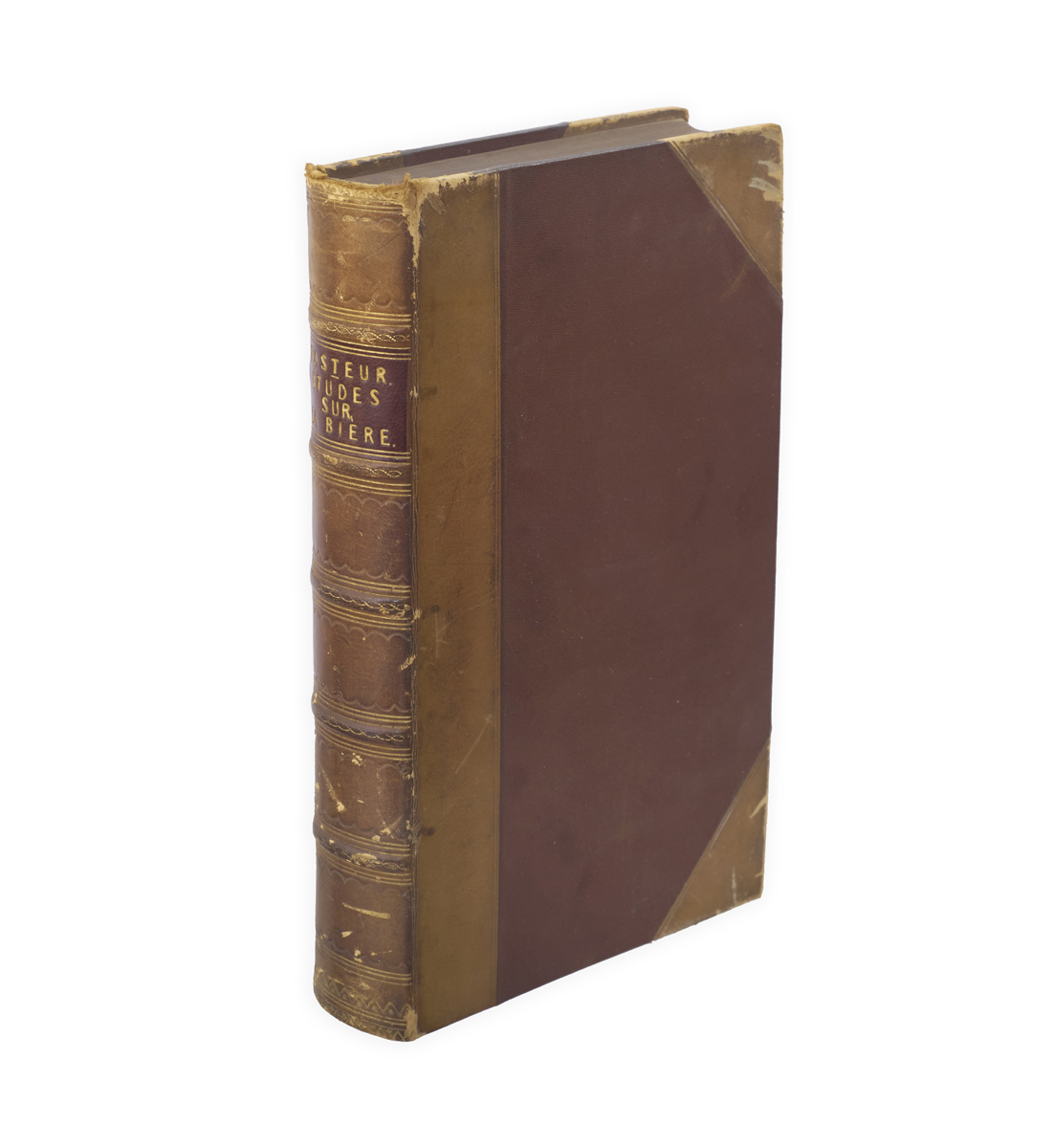 PASTEUR, Louis. 
Études sur la bière, ses maladies, causes qui les provoquent, procédé pour la rendre inaltérable, avec une théorie nouvelle de la fermentation. 
Paris, Gauthier-Villars, 1876.
8vo, pp. viii, 387, with 12 engraved plates; 85 illustrations in the text; half-title very lightly dust-soiled and spotted, but a very good copy; in contemporary half calf with cloth sides, spine gilt in compartments with gilt red morocco lettering-piece; extremities rubbed and a little scuffed, headcap minimally chipped.
£750

Approximately:
US $910
€866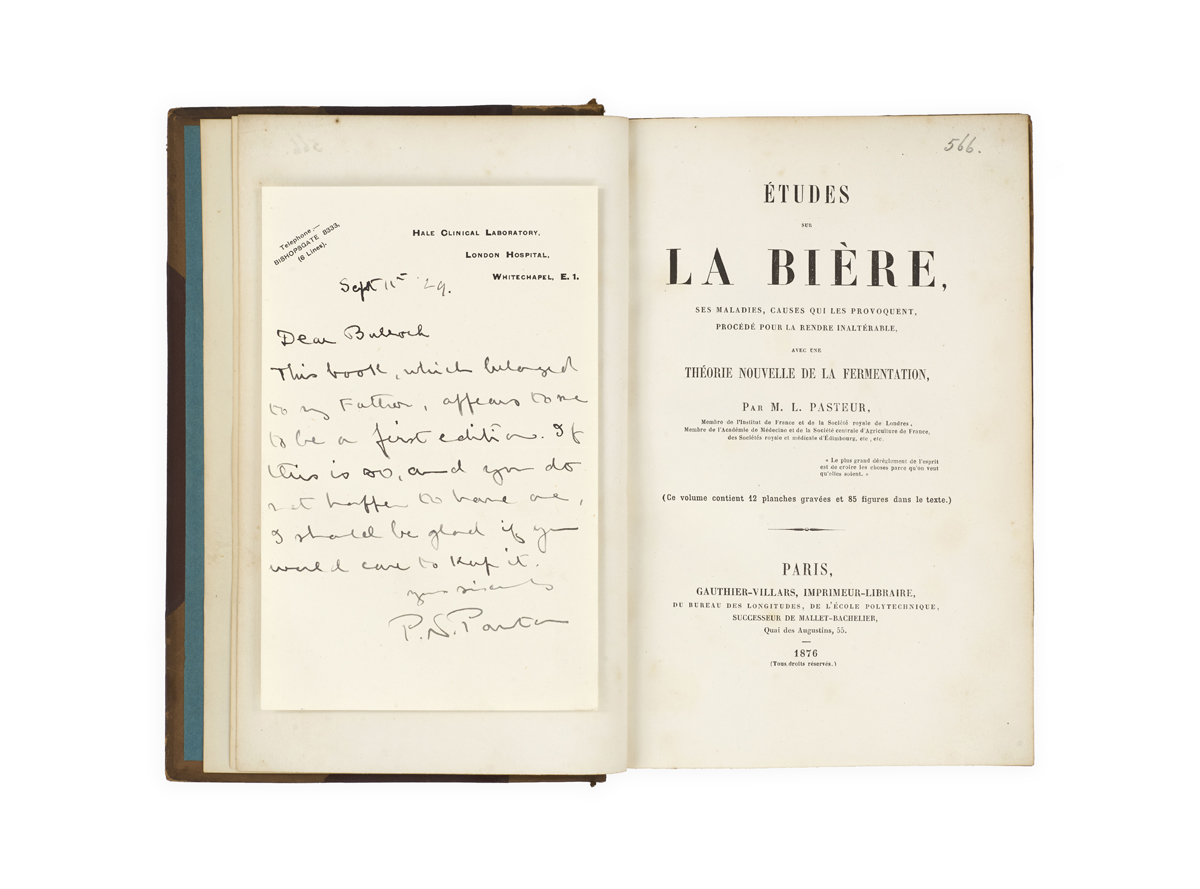 Added to your basket:
Études sur la bière, ses maladies, causes qui les provoquent, procédé pour la rendre inaltérable, avec une théorie nouvelle de la fermentation. 
First edition.  In his Études sur la bière, Pasteur 'described a new and perfected method of preparing pure yeast [and] emphasized that yeast occasionally required small quantities of oxygen in order to retain its "youth" and its capacity to germinate in oxygen-free environments.  Having now achieved a new appreciation for the importance of oxygen in brewing, and especially the advantages of aerated wort, he insisted only that air should be carefully limited and freed of foreign germs rather than entirely eliminated' (DSB). 

'This is not, strictly speaking, a practical work on brewing, but it contains a large number of detailed researches on many points which have become fundamental in the science of bacteriology, such as the absence of germs in the normal fluids of the body, and of fruits, the question of the transformation of one bacterial and fungal species into another, the purification of commercial yeasts, and it is only at the end that there are practical methods for the manufacture of beer.  The book is also remarkable for containing Pasteur's mature view on the subject of the nature of fermentative processes in general.  In his opinion fermentation was essentially the result of life without oxygen' (Bulloch, The History of Bacteriology, p. 62). 

Provenance: James A. Panton, with his ownership inscription on front flyleaf; his son the distinguished clinical pathologist Sir Phillip Noel Panton (1877–1950), with a loosely inserted autograph letter in his hand dated 11 September 1929 presenting the book to one 'Bulloch', doubtless the eminent bacteriologist and pathologist William Bulloch (1868–1941), author of The History of Bacteriology (1938), quoted above. 

Duveen p. 461; Norman 1658. 
You may also be interested in...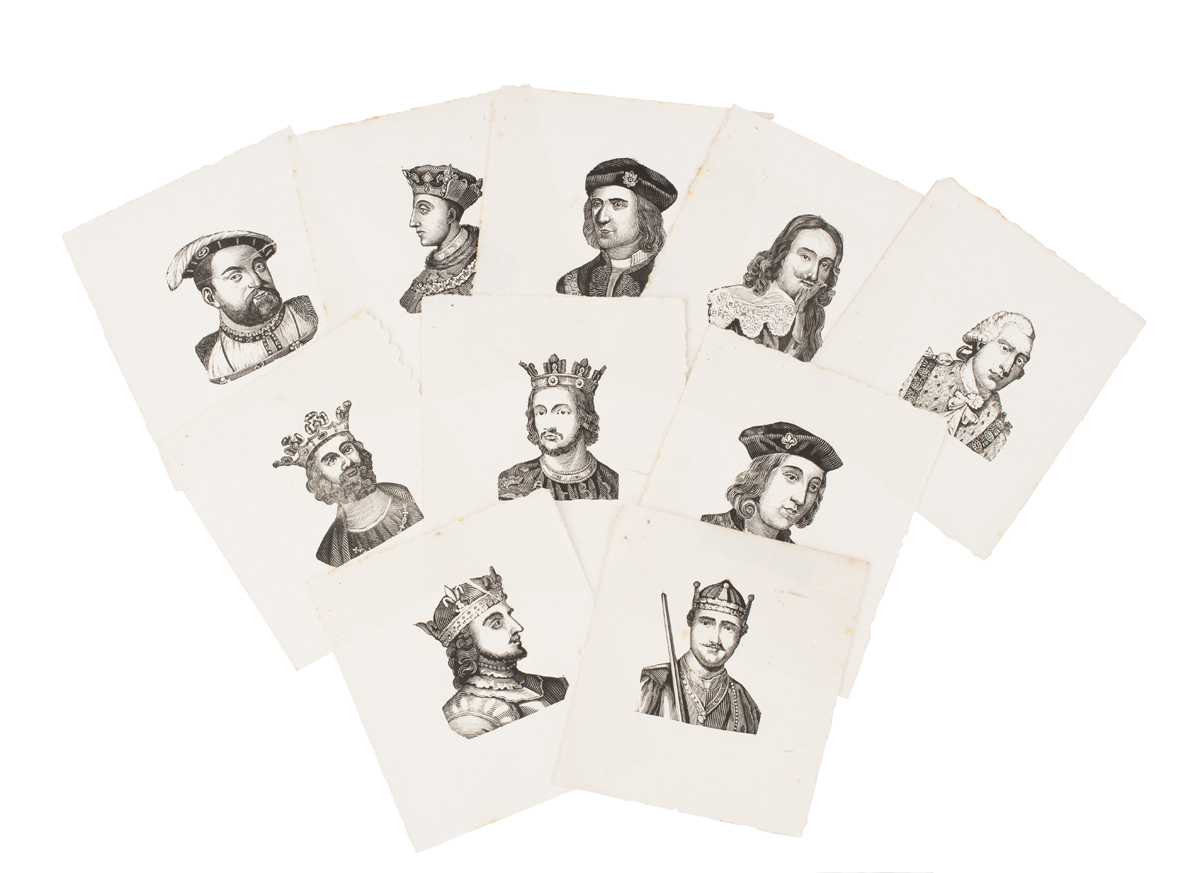 UNIQUE? [BEWICK, Thomas?]
Twenty-six rubbings from engraved woodblocks of the heads of Kings and Queens and England, apparently never published in this form.
Twenty-six apparently unrecorded wood-engravings – heads of the monarchs of England from William the Conqueror to George III – these images taken by rubbing from the blocks rather than printing. The engravings bear strong similarity to the 26 which appear in An Abridgement of the History of England … by Dr. Goldsmith … with Heads by Bewick (London, 1803), of which Thomas Bewick apparently bought a copy on 20 April of that year: his account book records a 'Parcel / Goldsmith Hisy Engd / Grafton Piccy 4s d.' (A Provisional Checklist of the Library of Thomas Bewick, by David Gardner-Medwin, item 1, online).
'I HAD RATHER DIE, THEN TO KISSE A MAN IN HIS BED' [BERLAIMONT, Noël de.] 
Colloquia et dictionariolum septem linguarum, Belgicae, Anglicae, Teutonicae, Latinicae, Italicae, Hispanicae, Gallicae.
Scarce edition of an immensely popular multilingual phrasebook containing several amusing scenarios – from dinner parties gone awry to squabbles over the price of fabric – in seven languages, so that the reader might 'not neede ony interpretour, but shal be able to speake them your self'.