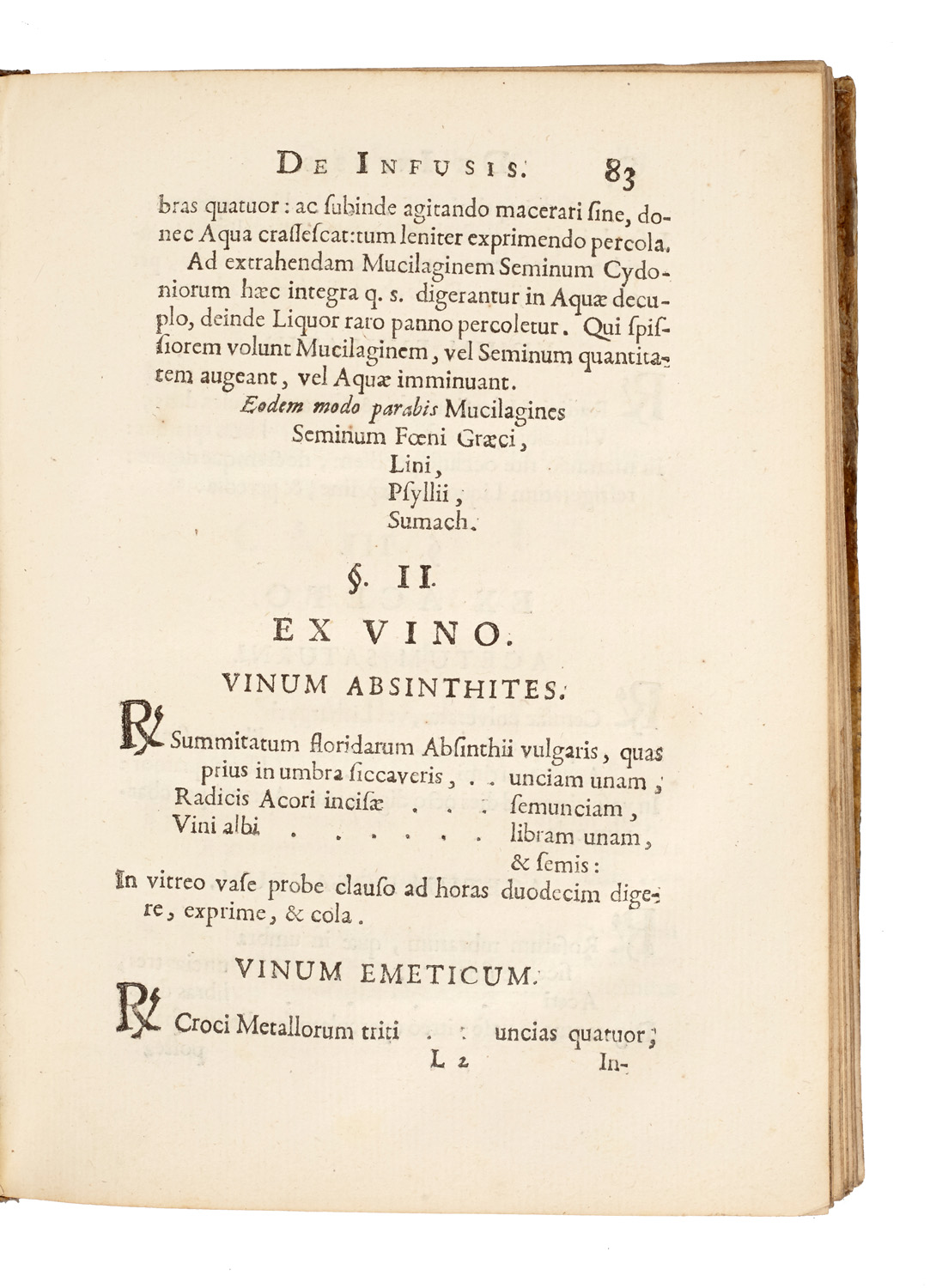 THE FIRST RECIPE FOR VERMOUTH
PHARMACOPOEA TAURINENSIS
nunc primum edita jussu Augustissimi Regis.
Turin, Jean-Baptiste Chais, 1736.
4to, pp. [viii], 246, [16], with 2 large folding plates; woodcut printer's device and two engraved woodcut initials with architectural scenes; first and last leaves lightly browned, tear restored with no loss to second plate; a very good, crisp copy, bound in contemporary full vellum, rubbed at corners, joints strengthened.
£1800

Approximately:
US $2482
€2125
Added to your basket:
nunc primum edita jussu Augustissimi Regis.
First edition of this Turin pharmacopoeia, prepared by doctors at the city's medical college at the order of Charles Emmanuel III, Duke of Savoy. Its first section comprises a list of all substances generally used in the preparation of medicines, with synonyms and notes to aid the user in distinguishing between plants which look similar, which the authors 'deemed extremely useful for younger apothecaries'.

The second section contains recipes for simple and compound medicines, including potions, infusions, decoctions, syrups, powders, lozenges, tablets, spirits, salts, tinctures, precipitates, oils, ointments and plasters. Some of these, the authors claim, 'depart somewhat from the common method of preparation'.

It notably features the first appearance of the recipe for vinum absinthites (wormwood wine), which in 1786 formed the basis of Antonio Benedetto Carpano's first commercial recipe for Vermouth. In the seventeenth century wormwood was considered an effective remedy for treating the plague.

The pharmacopoea does not detail which ailments ought to be treated with which concoction, only the method and equipment for preparing them and the precise quantities of ingredients required. The two large folding plates by Giuseppe Bartolomeo Tasniere show alembics for distillation, one of spiritus sulphuris (the acid spirit obtained from sulphur), the other of spiritus vini alcoholisatus (absolute alcohol), with different parts of the apparatus labelled. The second of these in particular is rarely found intact.

Wellcome, 14301925.
You may also be interested in...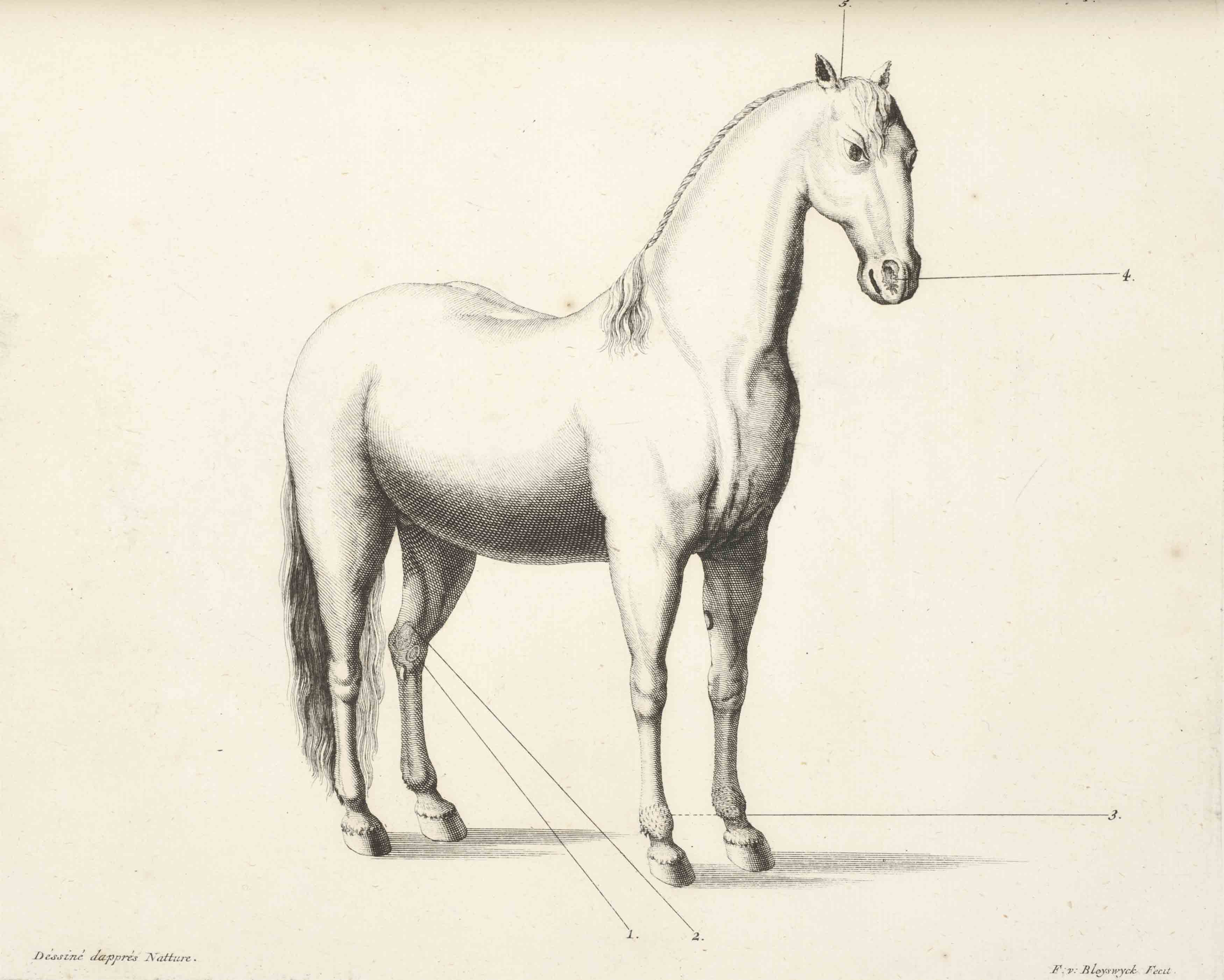 SAUNIER, Jean de, and Gaspard de SAUNIER.
La parfaite connoissance des chevaux, leur anatomie, leurs bonnes & mauvaises qualitez, leurs maladies & les remedes qui y conviennent.
First edition of Gaspard de Saunier's most important work, the only one published during his lifetime. Gaspard de Saunier (1663 - 1748) established his reputation with the foundation of his equestrian academy at Leiden in 1707 and as riding master to the university there, having previously served as equerry to several notable nobles in France and practised at the French royal stables with his father, Jean de Saunier, 'inspecteur de la grande écurie du roi', who is credited by Gaspard as the original author of the text.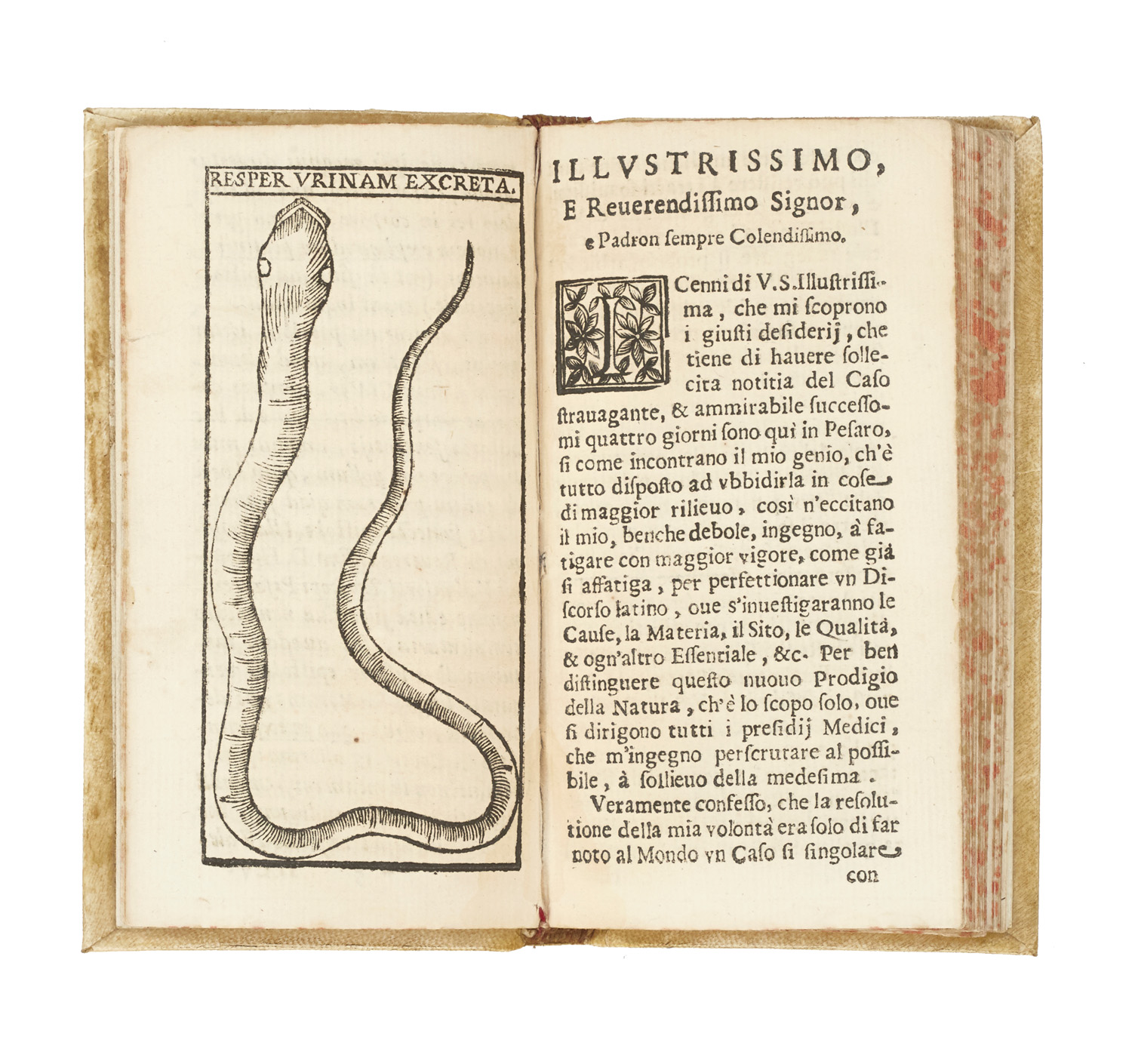 A WONDER WORM MARINIS, Dominico de.
Dissertatio philosophico-medica de re monstrosa à Capuccino Pisauri per urinam excreta. Plura de sanguinis grumis, polypis, serpentibus, ac praecipuè de vermibus in corpore humano procreatis non iniucunda complectens ...
First edition of this scarce dissertation on worms focussing on the extraordinary case of a capuchin preacher from Pesaro who in 1677 passed a 'monster' worm in his urine, which upon subsequent examination was declared to be a serpent. The Dissertatio begins with a prefatory letter in Italian by Alessandro Cocci discussing the case of the capuchin friar Stefano da Cammerino who for 13 months had suffered from kidney pains and bloody and lumpy urine. Following treatment by Cocci and Cesare Cesareo, Cammerino passed, with excruciating pain, a long thin worm through his urinary meatus, initially trying to pull it out, only to break it in two, and then passing the remainder, to his subsequent great relief. The worm caused much local interest and Cocci describes how it was initially put on display to satisfy the curious, before being examined under a microscope. The conclusion of this examination was that the 'prodigio della natura' passed by Cammerino was in fact a serpent.