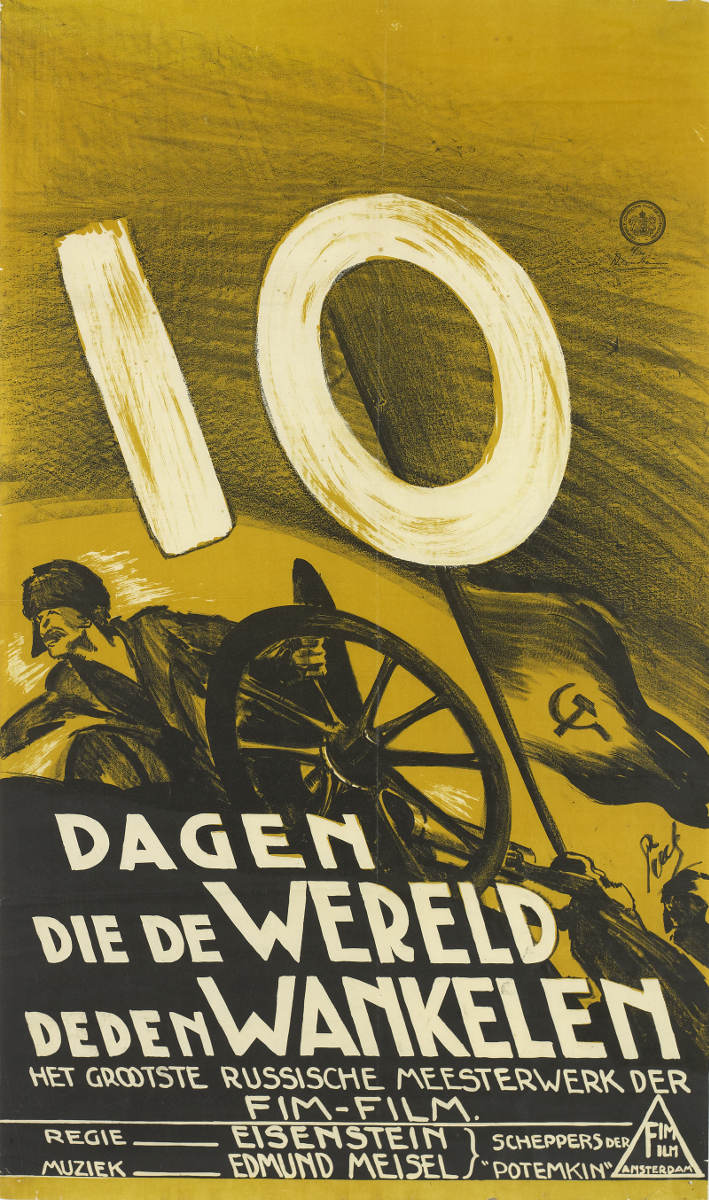 PIECK, Henri C.
10 Dagen Die De Wereld Deden Wankelen.
Amsterdam, Skovino, 1927.
Lithograph in colour, 42 x 25in (106.7 x 63.5cm); folds visible, small chip to bottom and top margins; signed 14/1198 D. von H..', stamped 'Centrale Commissie voor Filmkeuring' with seal; unbacked, very good.
£300

Approximately:
US $380
€334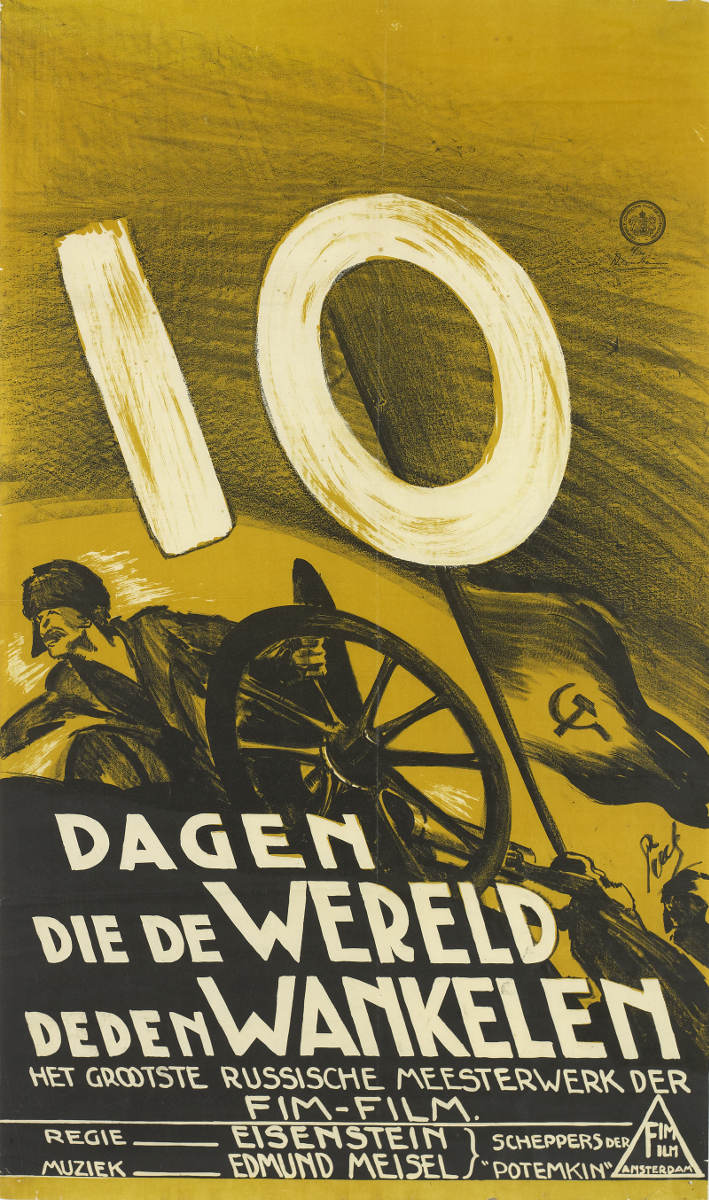 Added to your basket:
10 Dagen Die De Wereld Deden Wankelen.
A rare lithograph of Pieck's dramatic illustration for Ten Days that Shook the World (October in English), a silent film commissioned by the Soviet government to commemorate the 10-year anniversary of the October Revolution. Made by the director of Battleship Potemkin (1925), Sergei Eisenstein, the film utilized the concept of intellectual montage in order to juxtapose unrelated images in order to highlight the jingoistic patriotism promoted in the USSR during the period. The film was not commercially successful, and the government did not appreciate the artistic licence taken by Eisenstein with regards to the historical significance of the event depicted. However, Eisenstein's groundbreaking use of montage and his subversion of the film's original propagandistic purpose were regarded as an artistic triumph.

Pieck was a Dutch artist who worked turned to Soviet Intelligence in the 1930s. He was arrested in 1941 by the Germans due to his involvement with the Dutch resistance and sent to Buchenwald. He died at the Hague in 1972.


You may also be interested in...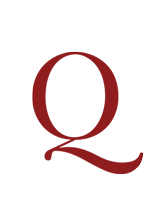 [KRAG, Niels, editor.]
NICOLAUS, of Damascus. Ex Nicolai Damasceni universali historia seu de moribus gentium libris excepta Iohannis Stobaei collectanea, quae Nicolaus Cragius latina fecit, et seorsum edidit.
First edition thus. Comprises observations on the customs of different peoples (Iberians, Celts, Phrygians, Assyrians, Spartans and so on) from the Augustan historian Nicolaus of Damascus' Universal history, only fragments of which have come down to us (in this case via Stobaeus). The text is printed here in the original Greek together with a Latin translation by the Danish historian and philologist Niels Krag (or Cragius, c. 1550–1602).
RUSSIAN HISTORY LEVESQUE, Pierre Charles.
Histoire de Russie, tirée des chroniques originales, de pieces authentiques, & des meilleurs historiens de la nation ... Tome premier [-cinquieme].
First edition, a handsome copy, in an attractive binding. Trained as an engraver, Levesque (1736-1812) obtained a teaching position in St Petersburg through the recommendation of Denis Diderot. His seven-year stay in Russia resulted in his highly successful Histoire de Russie, a classic work on the region which exercised a considerable influence on western perceptions of Russia and on Russian historiography. Following a list of subscribers and a bibliography of works consulted, Levesque gives a chronological history of Russia from the ninth century to his own times, supplemented with chapters on Slavic language and religion, Russian customs, literature, geography, government, commerce, expansion into Siberia, and navigations and discoveries. The Histoire des différents peuples provides much of interest on the Kamchatka, Kuril Islanders, Koryaks, Chukchi, Samoyedic and Tungusic peoples, Ostyaks, Votyaks, Mordvins, Cheremis, Chuvash people, Lapps, Finns, Estonians, and Tatars, including discussion of their clothing, food, transport, religion and customs, education, government, industry, and health.