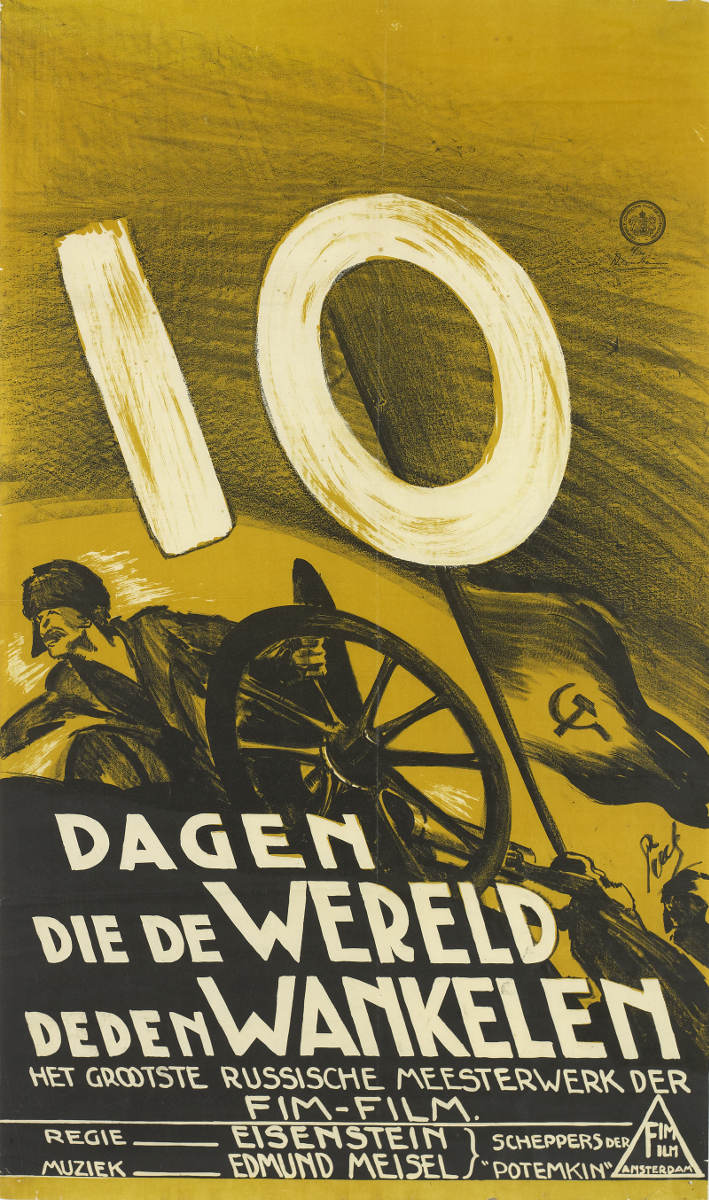 PIECK, Henri C.
10 Dagen Die De Wereld Deden Wankelen.
Amsterdam, Skovino, 1927.
Lithograph in colour, 42 x 25in (106.7 x 63.5cm); folds visible, small chip to bottom and top margins; signed 14/1198 D. von H..', stamped 'Centrale Commissie voor Filmkeuring' with seal; unbacked, very good.
£300

Approximately:
US $373
€338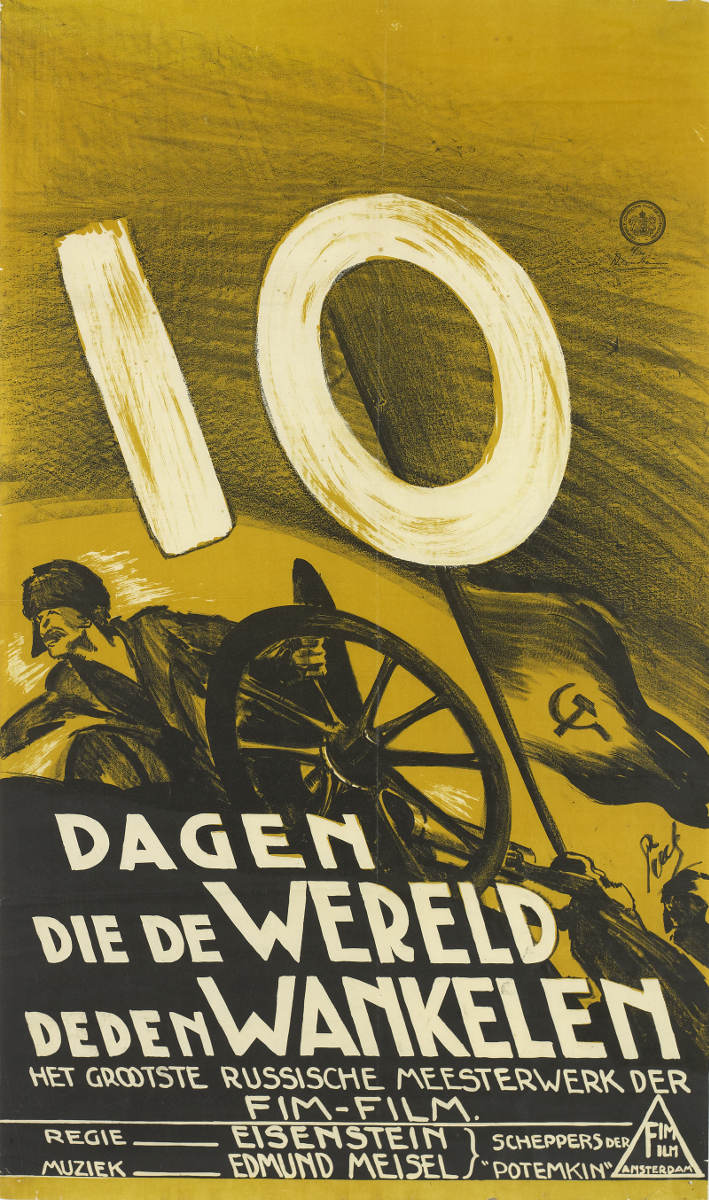 Added to your basket:
10 Dagen Die De Wereld Deden Wankelen.
A rare lithograph of Pieck's dramatic illustration for Ten Days that Shook the World (October in English), a silent film commissioned by the Soviet government to commemorate the 10-year anniversary of the October Revolution. Made by the director of Battleship Potemkin (1925), Sergei Eisenstein, the film utilized the concept of intellectual montage in order to juxtapose unrelated images in order to highlight the jingoistic patriotism promoted in the USSR during the period. The film was not commercially successful, and the government did not appreciate the artistic licence taken by Eisenstein with regards to the historical significance of the event depicted. However, Eisenstein's groundbreaking use of montage and his subversion of the film's original propagandistic purpose were regarded as an artistic triumph.

Pieck was a Dutch artist who worked turned to Soviet Intelligence in the 1930s. He was arrested in 1941 by the Germans due to his involvement with the Dutch resistance and sent to Buchenwald. He died at the Hague in 1972.


You may also be interested in...
MISSAL,
the Canon of the Mass; a fragment of a bifolium (a single leaf preserving a small section only of the conjoint leaf), single columns written in dark brown ink in a tall late romanesque bookhand, 21 lines remaining, ruled in ink, four two-line initials on verso alternately in blue and red with contrasting penwork (two being monograms of 'V' and 'D' for 'Vere dignum'), one five-line and one six-line initial on verso with red penwork in a leafy design, rubrics; recovered from use in a binding and with consequent creasing and staining, trimmed with loss of several lines at foot, verso soiled and worn. 218 x 191 mm
At the end of the first line on the recto is the rubric 'infra actionem', immediately before the prayer 'Communicantes et diem sacratissimam celebrantes'. The expression 'infra actionem' originally referred to a variable formula to be inserted within the fixed text on special occasions, and signified that the following text was to be inserted 'within the action'. Thus it is probable that the prayer 'Communicantes' was not originally a fixed part of the Canon but was inserted on special feasts. Gradually it was transformed into a permanent fixture, with some variant formulas on special feasts.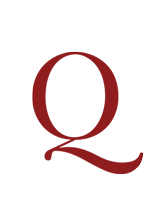 [PORTUGAL.]
Centro dei Comunisti. Lotta di classe e potere politico in Portogallo (Quaderni Comunisti).

An historical overview of the Portuguese 'Carnation Revolution' of 25 April 1974 and its aftermath, including a reproduction of João Abel Manta's famous poster showing Vasco Gonçalves, Portugal's prime minister, with his arms around a member of the MFA (Movimento das Forças Armadas) and one of the people. Gonçalves had been dismissed from office the week before this publication appeared.