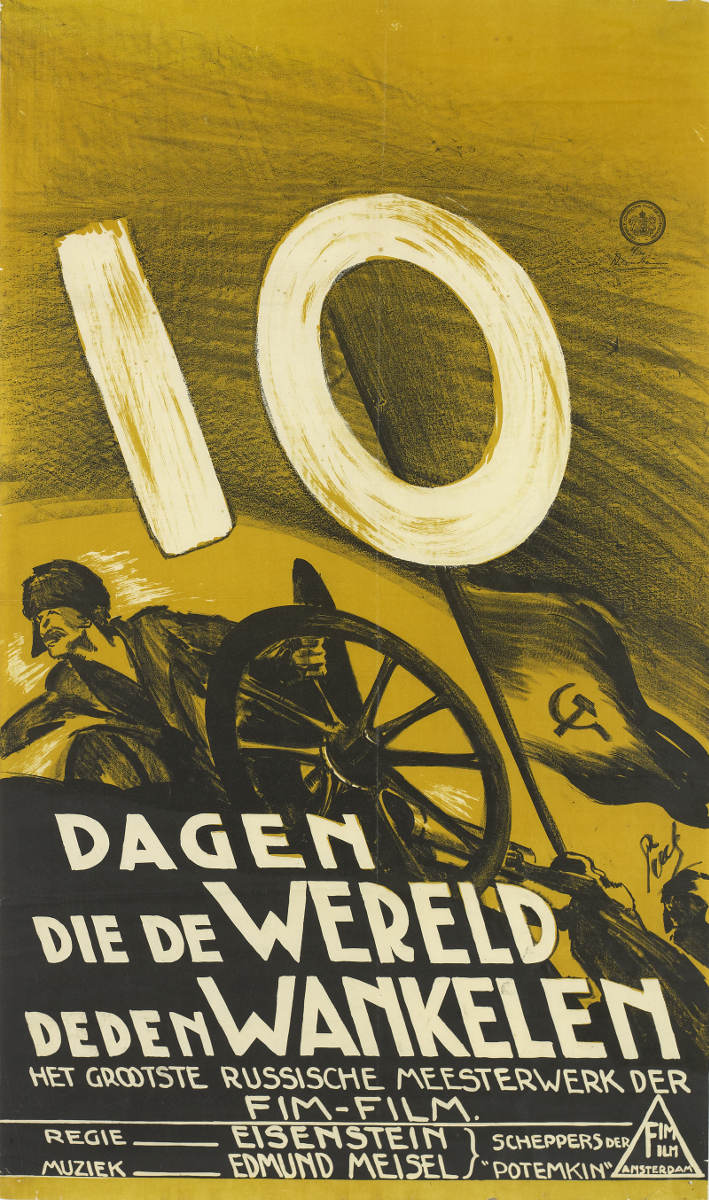 PIECK, Henri C.
10 Dagen Die De Wereld Deden Wankelen.
Amsterdam, Skovino, 1927.
Lithograph in colour, 42 x 25in (106.7 x 63.5cm); folds visible, small chip to bottom and top margins; signed 14/1198 D. von H..', stamped 'Centrale Commissie voor Filmkeuring' with seal; unbacked, very good.
£300

Approximately:
US $377
€334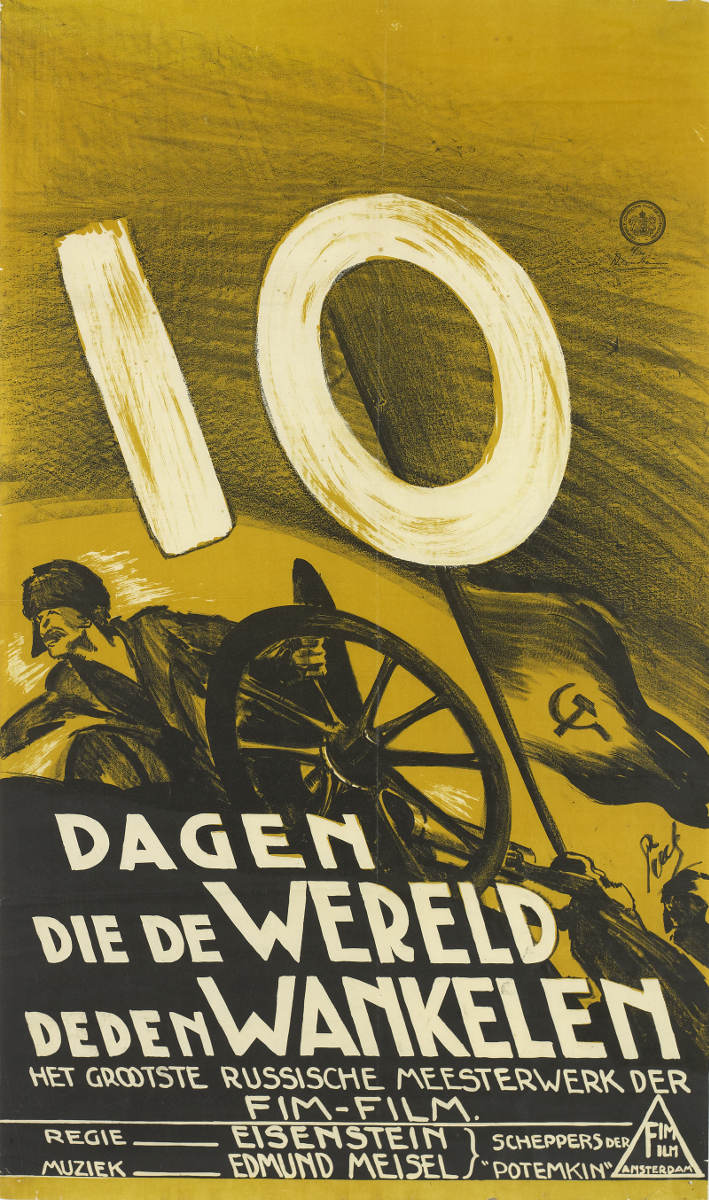 Added to your basket:
10 Dagen Die De Wereld Deden Wankelen.
A rare lithograph of Pieck's dramatic illustration for Ten Days that Shook the World (October in English), a silent film commissioned by the Soviet government to commemorate the 10-year anniversary of the October Revolution. Made by the director of Battleship Potemkin (1925), Sergei Eisenstein, the film utilized the concept of intellectual montage in order to juxtapose unrelated images in order to highlight the jingoistic patriotism promoted in the USSR during the period. The film was not commercially successful, and the government did not appreciate the artistic licence taken by Eisenstein with regards to the historical significance of the event depicted. However, Eisenstein's groundbreaking use of montage and his subversion of the film's original propagandistic purpose were regarded as an artistic triumph.

Pieck was a Dutch artist who worked turned to Soviet Intelligence in the 1930s. He was arrested in 1941 by the Germans due to his involvement with the Dutch resistance and sent to Buchenwald. He died at the Hague in 1972.


You may also be interested in...
[ANON].
The Dutch drawn to the life…
First edition. The book is written as a series of questions and answers, covering everything one could ever wish to know about the Dutch and their nation from their general character, social life and customs to physical details of the individual provinces, trade and industry, politics and government, religion, welfare, an account of the deeds of the Prince of Orange and the creation of the Free State, and history and Anglo-Dutch relations from 1612 to the present day, focusing particularly on the miracle of Dutch power and prosperity.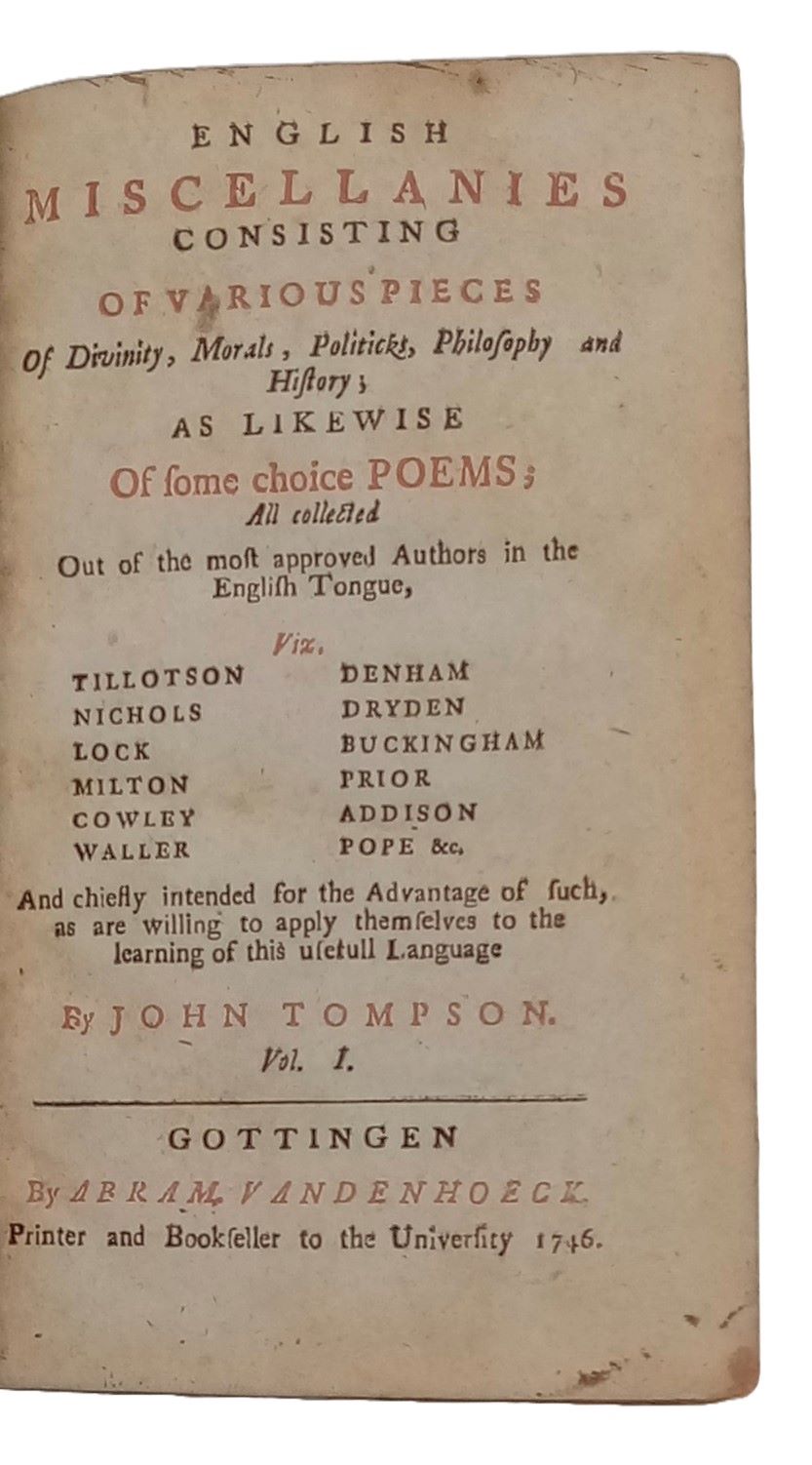 WITH NEW CONTENT – POPE, THOMSON, YOUNG … TOMPSON, John, editor.
English Miscellanies consisting of various Pieces of Divinity, Morals, Politicks, Philosophy and History; as likewise of some choice Poems; all collected out of the most approved Authors in the English Tongue [etc.] … Vol. I[–II].
Second edition, revised, of John Tompson's important English Miscellanies, expanded to almost twice the size of the first edition, including up-to-date content published since 1737.