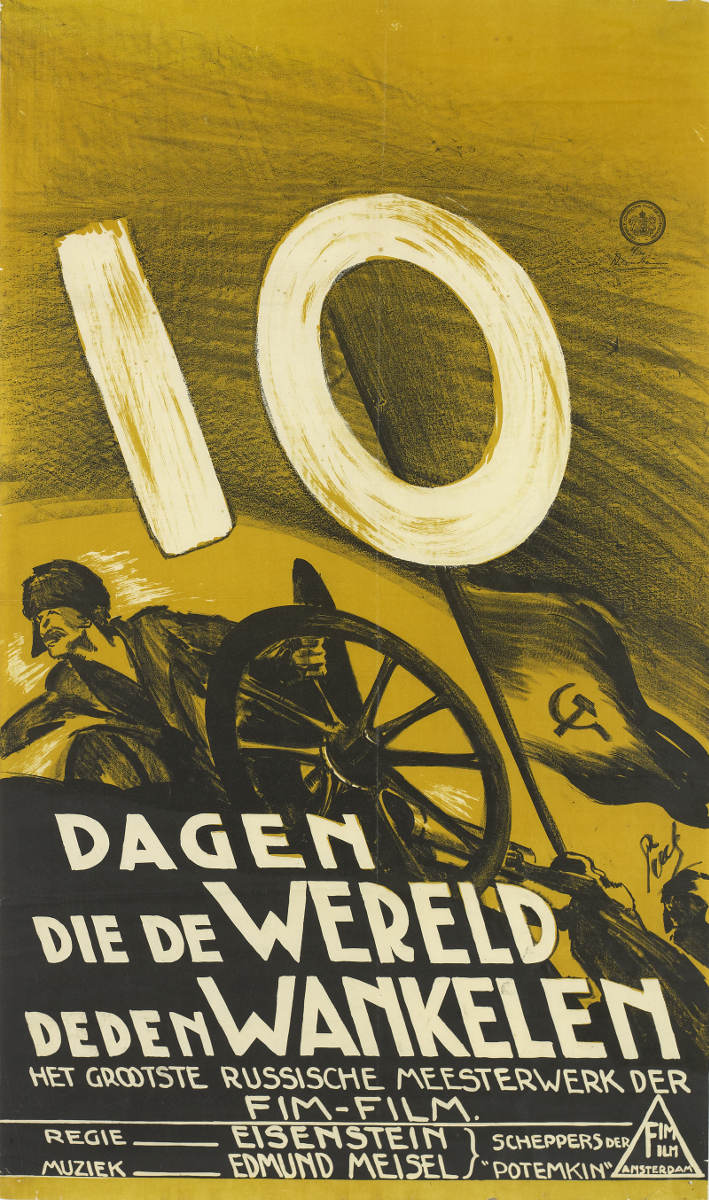 PIECK, Henri C.
10 Dagen Die De Wereld Deden Wankelen.
Amsterdam, Skovino, 1927.
Lithograph in colour, 42 x 25in (106.7 x 63.5cm); folds visible, small chip to bottom and top margins; signed 14/1198 D. von H..', stamped 'Centrale Commissie voor Filmkeuring' with seal; unbacked, very good.
£300

Approximately:
US $367
€348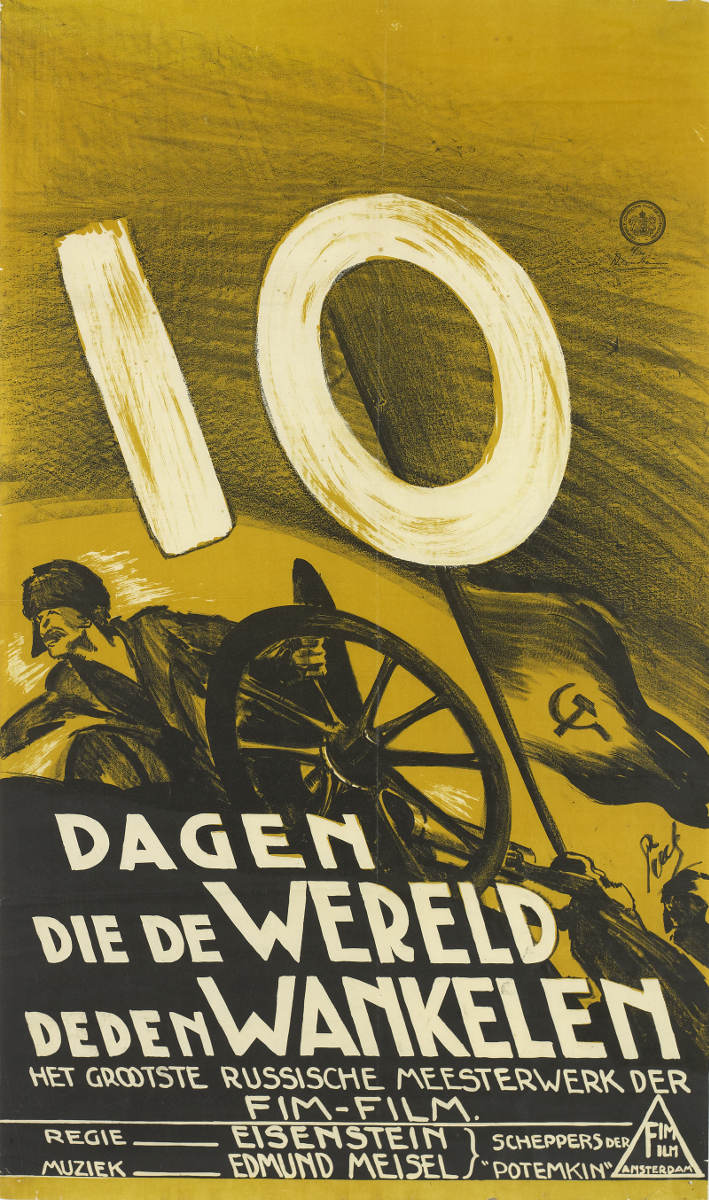 Added to your basket:
10 Dagen Die De Wereld Deden Wankelen.
A rare lithograph of Pieck's dramatic illustration for Ten Days that Shook the World (October in English), a silent film commissioned by the Soviet government to commemorate the 10-year anniversary of the October Revolution. Made by the director of Battleship Potemkin (1925), Sergei Eisenstein, the film utilized the concept of intellectual montage in order to juxtapose unrelated images in order to highlight the jingoistic patriotism promoted in the USSR during the period. The film was not commercially successful, and the government did not appreciate the artistic licence taken by Eisenstein with regards to the historical significance of the event depicted. However, Eisenstein's groundbreaking use of montage and his subversion of the film's original propagandistic purpose were regarded as an artistic triumph.

Pieck was a Dutch artist who worked turned to Soviet Intelligence in the 1930s. He was arrested in 1941 by the Germans due to his involvement with the Dutch resistance and sent to Buchenwald. He died at the Hague in 1972.


You may also be interested in...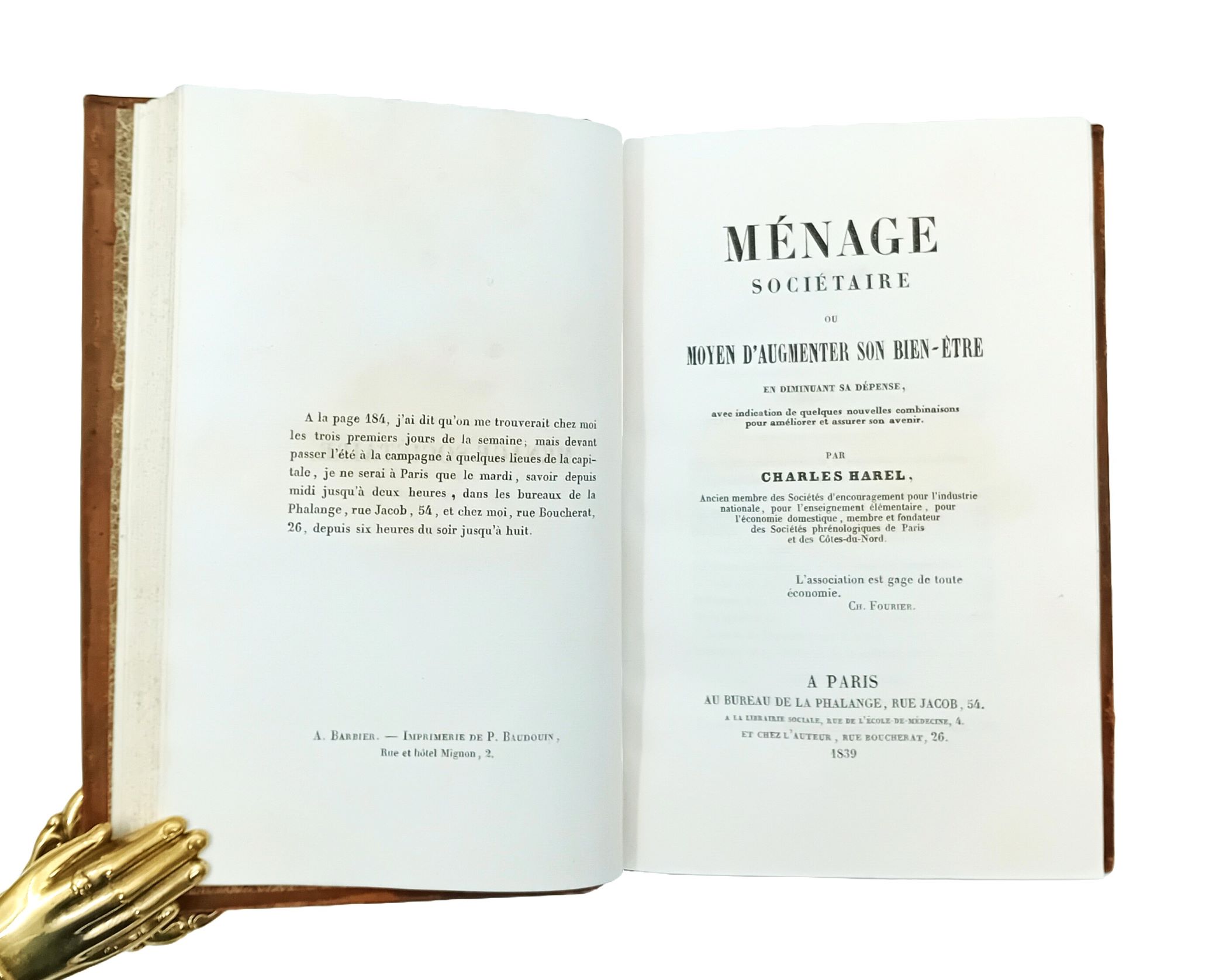 A SAMMELBAND ON PEACEINCLUDING RARE PAMPHLET ON WILLIAM PENN AND WILBERFORCEAND A RARE UTOPIA BY A HAREL, Charles.
Ménage sociétaire ou Moyen d'augmenter son bien-être en diminuant sa dépense, avec indication de quelques nouvelles combinaisons pour améliorer et assurer son avenir.
1. First edition of this work by the entrepreneur and inventor Charles Harel (1771-1852), a friend and disciple of Charles Fourier's. This plan describes Harel's project for the founding of a community of 200 celibates: a utopia of communal life detailing rules ('love', 'the library'etc.) and practical advice (the influence of specific foods, magnetism, exercise). It is accompanied by a facsimile of an autograph letter from Charles Fourier to Harel.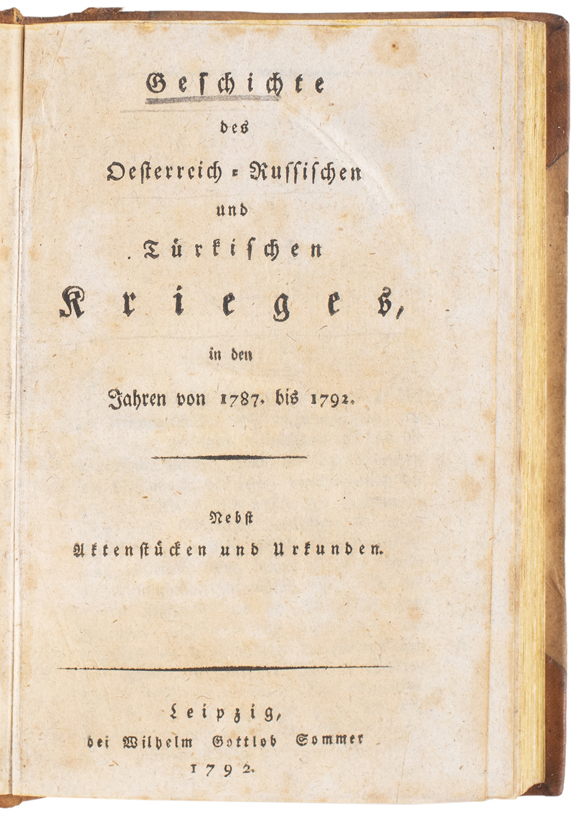 TURKISH WARSTHE SCHÖNBORN-BUCHHEIM–ATABEY COPY [UNGER, Salomo Gottlob.]
Geschichte des Oesterreich-Russischen und Türkischen Krieges, in den Jahren von 1787. bis 1792. Nebst Aktenstücken und Urkunden.
First and only edition, extremely rare, of this account of the Austro-Turkish War of 1788-1791, and of the concurrent Russo-Turkish war of 1787-92. It includes the full texts of the Treaty of Sistova of 4 August 1791 and of a separate convention attached to it, in both French and German. While the gains for Austria were meagre, the end of the Russo-Turkish war, sanctioned by the Treaty of Jassy of 9 January 1792, effectively left Russia in control of the Black Sea.