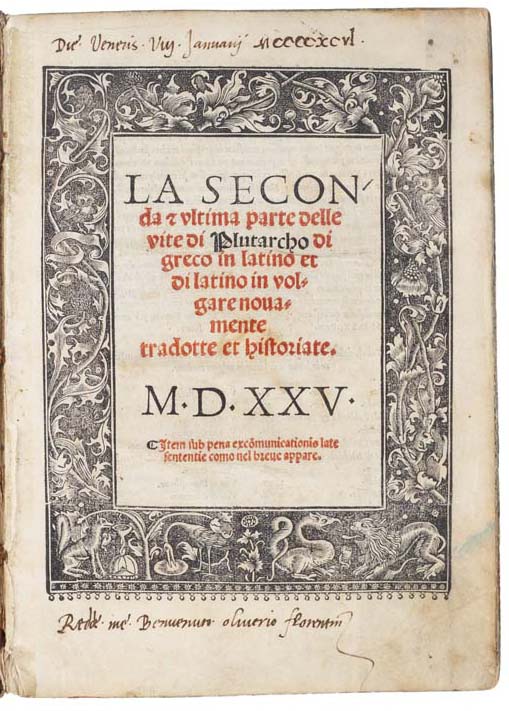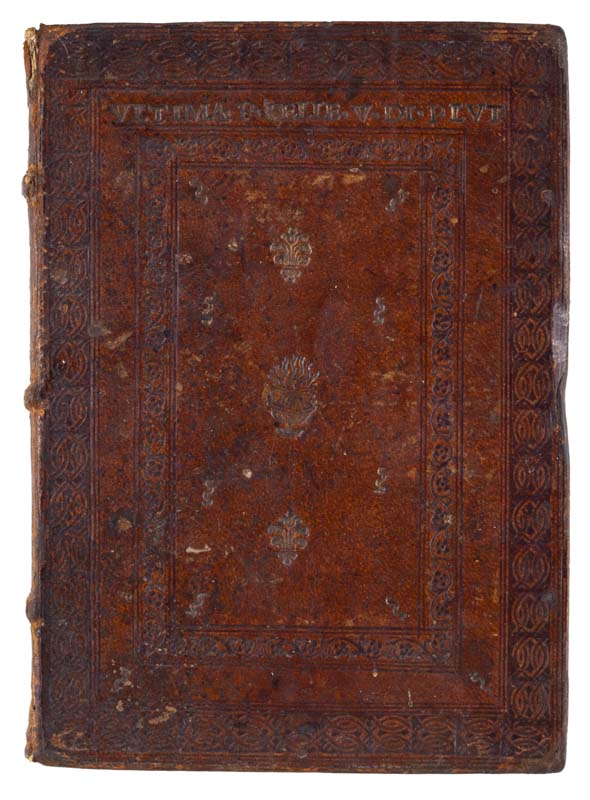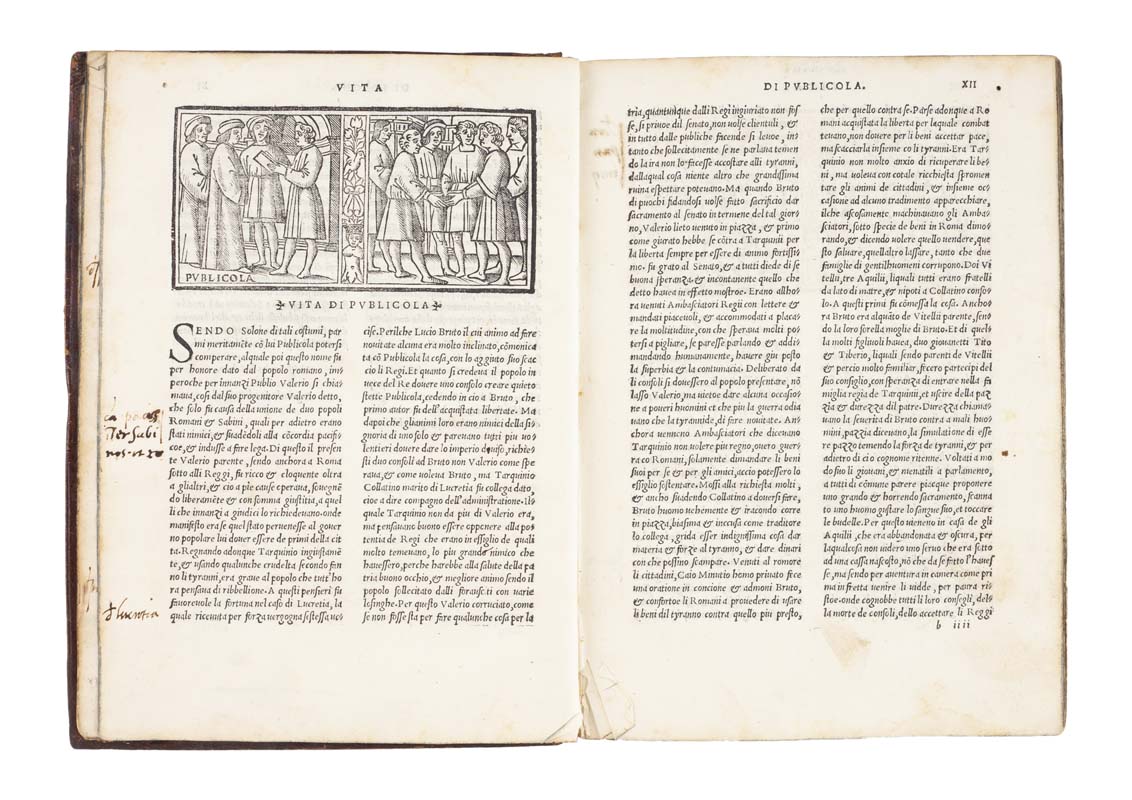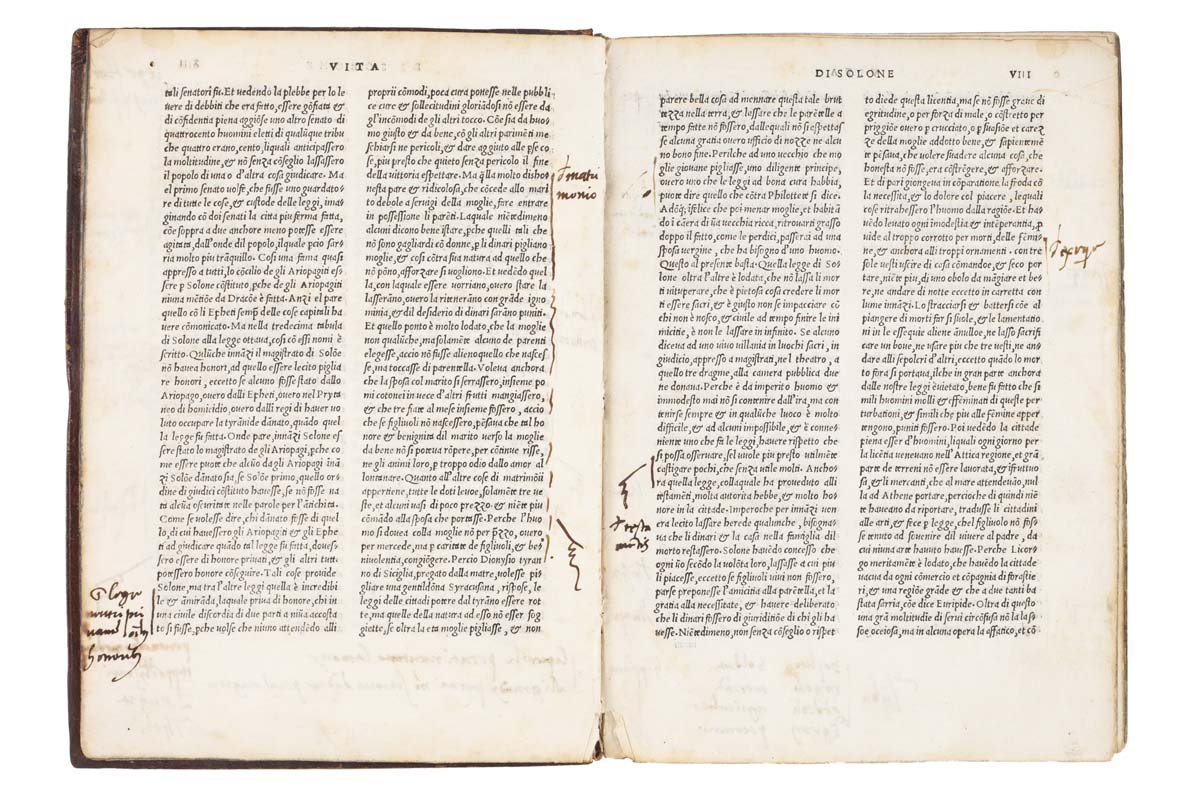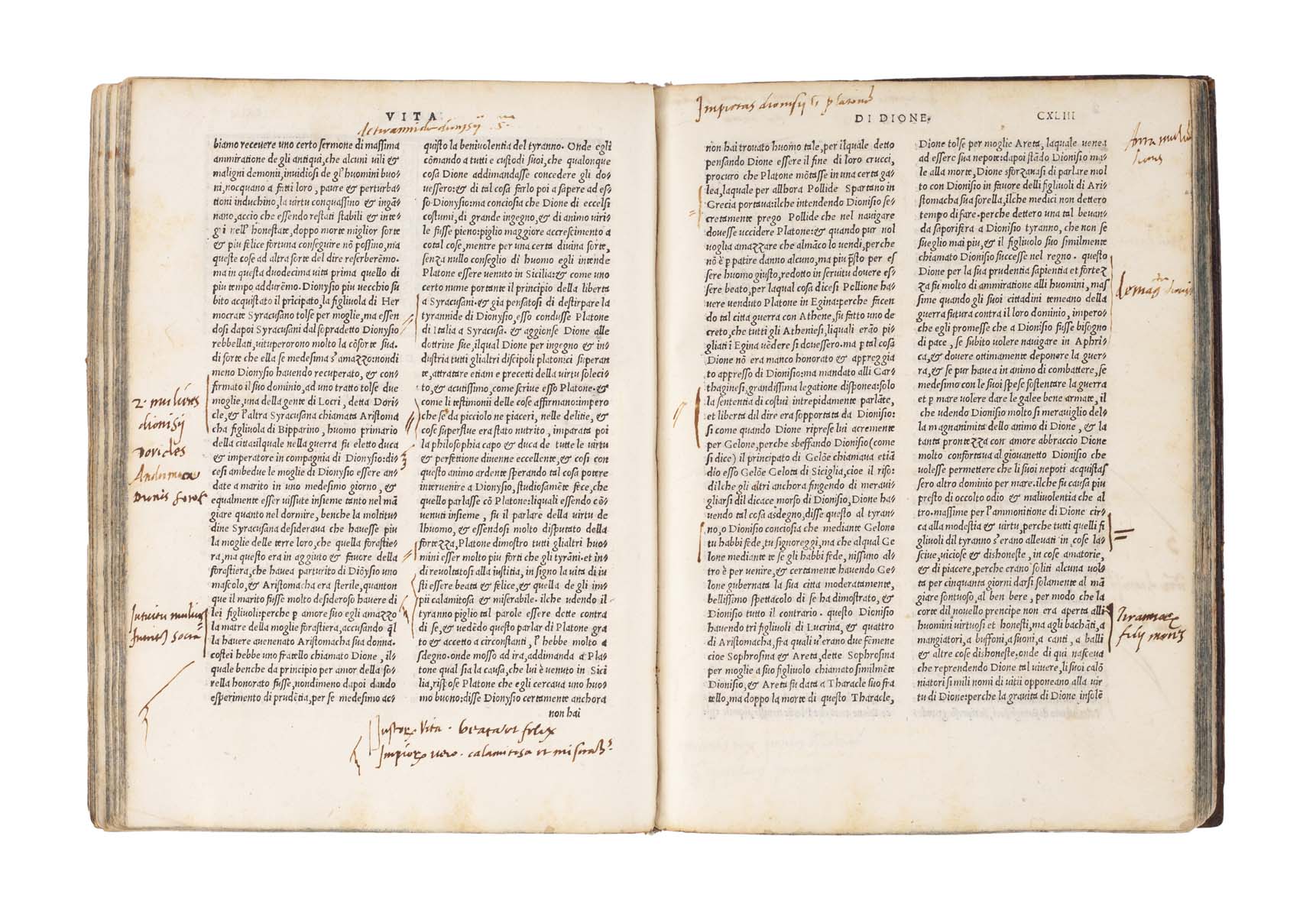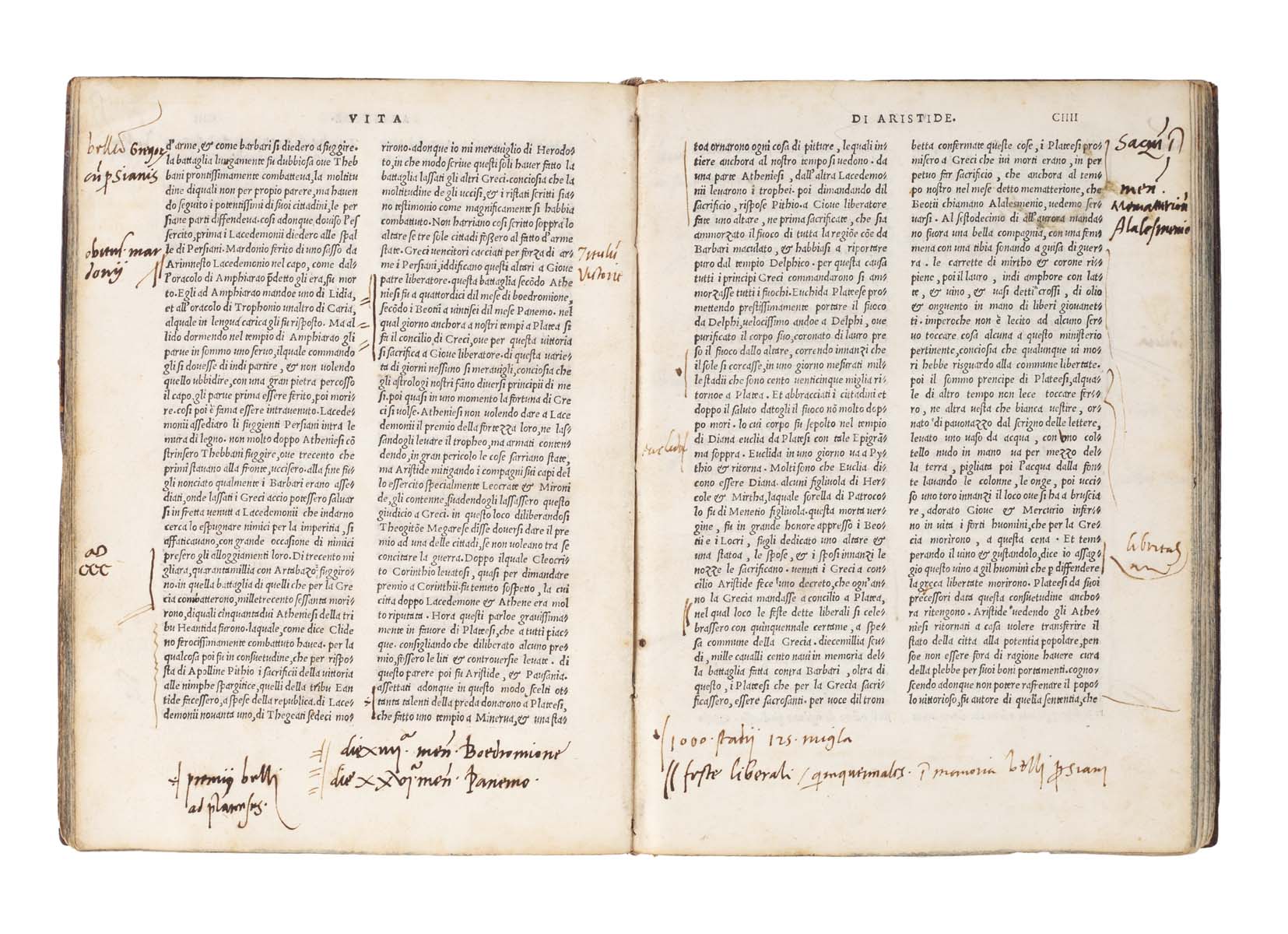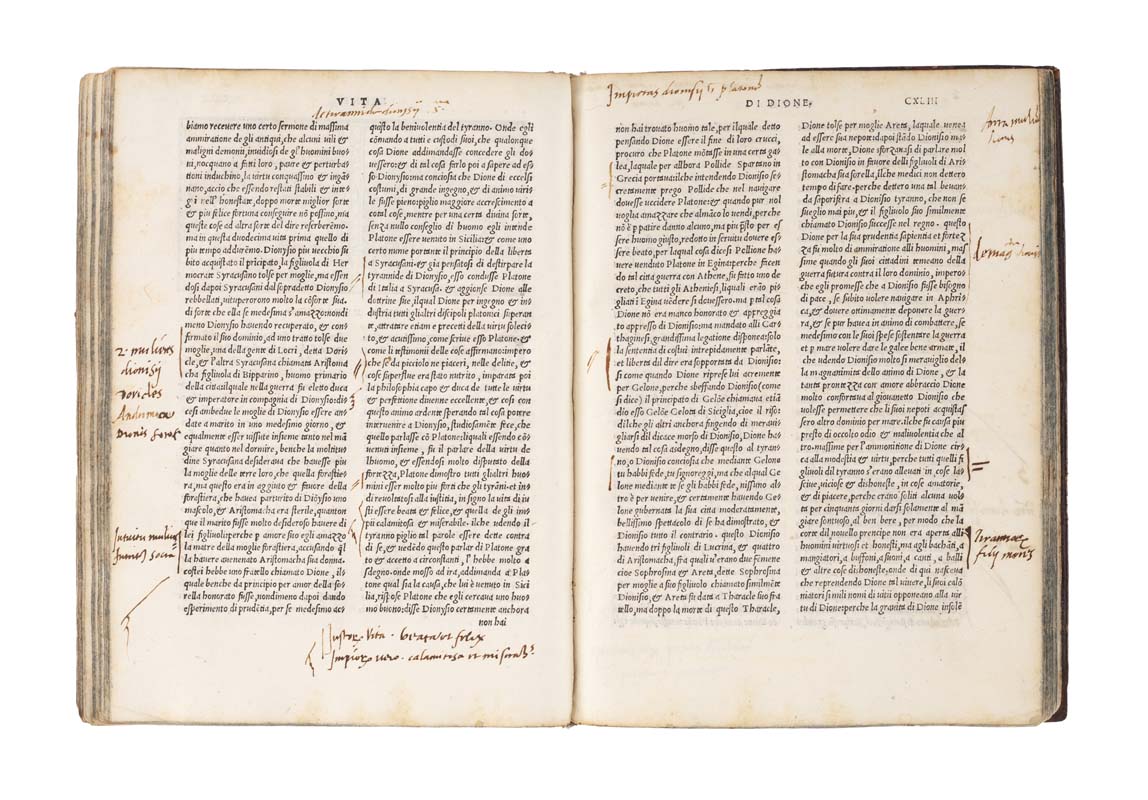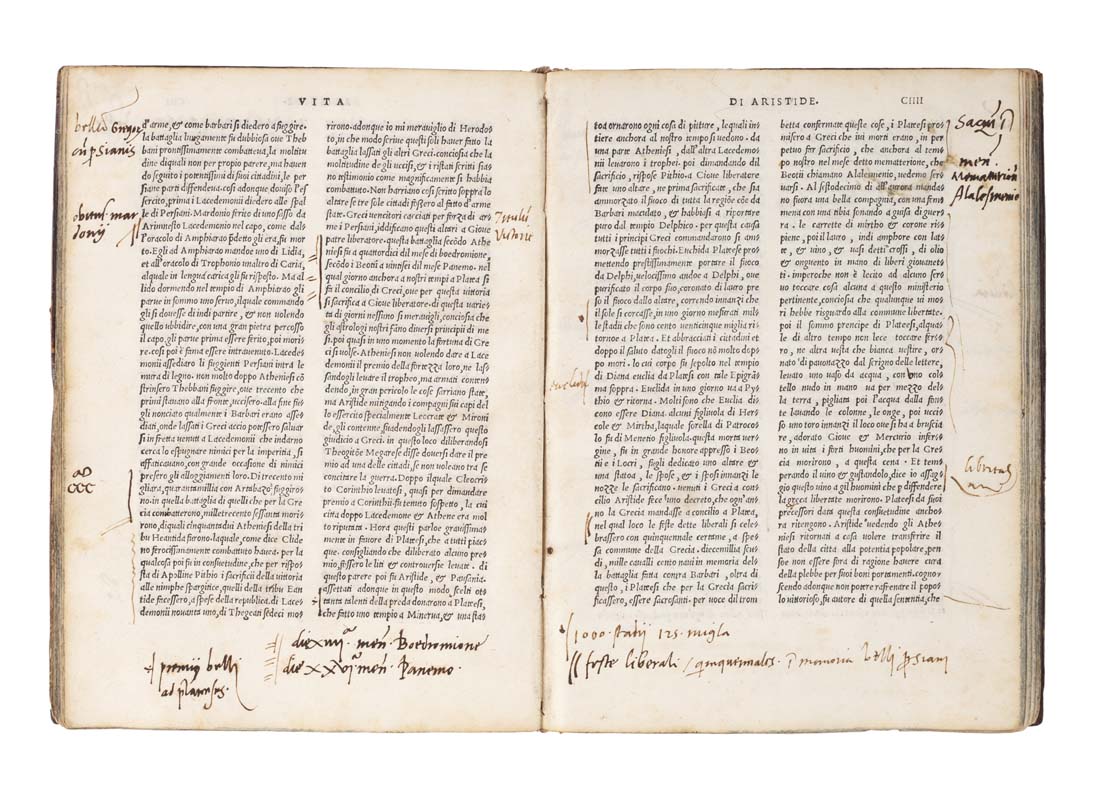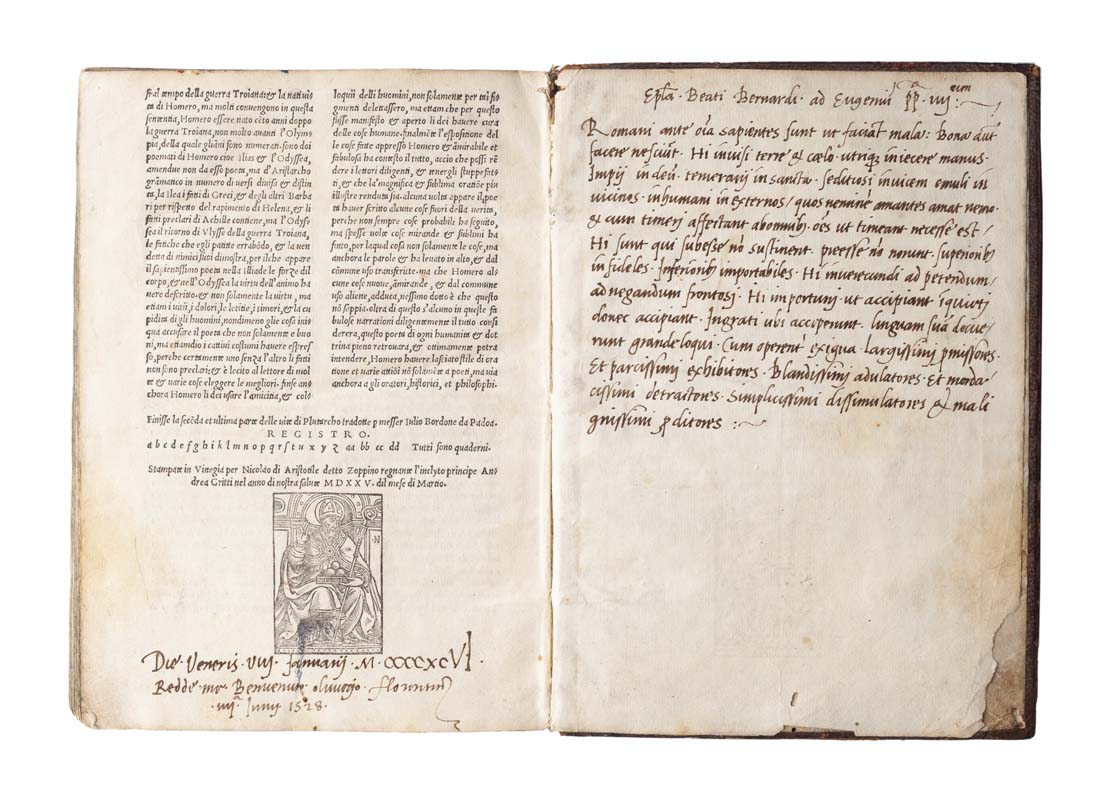 IN A CONTEMPORARY VASE-OF-FLAMES BINDING
PLUTARCH.
La seconda & ultima parte delle vite di Plutarcho, di greco in latino et di latino in volgare novamente tradotte et historiate.
[(Colophon:)] Venice, Nicolao di Aristotile detto Zoppino, March]1525.
4to, ff. CCXV, [1 (blank)]; title in Roman and black-letter, printed in red and black within criblé woodcut border, text printed in italic in 2 columns with woodcut initials and 27 woodcut illustrations (58 x 114 mm), woodcut St Nicholas device to colophon; tear (72 mm approx., without loss) to f. IX and another (repaired) to f. III; contemporary Venetian (?) morocco, upper board lettered 'ULTIMA· P· DELLE· V· DI· PLUT' in gilt, each board tooled in gilt with a central vase of flames and two fleurs-de-lys, surrounded by rays, within an inner border roll-tooled in blind and an outer blind-tooled composite border, spine tooled in blind with repeated lozenges, vestigial ties to each edge, edges stained blue and speckled red, single-core endbands in 2 colours, sewn on 3 pairs of cords; a little rubbed with some largely superficial wear, fore-edge of upper board bumped, end-caps lost with chipping at head of spine, a subtle repair to lower joint; title inscribed by Benvenuto Oliverio at head 'Die Veneris Viij Januarij mccccxcvl' and at foot 'Redde me Benvenuto oliverio florentino', the inscriptions repeated below colophon and dated June 1528, f. IIv inscribed 'B.S.' in large letters, a passage from St Bernard's De consideratione copied to final blank, contemporary annotations to 224 pp. of text.
£2750

Approximately:
US $3066
€3127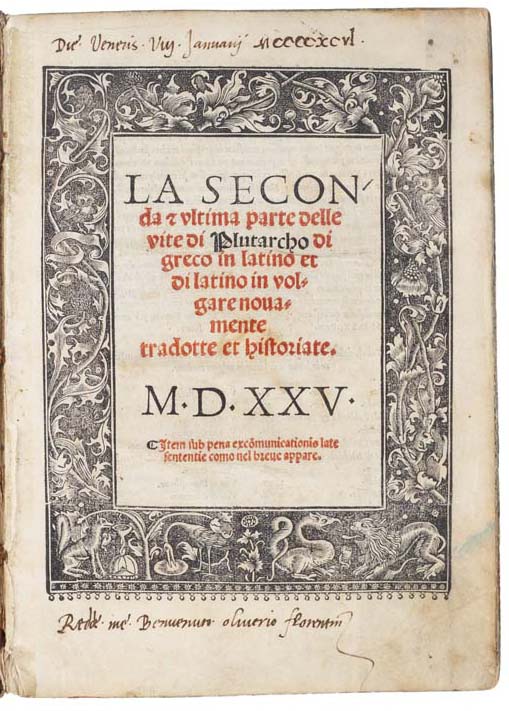 Added to your basket:
La seconda & ultima parte delle vite di Plutarcho, di greco in latino et di latino in volgare novamente tradotte et historiate.
An attractive illustrated edition of twenty-seven of Plutarch's lives, extensively annotated by a Papal tax-collector, in a striking contemporary binding.

The contemporary binding, titled in gilt on the upper board and decorated both in blind and gilt, employs a striking central tool of a vase of flames. Hobson identifies this emblem in renaissance tooling as a symbol of love, whether carnal or spiritual, or of devotion to a patron. Though a frequently used motif, we have not been able to locate any other use of the same tool, other instances showing small handles on the 'hips' of the vase rather than the more elaborate handles found here. The floral roll and the unusual repeated strapwork tool used for the borders are likewise unidentified. For two uses of the same (or very similar) fleur-de-lys and ray, however, see De Marinis 470 and 1207 ter.

Zoppino's Seconda et ultima parte completes for the first time Giorgio Rusconi's Prima parte of 1518; copies are also sometimes found with the later Prima parte reprinted by Zoppino in July 1525. The present copy is inscribed and extensively annotated by Benvenuto Oliverio, who later served as a Papal tax-collector from 1544 to 1547 (U. Penn. MS Codex 1504, f. 4). His annotations and manicules for the most part draw attention to salient points in the text, as well as extracting key words and adding occasional comments.

Brunet IV, col. 741 (misdated 1522); EDIT 16 41051 (duplicate 74888); Essling 598; Sander 5788; see Hobson, Humanists and Bookbinders, pp. 165-166.
You may also be interested in...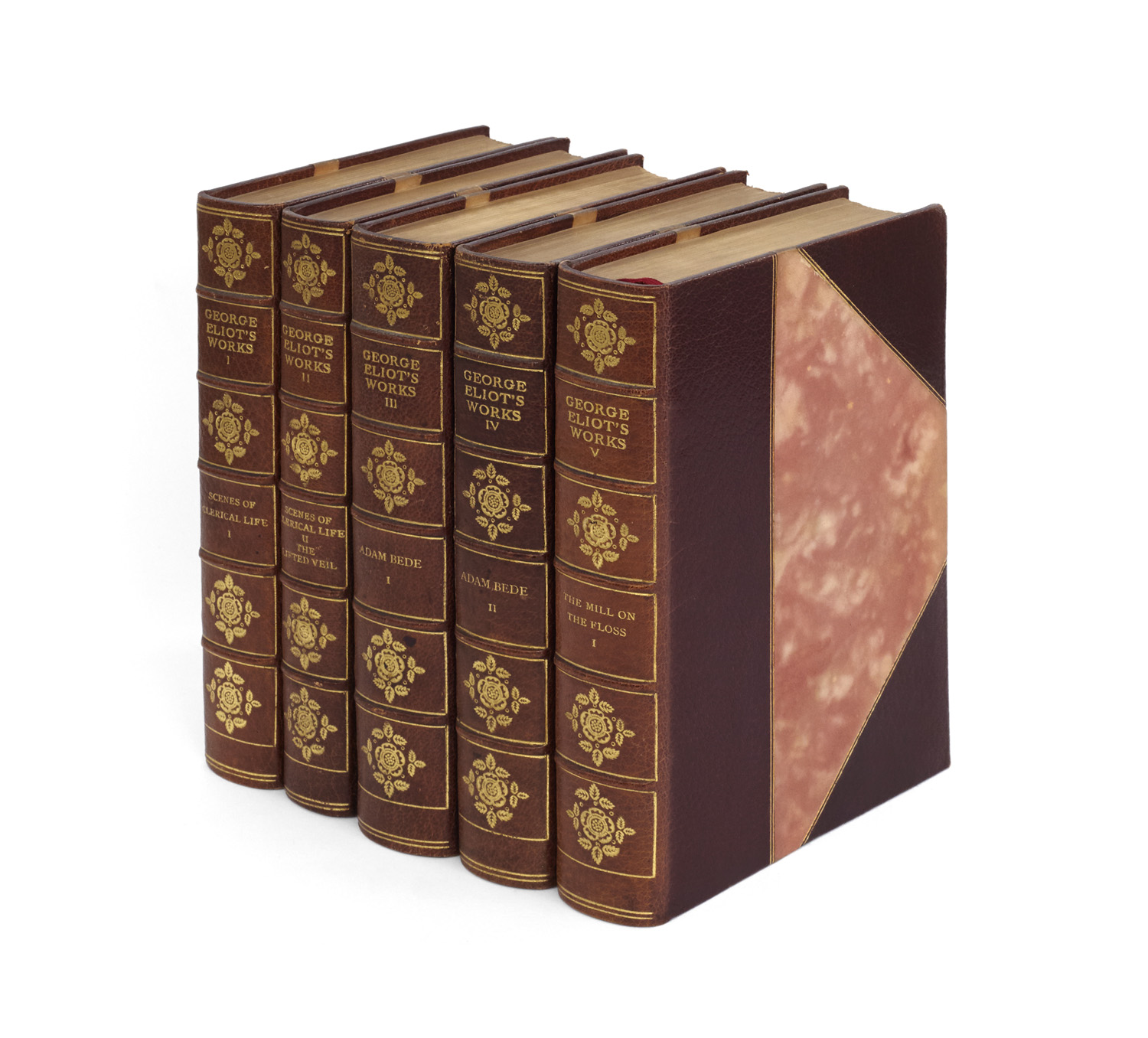 ELIOT, George.
The Writings …
The Large-Paper edition of Eliot's complete works, no. 184 of 750 sets.
FROM THE LIBRARY OF LOUIS XIV'S DOCTOR CELSUS, 'Aurelius' [Aulus] Cornelius.
Aurelii Cornelii Celsi de re medica libri octo. Accessere in primum eiusdem, Hieremiae Thriveri Brachelii commentarii doctissimi: in reliquos vero septem, Balduini Ronssei Gandensis ... enarrationes.
Important Plantin edition of the De medicina of the first-century Roman encyclopaedist Celsus, accompanied with humanist commentary, this copy with annotations and with the ownership inscription of Charles Seron, doctor to Louis XIV.