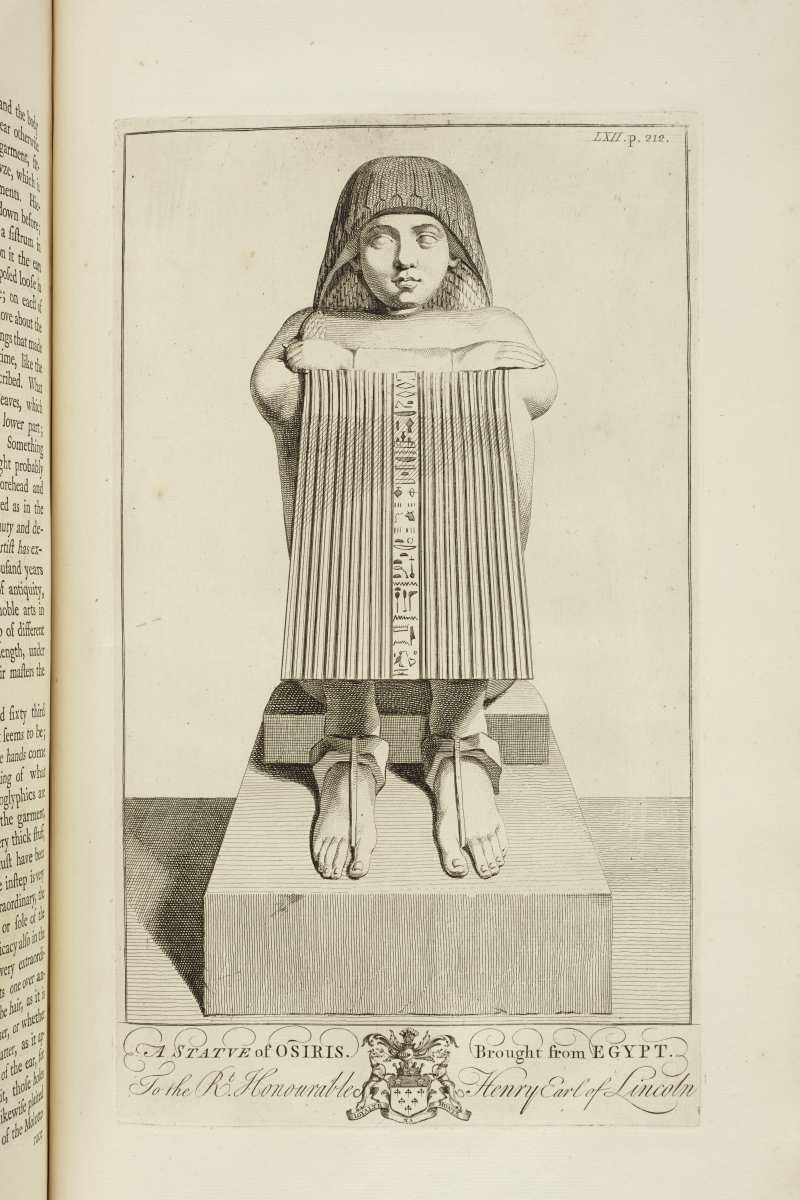 POCOCKE'S CELEBRATED ACCOUNT FROM THE LIBRARY OF A MEMBER OF THE SOCIETY OF DILETTANTI
POCOCKE, Richard.
A Description of the East, and some other Countries.
London: W. Bowyer for the Author, ['and sold by J. and P. Knapton, W. Innys, W. Meadows, G. Hawkins, S. Birt, T. Longman, C. Hitch, R. Dodsley, J. Nourse, and J. Rivington' (I)], 1743-1745.
Folio (412 x 254mm), 3 parts bound in 2 volumes, pp. I: [2 (title, verso blank)], vi (dedication and preface), [6 (contents and plates)], [2 (key to plan of Alexandria, bibliography and errata)], 310; II, i: [2 (title, verso blank)], xi (dedication, preface, contents, and plates), [1 (bibliography and errata)], 268; II, ii: vii (title, verso blank, contents, plates), [1 (errata and directions to the bookbinder)], 308; roman and greek types; engraved title-vignettes by H. Gravelot and C. Grinion after Gravelot, engraved dedication in II, I, and engraved headpiece by and after Gravelot; 178 engraved plates, maps, and plans numbered 1-32, 34-76 (no. 33 was never issued) and 1-103, by G. Child, G.D. Ehret, Sam Wale, T. Jeffreys et al. after Ehret, Jeffreys, et al., 6 folding, 5 double-page, and one double-page folding; woodcut head- and tailpieces, and initials; some light browning and offsetting, occasional light marking, a few ll. and plates with short, skilfully-repaired tears, bound without final blank l. I, 4K2; English late-18th-century full diced Russia gilt, boards with gilt borders of broad and narrow rules, board-edges gilt, turn-ins gilt with greek-key roll, spines gilt in compartments, lettered directly in 2, marbled endpapers, light-blue silk markers (that in vol. II detached), red-sprinkled edges; boards lightly rubbed, extremities a little rubbed and bumped causing minor losses on corners and spine ends, spines faded and with cracking on joints, one front flyleaf excised from each volume; provenance: Sir Edward Winnington, Bt (1749-1805, engraved bookplates on upper pastedowns; errata neatly corrected by an early hand [presumably Winnington's] in I from p. 106 to p. 218, and in II, i from p. 3 to p. 43.
£8000

Approximately:
US $9670
€9229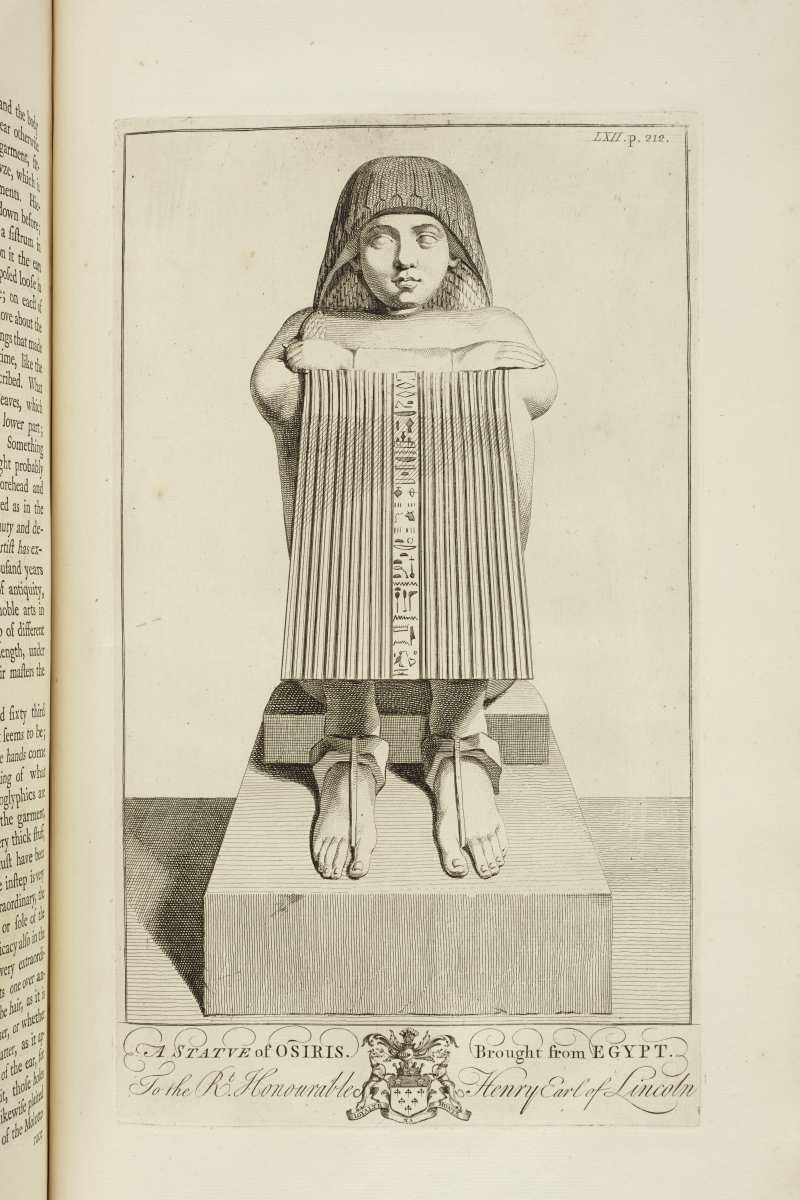 Added to your basket:
A Description of the East, and some other Countries.
First edition, demy folio issue. The traveller and cleric Pococke (1704-1765), was educated at Corpus Christi College, Oxford, and graduated BA in 1725, BCL in 1731, and DCL in 1733. His family's ecclesiastical connexions and his facility at navigating the complexities of clerical patronage enabled him to progress quickly through the established church, and in 1725 Pococke was appointed Precentor of Lismore Cathedral by his uncle Thomas Milles, the Bishop of Waterford and Lismore, and he became the Vicar-General of these dioceses in 1734; proceeding through the church hierarchy, he was appointed Archdeacon of Dublin in 1745 by Lord Chesterfield (the dedicatee of the second volume of A Description of the East), and was then Bishop of Ossory in 1756 by the Duke of Devonshire (Chesterfield's successor). In June 1765 Pococke was translated to the bishopric of Elphin, and then translated again in July 1765 to that of Meath, before his sudden death of apoplexy in September 1765.

Today, Pococke is best remembered as a traveller and mountaineer; his earliest journey were undertaken between 1733 and 1736, when he travelled through continental Europe, visiting not only the traditional destinations of the British grand tourist, but also less popular areas. His 'next and most ambitious journey, from 1737 to 1740, was to the Near East, then virtually unknown to western travellers. On 29 September 1737 he reached Alexandria, and went to Rosetta, where he visited Cosmas, the Greek patriarch. In December he left for Upper Egypt and on 9 January 1738 reached Dendereh. He visited Thebes but did not go up the Nile beyond Philae […] Pococke reached Cairo in February 1738. He next visited Jerusalem, and bathed in the Dead Sea to test a statement of Pliny's about the specific gravity of the water. He travelled in northern Palestine, and explored Balbec. He also visited Cyprus, Crete, where he climbed Mount Ida, parts of Asia Minor, and Greece. He made a thorough survey of the coast of the Troad on horseback in 1740 and made a good guess at the location of Troy (Hissarlik)' (ODNB). Returning via Europe – where he visited Naples, ascended Vesuvius twice, and explored the Savoy Alps – Pococke reached England in 1742, and the first volume of A Description of the East was published in the following year, with the second appearing in 1745.

'The work was acclaimed at the time, and Gibbon in the Decline and Fall of the Roman Empire described it as of "superior learning and dignity" […] though he objected that its author too often confounded what he had seen with what he had heard' (loc. cit.). Despite this (justified) qualification, the ODNB concludes that, 'the quality and particularly the earliness of his observations and their record in prose, maps, and diagrams make him one of the most important near eastern travellers, ranking with Frederik Ludvig Norden and Carsten Niebuhr, in stimulating an Egyptian revival in European art and architecture, and recording much that has subsequently been lost', and translations into German (1754-1755), French (1772-1773), and Dutch (1776-1786) followed the English edition. According to ESTC (citing Maslen and Lancaster's edition of The Bowyer Ledgers), 1,190 sets of A Description of the East were printed on demy folio sheets (as here) and 60 were printed on royal folio sheets; a further 500 copies of the final section of the first volume were reset and repaginated, and issued separately in 1743 as Dissertatio de geographia Aegypti.

This set was previously in the library of Edward Winnington, and bears his bookplates as second baronet, following the death of his father, Sir Edward Winnington, 1st baronet, in 1791. Winnington was educated at Eton College and Christ Church College, Oxford, and followed his father into politics, holding the seat of Droitwich from 1777 until his death in 1805. He was described by The Gentleman's Magazine as 'a gentleman eminent for his attainments in Literature' in its obituary of him (1805, p. 91), and he was elected a member of the Society of Dilettanti in 1788 (cf. L. Cust, History of the Society of Dilettanti (London: 1914), p. 277).

Atabey 965; Blackmer 1323; Brunet IV, col. 750 ('Ouvrage intéressant et fort recherché'); Cobham-Jeffery p. 51; ESTC T31684; Ibrahim-Hilmy II, p.125; Lowndes p. 1893; Röhricht 1396; Tobler pp. 127-128; Weber II, p. 513.



You may also be interested in...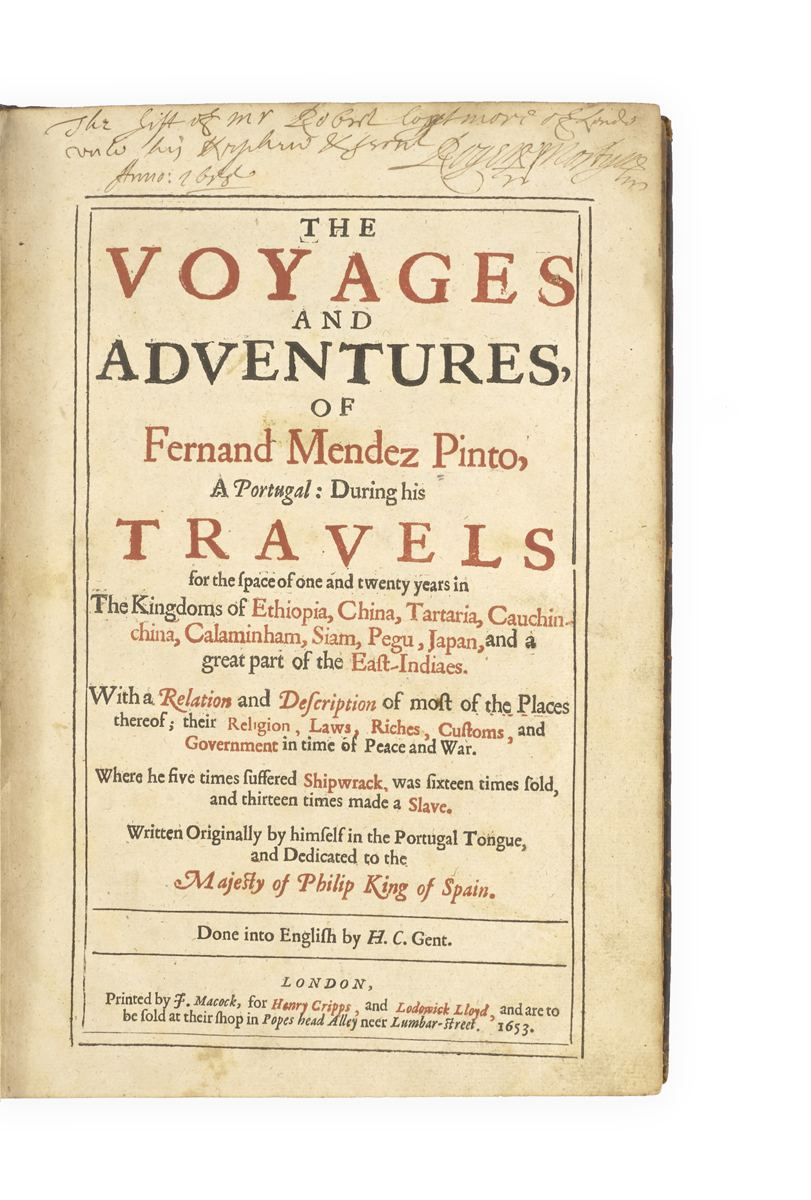 MENDES PINTO, Fernão. 
The Voyages and Adventures of Fernand Mendez Pinto, a Portugal: during his travels for the space of one and twenty years in the Kingdoms of Ethiopia, China, Tartaria, Cauchin-china, Calaminham, Siam, Pegu, Japan, and a great part of the East-Indiaes.  With a relation and description of most of the places thereof; their religion, laws, riches, customs, and government in time of peace and war … 
First edition in English, translated by Henry Cogan, of a travel best-seller, first published posthumously in 1614; there were nineteen editions in six languages by the end of the century, 'rivalling the popularity of Cervantes' Don Quixote.  It is, in fact, an exotic and imaginative composite of fact and fiction, at once a picaresque prose epic and an authentic picture of sixteenth-century Asia' (Rebecca D. Catz, The Travels of Mendes Pinto).  Mendes Pinto sailed from Portugal in a fleet commanded by Vasco de Gama in 1537 and did not return for twenty-one years, during which time he had made four visits to Japan (he even falsely claimed to be the first European to do so), as well as India, Myanmar (Burma), Vietnam, and China.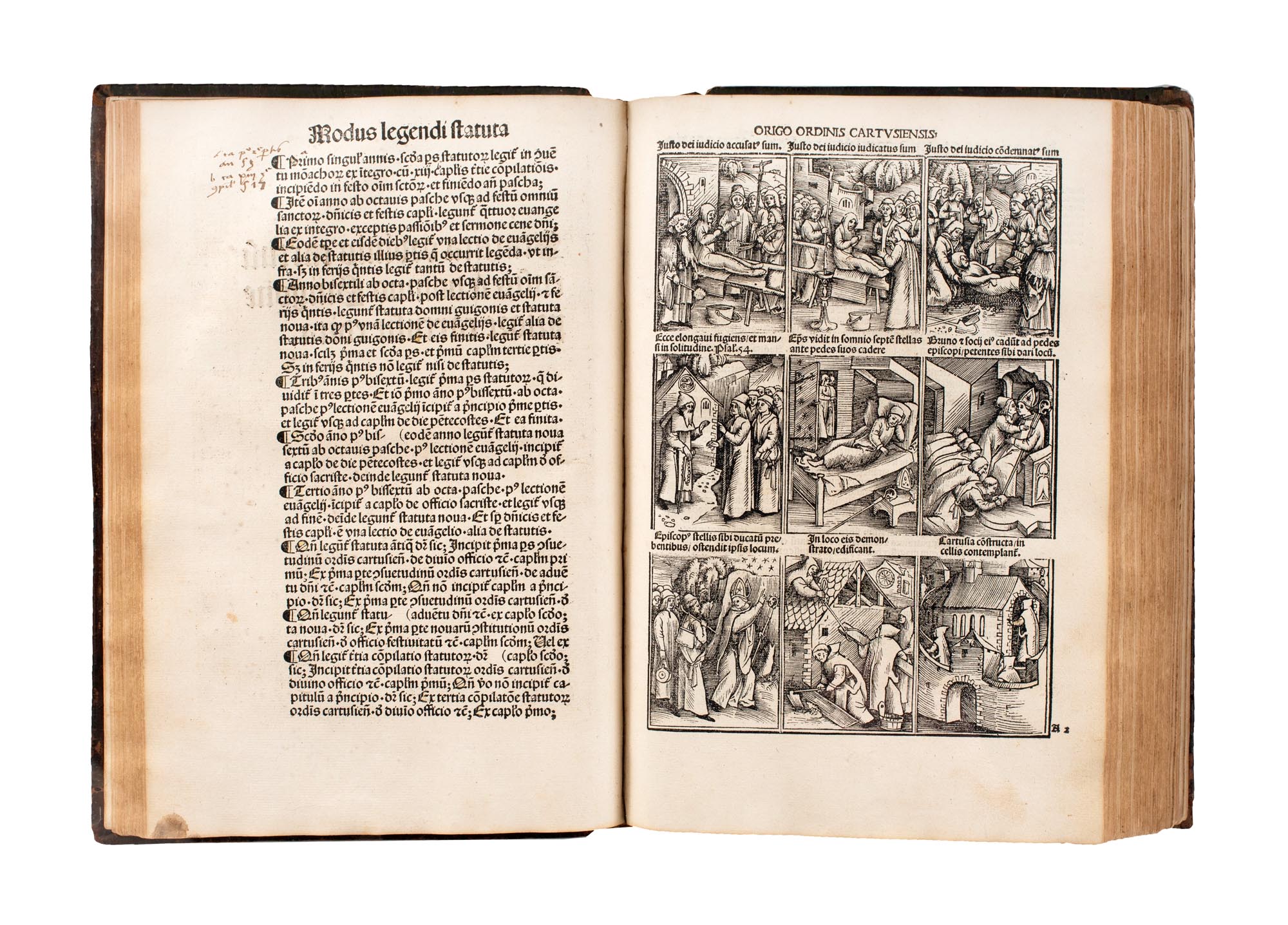 [CARTHUSIANS.] 
[GUIGO DE CASTRO, compiler.]  Repertorium statutoru[m] ordinis cartusiensis per ordinem alphabeti. 
First printed edition of the Statutes of the Carthusian Order, printed at the expense of the editor, Gregor Reisch (c. 1467–1525), author of the Margarita philosophica, for distribution to members of the Order only.