IN SPLENDID BAROQUE MOROCCO
[PONTIFICAL.]
Pontificale Romanum Clementis VIII. Primum, nunc denuo Urbani Papae Octavi auctoritate recognitum.
Antwerp, Balthasar Moretus 'ex officina Plantiniana', 1663.
Folio, pp. [8], 512, [3], [1 (blank)]; printed in red and black throughout, large copper-engraved vignette to title, woodcut initials printed in red and black, large woodcut tailpieces, with printed music; a few minor spots, light foxing to a few leaves, small cinder hole to X1 with loss of one character, short tear to lower margin 3B1, otherwise a very good copy; in contemporary red morocco over bevelled wooden boards, richly gilt à petits fers, panels gilt-filleted, borders roll-tooled in gilt, spine gilt in compartments, lettered directly in one, others with centre- and corner-pieces, with a small crown tool, turn-ins roll-tooled in alloy, 2 red-stained and gilt-tooled vellum clasps to fore-edge with brass fittings, edges gilt and partially gauffered, blue silk endbands sewn over woven cores, blue paste-paper endpapers, flyleaves with unidentified watermarks (two-headed eagle, crowned, above initials 'H.E.'); a little light wear, leather and endpapers neatly retouched in places; occasional pencil marks in text, early eighteenth-century ink inscription 'Bibliothecae D[uys?]burgensis' to title, partially erased.
£4500

Approximately:
US $5462
€5198
Added to your basket:
Pontificale Romanum Clementis VIII. Primum, nunc denuo Urbani Papae Octavi auctoritate recognitum.
An attractive Plantin-Moretus Pontifical, splendidly preserved in a richly baroque binding.

We would suggest that the striking binding was likely executed in northern Germany in the late seventeenth or early eighteenth century. This would be supported by an early Duisburg provenance – 'Bibliothecae Duysburgensis' may be Duisburg University, founded in 1655 and disbanded in 1818, although this volume has not been identified in the printed catalogue of the University of 1685 nor in the manuscript catalogues of 1717 or 1795-99.

The work is accompanied by printed music and by an unusually varied series of woodcut initials, illustrating (inter alia) David at prayer, the Annunciation, the Magi following the star and the Adoration, St Christopher carrying the Christchild, the Baptism of Christ, the Supper at Emmaus, the Crucifixion and several Stations of the Cross, the Turin Shroud, the Resurrected Christ and Christ in Majesty, Christ greeting Mary Magdalen, the Assumption, St John the Evangelist, St Francis receiving the Stigmata, St Jerome, prayer scenes, and several martyrdoms of both male and female saints.

Curiously, an early reader has corrected the text in several places, in most instances altering the text for singular (rather than plural) use.
You may also be interested in...
COLONNA, Fabio.
Φυτοβασανος, sive Plantarum aliquot historia …
First edition, a landmark in botanical illustration, 'the first strictly botanical book with intaglio prints' (Blunt).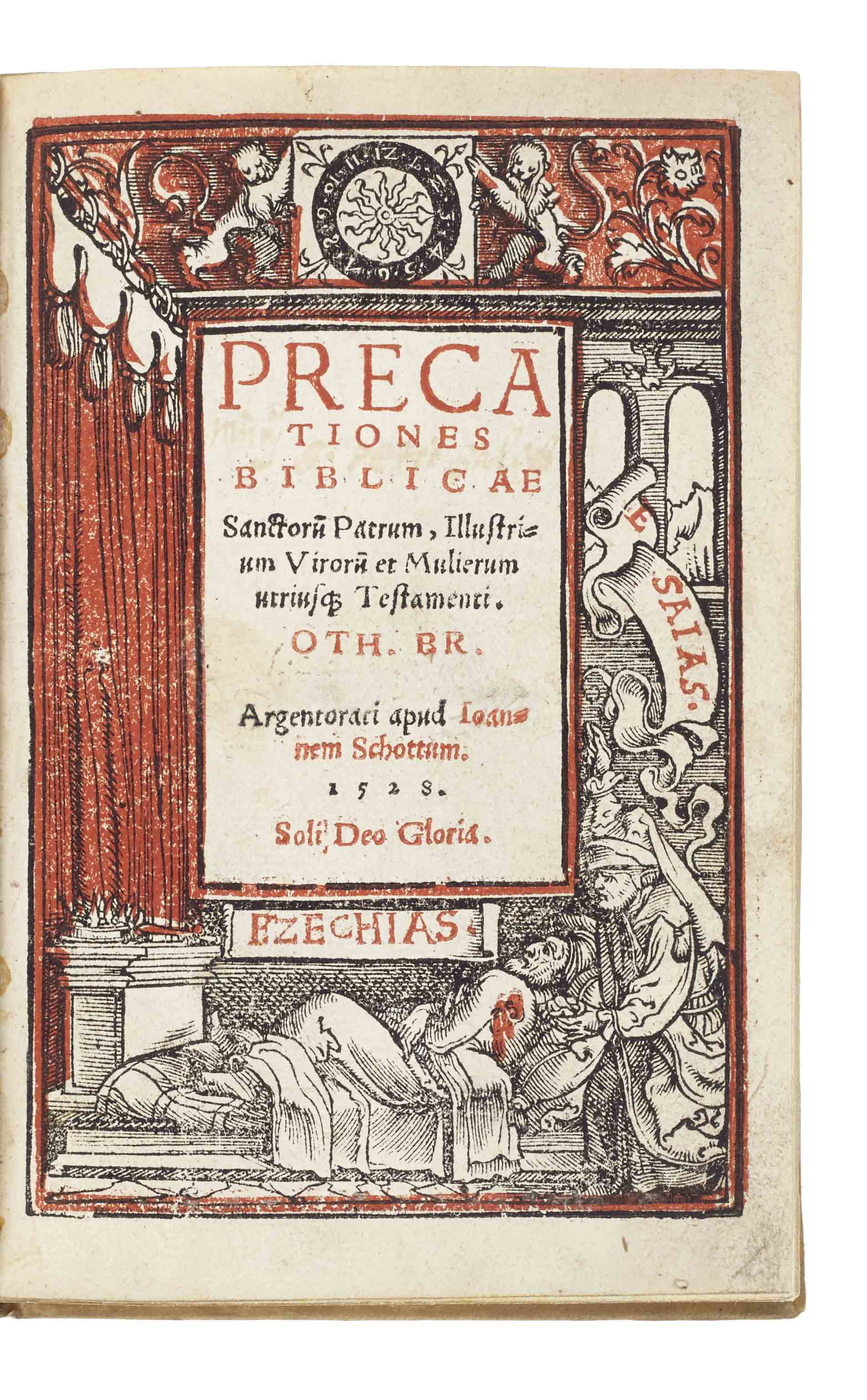 EARLY PROTESTANT PRAYER-BOOK BRUNFELS, Otto. 
Precationes Biblicae sanctoru[m] patrum, illustrium viroru[m] et mulierum utriusq[ue] Testamenti. 
First edition, rare.  The earliest Protestant prayer-books, of which this is perhaps the most notable example, often comprised prayers taken directly from (or adapted from) the Bible.  Brunfels's Precationes Biblicae appeared in the same year in German translation (Biblisch Bettbüchlein der Altvätter und herrlichen Weibern, beyd Alts und Newes Testaments) and was translated into several other languages including English (Prayers of the Byble, published by Robert Redman in 1535).