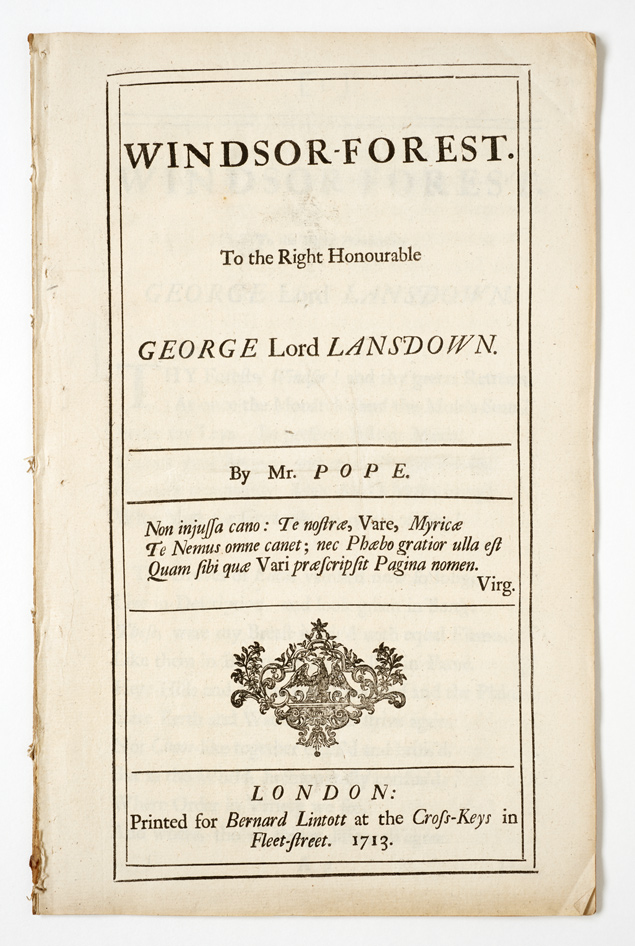 POPE, Alexander.
Windsor-Forest. To the Right Honourable George Lord Lansdown …
London: Printed for Bernard Lintott … 1713.
Folio, pp. [2], 18; slight spotting but a very good copy, disbound.
£2750

Approximately:
US $3811
€3168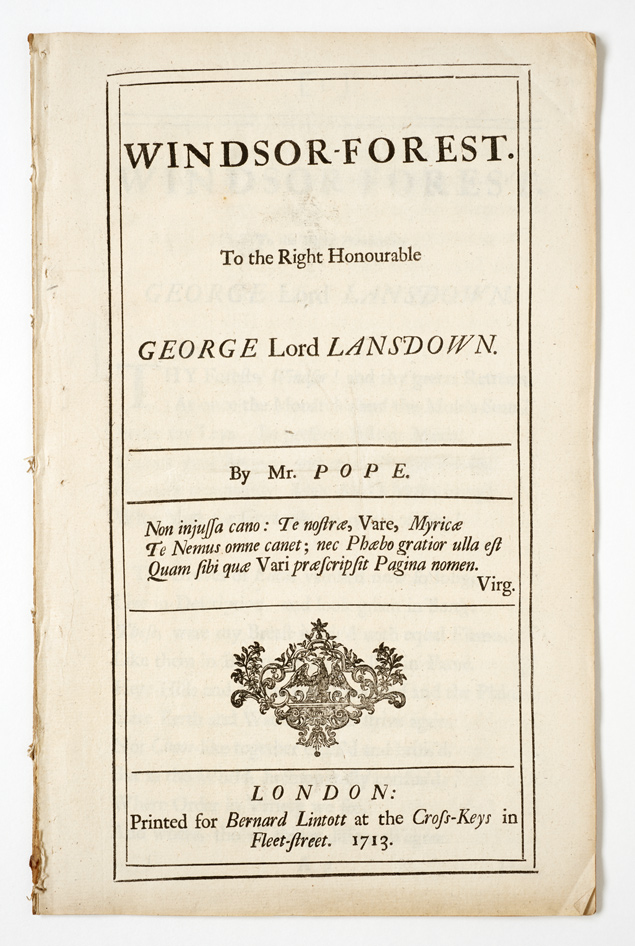 Added to your basket:
Windsor-Forest. To the Right Honourable George Lord Lansdown …
First edition of Pope's second separately published poem, preceded by An Essay on Criticism in 1711. Written in the tradition that young poets begin with pastoral verse, Windsor-Forest, with its epigraph from Virgil's Eclogues, was the poem that first won Swift's regard and laid foundations for the 'most celebrated literary friendship of the earlier eighteenth century' (Oxford DNB).

The poem takes its title from the royal forest which surrounded the farming village of Binfield in Berkshire, where Pope lived from the age of eleven – anti-Catholic legislation had forced his family to leave London in 1692. 'Granted the idealization of the English countryside … the scenery it describes corresponds with remarkable accuracy to features actually present in the landscape' (Maynard Mack). Pope rescued the earlier, descriptive, section of the poem from his own juvenilia. The conclusion, with its vision of the peace that was hoped for following the Treaty of Utrecht, gives it a political dimension. The oaks of Windsor forest become a symbol of Englishness and, significantly for Pope, of the Stuarts. The prophecy that the trees will 'rush' bravely into the seas as new ships for naval conquests is a further endorsement for Queen Anne's reign. 'Non injussa cano' begins the epigraph, 'not without warrant I sing' (Virgil, Eclogues, vi.9): Pope's warrant for the concluding lines in particular was the encouragement of the dedicatee, the Tory statesman and poet, George Granville.

'Pope was aware that the treaty of Utrecht … was supposed to give Britain increased access to the slave trade. Yet his concluding vision explicitly includes abolition of slavery (ll. 407–12). Among scores of poems on the peace, Windsor-Forest appears to be the only one to mention actual (not metaphorical) slavery and oppose it' (Oxford DNB).

Foxon P987; Griffith 9; Rothschild 1567.
You may also be interested in...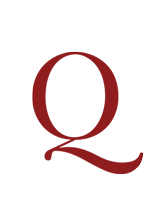 THE ROSSETTIS' SHELLEY SHELLEY, [Percy Bysshe].
Poetical Works.
Undated variant (presumably a later reissue) of Daly's collected edition of 1839, read to pieces by the young Dante Gabriel Rossetti.

This volume has a well-documented history. Dante Gabriel consciously 'adopted a nonchalantly bohemian lifestyle, rejecting his mother's evangelical Anglican traditions' (Oxford DNB). 'Doughty records her alarm on hearing that he (aet. 16) "was reading indecent books". Gabriel strenuously denied the accusation, which was due, he discovered, to his having expressed the intention to purchase a copy of Shelley's poems. In spite of his mother's suspicions, however, he bought the Shelley, and, as William Michael writes elsewhere, "surged through his pages like a flame"' (Fredeman). William Michael and Christina, Dante Gabriel's close juniors, would perforce have been party to his enthusiasm.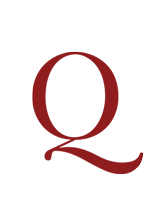 RANDOLPH, Thomas.
Poems with the Muses Looking-Glasse: and Amyntas …
First edition of the major collection – pastoral, erotic, and festive verse, followed by two plays – of one of the more illustrious of the 'sons of Ben', published two years after his death some three months short of his thirtieth birthday. Randolph began his literary career at Trinity College, Cambridge, where he was known for his wit and ingenuity, and organized student productions of his earliest plays.
Leaving Cambridge for London in 1632, he engaged with too much enthusiasm in the dissipations of metropolitan literary life, and his 'immoderate way of living in all probablility shortened his days (Phillips, Theatrum Poetarum, 1675). Commendatory verses here come from other 'sons' including Owen Feltham, and there are several poems addressed to Jonson himself, and 'A Parley with his empty Purse':